Welcome to your one-stop shop for everything you need to know about Google Performance Max Campaigns! If you're keen to figure out how this new campaign type (and if this new campaign type) maximizes your campaign performance and takes your online sales and lead generation to the next level, you're in the right place.
The digital advertising landscape is a complex and evolving space, making it crucial for businesses to stay abreast of the latest tools and strategies. Enter Google Performance Max Campaigns, the highlight anticipated– and sometimes feared– advertising solution from Google that was designed to supercharge Google Ads campaign results.
Whether you're a seasoned Google Ads account manager or a business owner taking your first steps into digital advertising, this powerful tool is supposed to help you drive the results you're after.
But does it live up to the promise?
In this comprehensive guide, we'll break down everything you need to know about Performance Max Campaigns, from setup and optimization to troubleshooting and reporting. We'll delve into the potential of multiple asset groups, explore the intricacies of lead generation and online sales, and help you navigate the rich, dynamic ecosystem of Google Ads.
Stay with us as we explore the ins and outs of the Performance Max campaign. Let's dive in and start maximizing your campaign performance today!
How Performance Max Campaigns Became Part of Google Ad's Evolution
Google's journey into advertising began back in 2000, with the introduction of Google AdWords, a simple pay-per-click service that allowed businesses to display ads on the Google search engine results page. With only 350 advertisers at launch, it was a humble beginning for what would become a significant powerhouse in digital advertising.
In 2005, Google's advertising capabilities expanded dramatically with the introduction of Google AdSense. This program allowed website owners to generate revenue by displaying targeted Google Ads on their websites, thereby dramatically expanding the reach of Google's advertising network.
The following years saw a series of advancements and refinements in Google's advertising offerings. In 2013, Google introduced enhanced campaigns, allowing advertisers to target users based on device type, location, and time of day within a single campaign.
In 2018, Google streamlined its advertising offerings, rebranding AdWords as Google Ads and introducing Google Ads Smart Campaigns, an automatic solution designed for small businesses with limited marketing resources.
Performance Max Campaigns were billed as "a new way to buy Google Ads" when they were first announced in late 2020, and anticipation built steadily until, after a year of beta testing, Performance Max Campaigns finally launched to everyone in November 2021.
Fast forward to now, and we've had a chance to see how Performance Max works. But does it live up to the hype and bring increased automation, deeper insights, and optimized campaign performance to Google Ads as promised? 
While some tout the ability of Performance Max campaigns to drive impressive results through machine learning, others call out its limitations, such as the lack of control that is inherent with automated bidding and the limited visibility into campaign and ad insights.
This guide will answer your most burning questions about Performance Max, including:
By the end, you and your agency will be seasoned pros who can wow your clients with your knowledge on one of the most significant changes to Google Ads in years.
The good, the bad, and the ugly.
Receive Agency Growth Tips, Delivered to Your Inbox
What Is Performance Max on Google Ads?
Google Performance Max is a new goal-based campaign type that, as the name implies, is focused on maximizing performance. Specifically, it's about optimizing the performance of using Google Ads campaigns to increase conversions.
Think of Performance Max as your all-access advertising pass to the entire Google Network, which includes heavy-hitters like Search, YouTube, Gmail, and Shopping (and that's not even mentioning Discovery and Display, which are all included as well!).
Performance Max is the newest offering from Google Ads. It's a campaign type that serves your agency's ads from a single source. It also works simultaneously with your keyword-based search campaigns to help you find more of your client's customers across all of Google's channels.
Use this Google Ads dashboard to automate your Performance Max reporting–and win back hours of your time. Try AgencyAnalytics free for 14 days!  
Not only does Performance Max promise a new, automated way to buy ads across all of Google's channels from a single campaign, but it also brings deeper insights for the data nerds with machine learning and upgraded reporting capabilities.
While that all sounds amazing, Performance Max isn't perfect. The timeline before people start to see stable performance seems to be about 6-8 weeks, so you need to test it for a while. And many marketers complain that Performance Max cannibalizes Search campaigns, even though Google says that Search campaigns should be prioritized over Performance Max.
But don't worry, we'll show you how to avoid that and other potential pitfalls of Performance Max later in this article.
When To Use Google Performance Max Campaigns
Google recommends you use Performance Max when:
You have specific advertising and conversion goals: We recommend setting SMART goals to get the most out of it.

Your ads aren't limited to a particular channel: If your ads have limitations or constraints (i.e., budget, time, lack of resources, etc.) or were made for a specific channel, this isn't the time to use Performance Max. It's best for campaigns that allow flexibility to adapt in real time.

You want an all-access pass to Google's advertising channels using a single campaign: As mentioned before, everything is included here.

You want to take your keyword-based Search campaigns even further: Performance Max will help you reach even more people, which means more conversions.
How Does Performance Max Perform?
One of the biggest differences that separate Google Performance Max campaigns from other Google Ads campaigns is automation and machine learning. With Performance Max, you provide the information (such as campaign goals, budget, and target metrics), and Google handles the targeting and delivery of the ads using Smart Bidding.
Smart Bidding is an automated bid strategy that optimizes for conversion across all channels, allowing for real-time management of bids, budgets, audiences, creatives, attributions, and more.
On top of that, Performance Max also claims to learn what works best through machine learning, meaning it should get better the more you use it. But, as noted above, not everyone has the patience to allow Performance Max the 6 - 8 week runway the Google brain seems to need to learn what works and what doesn't.
Despite its promises of machine learning-driven automation, you can't just create a client campaign and leave it to its own devices. Far from it, there is still a lot involved in making sure that Performance Max does what it's supposed to do.
What Does Performance Max Mean for Agencies?
Performance Max automates a lot of the time-consuming, manual work of setting up a campaign across different platform options. The only thing that agencies have to do with Performance Max is to provide the inputs, then monitor and adjust the campaign as Smart Bidding does its thing to help you achieve your campaign goals.
Similar to CPA targeting, Performance Max campaigns are designed to automatically adjust the various campaign settings to drive the best performance. But, also similar to CPA targeting, this is not a guaranteed result.
Although one marketer we heard from indicated that they were seeing amazing results with Performance max, the results have been a bit of a mixed bag for many agencies.
Most notable is that Google can only optimize Performance Max campaigns to what it can see. If your campaign goal is to drive leads, the system will optimize to generate the most leads possible within the budget, often coming at the expense of lead quality.
Feedback from marketers across the board indicates that leads from PMax are plentiful and well priced, but tend to be of lower quality. This is an area that Google will need to improve, as low-quality leads put a drain on your client's budget and sales team resources.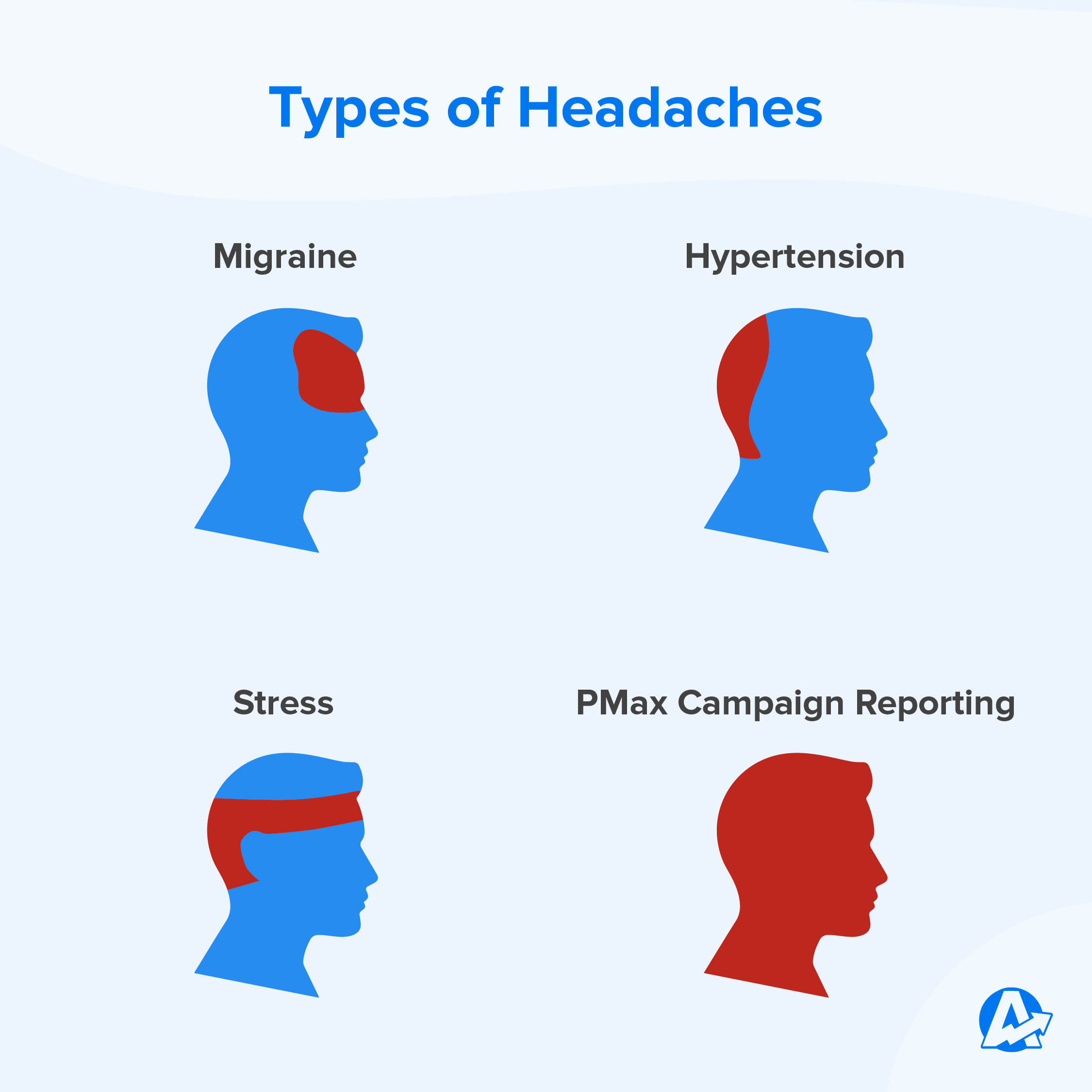 After all, cheap leads don't mean much if they are converting at a significantly lower level, sometimes as much as 2/3rds lower than other leads from Google Ads.
Although Performance Max is taking another step forward in improved campaign navigation, it has not yet reached "self-drive" status.
But it is a platform that almost every PPC agency should be including in its campaign arsenal in some way, so it's a good idea to get ahead of the curve and test out some PMax campaigns.
This brings us to the next question…
What Inputs Does Performance Max Use?
The inputs for Performance Max campaigns include:
Campaign goals: This is the most crucial input for Performance Max as these campaign types are goal-based. 

Audience signals: Identify who your most valuable audiences are with the highest likelihood of conversion to steer the automation and machine learning algorithms in the right direction. Audience signals are essential, so we'll return to this later.

High-quality creative: This includes copy, images, and videos. Include your best stuff since there's only so much automation can do if the creative isn't up to par.

Conversions: You can identify the most valuable types of conversions for your business

Safety Settings: This was made with brand and account managers in mind as you can specify the types of content where you DON'T want your ads running.
Key Features of Performance Max Campaigns
The latest announcements regarding Performance Max included a few new features that offer agencies more choices when it comes to conversion goals and new types of insights to help you make better decisions driven by data. 
Finding New Customers
A new type of conversion setting is now available in Performance Max– Customer Acquisition. This was a popular feature in Smart Shopping campaigns, and its addition to Performance Max only deepens its capabilities.
This goal allows you to focus on new customers–either by bidding more for them or optimizing your campaigns to target only them–while also making it easier to identify them through Customer Match lists, conversion tags, and autodetection. 
While this setting may reduce the amount of traffic and increase the cost per lead, it stops your existing customers from seeing the ads (or reduces, if you selected the lower bid option). It only takes a moment to set up, all you need to do is check a box and confirm your audience list of customers.
Audience Signals (Which Are Super Important!)
Audience signals are a new feature unique to Performance Max campaigns that lets you suggest audiences to Google's machine learning algorithms to optimize conversions.
While it's optional, we can't stress the importance of Audience Signals enough and highly recommend using them in your Performance Max campaigns because it nudges the machine learning algorithms in the right direction, namely, toward the audiences who are most likely to convert.
According to Lindsay, our resident PPC expert and Performance Max tester, "using strong audience lists is key. If the audience lists are weak or too broad, Performance Max will show your ads to a massive, irrelevant audience."
Better Insights With More Substance
There are also two new Insights coming to Performance Max:
Asset audience insights: Find out how well specific customer segments respond to the copy, images, and video in your Google Ads. For example, if you're running a Performance Max campaign to sell computers to power users, you might find they respond better to ads with detailed product specs over flashy product images.

Diagnostic insights: Think of this as a troubleshooter that highlights setup issues that prevent your ads from showing (such as your ads being disapproved) while also providing suggestions on how to fix the problems.
By now, you probably see some of the benefits of using Performance Max (such as it is fully automated as well as an all-access pass to the entire Google Network), but if you and your agency are pros at Smart Shopping and Local campaigns, you might be wondering: 
Why Are Google Performance Max Campaigns So Important?
The short answer: Because Performance Max is replacing Smart Shopping and Local campaigns, and it's happening a lot sooner than you think.
You might have noticed that it has already begun, making it more urgent than ever for agencies to get up to speed on what Performance Max is and what it can do. 
Because if you haven't upgraded your Smart Shopping campaigns by the end of Q3 2022 (i.e. September), you'll be automatically updated to Performance Max (more on that later).
Download the Google Ads Optimization Checklist
Keep these useful tips, insights, and ideas handy whenever you need them.
Benefits of Google Performance Max Campaigns
The main benefits of Performance Max are:
Access to the entire Google Network: This will take your keyword-based search campaigns to the next level as machine learning serves the right ads to the right people at the right time.

Automation: Using Smart Bidding, all aspects of the bidding and ad buying process are automated, and Performance Max will even generate your ads for you based on the creative assets you provided. 

Audience signals: Allow you to steer the machine learning algorithms in the right direction to save time and maximize effectiveness.

Better insights: Includes new features like Asset Audience Insights and Diagnostic Insights (which we discussed in the previous section).

Goal-focused campaigns: To help you achieve your marketing goals.
In a nutshell, Google Performance Max campaigns are meant to make your clients' Google Ads campaigns easier to set up and get those ads in front of more people, all the while optimizing performance in real-time.
For a more day-to-day example, here are all the things that a search marketing agency would have to run to make up for one Performance Max campaign: 
Dynamic search campaign

Display campaign

Discovery campaign

Video campaign (optional) 

Smart Shopping campaign
Keep in mind that those campaigns don't necessarily have the automation capabilities of Performance Max either, so it may be even more labor-intensive to run all those campaigns at once.
What are the Cons of Performance Max?
For one, Performance Max is geared toward novice users as a way to tap into Google Ads with far less knowledge and experience. This goes against the grain of most agencies, which rely on their expertise as a selling point. Ironically, however, novice users tend to fall deeper into the pitfalls of Performance Max precisely because of that lack of experience. These include:
Unclear Goals Lead To Underperforming Campaigns: If you are not crystal clear about the conversion goals you are trying to optimize for, Google will not be able to deliver the results your agency is looking for.

Limited Performance Visibility: At this point in time, it's difficult to extract specific insights for campaigns or asset combinations. For example, you can't extract performance data by platform, which makes it difficult to provide actionable reports. It can also make it harder to get client buy-in when you don't know if the traffic is coming from YouTube, Search or Display! This means your agency can't easily understand which channels are working or optimize your assets to improve those that aren't. Although Google is adding more reporting features, it may be a while before agencies can get their hands on the level of data they are used to.

Relying Too Heavily on Automation: If you are not careful about how you set up and optimize Google Performance Max, you could end up wasting a lot of your client's money on some poorly crafted campaigns.

Loss of Control: The very concept of automation takes some of the control out of the hands of marketing agencies. For those who love to dig through the data to find optimization opportunities, they can only hope that the Google machine is as detailed, and as strategic, as a Google ads expert would be. 
In the end, Performance Max has had a polarizing effect on digital marketers across the spectrum. Some, like Jyll Saskin Gales, love the idea of letting Google use its massive artificial brain to find new customers. 
Others, including Pamela Lund, don't completely buy the hype and worry that Performance Max will fall victim to some of the issues that campaign recommendations have always experienced.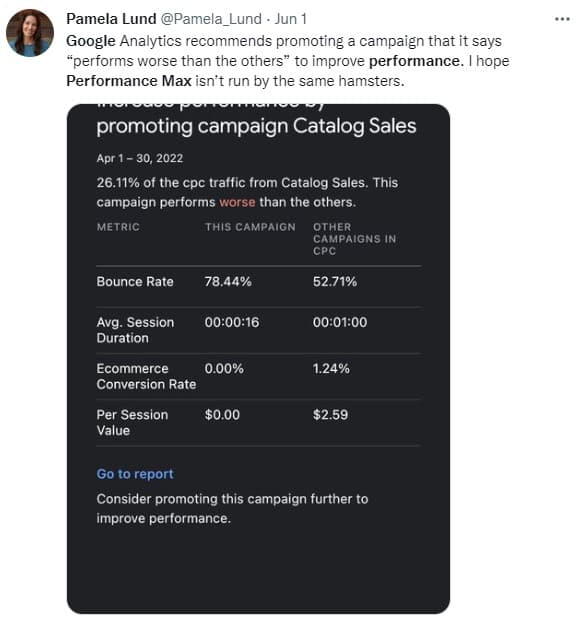 While a final group, which seems to include Twitter user YoRayyes, appears to be worried about the Skynet of it all and the potential impact on their agency. 

In the end, although Performance Max appears to have some potential, it's not something that agencies should jump into blindly.
What Network Does Performance Max Run On?
One of the biggest selling points of Performance Max is that it allows agencies to run ads across the entire Google Network, so let's take a deeper look at what that actually means. 
With Google Ads, there are three campaign types to choose from:
Search Campaigns: The text ads shown on Google SERPs (search engine results pages), Google Maps and Shopping, and other Google search partners.

Display Campaigns: The image-based ads that appear throughout the Google Display Network, which includes Gmail, Blogger, and millions of Google-partnered websites and apps.

Video Campaigns: The video ads that run on YouTube.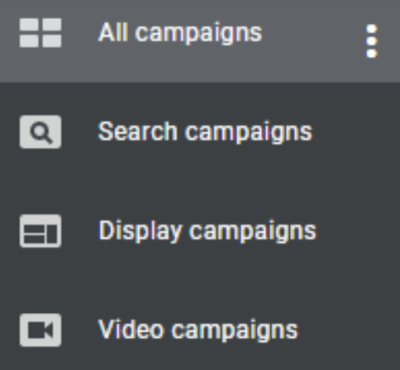 Performance Max also includes Discovery, and as you can see, it's a game-changer when it comes to increasing your clients' ad reach throughout the entire Google ecosystem, and so far, it seems to be living up to the hype.
What Options and Controls Do I Have With Performance Max Campaigns?
Performance Max provides agencies with a wide range of options and controls to tailor their campaigns to their clients' needs. This includes:
Budget: Determine your conversion goals and set your budget accordingly.

Bidding Strategy: Smart Bidding gives you five strategies to choose from:

Target Cost per Action (CPA)

Target Return on Ad Spend (ROAS)

Maximize Conversions

Maximize Conversion Value

Enhanced Cost per Click (ECPC)

Location: Where will your ads run?

Language: What language?

Ad Scheduling: Choose your schedule and campaign run dates.

URL Options: Choose whether you want Google to send traffic to the most relevant URLs on your clients' websites or if you want traffic sent to only the URLs you provide.

Asset Groups: These are basically ads, and they're easy to set up– simply provide the creative (i.e. logos, videos, headlines, etc.) and Google does the rest.

Audience Signals: This is where you can help guide the automated targeting.

Ad Extensions: Choose whether to use existing sitelink extensions or create sitelinks specific to your campaign. 
Tips From Our PPC Expert
Lindsay, our PPC expert, wanted to point out the importance of using URL Exclusions if you do use the URL options. She highly recommends fully auditing your clients' websites to exclude irrelevant URLs when using URL Expansion.
She reiterated what we've heard from many other agencies that it's critical to monitor the lead quality and not just the lead quantity.
She also wanted to emphasize how vital Audience Signals are to a successful Performance Max campaign.
Creating a Performance Max Campaign
It's easy to set up a Performance Max campaign. Let's go through the steps together.
Step 1: Choose Your Objective
One of the key steps when setting up your Google Performance Max Campaign is choosing your campaign objective. This selection informs Google's machine learning algorithms about what you want to achieve, helping it optimize the ads accordingly. Here's a guide on the key elements to consider when selecting your objective:
Align with Your Client's Business Goals: First and foremost, your campaign objective should align with the overarching business goals of your clients. Are they looking to drive sales? Increase website traffic? Boost brand awareness? The objective you select should directly support these goals.

Consider Ther Target Audience: Different objectives might appeal to different segments of your target audience. For example, if you're trying to reach new customers, a "Brand Awareness and Reach" objective might be ideal. If you're trying to drive sales from existing customers, a "Sales" objective would be more suitable.

Sales Cycle Length: The length of the sales cycle also influences your objective. If the client has a particularly long sales cycle, focusing on lead generation might be more effective than trying to drive immediate conversions.

Understand Different Objectives: Google Performance Max Campaigns offer several objectives, each tailored to different goals. These include:

Sales: Use this objective if you want to drive online or offline sales.

Leads: Choose this objective if your goal is to generate leads.

Website Traffic: This objective can be ideal if you're looking to increase the number of visitors to your website.

Product and Brand Consideration: Use this objective to encourage people to explore your products or services.

Brand Awareness and Reach: This objective can help you reach a wide audience and increase awareness of your brand.

Be Flexible: Lastly, be prepared to reassess and change your objective if necessary. If you find your original objective isn't yielding the expected results or your business goals change, don't hesitate to adjust your campaign objective.
Remember, your campaign objective forms the foundation of your Performance Max Campaign. It helps Google understand what you want to achieve, enabling its machine learning algorithms to optimize your campaign for maximum impact. By thoughtfully choosing your campaign objective, you set the stage for a successful campaign.
Step 2: Choose Performance Max Campaigns
This is possibly the easiest step in the process, as to set up a Performance Max Campaign, you need to select Performance Max as the campaign type. The other major campaign types you'll see on this page include Search, Display, Shopping, and Video.
The reason this step is important is that there isn't a direct way to convert a Search campaign into a Performance Max campaign in Google Ads. This is mainly due to the fundamental differences in how these campaigns are structured and optimized.
Therefore, picking the wrong type of campaign here could lead to a lot of wasted effort.
Step 3: Determine Budget and Bid Strategy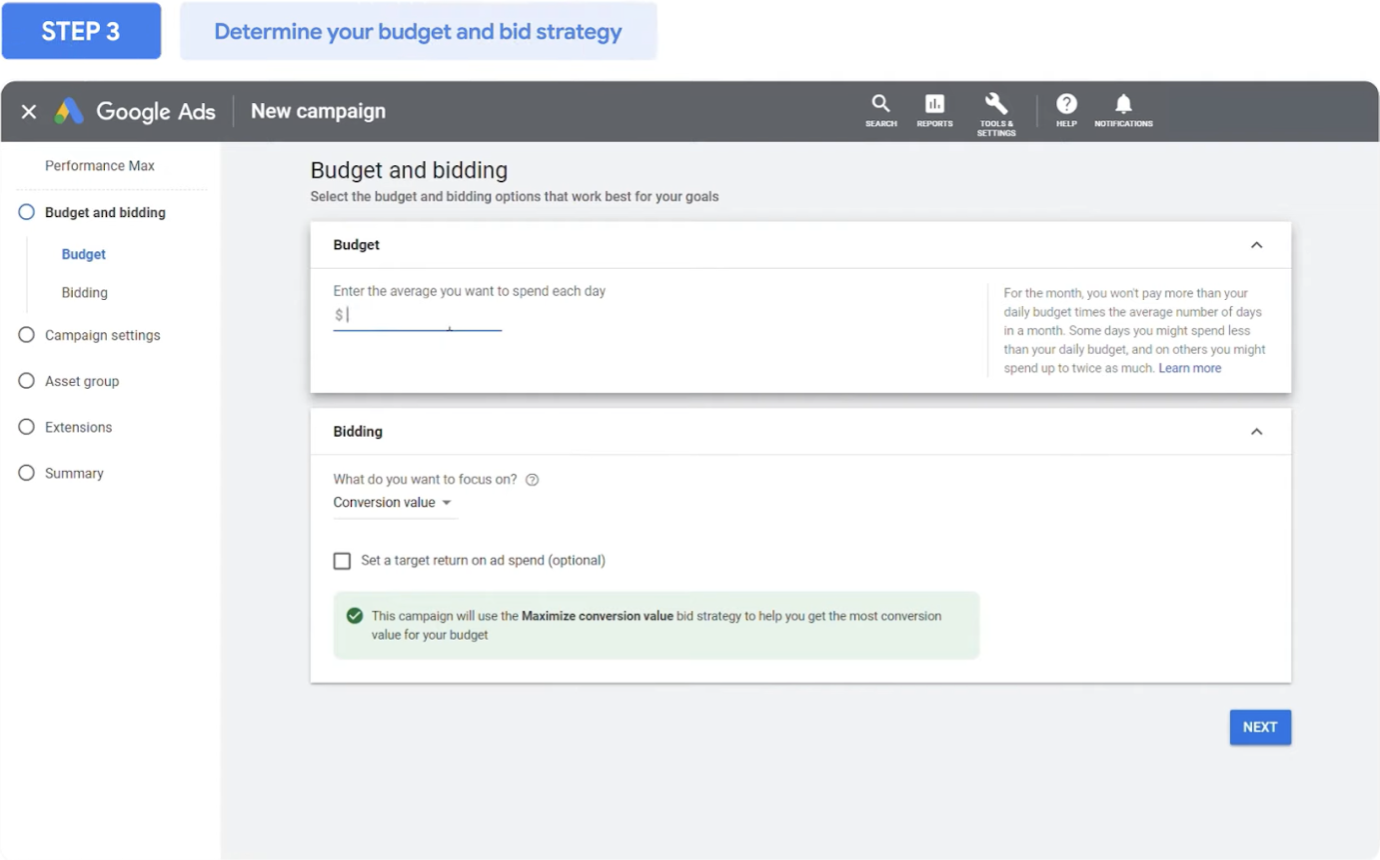 Determining the budget and bid strategy is crucial when setting up a Google Performance Max Campaign, as these elements directly impact the reach and effectiveness of your campaign.
Your budget defines the financial resources you're willing to allocate to your campaign, influencing how frequently and broadly your ads can be shown. Meanwhile, your bid strategy influences how Google's algorithms optimize your ad placements. It determines how your budget will be used to achieve your chosen objective, be it maximizing conversions, clicks, or impressions, which in turn directly impacts the campaign's overall performance and success.
Step 4: Campaign Settings
Campaign settings form the framework of your Performance Max Campaign. They include key parameters like your campaign's objective, networks, languages, locations, and ad schedule, which collectively dictate who sees your ads, when they see them, and what you aim to achieve with them.
Making informed decisions about these settings in the client's Google Ads account helps to ensure that your ads reach the right audience at the right time and place, drive optimal results and maximize campaign performance.
Step 5: Create an Asset Group
Creating an asset group is fundamental to setting up a Google Performance Max Campaign, as it helps to structure your campaign's various creative elements effectively.
Asset groups allow you to organize multiple sets of ad content, including headlines, descriptions, images, and videos, which Google's algorithms can then mix and match to create the most effective ad for each placement.
By using multiple asset groups, you tailor your assets to different audiences or products within the same campaign, thereby helping to maximize campaign performance across diverse contexts and user interactions.
*We highly recommend setting up Audience Signals at this step.
Step 6: Create Ad Extensions
Creating ad extensions is a pivotal step when setting up a Google Performance Max Campaign as they enhance the visibility and functionality of your ads. Ad extensions provide additional information about your client's business, such as location, contact information, or additional webpage links, making the ads more informative and engaging.
They are also known to improve an ad's click-through rate and overall campaign performance by making it easier for potential customers to take desired actions, such as calling the business or visiting a specific page on the website. Ultimately, well-crafted ad extensions typically lead to a more enriching user experience and higher conversion rates.
Step 7: Review Your Campaign
Reviewing your campaign is an essential final step when using Performance Max Campaigns, as it gives you an opportunity to double-check all the campaign settings, including the objective, budget, bid strategy, asset groups, and ad extensions, to ensure they align with your client's marketing goals and strategies.
Mistakes or oversights can inadvertently affect campaign performance or lead to wasted ad spend, so a thorough review helps ensure that your campaign is configured correctly and optimally before it goes live.
Ultimately, this step serves as a quality check to maximize the effectiveness of your campaign.
Receive Agency Growth Tips, Delivered to Your Inbox
How to Optimize Performance Max Campaigns
Harnessing the full potential of Google Performance Max Campaigns involves a blend of keen insight, strategic planning, and constant optimization. Here, we'll dive into various strategies for fine-tuning your campaign to ensure the best performance and outcomes.
Understanding the Key Performance Indicators (KPIs)
Key Performance Indicators or KPIs act as the guiding stars of your campaign. They help you gauge your campaign's success and inform you about necessary adjustments. Understanding and monitoring these indicators is pivotal in making your Performance Max Campaign a success.
Choosing the right Key Performance Indicators (KPIs) can make a significant difference in how well you can optimize and evaluate the success of a Google Performance Max Campaign. Depending on the specific goals of the campaign, some KPIs will be more relevant than others. Here are some of the most common KPIs that a marketing agency might use:
Click-Through Rate (CTR): This measures the percentage of people who click on your ad after seeing it. A higher CTR often indicates that your ad is relevant and engaging to the audience.

Conversion Rate (CR): The conversion rate shows the percentage of people who complete a desired action (like making a purchase or filling out a form) after clicking on your ad.

Conversion Value: This KPI represents the total value conversions bring to your client's business. It's particularly relevant for e-commerce businesses where different products or services have varying prices. By tracking conversion value, you understand not just how many conversions your campaign is driving, but also the revenue generated from these conversions. This data, combined with Cost per Conversion (CPA), provides insights into the profitability of the campaigns.

Cost per Click (CPC): This measures the average amount you pay each time someone clicks on your ad. Lowering your CPC while maintaining or increasing your conversion rate can improve campaign efficiency.

Cost per Conversion/Acquisition (CPA): This KPI shows how much it costs on average to acquire a new customer or lead. The lower the CPA, the more cost-effective the campaign.

Return on Ad Spend (ROAS): ROAS calculates the return on your advertising investment. A higher ROAS means you're getting more revenue for each dollar spent on advertising.

Impressions and Reach: Impressions measure how often your ad is shown, while reach shows how many unique users saw your ad. These Google Ads metrics can help gauge brand awareness.

Engagement Rate: For campaigns with a focus on content, such as video ads, the engagement rate (likes, shares, comments) can be an important KPI.

Optimization Score: Google's Optimization Score is a valuable metric that estimates how well your Google Performance Max Campaign is set to perform. It ranges from 0% to 100%, with 100% meaning that your campaign is fully optimized. This score also provides recommendations for improvement, helping you identify opportunities to fine-tune your campaign for better results. You don't need to be at 100%, but if you see an optimization score 70%, you probably need to focus some time and effort on that campaign.
Remember, the choice of KPIs should align with the overarching goals of the campaign, whether that's increasing brand awareness, boosting sales, generating leads, or improving customer engagement.
The Importance of Continuous Monitoring
At first glance, it might seem counterintuitive that a Google Performance Max Campaign, designed to leverage sophisticated machine learning algorithms for optimization, requires constant monitoring. Yet, this ongoing attention is indeed vital for maximizing campaign performance. Machine learning is a powerful tool, but it doesn't eliminate the need for human oversight. Instead, it's a symbiotic relationship where the technology learns from the continuous input and adjustments made by the human operator. While machine learning algorithms can automatically adjust for a wide array of parameters, they may not fully account for dynamic market trends, sudden shifts in consumer behavior, or changes in business strategy. Consider your Performance Max Campaign as a high-tech garden. While it has advanced systems in place for watering, sunlight exposure, and pest control, it still needs a dedicated gardener to monitor its growth, provide the right nutrients, and prune where necessary. Regular monitoring enables you to spot trends, understand audience behavior, and make proactive adjustments to your campaign strategy for optimal results. It's this blend of machine efficiency and human insight that allows your Performance Max Campaign to truly thrive.
Troubleshooting Common Issues in Google Performance Max Campaigns
Every campaign encounters bumps along the road. Familiarize yourself with common issues that can arise during a Performance Max Campaign, and arm yourself with practical solutions to keep your campaign running smoothly.
Understanding and addressing these common issues can mean the difference between a stalled campaign and one that runs smoothly and efficiently.
Low Visibility: One of the most common problems is that your campaign is not getting enough visibility. This could be due to overly narrow targeting, low bids, or issues with your ad content. Solutions could include expanding your targeting, increasing your bids, or improving the quality of your ads.

High Cost per Click (CPC): Another frequent issue is a high CPC, which can eat into your budget quickly without delivering the desired results. This can be due to high competition for your targeted keywords or poor Quality Scores. Try refining your keyword strategy or improving the quality and relevance of your ads and landing page.

Low Conversion Rate: If you're getting clicks but few conversions, you might need to review your landing pages or your conversion process. Ensure the landing page is relevant to your ad, easy to navigate, and includes a clear call to action. Also, check that your conversion tracking is set up correctly.

Unsuccessful Machine Learning Optimization: Despite the power of machine learning, sometimes Performance Max campaigns don't deliver the expected results. This could be due to inadequate data for the algorithms to learn from. In this case, giving the campaign more time to collect data or providing it with more conversion data can help.

Budget Exhaustion: If your budget is running out too quickly, you may need to adjust your bids or refine your targeting. Another possibility is that your campaign settings allow for too much spend in a short period. Check your budget settings and consider setting a daily budget limit to spread your spend more evenly.

Lack of Diversified Assets: Performance Max campaigns thrive on a mix of diverse creative assets. If you're not seeing the expected performance, it might be due to a lack of asset variety. Try adding more text, image, or video assets to allow the machine learning algorithm more options for optimization.

Poor Lead Quality: It's not uncommon for campaigns to generate a high volume of leads, but the quality of these leads may be low. Poor lead quality could be a result of broad targeting, irrelevant keywords, or misleading ad content. To address this issue, consider tightening your targeting parameters, refining your keyword strategy, and ensuring that your ad content accurately represents what you're offering. A focus on attracting quality leads rather than a high quantity of leads can improve the overall effectiveness of your campaign and increase the return on your ad spend.
Familiarizing yourself with these common issues and their solutions can help ensure that your Google Performance Max Campaign runs smoothly and successfully.
When to Consider Ending a Performance Max Campaign
Not every Performance Max Campaign will meet your agency's or your client's expectations. It's essential to recognize when it might be more beneficial to pivot or end a campaign altogether. Here, we discuss a few of the signals that might indicate it's time to consider this difficult decision.
Here are some warning signs that might indicate it's time to consider this difficult decision:
Persistently Low Performance: Even after repeated adjustments and optimizations, if the campaign is still underperforming or not meeting your KPIs, it might be time to consider ending the campaign.

High Cost with Low Return: If your campaign's cost is consistently exceeding the revenue or value it brings in, it may not be a sustainable choice for your marketing budget. A high Cost per Acquisition (CPA) or low Return on Ad Spend (ROAS) are signs that your campaign may not be cost-effective.

A High Volume of Low-Quality Leads: If (despite your attempts to optimize against this) your client campaign is consistently bringing in leads that are low-quality or not converting, it might be a sign that the campaign needs to be reconsidered.

Significant Change in Business Strategy or Goals: If your client's strategic direction or marketing goals have changed significantly, the campaign may no longer align with these objectives. In this case, it could be more beneficial to end the campaign and start a new one that better matches your current goals.

Market Saturation: If you've been running your campaign for a while and have seemingly reached all potential customers in your client's target audience, continuing the same campaign will likely yield diminishing returns.

Performance Metrics Stagnation: If your performance metrics have plateaued over a significant period and you're unable to increase them despite multiple efforts, this could indicate that the campaign has run its course.
Recognizing these signals early can save precious time and resources that can be better spent on launching new campaigns that are more aligned with your current objectives and audience preferences.
How To Avoid the Potential Pitfalls of Performance Max Campaigns
Overall, Performance Max works well at bringing in new leads, increasing return on ad spend (ROAS), and providing a great mobile experience. But it's not the 'set it and forget it' automation dream that Google is touting it as.
In fact, some see Performance Max as more of a mixed bag as the cheaper cost per lead (CPL) often comes at the price of significantly lower lead quality. On top of that, agencies have also seen a decline in the performance of their Search campaigns-including branded search-due to cannibalization, despite Google's promises that Search campaigns would be prioritized over Performance Max.
Agency Tips and Tricks for Performance Max
Here's a list of tried-and-true tips and tricks to help agencies get used to Performance Max courtesy of Lindsay, our PPC expert.
Negative Keywords
You cannot add negative keywords at the platform level, even though this is even more important with a fully automated campaign like Performance Max. 
The only way to add negative keywords is to go through your Google Rep. Hopefully, this will change, but there is no ETA. And, to add insult to injury, if you do not have a dedicated Google rep, you have no way to add negative keywords to PMax. Support will not do this. So this is a big red flag for smaller advertisers and agencies.
Cannibalization
Performance Max cannibalizes brand bigtime, so if you are running brand campaigns, make extra sure that your brand terms are added as negatives to your Performance Max campaigns.
Check Your Insights
Make sure to look through the "Insights" tab weekly. This will give you an idea of the type of searches your Performance Max campaigns are appearing on. Scour this religiously and send negative keywords to your Google rep to add.
Exclude Irrelevant Urls
Do not let Google use your entire website because it will send traffic to the most random, irrelevant pages. 
One way to solve this is setting it to only use one URL, but that can be too restrictive so we recommend taking the time to go through your website and exclude the irrelevant URLs.
Location Targeting
Don't just rely on location targeting. It's best to proactively exclude any country you do not want your ads appearing in.
One of the Most Important Things to Remember Is…
You have no control over devices because there is no way to exclude mobile devices from PMax. This means if your site/product is not optimized for mobile, you will get a ton of non-converting traffic.
Also, we recommend that anyone using Performance Max to drive leads needs to have a CRM set up and their tracking in place. Many accounts show impressive numbers but the lead quality is often poor so it needs to be monitored. 
What PPC Managers Should Spend Their Time On While Performance Max Campaigns Are Running Smoothly
While Performance Max's automation and machine learning capabilities make it easier to create Google Ad campaigns, as we've covered, that doesn't mean you can push a button and walk away. 
Somebody (like your agency's resident pay-per-click expert) still has to steer and monitor these automated campaigns, which means you'll need an actual human (a PPC specialist will do) to set the course, provide the data, and make tweaks and adjustments as needed.
Speaking of data, that will be fundamental to the success of your Performance Max campaigns because your results will only be as good as the data you give it. 
So make sure to add those Audience Signals!
Ask Yourself, "What Can You Automate?"
For PPC managers, we also highly recommend taking a look at the processes and identifying areas that can be automated. 
Perhaps you could let Smart Bidding take over that side of things to free up your time for something else?
If you're still skeptical about Performance Max, you could even run automated campaigns against manual ones, and then compare the results to see what's better.
Another big question for agencies is, "How much to charge for PPC management and how automation will affect it?". You would typically charge anywhere from 10% to 20% of the spend as your agency's PPC markup, depending on the size and capabilities of your agency. This cost may decrease in direct relation to the amount of effort required to achieve success, and the percentage of the total spend and revenue relies on Performance Max.
But regardless of that, every agency needs visually appealing PPC reports when presenting to clients or the big bosses. Luckily, it's easy to create a PPC dashboard with AgencyAnalytics!
What Do Performance Max Reports Include?
Reporting is a critical component for any agency because it's how you wow your clients with how well your campaigns are doing. 
Performance reporting has been an issue in the past, and it's a work-in-progress that Google is continuously trying to improve upon. Google Performance Max campaign reporting was somewhat limited in 2021 as agencies could only report on: 
Top-level campaign performance

Performance by location

Performance by time of day and day of week
In 2022, Google brought Placement Reports to Performance Max, allowing agencies to see where their clients' ads were placed and how many impressions they got. While it has improved over the previous year, it could still be better by providing the click data. But that should come with time as well.
Create a Google Ads Dashboard to Showcase Your Performance
Struggling with how to quickly and easily include Performance Max data in your client reports?
The Google Ads dashboard from AgencyAnalytics is designed for agencies. It helps you and your clients access the results of your Google Ads campaigns in a live dashboard with a beautiful, white-label template complete with Google Ads integration.
Use this exact dashboard template free with your free 14-day trial and flip it into a client-ready report in minutes.
The Google Ads dashboard is the perfect tool for any agency that wants to improve its campaign management and reporting. With its easy-to-use interface and powerful features, it is designed to help you drive better results for your clients.
Summary & Key Takeaways
Simply put, Performance Max campaigns are an amalgamation of multiple Google Ads formats into one: Search, Display, Discovery, Video, and Local. And it's here to stay. 
In order to keep track of your client's Google Ads efforts, your agency needs reporting software to keep track of everything in one place.
Keep it simple with a templated Google Ads dashboard, or customize your SEM reporting tool with AgencyAnalytics. Start your free 14-day trial today and set your reporting process on autopilot. 
Receive Agency Growth Tips, Delivered to Your Inbox
Michael is a Vancouver-based writer with over a decades' experience in digital marketing. He specializes in distilling complex topics into relatable and engaging content.
Read more posts by Michael Okada ›
Try AgencyAnalytics risk-free for 14 days. No credit card required.