Back in October 2022, Google announced the rebranding of Google Data Studio (GDS), which now functions as part of Looker. This may have come as a surprise to agencies that relied on GDS for client reporting and also raised concerns about what's different.
While there were a few new developments to note, one thing remained the same–its ability to create visual reports and dashboards, albeit with some limitations. 
Looker Studio is a good starting point, especially when you're establishing processes and finding your groove. But after some time, you will likely find that it isn't the best option for managing multiple clients, accessing real-time data, or responsive customer support. 
In the very beginning, the reporting was manual and time intensive. We knew long term this was not a viable option. We tried more automated services such as Google Data Studio and others. These were a bit more automated but cumbersome, difficult to connect with all ad platforms, buggy, and not visually appealing.

–Brian Ferritto, Partner at 42connect
Reporting gets complex pretty quickly when you've got a growing roster of clients and increased time demands. 
Think about it–what happens when you suddenly end up with 10 times more reports to produce? Or new clients to onboard, and you want to do so seamlessly? As GDS used to, Looker Studio gets the job done, but you (and your clients) need more than the bare minimum.
Not sure where that leaves you? You've got options! In this article, we'll explore:
What Is Looker Studio?
Looker Studio is a free, cloud-based reporting platform that transforms marketing data into visual dashboards and reports. 
Agencies often use it to pull metrics across multiple data sources, provide data analysis, and show the ROI of marketing campaigns. Looker Studio does have a Pro version that includes additional features like team workspaces and different levels of customer support (depending on your chosen package). 
When Did Google Data Studio Become Part of Looker?
Looker was acquired by Google in 2020 to become part of its Google Looker & Cloud–an enterprise-level platform that's used for predictive modeling, creating embedded analytics, and business intelligence insights. 
Looker Studio (the rebranded name of Google Data Studio) is just one arm of this platform. It's primarily used for more on-demand data analysis, including the creation of reports and dashboards. These tools complement each other and lead to rich, comprehensive data narratives.
But are these tools right for a marketing agency trying to prove their ROI to a client? Read on to find out! 
The Benefits of Looker Studio
Wondering why agencies often turn to Looker Studio? Here are some benefits worth noting.
1. It's Free
It's a given–free means no line items on your agency's credit card statement. And in the early stages of the digital agency life cycle, 100% free may even be a pre-requisite for a reporting tool. 
For $0.00, Google Looker Studio gets the job done if you're managing a relatively small number of clients with a limited number of marketing campaigns. 
However, it is important to remember that "Free" doesn't mean that there is no expense involved. Free often comes at a cost, and it's your precious time. And the same limitations with Google Data Studio can be found with Looker Studio.
2. Effective Data Visualization
Client reporting is just an eyesore without some form of data visualization, which is where Looker Studio also comes in handy. There's also the option to blend data from multiple sources and use pre-built templates.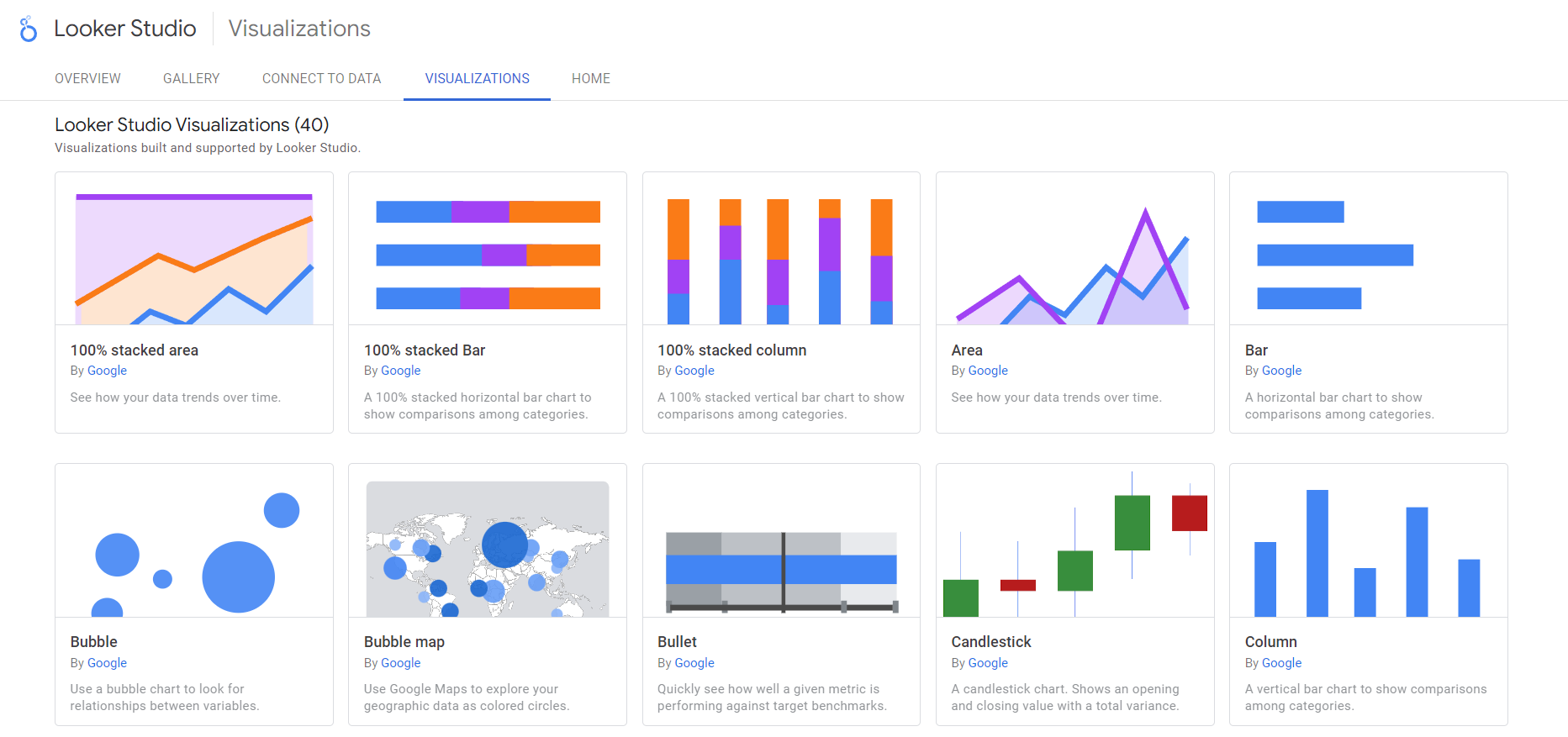 3. Integrates With Other Google Platforms
If your agency relies on any form of Google reporting, then using Looker Studio seems like a no-brainer in the early days. Their list of first-party connectors (integrations) includes:
Additionally, Looker Studio also offers third-party connectors, such as Facebook Ads, Instagram Ads, and Microsoft Ads (though the popular ones come at an additional cost). 
Looker Studio Drawbacks: Why Agencies Look for Looker Studio Alternatives
No platform is perfect. And as a growing agency, you've probably encountered a couple of Looker Studio hiccups. 
Here are a few reasons why you may be exploring alternatives (and reading this article).
1. To Manage Multiple Clients and Scale More Effectively
When the end of the month rolls around, you don't want to spend valuable billable hours toiling over client reports. While Looker Studio offers pre-built templates, it gets complicated when you're pulling data from multiple sources. And creating client reports becomes increasingly time-consuming. 
This is especially the case when integrating data outside of Google's ecosystem or creating more complex reports, which can even run into a few glitches. The last thing you want is to spend hours creating a report only to end up with a blank, frozen screen. 
We've worked previously with Google Data Studio. It was a good solution for a while but a slower, more complex setup. There were also lower load times, and it was often too overwhelming for our average client. 

–Anthony Guilhem, CEO of Momentumm Digital
And to top it off, add-on integrations are priced individually. So if your agency needs many third-party connectors, you'll incur high costs. That doesn't sound sustainable if you ask us.  
Drag and drop widgets from a variety of data sources. All 75+ platform integrations are included on AgencyAnalytics at no extra cost–create reports and dashboards free for 14 days.
2. For Customer Support
Let's take our previous example. Say you've spent countless hours creating a Looker Studio report, only to have it crash right before your eyes. One logical solution would be to seek customer support. There's just one problem–it isn't available on Looker Studio's free version.
That means you're basically back to square one despite your best efforts to resuscitate that broken report.
If a widget breaks or you can't figure out how to navigate a platform update–you're pretty much on your own. We wanted to switch to a platform that would have support available to us should something go wrong, that would be easier to use and more aesthetically pleasing out-of-the-box, and that could be updated more or less with a single click.

–Molly Lopez, Owner-Partner at HITE Digital, Miami 
And while customer support is available for Looker Studio Pro version, there are wait times of up to 8 hours (depending on issue severity). If you're working on a time-sensitive report, that means added delays or missing your clients' deadlines altogether.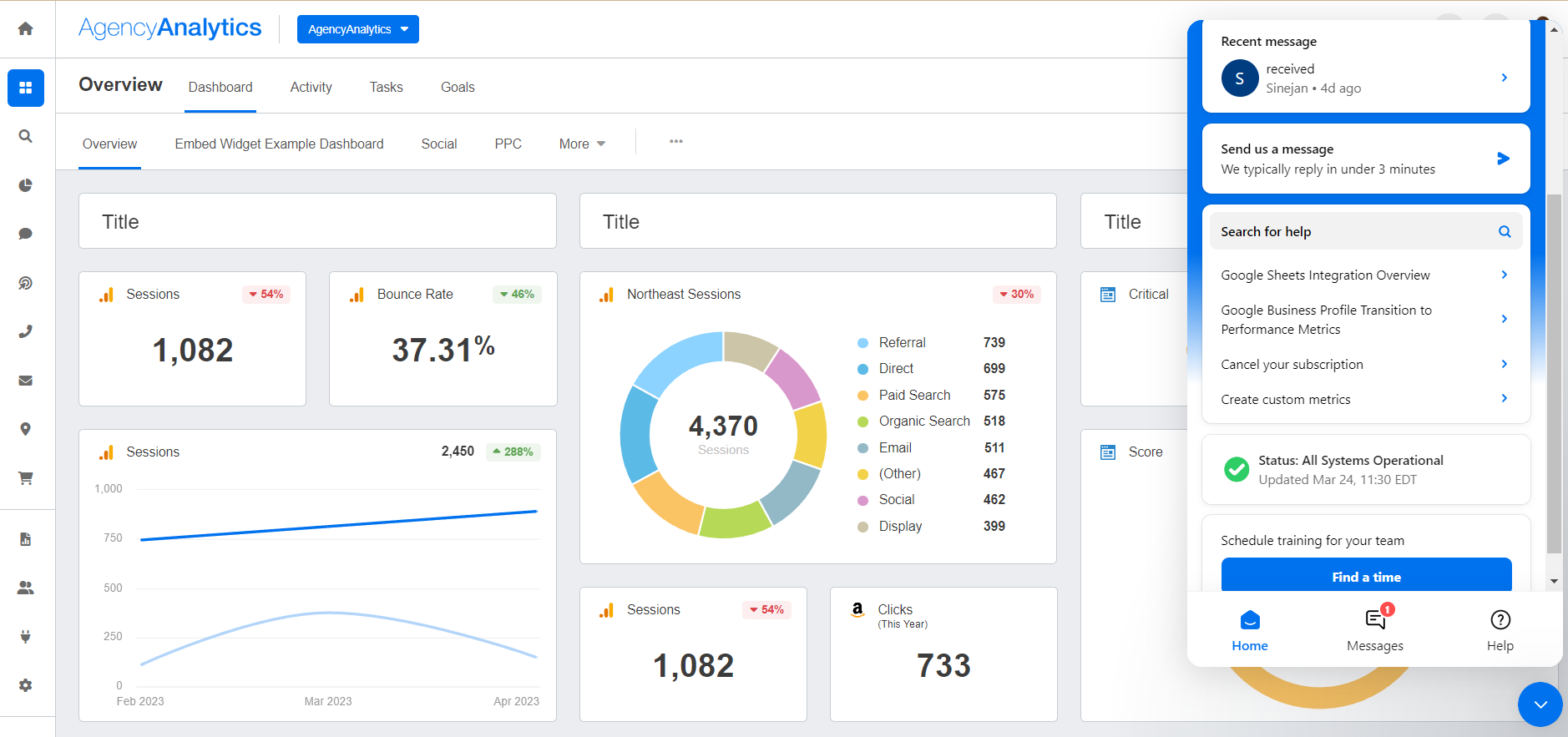 Get customer support exactly when you need it. With response times under 3 minutes, access a 24/5 live support chat directly from your AgencyAnalytics dashboard–sign up for a free 14-day trial today. 
3. To Get Real-time Data Access
As marketing campaigns progress, you need to know what's happening at a moment's notice. What will you do when a client calls and wants a real-time data update?
Different marketing platforms will have different data freshness (i.e., real-time data accuracy).  And because Looker Studio uses cached data, you may open a dashboard and report inaccurate data to your client on the phone. 
Not only could this skew your clients' data-driven decisions, but it will also affect your agency's credibility. 
I was using manual export and import with Google Sheets and feeding it to Google Data Studio. The drawback was no real-time data. 

–Matthew Regenie, CEO of Prospect Future 
The Pros and Cons of Looker Studio
As a quick snapshot of what we just discussed, here are the main pros and cons of Looker Studio. 
| Pros | Cons |
| --- | --- |
| Free version available  | Lack of customer support for the free version and long response times in the paid version |
| Seamless integration with other Google platforms  | Limited number of free integrations, slow loading times and glitches when creating more complex reports  |
| Pre-built templates for visually appealing reports and dashboards | Possible inaccuracies when monitoring real-time metrics because of caching and variable data freshness |
| Ideal for smaller agencies with fewer client reports  | Not ideal for agencies with 10+ clients who need a scalable client reporting platform |
The Top 6 Looker Studio Alternatives To Consider
If you're ready to mash the gas on a Looker Studio alternative, here we go! To compile this list, we considered the needs of growing agencies that need:
Access to highly visual reports and dashboards

Fast loading times to maximize efficiency 

Pre-built reporting templates for easy replication

Automatic data retrieval from marketing apps 

Advanced data capabilities (which enterprise-level agencies often seek)
Let's explore below.
1. AgencyAnalytics
On the hunt for a robust client reporting tool? Look no further. Built specifically for marketing agencies, AgencyAnalytics offers valuable features such as:
24/5 live chat customer support with a response time of under 3 minutes  (additional e-mail support available at support@agencyanalytics.com) 

Over 75 marketing integrations–at no additional cost 

Real-time data population on dashboards 

Easy replication of dashboards, reports, and account-level campaigns

Full white-labeling capabilities from dashboards to emails and custom URLs

Unlimited staff and client login profiles to control access and manage your entire agency

In-app chat features for streamlined client messaging

Annotations to supplement data visualizations and give added context

Pre-built, fully customizable dashboard templates, and reporting templates 
Before using AgencyAnalytics, we simply provided reports with no comments and bombarded clients with stats. AgencyAnalytics allows us to break down these stats for clients on all levels. We can customize the reports for each client and tailor them to their individual needs. It has allowed us to communicate their entire digital progress in one comprehensive report that is automatically delivered to their inbox.

–Kim Meissenheimer, Ads Specialist at Expand Agency
If you're ready to give your client reporting an extra edge, pricing starts from $12/month per client campaign and a free 14-day trial to get started–no Credit Card required.
2. Microsoft Power BI
This powerful business intelligence tool pulls information across multiple data sources to create highly visual reports and dashboards. 
If your clients rely on manual Excel spreadsheets for any form of data collection, Microsoft Power BI has the benefit of seamless integration and advanced data analysis.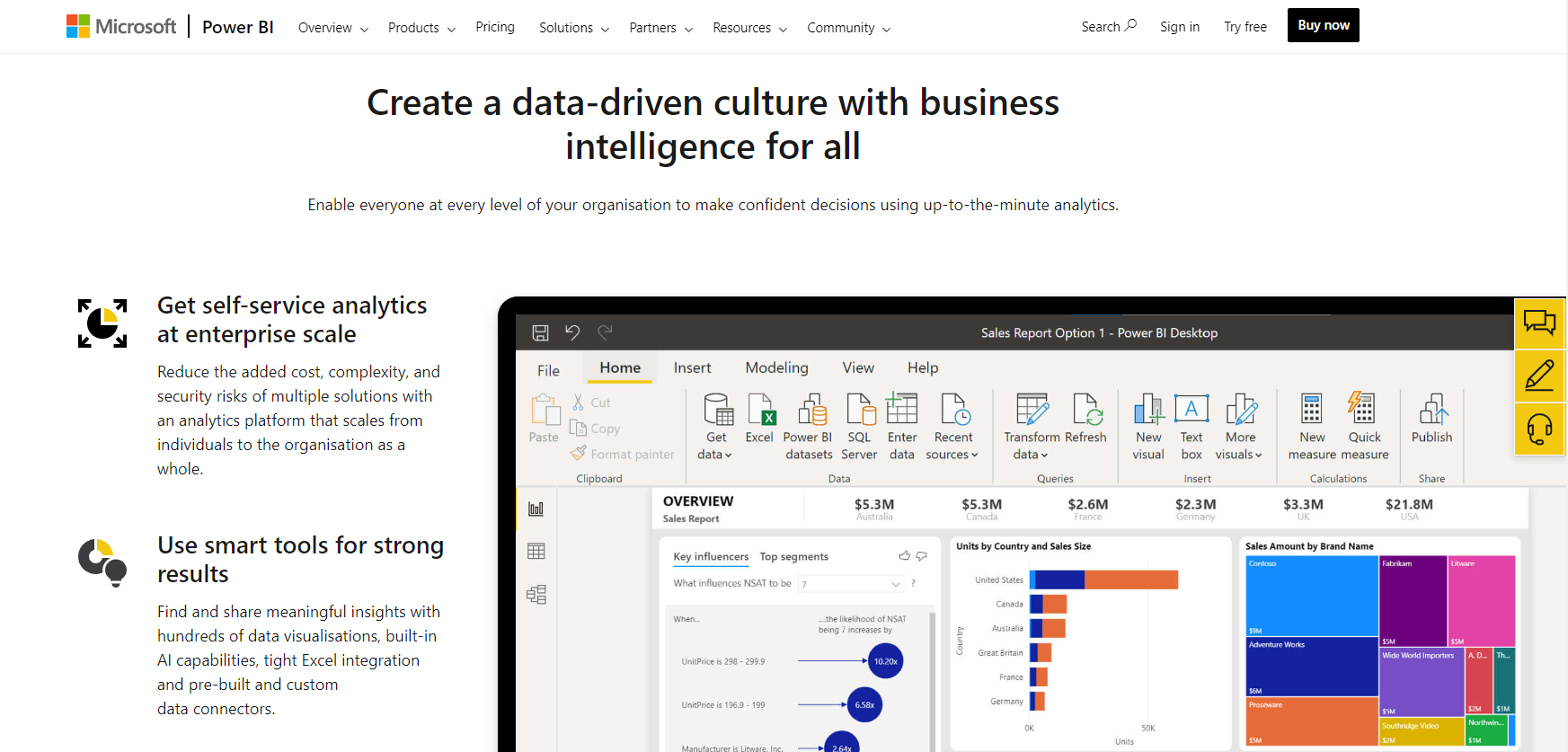 Some notable features of Microsoft Power BI include:
Advanced Excel capabilities, such as consolidating multiple worksheets in a single report

Predictive modeling (which is helpful for large-scale exercises like media mix modeling)

Creation of automated workflows, dashboards, and reports
There's a free version of Microsoft Power BI that includes report creation for personal use. The Power BI Pro package offers more features (like collaboration and report themes), starting from $13.70 per user per month.
Agency Tip: Want a complete 360-degree connection to Google Sheets? Easily export your clients' marketing data into a spreadsheet using the AgencyAnalytics Google Sheets app (currently in beta), run any calculations your agency needs, and then import the resulting data into AgencyAnalytics via the Google Sheets Integration.
3. SAP Lumira
Similar to Microsoft BI, SAP Lumira is another business intelligence tool that's useful for analyzing your clients' Excel databases. Their extensive range of data visualizations also helps to uncover historical trends and other valuable insights.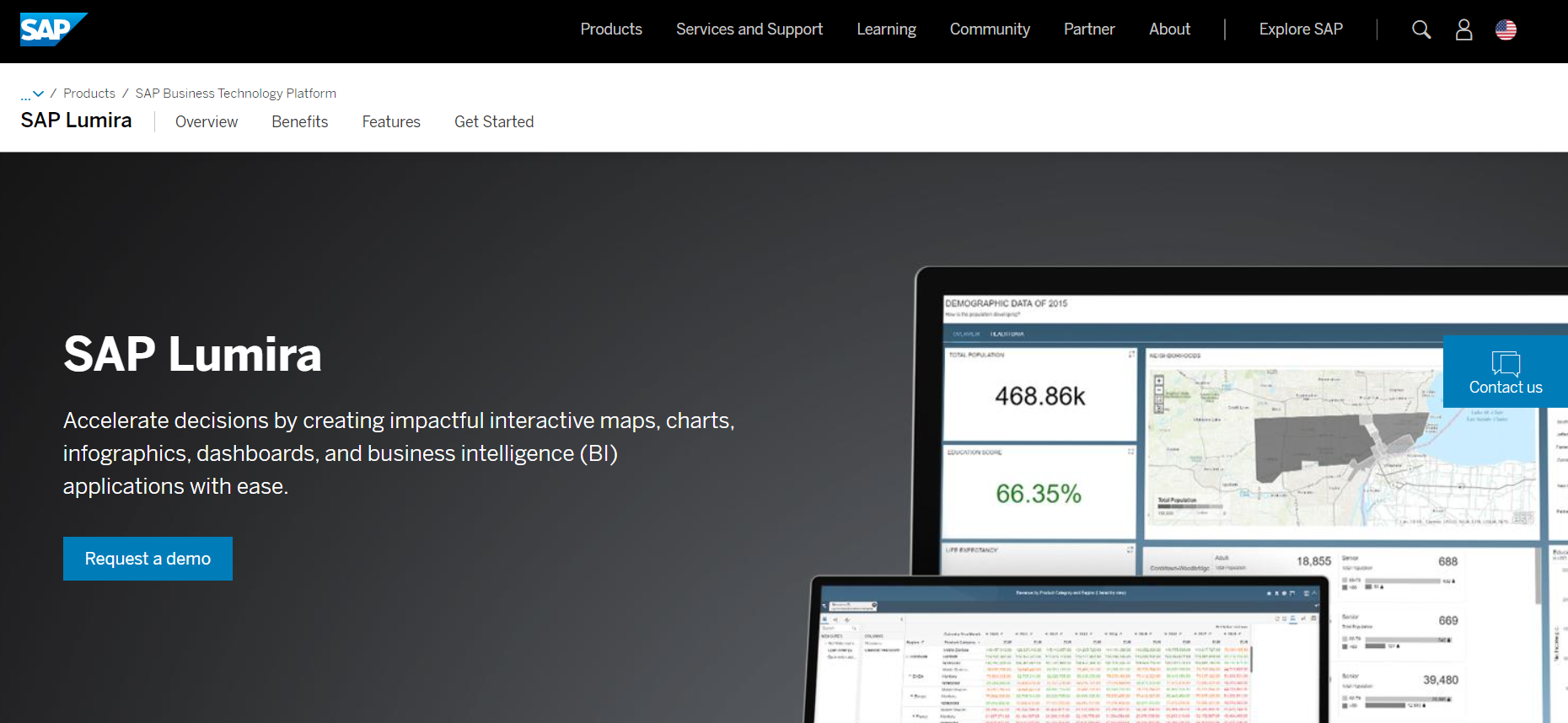 This enterprise-level business intelligence tool isn't for all agencies but is a viable option for large-scale data analysis. Some key features include:
Real-time access to governed data (which is useful for historical predictive modeling)

Data storytelling through dashboards 

Data filtering for increased insights and customization
If you're interested in trying SAP Lumira, there's a free 30-day trial and standard pricing starts from $185 per user. 
4. Tableau
Have clients that heavily rely on a Salesforce CRM? Their business intelligence tool Tableau provides data visualization for CRM analytics and customer data insights. Additionally, Tableau has the ability to pull data from other sources like Google Analytics and Microsoft Excel.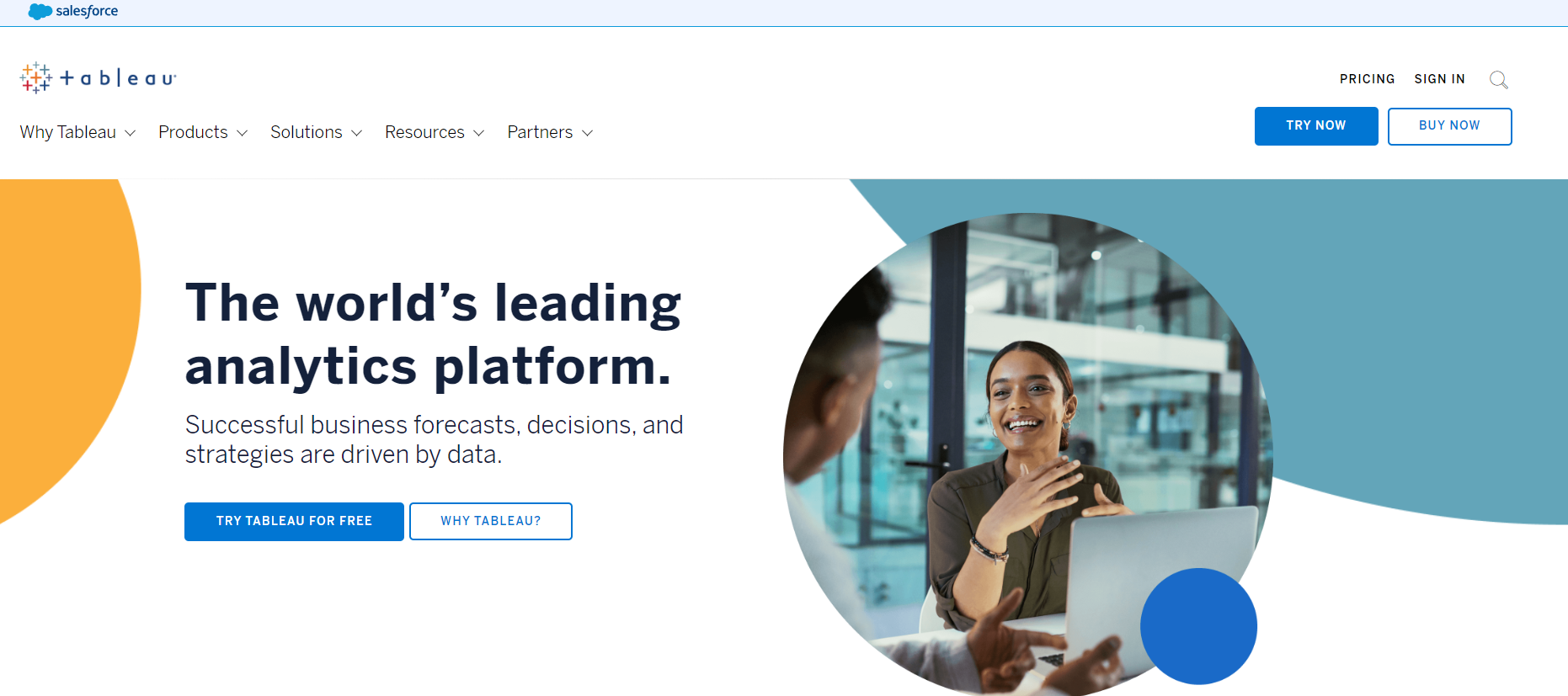 Tableau's handy features include:
Embeddable analytics for data integration on other platforms 

Streamlined workflows and data cleaning

Visual and mobile-friendly dashboards
This platform offers a free 14-day trial. There's also the option to get a Tableau creator license starting from $70/month billed annually (which works out to $840/year). 
5. IBM Cognos Analytics
An enterprise-level solution like IBM Cognos Analytics works well for big-picture business overviews and reporting. From analyzing website traffic to promotion performance, this platform consolidates marketing data into highly visual formats.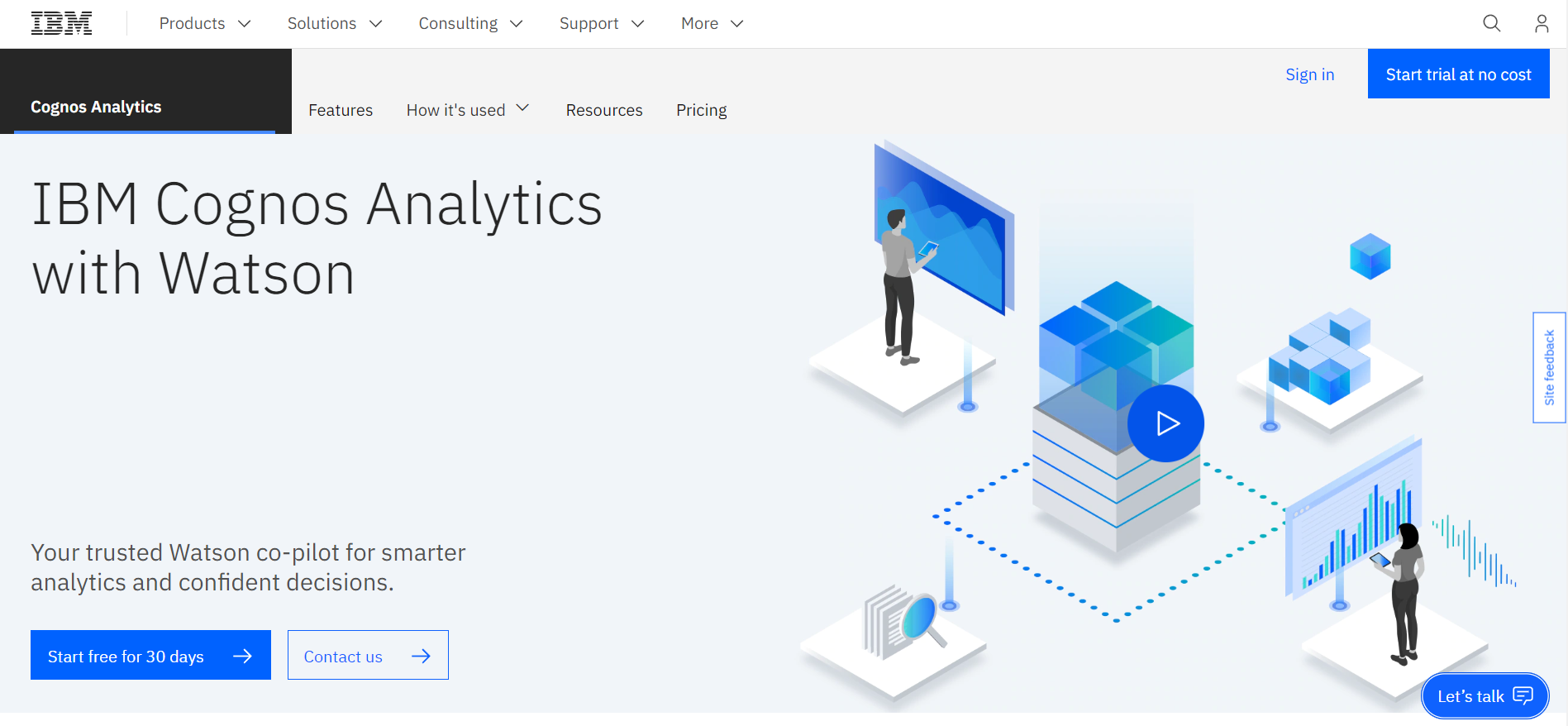 IBM Cognos Analytics' standout features include: 
Built-in AI for more insights and recommendations

Interactive dashboards and reports

Streamlined process and task management
If you prefer to test it out before committing, IBM Cognos Analytics offers a free 30-day trial. Their standard pricing starts from $10/user monthly.
6. Domo
This cloud-based business intelligence platform provides data visualization, predictive analysis, and unified goals across departments (e.g., sales, marketing, and finance). 
Domo offers useful features such as: 
Pre-built and fully customizable design themes

A range of marketing integrations including Google Analytics and Hubspot

Automated workflows for increased efficiency
A free trial is available (its length depends on how you're planning to use the platform) and custom quotes are provided upon request. 
Which is the Best Looker Alternative for Client Reporting?
We hope you've found this list useful! Wondering why AgencyAnalytics is listed as the top choice? 
The additional tools we've mentioned are excellent for in-depth analysis and data visualization. That being said, they may not always provide the exact features that agencies need to grow and thrive. 
From platform-specific dashboards to pre-built marketing reports, AgencyAnalytics was created with you in mind. 
Go Beyond Looker Studio Limits With AgencyAnalytics
There are more than a few reasons why over 6,000 agencies have jumped on the AgencyAnalytics train. After all, it's built specifically for agencies!
Growing agencies have growing demands. And with a million things on your plate, the last thing you need is a lag in client reporting or wasting billable hours. 
AgencyAnalytics has helped us recoup the time previously spent doing our reporting. We are now able to update reports much more seamlessly. Plus, the team offers support via chat, email, and, if needed, phone–which many other platforms, including our previous platform, GDS, did not.

–Molly Lopez, Owner-Partner at HITE Digital, Miami 
No more short-term fixes–invest in a sustainable reporting solution like AgencyAnalytics to complement your scaling goals. From automatic data retrieval to fully customizable dashboards, use AgencyAnalytics to streamline client reporting and focus on growing your business.
Add hours back to your agency's days with robust automation features. Try AgencyAnalytics free for 14 days!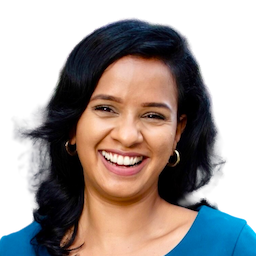 Faryal Khan is an experienced marketer and brand photographer with a passion for content creation. She creates value for brands through storytelling and captivating visuals.
Read more posts by Faryal Khan ›
Try AgencyAnalytics risk-free for 14 days. No credit card required.