AgencyAnalytics for Google Sheets
This app extension by AgencyAnalytics is the easiest way to export marketing data from your agency's client campaigns directly into Google Sheets. Perform deeper analysis. Blend data sets. Get creative at deriving new insights to demonstrate and drive your agency's performance.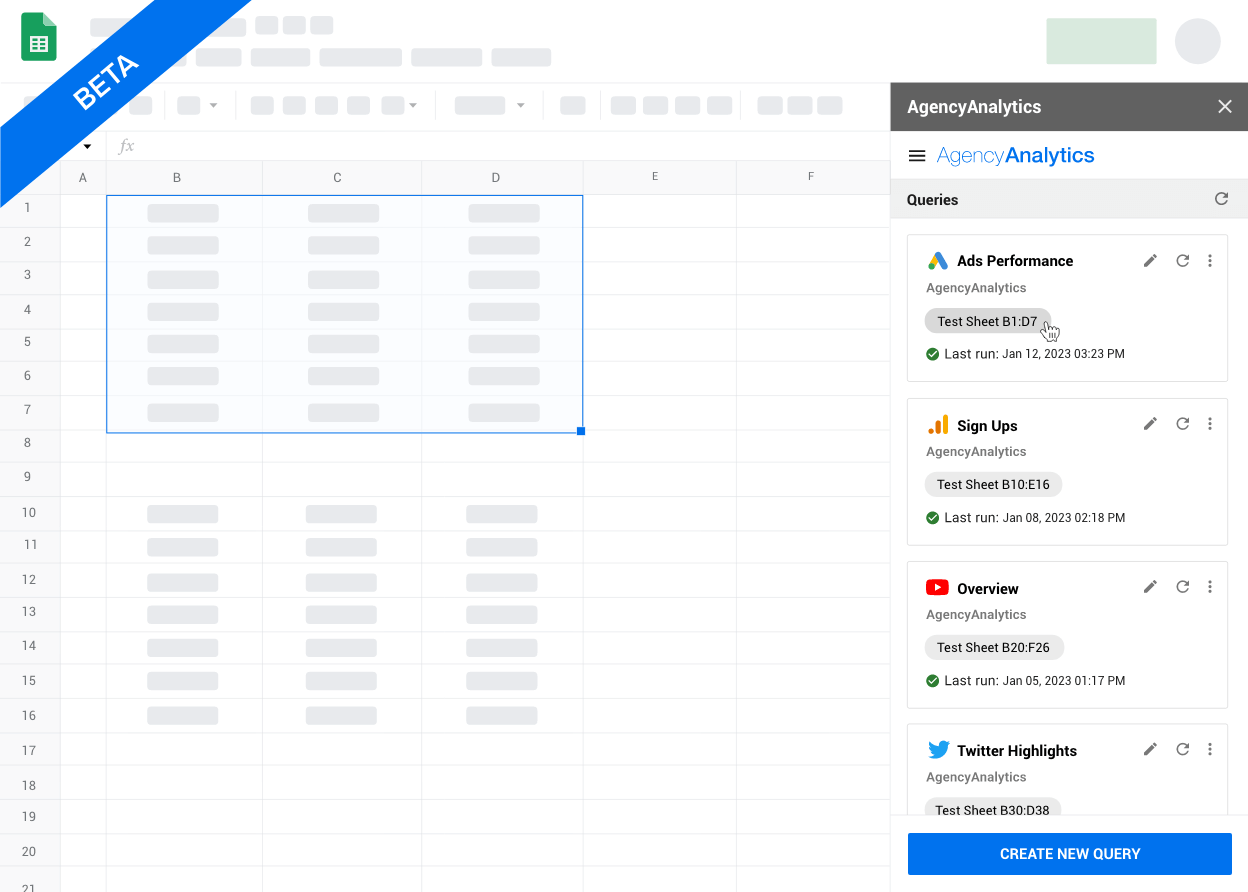 Seamless Data Transfer
Select data from any client campaign and integration, easily define views, dimensions, metrics, and more.
Deep Metrics Analysis
Import and blend data from different campaign integrations, find correlations, and go deeper than ever with your data analysis.
Full Google Sheets Functionality
Create multiple queries to pull data into a single sheet or across tabs, leverage Google Sheets to handle, blend, and format data however needed.
Up-to-Date Metrics
Automatically pull the most up-to-date figures from AgencyAnalytics with the click of a button or at scheduled times.
ADD AUTOMATION TO YOUR DATA ANALYSIS PROCESS
Streamline Data Flow to Google Sheets
Install the extension through Google Workspace Marketplace, connect it to your AgencyAnalytics account, and never manually transfer data between platforms again. A fully automated way to export your clients' marketing data into Google sheets for more complex handling and analysis.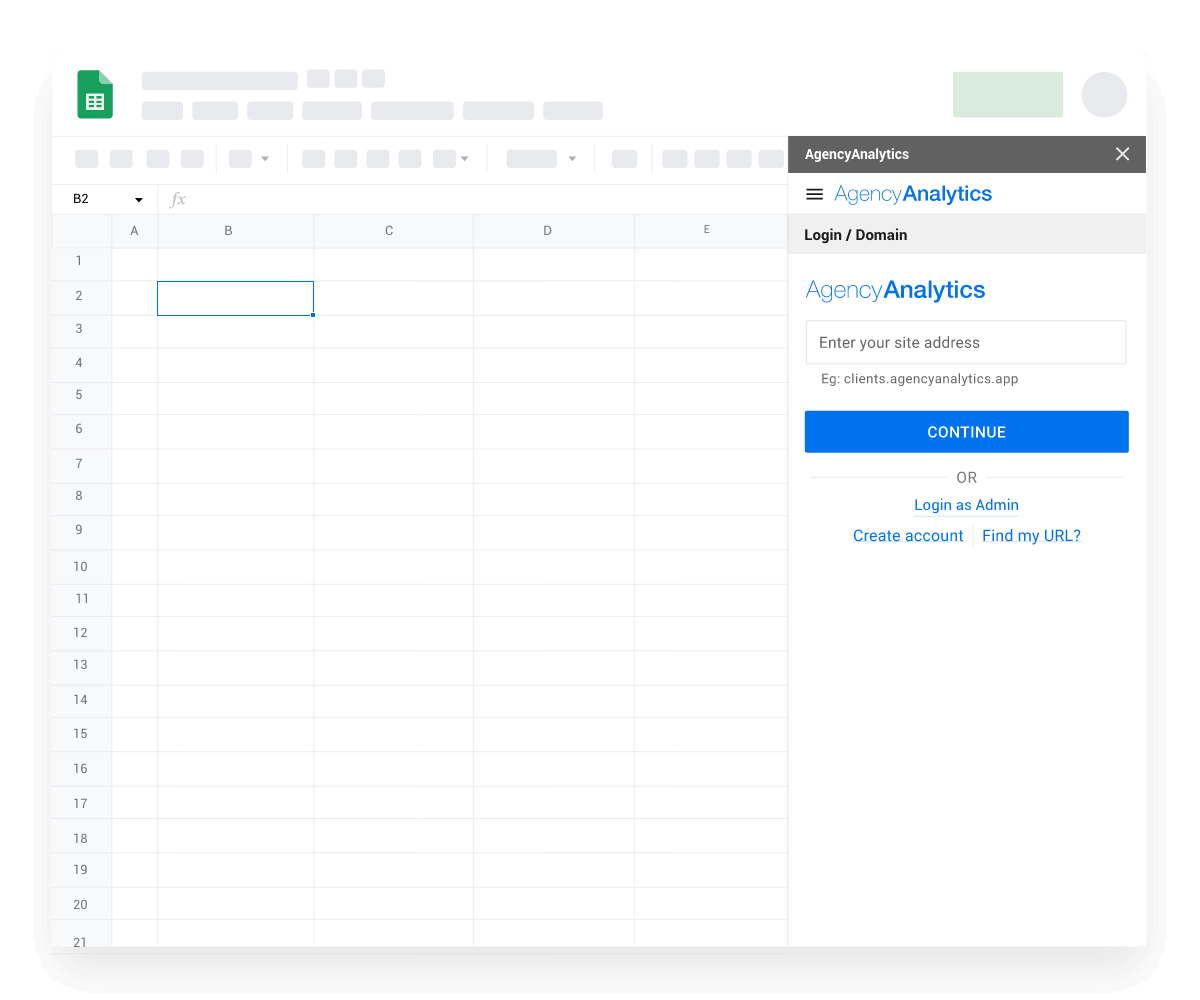 EASY ACCESS TO ALL YOUR DATA
Marketing Data From 75+ Integrations
Copying and pasting data from all of a clients' marketing platforms into Google Sheets is tedious and time-consuming. Create a single, direct path to import data from 75+ marketing integrations. Pull it straight from AgencyAnalytics into Google Sheets for quick and easy access.
Derive More Insights From Your Metrics
Want to compare your marketing performance across several different platforms over a specific timeframe? Need to blend various metrics to derive new ones? Comparing spend and performance against a monthly or weekly forecast? These types of data manipulation initiatives are a breeze when you install the AgencyAnalytics for Google Sheets app extension.
Make Better Use of Your Marketing Data
There are tons of options for what you can do with your data once you pull it from AgencyAnalytics into Google Sheets. From combining it with in-house data for a more complete picture, to normalizing it or transforming it, and even routing it into other platforms using a tool like Zapier, the options are endless.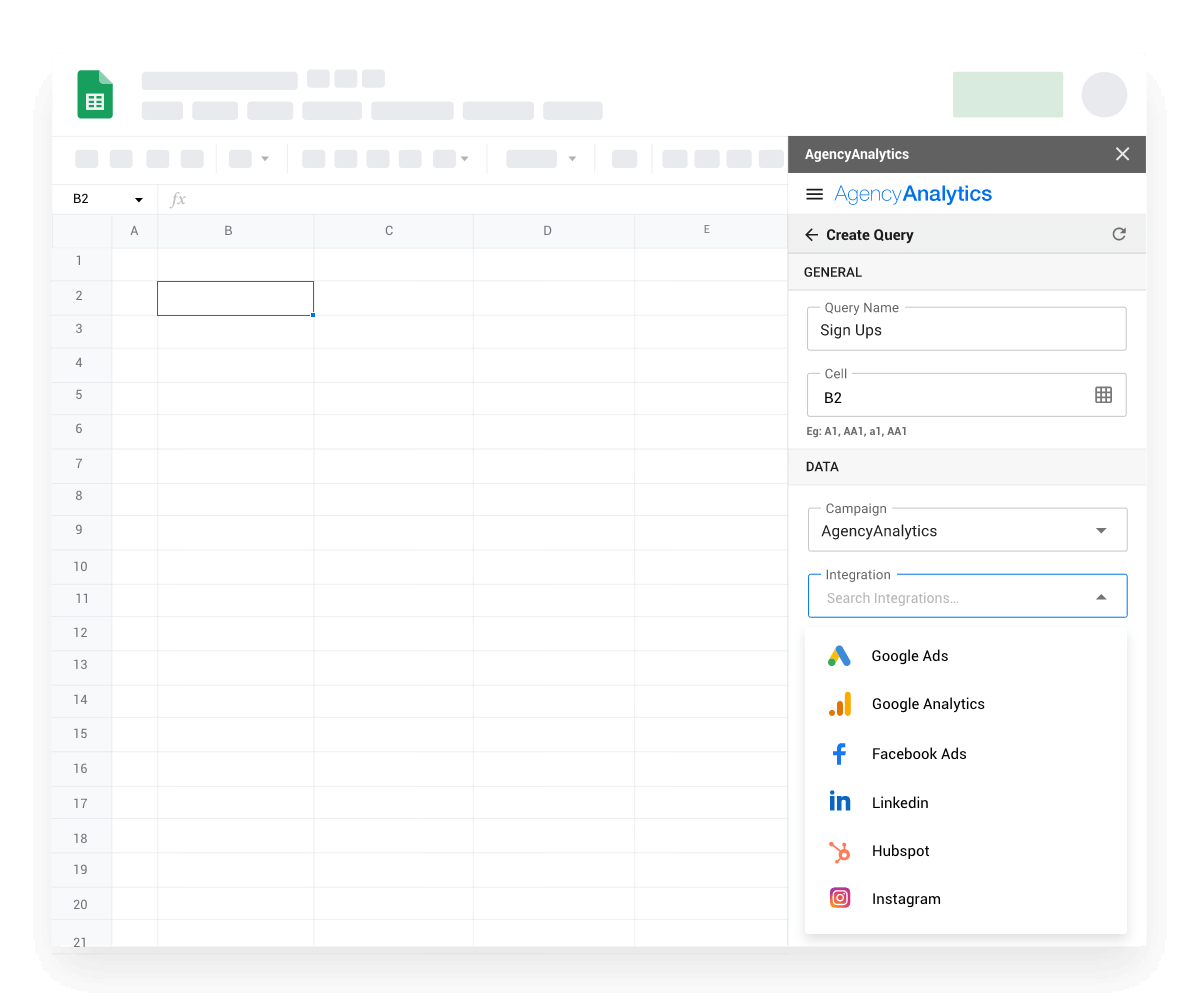 ROUTE DATA BACK INTO YOUR REPORTING
Pull Custom Data Back Into AgencyAnalytics
Once you start building out a Google Sheet with queries from AgencyAnalytics, begin building formulas based on your data. When you're finished working with that data, use the Google Sheets integration to route the data back into your AgencyAnalytics dashboards and reports to include these custom calculations in your client reporting.
Schedule Your Data Refreshes
Data accuracy matters. Completely automate the data refresh process and your marketing reporting with query scheduling functionality. Schedule your data queries to refresh on a Daily, Weekly, or Monthly basis. Select your timezone, day of the week and time of the day for refresh. You'll never need to update your data manually ever again!
Everything Your Agency Needs
Try AgencyAnalytics risk-free for 14 days. No credit card required.