There are a few compelling reasons to turn to Google Data Studio (now Looker Studio) for your agency's campaign reporting. First – it's free. That can be a clear advantage in many situations, although "free" can come with opportunity costs and limitations (more on this later). 
Additionally, for agencies using Google's larger ecosystem to generate and store data, Google Data Studio offers a clean and direct path to ingesting that information for quick reporting. The platform also isn't too hard to use – once you get the hang of it.
So, does all of this mean that you should try Google Data Studio first, before looking at other paid solutions? Perhaps not, all things considered. Let's explore several different use cases for Google Data Studio, and dig into why it may or may not be the best fit for your client reporting needs.
Why Use Google Data Studio?
In addition to the above benefits of using Google Data Studio, there are a few others that might make it an adequate reporting tool for your agency in the short term. 
For young or startup agencies, you obviously can't beat the price. Google Data Studio enables you to analyze data from some of the most common sources out there, such as Google Analytics metrics and Google Ads performance data, to visualize your results in client reports. This can be an asset at an early stage for your agency.
The same goes for underscoring the seamless integration of Google Data Studio with other Google-generated data sources. If your agency relies heavily-and solely-on Google Analytics, Google Ads, Search Console, YouTube Analytics, and Big Query (among other Google sources); then perhaps you don't have to worry as much about some of the headaches that come along with stacking additional data from points outside the Google ecosystem. 
That's not exactly a given, however, so more on this in a moment.
Finally, the platform does perform adequately in its job of visualizing key data. The interface is fairly easy to navigate, it comes with customizable templates, and although there is a learning curve, you can get started using it fairly quickly.
The question remains, however, as to whether Google Data Studio is the right choice for more advanced reporting needs, or when another solution might be optimal to deliver results to clients.
Google Data Studio: Pros and Cons
We will explore some of the Cons of Google Data Studio in more detail in the next section of this piece. First, let's look at them against some of the Pros of using the platform.
| PROS | CONS |
| --- | --- |
| Unlimited Data | Lack of Real-Time Updates |
| Quick, Easy Access to Google Data Sources | No API or Automation |
| Usability | Report Creation Can Take Too Long |
| Simplicity | Limits to the Number of Charts and Interactions with Elements |
| Integrations | Slow Speeds and Occasional Errors with Large Volumes of Data |
| Customizable dashboards | Limited white-label options |
| Free | Lack of Support |
Limitations of Google Data Studio
Because it's so crucial to deliver reports that quickly and clearly relay important campaign results to clients, it's important to understand the limitations you might face when using Google Data Studio.
We were wasting so much time setting up and editing reports for clients each month using Google Data Studio. Our team of account managers hated it. We were blown away once we started using AgencyAnalytics. The responsiveness and speed of the platform are amazing.
The majority of the limitations marketing agencies experience using Google Data Studio center around a creeping inflexibility to the native platform features, which leads to some real inefficiencies for your agency in the long term.
Steep Learning Curve
The learning curve on Google Data Studio can seem misleading at first. While it's true that you can easily get started with the platform for basic usage when the time comes for more advanced reporting your agency might run into steeper terrain. 
Workarounds and third-party plugins are often required within Google Data Studio to get the more incisive results you and your clients need with reports. Sourcing and employing these will cost you extra time that could be better spent on billable work.
Report Creation Takes Too Long
While Google Data Studio does offer customizable templates, looks can be deceiving here as well.
Data aggregation and visualization get crunchier as you do more with Google Data Studio, including delays in updating sources, and snags in combining and stacking data from outside the Google ecosystem. The result can be a real slowdown in report creation.
But most importantly, your team has to invest a significant amount of time trying to figure out what type of graphs and charts to display for certain metrics to help clients understand the data. Though you can copy and paste a few designs from each template, then you're left with a messy dashboard.
Lack of Real-time Updates in the Dashboard
Data recency and refresh rate can also become an issue in Google Data Studio. Although technically you can pull the latest data through the platform at any time, in practice the story can be more complicated. Complaints among data researchers and data storytellers have piled up over time in regards to how many steps and how long it takes to obtain data that is 100% current.
Again, plug-ins become necessary to combat the issue, which can work in the short term. But it's not the most seamless user experience when it comes to generating up-to-date reports. This can be a dealbreaker for something like enterprise SEO work, where large amounts of the freshest data are required to help inform highly-consequential decisions.
Slow Speeds with Live Connection
Similarly, other than when first logging into Google Data Studio, the supposed Live Connection to data sources reveals itself as a less accurate term, in practice. 
Especially as queries get more complex and data sources more varied, Google Data Studio begins to lag in leveraging its live connection between data and reports. Users have noted extended lag times in refreshing data. Yet again, workarounds (such as scheduled extractions) need to be employed in order for the solution to work as advertised.
Limited Number of Charts Per Report
For agencies with large clients, and/or campaigns with more layers and more components to track and measure, another Google Data Studio limitation is in the number of charts you can use to showcase your metrics.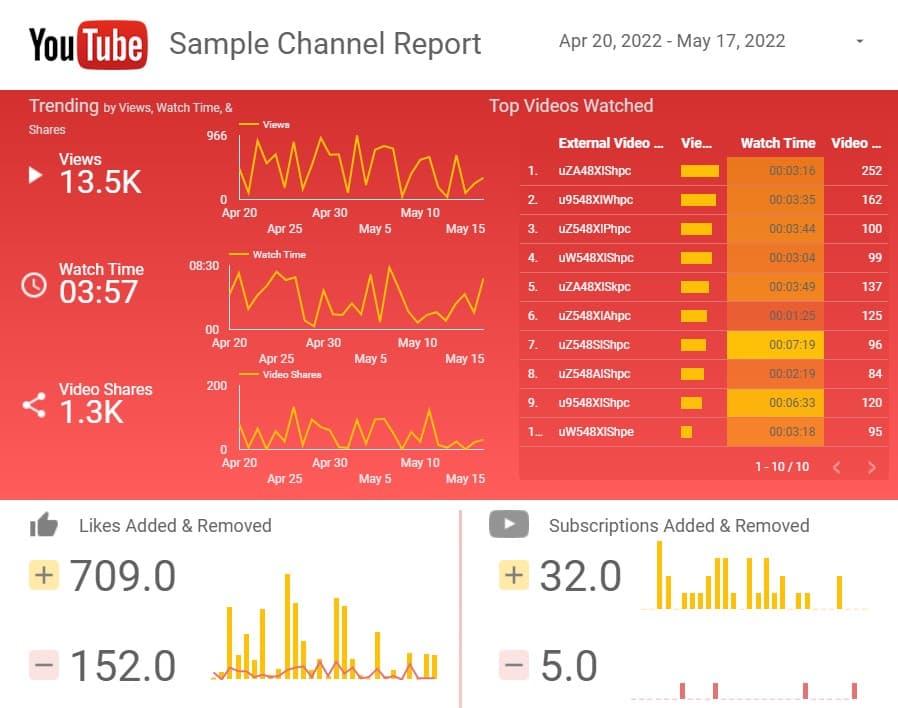 While perhaps not an issue for a startup agency or one with fewer clients, for mid-sized or enterprise applications, know that with Google Data Studio you will be limited to 50 components per page of visualized data. Certain types of charts might also be restricted, in terms of how many of them you can include on each page.
Interactions with Elements Also Limited
Some of the perceived benefits of Google Data Studio, viewed through a different lens, could also be considered drawbacks. In the case of interacting with elements on a screen, the same usability that makes operating within the platform more seamless at first – like dragging and dropping elements – causes headaches during more advanced applications.
Compared to other solutions, Google Data Studio has been known to introduce more glitches when arranging reports on the page, and when seeking consistency across different sections of reports. This also holds true when customizing visualizations. Google Data Studio has this functionality, but power users may find the scope of customizability lacking, and its execution clumsy compared to what's offered by competing business intelligence tools.
Lack of API for Automation
Among the weaknesses of Google Data Studio, the lack of an API for enabling true data automation may be among the most glaring.
Top-performing agencies and clients often need ad-hoc data delivered daily or at least weekly, in addition to sending monthly or quarterly reports. While that's possible using manual processes in Google Data Studio, the absence of any way to reliably employ agency automation (without employing workarounds) can quickly throw a wrench in your reporting workflows. 
In today's hyper-competitive business environment, automation is quickly becoming a must to remain competitive. This can render the short-term cost savings of Google Data Studio much less effective. You need to consider the amount of time that data researchers and/or analysts might need to spend either on manual processes or on devising patchwork automation solutions using plug-ins or developer resources.
Limited Connections, Data Sources
We've already highlighted Google Data Studio's easy integration with Google-owned data sources as a strength of the platform. However, the situation becomes more complicated when adding outside connections and data sources. To be fair, Google Data Studio does work with many different outside sources. It's just that it could do a much better job of integrating them as seamlessly as those that originate within Google. 
The lack of native connections to some common sources of important campaign and marketing data, such as Hubspot or Salesforce, leaves agencies that might rely on Google Data Studio cobbling together third-party solutions and manual workarounds.
The more times this happens, the more patches you're employing to maintain a unified system for reporting, and the higher the likelihood that something is going to break at the wrong time.
Think of your reporting processes as one of the most important pipelines within your agency. How many patches do you want to have on that pipeline? And what happens when one or more of those patches fail and the pipe bursts? 
Reports Often Break When Incorporating Many Data Sources
Speaking of breakdowns, these represent another significant area of concern when utilizing Google Data Studio for more advanced applications. Once more, the "$0" cost of the platform becomes a questionable proposition. 
Google Data Studio has been shown to "break" when incorporating a lot of data sources, requiring any of a number of troubleshooting tactics to fix and/or prevent the issue. By the time your agency has invested additional resources in testing, implementing, and updating patches in order to avoid broken reports, you might find that defaulting to Google Data Studio as a "fast and free" solution – isn't the budgetary win you thought it would be.
Complex Visualizations Not Possible
When multiple smaller shortcomings to a software solution begin to stack up, they can create larger issues. That's the case with Google Data Studio and complex visualizations, where challenges with lag times and refresh rates, stacking multiple varying data sources, and limitations in customizing and manipulating elements – all combine to make more complex visualizations a real challenge for the platform.
This is exactly the sort of situation where a reporting solution that's more aligned with the unique needs of agencies becomes required, in order to proceed efficiently and effectively towards reporting on your client's KPIs.
Google Data Studio vs. AgencyAnalytics
What it all comes down to for today's agencies, when it comes to reporting, is whether your solution:
Works well for you and your clients

Makes the best use of resources and spend (including sweat equity)

Remains stable and flexible as you grow together

Strengthens your agency's brand and its relationship with clients
By now, it's probably clear that Google Data Studio might not check all these boxes. 
Again, the platform can be a good first solution for newer agencies or those with very unique niche specialties that fit squarely within the advantages of the Google ecosystem. But even in this case, you'll likely need to change your reporting platform and processes at some point as your agency scales.
For everyone else, a more powerful and more targeted web analytics dashboard is required, that doesn't share the same shortcomings as Google Data Studio.
Integrations: AgencyAnalytics Is More Targeted and More Seamless
AgencyAnalytics builds our dashboards with agency needs in mind, first and foremost. With AgencyAnalytics, you can pull in data from over 60 integrations that have been specifically curated to work you perform for your clients, including some from Google. For example: 
| | | |
| --- | --- | --- |
| Native Integration* | Google Data Studio | AgencyAnalytics |
| Google Analytics | ✅ | ✅ |
| Google Ads | ✅ | ✅ |
| Google Sheets | ✅ | ✅ |
| YouTube Analytics | ✅ | ✅ |
| Facebook | | ✅ |
| Facebook Ads | | ✅ |
| Hubspot | | ✅ |
| Salesforce | | ✅ |
| Shopify | | ✅ |
| LinkedIn | | ✅ |
| Twitter | | ✅ |
| Instagram | | ✅ |
| 60+ Data Sources | | ✅ |
* As previously mentioned, Google Data Studio requires third-party support to integrate many data sources into its platform.
Reporting: Same Core Functionalities, But AgencyAnalytics Owns Differentiators
Finally, let's address the core functionalities of data reporting for agencies. 
At first glance, it might seem like Google Data Studio makes the more compelling argument as a solution, given its price tag and its surface capabilities. Both it and AgencyAnalytics cover most of what's essential in reporting:
| | | |
| --- | --- | --- |
| Core Reporting Function | Google Data Studio | AgencyAnalytics |
| SEO Reports | ✅ | ✅ |
| Social Reports | ✅ | ✅ |
| PPC Reports | ✅ | ✅ |
| Email Reports | ✅ | ✅ |
| eCommerce Reports | ✅ | ✅ |
| Review Reports | ✅ | ✅ |
| Call Tracking Reports | ✅ | ✅ |
| SEO Site Audits | | ✅ |
| Keyword Rank Tracking | | ✅ |
| Automated Reports | | ✅ |
However, as we've seen, this simplified summary doesn't tell the whole story for power users. Compared to Google Data Studio, AgencyAnalytics provides some key advantages, most particularly in the areas of customization, user experience, and automation:
| | | |
| --- | --- | --- |
| Differentiators | Google Data Studio | AgencyAnalytics |
| Customizations and Personalizations | Partially supported | Fully supported |
| White Labeling | Partially supported | Fully supported |
| SEO Monitoring & Reporting | Partially supported | Fully supported |
| Agency Management | Not supported | Fully supported |
| Automation | Not supported | Fully supported |
The other important thing to keep in mind is that Google Data Studio only reports what it can pull from another tool (or data connector), whereas the SEO audit, backlink monitoring, and rank tracking can all be done directly inside AgencyAnalytics with no other tool required.
Conclusion: Carefully Weigh Specificity Against Cost
By now it should be clear that the best data reporting solution for your agency will be the one that most precisely meets the needs of your clients. AgencyAnalytics has meticulously crafted our reporting technologies to prioritize this precision over broader applications. 
The AgencyAnalytics platform has the flexibility to grow and scale at the pace that makes the most sense for you. Before defaulting to Google Data Studio due to its surface-level cost savings, or if you're already using it and experiencing some of the above shortcomings firsthand, consider trying AgencyAnalytics free for 14 days. 
The speed, efficiency, and usability of our powerful reporting features will prove the clear value of a specialized reporting solution built for marketing agencies.
Written by
Michael DiBiasio
Michael DiBiasio is a Marketing and Storytelling Consultant and Content Strategist working out of New York City and Burlington, Vermont. With experience as a Head of Marketing (SaaS, eComm) and as a Video Marketing Lead (professional services), he helps stakeholders find the sweet spot between audience needs and values and their own sales and service goals.
Read more posts by Michael DiBiasio ›
Try AgencyAnalytics risk-free for 14 days. No credit card required.