A solid PPC proposal is key to making a strong first impression and landing new PPC clients. But how often are your PPC proposals converting into actual clients? What could you do to improve your client acquisition and upselling process?
With the right tools and information, your agency can provide personalized recommendations that close more deals. And before you shy away from "free consulting", the future pay-off is well worth that extra effort at the beginning.
By the end of this article, you'll be equipped with a lead gen template and on-demand webinar to create a winning PPC proposal at scale.
Let's get started.
What Makes A Great PPC Proposal?
A great PPC Proposal showcases your agency's attention to detail, trustworthiness, and track record. It's important to demonstrate early on exactly what goals you will be tackling, and just how you will track your results. 
It's also about building your relationship and knowledge of your client from Day 1 and requires exploratory discussions, as well as a deep understanding of their industry using competitive analysis.
To show that your agency has done its homework, be sure to sell your agency's promised results–not just the services. Making it about your clients, and not your agency will help you stand out from the competition. Keeping this in mind, ensure that the results you're promising are:
✅Relevant to their industry and type of business
✅Specific to their current PPC performance and is benchmarked against their historical performance–and even against industry standards 
✅Have realistic expectations based on their cost per acquisition (CPA), and not an abstract conversion rate without benchmarking their existing stats
This brings us to common mistakes to avoid when trying to land new clients with a PPC proposal:
Common Mistakes to Avoid in a PPC Proposal
As much as a great PPC proposal will improve your chances of getting a new PPC client, a bad proposal can do just the opposite and waste your agency's time and efforts. All too many marketing agencies try to skimp on the effort they put into proposals to prospects simply because they are under the assumption that it's not worth it. But that won't land you any high-paying clients and won't represent the true quality of your work. 
Some common mistakes include: 
❌Not doing enough research/or sending the report before you have enough information on your prospect
❌Using boilerplate proposal templates that aren't specific to your prospect's business
❌Selling the service instead of the results
❌Charging prospects for the assessment or proposal phase
Now, to set the right tone from the get-go and ensure you're making the most of your meeting time with your prospect, let's look at what you need to write a great proposal.
Info You Need Before Writing Your PPC Proposal 
A great PPC proposal requires a research phase where you understand your prospect's industry and business. This may involve a decent time investment on your part initially, but it's worth it in the long run. 
Also, by creating your own customizable PPC proposal template and knowing the right questions you should be asking your prospects from the start, your team will save time trying to figure out what to write for each proposal every time. 
9 Essential Questions To Ask:
Ask these questions before writing your proposal.
1. Do you have a specific business need or pain point you wish to solve? 
Knowing this will help guide your entire proposal to resolving this problem.
2. Which products or services do you want to promote in your PPC campaign?
This will tell you which keywords to target. 
3. Who is your ideal customer?
This will help you find out if their website is aligned with their target audience. 
4. What is a conversion for you? 
It could be to increase sales, get more leads, drive more traffic to their website, or get more phone inquiries. 
5. Have you advertised online before? Could you provide information related to previous paid search campaigns? 
This will help with benchmarking your goals and identifying needs against industry standards. Offer to sign an NDA (Non-Disclosure Agreement) if they will give you access to their current accounts so that you can do a more thorough audit of their existing campaigns, at no charge. 
6. How would you Google your business?
Knowing what keyword phrases they would type in will help narrow down target keywords and intent. Even better if they provide you with 3-5 keyword phrase examples. When your client (business owner) looks at it from a searcher's perspective, it gives you a chance to debunk their unrealistic keyword expectations.  
7. Who do you see as your three biggest competitors? 
This will help you with positioning and benchmarking. It could also surface competitors you may not have identified in your own research. 
8. How are you different from your competitors? 
Good ads rely on good copywriting skills. This will help you with messaging. Plus, understanding your competitors' shortfalls can help you to take advantage of them in your copy. Use competitor analysis tools to get ahead of the game.
SEMrush reports and dashboards in AgencyAnalytics give you granular details into the competitors' ad copy, top PPC keywords, % ad spend, average position, and total traffic per keyword. 
9. Why do you think they compete with your business? Could it be a geographic location or offering a similar product? 
This will help you with your targeting. Once you've completed your due diligence, you'll get started on writing your proposal. Below we'll discuss what you should include.
Crucial Components of a PPC Proposal
Making a PPC proposal resonate with your prospects means setting actionable, realistic goals specific to their needs. And proving you've got the tools to bring them to success.  
A PPC Proposal Template should include:
A Table of Contents

A Proposal Summary

Competitor Insights from SEMrush

Website Audit and SEO assessment

Keyword Insights segmented by search intent

Next Steps
Proposal Summary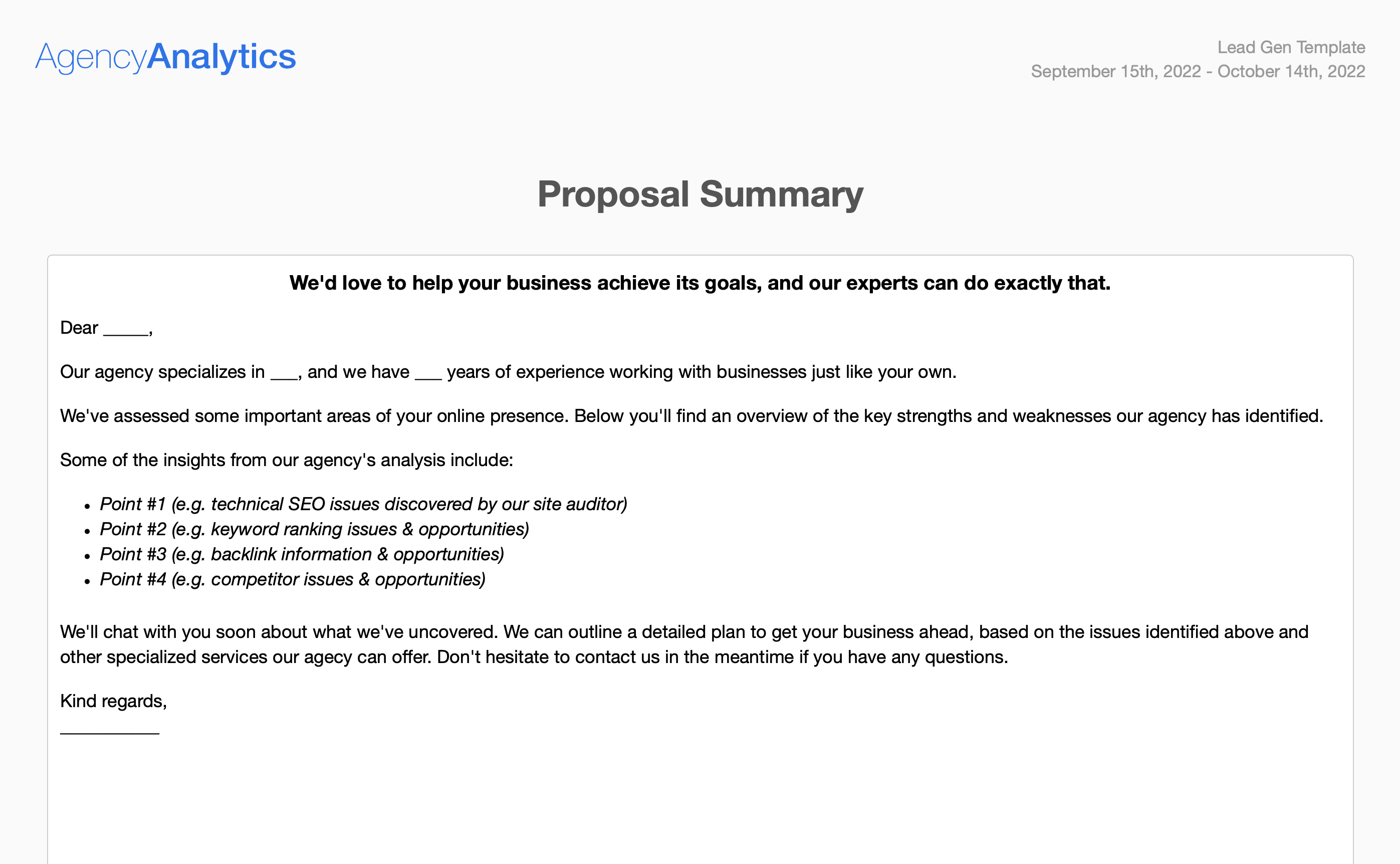 First impressions matter – and as the first page your busy prospect is going to read, it is likely the most important part of the proposal. Include a killer introduction highlighting your marketing agency and team's experience–even some testimonials. Then go straight to their greatest areas of need, and how you're going to bring their PPC strategy to life and drive results. 
Ensure you put together the key findings of your research to show you've paid attention to detail and key deliverables you plan to achieve. 
Research
This is where you can decide what to include in your findings. Include areas of need, and benchmark their existing results with industry benchmarks to show any discrepancies. Does their site look good on mobile and tablet devices? Are they targeting all the wrong keywords? What will you do to improve their PPC performance or what will you do to set it up for success if they don't have one already?
Be sure to state their key areas of need that arose during your research. Include red flags, industry standards, and objectives. In our proposal template, you can add plain text and then present your data in live customizable dashboards. 
We suggest including: 
Competitor insights

A Website Audit and SEO health check – this is a quick win and easy to include with one of the top SEO Audit Tools

Keyword Insights segmented by intent will drive their campaign strategy
Download Your PPC Competitor Analysis Template
Identify your client's PPC competitors
Strategy
This is where you mention the different advertising channels you plan to use for their PPC campaigns and why. You can include samples of our dashboard templates to show how you will track results. Choose from our PPC integrations to select what's right for your prospect. Example: 
Next Steps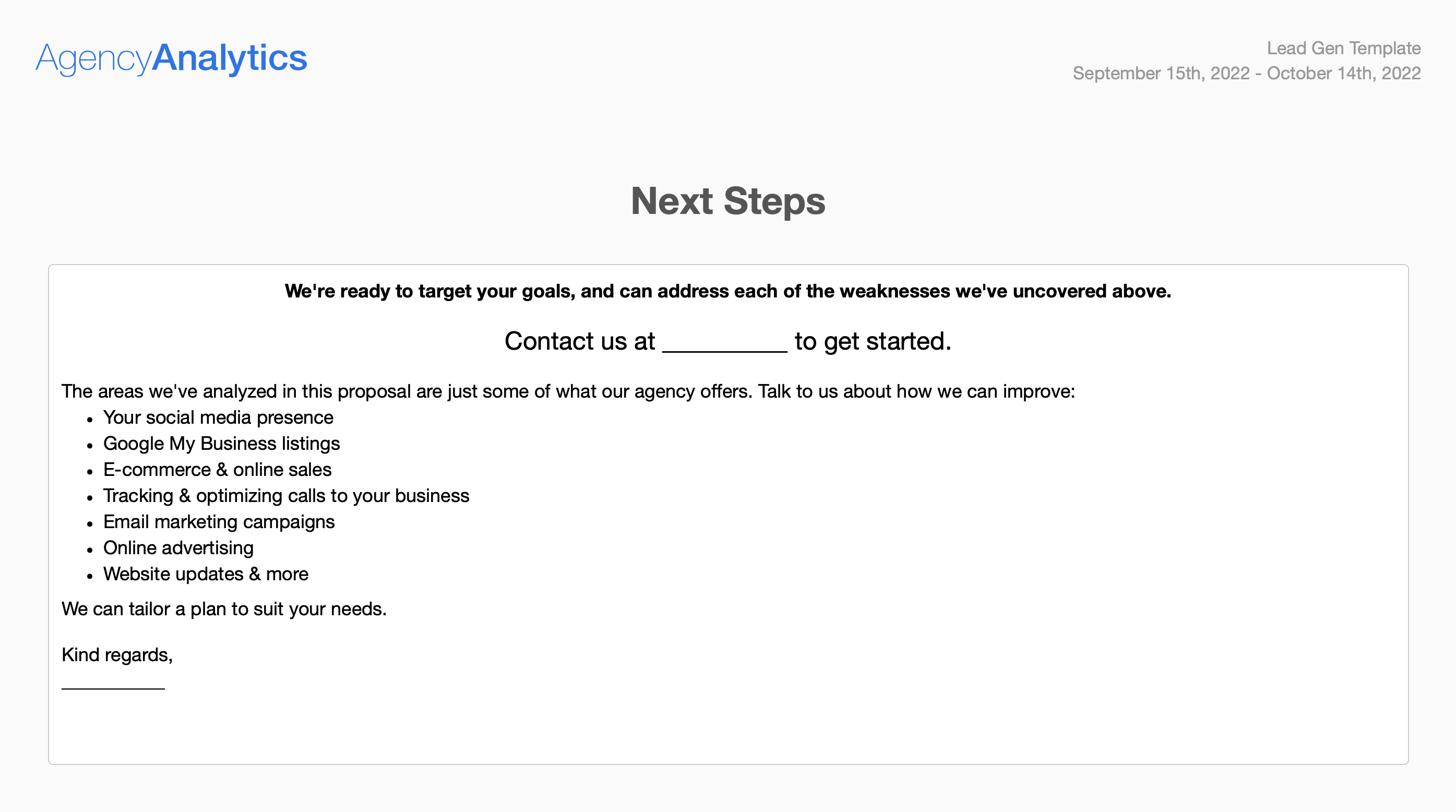 This is the last part of your report which summarizes the next steps your agency plans to take and where and how to contact you.
Our Free Proposal Template
What makes AgencyAnalytics' PPC proposal template unique is its customizability. You should be able to easily add sections to it using live dashboards.
For example, if you are upselling an existing client and have integrated their various platforms into AgencyAnalytics, provide live data regarding their PPC channels like Google Ads, Facebook Ads, LinkedIn Ads, and many other integrations. If you don't have access to your prospect's marketing data, make sure to include a sample of the dashboards to show how you will track this information.  
We had no centralized visibility into our client's PPC and traffic data before using this software. Now I have a much better handle on how things are going every day.

— Matt J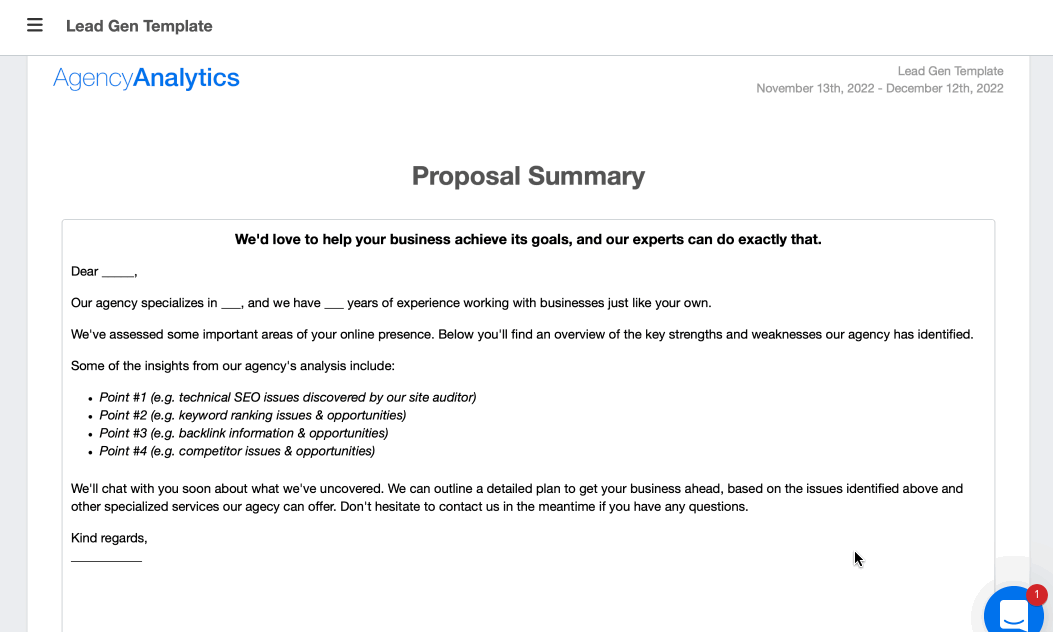 Use our proposal template to land your next client. Try AgencyAnalytics free for 14 days!
Remember–this is a working document that you can customize for each client, and along every step of your agency's growth. You can use this template as a preliminary proposal, and if your prospective client agrees to hire your agency, you can dedicate more time to it and expand on this proposal template in greater detail by including exact deliverables and timelines.
Upselling to Existing Clients 
A PPC proposal is no boilerplate copy you can just reuse. But it is replicable if your agency creates the right template for your agency. Use our dynamic proposal template as a starting point to pull in your client's (or prospect's) most relevant metrics to quickly and easily customize the sections based on their individual needs.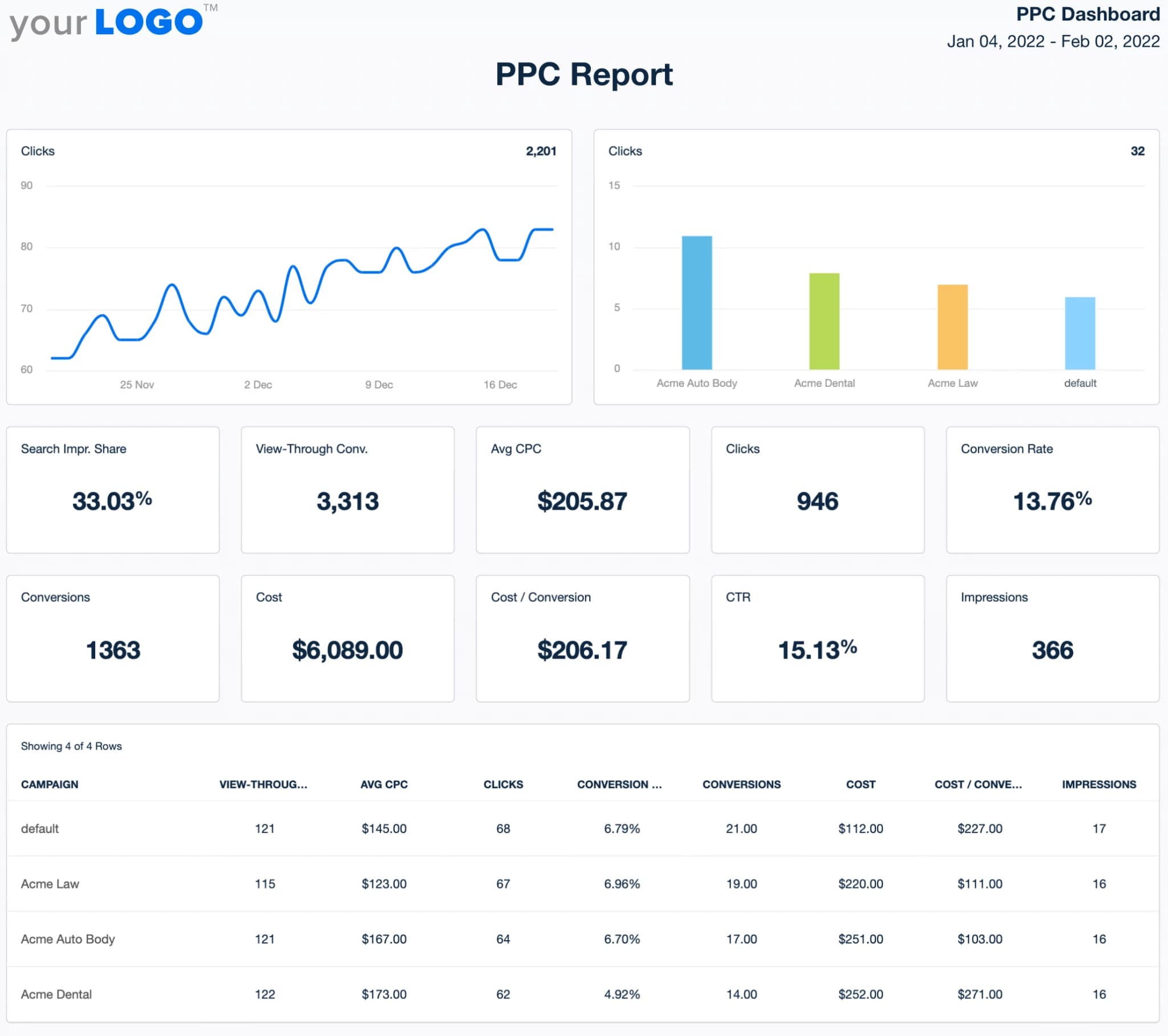 You can either use the PPC report template to upsell your existing clients to use your agency's PPC services or land brand-new clients. The difference, of course, will be that you will likely have more access to an existing client's current data than you would to a potential new client.
If you are trying to upsell an existing client and have access to their historical PPC data, we recommend you add the following sections to your PPC proposal:
Google Analytics Overview

Google Ads Performance

Bing Ads Performance

Facebook (and any other social media channel where you're planning on running ads)
As for your next steps, PPC reporting for clients is made easy with AgencyAnalytics' PPC dashboards that you customize in minutes and instantly turn into reports, saving your agency countless hours each month. 
Final Thoughts
When it comes to PPC reporting for clients, our in-house PPC expert Lindsay Casey recommends keeping it simple for clients and tailoring their proposals and reports to their business goals:
Start with an overview

Use custom metrics to show an overall cost per conversion

Use the goal widget to track progress toward lead numbers

Only select a few metrics from each platform

Add text boxes next to each section to highlight a shortlist of red flags and brief explanations of why they were flagged
And there you have it! Showing how your agency handles PPC reporting for clients also builds their trust in your capacity to drive success over the long term. AgencyAnalytics gives your team all the tools it needs to successfully pitch your agency's PPC capabilities to potential clients and close more deals, including a SEM reporting tool that combines PPC and SEO data together.
The platform is super simple to use, and their people make it even easier. I highly recommend it. It has really helped me streamline reporting, and build custom proposals.

— Ryan Burch, Managing Partner, Tobie Group
Lead Generation Templates: How to Win More Clients with AgencyAnalytics
Watch this webinar and learn how to customize our Lead Gen template to win new business for your agency.
Want more information on how to create proposals that convert prospects into clients? Bookmark the following:
Written by
Melody Sinclair-Brooks
Melody Sinclair-Brooks brings nearly a decade of experience in marketing in the tech industry. Specializing in B2B messaging for startups and SaaS, she crafts campaigns that cut through the noise, leveraging customer insights and multichannel strategies for tangible growth.
Read more posts by Melody Sinclair-Brooks ›
Try AgencyAnalytics risk-free for 14 days. No credit card required.