Facebook means business. It gives your marketing agency invaluable tools to understand target audiences, get your businesses in front of their customers, and connect with them on a more personal level.
As a marketing agency, it's your job to understand what is (and is not) working as you craft your content. And we all know that posting on Facebook and hoping for the best won't drive success.
With social buying on the rise, Facebook users are expected to spend upwards of $937 directly from social shopping by 2025, it's no time to let up on your clients' social media efforts. If anything, it's time to level up on your social media analytics–in a scalable way.
Read on to discover the 17 Facebook metrics that matter most–and how to stay on top of them with dashboards and reports that save you hours otherwise spent on manual reporting.
Is Facebook Still Relevant?
In an evermore crowded social media landscape, Facebook remains one of the most popular preferred social media platforms for the 35-44 demographic and is still the world's most used platform–with YouTube, Whatsapp, and Instagram following close behind. "It's an incredible platform to understand the hooks and messaging that truly drive the results you're looking for," says JC Polonia, Founder of Digitality Marketing. 
And when it comes to spending money and ROI potential for your clients, Facebook is the second most trusted social commerce platform after YouTube.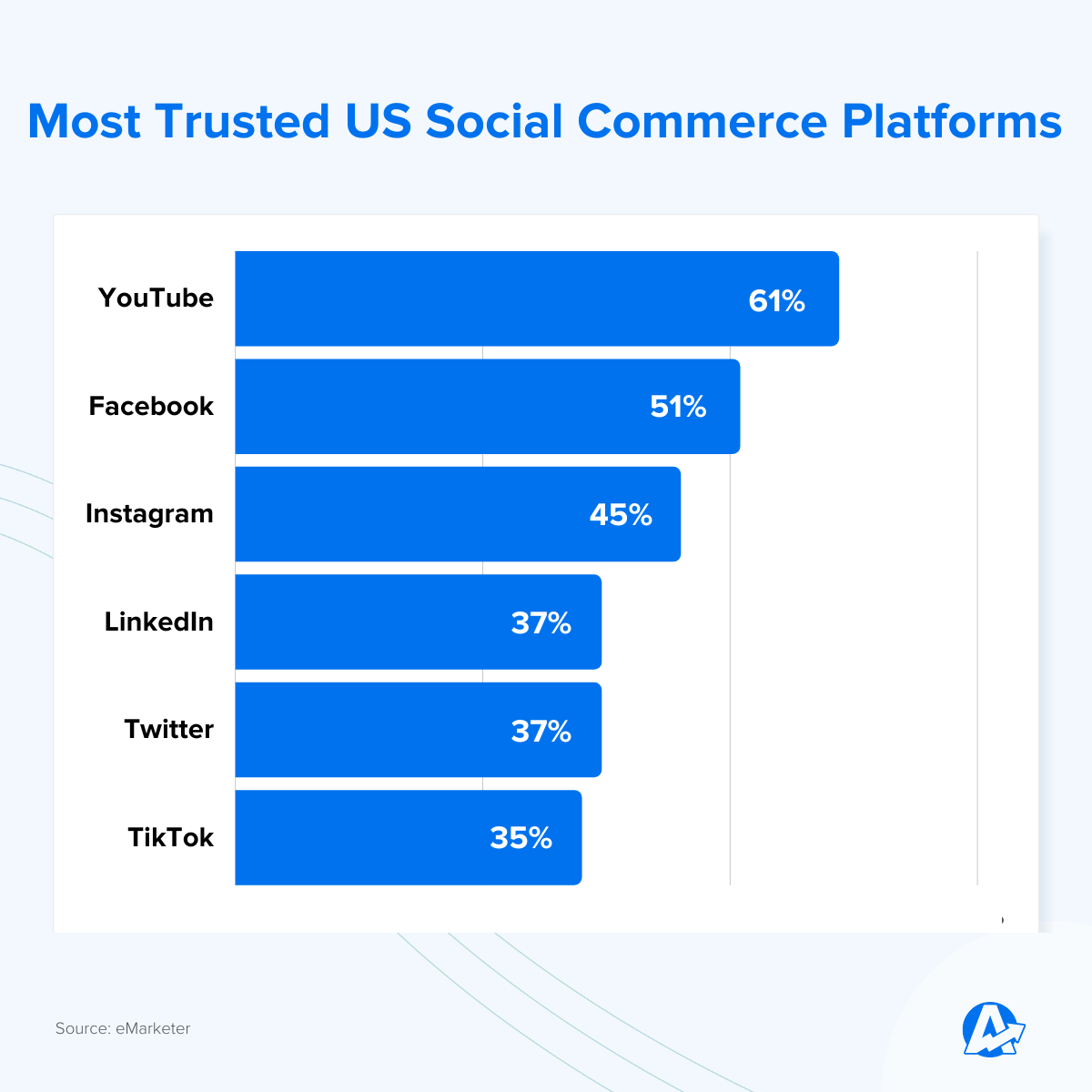 What Key Facebook Metrics Should an Agency Measure on Organic Posts?
Is it Page growth? Engagement? How do you use social media metrics to measure the success of your Facebook campaigns? How do you even decide?
Before we get ahead of ourselves, let's refine the decision-making process.
A good Facebook metric is something that can be quickly and easily translated in to a result, whether that be positive or negative.

Sam Yielder, Paid Media Executive at Squidgy 
3 Key Metrics to Measure Success on Organic Posts
1. Visibility
Understanding what posts resonate with your target audience–and the Facebook algorithm. 
Track: Likes, Follows, Reach, and Impressions to show your Facebook marketing growth over time.
2. Engagement
The more engagement your post has, the more likely Facebook will show it to more of your followers. 
Track: Clicks, Comments, Shares, Reactions, and Video Retention to optimize the type of content you're putting out there.
3. Impact
You'll need to use Google Analytics to measure the impact of your Facebook campaigns on your organic marketing efforts to see which posts are driving more traffic to your website, for instance.
Track: Acquisition > Social > Network Referrals Report to see how many people clicked through to your landing page or website, and which of those converted. Otherwise, see all of that data in the Social tab of the Google Analytics dashboard: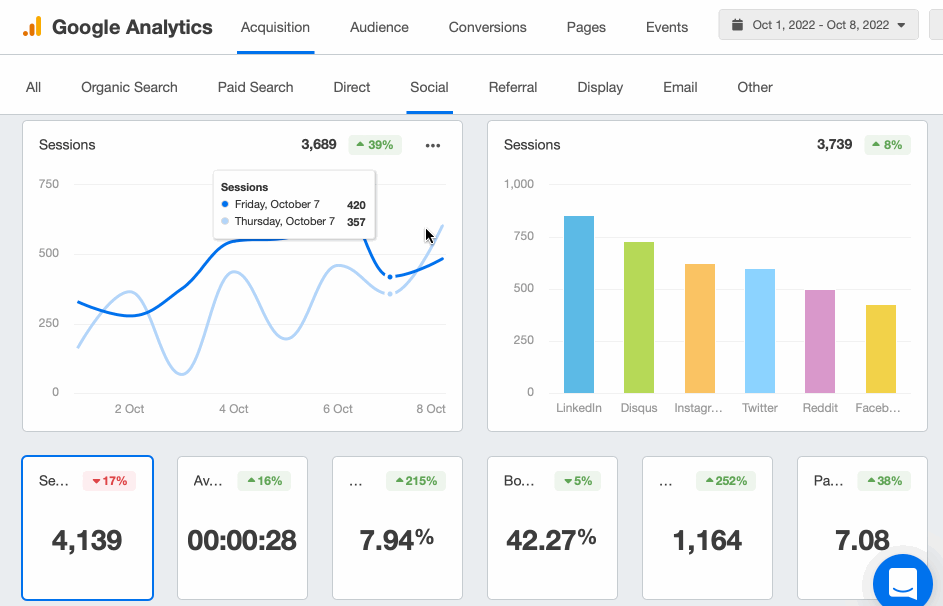 Get your social media referral traffic alongside other key marketing metrics directly from an automated Google Analytics dashboard. Use this exact template free with your AgencyAnalytics free trial.
Criteria, Objectives, and Goals for the Clients
It's one thing to report on what your clients think is important. It's a whole other thing to explain to your client how a specific metric is relevant to their goals. 
"The most important metric depends on your goal," says Ellen Hedley, Co-founder at Vida Creative. "If you want to raise brand awareness, reach might be most important. If you want to drive website traffic, then link clicks would be most important. The best thing about the variety of metrics available is that you can use the platform to drive a whole range of business goals." 
First, you're going to need a solid understanding of your clients' business goals and see how the metric can fit in the classic SMART methodology: specific, measurable, achievable, relevant, and time-bound. 
Next, you'll need to attach a metric to each goal. If the metric passed this step, you'll want to ask yourself these nine questions to see whether your metric is effective–or just another vanity metric. 
When looking at Facebook metrics it's important to prioritize them based on the KPI's that are important to your company. Always take a look at your business and what is the number one thing that will help move the needle forward based on its current standing.

JC Polonia, Founder at Digitality Marketing
What to Ask Yourself Before Tracking a Metric
Is it relevant? 
Does it match your client's business goals, so that if you succeed in this metric, it will translate into, say, more referral traffic?
Is it measurable? 
This is obvious, as you need to be able to track the metric. But how will you track it, what will you benchmark against, and how often will you measure it? 
Is it progressive? 
Highlighting improvement over time in your Facebook reports is key to showing your clients the value you're bringing to their business. Can you reliably measure this over months to track your progress, and will it be irrelevant in a year's time? You'll need to assess the lifetime of each metric and know when it's time for an update. 
Is it insightful? 
Does the metric give you enough info to improve your Facebook campaigns? In other words, does it provide Facebook insights that are actionable? 
Does it stand alone? 
Is the metric on its own enough to measure, or does it depend on too many other metrics that can cause lag?
Is it aligned? 
If the metrics you're tracking don't match up to your client's business goals, then why track them? Ensure you decide on your metrics with your clients and stakeholders early on. This brings us to the next point:
Is it standardized? 
Ensure that your client's team and your agency are using the same definition for the metric. Otherwise, results won't translate across departments and will result in lots of data that can't be reconciled into clear reports. 
Is it game-proof? 
Are there loopholes where the metrics can get fudged to show a more preferential result? If so, can you easily cross-reference this metric to make sure your agency is providing accurate data? 
Does it have an owner? 
Who is in charge of this metric? Who will be responsible for all the marketing activities that contribute to improving it, tracking it, and making adjustments to move the needle in the right direction? 
While your answers might not check off all those items, ensure you're carefully considering the metrics you choose to track with a big-picture and goal-oriented mentality.
What Are the Most Important Facebook Metrics?
"Facebook's reworked PPC and content creation tools have made identifying and reaching your target audience easier than ever," says Adrian Rivera, Director of Marketing at Advanced Outdoor Solutions.
But what Facebook metrics will help you target the right audiences, capture new leads, and get referral traffic for your clients? What Facebook ads metrics are most and least important in terms of your clients' business goals?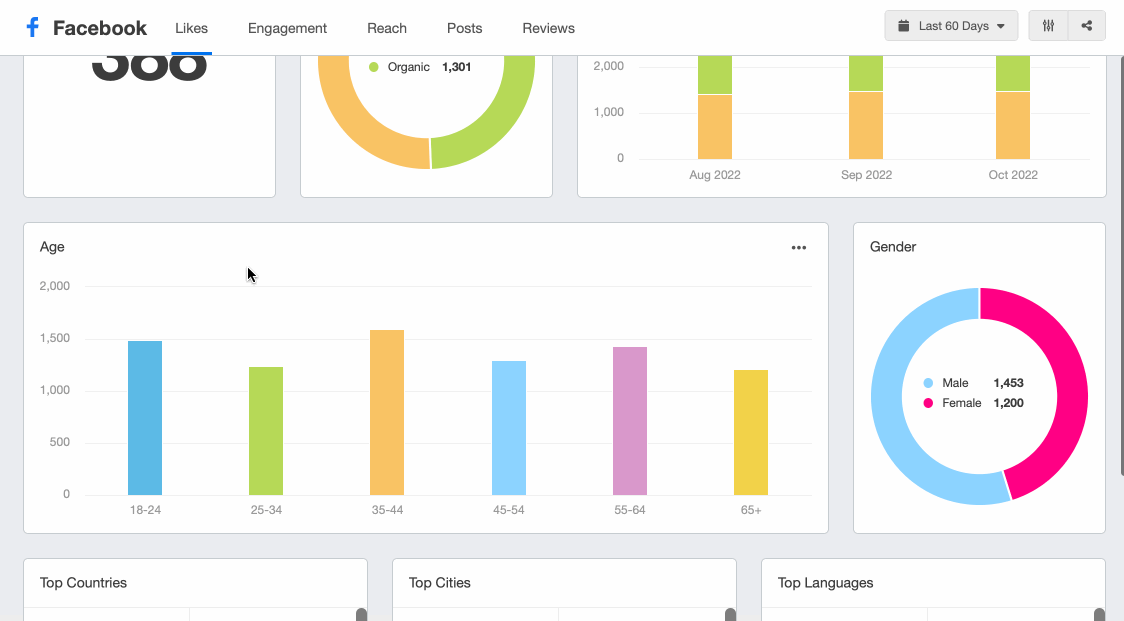 Visualize all your clients' real-time Facebook metrics from a live dashboard. Flip them into client-ready reports in minutes. Try AgencyAnalytics free for 14 days!
In the following section, we will discuss the 17 most important Facebook metrics–and how to track them. We've divided these into five groups: 
Let's dig in. 
17 Most Important Facebook Metrics to Track
Facebook Page & Post Metrics
1. Reach
Facebook page and post reach is the number of people who view your Facebook business page or post. It is counted only when a post (or ad) reaches a person. Organic reach, for instance, tells you how many of your contacts have seen your post (as opposed to the total number of people, which would be Total reach). 
Why track reach? Reach measures how many people are interested in a brand, and also helps you understand whether you're targeting the right people with the Facebook posts you're publishing. It's more intent-focused than impressions because it indicates that they've actually seen it. 
Where to find it: AgencyAnalytics' Facebook dashboard makes it easy to track reach. Choose widgets and how to represent them graphically to visualize page reach, post reach, organic reach, total reach.
Additionally, track reach in the Facebook report template to see more granular details on demographics such as top countries, cities, and languages reached–as well as age and gender breakdown. 
2. Impressions
Impressions tell you the number of times your post has shown up on a person's Facebook timeline. They tend to be higher than reach, as it 
Why track impressions? Brand awareness is one of the leading goals for a business wanting to drive new customers. Tracking this metric lets you know whether your content is reaching your followers and target audience so you can continue to drive impressions and boost the brand's visibility. 
If you're going to make a Facebook page, do it for the community, not to promote your business. People aren't interested in befriending a business, but they do want to know about things that impact their lives.

Joeri Vanhamel, Head of SEO & Marketing at Succeed Digital 
Where to find it: Apart from the Facebook dashboard mentioned above, impressions are also tracked in our Facebook report template. Drag-and-drop: impressions, page impressions viral (the number of times any content from or about your page entered a person's screen), and unique viral post impressions.  
3. Engagement
Engagement is a measure of how your audience interacts with your page or post. This includes: Clicks, Shares, Comments, Reactions, and Likes. 
Why track engagement? Knowing what content drives more engagement will help you tailor your content to guarantee future engagement to guarantee that what you're putting out there is resonating with your audience and make it more likely to show up across peoples' newsfeeds. 
We care most about link clicks. Quite often we are sharing website content or news articles that we want people to engage with, so we can boost a client's website traffic. Link clicks indicate that someone has been interested enough in the content to click through. - Ellen Hedley, Co-founder at Vida Creative
Where to find it: Engagement analytics are found in your Facebook dashboard and report in AgencyAnalytics. The dedicated page in your report breaks down engagement by demographic data so you know more about your active audience. 
4. Engagement Rate
Engagement rate is the ratio of interactions to a Facebook post to the number of Followers the page has: 
(Total number of engagements / Total reach ) * 100
Why track engagement rate? Engagement rate tells you how interesting your posts are to your audience. If you have high impressions but a low engagement rate, it means your content needs improvement. What time you post can have an impact on your engagement rate, so if you're getting low impressions but high engagement, it's worth taking a look at your posting times.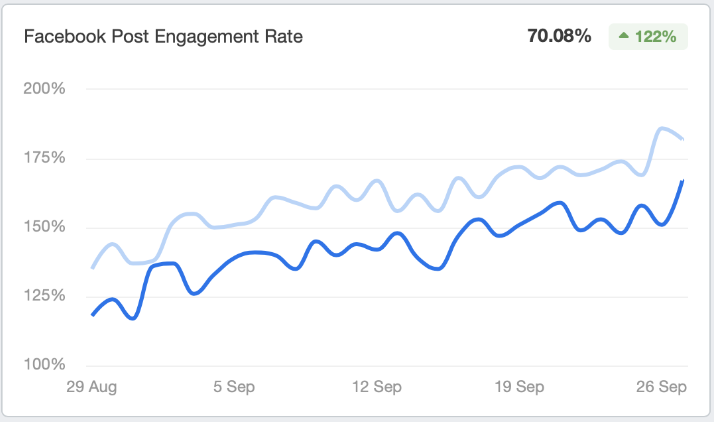 Where to find it: The engagement rate is already calculated in AgencyAnalytics. Simply add the widget to your dashboard or report, and you're set! It'll even show you how your engagement rate is trending. 
5. Page Likes & Followers
Page likes and followers are the number of people that want to know what your brand is up to. 
Why track page likes & followers? It's an indication of how interested people are in a brand or company. It's easy to put too much emphasis on them, however. Don't just rely on this because it's not a standalone metric–alone, it's a vanity metric. But combined with your engagement and impressions, you'll have a better idea of your brand reach. Generally, you'll want to show your clients how their page likes and followers are growing over time. 
Where to find it: Showcase consistent page growth from your AgencyAnalytics dashboard and reports by presenting the number along with the line graph to show how it's trending. 
Agency Tip: Digitality Marketing's founder recommends reverse engineering your pages and advertising around what your business's goals are long-term!
Now, let's look at paid metrics in particular. 
Facebook Ad Metrics
6. CPC
Cost-per-click is how much you pay Facebook for each click on an ad. Is an indication of intent. 
7. CPM
CPM is the cost per thousand impressions to an ad. This is more relevant to brand awareness campaigns. 
8. CTR 
Click-through rate is like an engagement metric for your Facebook ads. It's calculated by the number of clicks on an ad, divided by the number of times it was shown. It's good to keep a close eye on the average CTR when you want people to take action on your ad. If your goal is to create brand awareness, then CPM is more important than CTR. 
9. CPA
Cost per action is specific to campaigns that are pushing for a button click. This could be for an app install, a booking, or other specific conversion events.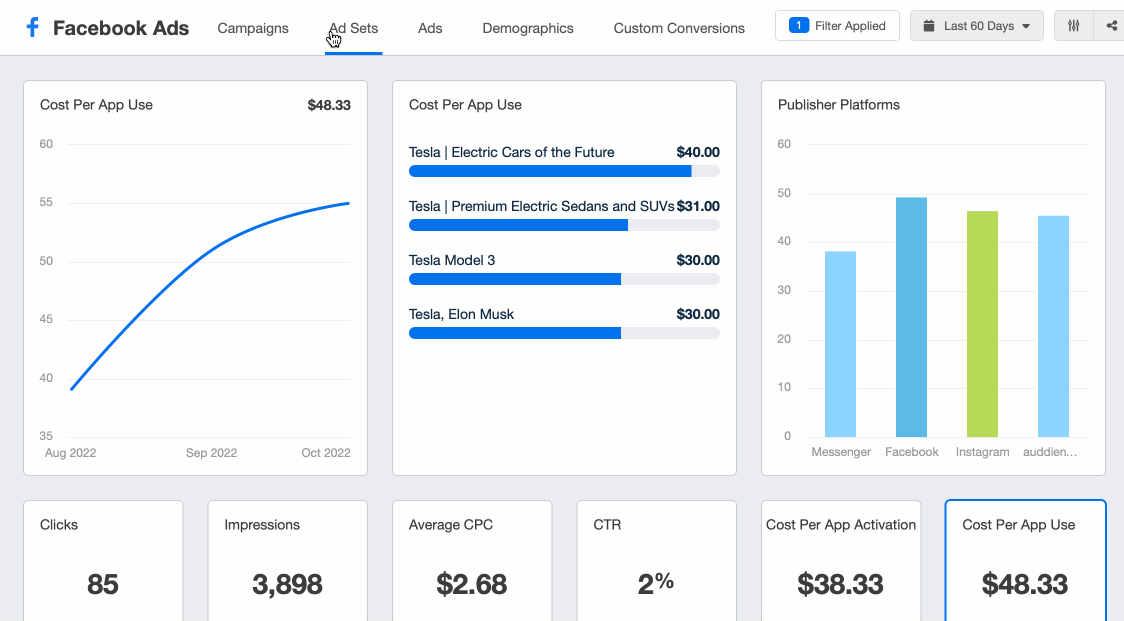 Where to find Facebook Ads metrics: You'll find the metrics above and more in your Facebook Ads Reporting tool to give a full-picture report on your Facebook ad campaign performance in an easy-to-use Facbook Ads report template. 
Depending on your ad campaign goals, you'll want to track other metrics in addition to the above. For the full list, check out our article on Facebook ads metrics to track–and where to find them. There are 11 of them on our list! 
Facebook Brand Awareness Metrics
10. Referral Traffic
Facebook referral traffic measures the number of times a visitor arrived to your website from your Facebook page. 
Why track referral traffic? Referral traffic tells you whether your posts are effectively driving traffic to your website or landing pages. If your client's website has lots of product links or blog articles on their website, you'll want to know how they got there.
Where to find it: AgencyAnalytics' Google Analytics dashboard integration makes it easy to combine your Facebook metrics alongside other website data. 
Easily add this widget to your dashboards or reports to highlight traffic sources coming from social media. 
11. Follower Demographics
Your Facebook follower demographics specify your audience's: gender, age, location, and spoken language. 
Why track follower demographics? "The ability to identify your ideal customer and remarket to that specific segment is extremely lucrative to high-volume agencies within a specialized industry," says Rivera, Director of Marketing at Advanced Outdoor Solutions. Keeping an eye on audience data helps you create better content for your audience person and tailor the message to them specifically. 
Only share content that is going to interest your audience. Before you post anything, ask yourself, will my client (or potential client) find this helpful? If the answer is no, go back to the drawing board to drum up some better ideas!

Ellen Hedley, Co-founder at Vida Creative
Where to find it: Every social media dashboard and report in AgencyAnalytics has a demographics section to easily present your clients with their audience details. 
12. Share of Voice
Your SoV measures how much a brand is being mentioned online. 
Why track Share of voice? Competitive analysis is key to staying ahead of the curve and ensuring your clients take up its fair share of the online space. 
Where to find it: You can measure your share of voice using social listening tools. Calculate it with the formula:
Share of Voice = Your brand metrics / Total market metrics 
Facebook Video Metrics
13. Video Engagement
This type of Facebook video analytics includes reactions, shares, and comments to a Facebook video. 
Why track Facebook Video engagement? You'll need to track video engagement just like you do with posts to create better videos that instigate a response from your audience. 
14. Audience Retention
This measures how long a person spends watching a video. 
Why track audience retention? Audience retention is a measure of how interesting your video is to the viewers. If you're busy making minutes long videos and people tune off at the first 30 seconds, it's a sign to shorten them up or switch up your video marketing strategy.
Facebook Group Analytics
15. Engagement
This metric tells you when your Facebook group members are most active. It also measures Comments, Posts, and Reactions.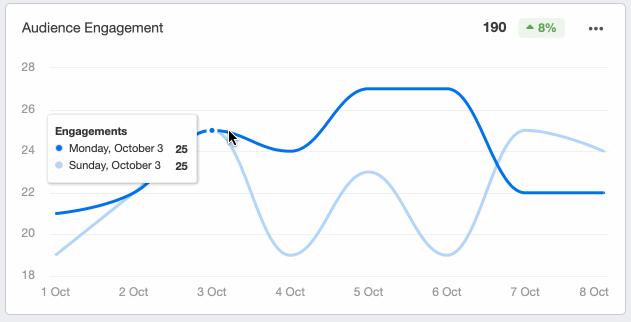 Have a particular engagement target for a client? Create a custom goal that tracks your agency's progress toward that goal automatically with AgencyAnalytics:
Why track group engagement? Groups are high-intent places for your clients to reach their target audience–and existing customers–directly. Know what types of things group members are most interested in, and time your posts to when the community is most active. 
16. Growth
Facebook Group growth shows how your number of members are growing over time. 
Why track group growth? You'll want to know how your community-building is doing, and how well your audience is engaging with the content you're putting out. 
17. Top Contributors
This is the list of people who engage the most within your Facebook Group. 
Why track top contributors? These are your unofficial brand ambassadors–you'll want to respond to them, reach out, and rely on them to keep engaging. You might even ask them if they would be interested in moderating some conversations. 
To summarize, here are the key Facebook metrics to focus on in each category:
| Facebook Page & Post | Facebook Ad | Brand Awareness | Facebook Video | Facebook Group |
| --- | --- | --- | --- | --- |
| Reach | CPC | Referral Traffic | Video Engagement  | Engagement |
| Impressions | CPM | Follower Demographics | Audience Retention | Growth |
| Engagement | CTR | Share of Voice | | Contributors |
| Engagement Rates | CPA | | | |
| Page Likes & Followers  | | | | |
Why Comprehensive Facebook Reporting Is Important
So far, we've covered the most important Facebook metrics for an agency to track–and how important it is to tie the metrics to your clients' goals. But so how do you present the results to your clients in a way they can understand?
Clients care about profitability at scale. ROAS is a good starting point, but only if it goes hand in hand with large enough volumes. After that they will care about scalability.

Joeri Vanhamel, Head of SEO & Marketing at Succeed Digital
To show scalability, you need to show progress over time. And to do that, your client reports need to be consistent. 
It's important to remember that although you may have been hired to perform a service for your client, it's equally important to get the client on board and act in collaboration with your efforts; the insight your client may be able to provide to you could be the missing spark to your creative and/or campaign.

Adrian Rivera, Director of Marketing at Advanced Outdoor Solutions. 
Regular client reports are your number one collaboration tool for clients. They are key to keeping communication open, showcasing your value, and retaining them in the long run.
Less Time Struggling With Data Collection, More Time Growing Your Clients' Businesses
With all the metrics we've covered, you might be wondering: Is There a Better Way to Measure Facebook Metrics? To create and test out your content efficiently, you'll need a Facebook Analytics dashboard.
Close all your tabs and forget your logins! Easily switch between all your clients' real-time Facebook metrics from one streamlined platform.
There is no other platform that allows for creative testing at scale like Facebook. From small businesses to Fortune 100 companies, every business can benefit from the ability to iterate, move quickly, and learn what's working for your advertising efforts.

JC Polonia, Founder at Digitality Marketing 
Each client's unique goals and other marketing channels apart from Facebook, so you're also going to need a robust social media reporting tool to keep track of all your metrics in a scalable way.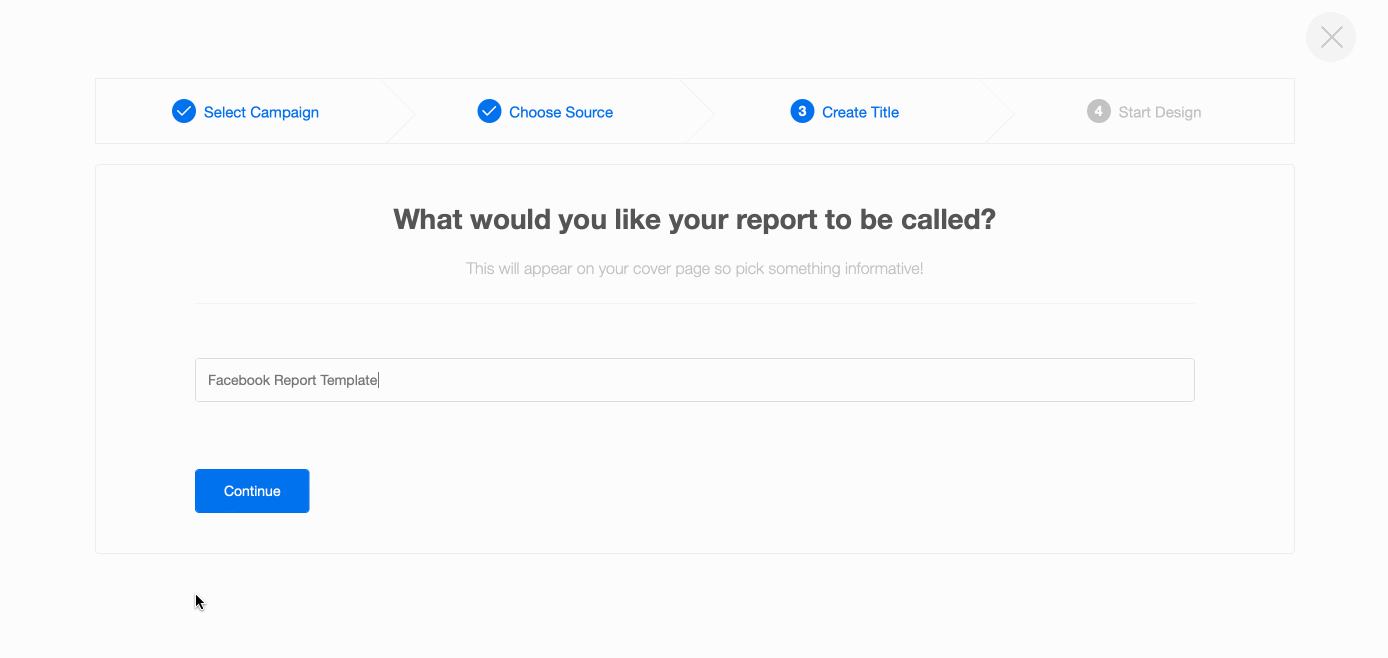 Try out AgencyAnalytics' white label social media dashboard for your internal team, and use the social media report template to pull in your client's key social media analytics into one intuitive format that's easy to share, and easier to explain. Sign up for a free trial and start scaling your agency today. 
---
Similar articles: 
Written by
Melody Sinclair-Brooks
Melody Sinclair-Brooks brings nearly a decade of experience in marketing in the tech industry. Specializing in B2B messaging for startups and SaaS, she crafts campaigns that cut through the noise, leveraging customer insights and multichannel strategies for tangible growth.
Read more posts by Melody Sinclair-Brooks ›
Try AgencyAnalytics risk-free for 14 days. No credit card required.