A digital marketing report is a powerful bridge between agency expertise and client goals. It's a delicate balance to get the information just right. If you create a marketing report that is easy to understand, you lay the groundwork for long-term client relationships. On the other hand, delivering a confusing jumble of numbers runs the risk of confusing your clients and diminishing their trust. 
How does your agency know what to include in a good digital marketing report? The exact details vary from client to client, but the best marketing report clearly presents pertinent, timely data that demonstrates how your agency's work is influencing the client's marketing performance. 
Digital marketing reporting should always provide a thorough understanding of what's working (and what's not), helping your agency make proactive, data-driven decisions for your clients.  
Today, we'll share how to transform your digital marketing report from a mere compilation of numbers into a well-crafted report showcasing your agency's long-term value.  
The Benefits of a Digital Marketing Report
Digital marketing reports give your agency the opportunity to be transparent with your clients' results, discuss areas for improvement, highlight any wins, and reduce churn with clear communication. 
Based on the recent marketing agency benchmarking survey, 36% of agencies credit transparency and effective communication as the #1 driver of client retention. 
Followed closely by digital marketing campaign performance at 31%. Great digital marketing reporting lets you highlight both at the same time. 
Whether you or your clients are looking for specific marketing metrics from a paid search campaign or examining blog traffic, a digital marketing report has all the critical information you need at your fingertips. 
Consider this scenario: You're in a client meeting, and they ask why your agency is spending so much time building content around a particular keyword. Luckily, you're equipped with their digital marketing report that is chock-full of visual elements to help back up your content strategy. 
You start by quickly referencing a list of the top keywords that their customers are searching for. Next, you point to the keyword rankings report that shows the keyword history and how these rankings have improved over the last 3 months. Finally, you bring their attention to some key Google Analytics 4 metrics, such as a line graph that shows the increase in web traffic they're receiving after implementing more targeted keywords or the increase in organic-driven revenue. 
Using digital marketing reports as a communication tool helps your agency explain its value and how your marketing efforts impact their business's online and offline bottom line. The goal is to use data storytelling and data blending to help clients visualize the results and key performance indicators (KPIs) that you're achieving. Let's take a closer look at some of the biggest benefits are:
Build Custom Metrics Around Specific KPIs
Take your data visualization to the next level using custom metrics to combine a client's digital marketing data with other campaign metrics. Instead of showing your clients various disjointed reports, like the number of calls they've received from a call-tracking report, their website traffic from web analytics, and form submissions from HubSpot, you want to paint a combined picture to show why these key metrics matter in the scheme of their bigger, overarching marketing goals.  
For example, a standard metric like overall LinkedIn impressions is interesting to note but fails to illustrate the larger picture. To add greater depth to your social media analytics, combine total ad spend on all social media platforms and divide this number by your client's total conversions across the platforms for a blended cost per acquisition.
Use custom metrics to tell a unique story with each clients' marketing data. Get started today with your 14-day free trial.
Communicate Progress With Goals and Annotations
Rather than a stationary list of data points, the best reports are living documents that evolve over time. Using goals and annotations in your client reports quickly provides a visual representation of progress toward pre-determined key performance indicators. Annotations add context and keep lines of communication going as a project unfolds.
Dashboards Display Data in Real-Time
A live digital marketing dashboard provides clients and internal staff with an up-to-date snapshot of how a project is progressing. On-demand access to this data creates greater transparency within the client-agency relationship and increases accountability for team members as they track progress toward KPIs.
If you have clients that like to frequently check in on results, give them access to their own custom login. Set granular user permissions to keep complete control over exactly what each client can access.
With custom dashboards, we've successfully consolidated the data we want to see for every client, easily identifying potential issues with their campaigns. This centralized approach saves us valuable time and empowers us to proactively address and flag any concerns, fostering a proactive and efficient workflow.

Alexa Rees, SEO Manager at seoplus+
Digital marketing reports and dashboards improve your agency's internal communication and keep everyone on the same page. It's an easy way to demonstrate the value your agency is adding and keep clients excited about the results you're seeing from your efforts.  
Marketing Efforts To Highlight in Client Reports
Maybe you know the value of a great digital marketing report, but the ones you've created in the past aren't resonating with your clients. With so many metrics available, it's difficult to know what's important to include in a digital marketing report.
Let's take a look at the key elements we recommend including in your clients' digital marketing reports: 
1. Executive Summary
The executive summary of a digital marketing report provides a concise overview of your agency's key findings and performance metrics over the past month (the specific time frame may differ from client to client, but the majority of digital agencies send out monthly marketing reports). The main goal of this section is to offer a snapshot of the campaign's success and areas for improvement.
It should also include a summary of the marketing objectives set at the beginning of the campaign and highlight how well these objectives were achieved, including any notable milestones. This is your opportunity to make your marketing agency shine! 
Be sure to include a brief analysis of the primary marketing channels such as social media platforms, email marketing initiatives, SEO, PPC, etc., to outline each contribution to their overall marketing performance. You'll go into more detail further in the next sections. 
Agency Tip: The executive summary should offer actionable insights and recommendations based on the data within the marketing report, aiming to guide future digital marketing strategies and improve overall results. Showcase your agency's expertise and pitch new services you know your client will benefit from.
2. Google Analytics
The very first platform you should have in your client report is Google Analytics. This section highlights how the larger digital marketing strategy your agency implemented has impacted their website. You want to show how your efforts are increasing website traffic and then conversions. More on that in the next section. 
Include the number of visitors to their website in the last month and highlight the channel they came from (i.e., social media marketing, email initiatives, etc.). This helps your agency and the client understand where customers are coming from and which marketing channels need more attention or optimization.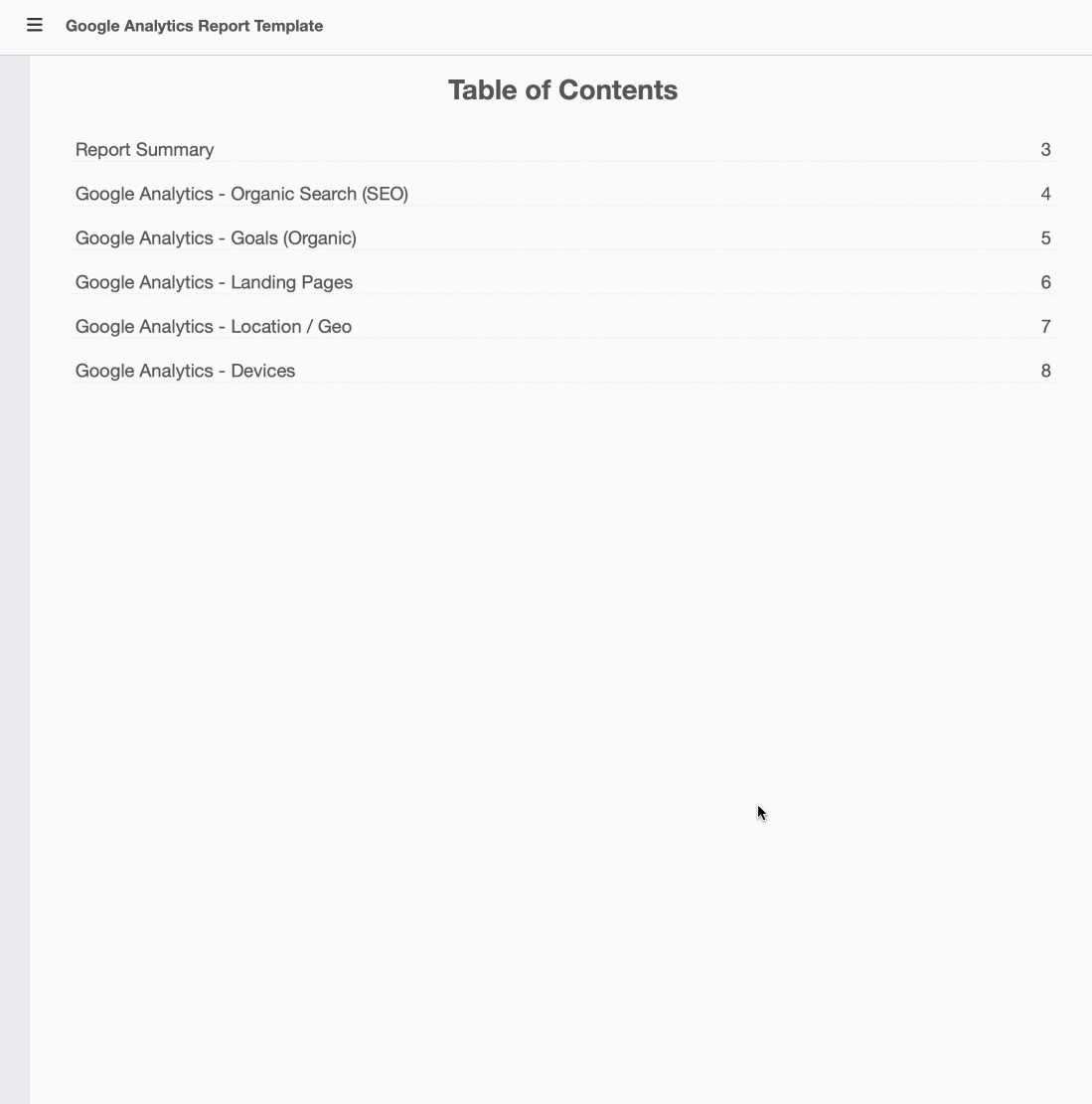 3. Conversion Metrics
This is arguably one of the most important sections to include in marketing reports. Conversion metrics are critical to track because they often directly impact an important KPI–your client's revenue. Seeing a bunch of numbers from their marketing agency is one thing, but understanding how those numbers equate to sales is another. 
Avoid reporting vanity metrics (clicks, likes, and email opens) that are hollow digits contributing little substance to proving your marketing efforts are making them money.

Kim Meissenheimer, Ads Specialist at Expand Agency
This is the spot in your report to add more granular details like session duration, bounce rate, and total goal completions or conversions. These are also broken down by channel, helping everyone clearly see which marketing channel performs the best. 
For example, if their social media analytics indicate a low conversion rate but their email campaigns have much higher conversions, this helps your agency develop data-driven marketing strategies to solve the problem. Look at their email copy and apply the same language or positioning to their social posts or A/B test different call-to-action buttons. 
The digital marketing reporting tool pulls critical conversion data from Google Analytics, displaying traffic from all channels so you and your clients get an instant overview of what's resonating with customers.
4. SEO Rankings
The next section should be dedicated to SEO reporting. Your agency understands why search engine optimization is an important part of many digital marketing campaigns, but do your clients?
An SEO report should track and display any changes in your client's organic search rankings on platforms like Google and Bing. If they've dropped a couple of spots on the SERP, you know to adjust their content marketing strategies as needed. 
Show your clients how they're ranking for specific keywords in their industry and how they stack up against competitors in the SERPs. This is another opportunity to showcase your agency's expertise and pitch additional services like a technical SEO audit to help boost their organic traffic. Use the white label SEO audit tool to identify and report on top SEO issues that are hurting your client's growth.
Perfection is the killer of productivity. Do your best to get it right but do not get hung up on perfection. Nothing is ever perfect out of the gate. Be prepared to track, monitor and adjust as needed.

Kristen Ewen, Director of SEO at Property Manager Websites
If your agency specializes in SEO services, be sure to check out our dedicated SEO report template and built-in SEO tools to streamline your agency's website audits & monthly marketing reports on a client's critical SEO KPIs.  
5. Social Media Data
Next up–social media metrics. Use the top social media KPIs to prove to your clients that the awesome social media campaigns you're running are yielding positive results.
This part of the report should highlight cross-platform marketing metrics such as social media engagement, impressions, and followers for each of their social media accounts. Giving your clients a brief overview across each platform helps them quickly identify which platforms reach the most amount of followers and how they're engaging. 
The growth of followers directly impacts your clients' credibility and reach. So, it's crucial to show how your agency is boosting your client's brand by attracting a larger audience and enhancing their online social presence. 
Manually updating spreadsheets that track follower growth across multiple social media accounts for each client quickly becomes a pain. Simplify the process with an automated social media analytics dashboard. It'll save you time and help you focus on delivering great results for your clients.
Agency Tip: Include top-performing posts and customer testimonials in this section of your digital marketing report to highlight what customers are saying about your client's business online. This gives them insights into what they can take ownership of offline like improving customer service practices, for example. 
6. PPC Update
Just as important as the previous sections, PPC reporting is next. The PPC campaigns section of the digital marketing report is highly customizable. Include key online advertising performance metrics such as clicks, impressions, click-through rate (CTR), conversion rate, and cost per click (CPC) on a monthly basis.  
Provide an overview of a particular digital marketing campaign's PPC objectives, goals, and achievements to show how it aligns with the client's core marketing strategy and business objectives. 
Use charts and graphs to help with data visualization so clients understand the budget allocation and pacing for each PPC platform (Google Ads, Facebook Ads, etc.) and highlight any changes made to the budget and why. Show relevant benchmarks of a client's current advertising campaigns and compare them to previous periods. This lets them know if they're getting a healthy marketing ROI thanks to your marketing activities on the leading paid channels. 
Digital marketing reports help clients see their ROI and they feel confident in their marketing spend. This ultimately helps their business grow because they continue to advertise.

Janeene High, CEO, Results Driven Marketing
Agency Tip: Offer recommendations based on the data, outlining actionable marketing insights to enhance the PPC campaign's effectiveness, reach, and return on investment (ROI) for the client. 
We highlight our multi-channel comprehensive approach to drive long-term results for our clients. We also set realistic goals through collaboration, looking at their industry, target audience, and specific business objectives. Lastly, we consistently report and communicate regularly to provide data-driven insights and performance metrics to demonstrate the effectiveness of our PPC strategies.

Steph Busia, Account Manager at Moxie Tonic
7. Email Marketing Overview
Your email marketing section of the report should include metrics like how many people are reading and opening the emails while diving deeper into the data. For example, what are their customers doing once they open the email? Are they clicking the call-to-action (CTA)? Do they convert into customers or book appointments? What is the unsubscribe rate? 
All of these metrics inform future email marketing campaigns and show clients direct customer feedback. Maybe there is a specific product or service that customers are clicking on or requesting more frequently than others. This is valuable information your clients will want to know, and your marketing agency has the opportunity to help them make informed business decisions. 
Streamline Reporting With Templates
Since the key to growing your agency is reducing inefficiencies and eliminating repeatable tasks, transitioning out of any manual reporting processes your agency may currently have is an excellent place to start. 
90% of employees feel burdened with repetitive, boring tasks that can easily be automated. Enter digital marketing report templates. 
Using a monthly marketing report template saves your agency on reporting time every month, freeing up more time to drive agency revenue and profits. 
The initial set-up of your digital marketing report template takes some added time and effort for customization. But after you've set up your client report template once, it's easy to adapt it for other existing and new clients.
Create a master report template that lays out the specific metrics you want to report on for each type of campaign/instance first and foremost so your reporting is uniform across clients. This also saves your agency time because you aren't starting from zero each time.

Molly Lopez, Owner-Partner at HITE Digital Miami
Lastly, don't forget about white labeling capabilities to include your agency's branding. Every time your clients receive their marketing report, they'll associate their successful results with your agency.
Customize your reports to align with your agency's branding and the client's specific needs to enhance professionalism and strengthen the agency-client relationship.  

Joseph LeBlanc, Marketing Specialist, Studio Eighty-Eight
What Is the Ideal Frequency for Digital Marketing Reporting?
Now that you have your client reporting template all set up, how often should you send it out to clients? 
Although there isn't a "one-size-fits-all" answer, a few factors influence reporting cadence. 
As noted earlier, most marketing agencies send out their marketing reports on a monthly basis. 
But that's not a hard and fast rule. 
For example, if your client has long-term business goals that require building up their website's SEO, less frequent reports may be suitable. Alternatively, if your agency is running short-term marketing campaigns with immediate results in mind, this is an opportunity to send more frequent updates–to the extreme of providing a daily marketing report– to showcase any wins in their digital marketing reporting.  
Other factors to consider include: 
Industry and Seasonality: If your client's business operates during a specific season, they may require more frequent reporting during peak times. 

Campaign Complexity: Running an intricate marketing campaign that involves multiple channels typically requires more comprehensive analysis, affecting report cadence. 

Client Preferences: Considering the client's preferences and business requirements is crucial. Some clients may prefer seeing their marketing analytics in weekly marketing reports, while others might be content with a monthly report. 
It's essential for your marketing agency to communicate with clients and align reporting frequency with client needs and expectations. Regular communication and feedback ensure that the report cadence meets the client's expectations and helps drive the success of the marketing campaign.
Schedule individual client reports on a weekly, bi-weekly, monthly, and quarterly basis to keep your clients informed on campaign performance. Get started with your 14-day free trial. 
How to Gather Data for Your Digital Marketing Reports
Manually gathering data for a clients' marketing report is time-consuming (and costly). Things get busy at your agency and your marketing team is focused on delivering results for client campaigns. If a client calls with a random question about their overall marketing strategy, you want to equip your team to quickly provide an answer and get back to their billable tasks. 
Make the switch to AgencyAnalytics and start easily compiling in-depth, custom-built, white labeled reports today. Join over 6,000 growing agencies who trust the platform to deliver reliable results to their clients every month. 
Make the most of your free trial by connecting all of your clients' digital marketing campaign metrics in one place. With over 75 marketing integrations, your team doesn't have to waste valuable time on productivity killers like manual reporting.
With AgencyAnalytics, we were able to centralize all the data in one place, enabling us to easily track and analyze campaign results across different channels.

Jessica Crist, Production Manager at High Five Media
Easily create dashboards and reports with a suite of fully customizable widgets that highlight your clients' specific marketing data. The drag-and-drop marketing report builder makes the entire process seamless and easy to get started.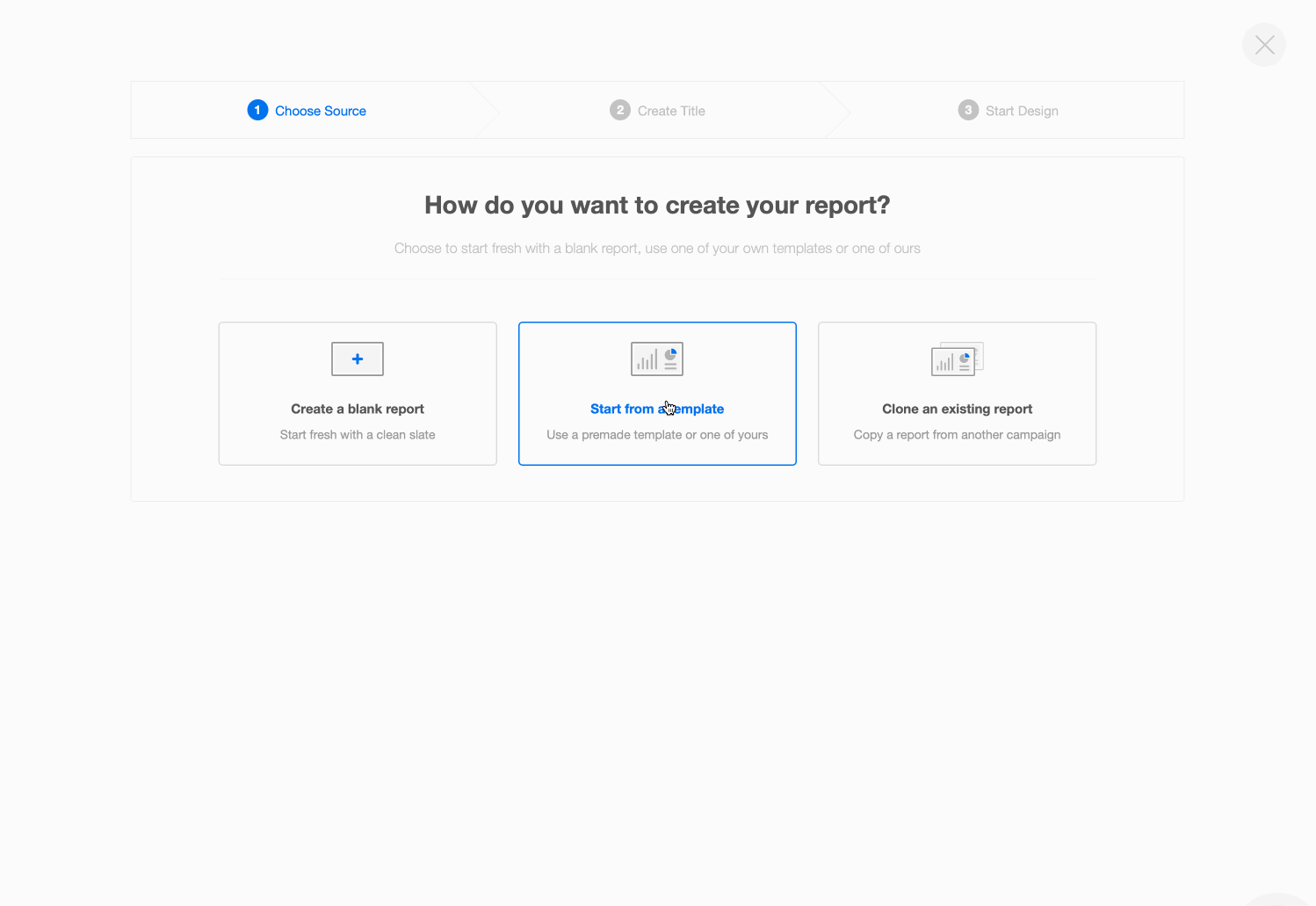 The Takeaway
Creating digital marketing reports for your clients is essential to helping their businesses thrive. By focusing on key elements like clear objectives, the client's priority OKRs and KPIs, data-driven insights, comprehensive analysis, and actionable recommendations, your agency presents a compelling narrative that showcases its digital marketing efforts and drives strategic decision-making. 
Incorporating visualizations and concise language, these reports are accessible and engaging, making it easier for clients to grasp complex marketing data and make informed business decisions. 
It's time to get started! Investing time and effort into creating a great digital marketing report is a worthwhile process that will provide your agency with long-term rewards. 
With fully automated reports and custom dashboards, you have everything you need to save time, impress clients, and scale your marketing agency. Try AgencyAnalytics risk-free for 14 days.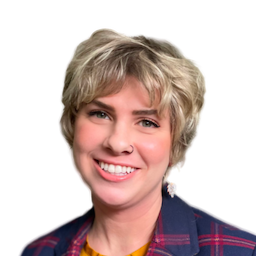 Richelle Peace is a joyful writer with a degree in Journalism. She loves writing web content, blogs, and social media posts. Whatever the topic, she's fascinated by learning and sharing.
Read more posts by Richelle Peace ›
Try AgencyAnalytics risk-free for 14 days. No credit card required.