Entrepreneurial Operating System (EOS) is a revolutionary business philosophy that has been reshaping operational standards in organizations across countless industries–including data-driven marketing agencies. 
In this article, we delve into the compelling concept of EOS rocks and highlight firsthand experiences from agency owners who credit EOS for remarkable advancements such as:
Breaking through growth plateaus

Enhancing employee retention

Expanding their client base by an astounding 70%, fueling a minimum of 30% consecutive year-on-year growth.
Transforming Your Agency's Vision Into Reality With the EOS System 
For the uninitiated, EOS provides a holistic blueprint for agencies and businesses alike seeking to streamline their operations and achieve alignment among their various divisions. 
It's essentially a complete set of simple concepts and practical tools that help you get the most out of your agency by focusing on what's important, executing with discipline, and creating a culture of accountability. (The book Traction by Gino Wickman discusses the EOS Model™ in detail.) 
The model is built upon six key components: 
Vision

People

Data

Issues

Process

Traction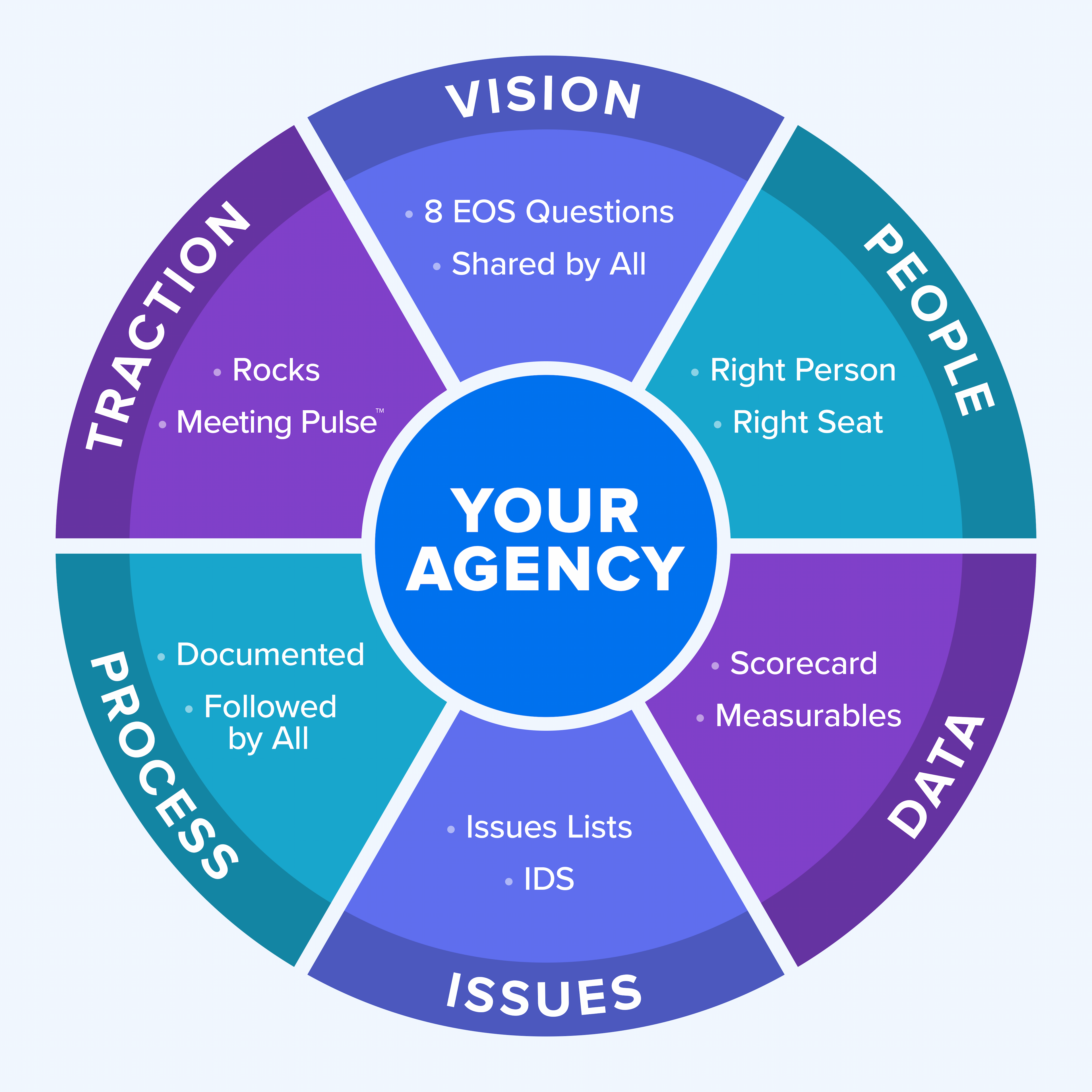 The core idea is to help entrepreneurs get what they want from their businesses by strengthening each of the components above.
EOS has given us the processes and tools to allow our company to double in size and double in revenue, and I don't think we'd be in the same place we are today without EOS. 

Brian Ferrito, Digital Marketing Director, 42Connect
EOS is not merely a framework: it's a well-orchestrated symphony of practical tools that serve to:
Amplify an agency's marketing productivity,

Solidify the vision across team members,

Cultivate day-to-day-traction, and 

Pave the way for sustained growth and enhanced revenue streams.
The EOS process exemplifies the adage, "the whole is greater than the sum of its parts", whereby specific individuals set rocks that guide their day-to-day activities to ultimately increase revenue for the whole business. 
This framework allows agency owners to place the onus on their team, promote independence, and achieve goals as a whole.
What Are EOS Rocks?
Before diving into the impressive results that EOS has delivered for marketing agencies, let's take a closer look at one of the most important facets of this compelling philosophy: rocks.
The EOS model promotes the idea of "company rocks"–the critical priorities that the entire company must focus on in the next quarter. These rocks are then further broken down into tasks that are assigned to individual employees. Rocks give agencies a framework of specific action items that they need to attend to in order to fulfill their contribution to the wider company goals.
To illustrate the value of focusing on rocks, imagine you are standing on a beach with a large metal bucket, and you need to transport a bunch of sand, pebbles, and rocks back to your campsite. If you load the sand first, you may find the bucket fills up too quickly to fit all of the pebbles or any of the rocks. However, if you focus on fitting the rocks in first, the pebbles can fill the holes around the rocks, and the sand can fill the holes around the pebbles. The same bucket can fit so much more if you focus on the big things first. 
As an agency owner, you know all too well to set specific, measurable, achievable, realistic, and time-bound (SMART) objectives. In EOS, these are set to be achieved within 90 days–but to be a true rock, it should take longer than seven days to complete. Anything that can be done in less than seven days is typically action items and not rocks.
EOS enables leaders to keep a bird's eye view of their agency to discern top priorities, track progress effectively, and identify areas that might require additional support or resources in order to accomplish them. This accountability ensures the most efficient utilization of resources and drives the organization toward its common vision.
After implementing EOS, we've been able to establish a really clear vision of where we were going as a company and how we're getting there. 

Brian Ferrito, Digital Marketing Director, 42Connect 
With EOS, team members across an organization are encouraged to establish their own rocks, contributing to the "company rock". This allows them to focus their energy and resources where they can make the most significant impact. As a result, agencies create a harmonious alignment of individual goals with broader company objectives, bringing everyone onto the same page.
Leadership Team Success With 30% YoY Growth
One success story using EOS is Delmain, a leading marketing agency in the dental marketing industry (and an AgencyAnalytics client). Three years ago, the leadership team at Delmain implemented EOS rocks to manage the company's priorities and track progress on a weekly basis (as well as their quarterly meetings). 
"Prior to EOS, we were dealing with some major organizational issues. For two years, we plateaued in terms of number of clients, our employees, and revenues," says Dan Delmain. "So we were looking for a business framework that would help us define and clarify one, who we are as an organization, two, where are we going, and three, how we're going to get there."
Implementing EOS significantly propelled the organization forward, aligning teams and priorities with the company's vision. By assigning rocks to specific team members, everyone had clarity on what they needed to achieve for business success. 
This helped in a more comprehensive understanding of the company's priorities. Using their "Rocks Dashboard," the leadership team was able to track progress effectively, ensuring the key priorities were being addressed and achieved.
The outcome? They observed improved employee retention, a dramatic 70% increase in their client base, and consistent year-on-year growth exceeding 30%. This was no mere coincidence; it was a direct result of the EOS process.
Watch the full video here! 👇
A Framework for Increasing Sales and Driving Progress with Rocks
Digital marketing agencies often face challenges of team alignment, communication, and accountability. Kim Walker, Co-Owner of Shop Marketing Pros, recalls how implementing rocks not only led to the achievement of targets but also improved morale. 
When you have things structured and you have expectations, there's a lot of joy and glory in that because when you know what is expected, you can perform, and you can perform highly, and you can be successful together as a team.

Kim Walker, Co-Owner, Shop Marketing Pros
Implementing EOS isn't confined to sales or leadership teams or quarterly meetings alone. It spans multiple departments, aligning all employees on the main priorities of the company. For instance, within the EOS framework, a sales team isn't just a mechanism for generating quarterly revenue. Rather, it plays a pivotal role in setting and achieving quarterly rocks, thereby optimally influencing the sales funnel and setting the stage for a boost in sales.
Key EOS Definitions That Build the Framework
To fully grasp the EOS framework, let's first unpack some key elements:
Quarterly Rocks: Quarterly rocks are the action items that employees need to complete by the end of each quarter. By breaking annual goals into quarterly rocks, EOS allows businesses to chunk Big Hairy Audacious Goals into smaller, actionable bites and maintain the momentum necessary to achieve more significant progress in the long run.

SMART Rocks: SMART rocks represent a break from the norm of long-term, often abstract, objectives. Instead, they are highly focused, realistic goals that need to be accomplished every quarter. Rocks keep the team on track, ensuring a laser-like focus on the tasks that will have the most impact on the agency's success each quarter.
In essence, the EOS system transforms your agency into a well-oiled machine, where every team member, every division, contributes to the success of the company rock. It's not just about setting rocks; it's about accomplishing them and in the process, achieving the strategic vision of your agency.
Creating a Culture of Accountability
Whether it's the content team working on creating high-quality blog posts, or the SEO team optimizing web pages, setting rocks ensures every team member knows their part in contributing to the agency's success. 
"Everyone has a seat," says Kim Walker, Co-Owner, Shop Marketing Pros. "We make sure we have the right person in the right seat doing the right things and in all of that."
The rocks are there to identify agencies' longer-term goals in a palatable format, making them more likely to be completed. This way, everyone is aligned on the most important things to focus on for the next 90 days and that they are contributing to real traction. 
This transparency really helps the team stay motivated. They also have certain metrics that they're trying to hit and be accountable for. And all of this together has really helped us retain our employees over a longer period of time and create more engagement with the employees.

Brian Ferrito, Digital Marketing Director, 42Connect 
Now doesn't that also sound like a great recipe for retaining top talent in an agency and reducing burnout?    
Read More: 9 Coaching Skills for Agency Success
Set Up A Competitive Advantage for Your Agency 
Alignment is like the building blocks of your agency's growth. Having your employees moving in the same direction instead is a competitive advantage you can't afford to overlook. By setting SMART rocks, tracking progress, and fostering accountability, you can drive your agency forward, just like Delmain did. 
Remember, in the context of an agency, a rock doesn't just represent a task or project; it's a symbol of your agency's key priority encapsulated in achievable, realistic, and time-bound targets. EOS offers a proven strategy for marketing agency owners and leaders to align team members with the company's most important goals over the next 90 days. 
Let's say you want to increase client retention by 20% within the next quarter. Establishing a rock, in this case, might involve creating a dedicated client engagement team, implementing weekly progress meetings, and developing a new feedback system. These are the critical, tangible steps that can help the agency break through the noise and achieve this specific target. 
So set your rocks right and keep 'em rollin'–you'll consistently reach both client and agency goals. 
Infuse goal-tracking in your agency's workflows & easily report success to your clients. Invest in a client reporting system that over 6,000 agencies swear by. Unlock your free 14-day trial with AgencyAnalytics today.
Written by
Melody Sinclair-Brooks
Melody Sinclair-Brooks brings nearly a decade of experience in marketing in the tech industry. Specializing in B2B messaging for startups and SaaS, she crafts campaigns that cut through the noise, leveraging customer insights and multichannel strategies for tangible growth.
Read more posts by Melody Sinclair-Brooks ›
Try AgencyAnalytics risk-free for 14 days. No credit card required.