Building a profitable email list for your clients (and your agency) is one of the best ways to build relationships with potential customers. It's intimate: you're right in someone's inbox, ideally at the right time with the right message.
But after you've sent your client's email campaign, the only way to understand its effectiveness is through email marketing analytics reports.
Great emails are a conversation. The only way to assess audience perception is by studying the reactions to your email. Clicks, shares, and replies are the "facial expressions" and "words" that a person uses to communicate. And that will tell you how well your conversation is going. –Seth Giammanco, Principal, Strategy and Technology at Minds On Design Lab
Read on to find out what makes a great email marketing analytics report your clients will love. 
What Makes an Email Marketing Analytics Report Stand Out?
A great email marketing report is straight to the point, highlighting the KPIs for the analysis timeframe, and providing actionable insights. –Bryan Lozano, Vice President of Operations at Ad-Apt
An excellent email marketing analytics report isn't numerical mumbo jumbo. To really stand out, you'll need to do a bit of analysis while presenting their report in a palatable way.
In a nutshell, an effective email marketing analytics report visualizes data and provides beyond-the-surface metrics.
Visualizing Performance Metrics 
Email marketing isn't just about mass sending a newsletter to potential customers and hoping for the best. 
To give the most value to your clients, you'll need an email marketing analytics report backed by data-driven marketing insights. It should clearly outline what went well, goal progress, and any areas for improvement. 
What is measured is improved, and it simply creates a better quality dialogue between clients and us when they can see performance and trends at a glance. –James Middleditch, Director at Digital Group Media
Use this exact email marketing report template in AgencyAnalytics. Try it free for 14 days!
From changes in email bounce rate to a significant number of email opens in a specific geographic region, your client's email marketing analytics report will help your agency hone in on those insights.
Providing Valuable Insights (Beyond Surface-Level Metrics)
An outstanding email marketing analytics report shares all necessary insights, such as:
How many subscribers opened your client's email

Clickthrough rates on embedded links, videos, graphics, and other material

Subscriber demographics (e.g., geographic location, age group)

Conversion rates (e.g., number of downloads, online transactions)
Email marketing metrics such as delivery, open, and unsubscribe rates are certainly important but can't be looked at in isolation. These metrics have to be considered against the desired outcome. –James Middleditch
It isn't just about vanity metrics that only reflect happening at the surface level (e.g., a high open rate doesn't mean any further actions were taken). While these metrics are undoubtedly necessary to identify any potential issues or areas for tweaking, they aren't a tell-all for email marketing performance.
To avoid falling into a spiral of marginally meaningful data, be sure to contextualize your client's email marketing analytics as much as possible. 
Agency Tip: Including an executive summary or even custom comments directly on a client report adds further context on surface-level metrics and any notable changes (e.g., explaining that an uptick in subscriber rate was likely correlated with an increased sales outreach exercise). 
Groundwork to Cover Before Creating an Email Marketing Analytics Report
Creating an email marketing analytics report is just one piece of the puzzle. You don't want to end up in a situation where you've created a visually-pleasing report only to realize that you completely missed meeting your client's goals.
Here are some actionable steps to put in motion before creating a report. 
1. Create Buyer Personas and Segment Your Client's Audience
First things first–understand your client's audience and who they're targeting. Take the time to create buyer personas and map the customer journey beforehand. 
In the lead capture process, collect as much useful demographic information as possible and preferences based on your client's product offering. 
By setting up your client's email list this way, you'll be able to segment data, target specific groups, and market more effectively. Take it from other marketers–subscriber segmentation is the most effective marketing strategy you can put in place. 
The ability to segment your audience and create buyer personas can help determine what kind of content to create for each step. Segmenting these customers into appropriate email marketing lists helps businesses target these groups more effectively. –Bryan Lozano
Segmentation also helps your client to engage subscribers who are in between stages of the sales funnel or just on the precipice of conversion. 
As Lozano explains, "Customers need information to move them to the next buying cycle stage, and pushing the right email content can do just that. It's about moving these prospects down your sales funnel–not as quickly as possible, but as efficiently as possible." 
2. Decide on Your Client's Goals and KPIs beforehand
Not all data is created equally (and by now, you probably know the importance of distinguishing metrics vs. KPIs). To create an email marketing analytics report that your clients will value, understand their long-term strategic goals, and which email marketing metrics are most applicable.
For example, a client interested in driving website traffic may pay close attention to email clicks. On the flip side, another client that wants to boost online sales would likely focus on conversions. Take each client's goals on a case-by-case basis, narrow down which email marketing metrics are worth reporting on, and contextualize insights as much as possible. 
Wondering where to begin? Here are a few email marketing metric examples and why they're important to highlight in email marketing reports.
Clickthrough Rate
This metric gives you a percentage of how many subscribers have clicked on at least one link in your client's email marketing campaign. A good click-through rate is an indicator that your client's email content is engaging (or at least compelling enough to warrant a follow-through action). 
Clickthrough rate is an essential metric for email marketers as it shows you how many people are interested in your content and want to learn more about what you're offering. –Bryan Lozano
Engagement Rate
To measure how much subscribers are interacting with your client's email content, keep an eye on engagement rate. This metric factors in all user-related actions such as clicking on a link, forwarding the newsletter, and changing email preferences. 
I believe in focusing on conversions and those engagements like clicking, donating, registering, purchasing, and sharing that suggest the perception of value of your recipient. –Seth Giammanco
Bounce Rate
After you've clicked 'Send' on your client's email marketing campaign, you'll need to evaluate whether there are any deliverability issues. Monitoring bounce rate comes into play here– it helps you to determine:
Any potential improvements that could be addressed on your end (e.g., verifying your client's domain so emails don't end up in spam folders)

Whether your client's email list needs cleaning up (if you observe an unusually high bounce rate)
A marginal bounce rate is expected, but remember to investigate a higher rate as this could cause issues down the line (such as account suspension).
Bounce rate is important to keep an eye on as it can lead to issues with delivery rates down the line. You always want to sanitize your email lists and make sure you aren't getting high bounce rates. –Bryan Lozano
Email List Growth
As you're building your client's brand reputation, it's essential to keep an eye on email list growth. A new email subscriber is golden: it's most likely a marketing lead that's already engaged and brand aware (which is one step further down the buyer's journey).
And so, a growing email list indicates that subscribers are interested in hearing from your client's brand and may even convert at some point (depending on your client's goals). 
Open Rate
This metric is useful to monitor how many subscribers opened your client's emails. Open rate is also good indicator of how well certain subject lines and snippets performed, which is important to note for future email marketing campaigns.
Keep in mind that just because a subscriber opened an email, doesn't necessarily mean they've engaged with it or followed through on a call to action. Remember to contextualize open rate by also monitoring supplementary metrics (such as clickthrough and engagement rates). 
Unsubscribe Rate
Similar to bounce rate, unsubscribes are not something you'd necessarily like to see, but it's also expected to some degree.
Whatever the reason, keep an eye out for a rising number of unsubscribes and any trends for why it's happening. It may point to a bigger issue, such as correcting any errors in email list segmentation or creating content that aligns more with your client's target audience.
3. Create Relevant and Applicable Email Marketing Content
Increase the likelihood of favorable email marketing analytics by creating exceptional, high-value content. Use targeted, personalized messaging where possible and speak directly to your client's experience. That way, your client's emails will resonate more and hopefully result in subscriber action. 
And don't forget to factor in other elements of email marketing success, such as adopting an easily scrollable format, optimizing visual appeal, and having appropriate calls to action. 
The key is consistently delivering content that matters to your audience. This often means your content needs to be valuable to the individual requiring considering how to personalize your email marketing. –Seth Giammanco
8 Strategies to Manage Email Marketing Analytics Reporting With Minimal Effort
Whether it's your first time creating an email marketing analytics report or your agency is looking to refine an existing process, here's what you should know.
1. Use Pre-Built Email Marketing Report Integrations
First things first–set your reporting structure up for success. If you're using a robust email marketing report tool like AgencyAnalytics, it's easy to link your chosen email marketing platform to your account. 
The last thing you want to do is decide on an automated reporting tool only to realize there's still considerable manual work when importing email marketing metrics. 
Our platform currently has multiple email marketing integrations to choose from, including Mailchimp, Active Campaign, Drip, Klaviyo, Sendinblue, and more.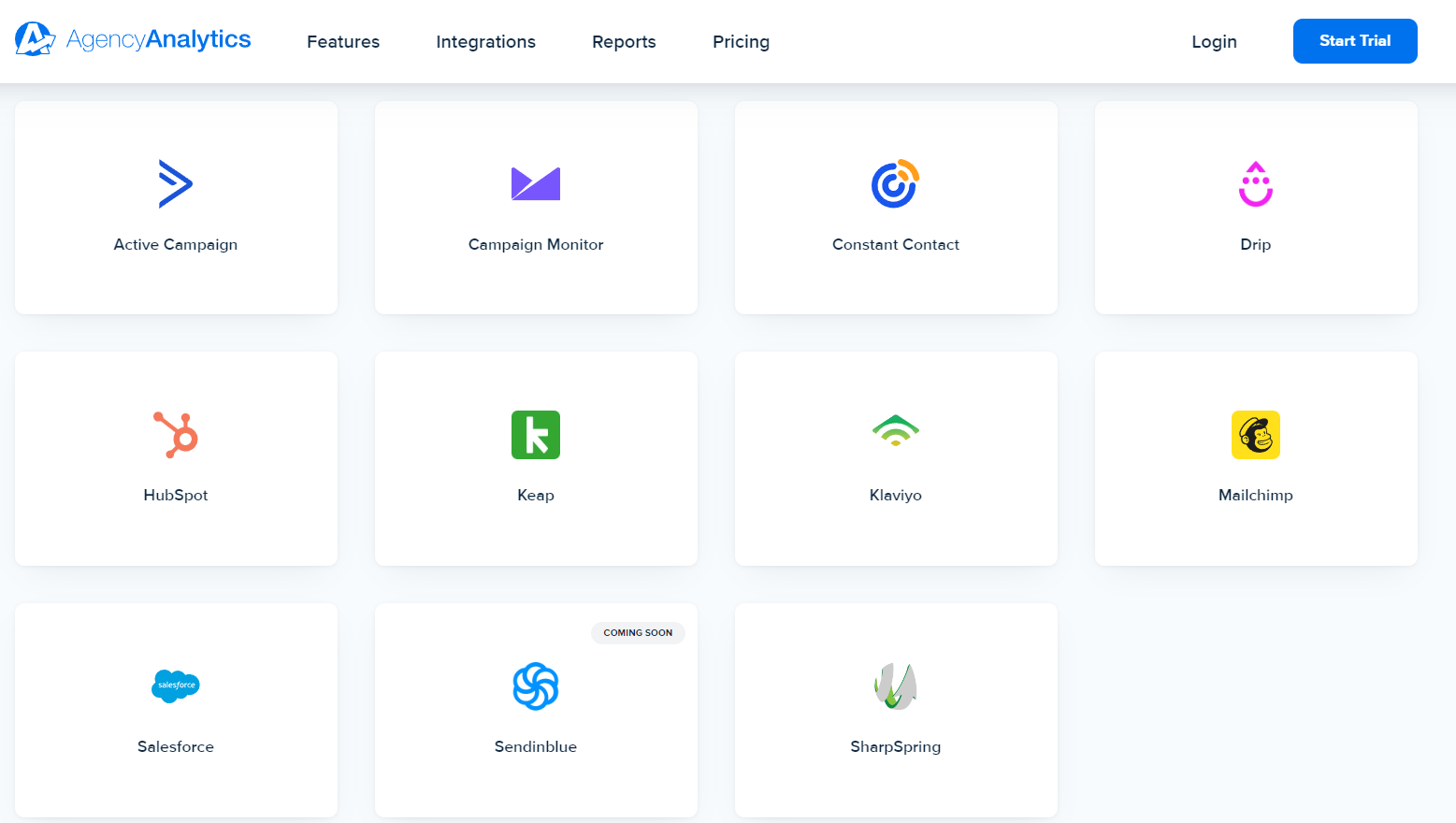 2. Create a Customizable Dashboard that Captures all Key Insights
No two email marketing clients are the same, and neither are their goals (or even platforms). Whether you're running a Mailchimp campaign for one client or a Drip campaign for another, create an email marketing dashboard that most reflects your client's needs and what they'd most like to see. 
Plus, using a common reporting platform means no more logging in and out of various platforms, so you don't have to have Klaviyo open in one tab and Sendinblue open in another, just to gather client data.
If you've got significant email marketing report overlaps between clients, it's also much easier to use dashboards or reporting templates than starting from scratch. 
Agency Tip: If you're running other campaigns for your client, a consolidated marketing dashboard works well for less hassle and more summarized overviews.
3. Add Custom Metrics
Let's say you've got a retail client with various email marketing campaigns simultaneously. In addition to sending out a newsletter for an online "50% Off All Designer Shoes" coupon, they've also sent an e-blast on a seasonal online sale for jewelry and accessories. 
A custom metric will neatly do the trick of consolidating overall campaign performance to understand the total impact of your email marketing efforts. It'll also give you the autonomy to create unique formulas based on your client's needs.
Client dashboards and custom metrics are extremely valuable. We save a lot of time each month by sharing a dashboard where our clients can regularly check in and see status updates from our team. The ability to add custom email marketing metrics also makes things easier for us to aggregate KPIs across different channels. –Bryan Lozano
Try your own custom metric formulas on the AgencyAnalytics platform, free for 14 days. 
4. Create Goals and Annotations to Highlight Important Insights
While a summary is a great add-on to include on your client's email marketing analytics report, sometimes it's more impactful to have notes directly on graphs and data points. That's where goals and annotations come in. 
For example, say a significant number of email opens happened in a geographic region that wasn't on your client's radar. Adding an annotation is handy (e.g., recommending that your client explore a new, targeted advertising campaign or create an additional ideal customer profile). 
Similarly, perhaps you've exceeded your client's goal of 1,000 downloadable guides in their last email marketing campaign. As their trusted marketing agency, you'll want to highlight this goal visually while recommending a higher target for the upcoming quarter.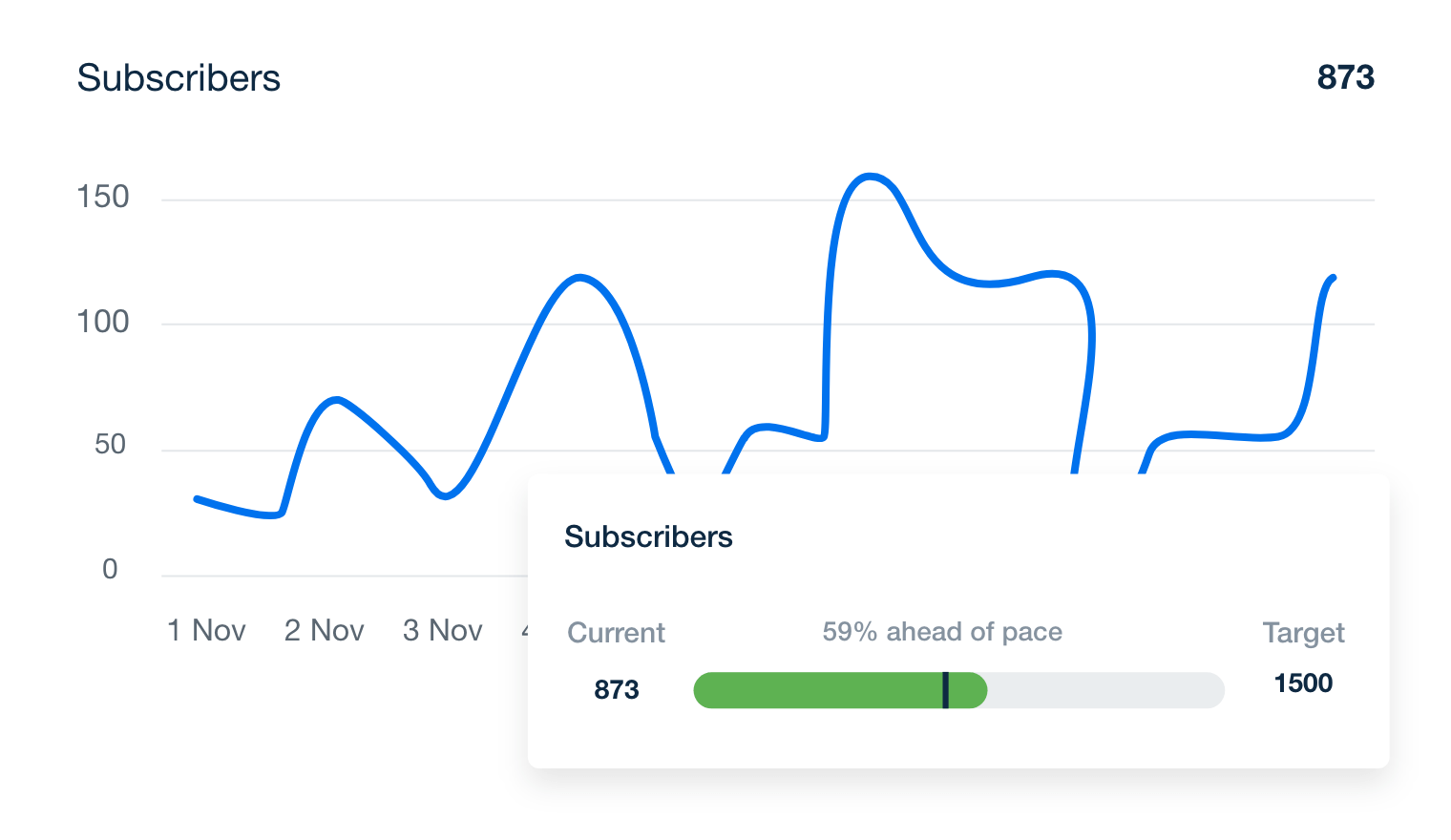 Agency Tip: To further contextualize your client's email marketing analytics report, consider embedding a short video highlighting significant updates, clarifications, and explanations. Not only does it personalize their reporting experience, but it may also save time from additional phone calls or email follow-ups.
5. Determine Whether To Grant Client Login Access
Knowledge is power, especially regarding email marketing performance and strategic decisions for future campaigns. After you've sent out an email marketing campaign, it's understandable that your client may want to keep tabs on how it's being received and its progress over time. 
Granting client login access frees up your agency's valuable time and saves you billable hours. It also gives clients more control over their data by choosing when they want to view it and how often. 
We normally create a dashboard that features the primary KPIs for each channel we manage on behalf of our clients and share "client access" with them. They love that they can dive deep into the analytics independently without needing our input each time. Agency Analytics makes it easy for us to share campaign performance with our clients on a weekly and monthly cadence. –Bryan Lozano
Agency Tip: To avoid overwhelming your client with too much information or reporting on metrics that don't match their email marketing goals, consider implementing user permissions. That way, you'll have more control over what's shared and focus on what matters most. 
6. Tell a Story of What's Happening and Tie It Into The Bigger Picture
Your client likely has multiple campaigns (such as Google Ads or Facebook Ads) running in conjunction with their email marketing efforts. As a result, you'll find a relationship between all moving parts, and it's essential to factor these factors into their email marketing results.
"Email marketing analytics are very important in relation to a client's total business performance. It's a symbiotic relationship in almost all instances I can think of, where email is the continuation of prior efforts from other channels." –James Middleditch
For example, a press campaign highlighting your client's recent award-winning product may significantly boost website traffic. In turn, it may have resulted in increased newsletter signups and subsequent online purchases. 
By adopting a practice of data storytelling and tying in key happenings from other related campaigns, you'll create an effective email marketing analytics report that provides holistic value. 
7. Set Up Internal Tasks to Keep Tabs on Progress and Ensure Accountability
To ensure your client's email marketing reporting runs smoothly, you'll need a way to keep your agency staff accountable and ensure things stay on track. And what better way to do that than creating an internal to-do list housed in the same place as your client's analytics?
Don't get lost in a flurry of Post-Its– creating tasks is a systematic way to keep the ball rolling and steer your clients closer to email marketing success. 
8. Schedule and Automate Email Marketing Analytics Reports
Automation is your agency's best friend, especially when it comes to email marketing reporting. 
Leverage automation wherever possible to ensure you always have a way to engage with your audience and nurture them back to your site. –Bryan Lozano
Not only will it save you time in the long haul, but it will also provide a sustainable way to scale marketing efforts. Setting a schedule will also remove the worry of wondering, 'Did I send that email marketing report on time?' It also lets your client know when to expect their email marketing analytics overview.
Create an Impactful Email Marketing Analytics Report Each Time
And there you have it! Like all other marketing reports, email marketing analytics require careful analysis, pre-determined goals, and expert commentary where necessary.
By clearly understanding what your client is trying to achieve through their email marketing campaigns, you'll know how to put together an effective, insightful report.
And if you're a marketing agency serious about growth, onboarding new clients, and staying on top of your email marketing game, AgencyAnalytics is the perfect complement for your needs. 
From keeping tabs on conversion rates to reporting on the results of A/B email testing, AgencyAnalytics will save you time and easily streamline your client's email marketing reporting.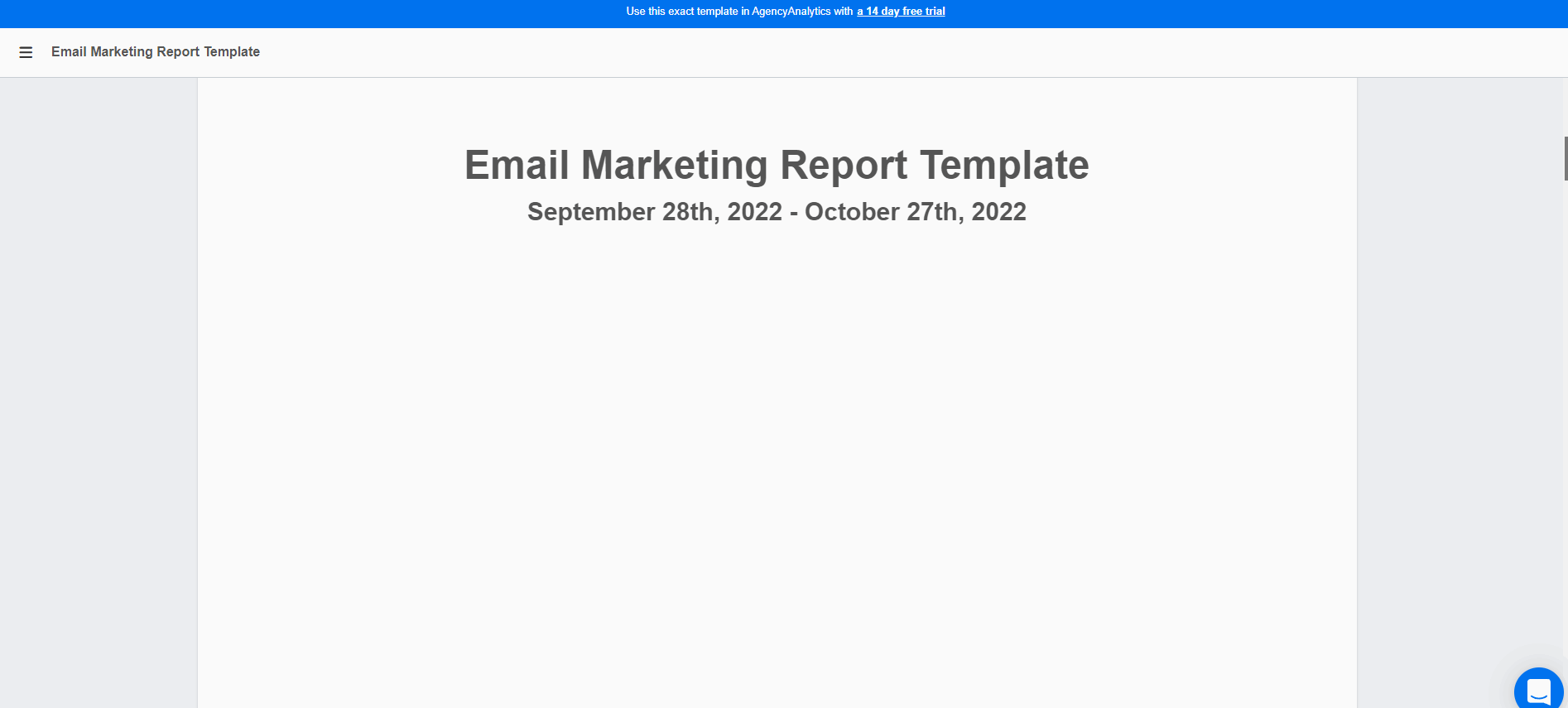 Don't start from scratch–use our pre-built marketing report templates to deliver insightful, white-labeled reports every single time. Try it on AgencyAnalytics–free for 14 days.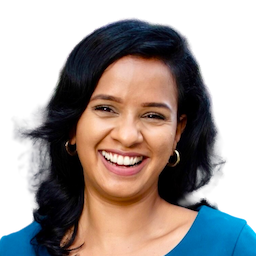 Faryal Khan is an experienced marketer and brand photographer with a passion for content creation. She creates value for brands through storytelling and captivating visuals.
Read more posts by Faryal Khan ›
Try AgencyAnalytics risk-free for 14 days. No credit card required.