As any marketing agency knows, content marketing can get clunky. It involves a lot of planning and requires organizational skills beyond Excel spreadsheets. And the more clients you add, the more important it is to stay on top of it all. Your agency should be able to consistently report on the success of the content it's creating for clients–that's where a content marketing analytics dashboard comes in.
In this article, we'll show you how to repurpose our SEO dashboard for your content marketing needs–and let it double as an editorial planning location. Cool, huh? Let's take a look at how it's done. 
But first thing's first, what do we mean by 'Content Marketing Analytics Dashboard' anyway, and why does your agency need one? 
What Is a Content Marketing Analytics Dashboard?
A content marketing analytics dashboard presents your clients' essential content marketing metrics all in one place. It gives agencies insights into how well your content is performing while measuring the success of your marketing strategy.
Content Marketing is the key to unlocking a world of new potential customers for your client's business. It's not only about engagement and building traffic–it's also about solving problems for clients before, during, and after their purchase journey. Easily showcase the impact of your agency's content marketing strategy with a dashboard that highlights your agency's efforts and successes.
From simple charts and graphs to more complex data visualizations, a Content Marketing Dashboard has everything you need to track your progress and make informed decisions about future campaigns. Best of all, AgencyAnalytics' dashboards are easy to customize and extremely user-friendly, so you'll be up and running in no time.
Here's Why You Need a Content Marketing Analytics Dashboard:
Gone are the days of creating content in the dark. A content marketing strategy is unique to each of your clients, must be SEO-informed, relevant to their target audience, and the results need to be measurable. 
Agencies must plan, execute, and analyze their content marketing campaigns. And all the better if it's done all in one place.
If your agency doesn't have a clear process for tracking its clients' content marketing metrics, then your clients may believe that you're lacking the key insights that aid in decision-making for content creation. 
Without a dashboard that automatically keeps track of your clients' marketing metrics, you'll be logging into multiple platforms and manually creating reports–which unnecessarily eats up your agency's time.
From a user experience perspective, it ends up being much easier to get the data from within a dashboard than it is to go directly to the data provider.

— Jason Hylan, CEO of Clix
Content marketing analytics software allows you to streamline your client reporting and easily measure changes in your campaign's performance – which is what your clients really care about. 
When you start to layer on 7 to 10 different marketing activities and channels, it becomes very complex to track everything accurately. The difficult part is not the marketing activity itself, it is the reporting to clients! Being able to easily report on our results to clients with AgencyAnalytics has been extremely valuable to our company.

— Kevin Szypula, COO Ferocious Media 
What Should Be Included in a Content Marketing Analytics Dashboard?
Content marketing analytics is complex. It goes beyond site analytics and gets more granular. A good content marketing dashboard should be more than the number of posts you're publishing for your clients and the number of website sessions. Content analytics should be looking at the content itself, as well as the impact it is having on your client's bottom line.
Although many marketers focus content marketing exclusively on the SEO value, there are many other ways that content marketing helps support your client's business, and they should all be highlighted in a complete content marketing dashboard. 
A content and digital marketing analytics dashboard should allow you to:
Track conversions from SEO

Measure SEO traffic (organic traffic)

Track any SEO ranking changes– including local SEO rankings too 

Track new or lost backlinks

See how customers are engaging with content across all channels (like SEO, Email, and Social)

Track new links built

Visualize social media engagement and shares

Monitor key customer engagement metrics

Measure the site audit score

Analyze top landing pages

Create tasks for editorial planning

Visualize how many leads are being generated from content marketing efforts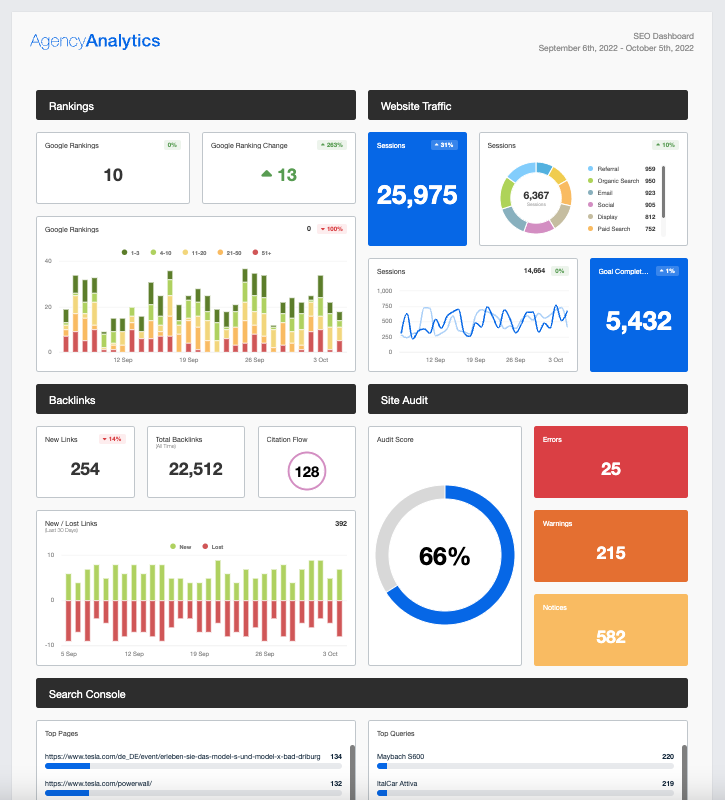 Start with our SEO Dashboard template and quickly build your agency's custom Content Marketing Analytics tool. New to AgencyAnalytics? Try it free for 14 days.
Let's take a closer look at creating a content marketing analytics dashboard for your client. 
3 Tips for Creating a Content Marketing Analytics Dashboard
1. Consider what questions you want your dashboard to answer. 
Did your content work?

Is the content delivering ROI?

Should you be spending more time & money creating and promoting your client's content?

What types of articles should you spend more time creating? 
2. Know which content metrics matter to your clients? 
Do you need to track user behavior metrics?

SEO metrics?

Social media metrics?

Engagement metrics? 

Email metrics? 

Conversion metrics?

All of the above?
3. Ask yourself: what story do you want to tell your clients? 
Your clients want to know how their campaigns are performing, but also how they are improving over time. So what trends do you want to show? Once you've decided what metrics matter most, you'll want to consistently present them in the same place to allow for easy analysis. 
Once you've answered the above questions for your client, you can get to creating your dashboard, setting realistic expectations, and over-delivering on value.
Joey from Portland SEO Growth says:
The biggest factor that contributes to our agency's content marketing success is expectation management. We do a great job of sharing expectations with our clients and teams so that we can exceed their expectations.
How To Create a Content Marketing Analytics Dashboard
When choosing the right platform for your agency, oftentimes the best content marketing analytics tool has built-in functions that streamline your workflow as much as possible. 
The top content marketing analytics tools out there allow you to save time on tedious tasks while providing consistent, quality reports for your marketing team to glean insights from while satisfying the intuitive needs of a client-facing platform. 
There are several tools out there that help an agency plan its content calendar, but they are very limited in their ability to provide analytical reports. There are also several tools that provide analytics and data around organic and social growth through content marketing, but they don't have easy-to-use tools to plan your client's content calendar. The best tools provide both. 
Considerations you should make when selecting a content marketing analytics tool include:
How To Set up a Content Marketing Analytics Dashboard–With Examples
Setting up an AgencyAnalytics dashboard is simple. With easy-to-use drag and drop features, agencies set up their marketing dashboards and flip them into client reports in minutes. 
1. Create a campaign
Simply create a campaign to add a new client.
2. Add Analytics integrations like Google Analytics, Hubspot, and Google Search Console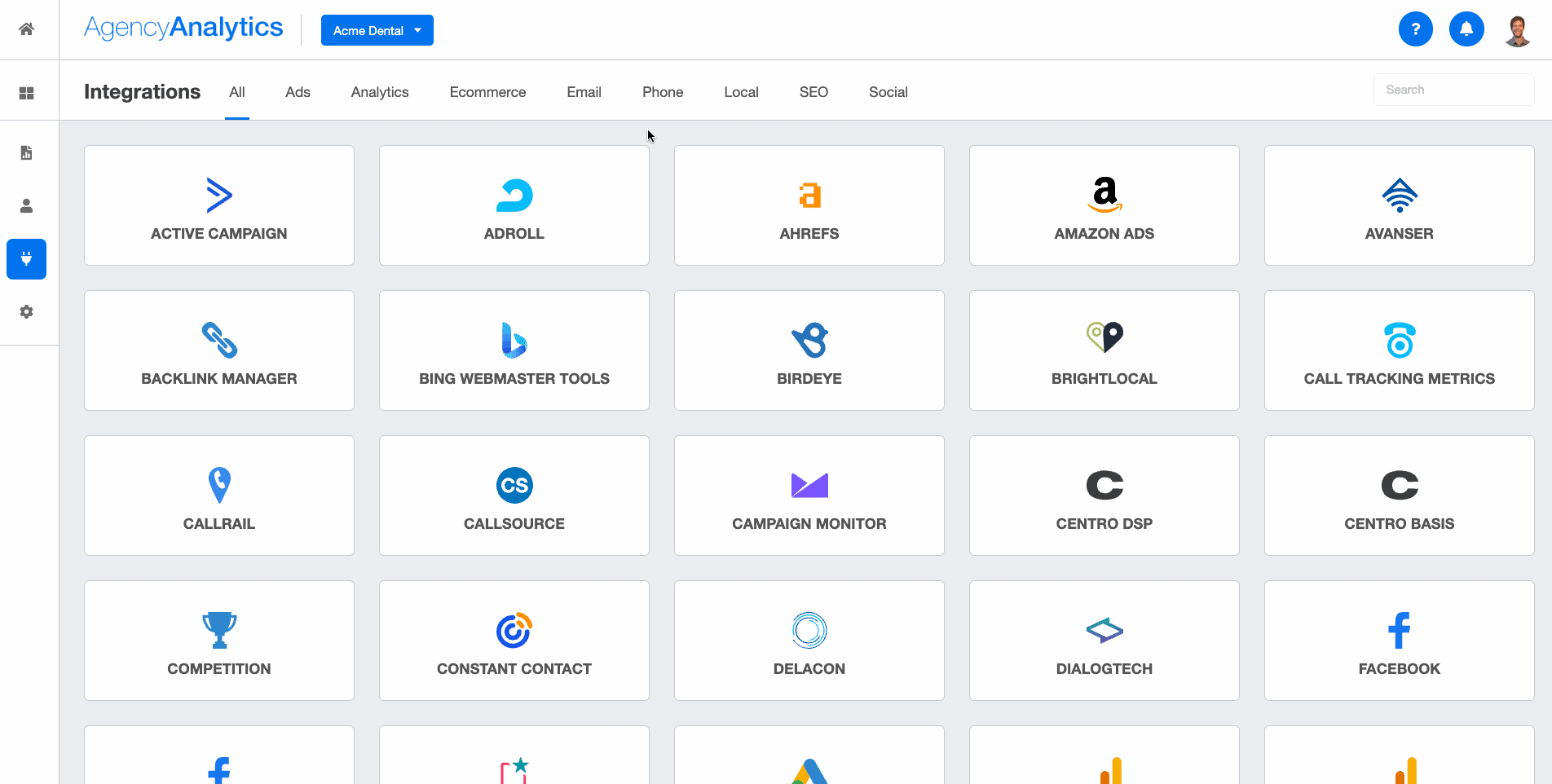 Add all the integrations you need based on your clients' marketing channels.
3. Add SEO integrations like Rank Tracker, SEMrush, Ahrefs, or Moz.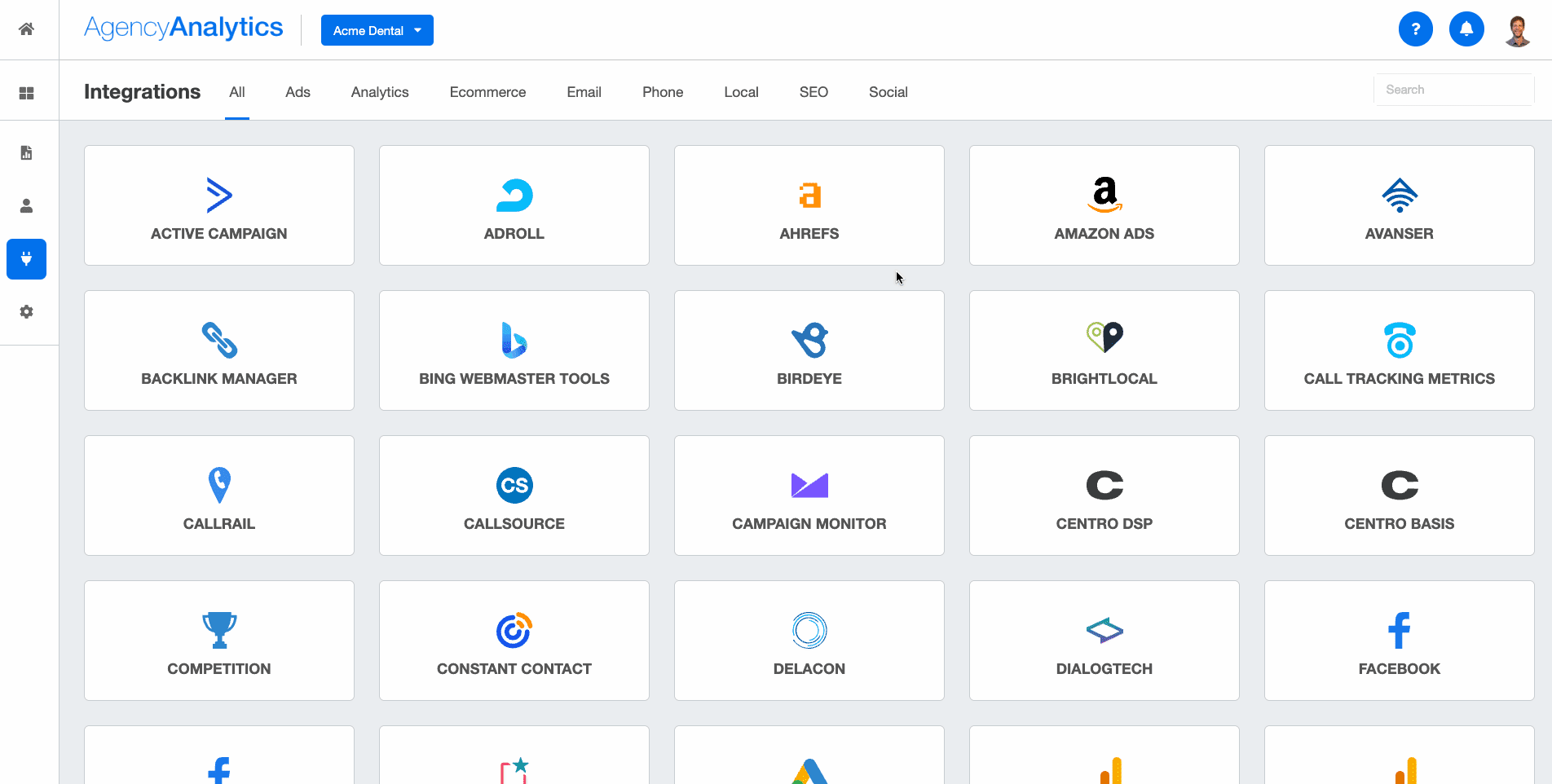 Choose from popular SEO integrations to enhance your content marketing dashboard with deep SEO insights. 
4. Add Social Media integrations like Facebook, Instagram, YouTube, or LinkedIn
Add your clients' social media accounts in there too to show them the full picture of their organic traffic sources. 
5. Add Email integrations if you promote your client's content via email choose from Mailchimp, Active Campaign, Salesforce, Campaign Monitor, Constant Contact, Klaviyo, and Hubspot.  
6. Set up metrics and KPIs to monitor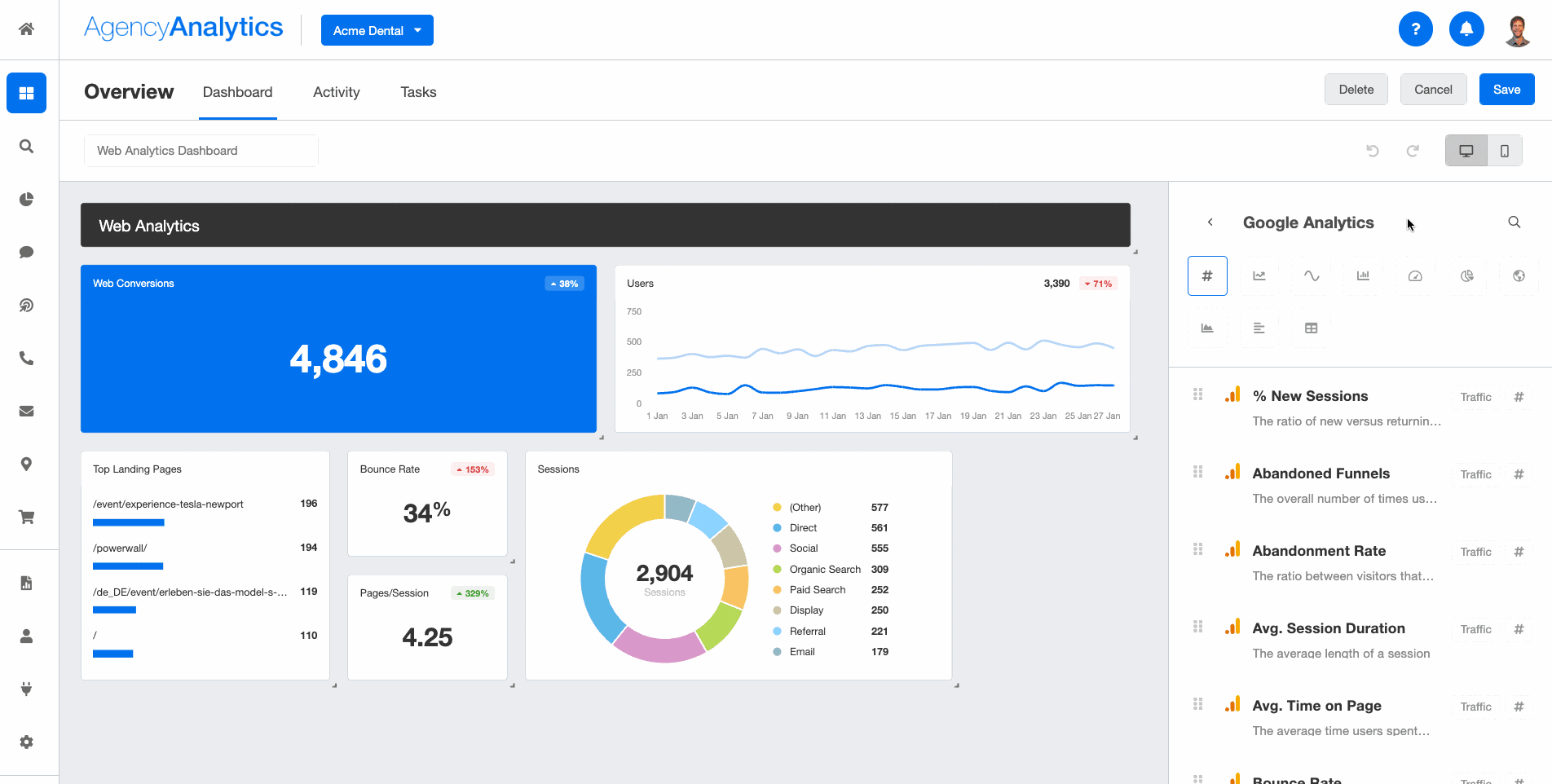 Decide which metrics should take the forefront of your dashboards and reports, and put them first. Set the goal completion feature to clearly show your clients their campaign's progress, and put conversion rates at the forefront of your dashboard to show the success of your campaigns.
Metrics and KPIs in content marketing analytics include:
Pageviews

Users

Sessions

Percentage of New Sessions

Average Time on Page

Bounce Rate

Pages Per Session

Backlinks

Goal Completions

Conversion Rates

Page Value

Keyword rankings

Social media engagement stats

Email open & click rates
Read More: Content Marketing KPIs to Track in Your Agency Dashboard
7. Create an Editorial Calendar using the Task Management tool. 
Use the agency management tool option as an editorial calendar planning location while keeping track of each post or content campaign your staff is responsible for.
Not only does this provide your agency with an easy way to manage the content pipeline, but you can include these tasks in your content marketing reports so that clients can quickly and easily see what has been completed, what is currently in the works, and what is planned. 
It's easy to customize our SEO dashboard if you don't want to start from scratch: 
Key Takeaways 
A content marketing analytics dashboard is built upon your clients' unique marketing strategy to show them just how you're contributing to their business goals.
Once your custom dashboard is in place, you can establish and report on your client's benchmarks by flipping your dashboard into a report in minutes. 
Include the sections of the dashboard that you'd like to show, along with their other marketing channels to show them a full picture of their marketing success. 
The reason that got us excited about AgencyAnalytics is that within 15 minutes of starting our free trial we were able to complete a full client report. AgencyAnalytics is unique in that it has both dashboards and reports, whereas a lot of other platforms just have one or the other. Also, the report wizard you have is amazing! 

— Mark Lennon, Managing Partner at Espresso B2B Marketing
When building a marketing report using a template, add an executive summary highlighting your successes, what you've worked on, and what you will focus on the next month. Your clients will keep coming back to your agency for measured, sustainable results that contribute to their bottom line. 
Looking for some more marketing dashboards to help streamline your agency? We've got you covered with 15 pre-designed dashboard templates, including:
Read more: 
Written by
Melody Sinclair-Brooks
Melody Sinclair-Brooks brings nearly a decade of experience in marketing in the tech industry. Specializing in B2B messaging for startups and SaaS, she crafts campaigns that cut through the noise, leveraging customer insights and multichannel strategies for tangible growth.
Read more posts by Melody Sinclair-Brooks ›
Try AgencyAnalytics risk-free for 14 days. No credit card required.