It's 7:57 p.m. on a Tuesday. You're putting the finishing touches on a new client report that needs to go out before 9 a.m. tomorrow. It's all going swimmingly until suddenly you hit a snag. Beads of sweat forming on your brow, you panic a bit until you remember a comforting fact:
Since you're working on the AgencyAnalytics platform, you can quickly connect with a customer support team member and solve your issue pronto. With a team that's available 24/5, you'll be back in business faster than you can say, "custom permissions".
Listen, there's nothing humble about our brag here. Whether you need a quick fix to add a new integration, a comprehensive how-to for a particular feature, or you'd just like some insider tips on how to make the most of the platform, our team has you covered.
One of the standout features for us has been the excellent customer support. Whenever we have a question or need assistance, the AgencyAnalytics team is always there to help. They've made the whole process seamless and stress-free.

Adam Binder, Founder and CEO, Creative Click Media
In this article, we'd like to share with you all the ways that our incredible customer service team goes above and beyond to help our clients. Let's get started. 
8 Ways AgencyAnalytics Customer Support Stands Out From the Competition 
We don't just think our customer support team is great. We know they are. How? Simple. Our clients take the time to tell us, again and again. Over the last six months, AgencyAnalytics has achieved a 97.5% positive rating in customer satisfaction. 
Curious to hear what the word on the street is? Let's take a look at some of the most common praise we receive.
1. Highly Responsive 
Over the last six months, the AgencyAnalytics support team has achieved a median response time of 1 minute and 40 seconds.

If you can't figure something out, don't let finding the solution eat up your time. The chat support is quick to help you. AgencyAnalytics is meant to help you save time - so allow it to do just that!

Ariene, Digital Media Account Director at Connections Marketing
Responsive support ensures that any technical issues your team is experiencing are addressed promptly, minimizing disruptions to campaign monitoring and analysis or your client reporting schedule. It's not just a convenience but a critical component for the success of marketing agencies. Downtime is costing your agency money. When in doubt, just send us a message!
If I can't easily figure something out, the support is phenomenal! I am usually able to get my questions answered right away. For more difficult questions, I have never waited longer than 1 day for an answer!

Christina Cypher, Director of Marketing, Click Control Marketing
We're right there to hear your concern when you need us. And if your question involves a bigger issue (say, a feature request that requires input from our product development team), we'll take the time to escalate the issue and respond with an accurate answer when we have it.
The AgencyAnalytics support team is on hand to help over 6,500 marketing agencies get the most out of the platform. It's a busy place, to say the least, but it's proof of our willingness to help all of our customers, each and every time. 
Our agency needed a good Support system, our previous platform had a barely-there Support team. The support system at AgencyAnalytics is second to none, providing live chats with REAL agents that help us problem solve on the fly. I can't recommend this software enough.

Rachel Jackson, Lead SEO at Wit Digital
2. Expertise and Product Knowledge 
Have you ever called a customer support team, only to find that the voice at the other end seems to be reading from a script? The in-depth questions you have must go unanswered because customer support knows little more than you do. 
By contrast, the entire support department at AgencyAnalytics are trained platform experts. Not only do they know all the ins and outs of the platform, but they have access to ample additional support literature and frequently collaborate with each other to quickly confirm the right information before responding to a customer.
Read what marketing agencies have to say about AgencyAnalytics on G2! 
AgencyAnalytics is an in-depth platform that's used for so much more than just reporting. Our clients leverage the platform for multiple stages of their business, including prospecting, pitching, and goal tracking. Our customer support team not only knows how to use the platform's straightforward functionality, but also all the insider "hacks" that will help you get the most bang for your buck.
The customer support provided by AgencyAnalytics has been exceptional, ensuring that any questions or concerns are addressed promptly, allowing us to focus on delivering exceptional client service.

Joseph LeBlanc, Marketing Specialist, Studio Eighty-Eight
3. Problem-Solving Abilities 
Think about the times you've personally contacted a customer support department of any company. How many times was your problem successfully solved? Were you left with an apology but no real solution?
Prior to using Agency Analytics, we were using Google Data Studio, one of the few Google programs with absolutely no customer support. So if a widget breaks or you can't figure out how to navigate a platform update--you're pretty much on your own. We wanted to switch to a platform that would have support available to us should something go wrong, that would be easier to use and more aesthetically pleasing out-of-the-box, and that could be updated more or less with a single click.

Molly Lopez, Founder & CEO, Sparo
At AgencyAnalytics, our customer support staff approaches every conversation with their problem solving hats on. No matter how big the challenge, they're incredible at thinking outside the box to find brand new solutions.
The Customer Support team is great. I've found the whole team at AgencyAnalytics fantastic to deal with, which is so important. The development team, too - they are really active and so quick to bring in new features. The speed and delivery in this respect is outstanding. 

Nathan Harding, Founder & Managing Director, Yo Media
Further, our team is constantly on the hunt for ways to improve the product by enhancing existing or adding new features and functionality. It's not uncommon that a client concern is transformed into a new feature request, and eventually manifests as a completely new platform update.
If the platform isn't doing what you need it to do, ask - the support team is fantastic and can help you customize AgencyAnalytics to your needs. Don't be afraid to push the limits of what AA can do.

Michael Wisby, CEO, Two Trees PPC
Integrations are one area that are frequently being updated. AgencyAnalytics currently supports 75 integrations and counting. We're always eager to add more and help our clients stay on top of all the latest trends.
If an integration is missing, the support team is AMAZING in helping us. From adding integrations to adding in new metrics.

Tim Akers, Founder, Akers Digital
4. Choose From Live or DIY Support
AgencyAnalytics understands that marketing agencies are busy and no one likes talking to bots when they need a question answered. Our platform connects clients with a human support agent right from their first message into the live chat. 
AgencyAnalytics has insanely good live support! Ask for Mikel when you use the chatbot. That guy knows all the answers, and if not, he is going that extra mile to make it possible.

Mikael Sørensen, Head of Marketing, Adtention
If you're feeling shy, AgencyAnalytics offers a host of self-service resources such as knowledge bases and tutorials. Whether you're looking for an in-depth step-by-step guide, a basic overview of a specific feature, or a how-to video, these resources allow you to learn at your own pace, without having to reach out to anyone directly. 
Customer support is excellent in terms of knowledge, care, and accessibility via web chat. 

Brian Walker, Founder, Shop Marketing Pros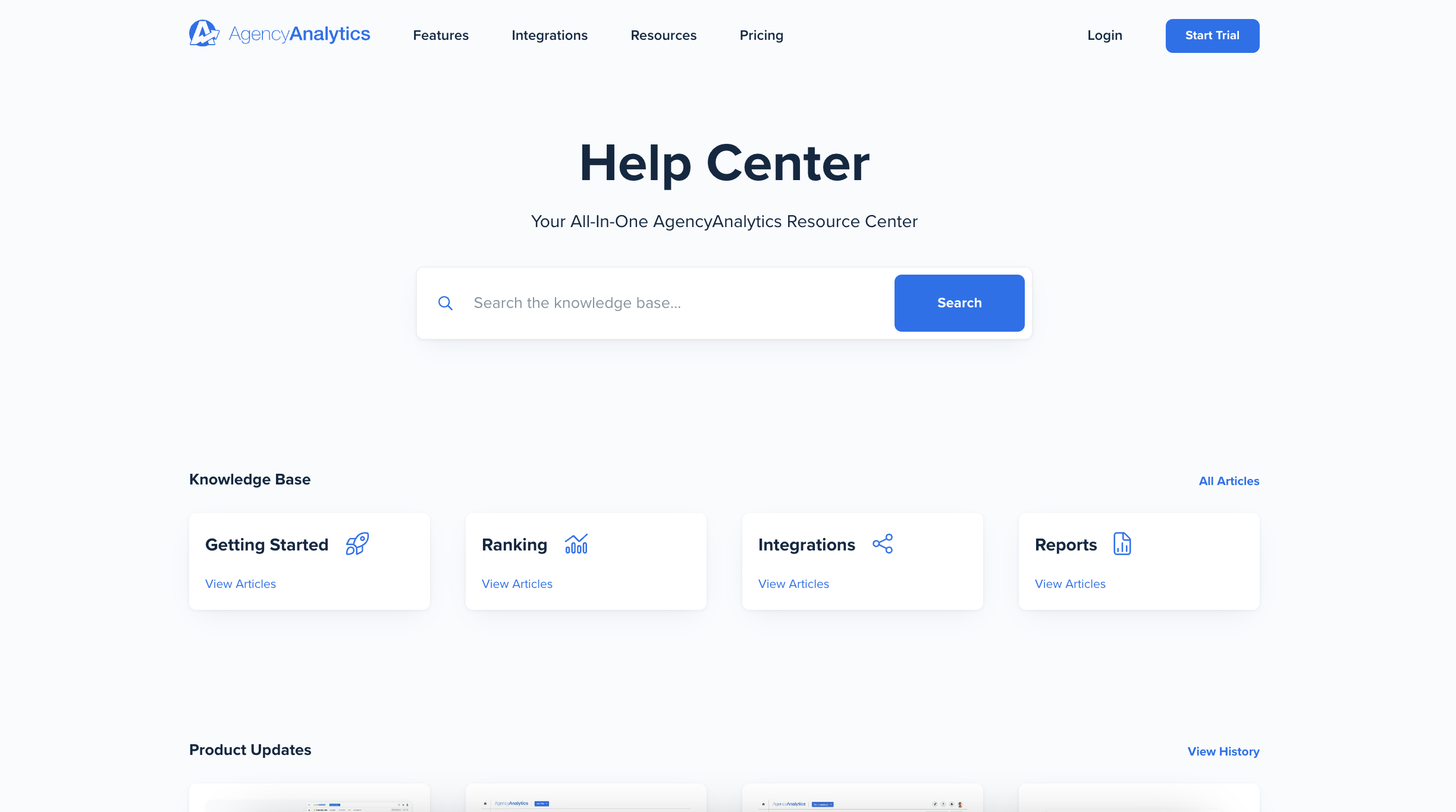 Type your question into the AgencyAnalytics Help Center to search the knowledge base of over 500 articles, view the status of product updates, watch video guides, and more. 
5. Support for Scalability and Future Growth
Many of our clients start small and grow big. Our customer support staff has the expertise to support boutique agencies and large marketing enterprises alike. 
As your marketing agency scales, rest assured that AgencyAnalytics will grow with you. The customer support team frequently collaborates with sales to ensure that growing agencies have access to the functionality they need to accommodate their plans. 
Are you planning on adding a new service vertical to your offering? Our customer support team can walk you through the best ways to demonstrate that value to your clients. Working with a new marketing platform? Allow customer support to show you how that integration is best woven into your client-facing dashboards.
I really appreciate customer support for the times we've needed some help or clarity on things. And I am always excited to see new functionality or integrations or improvement tweaks to the UI. It's really grown and evolved as we have.

Lane Anderson, Founder & CEO, London Road Marketing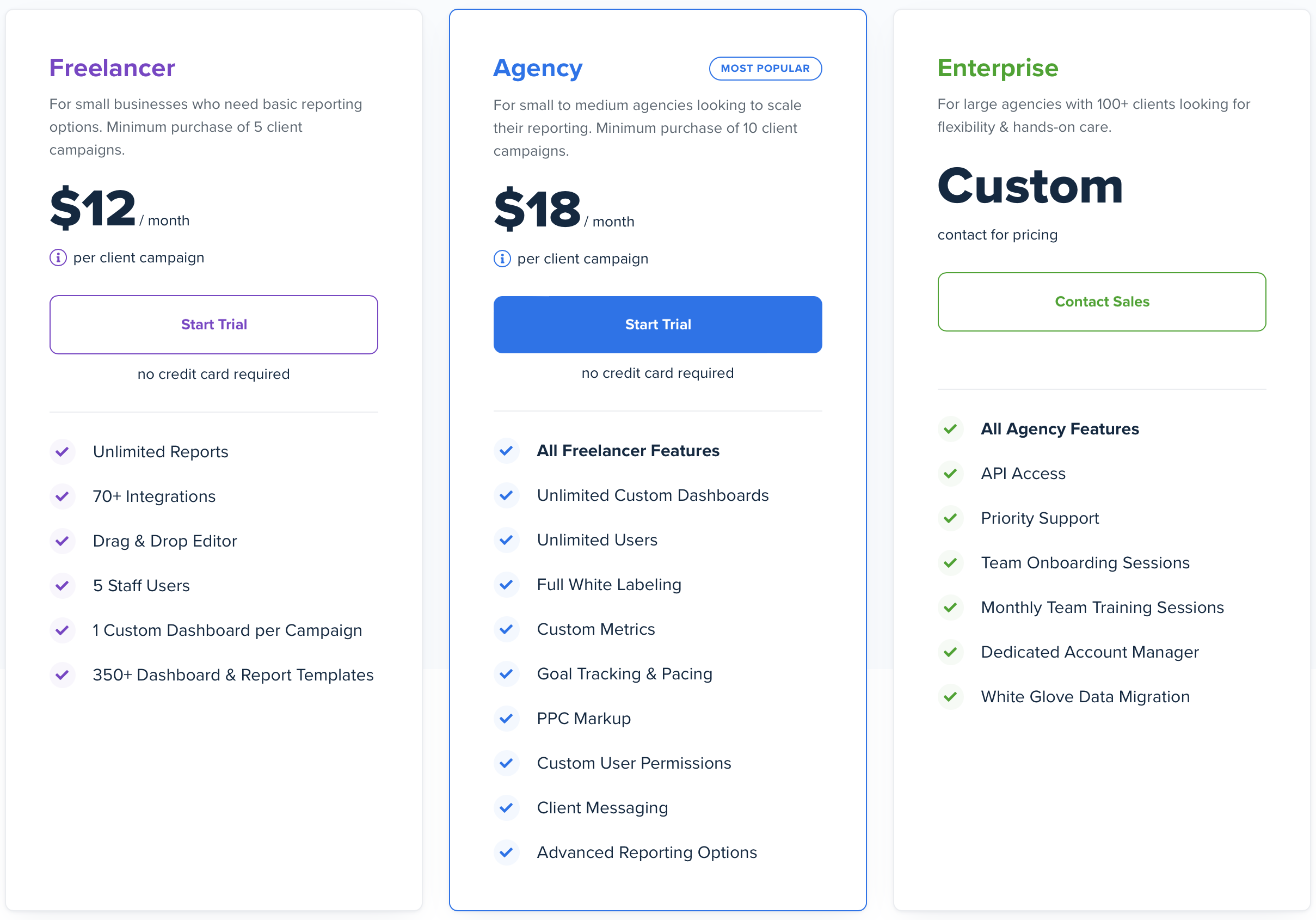 AgencyAnalytics offers custom pricing plans for enterprise-level marketing agencies. View all of the pricing options available and start your 14-day free trial without a credit card. 
6. Free Trial for Evaluation
One big benefit of our 14-day free trial is the ability to test out customer support while you're experimenting with the platform. Take the opportunity to poke around, sign up for the onboarding webinar, build reports and dashboards, and reach out to our team with any questions about how to adapt the platform to meet your agency's needs. Our customer support team gives equal care and attention to all our customers–whether you're a veteran client who's been with us for years or a brand new friend we're welcoming aboard.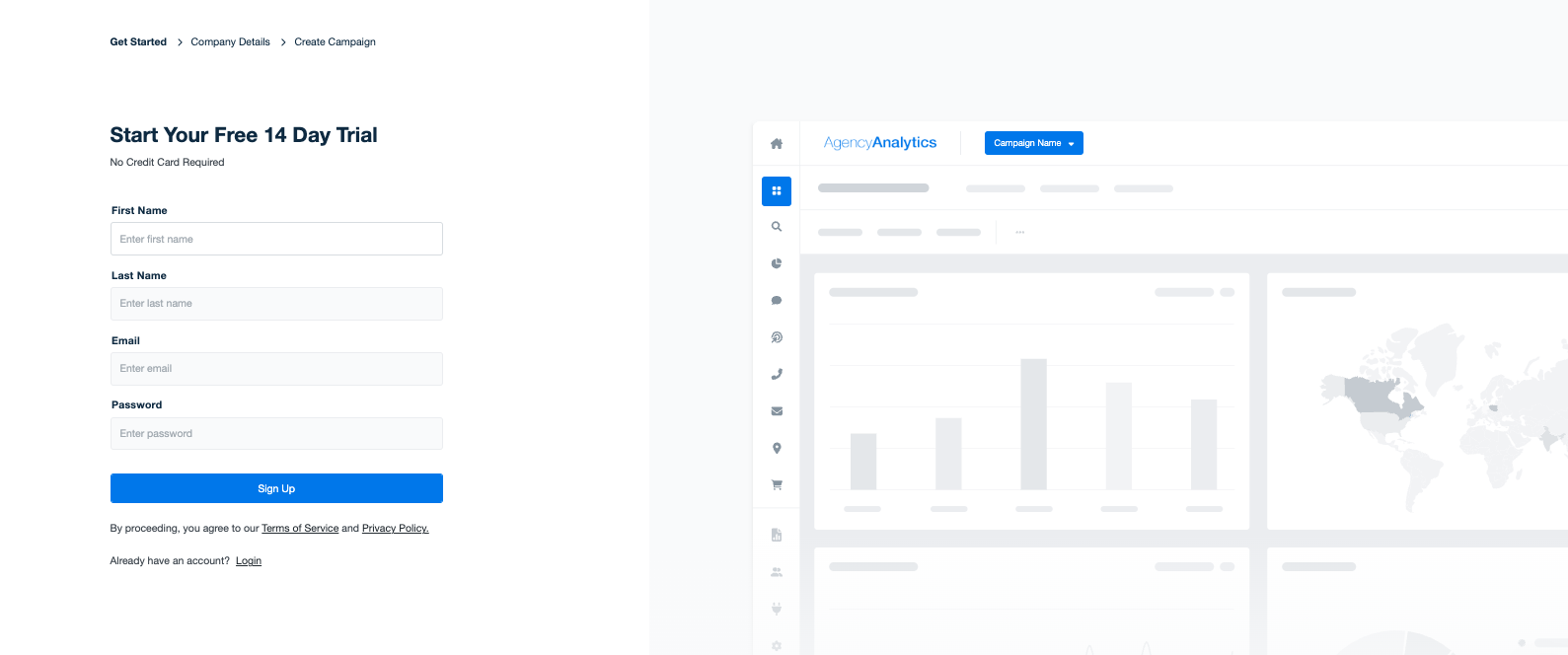 AgencyAnalytics offers a free 14-day trial for marketing agencies to test out every option within the platform, including access to the support team. 
7. It All Starts With an Awesome Platform
The final thing worth mentioning is that AgencyAnalytics is such an intuitive, comprehensive, and easy-to-use platform that we simply don't receive many of the panicked, confused messages that another platform might.
From the opening dashboard to deep dives within the specific data points to reporting ease, everything in AgencyAnalytics is frictionless. It's so intuitive, that we hardly ever reach out to customer support.

Dan Delmain, Founder, :Delmain
When first onboarding with a new reporting platform, your agency should be able to log in and find what you need, without having to contact customer support. Let's be honest, our team is super nice but I'm sure you'd rather build your report and get on with your day, without adding another conversation to your calendar.
With AgencyAnalytics, users are supported by a stellar platform, purpose-built for marketing agencies, as well as a world-class customer support team who's there to help when you need them. Our goal? To make your life easier. Every step of the user journey has been designed to achieve that outcome.
8. Levels of Support
At AgencyAnalytics, we don't believe that customer support should be one-size-fits-all. We know that every agency is unique, and that different industries, agency sizes, and leadership configurations will have different support requirements.
AgencyAnalytics' customer support has been nothing short of exceptional. Whenever we encountered questions or needed assistance, their team was there to provide prompt and thorough solutions, making our experience all the more pleasant. 

Jessica Crist, Production Manager, High Five Media
When your agency signs up for AgencyAnalytics, your team has access to various live training programs to ensure you get the most out of the platform.
World-class live chat support is available to all AgencyAnalytics subscribers

All of AgencyAnalytics pricing plans include basic and advanced live training webinars 

The Agency Plan includes a live 1:1 onboarding session via Zoom

The Enterprise Plan includes access to a dedicated senior account manager, who delivers a full onboarding package, ongoing training, and private webinars for the agency if needed

White glove onboarding is available for agencies subscribing to the Enterprise plan with a personalized onboarding process tailored to your specific needs and requirements
We love the customer support team! 

Brendan Chard, Owner, The Modern Firm
Don't Just Take Our Word for It
To learn more about our AgencyAnalytics customer success stories, check out our extensive library of case studies. There's a reason why more than 6,500 marketing agencies choose our platform to help them demonstrate their value to clients.
Our new and improved reporting process is a slam-dunk, outta-the-park home run, hat trick after hat trick, the very best thing we've done for our agency.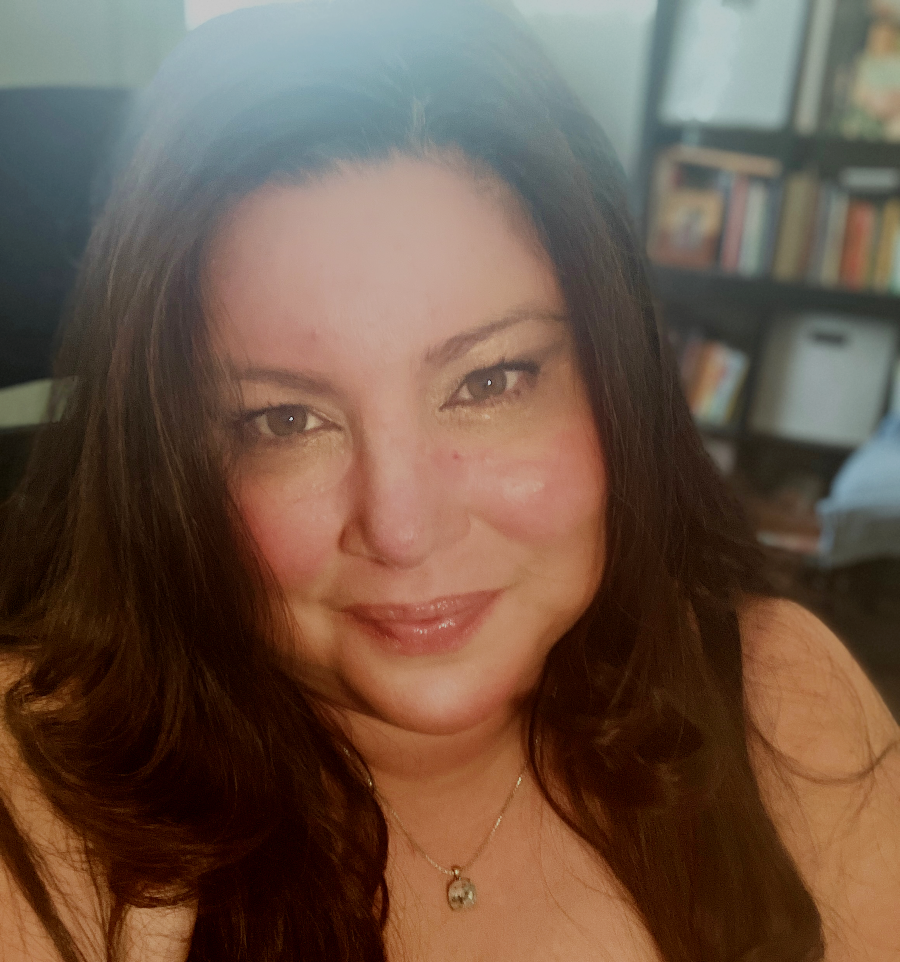 Keep your marketing agency one step ahead of competitors with AgencyAnalytics' support team in your back pocket. Any questions your team might have about the platform, we're here to reduce downtimes and deliver the solution you need to keep clients informed and happy.
Need help right now? Contact us with all of your sales or support questions. 
New to AgencyAnalytics? Report smarter, not harder with your 14-day free trial. Find out why 6,500+ marketing agencies use AgencyAnalytics to help achieve their growth goals. 
Matt brings over a decade of experience managing customer-facing teams, projects, and research across a wide range of industries. He now leads the customer support and customer success departments within AgencyAnalytics.
Read more posts by Matthew Davis ›
Try AgencyAnalytics risk-free for 14 days. No credit card required.