As Google continues to prioritize local search, tracking the rankings of your clients' Google Business Profiles in Google Local (Google Maps) becomes paramount. Fortunately, AgencyAnalytics campaign dashboards make it easy for you to monitor search engine result pages (SERPs) for an unlimited number of Google Business Profiles, ensuring comprehensive visibility into their performance.
In this blog post, we will show you how to maximize your clients' online visibility by effectively tracking and improving the performance of their GBPs with the AgencyAnalytics Google Business Profile Rank Tracker. 
Why Agencies Need a Google Business Profile Rank Tracker
By effectively monitoring GBP rankings, marketing agencies can identify areas for improvement, demonstrate value to clients, and drive meaningful local SEO results. 
However, you need a scalable way to track their success, especially when you're dealing with multiple client accounts. That's where the AgencyAnalytics Google Business Profile Rank Tracker comes in, allowing you to:
Unlock valuable insights into consumer behavior 

Showcase your agency's progress with Google Business Profile Reporting (formerly known as Google Business Profile Insights)

Deliver professional and customized reports and dashboards to your clients

Effortlessly track and highlight every key performance indicator (KPI) from a single, user-friendly platform
Use this exact Google Business Profile dashboard template in AgencyAnalytics. Start your free 14-day trial today. 
4 Steps To Streamline Your GBP Ranking Tracking
The following step-by-step guide will help you deliver precise and valuable ranking data for all your clients. 
1. Set Up Google Business Profiles for Your Clients
To begin tracking and optimizing GBP rankings, you must first ensure that your clients have a Google Business Profile. If any of your clients do not have a GBP set up, guide them through the process, or create one here. 
2. Connect Clients' GBPs for Rank Tracking
a. Within your AgencyAnalytics campaign dashboard, navigate to "Settings" in the left-side menu.
b. Select "Rank Tracker" from the settings page menu.
c. Click "Add" on the Rank Tracker page to open the GBP add pages wizard.
3. Connect GBPs Using Business Names
In the GBP add pages wizard, enter your clients' business names in the "Enter Your Business Name" field. When the desired Google Business Profile appears in the list, click on it to highlight it and then click "Add."
Don't See Your GBP in the List? Connect GBPs Using CIDs
If the desired GBPs do not appear in the list, you will need to manually input the Google CID (a unique identifier for each business) in the field labeled "Enter your business's Google CID." Once finished, click "Add."
Need help locating the CID? Check out this article.
4. Activate! Activate! Activate! 
To start monitoring the rankings of the Google Business Profiles you've connected, navigate to the Rank Tracker dashboard and open the settings slider. From there, simply check the box next to "Google Local Rankings" to initiate the tracking process.
The rankings for your Google Business Profiles (GBPs) will be conveniently displayed under the Google Local category within the rankings table.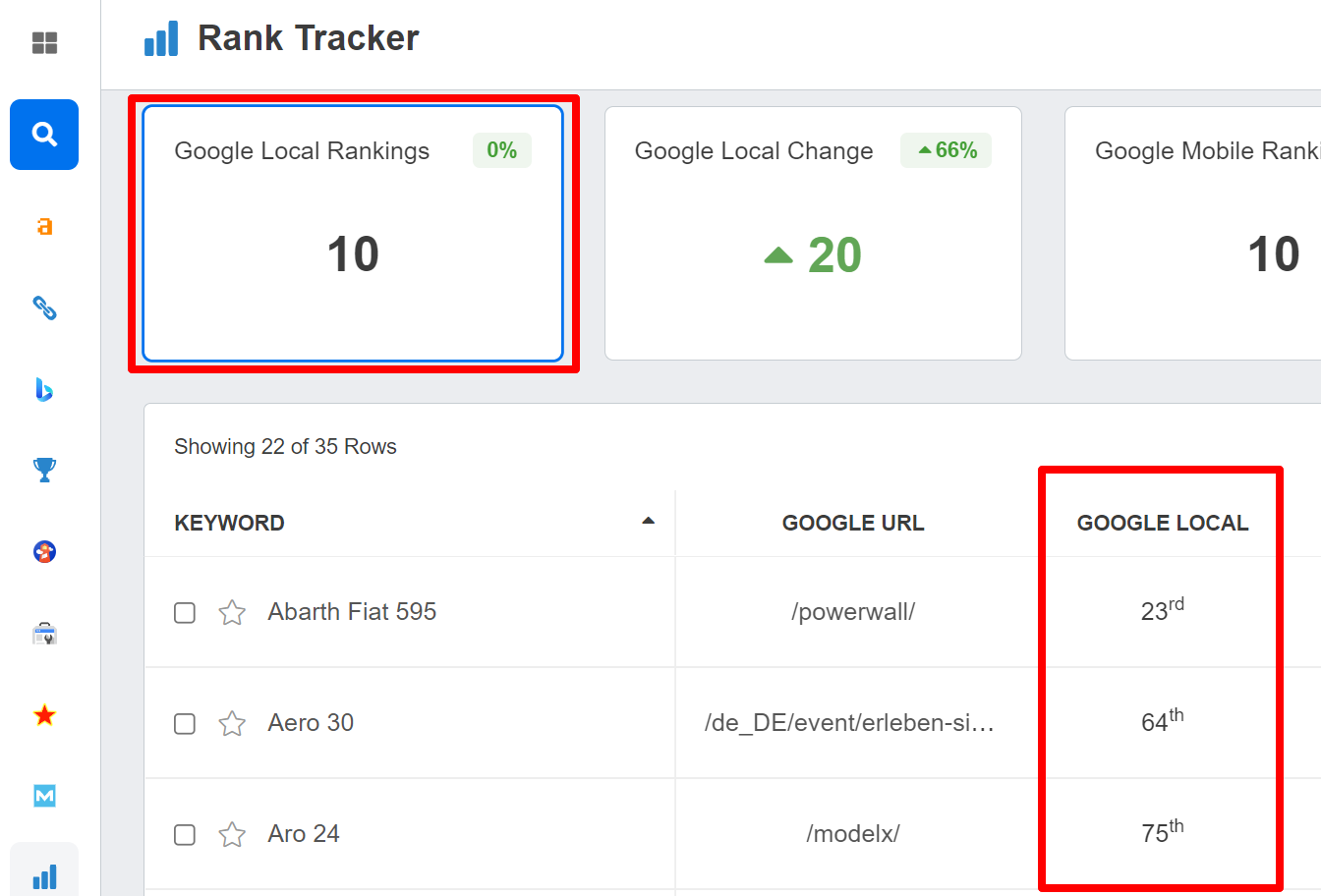 This provides a clear and organized view of your GBPs' performance.
Configuring Different Rank Tracking Locations
Want to go a step further? With our dashboard, you have the flexibility to specify one or multiple geo-targeted locations. This enables the emulation of search engine results pages (SERPs) from your desired geographic areas, providing valuable insights into local search rankings.
Add Keywords for Different Locations 
To add keywords with their corresponding locations, use "Keyword/Location Pairs." When adding a keyword, you can configure the location(s) associated with it.
To begin, navigate to the SEO --> Rank Tracker module of the desired campaign. Click on "Add Keywords" to initiate the process.
Simply open the "Add Keywords" wizard. Enter your list of keywords, with each keyword on a separate line, and click "Continue" to proceed.
Next, on the "Locations" screen, input the locations for which you wish to track SERPs associated with this keyword list. You can add an unlimited number of locations, specifying them at the country, state/province, city/suburb, or ZIP code/Postal code level. Once you have finished entering the desired locations, click "Continue" to proceed.
Additionally, you have the option to configure languages and tags for this set of keywords. For more detailed information on this topic, please refer to the corresponding article. Once you have finished configuring your keyword options, click "Add Keywords" to complete the process.
Tip: If your desired location is not found by name, use the corresponding ZIP code/Postal code for accurate tracking.
In both the dashboards and reporting, you have the flexibility to toggle the visibility of the "Location" column. Additionally, you can apply filters to display specific locations being tracked, providing you with customized and focused insights.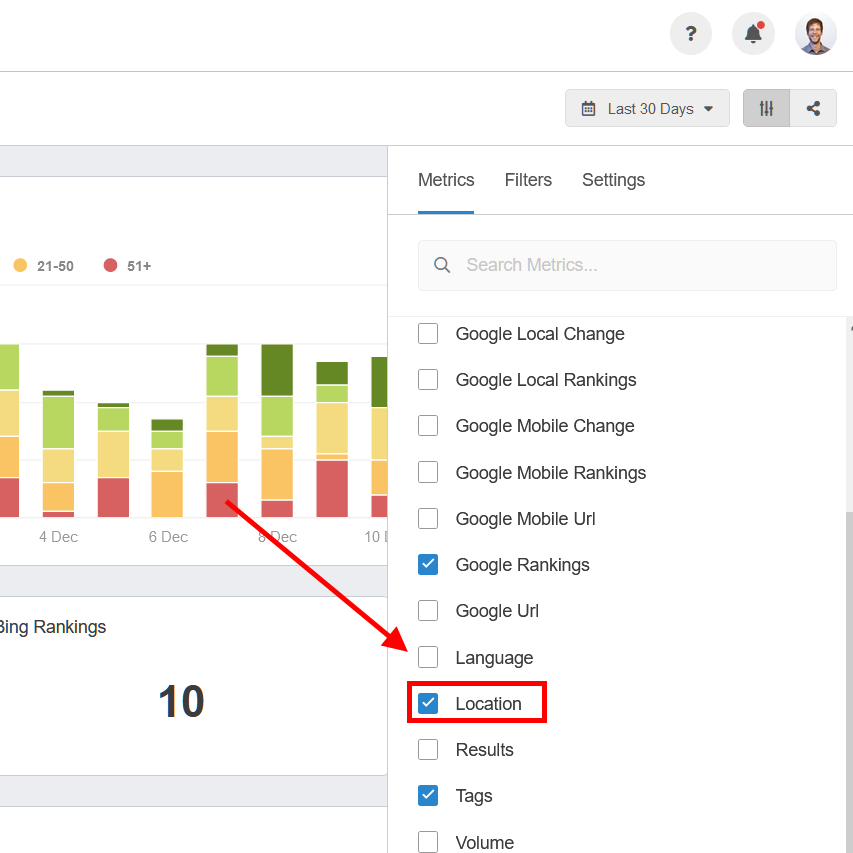 The Takeaway
By following the steps outlined in this blog post, agencies seamlessly integrate their clients' GBPs with AgencyAnalytics' Rank Tracker and effectively track and optimize their local search performance. Stay ahead of the competition, demonstrate the value of your services to clients, and help them achieve higher visibility in local search results. 
Check out this local SEO Report Template to leverage GBP ranking data and implement targeted strategies to drive tangible results and foster long-term success for your clients. 
Haven't tried AgencyAnalytics yet? Start your free 14-day trial today–no credit card required.
Written by
Melody Sinclair-Brooks
Melody Sinclair-Brooks brings nearly a decade of experience in marketing in the tech industry. Specializing in B2B messaging for startups and SaaS, she crafts campaigns that cut through the noise, leveraging customer insights and multichannel strategies for tangible growth.
Read more posts by Melody Sinclair-Brooks ›
Try AgencyAnalytics risk-free for 14 days. No credit card required.