If you've been selling SEO services for some time, then you'll already know how important it is to engage prospects during a sales pitch.
It isn't just providing information and talking about the benefits of SEO. It's about convincing clients to trust your agency's ability to provide value and show that you understand their unique situations. The best way to do this is by creating an SEO sales presentation that demonstrates exactly what your agency will do to help a client meet their specific targets. 
In this article, we'll cover:
Let's get started. 
What Is a Pitch Deck for Agencies?
Simply put, a pitch deck is a succinct compilation of what your agency does and how your services will help prospective clients reach their goals. Similar to an elevator pitch, it's straight-to-the-point, engaging, and convincing. A great pitch deck should be:
Tailor-made for each client's unique business needs

Visually appealing 

A positive reflection of your agency and its ability to achieve results
When it comes to creating an SEO pitch deck, remember that not all prospective clients will know about what SEO services entail in extensive detail. Keep your language and explanations as easy to follow as possible. 
What Are the SEO Sales Process Essentials?
Crafting an effective SEO sales presentation isn't just about putting a few slides together and calling it a day. Let's explore how to create an effective pitch deck that entices prospective clients to say 'yes' to your agency's search engine optimization services. 
Here are four tips to create an effective pitch deck. 
1. Create An Ideal Customer Profile
To craft a truly effective SEO sales presentation, you need to know who you're marketing to. To do this, create an ideal customer profile (ICP) that outlines the type of client you're most interested in working with, their demographics, and their pain points.
By understanding your ICP's needs and what type of solution would appeal to them most, you'll have more information to tailor your SEO pitch deck accordingly.
Download our free client profile template
Use this template to build your ideal client profile
2. Outline Your Prospective Client's Problems 
The best pitch touches on your clients' emotions and is highly relevant to their current challenges. Adopt an empathetic approach that clearly details what challenges your prospective client is experiencing, and be sure to do thorough research on it. 
Not only does it show that you're really taking an interest in their issues, but it also shows you're willing to go the extra mile. Remember to personalize their messaging, so it's not generic.
Agency Tip: No need to overcomplicate–keep your messaging as simple, straightforward, and visually appealing as possible. That way, you'll get your points across quickly and effectively. 
3. Position Your Agency's SEO Services as a Solution
Now that you've outlined your potential client's challenges, show what you're offering (i.e. your agency's SEO services). Tie it into their current issues and how your product offering is a viable solution. 
Say a potential client wants to build online visibility and improve their Google search rankings. In this case, presenting your blog writing and web development services would be most appropriate.
By creating that bridge between what they're experiencing and how your agency could help them achieve their desired results, you'll leave an impact and give them food for thought (if they don't convert right away). 
Agency Tip: Even if your agency offers other services (e.g., social media management), don't present it if it does not apply to your potential client's current needs. It's worth briefly mentioning at the end, but you don't want to over-complicate your message and lose them even before you've had an opportunity to drive your agency's core benefits.
4. Mention Case Studies or Success Stories
Have you helped over 500+ clients achieve the top spots on search engines because of your stellar SEO services? Data-driven insights are powerful, so make use of them when possible. Highlight your agency's impressive track record, years of experience, and agency success stories in a visually appealing way.
Track your agency's past successes by presenting the marketing dashboards you use to track your progress. Use this exact template free for 14 days with your AgencyAnalytics free trial. 
Agency Tip: Ask past clients to leave testimonials and repurpose them in your sales pitch. As Jo McKee, Founder at McKee Creative, shares, "Showcasing other client dashboards has helped us secure new clients." Showcasing your credibility will strengthen your agency's authority, feed into storytelling, and reiterate your agency's ability to generate results. 
How to Close More SEO Proposals With a Pitch Deck
An effective SEO proposal doesn't have to be rocket science, but it does require some groundwork. Here are five hacks that'll make a huge difference. 
Hack #1. Change the Focus from You to Them
The first tip is a very common misconception—since you're pitching your services, then it's only logical that the presentation should focus on your agency, your achievements, and your results.
While your track record may be extensive, it's not what your prospect needs to hear right off the bat.
If you want to position your search optimization services as the only solution they need to overcome their problem, shift the conversation and focus on what matters most to them. For example, a client that wants to create a bank of blog content probably won't be interested in the amazing social media ads your team created last month. At least not yet.  
Resist the urge to offload all your services to a lukewarm audience–clearly outline what's important to your prospect and stick to it. 
Hack #2. Let Visuals Do Most of the Talking
As a well-versed marketing agency, you'll likely have a great deal of expertise and insights you'd like to share with a prospect. 
However, packing your slides with text-heavy content may result in a clunky presentation with minimal impact (if any). It'll be especially confusing if your clients aren't familiar with the ins and outs of search engine optimization.
Here's the trick—you stand a far greater chance of potential clients remembering your message if you use visuals to communicate it rather than words.
Images, photos, or graphics have the potential to evoke an emotional response far better than text. They also provide data visualization, data storytelling, and greater clarity around complex ideas.
Create a prebuilt proposal template to create a visually appealing SEO proposal that stands out and cuts to the chase. Use this exact template on the AgencyAnalytics platform–free for 14 days. 
One reason for that is that our brains process visuals much faster than text. We get a sense of a visual scene in less than 1/10th of a second. Additionally, it only takes 150ms for a symbol to be processed and 100ms to attach meaning to it. 
Hack #3. Use Stories to Build an Emotional Connection
There are two options: list all the facts in order, or convert those points into a story your prospective client can relate to. 
It's no surprise that creating a narrative is the clear winner here. Your agency's ability to tap into your audience's emotions and pitch a relevant SEO strategy will make a tremendous difference. After all, the best marketing is emotional. 
Not only will it show you've done your research, but it'll also increase the chances of conversion or even word-of-mouth referrals. 
Hack #4. Overcome Their Objections
Identifying your prospects' sales objections and overcoming them in your pitch increases the chances that you will win that sale.
As the prospect sits there listening to you, they often try to find reasons why they shouldn't hire you. These objections may be related to agency pricing, or they may be more operations based (e.g., "Our service is too difficult to manage, I don't think we need something as complex"). 
One way you can do this is to turn the tables around and get them to question their current situation. For example, if your prospect's been implementing a basic SEO strategy in-house and utilizing their limited resources, you could pinpoint potential risks and downsides to this approach. 
Or, if they haven't been doing any SEO at all as they saw no reason to do so, outline how their inaction will result in their business being left behind sometime in the near future (if it hasn't already happened).
Hack #5. Show Prospects an Example of Your SEO Reporting
One of the best ways to close a sale is not to just show prospects the benefits of SEO, but rather what the final results might look like in your pitch deck.
Showing the results of an SEO Site Audit is impactful–particularly if their score is below average.
Use the AgencyAnalytics Site Audit Tool to keep tabs on your SEO performance month after month. Sign up for a free 14-day trial today.
Additionally, Instead of showing prospects the same old PowerPoint they've seen a million times, show them exactly what their SEO report template would look like. Here are a few examples.
Agency Tip: All AgencyAnalytics clients get a free demo campaign added when they signup, which can be used to create screenshots, videos, gifs, or images for promo materials.
SEO Report Summary
Often, clients care less about the technical details of your digital marketing campaign. They just want a high-level overview of the results. An SEO report summary is the best way to do this, and it's easy to explain exactly what your client's goals and SEO KPIs were for a given time period:
By creating a mock summary of the work that you could accomplish in a month, they'll get a real sense of positive, forward movement.
Traffic Overview by Channel
Next, show prospects the different traffic channels you can target for their campaign. 
In the SEO analytics example below,  the breakdown of each channel is very intuitive and any client will understand what's happening–regardless of their technical expertise.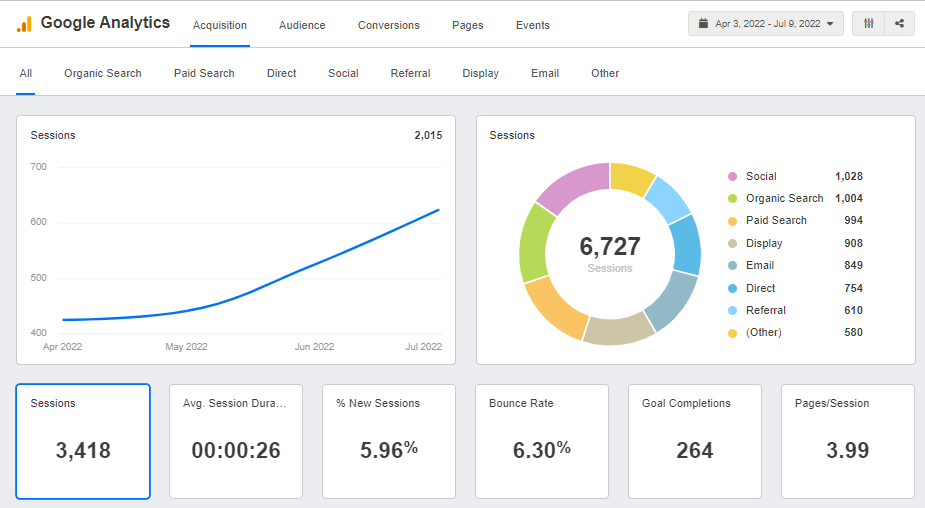 When pulling these sample dashboards, make sure to use ones that show a positive upward trajectory. After all, clients will want to be able to visualize their business growing.
Conversions via Organic Traffic
One of the best ways to show that you understand a prospect's unique business challenges is by identifying what conversions matter most for them. 
Some businesses may care about phone calls, but for others, it may be email leads. Whatever the case may be, showing prospects an example of conversions from organic traffic is a great way to demonstrate that you're focused on their bottom line.
Keyword Rankings
Finally, similar to understanding your prospects' most valuable conversions, doing keyword research to understand what their audience is searching for on Google is a great way to show prospects that you did your homework and understand their market. 
Run those keywords through the SEO Rank Tracker to show your potential client exactly where they currently stand in the rankings race. Unlike other keyword ranking tools, the AgencyAnalytics rank tracker is built specifically for marketing agencies.
These are just a few examples of essential report sections that will demonstrate your expertise and value proposition. If you want to really impress prospects, you can show them a live SEO dashboard during the sales presentation.
Agency Tip: No need to navigate outside of the AgencyAnalytics platform. Enable the presentation mode to give a full-screen dashboard view and show what your agency is capable of delivering.
Build a fully customizable SEO dashboard on the AgencyAnalytics platform–it's a drag-and-drop away. Try it free for 14 days.
Summary and Takeaways
Creating an effective SEO sales presentation goes a long way when trying to show your agency's value proposition. To stand out and make a significant impact, remember to:
Understand your potential client's pain points and challenges

Create a relevant presentation by focusing on the services that they'd most benefit from

Position your agency as the go-to provider by highlighting previous success stories, testimonials, and notable achievements

Keep your SEO sales pitch as visual as possible
There's no need to spend painstaking hours every time you've got an SEO proposal to send out. With AgencyAnalytics, you'll use proposal templates, create customizable dashboards, and streamline your clients' reporting efforts–all in one place. 
Create impactful SEO proposals and presentations every time on AgencyAnalytics. Try it free for 14 days. No credit card required.
Try AgencyAnalytics risk-free for 14 days. No credit card required.