Please note: you should know a thing or two about SEO before reading this. Too many posts on link building strategies repeat the same tactics over and over—I'm trying to avoid that and bring you something original.
This blog post is ideal for agency owners and marketing consultants who currently have clients and are looking for ways to scale their link building process.
After working in many SEO agencies I've realized that the #1 issue that comes up is an inability to build quality backlinks as part of an off-page SEO program. It's time consuming, costly, and hard to teach to new employees.
Throughout my time as an SEO, I've figured out a few ways to build affordable links, at scale, that increase search engine rankings. In this guide I'll share six of the tactics I've used to get fantastic results for clients.
Before we start I'd like to run over a few SEO software tools I use for link building. Keep in mind that no referral links are being used in this blog post—if I mention a tool it's because I've used it and recommend it:
AgencyAnalytics: I was using this tool long before I took a job here—the software is truly valuable for SEO consultants and agencies. While AgencyAnalytics is best known as an all-in-one reporting platform, it also offers a full suite of SEO tools, including a rank tracker, backlink monitor, and site auditor.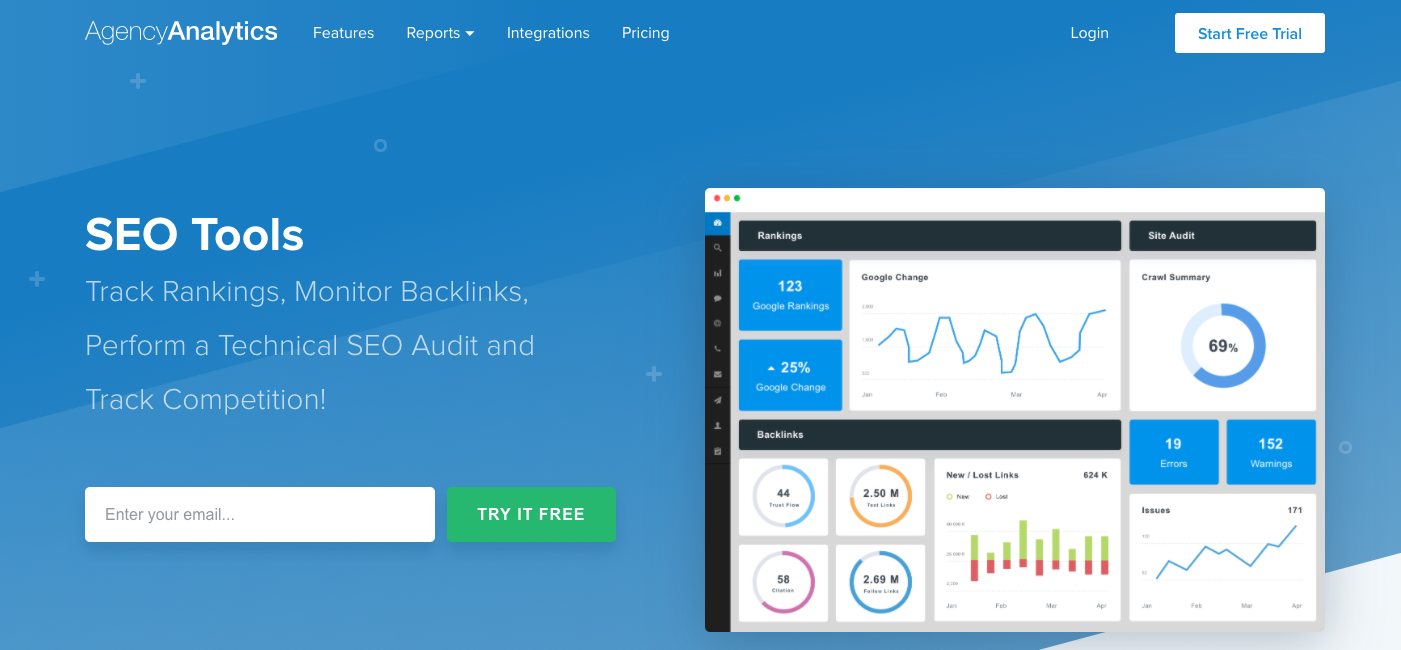 One of the most useful aspects of AgencyAnalytics is that not only can these SEO tools help you scale your link building efforts, but you can also use it to automate your link building reporting to clients by scheduling periodic reports or giving them access to a 24/7 live dashboard.
Scrapebox: Once upon a time this tool was used to spam blog comments. Now, savvy SEOs use it for many things. Check out Chris Dyson's guide to Scrapebox if you want to learn exactly how to use it.
Pitchbox: This influencer outreach platform is my favorite way to manage content marketing outreach. It's a little pricey but certainly worth it in my opinion.
Hunter.io: This tool lets you find email addresses quickly for link building outreach.
Majestic: Majestic is my preferred backlink database tool, and is actually included in your AgencyAnalytics subscription. Ahrefs is another comparable option, and it's generally best to have both if you can afford it.
Read More:  Pros & Cons of the Best Keyword Ranking Tools
Now that we've covered a few of my favorite tools, let's discuss 6 tips to scale your link building campaigns.
Strategy #1: Hacking HARO
Yeah, yeah you've been using HARO (Help a Reporter Out) and think this is the same old advice but hear me out. This is about SCALING the process for your clients to get them authoritative links from Huffington Post, Entrepreneur.com, CIO, New York Times, INC, etc.
Your new client is most likely hiring you for a hands off approach. They want results but don't want to put any effort into it.
The problem is.. they're the experts in their field! Most HARO queries are looking for experts and lets face it - you know nothing about plumbing or plastic surgery.
There must be a better way!
There is—it's called Hacking HARO.
All you have to do is get freelancers to answer HARO queries on behalf of your client. Upwork is filled with freelancers who are specialists in different fields. Find doctors, lawyers... you name it.
I get at least 20 people applying to each job.
All you need to do is make a job title "Need Industry Expert to answer questions", and here is the exact job description I use:
I need an industry expert to answer questions on a daily basis through HARO (Help a Report Out). You will get sent 3 emails a day with potential questions to answer. You need to sort through these questions and send responses to the given email - we'll pay you per question you answer $10 + a bonus $10 for getting featured on websites with your answers.
This is a quick and easy way to make some extra money every day. These questions do NOT take long to answer. You just need to send a paragraph or two to answer.
When answering the questions you must put your position as expert position and give a link to our website.
Now watch the applications fly in! You can ask applicants to answer sample questions from HARO to test them and pick the best one.
From there you need to set your new expert with a company email for your client. Also set them up with a nice signature with their position (ex. In-House Nutritionist), something like this:
Register that email for HARO and give them an example email to run with:
Hi Reporter's Name,
Answer Question
My name's Expert's Name and I'm the Position at Company's Name. I'd really appreciate if you could link to Company's Website if you use my response. Thanks :)
Best,
Expert's Name
Get your expert to log in three times a day and to answer as many questions as possible.
I've found that $10 per answer with a $10 bonus for getting a link posted has been sufficient motivation for in-depth answers. In my experience the conversion rate from answer to link is around 20%, which results in high-quality editorial links for under $100.
I've gotten some great links this way that are otherwise unattainable.
This is completely scalable and can be used for agencies of any size.
Strategy #2: Inverted Broken Link Building
Broken link building is one of the most widely used tactics in the SEO world. There's a reason: it works. Thing is, there's a way to maximize your efforts and take broken link building to the next level.
Ahrefs has a full guide to what they call "inverted broken link building". In essence what you do is find expired domains, get their most linked to content through Majestic or Ahrefs, replicate the qualty content and get the broken links replaced.
Most of the process has been covered in their blog post here so I won't repeat it.
The only problem I have with their system is their prospecting system. They tell you to search through expireddomains.net one keyword at a time to find good opportunities. It can take a while to find a good prospect this way.
Instead I prefer to use the TDNam Clouseouts addon from Scrapebox. It scrapes the clouseouts and regular auctions from GoDaddy.
Just add in your keyword list, let it work for a minute and export the results:
Once you have a good-sized list of expired domains you can put up to 600 at a time through the Bulk Backlink checker in Majestic:

You can then poke through the results and find thousands juicy dead backlinks that need replacing. Easy!
Strategy #3: Leverage Freelancers to Guest Post
Similar to hacking HARO, this method is highly reliant on Upwork or another freelancing website. It works best with a linkable asset on your website, but it can still without one.
All you have to do is post on Upwork asking for people to write about your linkable asset (or business). This is the job description I've used:
We're looking for people with business blogers to cover our story. You either need to run a relevant blog or write for a relevant publication.
Simple! It works well because you can screen all of the websites before you pay them to post.
On one occasion this resulted in 40 people applying to the job, I hired five of them and got the website eight top notch backlinks—all for less than $50 each.
Strategy #4: Use A Reputable Guest Post Service
There are plenty of sketchy guest posting services available.. I get emails like this daily:
Yeah right.
Well you have another option for outsourcing guest posting!
One guest posting service I'd recommend is Venchito Tampon's agency Sharp Rocket. I haven't used his services extensively, although I've had him build a few links for me and they were fair priced for the quality.
Before the agency does outreach for guest posts they present the opportunities and you have to OK them first. The articles that included my links were well very written.
If you're an agency that's having trouble building links, using a guest posting service like this can certainly help.
Strategy #5: Streamlined Infographics
Every SEO under the sun has heard about using infographics to build links. I'm just going to share with you my process of scaling it out across many clients.
There are 3 steps to link building with infographics: ideation, design and outreach. Each of these parts can be done quickly.
Speedy Infographic Ideation
My favorite way to come up with ideas is to find other infographics that have already been magnets for links and use them in your industry. One way to do this is to sort the Visual.ly community by views to get some ideas, and then reverse search the image on Google.
An example I have found in the past is an infographic on the "top apps to get you organized". It was successful and received links from sites like Entrepreneur.com. I used this idea to create my infographic on health apps to get you in shape. See the connection?
I then went to Text Master and gave instructions to write an article on 14 health apps that would help somebody get in shape. I told them to write three sentences for each one and include a link to the logo of each.
That's what I used as the skeleton for the infographic. It took about 30 minutes of research and $20 to be written.
Infographic Creation
There are many ways to get your infographic made.. Some people have in-house designers, some prefer 99 designs, but I usually go with Upwork mainly because I've found a great designer through there already that I can rehire each time.
Simply give the designer your skeleton that's been written and they should have the infographic done within a couple of days, and typically costs between $150-300. Of course, the infographic creation process is much quicker after you hire one or two designers that you can rehire.
Scalable Infographic Outreach & Submission
Nobody will link to an infographic that they haven't seen. The idea here is to create an outreach process that's quick and efficient. I break my outreach down into two buckets: low and high-value targets.
Low Value Outreach Targets
This is sort of a "spray and pray" method that has worked well for me in the past. What you're doing is getting a huge list of potential targets and email them.
I do this by finding websites using Scrapebox and then scraping emails from the websites. You can use the footprint "intitle:infographic" along with your keywords to find websites that have shared infographics before.
Scrape a list of websites and "grab emails from URL list" to compile a big list of websites with matching emails. With the spray and pray method, it truly is a numbers game. A high number of the emails will bounce so it's important to build a BIG list.
Once you have a list of websites and emails you can load them into your favorite outreach tool:
To start, send out a feeler email to start to see if they'd like to see the infographic but don't actually send a link yet—just a pleasant request to gauge their interest in seeing it.
If they respond you can use the Guestographic technique and offer to give them a guest post to go along with the infographic. Or you can just send them a link in hopes that they post it.
The reason I like Pitchbox is that I can set a follow=up email if they don't respond the first time around.
See...65% is a big deal!
High Value Outreach Targets
These are the sites that you definitely want to get links from. The big guns: Huffington Posts, CNNs, Elite Daily, etc.
Take some time to search for high value websites which have recently posted similar infographics.
From those articles take note of the first and last name of the author. Match them up with the website and put them through Hunter.io.
As you probably know, getting the email of the author and not the website's support email makes a world of difference.
When you have a nice list of high value targets, load them into Pitchbox (or your outreach tool of choice). Send them a friendly email saying you loved the post which included the infographic and you have another one which would be perfect for the site.
That's it!
This is the most scalable way I've figured out to do infographics. If done properly it should only take about 4-6 hours so of your hands on time and should result in a number of high-quality links.
Also: Fiverr
I've had good success with using Fiverr to list get listed in infographic directories. I know people are scared of using Fiverr to build links but this is one of the rare exceptions. Just saying.
Strategy #6: Pretty Quick Private Blog Networks
Before we get going on Private Blog Networks I just want to address the belief that PBNs are spammy, blackhat, and should be ignored.
Michael Martinez, the founder of SEO-Theory.com, wrote:
"As someone who operates a successful network of blogs and microsites, I can assure you from extensive experience going back almost 20 years that there is absolutely no inherent danger involved in building and promoting these kinds of Websites. That anyone in the Web marketing field should believe otherwise by now is worse than disappointing: it's embarrassing to all of us."
I agree 100%.
PBNs get a bad wrap because they are often a mismanaged tactic used by some agencies as a shortcut to generating links.
As long as you keep your network private and treat every website with respect, PBNs can still be a powerful way to build links. They still work, and work well.
Cheap Expired Domains
In order to scale building your own PBN you need to start buying expired domains. It's possible to build original microsites but they aren't really scalable – which is the whole point of this blog post.
People caught on to expired domains years ago, and if you're in a popular industry there's a good chance you won't find anything—or they'll cost an arm and a leg through GoDaddy auctions.
Personally, when looking for domains I don't have a specific DA or TF that I look for. Obviously, editorial links from big websites are a bonus but if the domain has 5+ genuine links it might still be a good purchase.
Diggy Marketing also has a useful guide on how to test your PBNs before adding them to your network. Diggy uses a clever tactic to test sites and see if they increase the rank of a keyword before you use them.
Buy a few proxies and start scraping! I've found some fantastic expired domains this way that would otherwise cost $200+.
Easy PBN Hosting
Aside from finding good, cheap domain names I found the other problem with PBNs is the hosting. By hosting on a single server you're leaving a BIG footprint to Google asking to be penalized.
Many SEO hosting companies will give you multiple C-class IPs but these don't protect you. Google can recognize bad IP addresses and it can lead to your blogger network being deindexed.
Buying individual hosting packages is one way to go but it can be expensive and is hard to keep track of everything that's going on. It'd be nice to have everything in one central area.
That's where Easy Blog Networks comes in.

Easy Blog Networks gives you hosting on different A-, B- & C-Block IPs through various providers: AWS, Rackspace, Softlayer, etc. This means your website is safe from the IP footprint.
They also include a one-click WordPress installation with many themes to choose from and let you pick from a number of plugins to have pre-installed. This is a HUGE time saver.
Personally, the biggest advantage for me is the organization. You can separate your websites into groups to make various PBNs. One-click sign on and post scheduling are also super nice features to have.
Using Scrapebox to find expired domains and EBN for hosting you can build out private blog networks in no time.
That's it folks! Use a mix of these scalable link building tactics to drive amazing results for your clients. Check out our link-building report template to create amazing reports your clients will love.
Let me know your favorite methods in the comments below. If I like it I'll add it to the post and give you credit :)
Try AgencyAnalytics risk-free for 14 days. No credit card required.