Track important metrics like conversion rate, keyword impressions, SEO rankings, and more with our Bing dashboard.
What is a Bing Dashboard?
A Bing dashboard compiles and displays all of the relevant data associated with your clients' SEO and ad campaigns in the Bing search engine. The goal of displaying all this marketing data in a single view is to help your agency better understand how well or poorly your campaigns are performing so you can optimize them accordingly.
Why You Should Use a Bing Dashboard
The success of your Bing Ads or SEO campaign isn't measured using a single KPI or metric. In fact, it's not even a matter of multiple metrics when looked at individually. Instead, you need to look at how all the different metrics work together to give you a better idea of success and effectiveness.
It can be difficult to keep track of all the moving parts, let alone understand how they work together for the good (or bad) of the ad campaigns, especially if you can't view them concurrently. Using a dashboard like AgencyAnalytics solves that problem for agencies by pulling in Bing Ads, Bing Webmaster Tools, and more. Running your marketing campaigns with a dedicated Bing dashboard like this gives your agency the ability to track all of the essential performance metrics associated with your campaigns and allows you to clearly communicate those results to your clients.
When your agency can show your clients that you know exactly what's going on with their campaigns in real time and optimize campaigns as needed, you'll build more confidence in your abilities to effectively manage their money and help clients achieve their goals. The dashboard enables you to have full control over the intricacies and fine details of each ad campaign.
What's Included in Our Bing Dashboard Template
1. Conversions
Conversions are the ultimate performance-measuring metrics for your Bing ad campaigns, so it makes sense that it should be a KPI you track on your dashboard. Exactly what a conversion is can change depending on a client's end goal. Sometimes, a conversion can mean someone finding the client's website and filling out a contact form. Sometimes it means finding the client's website and purchasing a product.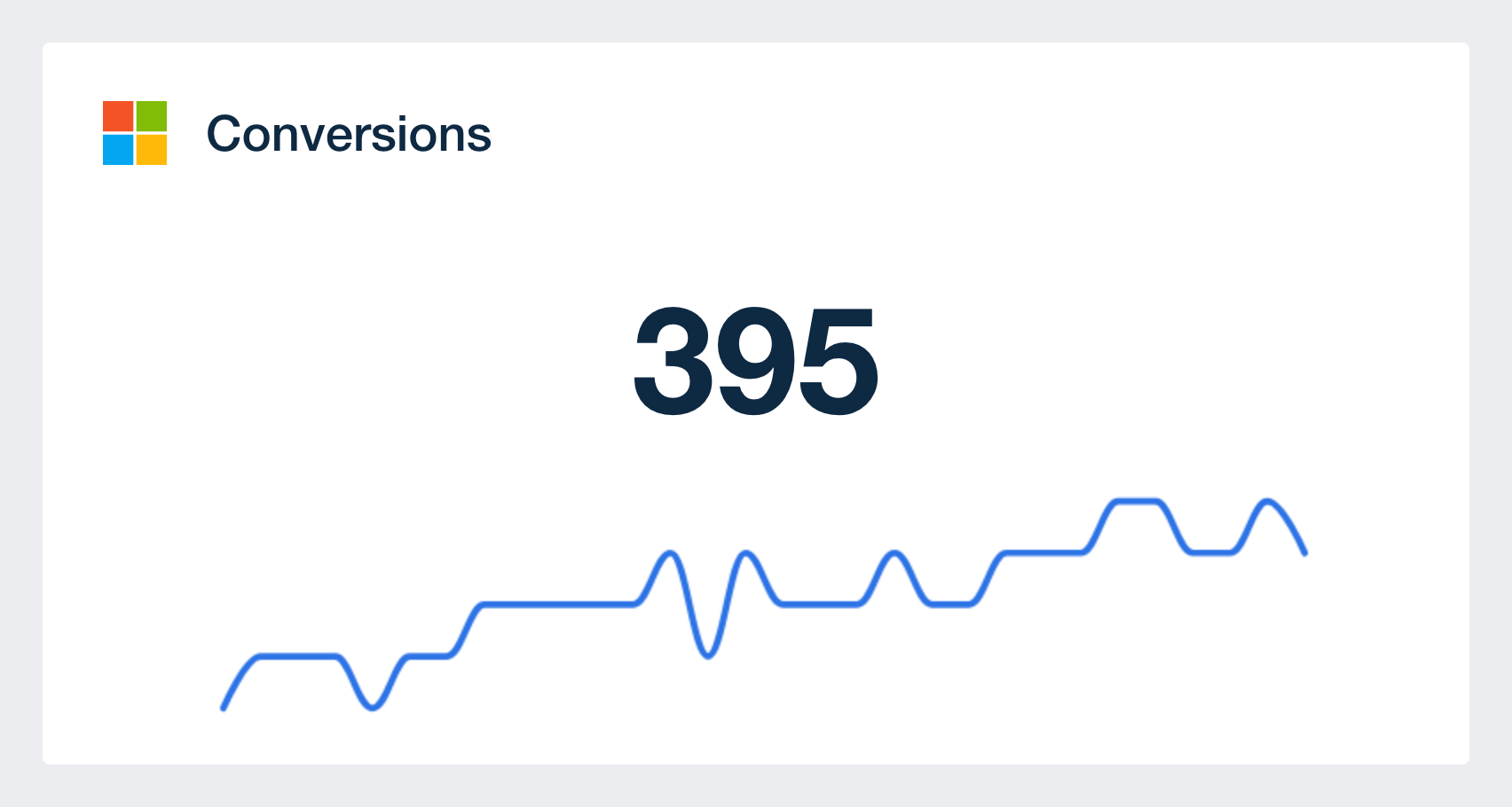 2. Cost
Like many other ad platforms, Bing Ads doesn't charge you until someone actually clicks on your ad. You'll want to be sure you aren't exceeding the budget your clients have planned, and this metric helps you ensure that. However, remember that this number can sometimes exceed your planned daily budget to gather more clicks and potentially more conversions. This is completely normal, and Bing Ads won't exceed your total planned budget.
For the most part, advertising on Bing Ads is much cheaper than with other platforms. This is something many clients don't know. Showing your clients the benefits of Bing Ads in conjunction with the lower cost can boost their confidence in your agency and your ability to bring them new business.
3. Cost Per Conversion
Because of Bing's overall lower cost, you'll also typically find that your ad campaign's cost per conversion (CPC) is lower as well. CPC measures how much it costs your client to convert a new customer. It's helpful to show your clients how far their ad spend goes on Bing ad campaigns, especially when compared to other ad platforms. Use the CPC number in comparison with the total cost of your campaign.
4. Clicks
The number of people clicking on your Bing Ads is another metric that can give you a quick pulse on how well your ads or PPC campaigns are performing. However, you can't rely on this metric alone. This piece of your Bing dashboard is best utilized when compared to your conversions and click-through rate. Lots of clicks with little to no conversion can indicate a problem with your call to action or a client's website.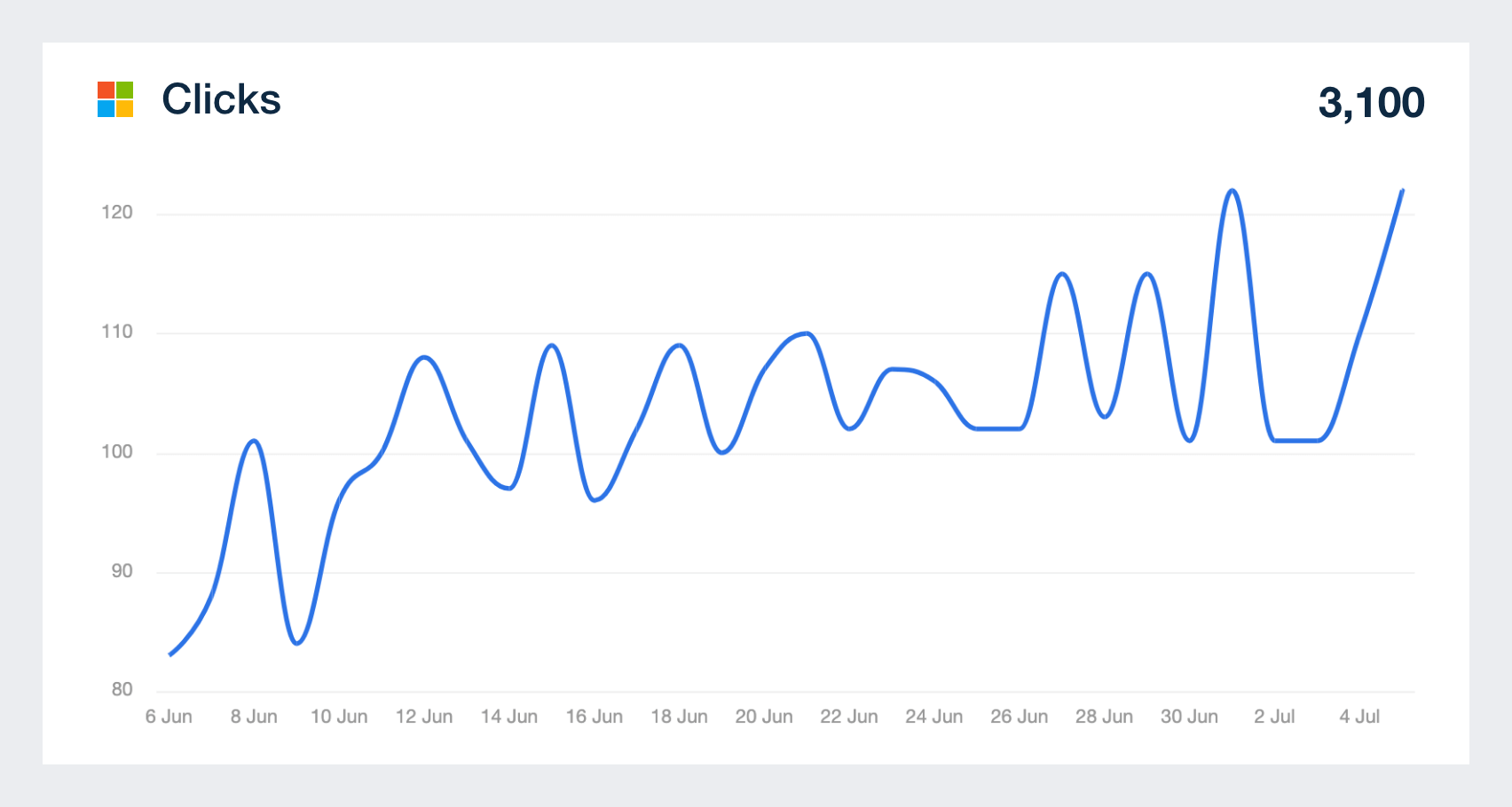 Bing Ads that aren't getting many clicks can indicate a problem with the ad copy, creative, or targeting.Consider your demographics and make tweaks where possible to optimize the ads that aren't getting any clicks.
5. CTR (Click-Through Rate)
Your click-through rate, or CTR, is calculated by dividing the number of clicks by the number of people seeing your ad. This metric gives you a deeper insight into the effectiveness of your ads. If you have a low CTR, it could mean that your ads aren't reaching your intended audience. Or maybe the offer isn't compelling enough for your target audience.
Use your dashboard's CTR to create a better overall outcome for your client. If the CTR is low, you might need to work with your client to come up with a more enticing offer. Or maybe you need to adjust the call to action. Compare the CTR with your conversion rate to narrow down the reason behind numbers that are too high or too low. For example, a low CTR could indicate a problem with the ad itself, while a high CTR and low conversion rate could mean you're not targeting the right audience.
You can also report on CTR across all of your PPC campaigns with our PPC dashboard template.
6. Bing SEO Rank Tracking
Ranking high on all the popular search engines is one of the best ways to get noticed by new customers. A higher search engine ranking gives your clients' websites more authority. The competition on Bing is much lower than Google, which gives you a unique opportunity to shine in your client's eyes by generating more ROI with your Bing Ads.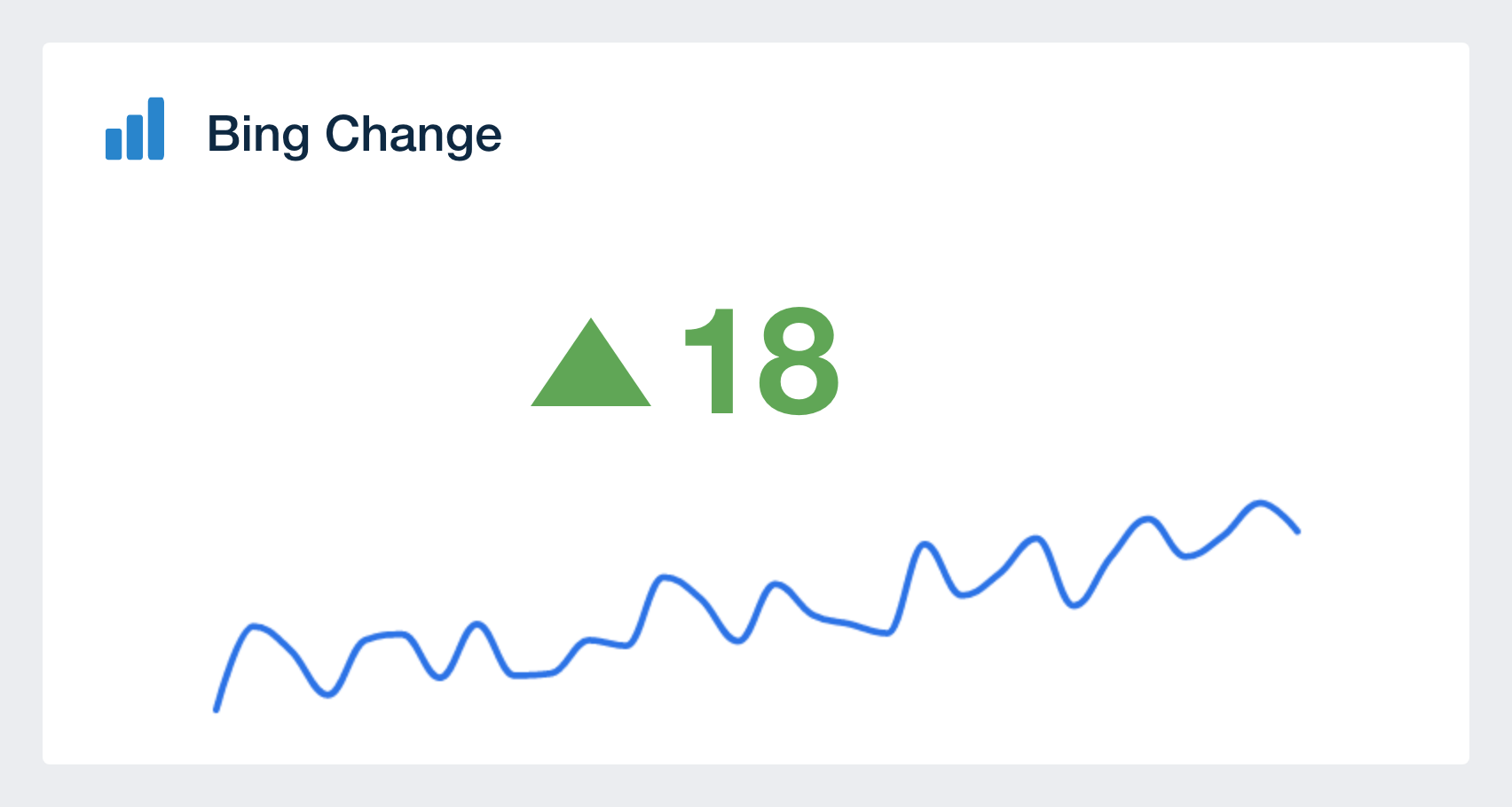 Your AgencyAnalytics Bing dashboard automatically tracks your clients' SEO ranking over time so you can show your client how effective your strategies are in gaining more visibility. If your rankings aren't changing, or if they're lowering, you can start making the appropriate adjustments.
7. Top Clicked Keywords
The words potential customers use while searching for products or services are important facets to any SEO strategy and Bing Ads campaign. You should find the best keywords for your clients' campaigns.
Your Bing dashboard then tracks which keywords are performing the best. This is a crucial piece of information that you can't afford to ignore. If all your keywords are underperforming, you know that you need to find new ones to target.
Like other key metrics, your top clicked keywords should be used in tandem with other KPIs on this list, especially the SEO ranking change. If you aren't moving up in the rankings, look to see if your keywords are having trouble.
8. Top Keyword Impressions
Keyword impressions from Bing Webmaster Tools shows you how many times you showed. Keywords with a high number of impressions are most effective, and you should continue to capitalize on those keywords.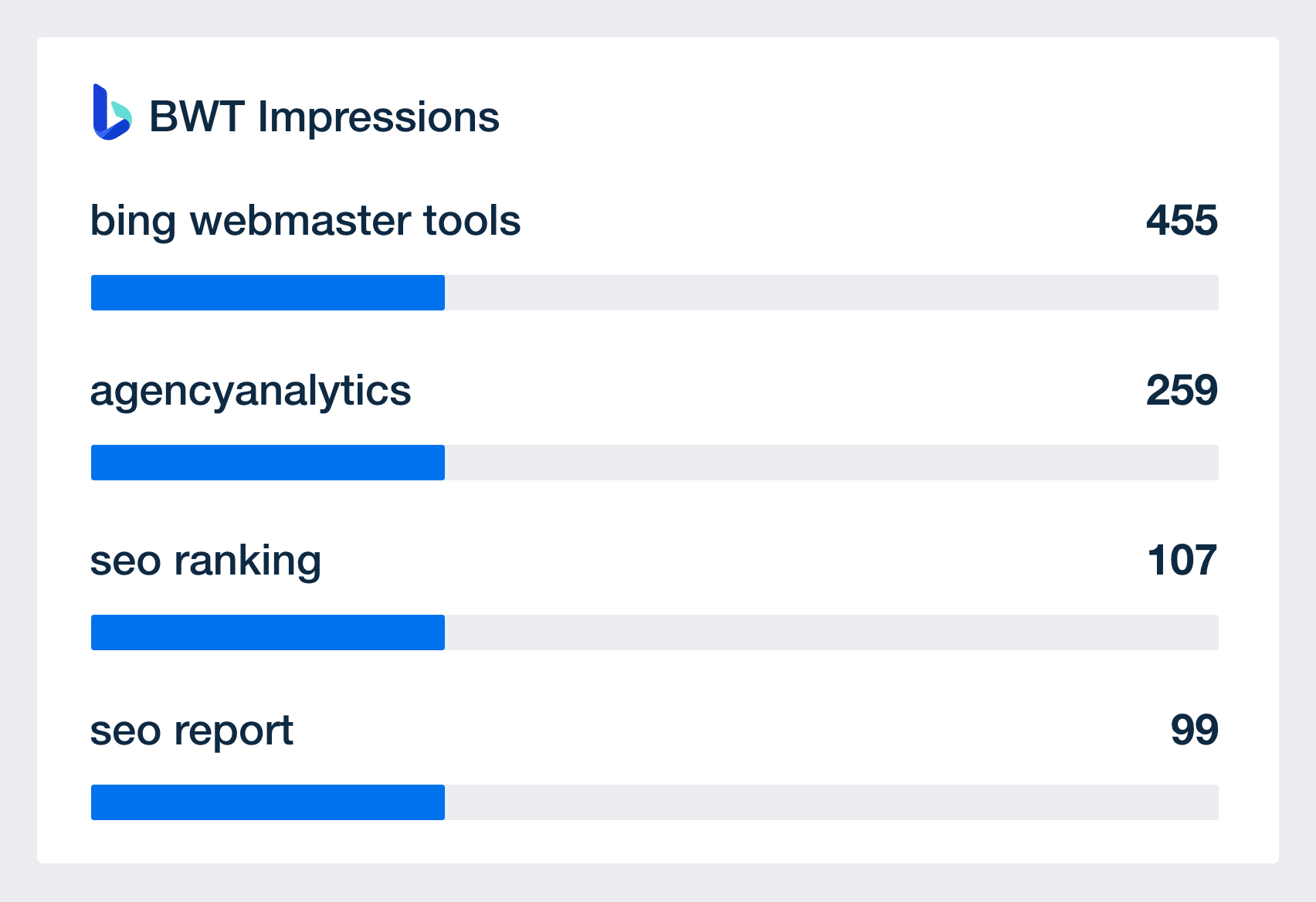 This list also gives you deeper insights into how a client's target audience browses the web and what they're searching for. You can use effective impressions to branch out into new keywords and create an even more effective ad campaign.
Why AgencyAnalytics Makes The Best Dashboards For Bing
Automate Your Client Reporting in Minutes
AgencyAnalytics' automated client reporting platform built for marketing agencies. Customize your Bing dashboard and turn it into intuitive client reports in minutes. Include your PPC markup to avoid confusing your clients, add your brand colors and logo for a full white labeled experience your clients deserve. You can even put your reporting on autopilot and sit back as the reports automatically create and send themselves. 
CONVERSIONS, REVENUE, AND CLICKS OVER TIME
Tell A Story Your Clients Want to Hear
Clear communication is key to retaining clients and guaranteeing long-term success. Show the value your agency is bringing to its clients, and how they're tracking against their goals. Showcase the conversions and revenue that you're generating for your clients, as well as improvements in campaign performance for any date range.
SHOW THE DATA THAT CLIENTS EXPECT
Comprehensive PPC Metrics for Actionable Insights
Analyze your clients' marketing data at the campaign, ad group, keyword, and conversion levels. Leverage the most critical industry-standard metrics including clicks, impressions, CTR, cost, and much more.
BING WEBMASTER TOOLS TOP QUERY REPORTS
Identify Keywords Driving Traffic
Identify the search terms that deliver the most value. Analyze metrics like average position, impressions, and clicks. Use this information to determine where you should focus your SEO efforts. Optionally, enable more detailed tracking by adding keywords to the Bing rank tracker.
BING WEBMASTER TOOLS TOP PAGES REPORTS
Detailed Page-Level Search Analytics
Your clients have invested a lot of time and money into developing their websites. Now they want to see this investment pay off! Show clients exactly which web pages generate the most clicks and impressions, and which ones have the highest average position.
BING WEBMASTER TOOLS CRAWL ERRORS
Stay On Top of Crawl Errors
Crawl errors can be detrimental to your SEO strategy. It's a tedious process to monitor errors across all your client accounts. Quickly navigate between each campaign so you never miss another crawl error damaging your search engine rankings.
There are so many features and they are all very easy to use. Having monthly reports sent to clients automatically couldn't be better. Clients are happy, I'm happy!
Try AgencyAnalytics risk-free for 14 days. No credit card required.