Kim and Brian Walker co-founded their marketing agency, Louisiana-based Shop Marketing Pros, based on their first-hand experience in the automotive industry. 
They found that automotive shops wanted and deserved quality marketing strategies to promote their businesses but just didn't have the time to do it themselves. And, they often needed a partner that would understand the unique intricacies of their niche. 
And their hypothesis was right. Since launching in 2011, Shop Marketing Pros has grown from a two-person agency into a team of 23 marketing professionals, delivering marketing support to a current roster of over 75 top-tier automotive repair shops. 
However, their agency didn't always focus on the automotive industry. 
Agency Jump Start After Auto Business Setback 
The Walkers followed a self-taught path to entrepreneurship–but their story didn't begin in marketing. Brian had a background in automotive and diesel technology, and Kim went to school for education and worked as a school counselor. 
"We eventually owned an automotive repair shop in North Carolina," Kim Walker explains.
They ran their shop, Peak Automotive, for nearly ten years with twelve employees before pivoting into marketing after they were forced to close up their repair shop. They initially focused on various industries before returning to what they know best–automotive. 
It was a logical move for a team that had significant inherent knowledge of the opportunities and obstacles facing shop owners. Choosing this niche gave them a leg up on the competition because they were able to cater their marketing services specifically to the issues they faced as repair shop owners. 
For example, Shop Marketing Pros helped a European and exotic auto repair shop, EurAuto, gain $43,000 in monthly revenue through email marketing campaigns. They achieved this by tapping into their own previous successes–and lessons learned–to develop a unique,  hands-on, and collaborative approach. 
Working with the shop owner to create a combination of behind-the-scenes footage, custom content for social media, and professional photography on their website helped show personality and build trust with the shop's customers. 
Image: Shop Marketing Pros collaborated with EurAuto to produce video content for more personalized marketing campaigns.
And that's just one of several examples of where Shop Marketing Pros has combined their knowledge of this unique niche with their digital marketing expertise. Others include:
Those, and other stories like it, are part of the client success framework that has helped Shop Marketing Pros demonstrate the value they bring to shop owners. 
Shop Marketing Pros focuses on reducing their agency's churn by approaching each client with custom marketing strategies and avoiding cookie-cutter approaches–something they've learned from their first-hand experience.
"We constantly hear from our clients how much they value their relationship with us," says Walker, who explained that their "biggest contributor to growth has been the team, strong processes, company culture, and qualification of clients."
From Kitchen-Table Marketing to a Marketing Agency
The two entrepreneurs learned many valuable lessons from their early business venture, such as taking on new clients and having the staff to support them. 
"At Peak Automotive, we did a great job until we encountered a road construction project that truly interrupted the daily operations of our business," Walker explains. "We were young and made decisions in business with our heart instead of our mind."
"We should have let some of our staff go because we lost a lot of business from that road construction project." 
They were forced to close their shop and move back to Louisiana–but all wasn't lost. They took their lessons and industry knowledge and turned them into their next business venture. 
"We had to move across the country and had bills to pay," Walkers shares. "I knew how to do some marketing, so we pivoted." 
It wasn't long before she and her husband decided to take their "little kitchen table marketing business" and turn it into a full-scale marketing agency.  
They started their journey by working on websites and eventually expanded their services to encompass a wider range of offerings they provide to their clients today. 
"Brian knew some people with websites, and it started growing and evolving over the years." 
Distinct Vision Leads to Automotive Niche
After seeing success with their startup agency, Kim and her husband slowly started taking on more clients and officially launched their agency in 2011 under the name 5 Stones Media. "It's technically our legal name. Our mother company, if you will," Walker shares.
They continued to run that agency successfully for eleven years before deciding to narrow it down and become a niche agency.
An early business challenge that the co-owners faced was with an ex-business partner who didn't share a similar vision of the agency. 
"We had a wonderful business partner who was very creative and smart, but he wanted to keep the agency focused on more general clients," Walker explains. "But our hearts were in the automotive world because that's what we knew and where we felt like we needed to be." 
"Three years ago, we decided to get back into the industry that we know and love, and we're super connected to the automotive world," Walker smiles.
They launched a division of their marketing agency to focus solely on automotive clients and kept their original clients under 5 Stones Media. 
Walker's advice to others considering choosing a niche for their agency would be to keep things simple and connect within the industry.
Image: Kim and Brian Walker recording a podcast episode with the Institute for Automotive Business Excellence
"You have to put yourself out there. You have to connect with people and do what you say you're going to do," says Walker. "We all tend to overcomplicate things, and in fact, it's not complicated." 
Discovering Agency Gumbo With the Right Tools & Processes
The Walkers knew that to grow their marketing agency, they needed the right tools and systems to keep the team aligned on business goals. They focussed on two main processes to boost their agency's growth:
"Partners and tools like AgencyAnalytics are a part of our gumbo," Walker smiles. "We're from Louisiana, so all of the things in our gumbo is making sure that we have the right technology, the right tools, the right people to get the job done and make sure everyone's happy and successful and doing well."
These systems formed the framework that has helped align their agency on:
Core values such as vision, traction, and overall health of the business

Getting clarity on granular marketing metrics that matter most to their clients

Setting a predetermined percentage of revenue coming in as profit to maximize agency profitability 
For starters, it helped them grow their team. Shop Marketing Pros hired 12 of their 22 full-time employees worldwide and integrated them seamlessly into their workflow.
"We treat our international employees with value like they're truly a part of our team, unlike most people who hire abroad," says Walker.
Implementing EOS and Profit First together solved so many problems, opened so many doors, and made a huge difference at our agency.

Kim Walker, Co-owner & Human Resources Director of Shop Marketing Pros
The biggest advantage of implementing EOS and other processes was the formal structure that affects three specific facets of their business: 
1. Internal and External Meetings
Whether Shop Marketing Pros is having an internal meeting among the leadership team or meeting with clients, adding structure to their meetings has improved their operations. 
Danielle Marks, Customer Success Manager at Shop Marketing Pros, says everyone in client meetings is now on the same page. "EOS has influenced how we meet with our clients because every interaction is much more productive," Marks says. 
Part of that structure includes not leaving any item unsolved during a client meeting.
"If something is brought to the table to be discussed, you don't leave until it's solved," Marks shares. "And at the end of the day, you get to look back and see all of these items that you've checked off the list that is truly solved. It's just super rewarding to see that as a team."
Walker says that the word "structure" may have negative connotations or make some entrepreneurs uncomfortable but says that it helps agencies succeed in the long run. 
"When you introduce structure in your agency, you set expectations," Walker explains. "And there's a lot of joy and glory in that, because when you know what is expected of you, you can perform, and you can perform highly, and you can be successful together as a team." 
Image: Kim and Brian Walker visiting one of their automotive shop clients along their Visiting Clients Road Trip 2023
2. Finances
When the Walkers started Shop Marketing Pros, they knew they would run things differently than their previous shop business. "In our history, profit was always the last thing and was always whatever was left over," says Walker. "But now, we are very organized with our finances and ensure we're constantly scaling." 
Implementing the Profit First philosophy ensured that their agency could grow sustainably. 
"It's a program that we follow from the financial world, " Walker shares. "It's similar to Dave Ramsey the financial guru who helps individuals pay off debt and save money. So 'profit first' is almost like a Dave Ramsey for business."  
However, Walker admits that hearing "profit first" may sound negative before understanding the system. 
"It's helped us take care of our team, our clients, and ourselves," says Walker. "We can make sure all of those areas are paid because we have the financial piece more organized." 
Since implementing this financial strategy, they've divided their finances into different categories for every aspect of the business, for example: 
Tax account

Payroll account

Operational account

Marketing account 

Profit account 
"Having our accounts organized like this helps us to quickly see how one particular area is doing based on the profit that's been moved," Walker explains. 
Their organized finances have also helped them be transparent with their team and share numbers regarding how their company is doing. 
3. Core Business Values to Guide The Agency
Shop Marketing Pros had some core values in place before adopting any new processes, but they weren't at the forefront of the team's actions until recently. "When we implemented EOS, our core values were already in place, and they continue to stick around–which told us they were right," says Walker. 
They've refined them and brought more structure to them to help make clear business decisions. 
"They're an integral part of who we are as a company, how we love on our team, how we love our clients, and how we do everything, really. Everything comes back to our core values," Walker shares. 
Shop Marketing Pros refers to their core values as a shield:
Synergy

Happiness

Integrity

Expansion

Leadership

Dedication 
"We use them for hiring decisions, we use them for internal awards where team members can nominate each other for a core value, and even during meetings, we can point back to them and say this is important because it's part of 'Expansion'," Walker shares. 
Marks also reinforces how beneficial their core values have been from an employee's perspective.
"Having leaders who enforce the core values influences our entire team because it trickles down from the top," she says. "It shows everyone that they're valued."
Their agency's structure has helped them remain successful with a strong leadership team:  
Brian Walker, Co-owner & CEO: Helps guide the larger-picture business decisions, researches, and determines what is good for growth and longevity

Kim Walker, Co-owner & Human Resources Director: Manages strategic partnerships 

J.R. Portman, Director of Operations Sales: Focuses on bringing in new clients through the pipeline 

Danni Marks, Customer Success Manager: Prioritizes nurturing existing client relationships to reduce churn
Below the leadership team, Shop Marketing Pros has: 
An SEO team director, 

A Digital Advertising team director,

A Senior Graphic Web Designer,

And three Messaging Strategists for the content they produce. 
"Everyone has a part or a seat," Walker says. "So you have your accountability chart laid out. We make sure we have the right person in the right seat, doing the right things." 
And the proof in the pudding is the reduced employee turnover they've experienced at Shop Marketing Pros. 
Part of their agency's culture includes team retreats for everyone to relax and recharge. In fact, their team recently returned from a trip to the beach, where everyone enjoyed some quality bonding time together.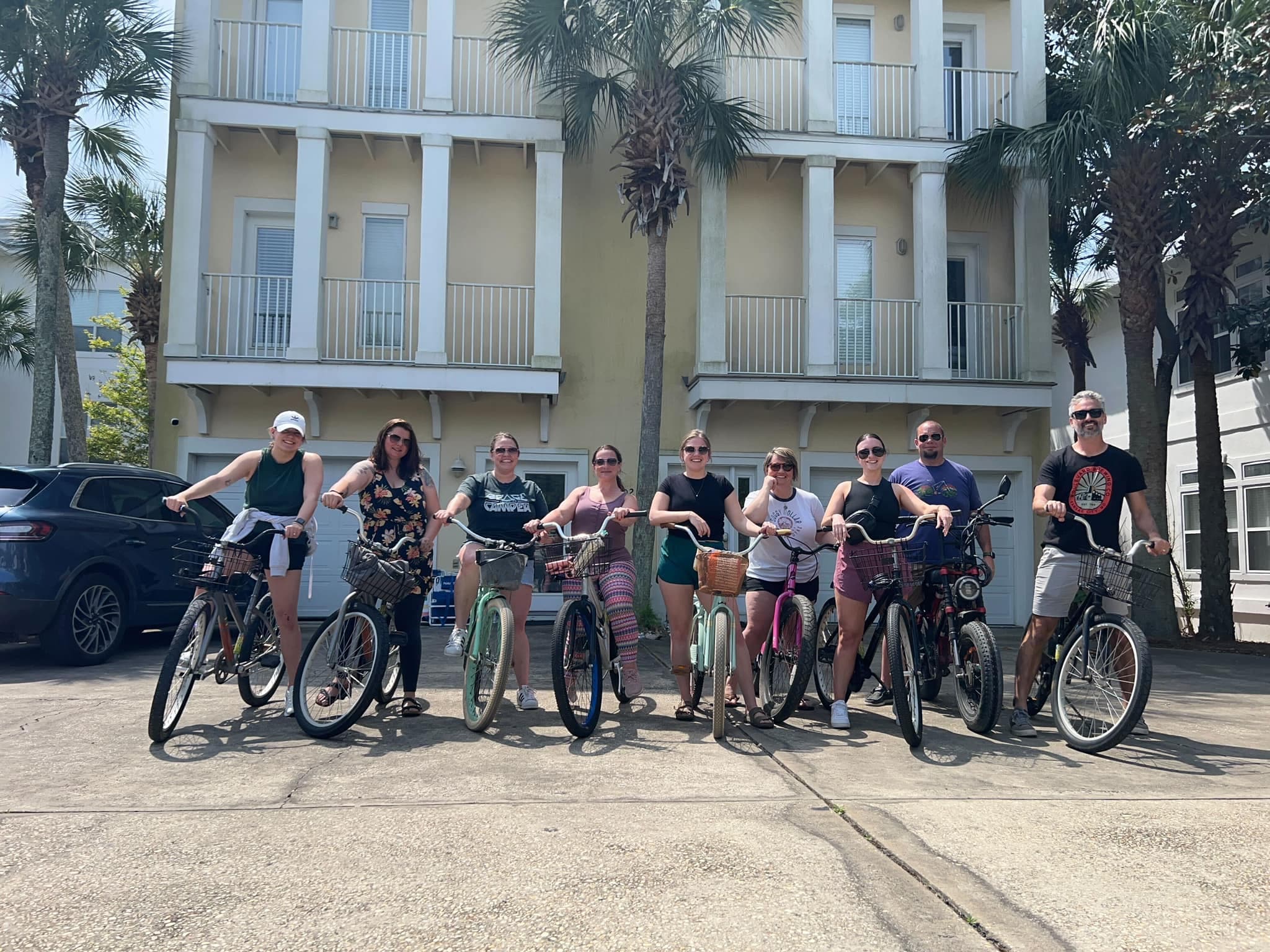 Image: The Shop Marketing Pros team during a recent team retreat in Florida
"I don't know many people that can do what we do because of our great team," Walker smiles. "Everybody enjoys their work, and happiness is one of our core values. We value them, and we value their time when they're with their families, and we respect them." 
Revving Up Growth with Strategic Industry Networking
When it comes to growing the agency, Shop Marketing Pros puts a huge emphasis on two client areas: client retention and networking.
"There are some agencies out there that will launch your marketing strategy and then never talk to you again," says Marks. "But we are super communicative with our clients, always letting them know how their campaigns are performing and making sure they feel heard." 
Aside from client retention, the team is focused on various networking strategies to acquire new clients and scale their agency. For example, their ideal clients are specialty repair shops that value training, education, and have long-term growth goals. 
"We expect them to keep up with training, and so we did the same thing within our agency," Walker says. 
They currently run a private Facebook group for automotive repair shops that offers specific marketing training. 
"We try to go to all of the conferences and trade shows in the automotive industry," explains Walker. "This year, we'll be going to ten. We have one to three team members in a booth doing sales and offer classes and training." 
Image: J.R. Portman and Kim Walker at their Shop Marketing Pros booth at a 2022 trade show.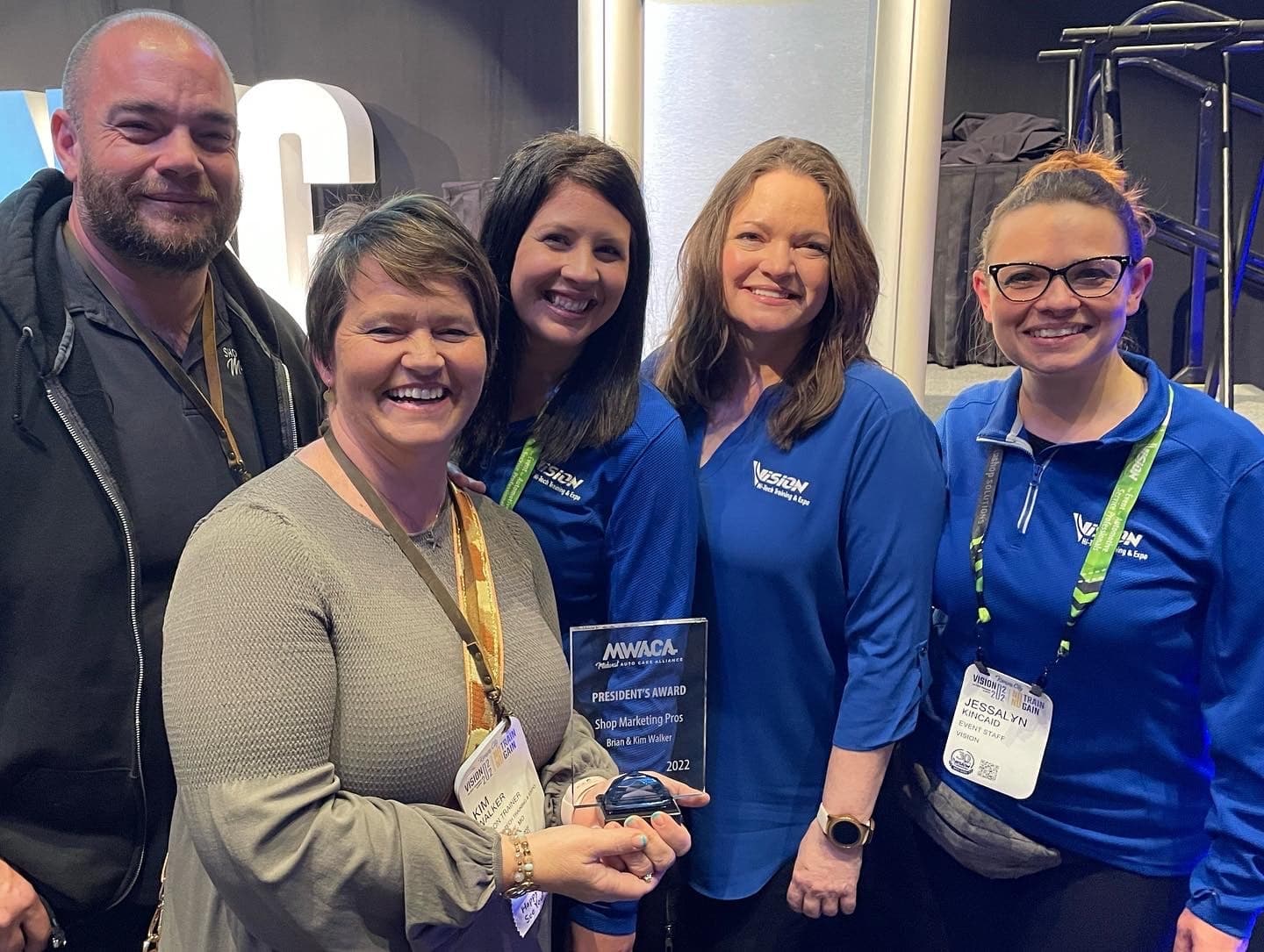 Image: Kim and Brian Walker (with MWACA/VISION staff Heather Sebben, Sheri Hamilton, and Jessalyn Kincaid) attending the 2022 VISION Hi-Tech Training and Expo. They were recognized with the Midwest Auto Care Alliance (MWACA) President's Award.
Their training is designed to help build better partnerships between their agency and their clients. For example, when Shop Marketing Pros listens to phone calls from a client's ads, they've noticed the phone is ringing, but the deals are not closing from sales to service advisors. 
"So the training isn't just for marketing purposes," says Walker. "We're connecting them to training that helps them."
The Shop Marketing Pros' expansion strategy also includes a podcast that is growing a steady following and blog post content to amplify their standing as successful industry leaders.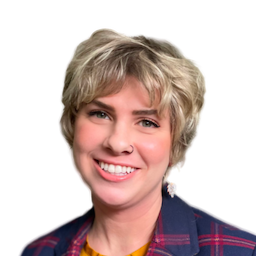 Richelle Peace is a joyful writer with a degree in Journalism. She loves writing web content, blogs, and social media posts. Whatever the topic, she's fascinated by learning and sharing.
Read more posts by Richelle Peace ›
Try AgencyAnalytics risk-free for 14 days. No credit card required.