1.8 billion. That's the number of websites on the internet — and that number increases every second.
With such a plethora of options to choose from, the chances of users abandoning your website before converting is very high. 
That's why you must improve the time visitors spend on your website (also known as dwell time).
Unfortunately, most businesses only focus on search engine optimization and other practices to attract visitors when it comes to optimizing websites. However, getting people to visit your website is just half the battle. For your website to help you achieve your business goals, those visitors must do more than find your website — they must spend time on your website. The longer your website visitors stay, the more they become familiar with your brand. This results in your visitors trusting you more. It also leads to increased brand affinity and a boost in your revenue.
So how do you decrease your bounce rate and improve the time visitors spend on your website?
8 Simple Tips to Increase the Time Visitors Spend on Your Website
Getting your website visitors to hang around and interact with your content and brand takes strategic planning. It just doesn't happen by chance. Here are eight tips you can implement as you design your strategy to keep visitors on your website longer. 
1. Understand Your Audience
The key to getting your website visitors to stay longer on your website is to make it customer-centric. You must make your website about your visitors, not your business.
This is why audience research is critical to the success of your website.
To keep visitors on your website, you must understand who they are and what motivated them to look for your website. This is where demographic and psychographic data come in.
Demographic Data
Demographic data refers to your visitor's physical attributes. These include, among others:
Geographic location

Marital status 

Gender

Occupation

Age

Ethnicity
Demographic data is essential as it can point to some common needs your website visitors may have.
Psychographic Data
Psychographic data is information about a person's:
Values

Attitudes

Interests 

Personality traits

Beliefs
Use data collection tools to get as much data as you can about your customers. Data plays an essential role in building a profile of how your target audience views the world and what motivates them to action.
Both demographic and psychographic data are critical if you're to build an accurate persona that represents the kind of website visitors you want to attract. It's this persona that must inform your website's design and the content you'll create — factors that help increase the time visitors spend on your website.
2. Create Awesome Content
The primary reason people visit your website is to get information about a specific pain point or aspiration. Because content is the main attraction that brings them to your website, you must craft the best.
The mistake many brands make is to focus solely on creating SEO-optimized content. While it's great to have content that ranks, it's even better if that content can succeed at keeping your website visitors engaged. A few tips to help you create such content include:
Understand Search Intent
Also known as user intent, search intent is the main reason behind a person inputting a query in search engines. When that query leads them to your website, they want to find relevant content. If they don't, they'll quickly leave.
To keep your website visitors glued to your site, understand search intent and create content that meets the reason behind the search.
Create Value-packed Content
To keep your visitors on your site longer, create content that's choke-full of value. Don't make the mistake of holding back on the information you put into your content. Doing so won't keep them coming for more. If anything, holding out will just lead to your visitors going elsewhere to get the information they need.
While it may seem counterintuitive, giving away as much information as you possibly can is what keeps visitors on your website. And it also helps pass you off as the go-to authority in your niche.
Make Your Content Easy to Read
No matter how informative and engaging your content may be, your visitors will quickly leave if it's not easy to read. That's why you must ensure that your content is easy to read by making it scannable. You can do this by using:
Lots of subheads

Short sentences and paragraphs

Bullet points and numbering

Images to break up text and emphasize a point
Other ways of making sure your content is easy to read include avoiding jargon and using tools like the Hemmingway App to optimize your content for readability. As long as your content is easy to read, the time visitors spend on your website will increase.
3. Implement Live Chat
Live chat is another excellent way of getting visitors to spend more time on your website. One reason for this is that some visitors are in a hurry and have no time to look around your website for what they need. Having a chatbot or live chat agent to help them out encourages such visitors to hang around a bit longer as they know you can help them easily find what they need.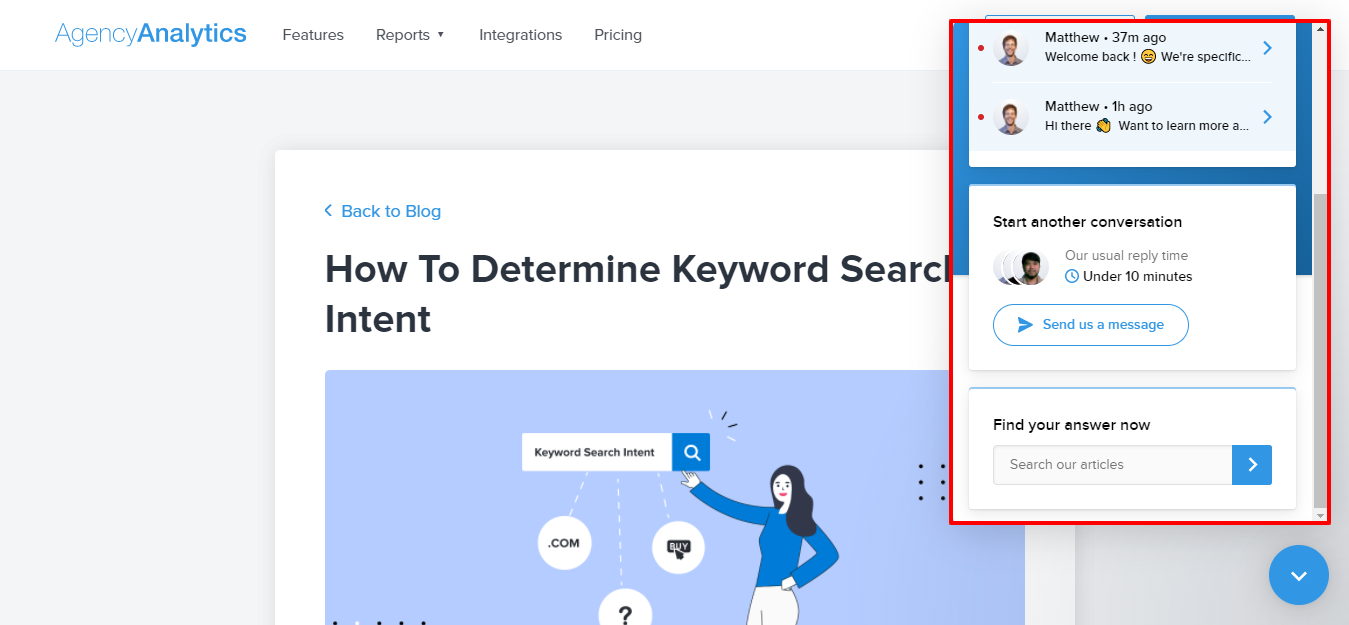 Leveraging chatbot platforms to engage with website visitors is a great way to get them to explore more of your content, services, and products. As a result, dwell time will increase, as will your conversions. 
4. Design an Effective Internal Linking Strategy
To keep your website visitors from leaving, you must give them a reason to stay.
And that's where an internal linking strategy comes in.
Strategically linking to other related content on your website will keep your visitors engaged, thereby prolonging the time they spend on your website. For your linking strategy to be effective in improving dwell time, you must:
Use internal links to improve user experience (UX).

Link to and from old posts.

Use descriptive anchor text, so readers know what to expect when they click on the link.
Besides building new internal links, you must regularly audit your website for broken links. Broken links are frustrating and negatively impact your UX. As a result, visitors to your website will leave in search of a more user-friendly website. Having too many internal links can also have a negative impact.
The bottom line is that you must carefully create links between your content to ensure your website visitors are encouraged to visit other pages on your site. Doing so results in the time people spend on your website increasing.
5. Optimize Your Website for Performance
If there's one thing that drives website visitors away, it's a website that loads at a snail's pace. In today's fast-paced world, people don't have time to wait for your pages to load. They'll simply abandon your website and look for another one.
That's why optimizing your website's performance is crucial to improving the time they spend on your website. A few tips to help you improve your website's performance include:
Optimize images and videos

Use a caching plugin

Use a content delivery network (CDN)

Invest in a good web hosting platform
Optimizing your website's performance is a great way to boost your UX and, ultimately, encourage visitors to stay longer on your website. So, make it a habit to regularly monitor your website's performance and fix any issues that arise.
5. Offer Content Suggestions
Holding people's attention isn't easy. To encourage them to continue browsing your website, you need to give them a gentle push to do so.
One of the ways you can do just that is by offering them content suggestions. 
If you have a lot of content on a particular topic, recommend other blog posts your readers will find helpful. The key to keeping visitors on your website is encouraging them to explore your site as possible. Content suggestions are the best trick to get them to dig deeper into what your website has to offer.
7. Encourage Reader Engagement with Interactive Content
At times, awesome static content isn't enough to keep readers on your page. You may need to give your website a bit of life to make it engaging. An excellent way of doing that is by incorporating interactive content into your content strategy. Examples of interactive content include:
Videos

Quizzes

Interactive infographics

Calculators

Surveys and polls
With research showing that interactive content drives 2X times more engagement than static content, you can't ignore it. Because interactive content requires the visitor's participation, it adds a more fun element to your content. The combination of informative and entertaining content is a sure-fire recipe for keeping your visitors engaged. It's an excellent way of encouraging them to spend more time on your website.
8. Use Exit Intent Pop-ups — Wisely
Another nifty way you can improve the time visitors spend on your website is to use exit intent pop-ups. However, you must be wise in the way you use them. Done the wrong way, pop-ups can be annoying, leading to visitors never returning to your website.
How do you use exit intent pop-ups wisely?
Offer something of value. Offering your visitors a valuable resource in your exit intent pop-ups is an excellent way of increasing the time they spend on your website. This could be anything from a coupon to a white paper to a free trial depending on your niche and industry.

Personalize your pop-ups. While it may involve a bit more work on your part, customize the pop-ups for each page to be relevant to the topic covered on that page. Doing it this way also helps provide your visitors with a personalized experience.

Make your pop-ups interactive. Gamify your exit intent pop-ups by making them interactive by using quizzes, wheels of fortune, and other interactive features.
Despite their bad rap, exit intent pop-ups are an effective way of keeping visitors on your website. You just have to be strategic in the way you design and implement them.
Also, a side benefit is building your email list using exit intent pop-ups. From my testing, it is one of the most efficient ways to build your email list without feeling spammy to your readers or customers.
In an ideal world, you could start with a full stack CRM like Engagebay that offers a free plan or choose from a list of other options here if you want to give something else a try.
Increase Conversions by Improving the Time Visitors Spend on Your Website 
Just as is the case in a brick-and-mortar establishment, the more time someone spends in your business, the higher the chances of converting. That's why you must do everything you possibly can to improve the time visitors spend on your website.
So go ahead and use these eight tips to do just that.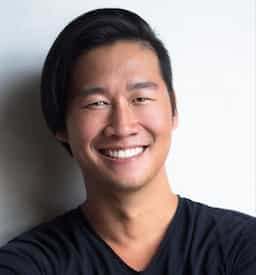 Hanson Cheng is the founder of Freedom to Ascend. He empowers online entrepreneurs and business owners to 10x their business and become financially independent. You can connect with him here.
Try AgencyAnalytics risk-free for 14 days. No credit card required.