For marketing agencies, a critical part of building successful, long-term relationships with new clients is clearly understanding and defining their business goals. Setting realistic timelines, establishing monthly performance targets, and communicating your progress to clients are all essential factors in improving client retention. 
Ideally, by the time you land the client you have a good understanding of what they want to achieve by working with your agency. If not, use your client onboarding process to set these goals, deliverables, and a timeline for hitting them. 
Whether it is a certain number of leads, new MRR, organic traffic, or any other KPI, setting goals not only helps align you with the client's expectations but also helps your team keep on track with their day-to-day marketing activities.  
In this guide, we're going to discuss precisely how the new goal tracking widget allows you to easily communicate the success of your campaigns to clients in one simple visual, including:
What is Goal Tracking?

Why Goal Tracking is Essential for Client Retention

Establishing the Right Goals For Clients

How to Create a Goal in AgencyAnalytics 

Creating a Goal for Custom Metrics
Let's get started.
What is Goal Tracking?
Each client has their reasons for hiring an external marketing agency. Whether they lack the technical abilities or simply the capacity to handle the task internally, each client has unique business goals that they need your help to achieve. 
Goal tracking is a way to ensure that your longer-term campaign objectives are progressing according to schedule. In addition, goal tracking helps you allocate time and resources in a way that increases your chance of hitting the clients' goals. That said, defining these goals in the onboarding process isn't the finish line—you also need to communicate your ongoing progress on a consistent basis. 
Instead of relying on spreadsheets to track your KPIs and timeline, our new Goals widget automates this process to track progress internally and easily communicate this to clients.
Designed to help you convey the success of your campaign at a glance, Goals are applied to any marketing metric or across multiple campaigns to show clients how they're progressing towards their desired outcomes. Goals break down your monthly performance targets into everyday action items to keep your team on track.
Why Goal Tracking is Essential for Client Retention
As mentioned above, goal tracking helps clarify and focus the efforts of your marketing initiatives by ensuring that you allocate the appropriate amount of time and effort to specific tasks. With that in mind, below are a few of the benefits of goal tracking that make it so crucial to long-term client relationships: 
It provides clarity of purpose and unites stakeholders in a shared objective

It increases productivity by aligning everyones' work and effort

It increases the chance of meeting performance and budget targets

It improves client satisfaction by providing a transparent framework for progress and regular communication
On top of providing a better way to align marketing agencies and their clients, another key benefit of goal tracking is to focus your internal team's efforts towards the shared mission. 
Establishing the Right Goals For Clients
In order to align you and the client, a critical first step is to determine your most important marketing goals. To do so, below are a set of principles set by Adobe Workfront to establish short and long terms goals and set realistic times for achieving them:
Priority alignment: The key outcome of collaborating with clients on their goals is to achieve alignment and determine your top priorities in terms of marketing initiatives and the Objectives and Key Results (OKRs) to track them. 

Set SMART goals: Goals should also be created with the SMART framework in mind, or specific, measurable, attainable, realistic, and time-bound.

Create realistic timelines: Attaching realistic timelines to your goals also creates a sense of accountability between your team's day-to-day tasks and overall outcomes.

Measure and Track Progress: The performance of each goal should be tracked and discussed amongst the marketing agency team, ideally on a weekly basis, to ensure the team is aligned.

Provide feedback & Improve processes: Goal tracking can then be used to provide feedback, improve processes, and prioritize future tasks.
Ultimately, one of the main reasons to create and track goals is to create this positive feedback loop that improves your team's performance over time and improves clients' results.
How to Create a Goal in AgencyAnalytics 
Now that we know why goal tracking is essential to maintaining a robust agency-client relationship, let's look at creating them in AgencyAnalytics. 
Available to all Enterprise customers, the first step to create a goal is to navigate to your campaign settings and select the Goal tab:
Next up, you'll need to choose a name, time interval, and description of the goal. From there, follow the three steps below:
Choose a metric from any of our 60+ integrations

Select the condition (i.e., Equals, Less Than, Greater Than, etc.)

Enter the value of the goal
Below you can see an example of PPC budget pacing. In this case, the goal is to keep the Facebook Ad budget less than or equal to $30,000 per month.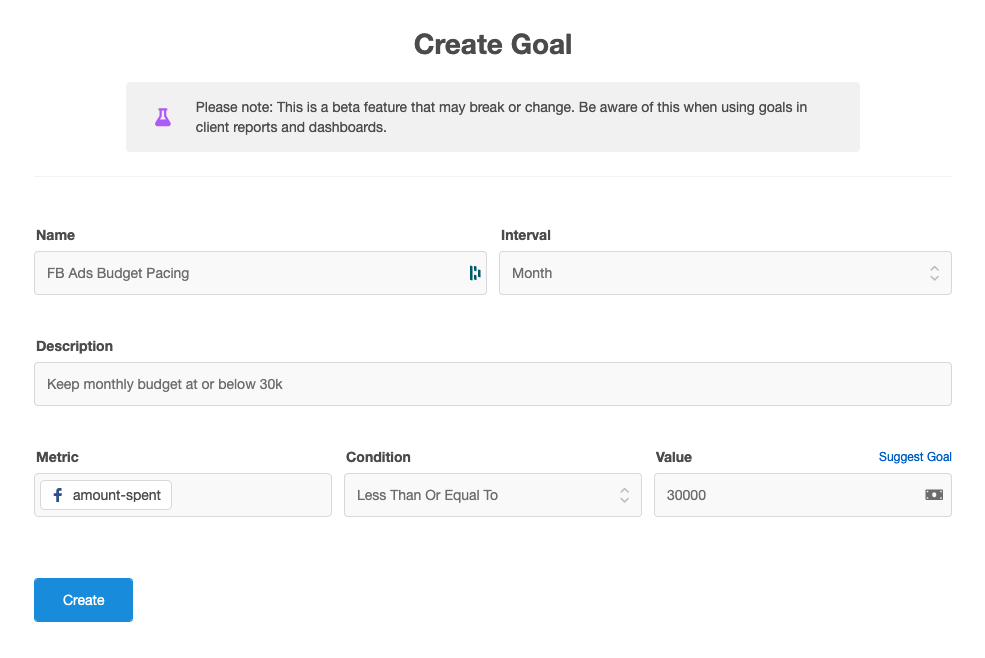 Now that the Goal is ready, it can be added to a dashboard or report just like any other widget. To add the Goal widget to a dashboard, simply add a new widget, select Misc, and then Goal:
You'll now have a simple, intuitive visualization of your goal that will display either a red or green progress bar depending on whether you're on or off track.
Creating a Goal for Custom Metrics
Another common use case for Goals is applying them to custom metrics, which allow you to combine data from multiple sources into a single metric. For example, coming back to our PPC ad budget pacing example, it makes sense that agencies would want to track and manage the total ad spend across multiple platforms.
To do so, you'd simply need to create a custom metric that aggregates PPC costs across each of the client's ad platforms, as shown below:
From there, you'll be able to find this custom metric in the Create Goal section just like any other metric. By combining these two features, you now have unlimited flexibility and functionality when setting goals and communicating your progress to clients. 
Summary: Goal Tracking for Agencies
There's no question that setting goals with clients and establishing a realistic timeline to hit them is an integral part of reducing churn. While it's easy to set goals, the challenging part is accurately tracking them internally and communicating your progress to clients.
Instead of relying on manually updating spreadsheets, our new Goals widget automates the entire goal tracking process. By seeing how you're progressing towards monthly or quarterly goals on a day-to-day basis, goal tracking also helps to keep your team aligned with their marketing objectives and make adjustments as needed. 
In summary, goal tracking helps keep your team on track and easily communicate your success to clients, build transparency, and retain clients over the long run.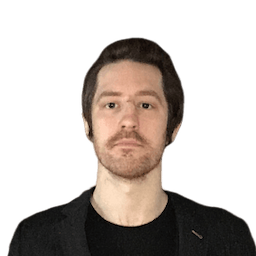 Peter Foy is a content marketer with a focus on SaaS companies. Based in Toronto, when he's not writing he's usually studying data science and machine learning.
Read more posts by Peter Foy ›
Try AgencyAnalytics risk-free for 14 days. No credit card required.