Ready to tackle the world of AI head-on (before it tackles you)? While AI tools have been around for some time, they have reached a tipping point where marketing agencies can no longer ignore the impact they will have on daily operations. 
From chatbots to Alexa to Grammarly and more, AI tools are already part of our lives. And the more they gain in popularity, the more your agency will have to test them out to determine where they fit in your repertoire of tools. 
Some agencies are greeting the AI-powered future with enthusiasm. 
It's an exciting time that should be embraced, not feared. AI can help us digital marketing agencies look smarter and deliver better returns for our clients than we ever have before. 

– Bill Hipsher, President at Hurrdat
While others are a bit more hesitant. 
The biggest mistake agencies can make is relying on AI tools for the creative aspect of their work. The creative aspect of any marketing campaign should still be guided by an actual human being and not by a machine.

– Olu Ajanwachuku, CEO at GVATE
Although there are some obvious pros and cons of using AI at a marketing agency, the individual use cases will vary based on your agency's–and your client's–needs.
If you're ready to dip your toes into the world of AI (or jump in head first), here are some of the top AI tools that are worth exploring.
How To Choose the Right AI Tool for Your Agency
With all the new AI tools popping up, how can your agency know which to choose? We asked Jasper.ai that question, and here's what it had to say: 
Aside from understanding where your team spends the most time and looking into ways to improve efficiencies, you'll need to play around. Similar to any other type of marketing agency tools you implement. 
We challenged leaders throughout the company to come to a meeting in Q4 2022 with two tools they found that could help save them time in their day-to-day world. This meant we had nearly 60 ideas presented to us. We chose to continue testing about 15 and have approximately 10 being used consistently in workflows now.

– Bill Hipsher, President at Hurrdat
Does your agency have a less experienced team of content writers? Implementing a tool like Grammarly or Wordtune could help improve the quality of the work being produced for clients. On the other hand, if your agency focuses more on PPC services, testing out tools such as Optmyzr could be your better option. 
Founder of Search Prestige, Austin Benoit, sees two sides to the evolving AI landscape: the 'Overly AI-Dependent' side and the 'Overly-Human' side. So, he recommends taking a balanced approach when implementing AI tools, saying that agencies "shouldn't lean too heavily and too early on AI tools making the internet even more bloated with "mediocre-at-best" content with nobody differentiating themselves with unique insights."
On the other hand, he warns that some "may try and dismiss AI content entirely (at least for now) out of fear of becoming commoditized or obsolete."
In the end, he recommends a balanced approach. 
Leveraging AI content will be a must-have, but we still need to add our unique human spin and thought leadership to everything to make sure our content ranks on Google and serves its ultimate purpose to the end user. 

– Austin Benoit, Founder of Search Prestige
36 Best AI Digital Marketing Tools Based on Your Agency Needs
Some of the most common AI tools on the market that agency owners are trying include Copy.ai, Jasper.ai, Grammarly, you.com, Rytr, and of course, ChatGPT. We've done the research on each tool, so you don't have to! 
Here's our complete list of AI tools to streamline your agency's workflows in the following categories:
Best AI Tools for Content Creation
From content ideation to editing and proofreading, there are many reasons why AI tools are helping digital marketing agencies save time. It's difficult to choose just one that suits all of your needs–depending if the majority of your clients need help with keywords or perhaps a ton of PPC ads. 
Fun fact: Even if you ask ChatGPT if it is the best tool for content creation, it does not attempt to claim that title. 
Here is a list of the best AI tools for content creation to help you decide the best fit for your agency.  
Copysmith is an AI-powered tool that agencies can use to generate content for clients' product descriptions, social media ads, and website copy. Users have praised its efficiency, user-friendly interface, and customer support. 
Notable features: 
Special section dedicated to brainstorming

Helps with listicles, ad headlines, ad content ideas, and bulk content generation

Marketing-related features specifically for eCommerce clients 
Price: 2-month free trial, then starts at $19/month 
Grammarly, the online writing assistant, recently introduced a ChatGPT-style writing and editing tool called GrammarlyGo that will make auto-composition features like rewriting in brand tone, brainstorming, and one-click prompts. GrammarlyGo may have a leg up on competing AI tools as its desktop service can be used across any text field on your computer to increase efficiency. It will be included in all of their paid plans at no extra cost and in select "free markets." The beta version will be released in April 2023.
Notable features: 
Checks grammar, tone, and punctuation in real-time 

Make suggestions on readability and helps enhance your vocabulary 

Plagiarism checker and citation generator for APA, MLA, and Chicago writing styles 
Price: Free basic plan, $12/month for Premium, and $15/month for Business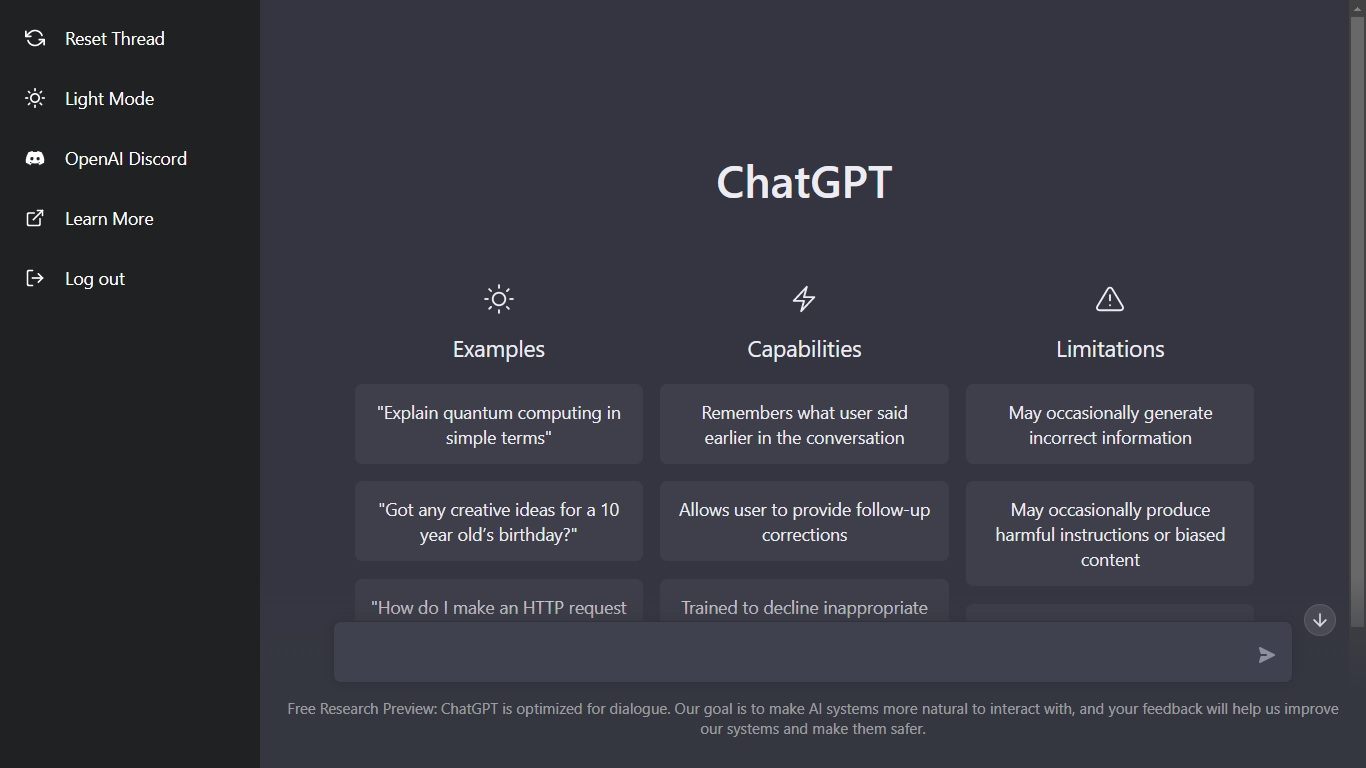 Created by OpenAI, ChatGPT is used for various purposes, including customer service, answering questions, education, and entertainment. It utilizes advanced natural language processing (NLP) to communicate in a conversational manner. It's a handy tool to use to make repetitive tasks more efficient. 
Notable features: 
Drafts SEO-focused content, including articles, blogs, and landing pages 

Great for writing headlines or CTA variations, meta descriptions, or short content pieces

Generates HTML code and can also list stats (not always up-to-date) and keywords
Price: Free plan, then $20/month per user 4. BuzzSumo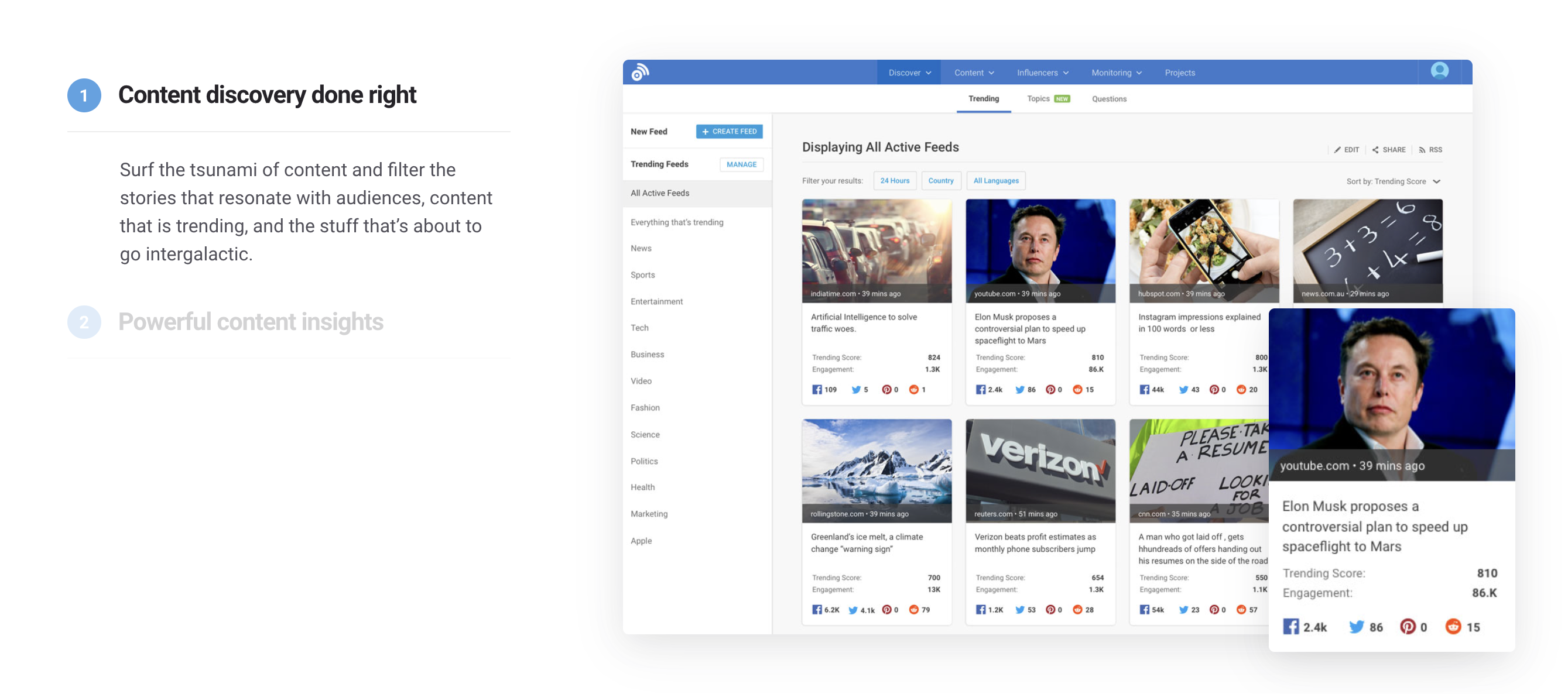 This content discovery and analysis tool helps agencies identify popular content in their clients' industries, track competitor performance, and monitor brand mentions. It helps markets create more effective strategies for clients and identify link-building opportunities to improve website SEO. 
Notable features: 
Analyzes competitors' content and reveals who is sharing it and how your clients' content compares 

Filters through content on the internet and finds relevant content that resonates with your clients' audiences

Helps identify influencers and evaluate their strengths and assess their value
Price: Starts at $119/month for one user
Anyword uses artificial intelligence to generate ad copy, landing pages, and email campaigns. It creates personalized and relevant content for your clients' target audience, has A/B testing features, and performance tracking. 
Notable features: 
Copywriting framework features based on customer emotions that help with conversion-driven content 

Can be integrated with websites for continuous landing page optimization 

Generates social media posts and meta descriptions
Price: Starts at $24/month for 20,000 words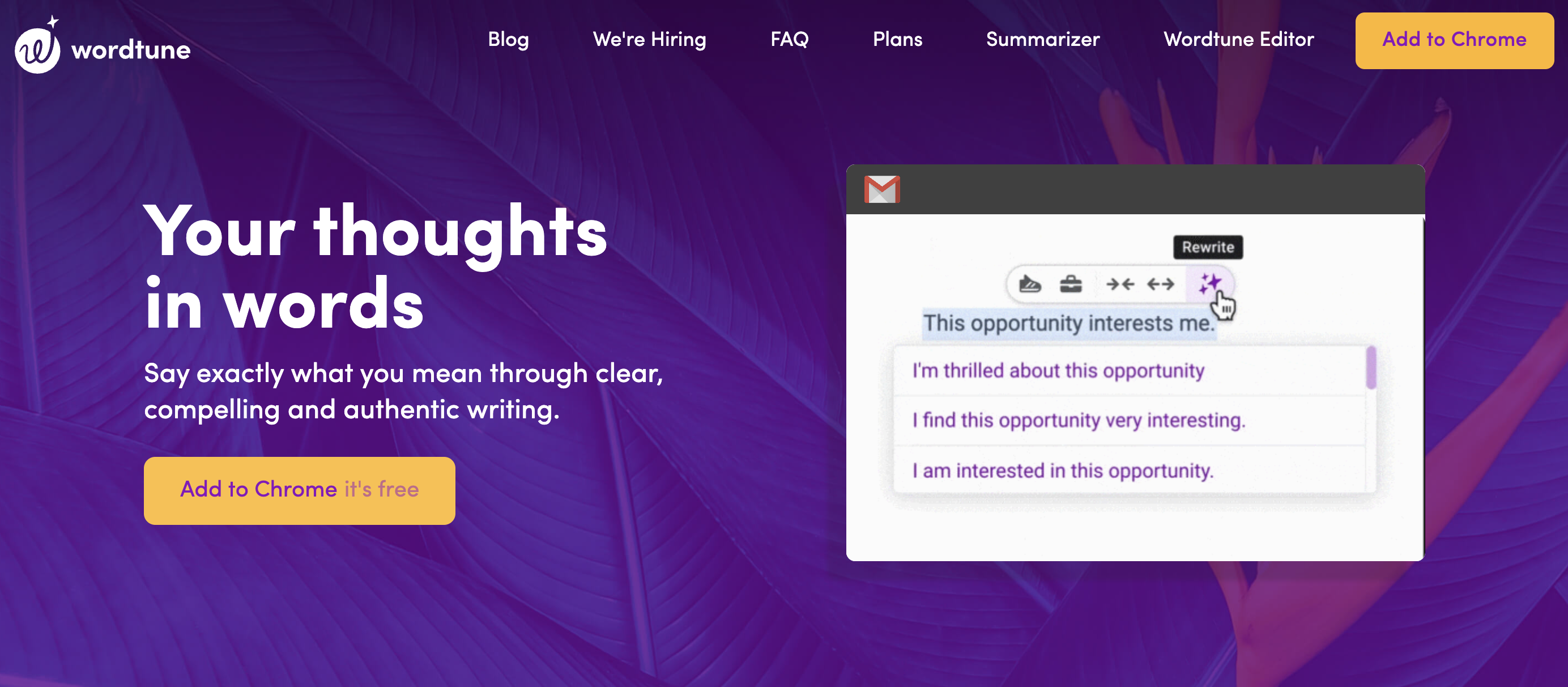 Use Wordtune to get alternative phrasing and wording for all of your clients' copywriting projects. This AI-powered writing assistant makes suggestions to improve readability and also has features to tailor the language and style of writing for specific audiences, such as academic or social media content. 
Notable features: 
Rewrites sentence for better readability 

Checks the tone of your writing (formal vs. casual) 

Summarizer tool that shorteners long documents to save your researching time 
Price: Free plan that includes 10 rewrites/day, then $9.99/month 7. Jasper AI 
This tool uses advanced machine learning algorithms to analyze data from multiple sources and makes recommendations for creating and optimizing content, including long-form content and ad targeting. 
Notable features: 
Multiple marketing templates to choose from, like blog posts, reports, emails, and stories 

Can read and write content that is intelligent and creative in 29+ languages 

Integrates with Copyscape to check content for plagiarism 
Price: $49/month for 50,000 words/month 
With a focus on optimizing content for engagement and conversion, the Copy AI tool uses machine learning algorithms to generate engaging copy. It can be used to create a variety of content, such as ad copy, email campaigns, and social media posts. 
Notable features: 
Rich in-app text control helps to apply any style of text and make edits directly in Copy AI before copying your content to be used anywhere else

Specific features to make sharing content on social media 

Assists in writing blog and email content 
Price: Free option (2,000 words/per month), then starts at $36/month
Best AI Tools for Image Creation
If your clients are looking for specific needs or preferences based on input data, AI tools are a great solution. They save time, help keep consistency, are cost-effective, and provide a nice option to use when meeting the needs of different projects or applications. 
This online photo editor recently released a free AI image generator. All you need to do is enter text prompts to generate realistic face images, paintings, 3D and anime characters, and various digital art. It's easy to use (for AI newbies or advanced users) and lets you export your images in high resolution. 
Notable features:
Various marketing templates for social media, logos, and events

Photo editing tools 

Aside from using text to generate a photo, Fotor lets you input a reference picture for the AI-generated picture you're trying to make 
Price: Free plan, $9/month for Fotor Pro
This AI image generator tool is very easy to use. Similar to many other platforms, all you have to do is enter text, choose an art style, and it creates an image for you. 
Notable features:
42 art-style options are available such as funny memes, realistic portraits, and HDR images

Upload reference images or use text prompts to generate images 

This tool never repeats its design 
Price: Free, premium paid options available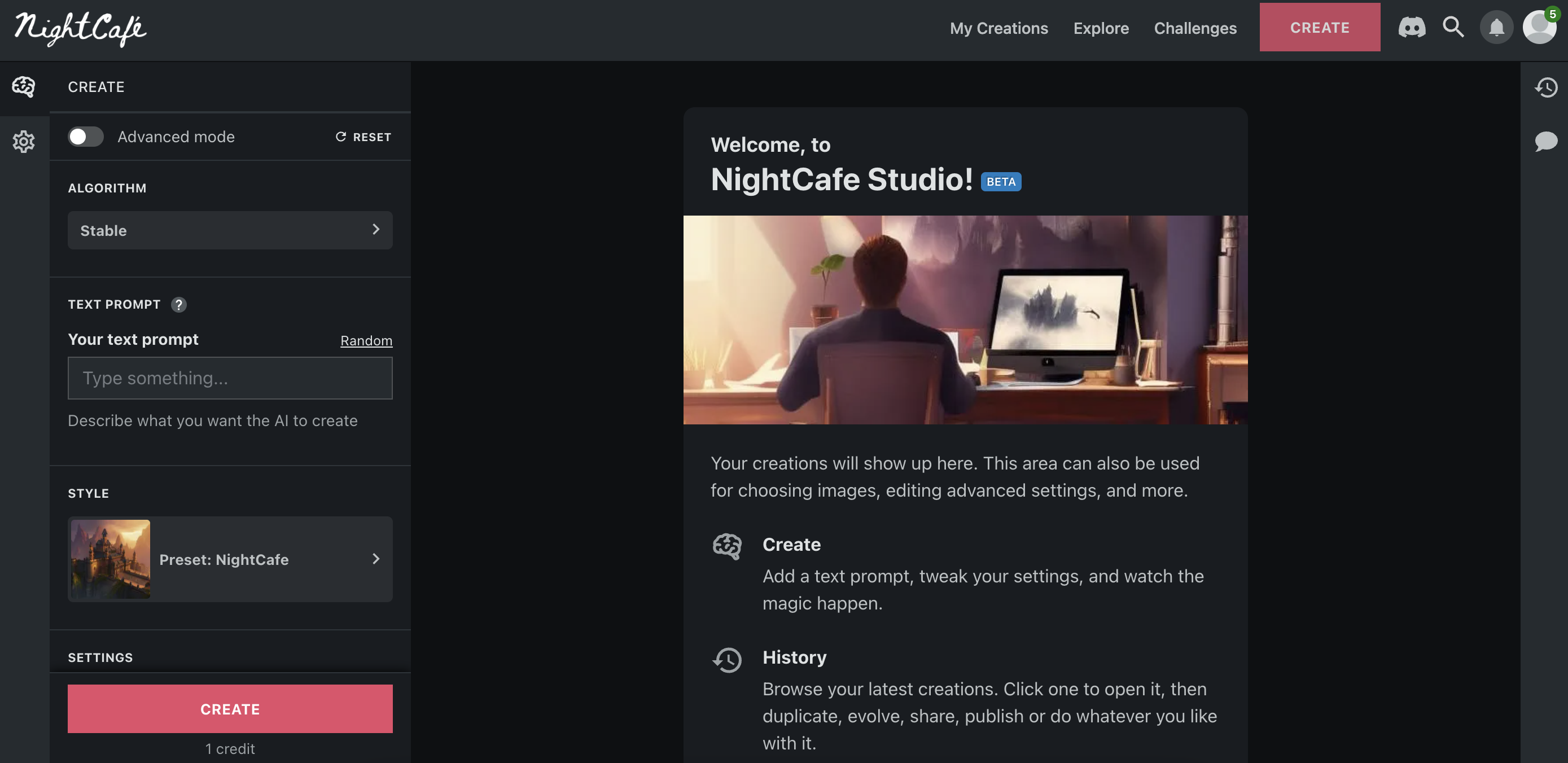 This platform claims to have more algorithms than any other AI image generator and has a community of users that create, share, and discuss AI art. Chat rooms are available to work with other users or collaborate with team members, and the program works from mobile and desktop devices. 
Notable features: 
No experience with coding, AI, or design is needed to use the tool 

Generates images in various styles with text prompts 

Download free or paid creations without watermarks 
Price: Free plan with lower quality images and fewer features available, then $4.79/month for 100 credits 
Created by OpenAI, the same team that developed ChatGPT, DALL-E is considered by many to be the most advanced AI image generator on the market. It creates images based on text inputs and provides 4x better resolution images than DALL-E. However, it typically works best with longer, more detailed input sentences. 
Notable features: 
Generates the same image in a variety of styles 

Editing is made easy by drawing a box around the portion of the image you want it to edit or retouch 

Creates more realistic images compared to DALL-E (realistic backgrounds, depth-of-field effects, shadows, shading, reflections, etc.) 
Price: 50 free credits during the first month, then 15 free credits after
Canva's AI image generator app is a great option to use if your agency already has a Canva account. Cohesively tie your AI-generate images into your overall design to work seamlessly within one platform. 
Notable features:
Multiple various to choose from a specific text prompt

Text-to-image prompts in all languages 

Generates AI images in a variety of art styles, including Photo, Drawing, and 3D images
Price: Free to use in any Canva plan 
To test these AI image creators out, we gave all five tools the same prompt, and this is what each tool generated.
As you can see, DALL-E 2 provided the most realistic version of how van Gogh would have captured a Goldendoodle puppy in oil paints if such a creature existed during his time. The others, while cute–and paying a bit of homage to van Gogh through the use of inspired backgrounds, would not pass for the master painter's artwork.
Best AI Tools for SEO
Whether you want to make your keyword research more efficient or build an automated link-building machine, there are several SEO artificial intelligence tools to help. Spend more time staying up to date on the latest SEO trends instead of in the trenches doing repeatable tasks that can easily be automated. 
AI tools help us produce more content faster with fewer overall people. I think this will open up opportunities for additional SEO strategy development.

– Cory Risseeuw, Owner of Fast Forward Search
Here are some of the best SEO agency software tools with AI features to test out: 
Surfer SEO is a helpful tool to generate briefs and optimize content specifically for SERPs. It provides guidelines based on top-ranking pages to enhance your clients' blog structure and includes relevant keywords that help them rank higher in searches. 
Notable features: 
Compares your clients against their competitors and makes recommendations to improve their SEO 

Generates article outlines in minutes to speed up content creation with content suggestions to help boost clients' search rankings 

The app helps monitor and maintain content to keep track of progress and goals 
Price: Free 7-day trial,  then starts at $49/month
The Semrush SEO Writing Assistant is a tool the helps to improve the quality and performance of written content by analyzing it against SEO best practices. It gives real-time suggestions based on keyword usage, readability, and overall SEO value. 
Notable features:
Seamlessly integrates with content creation tools such as Google Docs and WordPress 

Maintains a consistent tone of voice and checks for plagiarism 

Makes recommendations to optimize images, tags, and links 
Price: Semrush's SEO writing assistant is part of their content marketing toolkit that is available for Guru users at $229/month 
This tool creates SEO content at scale. It helps your agency save time researching topics, generating content outlines and uses AI to write content for your clients. This AI tool also makes keyword and FAQ suggestions by analyzing your clients' competitors.
Notable features: 
Helps write SEO-friendly content with tools to help your clients' SEO strategies 

Adaptable templates and can be modified as needed with content map creation on various topics and subtopics 

Content brief generator that is optimized for SEO 
Price: $14/month for four articles, then $44/month for 30 articles 
Best AI Tools for Social Media 
If your agency is trying to scale your social media services, using AI tools is a great way to do it. Think about it. If you're a social media manager, you know scheduling tools help save a ton of time when it comes to publishing content. 
Artificial intelligence tools help create content even faster, make predictions, and make it easier to stay up to date with the demands of your clients' audiences. Here are a few of our top choices: 
Ocoya helps your agency create and schedule content quicker. It generates posts, captions, blogs, and hashtags with additional features to streamline your agency's entire social media tasks. Choose from pre-made graphic templates, collaborate with team members, shorten links, and get real-time metrics on performance. 
Notable features: 
Helps grow follower base with AI-generated content, including banners, videos, and music

Image and video templates that you can create manually or automatically with their AI-powered tools 

AI copywriting generates marketing text with scheduling features on 10+ social media platforms 
Price: Bronze package starts at $15/month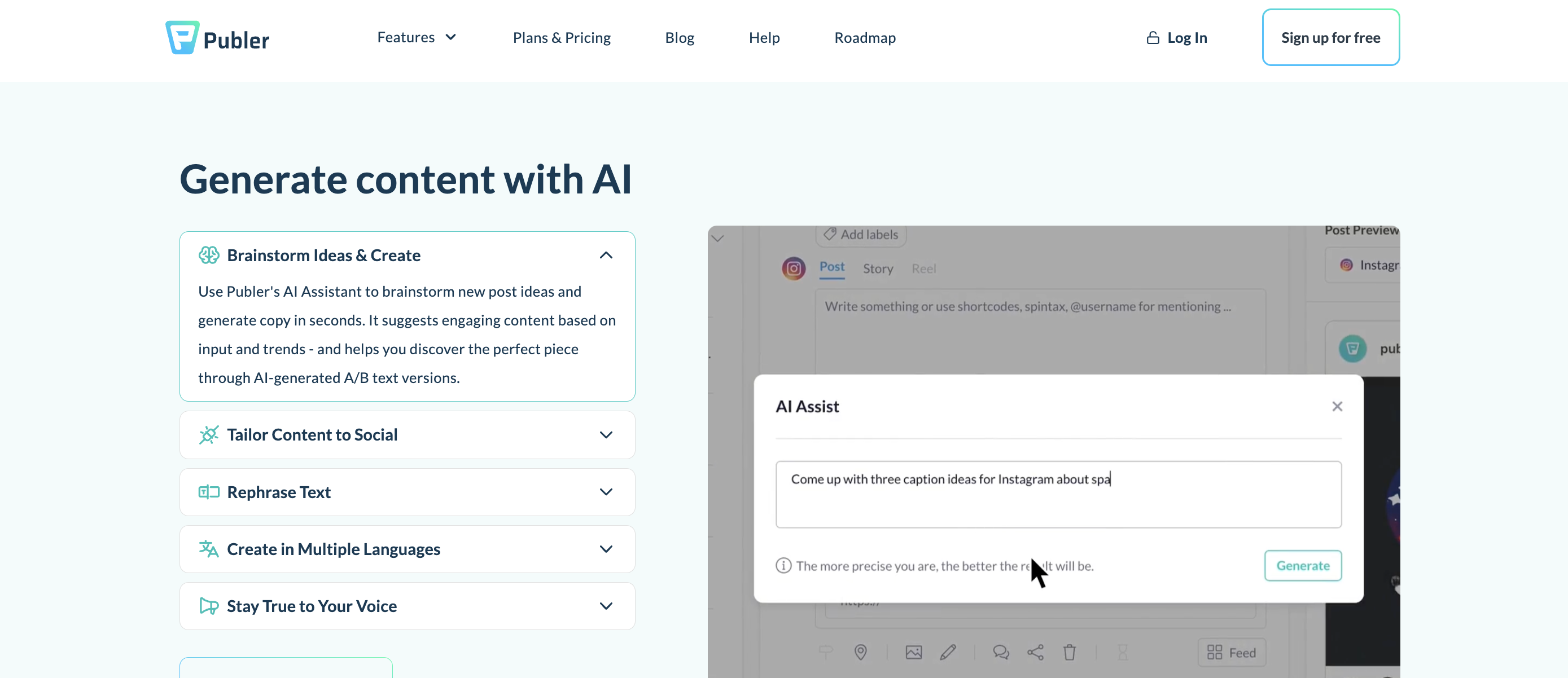 Publer's AI Assistant generates content, creates images, and helps your agency respond to comments quicker. It also has brainstorming features, lets you create content in multiple languages, and rephrases text.  
Notable features: 
Helps create, bulk schedule, and analyze social media posts

Generates distinguishable variations of social media captions by using relevant synonyms 

Creates custom tone of voice commands to keep your clients' brand voice consistent 
Price: Free plan for three social accounts, then $16.32/month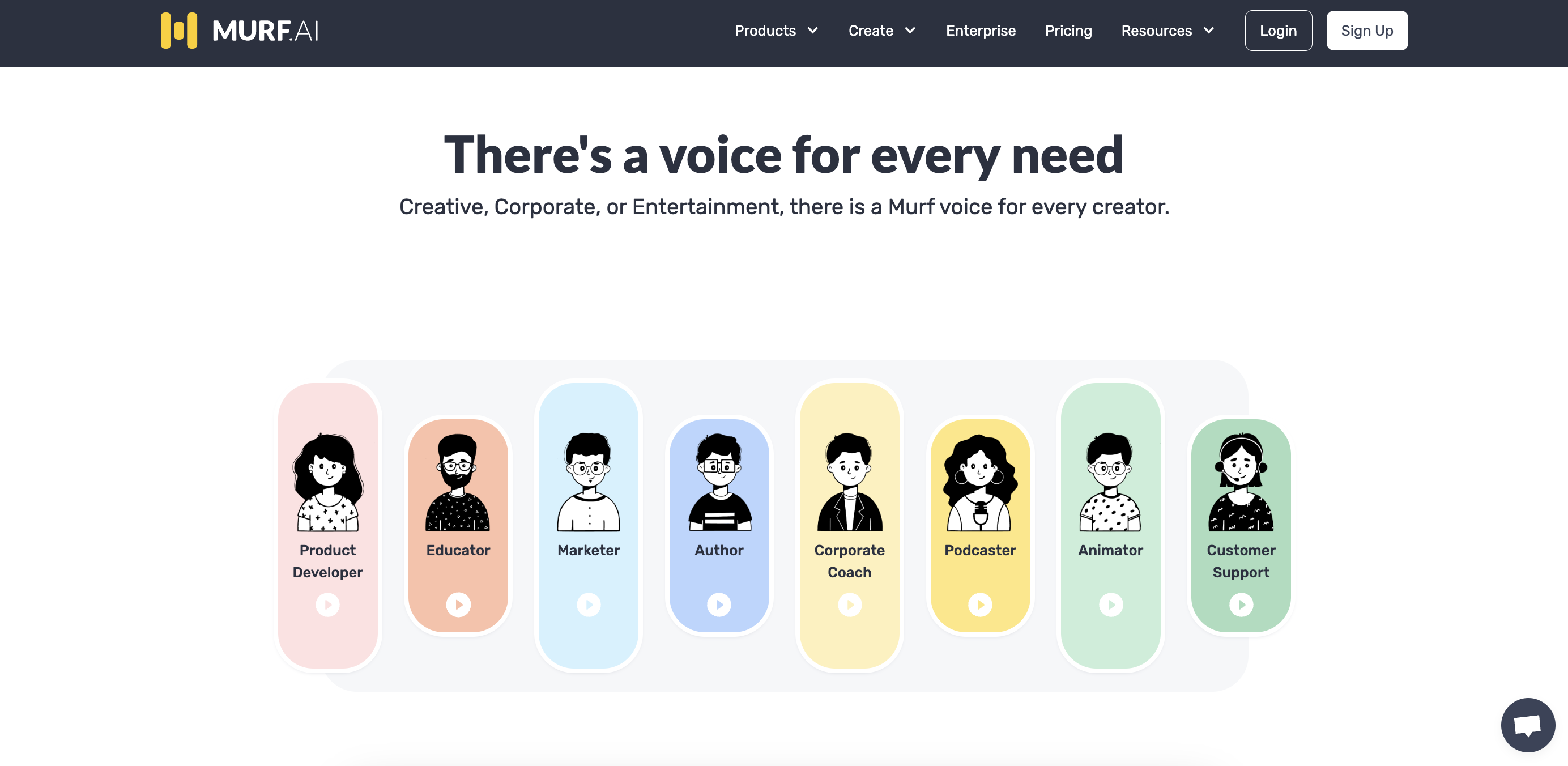 This AI tool offers high-quality, natural-sounding voices for all of your client campaigns. It lets users fine-tune punctuation, pitch, speed, emphasis, and tone. From text-to-speech for social media posts to voiceovers for video deliverables, Murf's versatile tool saves your agency time and money from sourcing human voice talent and studio space.  
Notable features: 
AI voice generator for social media posts 

Various text-to-speech voices, from 'educator' to 'corporate coach' to 'podcaster' depending on your clients' audiences 

Create human-like voiceovers, royalty-free background music, and 20 different languages 
Price: Free trial with no downloads, then $19/month for 60 basic voices 
Best AI Tools for eCommerce 
Using AI tools for your eCommerce clients helps you quickly identify customer preferences in real-time and generate more personalized messaging. They also help forecast future demands and determine which products to market the most–all of these valuable insights should be shared with clients to highlight your agency's value. 
Clarifai helps create better customer experiences by understanding what is important to your client's business. It helps to filter out unwanted content from their websites, makes images and videos of products easier to find, recommends relevant products to prospective customers, and more.
Notable features: 
Optimizes product search and discovery to deliver personalized product and service recommendations 

Automated data labeling delivers a faster, expanded search result with lower bounce rates and faster purchasing decisions 

Identifies multiple sentiments from customer chatbots and social listening
Price: Essential plan includes AI features and starts at $30/month
Vue.AI is a one-stop-shop AI and image recognition platform for your apparel eCommerce clients. It has catalog data management capabilities and offers omnichannel personalization for your clients' products.
Notable features: 
Provides AI-powered solutions for cart abandonment 

Creates personalized messaging to engage shoppers, increase return visits and conversions 

Personalized omnichannel retargeting campaigns to promote increased basket size and conversions 
Price: Free trial, then $100/month 
Amazon Personalize has the same machine learning technology that Amazon.com uses. It personalizes your client's homepage with product recommendations based on customer shopping history, helps with cart upselling and cross-selling suggestions, and helps customers find relevant new promotions. 
Notable features: 
Allows developers to efficiently build and deploy curated recommendations 

Intelligent user segmentation at scale 

Real-time recommendations for relevant customer experiences, new users, or new catalog items with no machine-learning experience required 
Price: Free trial with pricing quotes depending on database user numbers 
This eCommerce personalization platform automates tasks related to customer behavior, trends, and transaction history to optimize on-site search results, connect to email marketing, and digital ad campaigns. 
Notable features: 
Personalization technology uses an algorithm designed to connect people with products 

Instantly indexes entire product ranges (even when new items are added) and provides data on customers and products to deliver better customer experiences 

Real-time optimization enables your agency to react as customer behavior changes or new campaigns are launched 
Price: Free trial, then $99/month 
Best AI Tools for Analyzing & Optimizing PPC Campaign Performance 
Boost your client's PPC campaigns by using automation tools that give recommendations to make them more efficient and effective. AI tools for PPC optimization not only save your agency's time but also have the potential to reduce your clients' ad spend. 
Avoid constant campaign monitoring and spend your time focusing on other strategies to boost your clients' businesses. Here are some of the top AI tools for analyzing and optimizing your clients' PPC campaigns: 
The Optmyzr platform offers rule-based automation, scripts, and productivity management, keeping customers happy. It is specifically designed to streamline the workflows for PPC managers, analysts, and strategists with tools that help with budgets, shopping campaigns, and keyword/search terms. 
Notable features: 
Has 'automation layers' to create more checkpoints before a bad decision negatively impacts your clients' account 

Bid management can be done manually or automated plus budget optimization suggestions

Connects directly to ad APIs to bypass ad platform limitations 
Price: $228/month on an annual subscription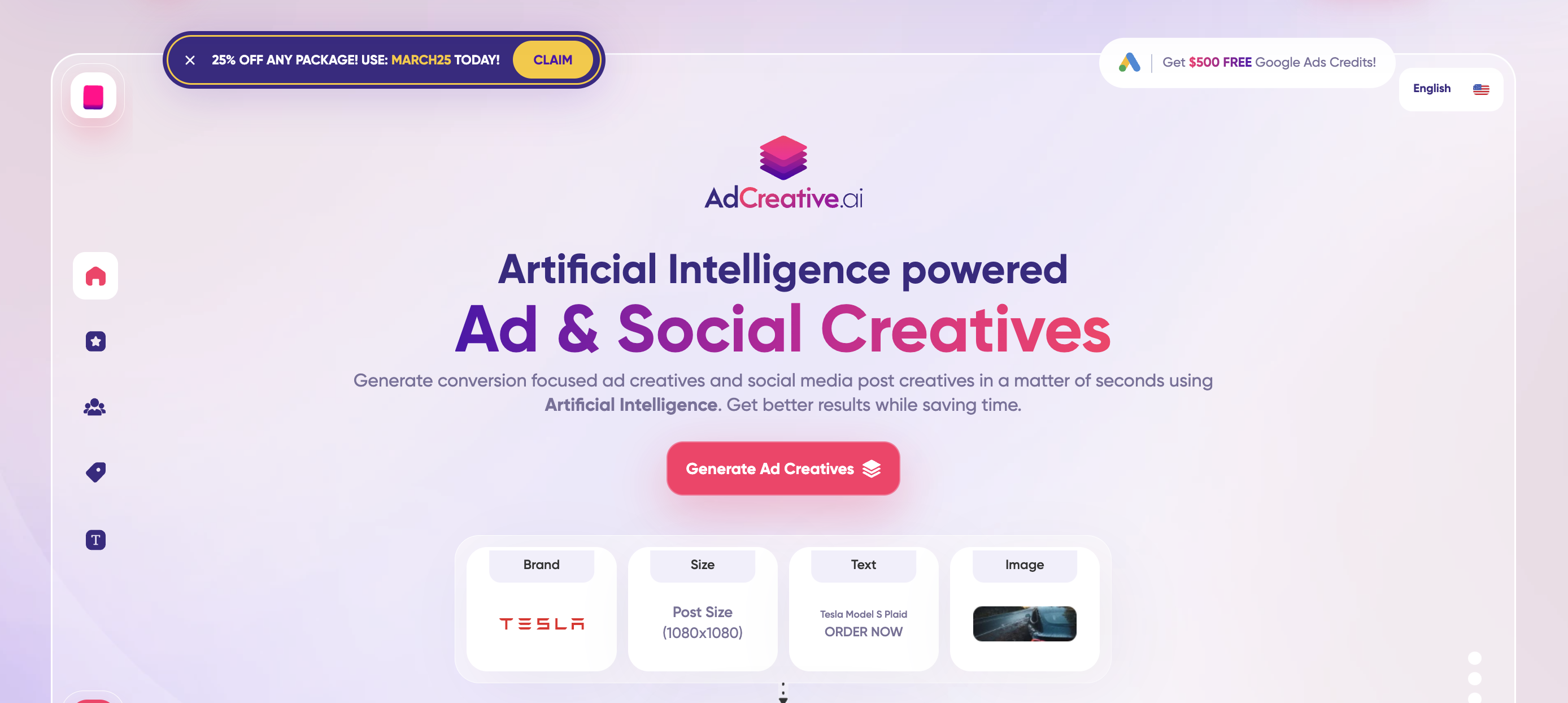 Tell AdCreative's AI tool your client's target audience and the platform where their ad is running, and it will generate the best tone and length for that platform while focusing on the target audience's pain points. 
Notable features: 
Creates data-driven, high-converting ads using machine learning algorithms

Looks at thousands of ads and generates new ones depending on what works best for your clients' industry 

Recognizes brand colors and logos to make ad creatives that match your clients' brand
Price: Free 7-day trial, then $29/month
This tool helps your agency track, analyze, and optimize ad performance across multiple channels at once. It gives you an overview that lets you adjust budgets, and build new campaigns, to clearly see the accounts where you need to focus on first. 
Notable features: 
Scanns for 50+ improvement possibilities that can be made with one click

Tracks PPC performance and highlights over/under expenditure to enhance ROI and conversions as much as possible 

Connects to multiple PPC platforms from a single location, and custom alerts keep your agency informed and in control 
Price: Free plan, then $99/month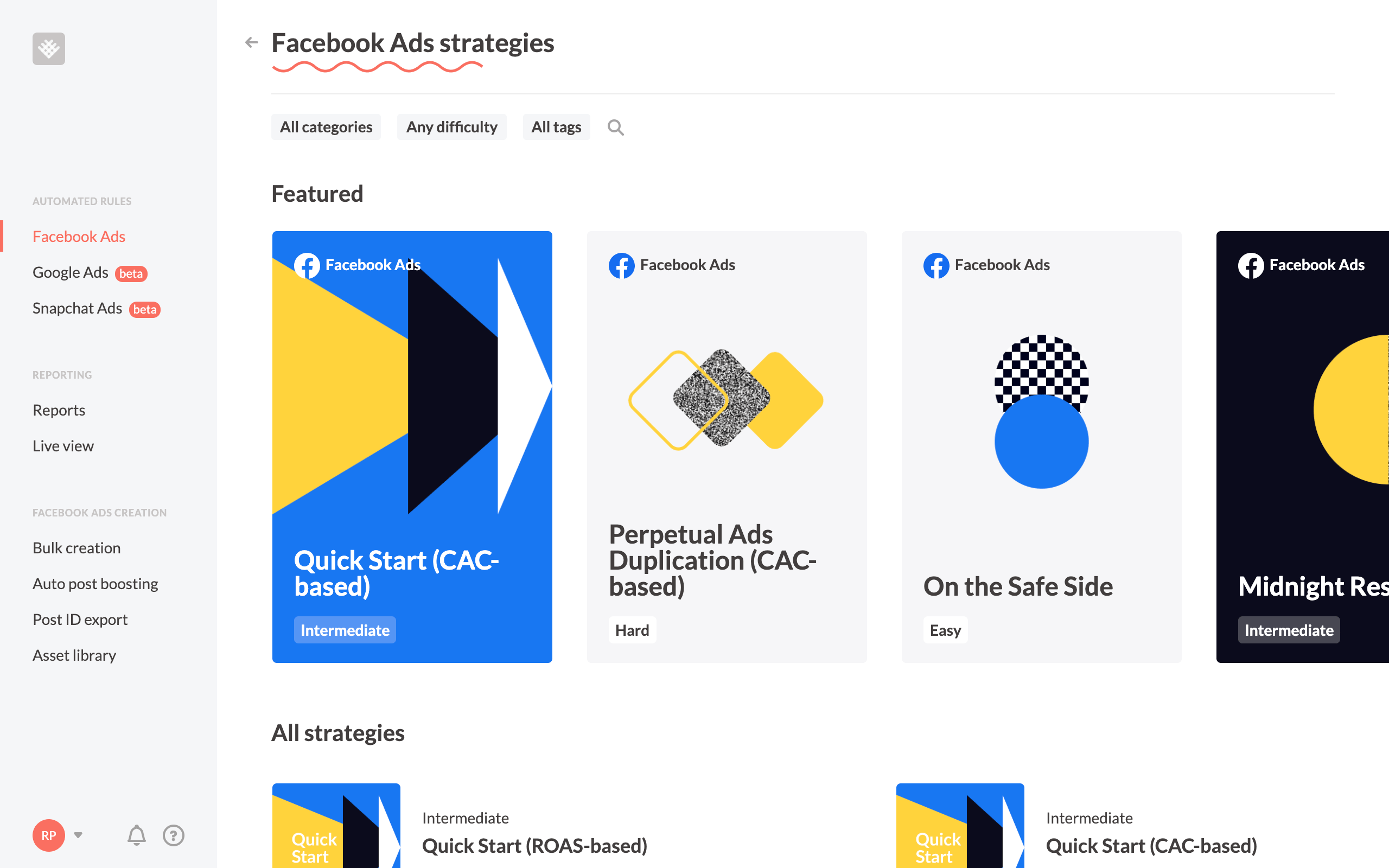 Revealbot helps track dozen of social media ad metrics (Facebook, Instagram, Google, Snapchat, and TikTok) with custom automated features like pausing, restarting, or adjusting ads based on their performance. 
Notable features: 
Analyzes ROAS, CPA, and Facebook Pixel data automatically to optimize your clients' running ads based on specific criteria 

Automation, auto-boosting, and bulk generation features help streamline your entire PPC processes 

Gives an overview of multiple platforms to keep everyone informed on important PPC metrics with a real-time budget spending feature 
Price: Pro plan starts at $99/month
Best AI Tools for CRM & Live Chat
Understanding your clients' customers is key to producing more targeted marketing campaigns. One way to do this is through CRM platforms and chatbots. If your agency is thinking of implementing these AI-powered tools for your clients' businesses, be sure to include the benefits in your pitch, such as improved conversion funnels, response rates, and automated online purchases. 
Here is a list of the best AI tools for CRM and live chats available on the market: 
The ChatSpot integration from HubSpot combines your clients' HubSpot data to create AI-powered chat-based commands. The tool adds new contacts for you, sends follow-up emails, and even creates new segments. 
Notable features: 
Draft professional sales emails personalized to the recipient 

Automatically add contacts and companies to your clients' HubSpot CRM much faster

Create original images for blog articles 
Price: Free, but you must join a waitlist to get early access to the tool 
This conversational AI platform helps clients in retail, education, finance, travel, and other industries prioritize tasks and manage customer interactions. Admins can use artificial-enabled tools to analyze customer sentiments and tag appropriate team members for specific cases. 
Notable features:
Uses large language models (LLMs) to maximize efficiency and ROI for support teams

91% model accuracy, 40% average reduction in first response time, and 53% average deflection rate 

CRM software, ticket management, activity dashboard, predictive analytics software, and third-party integrations
Price: Must request a free demo to inquire about pricing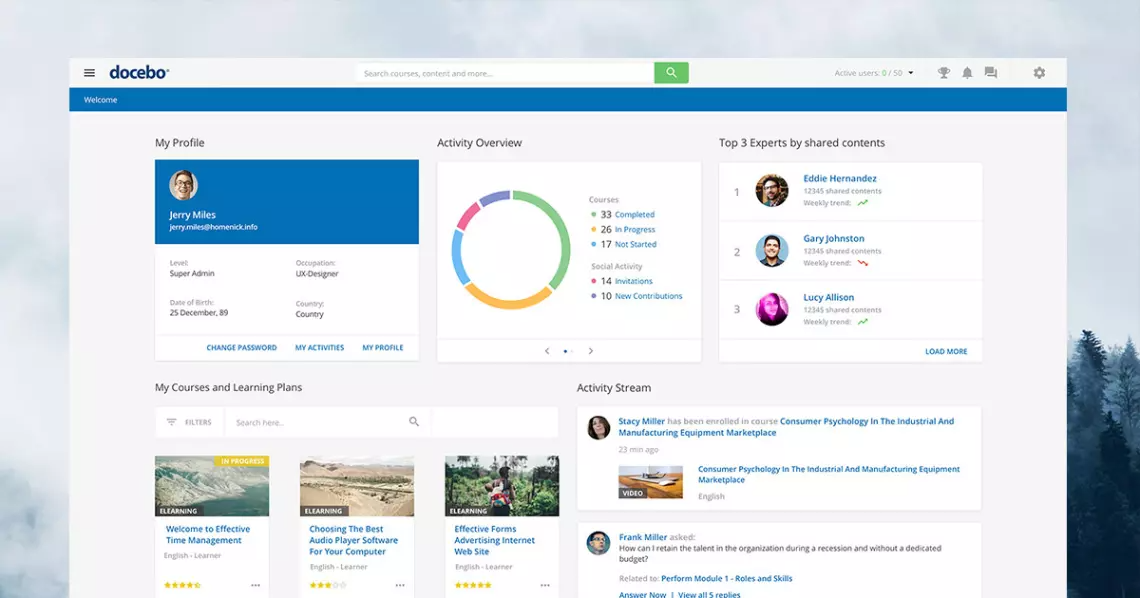 This AI-based learning suite is great for turning learning programs into profitable partnerships and linking learning data to real business outcomes. 
Notable features: 
AI-powered learning for any audience

Employee development and retention (only pay for users who are actively taking training or viewing content) 

Create engaging learning content in minutes, and deliver compliance training 
Price: Must request a quote for pricing 
A conversational AI platform that helps retail and eCommerce clients capture leads and enhance engagement with buyers. Their chatbot guides customers from discovery to checkout on their favorite sites, answers FAQs, and helps your agency manage multiple client brands, countries, departments, and channels from one dashboard. 
Notable features:
Customizable branding

Multi-channel communication 

Wait-time management, prioritization, and push notifications 
Price: 14-day free trial, then $49/month for Shopify merchants, $1000/month for brands with 50K+ visitors per month
Best AI Tools for Project Management & Time Management 
This list of project and time management tools incorporates artificial intelligence and machine learning to streamline your agency's daily tasks and workflows. Task management tools mimic human decision-making and analyze sets of data to make suggestions to deliver projects on time. 
Whether you're looking for time tracking tools for marketing tasks or looking for a team member's workload to delegate tasks to the right skill set, here is a list to help get the job done more efficiently. 
Trello is a visual project management software that uses boards to keep everyone on your team up-to-date on projects. Agencies can create custom lists, add cards with details, and assign tasks to team members efficiently. 
Notable features: 
Recognizes repetitive tasks and actions being performed and makes suggestions that can be enabled in one click 

AI-based text suggestions to initiate a conversation with another team member on specific projects 

Don't let important tasks fall through the cracks by creating rules, buttons, and commands (without codes) to automate almost every action in Trello 
Price: Free plan available, then starts at $6/month.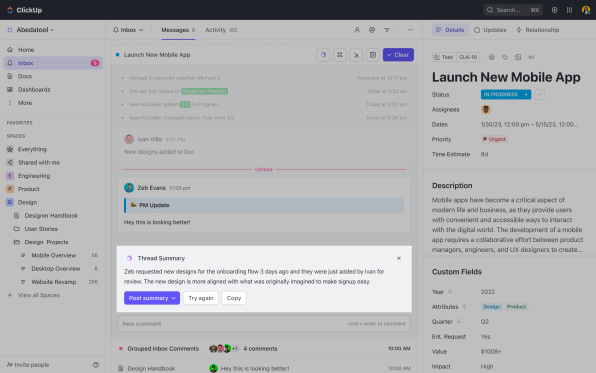 ClickUp's AI features offer a new level of efficiency and automation for your agency's project management. With AI-powered task assignments, scheduling, and progress tracking, ClickUp streamlines workflows and saves your team valuable time. Plus, the platform's natural language processing capabilities allow for easy task creation and organization.
Notable features: 
New AI options include the ability to generate a list of relevant keywords from copy and improve grammar, make document title suggestions, and AI-generated summaries of lengthy threads (still being beta tested)

Keep your agency's tasks organized and clearly see the workloads of each team member and the progress of projects

Connect a variety of platforms to streamline internal communication, such as Slack, Hubspot, and more 
Price: Free plan for personal use, then $5/ month per member
Asana's AI-powered task assignment and scheduling streamlines workflows and improves collaboration, ensuring timely project completion. Its machine-learning capabilities help the platform learn from past data and optimize future projects, making Asana a powerful tool for marketing agencies of all sizes.
Notable features: 
Build project plans, coordinate tasks, and meet deadlines by keeping everything organized in Asasna 

Automation features help you streamline processes, reduce errors, and spend less time on routine tasks 

Autoshifts deadlines in project templates and multiple pre-set templates save your agency time creating popular tasks or processes 
Price: Free plan available, then starts at $10.99 for the Premium plan
With advanced task prioritization and scheduling, Monday.com's AI features optimize workflows and ensures timely client project completion. Its machine learning capabilities help simplify complex workflows, create tasks faster, manage deadlines, and increase your overall productivity. 
Notable features: 
Pre-built templates, including pricing quote templates for efficient sales processes 

Custom automation workflows 

Automate notifications for status updates, emails, due date alerts, and assign tasks
Price: Free for first two users, then $33/month 
Ayanza is a project and task management software that helps marketing agencies streamline processes related to OKR creation, objective progress tracking, strategy development, and team collaboration from a centralized platform. With the team spaces tool, agencies can create a knowledge base, capture new ideas, organize team structure, and share information. 
Notable features: 
Streamlines workflows between team members 

Brainstorming features generate ideas 

Avoid writer's block by letting AI answer questions and write content for you, including outlines and briefs 
Price: Free plans for 25 people, then $6 per member 
Summary and Key Takeaways
AI tools are a great way for agencies to save time and improve efficiency in content creation and marketing services. But they should be used with caution and need human intervention to keep the quality control up to par.
If you don't want your agency to fall behind the AI curve, take the time to test different AI tools to can find the right ones for your agency. Start by understanding where inefficiencies exist within your workflow and testing which tools could be beneficial.
Not every AI tool will work for every agency, but you may find ways to supplement your expertise to help you work better than you did before. Better. Stronger. Faster. And for far less than 6 million dollars. 
I anticipate the most negative impact from teammates who fear or reject new technology, techniques, and processes. This will create divides within the agency and may leave some people who refuse to move from old efforts to new techniques and processes behind.

- Bill Hipsher, Hurrdat
Save even more time by automatically retrieving data from 75+ integrations to automate your entire reporting process and create professional client reports in minutes. Get started with your free 14-day trial today.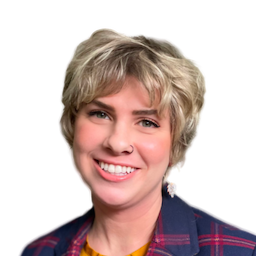 Richelle Peace is a joyful writer with a degree in Journalism. She loves writing web content, blogs, and social media posts. Whatever the topic, she's fascinated by learning and sharing.
Read more posts by Richelle Peace ›
Try AgencyAnalytics risk-free for 14 days. No credit card required.