A lesson that has become painfully clear in recent years is that we can't control everything. 
Whether it's COVID-19, inflation, interest rates, the trend to work from home, or territorial invasion, a myriad of unforeseeable factors have the power to change not only our personal lives but our businesses.
If you've ever sat across from the table from a business owner in crisis, you'll appreciate how profoundly their business performance can impact their personal lives. While few things are as exhilarating or rewarding as helping a thriving client, a failing one can be soul-destroying.
We live in a world where instant gratification is increasingly expected. The dopamine hit derived from the likes of social media has helped fuel the need for immediate results in every aspect of our lives. And this same sensation has extended to the way many agency owners approach their businesses.
And with so many digital agencies promising to grow a client's business (often backed up with increasingly unsustainable guarantees), it's no wonder a bias toward short-term thinking is so prevalent. 
While I'm not saying focusing on a client's leads, rankings, and traffic is not important–it absolutely is–I just challenge whether this strategy in isolation will ever lead to a sustainable long-term outcome.
These lessons, learned from many years of building unstoppable brands, can be applied at the agency level or for a client. The choice is yours. 
Lessons Learned
When I started my first business back in 1995, I embarked on a journey that ultimately shaped my current digital agency's purpose, Distl, and the way we provide services to our clients.
As a 24-year-old, my first years of running the business were some of the easiest I've experienced. We enjoyed rapid growth and expansion, which led me to a common obsession amongst business founders: growth.
And grow we did–for quite a few years until the market for our product (at the time, CD and DVD manufacturing) was decimated by iTunes and the emerging cloud storage trend. This left us with multiple offices, a large staff, and an unsustainable level of overhead. The subsequent years were some of my worst as I was forced to downsize, let good staff go, and try and turn things around.
It's possible not much could have been done to counteract the decline in that market. However, the decision to chase growth at all costs–growth with little regard to margins, cash flow, building cash reserves, and differentiation ultimately put the business at risk.
Fortunately, that business survived and still exists today, albeit in a leaner format. The best thing I have to say about that experience was that it led to Distl's purpose "to build Australia's most unstoppable brands" and our recipe to achieve it.
What Is an Unstoppable Brand?
An unstoppable brand is a thriving, purposeful entity built on the right foundations. It's resilient enough to weather any storm or challenge but is importantly built for long-term, sustainable growth.
In order to succeed in brand building, it's important to identify each client's unique selling proposition and develop a unique brand perspective that will appeal to their ideal customers. Our experience in developing our service model led us to realize that we deliver the best results when we take our clients through our holistic four-stage process.
While it may not be as simple and immediately attractive as the promise to just 'grow your business' for clients, it yields a far more effective and satisfying result over the long term. Something to grow into, not out of. The platform for a marathon rather than a sprint.
Unstoppable brands expect to:
See increasing margins

Deliver higher quality, more rewarding work

Outperform their competitors

Attract higher quality staff

Improve staff and client retention
The Four Pillars of an Unstoppable Brand
Although not every client is ready to tackle the four pillars immediately, our experience is that until they do, their business will be limited in what they can achieve. When the inevitable challenges come along, your client's business will not only be at risk but also not be positioned to capitalize fully on the opportunities available to them.
Wherein a typical marketing campaign might treat the marketing component in isolation, it will rarely take into account the way the full spectrum of a brand contributes to its success.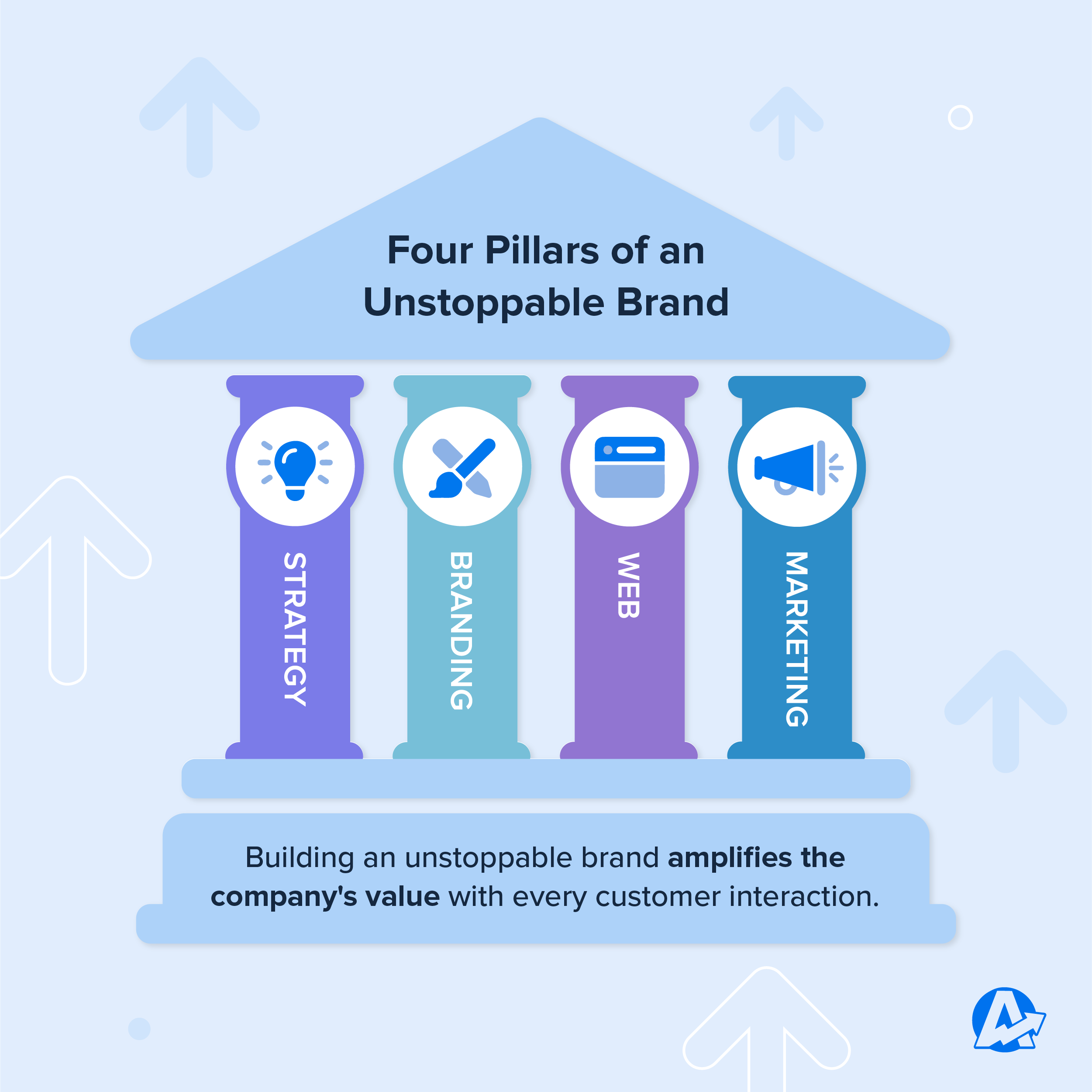 When we find the right client who gets this and is interested not just in short-term results but in aligning all their activities with a strategic, big-picture mindset–that's when the magic happens.
Time and time again, we've seen the performance of a marketing campaign (let's say a Facebook ad campaign) be exponentially improved when we go back to the start. This means understanding the audience, their motives, habits, and the client themselves (what are the unique qualities that make their clients come back for more). 
Armed with this information, we design a unique brand, both visually and written, that speaks directly in a way that resonates with the audience and accurately reflects the client.
We then build on that brand by crafting a website that communicates said brand using the latest technology and UX principles. 
With each of these elements working in harmony, we move to the marketing execution. Rather than the hamster wheel of daily leads, we're now working with a complete brand ecosystem that works together to elevate results and build a deeper, more resonant impact on the target audience.
The four steps we'll explore below reflect an overarching framework that, while not essential, should ideally be addressed in the following order.
1. Strategy
Just like you'd never build a house without a plan, the same should be said for marketing a client's business. I don't mean those dry, obsolete business plans that tend to gather dust on a shelf.
We've found one of the biggest challenges in building unstoppable brands is finding the right clients. Those that are ready to go deep. As the saying goes, hard things are hard to do. If that weren't the case, everyone would be doing them. 
That's why game-changing strategies don't just happen, they require a combination of three things:
A robust process.

An Insightful, experienced team.

A client willing to invest and commit to executing the strategy when complete.
An effective strategy is a succinct and insightful guide that you'll reference back to on a regular basis. It should intimately understand your business and the needs of your ideal customer. The areas of strategy that we typically develop for our successful clients are:
a) Brand Strategy
A brand strategy should identify and magnify the unique differentiators behind your greatest successes. It's unlikely to be a singular attribute but rather a matrix of things that, in combination, are hard to replicate. 
Things that come into play are brand personality, the way you communicate with your clients, and what differentiates your service from your competitors.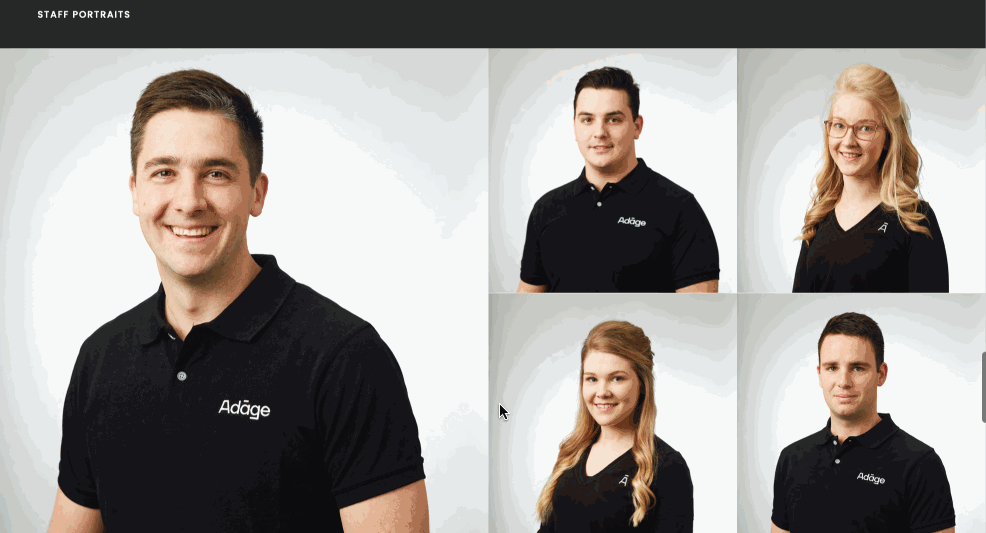 Example of a brand presentation for a client. (Image: Distl)
There are plenty of agencies offering their version of brand strategy and, indeed, all of the services we provide. This isn't where we differentiate ourselves. I believe our superpower is our ability to build a holistic framework of each of the services strategically in a way that delivers results where the sum is far greater than the parts.
A great example of how this approach has worked is for our long-term client, Adage Furniture. By digging deeper into what the client's end goal was, we were able to build a richer and more lucrative relationship for both parties. 
When they first approached us many years ago, it was to discuss SEO. Fortunately, the client appreciated the greater strategic opportunities available, and the conversation moved to develop their marketing and brand strategies from the ground up.
Ultimately, we created an entirely new visual and written brand, a new website, photography, livery, print–everything. The repositioning and clarification of their place in the market eventually led to a realignment of all their marketing executions (from SEO, PPC, content, etc.).
Having managed their marketing before and after the launch of the rebrand we witnessed an increase in leads of more than 55% and a reduction in cost per conversion of more than 25%.
This was clear evidence of the impact that a strategically aligned brand can have on marketing performance.
b) Digital Strategy
It's rare to come across a client whose business doesn't rely on the digital space at some level.
A digital strategy should include an objective analysis of all your digital channel opportunities and prioritize those most aligned with their goals. Included will be the rationale for how each channel should be used, why it will work, and an action plan, usually for a 12-month period.
Having seen many versions of digital strategies from other agencies, the thing that's struck me almost every time is their siloed approach to digital. 
While so much valuable information can be extracted from a digitally focussed analysis, we know that some of the factors that most influence digital marketing sit outside of this remit and must be considered in any truly effective long-term digital marketing strategy.
Whether it's learnings gathered from the brand strategy or a website UX review, the best digital marketing strategies must look beyond typical digital channels and include every aspect of the client's business.
c) Content/Social Media Strategy
With so many platforms for developing and distributing content (social media, blogs, web, video, images, etc.), it's important to develop a consistent tone of voice and be clear on how each channel and format should be used.
With recent developments in AI, particularly ChatGPT, the need for differentiated content and social media strategies have grown. With AI, that differentiation will most likely come from users who learn how to craft in-depth prompts to deliver better outputs.
With the infinite proliferation of not just vanilla but totally flavorless content, the only way to achieve cut through is to be clear on your brand voice and stay tightly anchored to it.
This means treating every possible client interaction, from auto-generated emails, phone messages, social media posts to PR releases, with the same respect and through the same lens.
The most authentic and unstoppable brands are not just strategically built but managed with discipline. A key aspect of that is a social media and content strategy.
2. Branding
The second pillar is to develop a differentiated brand, which is achieved through the process of branding. For this, you'll need a skilled branding specialist.
Branding is the practice of developing brand assets that can be used to positively influence how your client's audience thinks and feels about them and their business.
To be clear, a brand is not a logo. Rather, it's every touchpoint and representation of a business that a potential customer will encounter. Think about everything from email footers, signage, website copywriting, livery, brochures, flyers, stationery, and much more.
Example of a winery client's branding. (Image: Distl)
While all these things require a logo to achieve a clear, compelling, and consistent result, it starts with the building blocks: color palette, fonts, tagline, theming (the supporting visual elements that underpin your logo), a tone of voice guide, and more.
3. Web
The role a website plays in the success of a business is more significant than ever. No longer just a set-and-forget digital brochure that is updated every five years or so, those days are LONG gone. An effective client website must now be purposefully developed with clear objectives and, importantly, regularly iterated on. 
It should be a living, evolving platform that showcases their work, their knowledge, and insights and engages their users. In most cases, it's the strongest opportunity to communicate their brand positioning.
To build a truly unstoppable brand, your client's website should be built with world-class technology and the latest UX principles.
MNG's Website before Distl's rebranding. (Image: WebArchive.org) 
MNG's website after the rebranding. (Image: Distl) 
A poor web presence risks not only wasting an opportunity to win over a client's audience but also tarnishing its perception. Online visitors are savvier than ever and will often see failure to invest in your client's web presence as a sign of an untrustworthy business.
This is especially the case when working on your own agency's brand identity. After all, you can't position your agency as a master in digital marketing with a sub-standard website. 
4. Marketing
The remaining pillar to address is no less crucial than each of the other three. The great news when it comes to marketing is that a strategically built brand and engaging web presence will inevitably improve your ability to influence your target audience, leading to an improved conversion rate and marketing ROI.
And even better, the trend will continue leading to strong cost reductions year-on-year.
Suppose your client has already invested in a digital strategy. In that case, they'll be a step ahead as they'll already know which marketing channels will be best placed to deliver on their business objectives.
Whether it's SEO, Google Ads, or Paid Media you're ready to amplify all the hard work you've put into building a meaningful brand and web presence that moves and engages your client's target audience.
To keep our work focused on achieving our promise to build unstoppable brands, we follow a methodology called OKRs (Objectives, Key Results). This approach involves working with the client to agree on a mid-term big-picture goal (sometimes referred to as a Big Hairy Audacious Goal). 
Once this is defined, the OKR framework involves setting 3-5 quarterly objectives (think of them like focus themes) with a set of measurable 'Key Results' that must be finalized before moving on to the next quarter.
This approach means we build a road map based on the agreed destination with quarterly milestones showing regular progress taking us closer.
The benefit to longer-term clients is being able to look back on a series of strategic OKRs and see a logical series of completed OKRs – almost like a breadcrumb trail that shows real, tangible progress.
The Agency Benefits of Building Unstoppable Brands for Your Clients
Most agency owners are looking for trusting, long-term clients. One of the challenges for lead generation agencies is that achieving growth in results year-on-year gets harder as the years pass. This is particularly the case when they may have delivered strong results in the early years, but the client's strategy, branding, or web presence aren't developing at the same time.
When Distl made the shift to focusing on building unstoppable brands rather than a lead generation agency, one of the most welcome side effects we saw was a shift from short-term to long-term thinking from our clients.
It's certainly harder to find the right clients, and it takes a lot of up-front investment to educate them about what they can expect.
In many cases, clients who have worked with multiple digital agencies have either been burnt or developed a paradigm that is hard to break. They have been educated to think the only thing they should worry about is rankings, traffic, and leads.
These clients may initially engage us for a marketing service like SEO or Google Ads, believing it's all they need to achieve their goals. The process of education to help them understand this may not be enough to see them long into the future can be time-consuming, but we've seen it's usually a worthwhile investment.
The clients we've guided through all four pillars have mostly ended up investing heavily in a wider range of services, and because the model genuinely elevates the results, our job is much easier.
Repeatable Processes for Future Clients
We've learned that while every client has uniqueness there's a common set of requirements that rarely change.
Over almost 30 years, we've built out a set of briefing documents and exercises that we conduct with new clients to get us across their situation as quickly and efficiently as possible. The goal with any client is to eventually address each of the touch points I've outlined already (strategy, branding, web, and marketing), however, clients often start out with a specific service. 
Although you can't expect to go from 0 to 30 years of experience in a day, start out slowly by identifying the common challenges or issues that your clients face at different stages with your agency and create a process to support those. 
For example, if your client starts out with SEO, do they typically also struggle with PPC or Social Media? Or, perhaps, they need new and inventive ways to turn visitors into leads and leads into customers through Email, Remarketing, or SMS marketing campaigns.
Most commonly, these clients start out with SEO or Google Ads marketing services. But to build an unstoppable brand, you need strategic branding–and the client lacks that knowledge. In cases like these, we've identified the touchpoints and developed a series of automated emails that address the need to build an unstoppable brand. This often leads them to hire our agency for additional services.
To accomplish this for your own agency, you can start with something as simple as a Miro board and add in the touchpoints that make sense to move a client from Point A, through Point B, and to the end destination of Point C.
It often feels akin to a jigsaw puzzle where the goal is to complete every piece.
Offer a Free SEO Site Checkup or Google Ads Optimization for a single campaign

Send out helpful tips and tricks that show off your expertise in services they aren't yet using

Invite clients to training webinars that focus on channels where they need help

Create and distribute eBooks on specific topics that are relevant to the client

Include reports on the performance of different marketing channels, even if your agency doesn't necessarily manage them
Built To Last
Starting a new business is a relatively easy thing to do, but as the statistics tell us, those able to sustain it for the long term are extremely rare.
There are many reasons for this, but high on the list is taking a short-term approach and failing to recognize the bigger picture.
Your agency's clients may be good people. They may even be strong businesspeople, but no one will be as well-equipped to guide them toward a forward-thinking strategic approach that creates sustainable results as their agency partner.
I believe it's on us as agency owners to understand our clients and their audience deeply and to educate them on the need to build and execute a strategy that sustainably propels them into a successful future.
Keep your clients up to speed with visual storytelling in your client reports. Improve your client relationships with easy-to-understand results. Try AgencyAnalytics free for 14 days.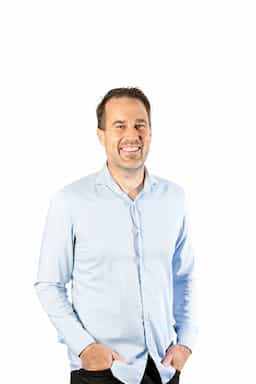 ​​David Metcalf is the Founder and Managing Director of Distl, a full-service agency based in Perth, Australia. He leads a team of 30+ locals focussed on building unstoppable brands through a recipe of strategy, branding, web, and marketing developed over almost 30 years.
Try AgencyAnalytics risk-free for 14 days. No credit card required.