Are you managing multiple Business Profile locations (formerly Google My Business) for a single client? With AgencyAnalytics, you can quickly and easily connect up to 50 of your client's Google Business Profile pages in a single campaign.
Agencies need to track multiple Google Business Profile locations to get a comprehensive view of their client's local SEO performance for multiple locations. By having access to data from all of their client's business profiles, agencies gain valuable insights into the effectiveness of each location and make informed decisions about how best to optimize each profile for its particular market.
Additionally, tracking multiple profiles allows agencies to compare performance across different markets and analyze trends such as customer reviews or website visits. Ultimately, this data helps improve local search rankings and increase online visibility.
Connect Multiple Google Business Profile Locations For Each Client
You asked for it, and it's here... Connect multiple Google Business Profile pages in each campaign! This is HUGE for agencies that provide SEO for customers with multiple locations or franchises.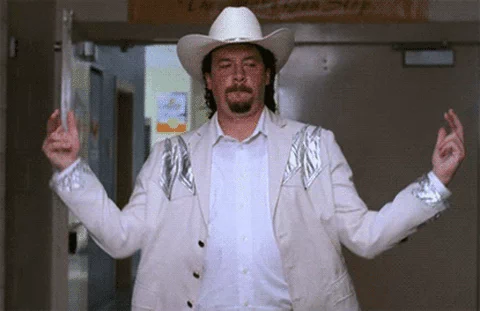 We've offered basic support for tracking keywords from multiple locations for quite some time. And that worked great for tracking the organic Google SERPs of your customer's main website and comparing how that site ranks in, say, Detroit versus Los Angeles.

But Google Local doesn't utilize website URLs. It focuses on GBP pages. In fact, for us to report Google Local SERPs accurately, we require customers to connect a Google My Business page to the rankings module. This allows our SERP tracker to scan the SERP results for the GBP in addition to the website URL.
But this presented a dilemma in cases where a customer had one main website, but had a different GBP for each different geographic location. The customer would be forced to connect just one GBP out of the 3, 5, 10, or more GBPs that they actually maintain for the brand. And we'd be looking for that one single GBP in every geographic location that we were tracking for Google. This would result in Local rankings being accurate for only one location, and the other locations reporting all keywords as "Not Found".
Now you can connect up to 50 of your client's Google Business Profile locations in a single campaign, so your monthly SEO reports can accurately show the ranking for every business location on Google Maps.
This update has been a long time coming, and it has actually required some extra behind-the-scenes work to make happen. Thanks for everyone's patience while our team worked on this, we're thrilled to finally release it!
Connecting Multiple Google Business Profile Pages Is Easy!
No more cutting and pasting data from different locations into a spreadsheet. Connecting multiple Google Business Profile pages is easy with AgencyAnalytics. Once this simple process has been completed, you'll receive a detailed SEO report that shows geographical rankings for every Google business profile connected to your campaign.
How to Track Multiple GBP Locations In a Single Dashboard
Step 1: Sign up for the AgencyAnalytics 14-day free trial.
Step 2: Click the settings slider at the top right of your Google Business Profile dashboard, then choose the pencil icon to edit your integration.
Step 3: Choose the exact Google Business Profile pages to connect. When you're done, just click save.
Creating Reports for Multiple Google Business Profile Locations
Once set up, you'll be able to show combined data from all of your chosen Google Business Profile pages throughout our platform. This includes data on searches, directions, calls, views, and ratings, plus all of the reviews that your clients have received across your chosen date range.
Just note that you'll need to be managing all business locations from within one Google account for them to be combined.
Need to quickly filter for one specific Google Business Profile page?
Easy!
On your Google Business Profile dashboard, just click the settings slider at the top right. Choose one specific location, or select "All Locations".
You can also toggle report and dashboard widgets to show data from one specific Google Business Profile page, or for all pages combined. Simply use the report widget settings or custom dashboard widget settings to do so.
Don't forget that you can also connect multiple different Google Business Profile pages in our rankings dashboard, for organic rank tracking purposes (see here for instructions).
Multiple Locations Example
Let's say that an agency customer is tracking rankings for a regional restaurant chain, with 30 separate locations across the Southwestern United States. The restaurant chain has one website. But per Google's best practices, they have a separate Google My Business page for each of those 30 individual locations. This means you end up with multile Google Business Profile locations using the same name.
This agency customer then tracks 20 keywords in an AgencyAnalytics dashboard campaign for their restaurant chain client.
So far, so good. We're able to accurately show them how the main website URL would rank for a keyword like "best hipster restaurant for angsty vegans" for Google Organic from each of those 30 separate geographic locations.
But as I said above, Google Local doesn't even show the website URL for most searches anymore. As a result, we required that customers connected a Google My Business page to the dashboard campaign, so that we could scan the SERPs for that GBP in addition to looking for the URL.
Since we only allowed one GBP to be connected per campaign, the agency customer in this example had to just choose one of those 30 GBPs to connect.
Let's say that they choose to connect the GBP for the restaurant located in North San Diego.
For the keyword/location pairings targeted to San Diego, that was perfect, and we were able to report Google Local accurately.
But since this customer is also tracking keyword/location pairings for Los Angeles, San Francisco, Oakland, and more, we'd also be scanning the Google Local results in those locations for the GBP targeted to North San Diego.
And as a result, for the other 29 locations, we would report every keyword as "Not Found" for Google Local.
---
The only solution in situations like that example was to create a separate dashboard campaign for each and every one of those individual GBP locations. And with our pricing being based, in part, on campaign usage, this became costly for many customers quickly.
Those dark days are now over!
Moving forward, you can connect an unlimited number of GBP pages to the Rankings module of each dashboard campaign in your account.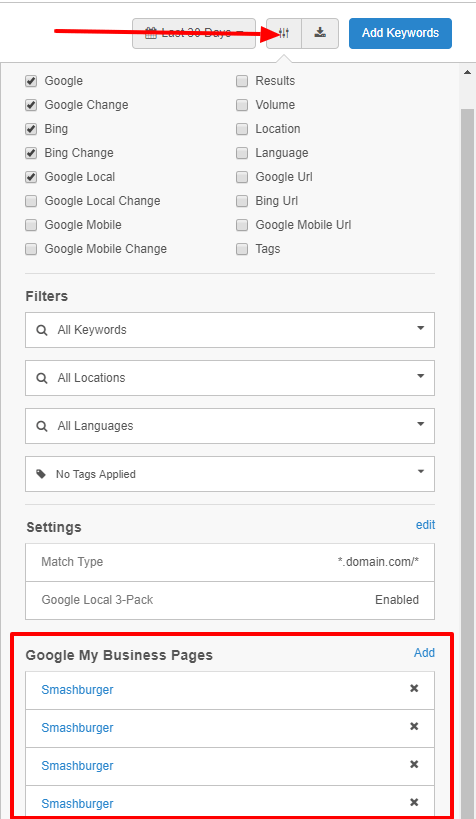 If you've previously created multiple campaigns to handle your customers with multiple GBP pages, you can now use our export feature to export the rankings from those extra campaigns, then import and consolidate those rankings into a single campaign.
Check out our Knowledgebase article with instructions for adding multiple GBPs here.
We hope that this update helps to make using AgencyAnalytics even more of a "no brainer" for all of your client reporting and agency management tasks!
We've got even more updates planned very soon, so stay tuned for more announcements! Questions or feedback? Reach out to our friendly support team.
Matt brings over a decade of experience managing customer-facing teams, projects, and research across a wide range of industries. He now leads the customer support and customer success departments within AgencyAnalytics.
Read more posts by Matthew Davis ›
Try AgencyAnalytics risk-free for 14 days. No credit card required.