Online reputation management dashboard. Every review. Every client. One unified dashboard.
Customer Sentiment
Monitor overall customer sentiment (positive, neutral & negative) by date.
Ratings Over Time
Track average ratings and graph historical ratings
Individual Reviews
Monitor new reviews right from the dashboard
Holistic Reporting
Standalone Birdeye reports + cross-channel reports with all of your marketing channels
Track Positive, Neutral & Negative Reviews
Keep Tabs on Customer Sentiment
Visually chart customer sentiment about your client's brand as it changes over time. Track positive, neutral and negative reviews by day, week or month. Show customers exactly how their audience felt about their brand at any specific point in time.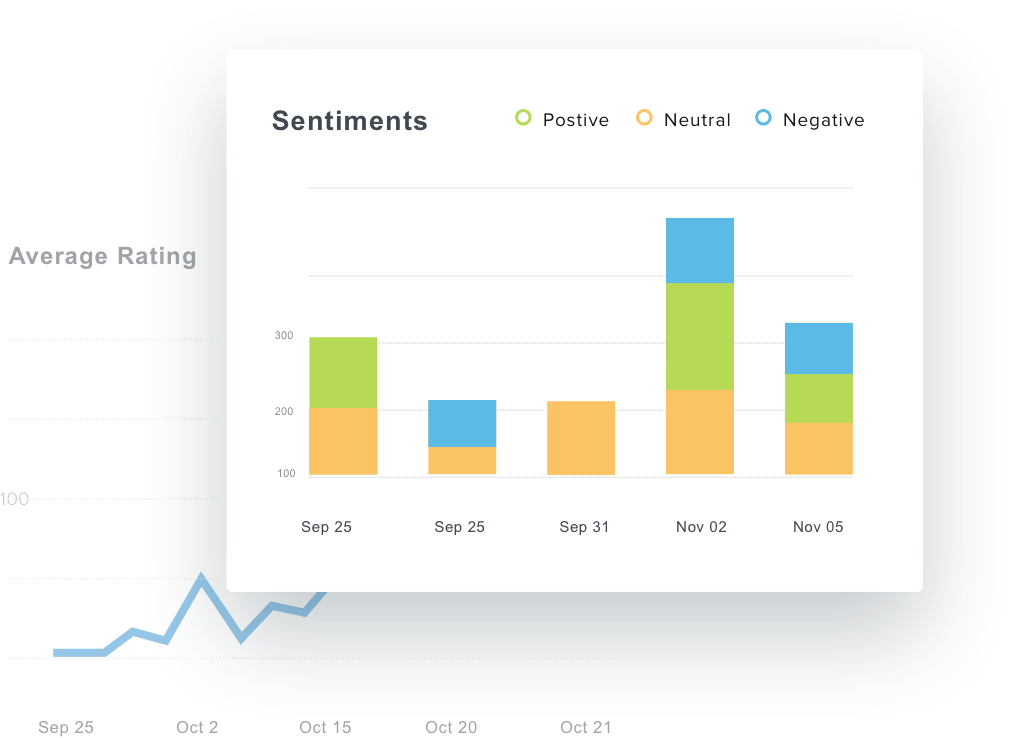 Explore All Available Birdeye Metrics
See all the metrics you can easily add to your client reports and marketing dashboards
Average Rating

Date

Rating

Reviews
Timely Review Responses show that your Brand Cares
With the proliferation of review sites, monitoring both positive and negative reviews in a timely manner can be a full time job. Our Birdeye reporting dashboard makes it easy to manage and react to reviews at scale. See every review, from every site, and react in seconds.
Visual Ratings & Analysis
Track aggregate star rating over time. Perhaps a client's rating was a 4.2, but dipped to a 3.6 on a specific date last month? Now you can review events from that date and look at the specific users whose ratings caused the dip. Include the ratings over time in an automated report, or in the live customer dashboard.
Hundreds of Supported Reviews Sites
Monitor Reviews By Source
Where are the majority of your client's ratings and reviews coming from? Whether it's Facebook, Google, Yelp, or an obscure industry site, our dashboards and review reports break down the top sites that are driving reviews, letting you focus on generating additional positive ratings on those sites.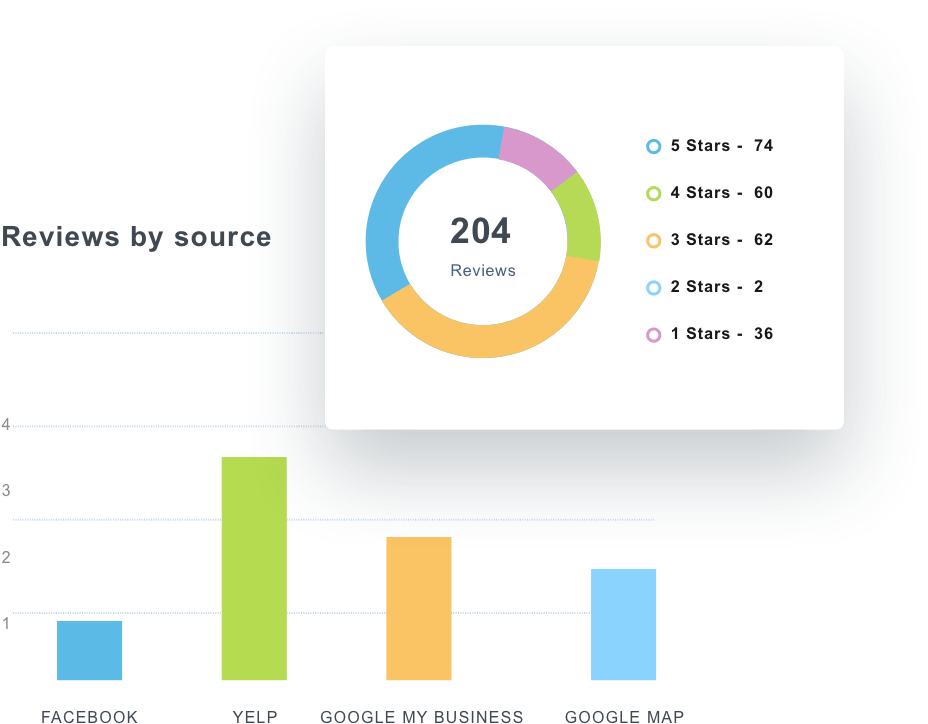 Show Clients Exactly Where They're Listed
Clients can see all of their online listings in our dashboards and reports. Track each listing's location and URL, and click through to view it live. We make it easy to report on every client listing, alongside all of your other local SEO and marketing work.
Holistic, All-In-One Marketing Reports
Reporting for Every Marketing Channel
Create standalone Birdeye reports. Or add Birdeye alongside the rest of your marketing channels in an all-in-one, cross-channel marketing report. Either option can be set up with just a few clicks, and scheduled to be sent automatically to free up your valuable time.
Connect the Birdeye integration in seconds to streamline your client reporting.
Everything Your Agency Needs
Try AgencyAnalytics risk-free for 14 days. No credit card required.