As a digital marketing agency owner or leader, you know the challenges of standing out in a crowded marketplace–and crafting a strong agency value proposition is crucial to differentiate your agency and make potential clients sit up and take notice.
But creating a value proposition isn't easy, especially when digital marketing has become a catch-all service that clients struggle to fully understand. With blurred lines between branding, sales, communications, and customer service, it can be tough to know how to articulate the unique value your agency brings to the table.
You need to pinpoint that thing where your potential clients go, "Wow, I need to work with these guys!" 
By the end of this guide, you'll have the tools and knowledge to help grow and scale your agency by differentiating yourself from the rest.
Want to generate more leads and convert them into profitable clients? Let's dive in!
What Is a Value Proposition for Agencies?
A value proposition is a short statement that explains the benefits customers get from buying a company's products or services. It is, essentially, the value the agency vows to deliver, incentivizing prospects to convert into customers. It's your promise to them. 
Value propositions vary greatly in style and format; of course, you want yours to be unique, persuasive, on-brand, and compelling to your target audience. Ideally, it goes a step further and demonstrates how your agency fills a specific gap or fulfills a precise need that other agencies do not. 
What a Value Proposition Is Not
Value propositions are incredibly useful tools, but they are often conflated with other–also useful–marketing strategy phrases and statements. It's important to distinguish your agency value proposition from other related documents and strategic work to create and leverage it properly, taking advantage of it to its fullest extent. 
That's not to say that these other items aren't important (on the contrary, they very much are!), but there's a disadvantage to blurring the lines between them.
A value proposition is…
… Not a Mission Statement. That's a larger document that communicates your agency's principles and how your agency works towards its goals. A mission statement is most widely used internally to focus your team on the objectives, vision, values, and purpose of your organization.
… Not a Slogan. That's an advertising-like catchphrase that conveys the overarching theme of a marketing campaign or a specific product line. Slogans are likely to change frequently as marketing campaigns launch and close.
… Not a Tagline. That's a short, memorable motto or phrase that conveys the heart of your overall brand. Taglines are really part of branding rather than marketing efforts. A tagline is more about evoking a feeling than it is about promising specific value. 
Agency Tip: Still confused about the difference? Think of it this way: while slogans, elevator pitches, and their ilk put your agency and your services on display in a salesy manner, an agency value proposition comes at it from the perspective of the customer. It's not what you sell–it's what they get. 
Why Does Your Marketing Agency Need a Value Proposition?
If you're a busy agency owner or executive, you may be thinking, "We have a marketing strategy. We already have company values and a slogan. We don't have time to spend on more of this high-level positioning stuff. I just need my salespeople to go out and sell."
We hear you. But hear us out. You–and your staff–could really use a value proposition. First and foremost, you're a marketing agency. If you can't market yourself effectively, how should potential clients trust you to market their businesses? 
That alone is reason enough to craft a brilliant value proposition that succinctly persuades your audience to choose you over your competitors. Done right, your agency value proposition will be a key factor in differentiating from others and ultimately, getting more clients. 
Second, an exceptional value proposition is also an important tool for your agency staff to keep them on track, selling, upselling, and cross-selling in a targeted manner. With ultimate clarity on what your agency does best and what you promise to deliver, your sales reps and account managers are better equipped to separate the wheat from the chaff and close the deals that are best suited to your agency's wheelhouse. 
Overall, your agency will be more efficient and see more leads convert when your positioning resonates with your target audience.
5 Steps To Create Your Marketing Agency Value Proposition
Before you put pen to paper (or fingers to keyboard), make sure you've done some of the strategic thinking up front. It'll help pave the way for an effective drafting process.
1. Know Thy Customers
Figure out what makes your customers tick. What are their challenges and their goals? What are they looking for? Where do they struggle? What do other solutions on the market leave them wanting more? Consolidate this information into customer profiles that represent your target buyers.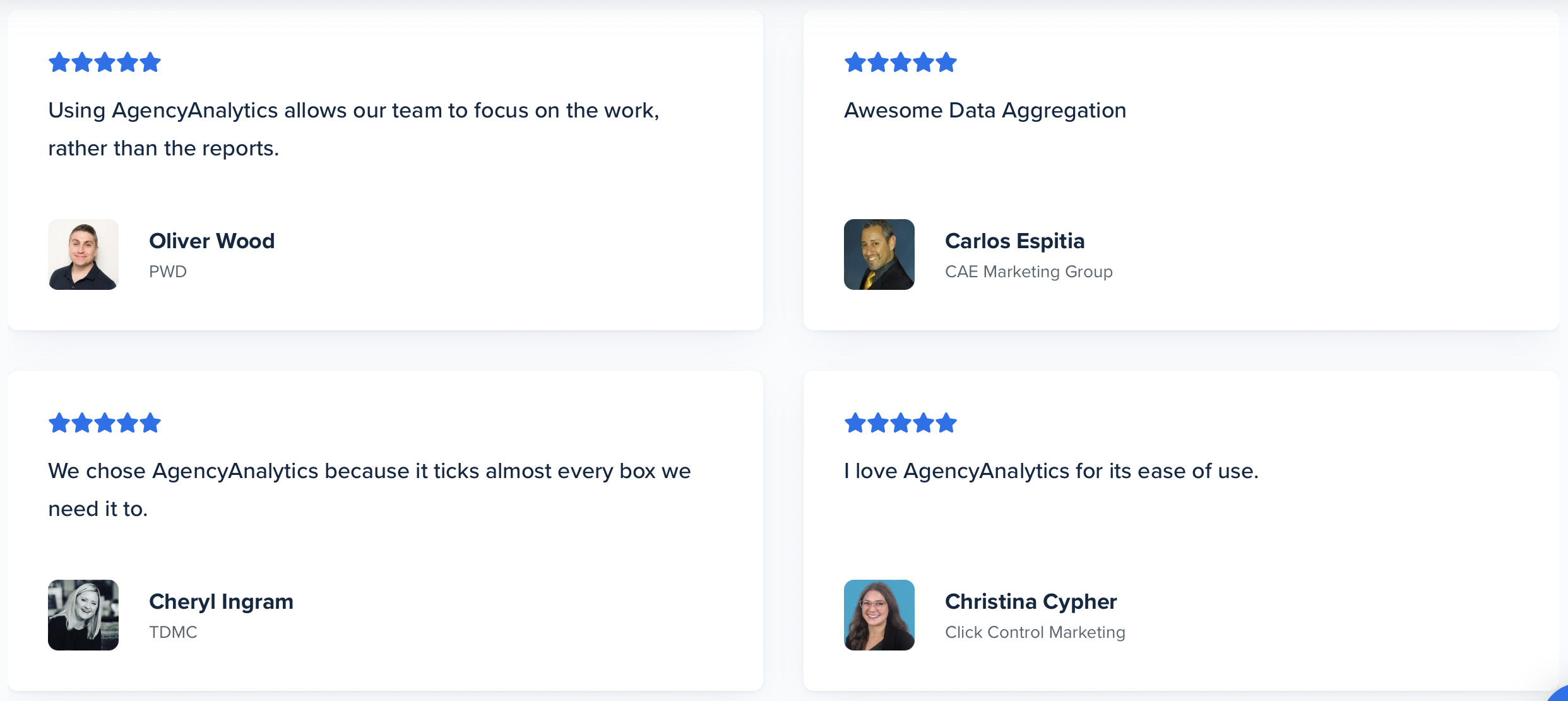 Agency Tip: Ask for reviews to get direct feedback from your clients. Not only will you see what's working the best, but having your agency value proposition supported by testimonials on your website will land you more clients. 
2. Know Thyself
Dig deep and get down to the fine details of what you can offer that nobody else can. This may take some iterating–and that's OK. At this stage, you just want to come away with a list of the various services, products, or a specific niche where you excel so that you'll be able to overdeliver on value.
We exclusively serve home improvement contractors. We know what works, and we know what doesn't work. Our clients love that.

Jason Call, Owner at Handyman Marketing Pros
3. Ruthlessly Rank Your Offerings
Now it's time to take that jumble of services and other offerings and rank them based on exclusivity, appeal, and, of course, accuracy. Claims that aren't really true or that would be hard for you to fulfill need to get thrown out. Claims that are more hype and hot air rather than actual value go at the bottom of the list. Once you've narrowed in on your highest-ranked claims, gather supporting evidence to back them up. (Need help with your data storytelling? We got you.)
4. Figure Out if the Puzzle Pieces Fit
At this stage, you've got a detailed customer profile and a thorough, ranked list of unique value claims. The elephant in the room is: do they go together? Does your offer match the needs of your target audience? If not, it's time to refine your work.
Focus on a niche. You cannot be the best marketer for lawyers, landscapers, and life coaches.

Jason Call, Owner at Handyman Marketing Pros
5. Draft up Your Value Proposition
You're ready to write your value proposition when your offering is in sync with your target buyers. (Hint: use the template in the next section!)
Don't worry if it takes multiple drafts to get it right. Rome wasn't built in a day, so neither should one of the primary documents that will drive the growth of your marketing agency. 
Basic Formula for a Winning Agency Value Proposition
A compelling value proposition should address the key concerns and needs of your target audience. Here are some essential components to consider when crafting your agency's value proposition:
Target audience: Clearly identify your ideal client profile, such as small businesses, startups, or enterprises in a specific industry. This helps to focus your message and make it more relevant to the audience you want to attract.

Unique selling points (USPs): Highlight the features or services that set your agency apart from competitors. It could be your expertise in a specific niche, your agency's structure, cutting-edge tools, innovative strategies, or a unique approach to problem-solving.

Benefits: Explain the tangible benefits your clients can expect by working with your agency, such as increased sales, better brand recognition, or improved customer engagement. Focus on results and the value you bring to the table.

Credibility: Showcase your agency's track record, client testimonials, or case studies to build trust and credibility. This helps to reassure potential clients that you can deliver on your promises.

Emotional appeal: Connect with your audience on an emotional level by addressing their pain points, aspirations, or challenges. Your value proposition should make them feel understood and confident that your agency is the right choice to help them achieve their goals.
While you can certainly add your creative flair to your agency value proposition, sometimes it helps to use a template to write the first draft. 
Consider the following agency proposition template:
We are [AGENCY NAME]. We help [TARGET AUDIENCE] that [IDENTIFY THEIR PROBLEM, NEED, OR STRUGGLE] succeed by [OUTCOMES/RESULTS OF YOUR SOLUTION]. 
Unlike [YOUR COMPETITORS' OFFERINGS/METHODS], our solution achieves [TOP BENEFIT/MAIN REASON YOU ARE THE BETTER CHOICE] by [UNIQUE SELLING POINTS], as demonstrated by [TESTIMONIALS, DATA, OR OTHER PROOF]. 
Example 1: B2C Online Store Marketing
We are Facelyft. We help small to midsize B2C companies with below average web traffic and low online sales succeed by driving more qualified, unique visitors to their sites who are most likely to make a purchase. Unlike SEO companies that will help your company be found in generic organic search, our proven "products first" method improves online sales within the first month–as 350+ happy clients can attest. 
Example 2: Local Services Marketing
We are Smythe & Co. We help services firms stand out from their local competitors. Unlike other marketing agencies that focus on social media and blogging, our data-driven approach demonstrates what your target clientele are looking for and what's worth your time and marketing investment. You'll stop spinning your wheels reviewing blog content and start receiving better quality inbound leads with far less effort. We support these claims with multiple case studies that show how we have helped local businesses reduce marketing efforts to less than an hour per week while driving 40% more leads than before.
Once you're done drafting, review your agency value proposition and ask yourself the following questions: 
Does your value proposition prove your worth?

Is the promised value specific or vague?

Is your value proposition brief, clear, and readable?

Does it address high-priority problems or the needs of your target audience?

Is the message clear about what your solutions will enable your customers to do or achieve?

Is it clear how you are different from others in your space?

Can you back up your claims with facts or evidence?
A value proposition itself typically doesn't include a call to action (CTA). Its primary purpose is to concisely communicate the unique benefits and advantages your business offers compared to your competitors. It should focus on answering the question, "Why should customers choose us?"
However, when you present your value proposition in marketing materials or on your website, it's a good idea to pair it with a strong call to action. The CTA encourages potential clients to take the next step, whether that's contacting you, signing up for a newsletter, or requesting a demo. 
The value proposition grabs their attention and highlights your unique selling points, while the CTA provides clear guidance on what to do next, creating a powerful combination to drive engagement and conversions.
An Indispensable Tool: The Digital Marketing Agency's Value Proposition
We hope this short and sweet guide has not only convinced you of the merits of the value proposition but also empowered you to go write one. With our easy-to-use template and your Q&A checklist, you really can't go wrong. 
We think your agency sales rep and account managers will thank you for equipping them with a succinct, bold, thoughtful, and accurate pitch that puts the customers' priorities front and center. 
The best way to stand out from the crowd is to stop screaming into the void about what you do and start selling prospects on the promise of what they'll get. 
It's a subtle difference–in fact, it's often the same ideas just rephrased or re-ordered–but in this digestible, focused format, your audience quickly understands the reasons to choose your agency over others.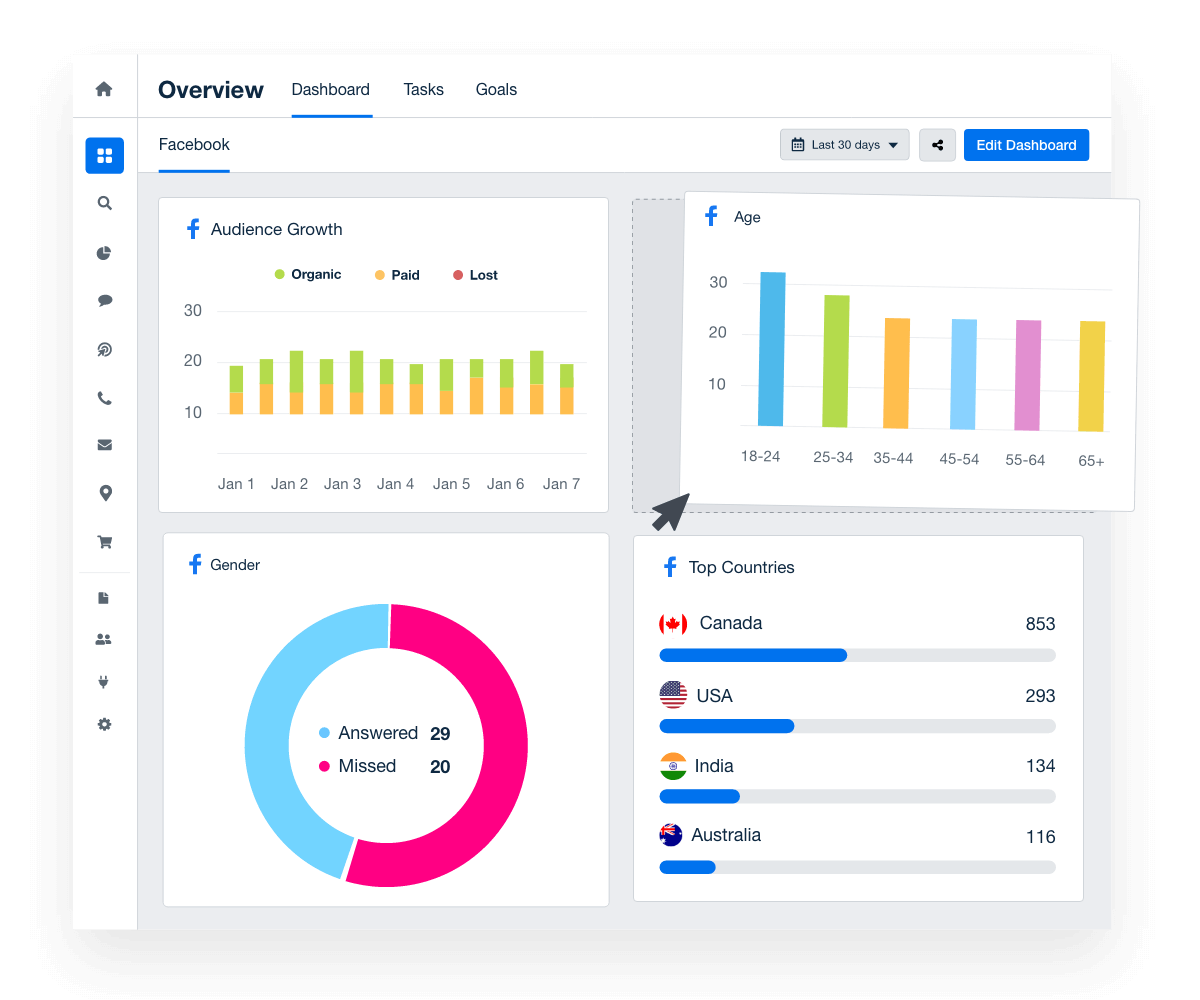 Showcase all of the impressive digital marketing analytics in beautiful white-labeled reports your clients will love. Stand out from the crowd and put your brand behind your clients' success. Try AgencyAnalytics free for 14 days!
Elyse Gagné develops branding and content strategies that unite businesses with their customers. A podcast junkie, you'll find her learning about the latest technologies and brand storytelling techniques while she gardens or hikes.
Try AgencyAnalytics risk-free for 14 days. No credit card required.