Two years ago, the world went remote. Now, many marketing agencies are choosing to stay that way, or at least opting for a hybrid model. Some by choice, some by necessity to keep talent: global work habits have undeniably shifted, and employees expect more flexibility and options when it comes to working from home. 
After six months of working from home full-time, 1 in 2 U.S workers said they wouldn't return to a job that doesn't offer remote work as an option (OwlLabs) 

72% of workers want to continue with a hybrid model working from home at least 2 days a week (PwC) 

32% want to work from home permanently (PwC) 
Agencies in particular struggle to find talent in many local markets, forcing them to hire employees in another city or country. According to a Hive desk survey interviewing 40 digital marketing agencies:
1 in 5 agencies have gone 100% virtual

> 80% of agencies agree that using remote employees improves productivity

Every digital marketing agency we surveyed experienced significant savings on office-related costs when using remote employees
As it turns out, working from home offers a lot of benefits to agencies, but for agencies to run a tight ship, they need to adapt their strategy to remote work specifically.
Read More: Overcoming Top Barriers To Agency Growth | 2023 Benchmarks Report
Luckily, there are marketing platforms that help agencies embrace a more flexible work environment. A recent PwC study found that the priority investment to support hybrid working is in remote work tools for virtual collaboration: 
Marketing agencies must quickly adapt and find the right team management tools. Not only to increase output, but to scale–whether they've opted for a hybrid work-from-home model, or gone fully remote. 
Initial Consideration: Which Marketing Platforms Help Agencies Adapt to Changes in Work Habits?
For marketing agencies, collaboration and communication are an integral part of their success. Agencies need to have effective communication among their team, but also with current and potential clients. Now they have to ensure it goes smoothly even when their teams are not all in the same room. 
The right marketing platforms to scale an agency should improve upon: 
Agency performance

Marketing team productivity 

Quality of work
The same tools your agency used 2 years ago may not work anymore. Since global work habits have changed, marketing agency execs need tools that adapt to the need for:
Asynchronous work

Having backups (in case someone gets sick)

Clear communication without the need for physical meetings
1. Use Asynchronous Work As a Competitive Advantage
Working asynchronously poses its obvious challenges: you might have to wait hours before you get an answer from your team, creating disjointed communication that could cause delays or misunderstandings. 
Alternatively, it can create a more healthy workflow with flexible deadlines, an independent rockstar marketing team that you can rely on, and an agency that runs longer hours than the classic 9-to-5 (more like 9-to-7!)  because people work different hours. 
Asynchronous work is a consequence of having a team that works remotely from around the world. It opens up the possibility of having an agency that runs smoothly 24/5 and expanding its clientele worldwide. 
Working at different hours means your graphics designer in India is preparing graphics for a top client while your content team is asleep, and waking up to everything being done already. Projects are constantly rolling without being cut off at the same time each day – or worse, overworking your team to try and meet deadlines. 
Has someone on your team done their 8-hours share that day but needs to do one last email test? Another person on their team can take over. 
2. Hybrid Communications: An Integral Part of the Marketing Tools Themselves
Communication is more than just a Slack channel. It should be embedded within the very tools your marketing team uses. And what is the most important marketing tool for your agency? One that explains what is going on in every campaign? Marketing dashboards. 
A marketing dashboard that pulls in real-time data on all your agency clients. Preferably, with multiple logins, for your team members, and also your clients.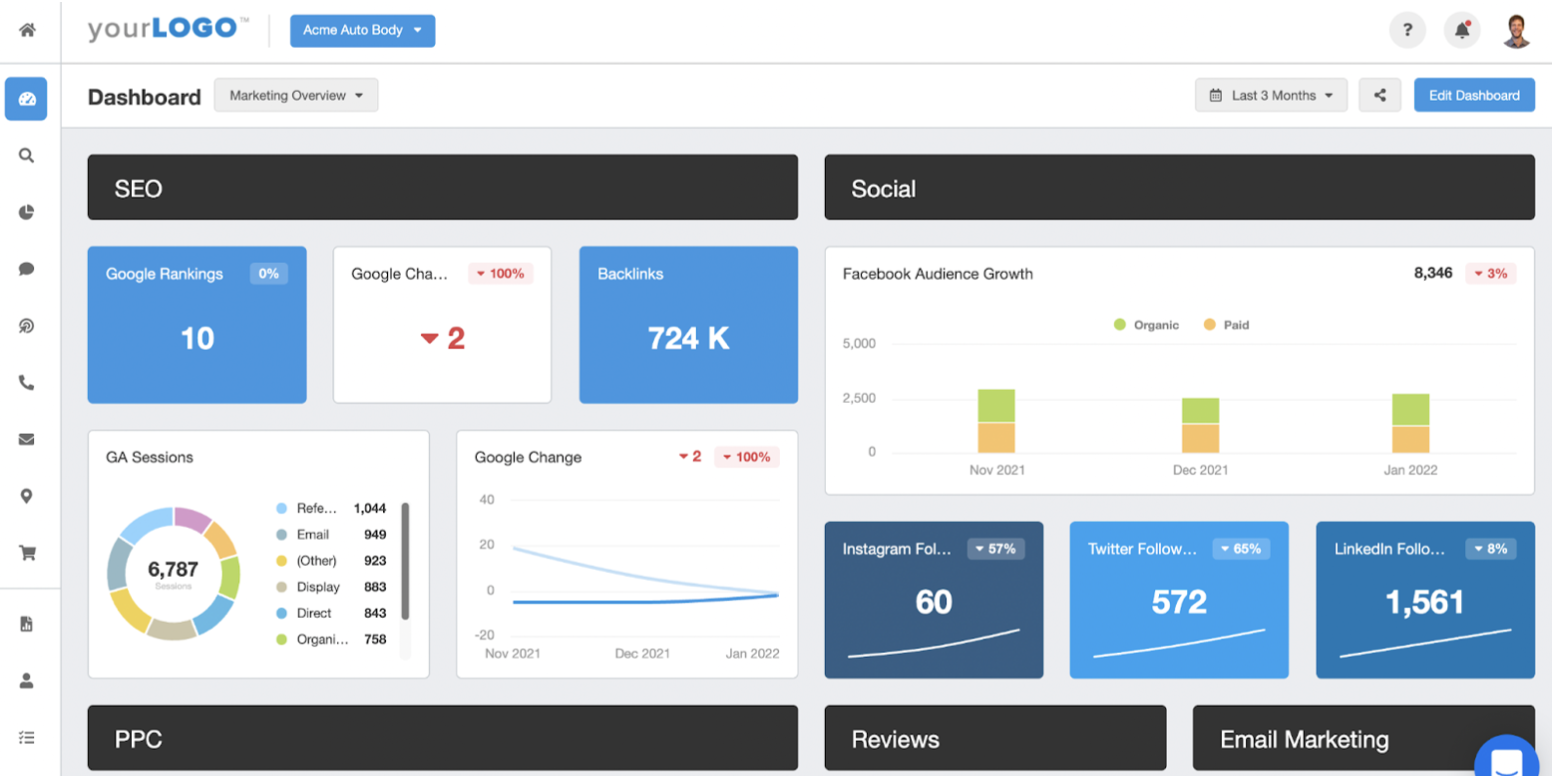 Do clients in your timezone need an update? Need to know what to tweak on PPC? Need to get a report ready for a client? Everyone on your team has access to all the essential information in a way that is easy to understand. 
Multiple logins allow you to manage your entire agency with 4 key things: 
It so happens that client communication is one of the most important aspects of running a successful marketing agency. This is why your client reporting needs to be honed in on. Clients need to know that you're delivering. AgencyAnalytics' automated reporting software eliminates the need to prepare client reports manually and get them sent out automatically on the desired schedule. 
Use a marketing dashboard that also integrates messaging tools like Intercom and Zendesk so you can easily engage with clients and create a seamless agency experience. One where clients can check in on their stats, and ping you within the platform directly. Less phone chatter? Check. Less time spent explaining things? Double-check.
How will this save your agency time? 
Fewer phone calls to clients

Less disruptive Slack messages

Shorter emails

Fewer (or shorter) Zoom meetings
3. Take Advantage of the Cost-Saving Benefits of Remote Work and Put Your Money to Good Use
If your agency has gone fully remote, right away you're saving thousands of dollars every month on just the rent, utilities, building maintenance, cleaning, provisions, equipment, and furniture. Even partially-remote workplaces can have smaller offices, and less overhead. 
What would you do to put that money to good use? For one, you could invest more into your agency's growth budget to get bigger returns. You might want to: 
Put some $$ to advertise your agency and get more clients

Hire more talent to grow your business
How much are we talking about? According to Global Workplace Analytics, employers can save USD$11,000 per year, per employee. Now that's a lot of paid ads that could go into your own promotion!  
You could also invest in your marketing team and do more training sessions, certification courses, and team-building activities that improve your agency's productivity and overall workplace happiness. 
Remote work also allows your agency to hire contractors for temporary projects. Or even hire backups in case some members of your marketing team get sick and you've got tight deadlines. 
It's also a great way to vet potential employees before taking them on for a more permanent position within your agency, and gives you access to a wider talent pool – not one that is geographically bound. As you know, good talent isn't easy to come by. 
Agency owner David Vinci agrees: "Having a team that is culturally and geographically diverse allows us to better understand the needs of a larger customer base outside of our immediate area" (Hive).
Why are agencies seeing an increase in productivity by working from home? Apart from saving time on the commute, Nathan Barber of Digital Advertising Works believes that when his employees can control their work environment and are happier with their surroundings, they are more productive (Hive).
Want More Agency Leadership Tips, Delivered to Your Inbox?
Subscribe to the AgencyAnalytics Newsletter!
TL;DR: Increase the Quality of Your Agency's Output by Spending More Time on Billable Tasks 
The pandemic has changed the way we work–probably for the better and for good. Embrace the suit-on-top-pajamas-on-the-bottom attire at least part-time, and your marketing team will love you for it. With a hybrid work model becoming the new norm, the right marketing platforms need to take into account changes in work habits. 
Less pants + less office politics = More happiness. 
Increasing your agency's profit isn't about landing more clients – it's about using marketing tools and cloud solutions to get rid of burdensome manual tasks and team inefficiencies that save your agency time and money. Automate the tedious tasks your team spends hours repeating each month. Start with an all-in-one marketing dashboard your whole team will want to get on board with. You can start a 14-day free trial here. 
Ps: AgencyAnalytics has been a 100% remote company since before it was cool. If you know someone talented who works in marketing, tech, or customer service and is looking to pivot to remote work, we're hiring.
Written by
Melody Sinclair-Brooks
Melody Sinclair-Brooks brings nearly a decade of experience in marketing in the tech industry. Specializing in B2B messaging for startups and SaaS, she crafts campaigns that cut through the noise, leveraging customer insights and multichannel strategies for tangible growth.
Read more posts by Melody Sinclair-Brooks ›
Try AgencyAnalytics risk-free for 14 days. No credit card required.