As the saying goes, the sky is the limit.
Andy Hill, Founder of the UK-based marketing agency Distribute Digital, spent most of his career in commercial-based roles. Coupled with this dynamic professional experience, his passion for delivering growth through digital led him to create a process-driven agency that has steadily grown over the last three years.
Hill's career spanned 17 years at a UK-based automotive firm, Autotrader, in corporate roles such as a Business Development Director.
Following this and a stint at Zoopla, Hill took on a position as the Managing Director at MNA Digital, a UK-based regional newspaper, which was a pivotal moment in his career.
"While at MNA Digital, we set up digitally-based solutions and diversified our product offering at the time. As a result, we essentially created an agency division that offered paid search, SEO, and website design services," Hill recalls.
Inspired by first-hand insight into building an agency from the ground up, Hill took the leap and started Distribute Digital–a process-driven, fully-remote marketing agency.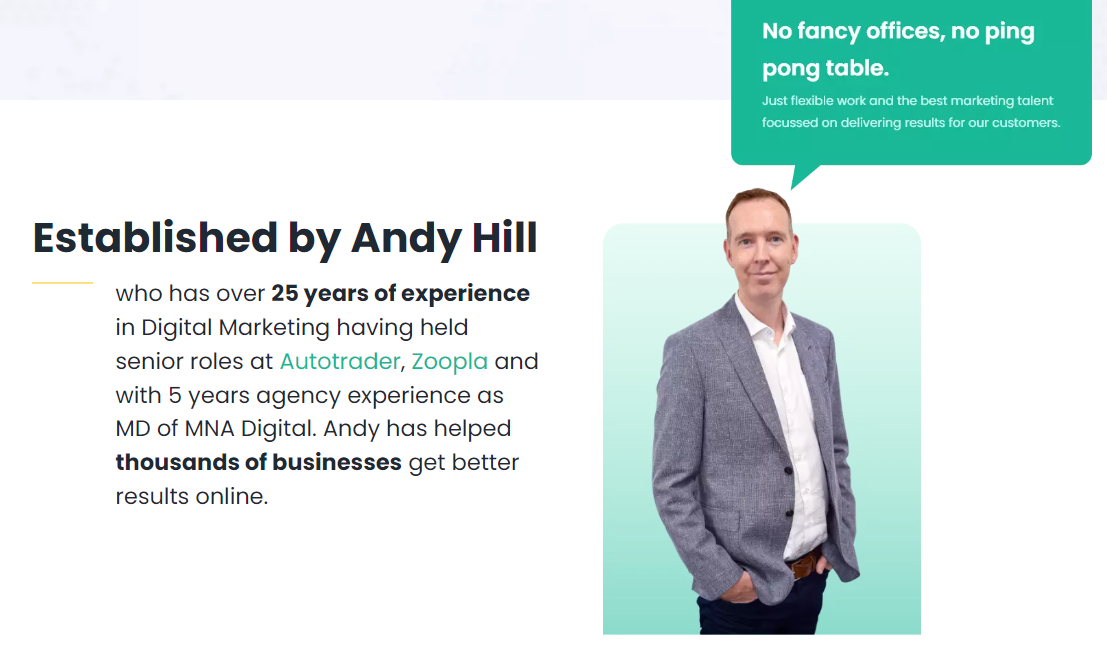 Like many agency founders, Hill understood the need for creativity, a customer-centric focus, and differentiation from the competition. But the foundation that set Distribute Digital apart was Hill's focus on sound processes and an understanding of how things work. 
Since starting his agency in 2019, Hill has found great satisfaction and success by following his gut, streamlining his business processes, and following through on his dreams of helping small businesses thrive in the digital space. 
In three short years, Distribute has helped over 150 companies grow their businesses, ranging from start-ups to established brands. 
Pivoting to Entrepreneurship
While Hill had considerable corporate experience, he wanted to create a lane of his own.
"Even while I was the Managing Director at MNA Digital, I was a frustrated entrepreneur and eventually decided to launch my own business," Hill reflects. "It was largely driven by a passion for digital advertising, but I also wanted a lifestyle change. I spent three hours a day commuting and had a little boy (who's now eight), and I wanted to take a different path."
And so, Hill contemplated how he could apply his blend of professional experiences to his new business venture.
"I think the common thread throughout my career is digital transformation," says Hill. 
Throughout his career, he was often surrounded by talented marketers, which also inspired his trajectory. "In most of my previous roles, there have always been really talented digital marketing teams from a UX perspective, and even in data, paid search, and websites." 
Hill soon realized that an essential element of running his digital marketing agency was a firm understanding of processes and putting the right systems in place.
"Understanding how all of these things work is something I've got a passion for. And I saw an opportunity in what felt like a segment of the market that just wasn't well served–smaller businesses .in particular. So while it wasn't me being an expert in those individual fields, I worked with enough good people to know my common experience and purpose throughout all those roles."
This insight–coupled with the demand for competitive marketing services for small businesses–led to the inception of Distribute Digital in 2019.
A Process-Driven Approach: Establish, Implement, Repeat
The key to a successful marketing agency is having robust, repeatable, and scalable systems–whether you're fully remote or not. 
Distribute Digital adopts a few essential practices that have helped them steadily grow, year after year.
1. Have Repeatable Processes for Specific Types of Clients
With his keen eye for processes, it's no surprise that Hill adopted this approach for running Distribute Digital. He notes the importance of niching and equipping his team with the specific skillset needed for a particular type of client.
"One of the challenges you get as an agency–especially when you grow–is the complexity of onboarding a new client. The fix? Build repeatable, specific processes and get good at delivering for that type of customer.   
But he doesn't believe in creating processes for the sake of processes. "It's more about delivering well and upskilling the team," Hill explains. "For example, if you've got 15 people on your team who know how to do marketing for a real estate agent well, and you win that client, you've already worked out their ideal campaigns and strategies from experience." 
Hill also notes the importance of using and building technology for specific types of clients, which further streamlines the entire process.
"You can also invest in technology and build a solution that adds value to a specific cohort of customers. It's just more difficult to do that across multiple different industries. And then on top of that, I think it's just that 'standout or die' mentality since every company gets many marketing agencies trying to work with them," Hill adds.
2. Create an Ideal Client Profile and Screen Before Onboarding
During their client screening process, Distribute Digital uses pre-determined criteria to determine the best fit, such as:
How many leads are you getting at the moment?

What's the ideal number of leads you'd like to have per month? 

Is there a specific cost per lead you're trying to achieve?

Are you looking to scale or hit a certain level and then stop? 

What services are you looking for? 
Distribute Digital can then determine whether they're able to add value before client onboarding. An initial screening process via a discovery call or client onboarding questionnaire also helps filter clients who may not be in a position to invest in your agency's services or fit in your ideal client profile.
"We work with many lead generation businesses, so the bluntest criteria is qualifying on budget. We state our minimum retainer before continuing the conversation, which filters out prospects who may not be in a position to onboard our services."
3. Meet Customer Needs and Customize As Required 
Circling back to the importance of technology, Hill built a platform called 'Push Property', specifically for real estate agents. 
The opportunity came about when Distribute Digital came across a gap in a client's workflow, which he decided to fill in with the creation of a niche-specific social media platform.
"With my background in estate agency marketing at Zoopla, another problem we saw was the time and energy invested in posting property listings to social media channels," Hill recalls.
And so, Push Property was created to fill that gap.
"We spotted an opportunity to solve this and we built Push Property–a social media automation platform that takes a feed from our client's estate agency software and automates the posting of newly listed or recently sold properties to their social channels," Hill explains.
After garnering a favorable response, Push Property has continued to excel and Hill foresees business growth in the near future. "We currently integrate with over 20 estate agency software platforms and feed to Facebook, Instagram, and Twitter, with LinkedIn coming later this year. Our mission is to build the best social media tool for Estate Agents," Hill adds.
The takeaway?
Identify pain points and build a customized solution where possible.
That way, your agency adopts a customer-centric approach and presents a solution that clients want.
4. Delegate Responsibility and Build Infrastructure
It may seem intimidating for any new agency owner to figure out processes that you possibly didn't work on previously, such as accounting procedures or HR policies.
However, Hill took these newfound responsibilities in stride and established systems to run his agency more efficiently. In addition, he also delegated responsibility where necessary, which also helped to streamline and manage overall operations. 
"When you work for someone else, your accounting, business planning, and HR departments are already there. But when you set up your own business, it's like, 'I need to send an invoice. How do I do that?' You get to a point where you've got to hand over responsibilities and accountability to someone else."
He also factored in what was reasonably doable for the size of his agency, so processes didn't spiral out of control. As he reflects, it came down to quality over quantity.
"It was a big transition and learning curve since building an agency was much different from the other companies I've worked at with a high volume of clients. In my previous roles, we'd focus on getting 20,000 customers whereas now; it's about delivering a really high level of service to a finite number of customers," Hill notes.
A Business Model That Balances Lifestyle Needs
Adopting a fully remote work setup is a dream of many agency owners, as it has the potential to offer many benefits, like cutting back on office space costs, commuting, etc., for example. 
Hill was determined to make this dream a reality when it came to his own agency, even amidst the volatility of the pandemic, which led to the further uncertainty of a pending recession.
Despite the obvious challenges, Hill followed through on his gut instinct and leaped into the world of remote work. While this way of working wasn't unusual pre-pandemic, it certainly wasn't the norm. Soon enough, remote work became the new reality to his (and the rest of the world's) surprise. 
Hill jokingly recalls that they were remote before it was "cool."
"I had about three or four months of being quite smug and looking out the window everybody's commuting. I'm like, 'Hey, I've reinvented the world!' And then COVID hit. And literally, everybody was instantly doing the same thing," Hill laughs. 
And though the pandemic came with its challenges, it also opened a world of possibilities for courageous entrepreneurs like Hill, who knew that an alternative way of working was a very real, sustainable possibility. 
"The prevalence of remote work during the pandemic helped establish our agency because adopting that model just accelerated, and it became the norm. So it wasn't this like weird, 'Oh, you're remote!' The pandemic–of course–wasn't a walk in the park, but in a way, it enabled and validated our business model."
Dipping Into A Global Talent Pool
When it came to hiring his staff, Hill quickly realized that hiring outside of his immediate vicinity had its advantages.
"We recruit people based on cultural fit, passion, and skillset. Not by postcode and location."
By hiring from a global talent pool, Hill widened his agency's available skillset and gave Distribute Digital a competitive advantage over businesses that didn't adopt the same hiring practices.
"I just thought– 'Hey, I've got a global talent pool, and my competitor's got a 20-mile radius talent pool.' I should be at an advantage. I should be able to recruit better people because I'm not limiting myself based on commute distance to the office. It ultimately gave  us a structural advantage to grow and build a team of talented people." 
And so, Hill doesn't just narrow his options to resources that live close by or in the UK. And as a result, his diverse team brings a wealth of knowledge and expertise–without having to be tied to a particular geographical location. 
Members of the Distribute Digital Team at the StartUp Awards earlier this year.
Optimizing A WFH Marketing Agency
Remote work isn't all #WFHlife, travel goals, or coffee shop escapades, though–it also comes with implications and a unique set of challenges to navigate. 
It may be an intimidating step to implement a fully remote work model, and it's valid to wonder:
How to recruit or scale virtually

How to keep staff motivated and engaged

Does a remote workplace even have a culture?

How to ensure employee satisfaction
Hill also contemplated these concerns in the early days of forming his marketing agency. However, he successfully found the answers to scale his agency over the years. 
Wondering how your agency can do the same? Here's Distribute Digital's current formula for remote work success.
1. Strengthen Processes Through Reliable Technology
Remote work is not possible without good tech processes in place. He acknowledges there can be some potential drawbacks, like not being able to collaborate in a physical location, but technology bridges that gap at the end of the day. 
"Technology has reached where many of those inconveniences can be overcome. And the structural problems of having an expensive office and not having quality employees around that location are not going away," Hill remarks. In fact, Hill found that most 'barriers' were actually perceived and psychological. 
"People wanted to maybe work with a local agency because it just felt better, but there was no logical advantage. And as I said, the pandemic helped to convince people that there doesn't have to be a barrier. It was eye-opening, and I just felt it was a smarter way to build a solid team." 
In true entrepreneurial style, Hill also implemented his own technological solution for keeping tabs on client budgets.
"We have built tech solutions to solve our problems, which have then turned into standalone SAAS products. EDEE is a budget management tool that allows us to track our pacing and manage budgets for clients in one place. It removes manual budget tracking that we previously managed in Google Sheets and automates the process," Hill notes.
2. Meet, Greet & Determine Competency (All Online, Of Course)
The jump into global talent recruiting may seem intimidating. After all, everything is behind a screen, and your potential candidate is often many miles away. There's certainly risk involved. But it can be mitigated by following Distribute Digital's recruitment process:
Use Video Interviews and Not Just a CV Upload
Before conducting a video interview, Distribute Digital sends a questionnaire out as a useful filtering device. In doing so, they can distinguish who's really serious about getting the job. 
"If you're not bothered to do a video, you're probably not that committed to the job. You also get a better view of that person rather than just a CV."
Compensate For Competency Tests
Next, they ask a potential candidate to complete a (paid) task to determine their level of competency and skills. 
"It's not like we want them to jump through a million hoops for nothing. We respect their time, but we want to see them execute. It's a good gauge of whether they've got the technical skills to do what we want. We also look at their communication skills and how they come across." 
Assess Suitability for the Remote Work Lifestyle 
Then, they determine if the candidate will thrive and be comfortable in a remote workplace setting. While working remotely may start as a dream, it isn't always the best fit after some time has passed. 
"Some people think they want his role, but we've also found the opposite. We've had instances where people thought they wanted a remote role and then found that they missed the in-person element. It's not for everybody."
The diverse, dynamic, and global Distribute Digital team. 
3. Build a Company Culture (Yes, It's Possible Remotely!)
Some may debate that remote workplaces don't have a company culture, but that's a common misconception. Take a page out of Distribute Digital's book:
Get Employees Excited About the Company's Mission
Distribute Digital makes a conscious effort to get their employees excited about their company's mission statement: Excel, Enjoy, Care.
"We want our employees to have a shared vision of the company and get excited about where we're going. And if they help us on that journey, they get rewarded with their dedication."  
Recognize and Reward Employees
By recognizing and rewarding his employees, Hill has seen a reduction in employee turnover and an overall improvement in morale. He even introduced a program where employees recognize each other.
"We launched a reward and recognition platform where everyone is credited a certain amount of money–like a virtual currency–but you spend it by recognizing your fellow employees. So you can only spend it on rewarding them, and then they can cash that in for benefits which helps us to identify performance." 
Have Weekly Touchpoints to Touch Base
Placing importance on weekly touchpoints has paid off for Hill's team. It not only bonds the team, but helps foster better connection and comradery. 
"We do a weekly hangout where we play online games or do fun quizzes. Initially, I was a bit skeptical about that and wondered if it might feel a bit forced, but actually, that's worked quite well."
The Distribute Digital team exchanging jokes and ideas during a fun online meetup.
Maintain Regular and Open Communication
Just because Hill's team is remote, doesn't mean the internal communication has suffered. If anything, it has increased.
"I reflected on this when I had an in-person team: you've got a hierarchy, team structure, and leads in the same room. But it didn't mean that we were all having open, level conversations or that everyone felt comfortable doing so. We jump on video calls all the time and interact as regular teammates resulting in increased communication and conversations."
Inspired by Vision, Driven by Process
The name 'Distribute Digital' neatly summarizes Hill's vision and values.
"The reason we're called 'Distribute' is because I've found that having a fixed location and recruiting a bunch of digital marketing experts that live commuted, commuting distance from a central office really, really limits your ability to recruit talented digital marketers. There's a skill shortage and a lot of competition. So other than thinking, 'Hey, I want to set up my own digital marketing business,' we wanted to do it fully remotely from day one."
Distribute Digital continues to make its mark in a unique, process-driven way by becoming experts in the digital space and serving specific subsets of clients. 
So if you're looking to transition into the exciting (but sometimes unchartered) space of remote work, don't be afraid to take the leap. As Distribute Digital has demonstrated, it's a real possibility once you:
Put appropriate technological processes in place

Figure out the type of client you want and how best to serve them

Recruit competent resources from the limitless global pool

Keep an employee and customer-centric approach
Implement the right measures and take the risk to follow your process-driven, remote-first agency dreams. Distribute Digital has done it, and we're sure you can too.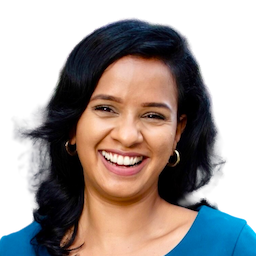 Faryal Khan is an experienced marketer and brand photographer with a passion for content creation. She creates value for brands through storytelling and captivating visuals.
Read more posts by Faryal Khan ›
Try AgencyAnalytics risk-free for 14 days. No credit card required.