Running a successful digital marketing agency is all about getting better organized. Streamlining workflows helps plan, test, track, and report on your clients' campaigns month-over-month, and year-over-year.
That's why growing your digital marketing agency requires a certain mastery of the art of task management.
Digital marketing agencies should reassess whether there are any broken processes needing a task management refresh to help them scale. This is especially true if you're transitioning into a hybrid work model and need better tools for working remotely. 
Even if you are already using AgencyAnalytics for client reporting, you may not be aware of the additional task and client management tools to improve the execution side of things. If that's the case, let's take a look at the features that will quickly become an integral part of your agency's project management strategy.
5 Task & Client Management Tools To Set Up in Your AgencyAnalytics Account 
When it comes to delivering consistent results and reporting them to clients, all your stakeholders should be on the same page. Although there are plenty of dedicated task management tools on the market, combining your agency reporting systems with your task management shows how you're executing on deliverables while saving time and energy communicating results. 
These integrated task management tools will save time and improve your agency's productivity. 
1. Assign Tasks and Track Workflows
Your agency's staff collaboration is made that much easier with a simplified task management tool. When your account managers have their clients' campaigns at their fingertips, managers can assign tasks from within the AgencyAnalytics client reporting platform.
Spot something that needs further investigation? Instead of launching a separate task management tool, simply add that note to the system and assign it to a team member. It's that simple.
Want to show the client everything you've done in the past month, as well as what is next on the horizon? Include your completed and upcoming tasks in automated monthly client reports to keep your clients up to speed at a task level. 
2. Integrated Client Messaging
Want an integrated communication experience with your agency's clients? Keep your clients up-to-date without the back and forth emails.
Connect to popular messaging tools such as Intercom, Hubspot, Zendesk, and more to contact your clients right from the AgencyAnalytics platform. 
Available on the Agency and Enterprise-level plans, your client-facing dashboards will have a little chat icon on the bottom right for instant messaging that your agency's account manager can easily respond to.
This feature is especially handy to give clients the support they need when you're onboarding them to their AgencyAnalytics dashboards. This little effort pays off in the long run when they understand what they're looking at.
Plus, requests for campaign additions or changes that come in through chat are easily turned into assigned tasks within seconds.
3. Custom User Permissions
Part of managing productivity is managing access to information. Not everyone needs to know everything that goes on in your agency. That's why client and staff access is an integral aspect of running an agency. Providing custom user permissions gives the most useful information to the relevant parties.
Choose exactly what your clients can and cannot see in their live marketing dashboards with granular user permissions.
Customize access for your internal teams to easily assign their tasks. Assign each campaign to its relevant account manager for better visibility and management.
When each of your staff members has access to the campaigns they're in charge of, it provides ownership and control over the project–while making it easier for team members to collaborate when they're all looking at the same thing.
Have a freelancer your agency contracts like a PPC manager or SEO consultant? Provide them with access to exactly what they need to better keep track of their progress while keeping them away from other data that they don't need to see.
4. Client-Facing Dashboards
Digital marketing dashboards aren't just for internal use. Clients would like to know what's going with their campaigns too–especially if there are useful funnel metrics that can help them better run their business or contacts their sales team can follow up on.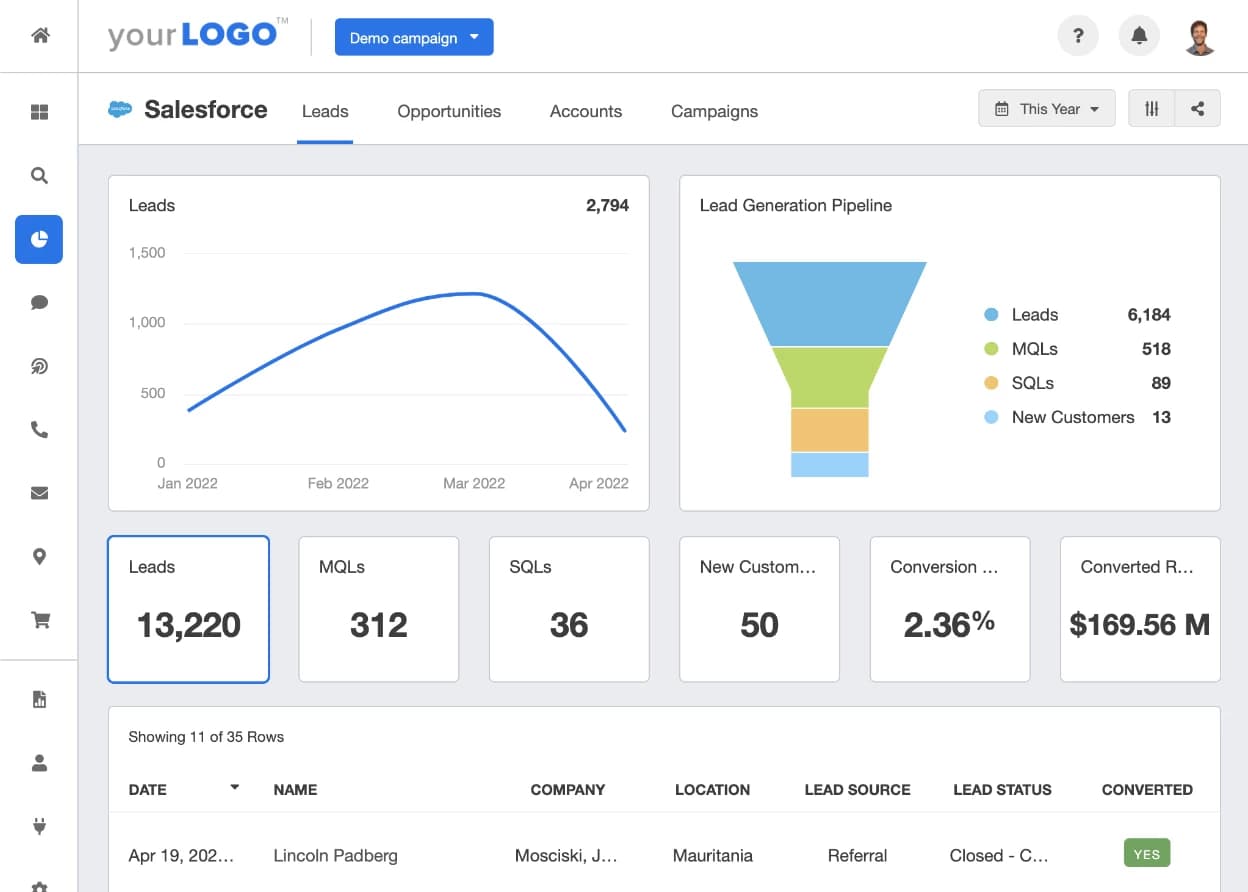 The value your agency provides its clients can easily go beyond client reporting. Providing clients with their own dashboards allows them to access their information 24/7 without having to contact you or wait until their next reporting period. 
Take, for instance, a client who runs a Shopify store that needs to keep track of sales to prepare their inventory stock and avoid selling out on popular items.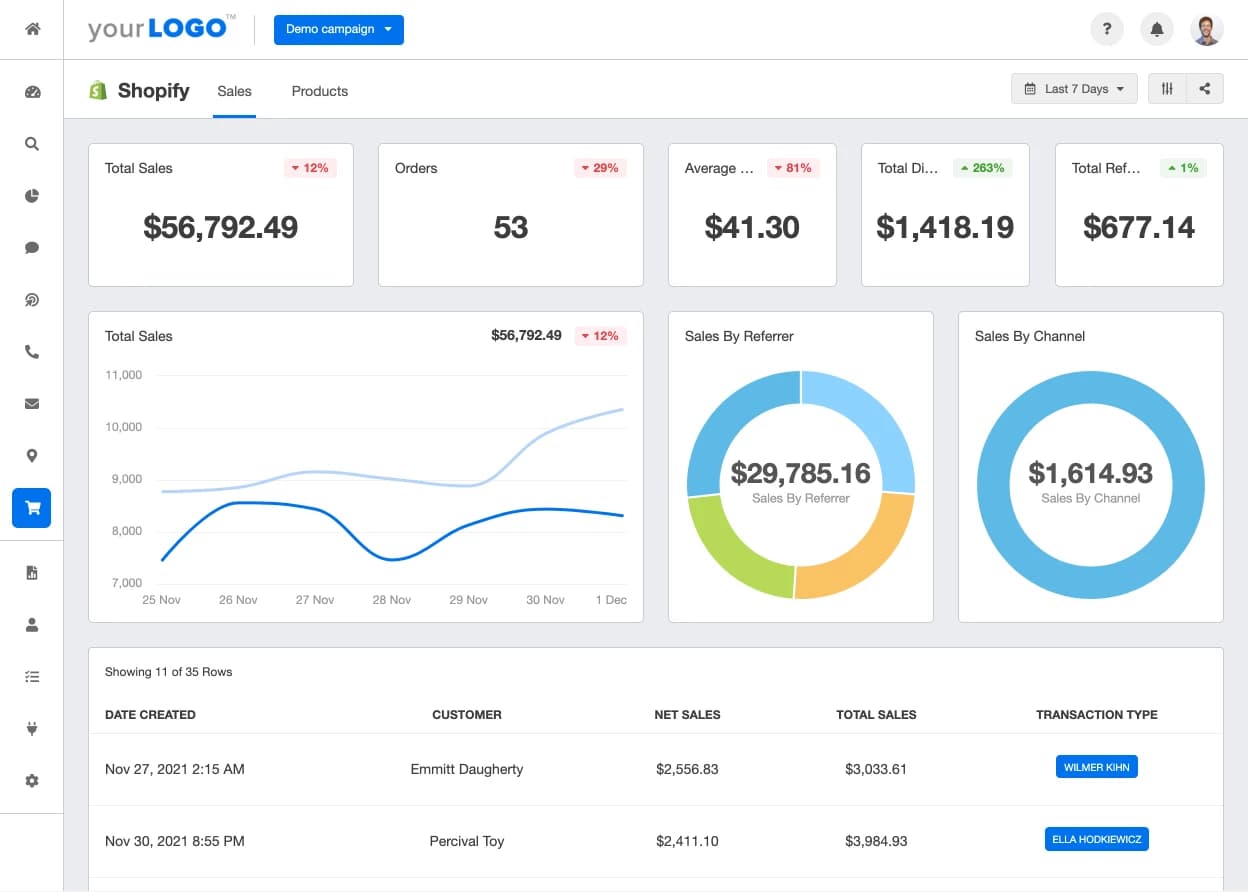 Their dashboard gives them sales and product data that allows them to better plan their budget and instantly identify the top-performing products–without having to go into the backend of their Shopify business accounts. 
Read More About How Agencies Use Dashboards vs Reports
Agency Tip: Speak to your clients about what they'd like to see in their dashboards on a daily/weekly basis, and create custom white-labeled dashboards suited to their unique needs.
Combining dashboards with client messaging and task management is easy with AgencyAnalytics. Clients can use the chat message while reviewing their dashboard metrics to ask questions or provide action items. For example, the Shopify store owner can message your team that a popular item is out of stock so the Google Ads campaigns should be paused. Your agency turns this note into a task for the appropriate member of the team. From request to action in less time than it takes to launch Trello.
5. Automated Client Reporting
Automated client reporting significantly reduces the time-consuming task of copying data from multiple platforms to create marketing reports. All your clients' data is populated into a single dashboard and reporting system to make creating client reports faster and easier. 
AgencyAnalytics integrates with over 75+ marketing channels to put all the KPIs your agency manages into one place.
All of these task and client management agency tools combine forces with AgencyAnalytics' automated client reporting capabilities to streamline your reporting process and manage your entire agency.
Streamlined Reporting Boils Down to Better Communication 
Having everything in one platform creates consistency with replicable results that speed up time spent analyzing and communicating data. When you have all your clients' KPIs in one location, communication is made that much easier. 
Using an all-in-one client reporting tool manages all your clients' KPIs in one place. But it also improves how you manage your staff and clients. 
Keeping an open line of communication with your staff and clients saves time on the back-and-forth meetings and emails–while improving retention and relationships with all your stakeholders. 
Use AgencyAnalytics to:
Provide seamless client communication

Manage all your clients in one place

Assign tasks and track workflows for your staff

Manage your entire agency
With plans for agencies of every size, optimizing daily operations is made accessible with multiple tools in one. If you haven't already signed up, start your free 14-day trial today and get that agency workflow streamlined for better work-life balance.
---
You might also like:
Written by
Melody Sinclair-Brooks
Melody Sinclair-Brooks brings nearly a decade of experience in marketing in the tech industry. Specializing in B2B messaging for startups and SaaS, she crafts campaigns that cut through the noise, leveraging customer insights and multichannel strategies for tangible growth.
Read more posts by Melody Sinclair-Brooks ›
Try AgencyAnalytics risk-free for 14 days. No credit card required.