The most important lesson I've learned after years of working remotely is this: time is our most valuable asset.
It's the one thing that, once spent, we can never get back. So it's always surprising when I find out just how much time we waste every day.
To get our time back, the first step is to record how we spend it. If we don't know how we're spending this precious commodity, then it's impossible to spend it more wisely. As the management consulting maxim goes, "what gets measured gets managed", so let's talk about time tracking.
When it comes to managing my own time, I have to admit – I'm a bit of a Luddite. I schedule my day, record my time, and take notes on one of the most archaic apps known to man: paper and pencil.
Though basic, this simple combo helps me stay consistent. Never hopping on the latest app or tech trend, I easily remember to record thoughts, dates, plans, and notes when they spring into mind.
However, when it comes to managing other people's time (such as my employees), handwritten scribbles on paper are inefficient at recording and communicating information.
It doesn't matter if you're a freelance digital marketer or Warren Buffet – keeping track of employee time is a top priority. But where should we start?
There are hundreds of time tracking apps, ranging from good to bad to downright ugly. To figure out which time tracking apps do the best job, for the least price, with the least hassle, we took over 20 tools for a ride.
Note: every app on the list is included with two groups: 1) freelance marketers and 2) marketing agencies. Among these two groups, there is a massive difference in how we use apps and for what purpose.
9 Questions to Ask Before Choosing a Time Tracking App
Before choosing one, consider the following questions:
1) Are you building to scale?
Are you a one-man (or one-gal) band? Or are you a digital agency on a hiring spree? If you're in growth mode, look for a tool that will grow with your company.
2) How easy is it to use?
This is a big one for me, as you may have guessed. If an app isn't extremely easy to use, I'm not interested. User-friendliness, both for employees as well as managers, is an essential criterion for any time tracking app.
I suggest working with the tool on a free trial and asking your employees how well they're able to use it.
3) Does it play well with others?
SaaS apps make the world go round – or at least, they help automate your business. On any given day, I'm using 5 or more different web-based software apps to automate billing, analytics, reporting, customer management, and a variety of other business processes. Any time tracking app worth buying should sync with other popular apps. Look for time trackers that sync with apps you and your team use regularly.
4) Is it client-friendly?
In the business of marketing services, we must keep our clients happy to stay in business. What does this mean when it comes to new software? Most clients have very full plates, and can't afford to spend the time or energy learning the ins and outs of a complex time-tracking tool
How often will your clients be using the tool? Do they require different levels of user access? A good litmus test for assessing the client-friendliness of an app: can your parents figure out how to use the app in 5 minutes or less? If yes, it's probably client-friendly.
5) Will it play nicely with your project management software?
When considering integrations, project management needs its question. Why? Every remote team uses some kind of app to manage their projects and priorities. Whether it be Asana, Trello, Basecamp, or just Google Docs, we all have one.
Using a time tracking app that integrates with your Project Management solution makes tracking effortless – you can easily see how much time each team member spent on a particular task and project, without them having to switch back and forth between the Project Management app and time tracking app.
6) Do your employees need to use it on the go?
The days of a 9-5 workday spent in a cubicle are quickly disappearing. Nearly half of the US workforce is mobile and works from the road, from home, or abroad. With this increase in mobility comes an increasing dependence on mobile technology, like phones and tablets.
Do your employees work from the road? What technology do they use to work and stay connected? Think: does the time tracking app come with an Android or iPhone app?
7) Do you need support and training?
A more complex and customizable tool may require setup, training, and ongoing support. What's the customer service reputation of the company? What days of the week and hours are their team members available for help and guidance?
8) How accurate is the app?
A time tracker is no good if it doesn't track accurately, or is easy to fake. You want to make sure that the time tracking is accurate and there are ways to confirm that it is accurate. 90% of the time-tracking apps we looked at (before choosing the best) were easy to fake, with any employee being able to log an arbitrary amount of time they called "work".
9) What are your goals in using a time tracking app?
Is the goal to build more efficient processes? Perhaps you'd like to improve employee productivity and efficiency? Or maybe, the app will give you a clearer picture of your ideal client – the one that offers you the most value for your time, and vice versa. Perhaps your ultimate goal is to deliver better service for your clients? I put this question last because it's important to think about what you're trying to achieve and how time tracking will help you get there.
12 Best Time Tracking Apps to Keep Tabs on Remote Staff
If you are looking for a new time tracking platform or are looking to implement your first tool, check out these options:
1. Toggl
Toggl is one of the most widely-adopted time tracking apps on this list, and one of the oldest. Toggl has withstood the test of time and competition, and for good reason: there's a lot to love about this time tracker.
Toggl is built for group time-tracking purposes, with the main goal of boosting team productivity. It is widely popular by agencies large and small due to its user-friendly interface and easy learning curve.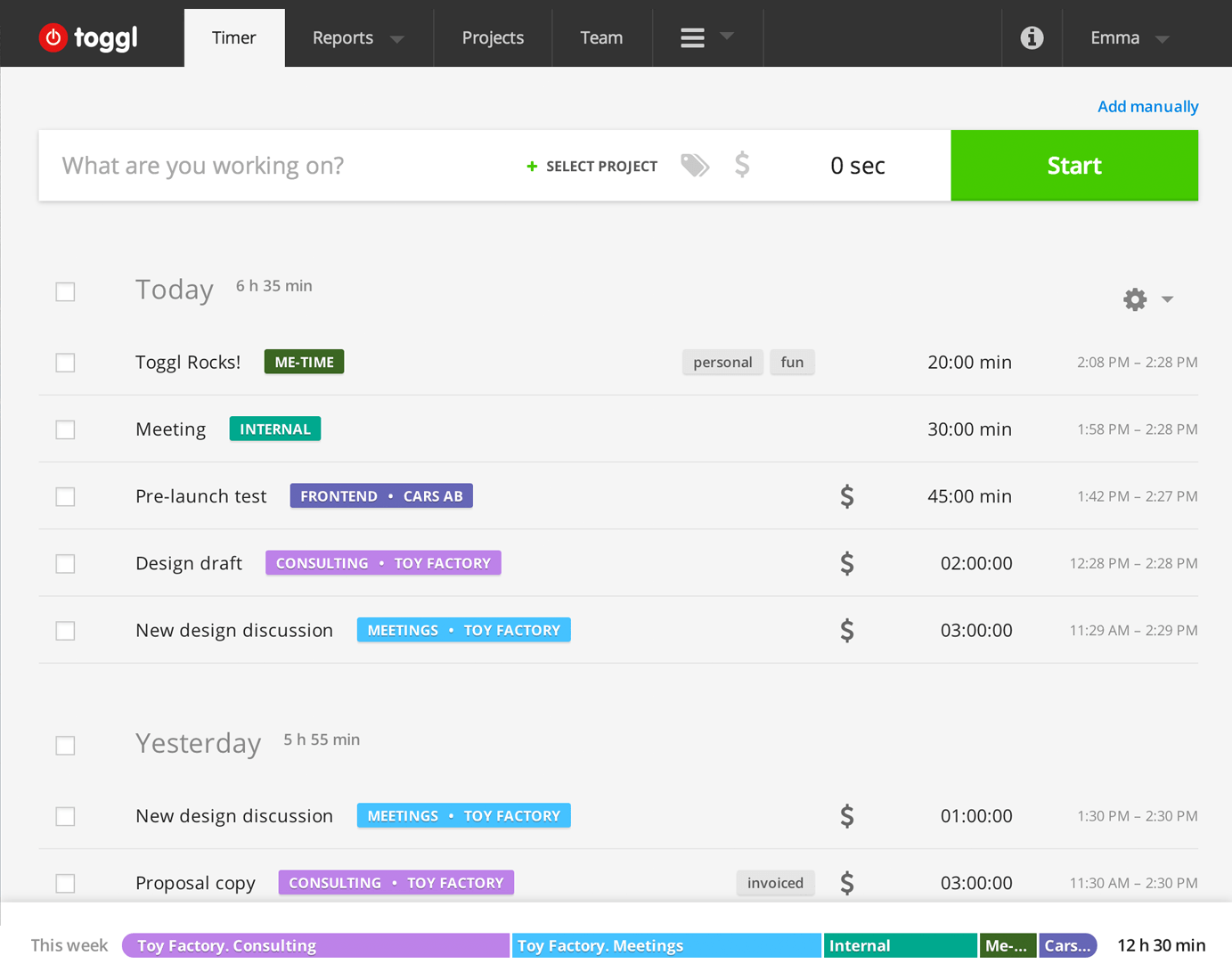 Key features:
Transparent reports and billing. Easy timesheet exports and reports emails directly from the app.

Works everywhere. Macs, iPhones and iPads, Windows, Android, and Linux are all covered.

Unlimited number of clients and projects (for free)

Offline time tracking, syncing when back online.
What I love about Toggl is that it does exactly what a simple best time tracking app should, without frills: just enter the name of your task, click to start the timer, and hit stop when you're done with the work. When it comes to outsourcing marketing tasks to remote workers, Toggl's simplicity sidesteps the need for in-depth training and support, saving time and money.
A basic Toggl account is free and if you'd like to you can subscribe to an advanced plan for $5 a month (it includes features such as Excel exports, team management, and integrated billing).
More info: iOS App | Android App | Pricing | Video: How To Use Toggl
2. Hubstaff
Hubstaff is a product made out of necessity. The founders were actively using many freelancers across the globe and needed a better way to manage them. I believe they were running an SEO agency at the time which means they made the product with marketing agencies in mind.
The first thing I noticed when using the app was the "screenshot proof" feature, whereby employees enter their time with accompanying screenshots as proof of work. This is akin to the proof feature in the tracking software used by Upwork, so our remote staff was able to use it without issue.
The client viewing feature is particularly awesome. Gone are the days when clients pay you, sit back, and then patiently wait for results. Nowadays, clients want to know exactly where their marketing budget is going, and now they can with Hubstaff.
Key features:
Show proof of work with screenshots

Allows for Manual Time logging (similar to Upwork)

Online / Offline Indication. Know when your employees are online

Multiple Teams. Keep tabs on all your remote teams from one single account

Time & Budget Limits. Cap the number of work hours for each employee

Unlimited Free Viewers. Invite your clients to view screenshots and activity levels.
The Hubstaff time tracker is one of the best options for individuals or agencies who outsource marketing tasks to remote workers. With Hubstaff, you know exactly what your employees are doing at any given moment.
Hubstaff works on Mac, PC, Linux, and iOS. They have a free plan and a free trial. Additional plans are priced reasonably at $5 and $9, making this an ideal time tracker for the budget-conscious freelancer or small agency.
More info: Pricing | Video: Hubstaff Walkthrough
3. Harvest
Personal disclaimer: I love harvest. Having worked over 5 years at an agency and more as a solo consultant, I've dabbled with my fair share of time trackers. And while I appreciate apps with a long list of special features, what I want is something that just works, and Harvest does just that: work.
Why is Harvest so easy to use?
"So easy my parents could use it" is my litmus test for any new web app, and Harvest does not disappoint. It's that simple. To track time, just choose the project and task, add your notes, and tap the clock to start.
Key features:
Simple timesheet reports. Harvest analyzes your time tracking data, with hourly and daily budgets to track a project's progress. Run reports on billable and nonbillable times for specific staff, tasks, clients, and projects. You'll have a deep understanding of your current work, and historical records to help make your next project even better.

Invoicing, payments, and expense tracking, all from within the app.

Integration. Harvest integrates with more apps than any other time tracker we tested. These range from accounting to project management to the payment process to Slack (yes, even Slack).

Budget alerts. This feature is such a no-brainer (we use it all the time), it amazes me that more time tracking apps don't have something like it. How many times have you gone over budget on a client project? If you're like me, then the answer is almost every time! Harvest budget alerts prevent that from happening. When you hit a certain percentage of the allotted hours for a project (say 25%, 50%, or 75%), Harvest will send you an alert so you can recalibrate and stay within budget.
Harvest costs $12 for the first user. And then $10 for each additional user.
More info: Pricing | Chrome | Video: How To Use Harvest Reports
4. Timely
Timely is more than a time tracker. Dubbing itself "The time tracking app to end time tracking," Timely's calendar interface lets you schedule, log, and bill time simultaneously. This means that your calendar is your time tracker.
Great for freelancers and teams, Timely's scheduling interface is intuitive and fun. To rearrange meetings and events, the time blocks are fluid drag and drop boxes (similar to Trello). Herein lies Timely's true value: as the timer ticks away in the event box, you're able to see the difference between time allotted and time spent, in real-time.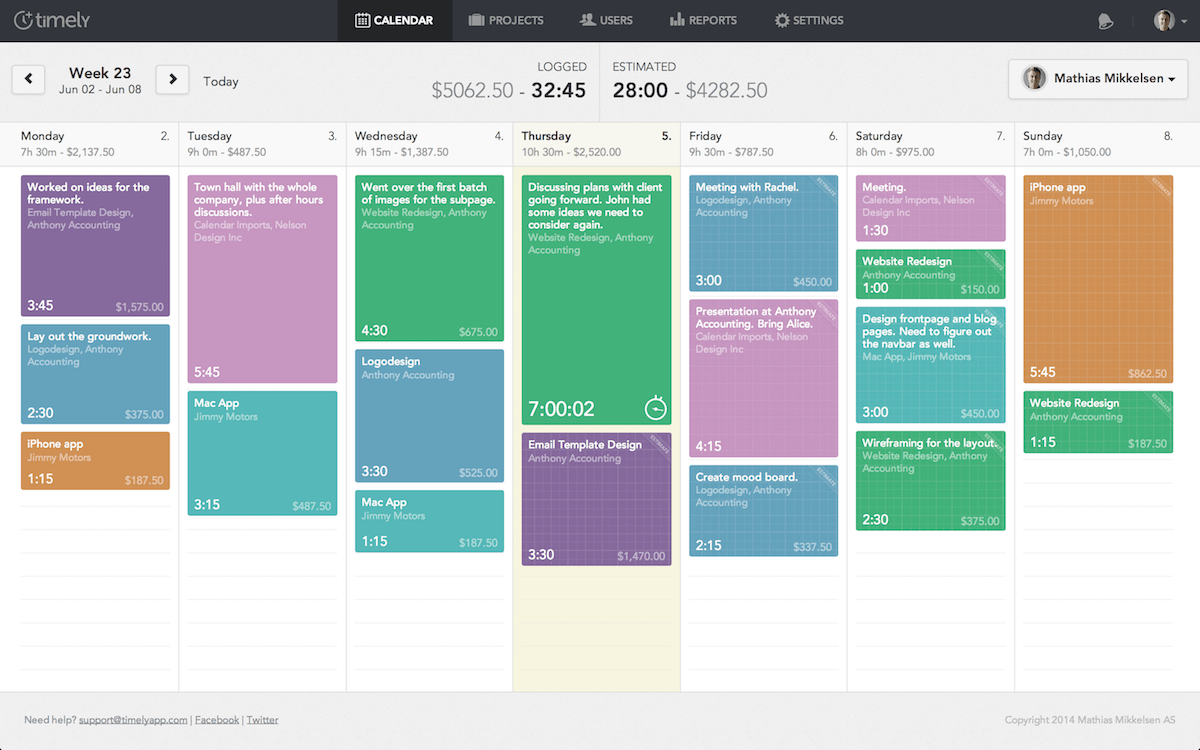 Key features:
Smooth, clean interface

Scheduling + tracking, stronger together

Integrates with your existing calendar

Easy exporting as Excel and PDF
Timely is free (up to 5 projects), and comes with a 30-day free trial for larger plans. Plans start at $14/month for a single user and from $49/month for teams.
More info: Pricing | iPhone App
5. ATracker
This free time tracking app does more than just track business and marketing objectives – it lets you track your entire life, with a simple iPhone app. At the end of each day, ATracker builds a report that shows how you spent your day.
ATracker is great for solopreneurs and freelance marketers who manage themselves or a small team, and who need a time tracking app to hold themselves accountable to daily tasks.
Main Features:
Easy to set up and easy to scale

One-touch tap to start and stop tasks

Create eye-catching reports in the bar, and share them via email and social media

Customizable UI with many advanced options available
ATracker is free, with a $4.99 Pro option for heavy users. The biggest downside: the app is iPhone only at the moment,
More info: iPhone App | Video: How To Use ATracker
6. Timesheet
Timesheet is a free, Android-only time tracking app with a neat interface and a series of unique features. Like other time trackers, Timesheet has the basics covered: tracking work hours, off hours, task-tracking, project-tracking, and client management. It adds a few bells and whistles, like voice controls and calendar integration, making for an engaging user experience.
In our test, Timesheet came through as one of the best time trackers for freelance marketers. It syncs with Google apps, so tracked tasks show up clearly as blocks of time in your calendar:
Key features:
Free

Easy invoice creation and customization

Location-based time tracking: Automated time tracking based on your location or wireless LAN helps you, even more, not to think about your working hours
One of our favorite features in Timesheet is the multiply timer display. Whereas almost all time trackers show one-timer on the screen, TimeSheet displays multiple timers on one screen, each of which corresponds to a unique task. A simple feature, yet invaluable for freelancers who work on various projects throughout the day.
More info: Android App | Video: Timesheet Tutorial
7. Desktime
DeskTime is like RescueTime, but for teams. If you've never used RescueTime, here's the skinny: it's an app that runs in the background of your computer, tracking the amount of time you spend on other apps and websites.
You can see, for example, how much time you spend chatting with friends on Facebook or watching cat videos on Youtube versus productive work in applications like Excel and Word. In doing so, you're able to "rescue" your time and be more productive. DeskTime does the same: automatically tracks employee time spent on various applications and websites, marked as "unproductive", "neutral", or "productive". This lets an employer see exactly how productive each employee is throughout the day.
And while this sounds a bit like "Big Brother", DeskTime claims that companies who adopt the app see large improvements in employee productivity.
As the line between work and play gets blurrier, many employees spend a fair portion of their day on social media sites. DeskTime aims to reign in that behavior and helps people focus on what's important: doing the work.
Key features:
Improve productivity by tracking productive vs. unproductive time.

Easy to read reports and client invoicing from the app.

Custom time types, project types, and client billing.

Mobile apps. With apps for both Android and iPhone, DeskTime allows you to keep tabs on your employees from your smartphone.
DeskTime offers a free 30-day trial. After that, you'll pay $9/month per employee for up to 20 employees, a flat rate of $199/month for up to 50 employees, and so on. (Here's the full rundown of DeskTime's pricing options.)
More info: Pricing | iPhone App | Android App | Video: Overview of DeskTime
8. Tick
Finally, a time tracking app that keeps you and your team within budget! Sound like a pipe dream? Tick doesn't think so.
Tick flips time tracking on its head, whereby you allot hours to tasks first, before working on a project. By setting aside specific chunks of time for every task, no matter how granular, you're able to see where time is wasted (and saved). Perhaps that marketing campaign took twice as long to plan, or perhaps that weekly meeting was an hour longer than necessary.
With Tick, you're able to see precisely where the time discrepancies lie between planning and execution. This is a useful feature for teams who outsource marketing tasks to various specialists, e.g. SEO tasks, PPC tasks, content marketing, social media, and so forth.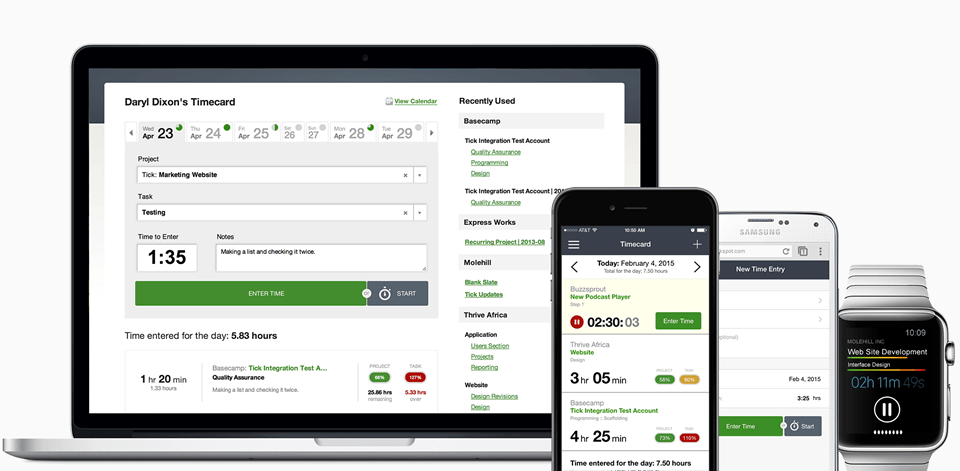 Key features:
User-friendly time "cards" to easily track time for each project, tas,k and sub-task

All paid plans allow for unlimited users

Tick gives feedback on the percentage of budget used on a per-card basis

Simple timesheet reporting for individuals and teams

Incredibly friendly and responsive support staff
Tick is a great way to keep your team's time budget allocated correctly, and is a unique take on time tracking for teams that are working on larger projects that may not even be invoiced. It'll help you stay focused on the right tasks, not just the ones that are the easiest to take on.
Tick tocks on all major platforms, with mobile apps for Android, iO, S, and the Apple Watch. A basic one-project plan is free, with paid tiers starting at $19 and coming with a 30-day free trial.
More info: Pricing | iPhone App | Android App | Chrome Extension | Video: How To Create Projects in Tick
9. TimeCamp
TimeCamp made the list as one of our favorites due to its minimally designed interface timesheet reports. Timesheets in TimeCamp are uncluttered and easy to maintain, making the lives of project managers a little easier.
Further, timesheets can be quickly and easily exported with one click from the calendar view, alloying employers to effortlessly track individual employee time.
Overall, we loved TimeCamp's user-friendliness and clean UI. It's a great option for outsourcing marketing tasks to small teams of freelancers and contract workers.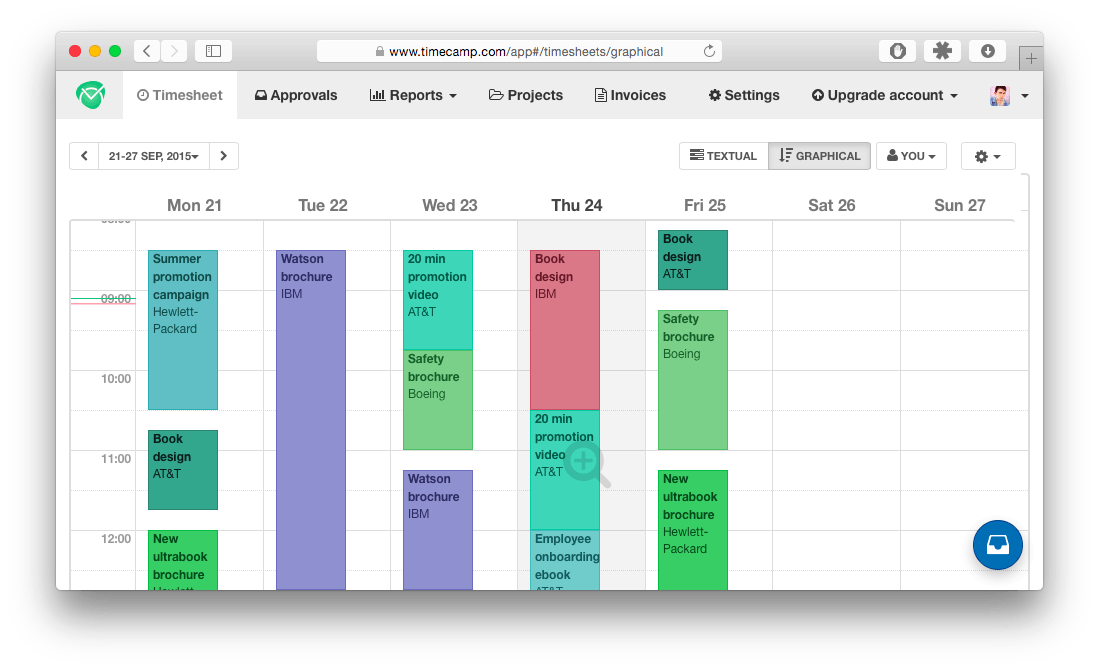 Key features:
Incredibly user-friendly, simple UI makes the app enjoyable to use

Integrates with most major accounting and project management apps (Trello, Asana, Basecamp, GitHub, Slack, Xer,o and more)

Simple timesheet exports

Productivity analysis and analytics are built into reports
TimeCamp is free to use on your own, and then $6/month for each additional user.
More info: Pricing | iPhone App | Android App | Chrome Extension | Video: TimeCamp Overview
10. Paydirt
Built specifically for freelancers and outsourced teams, Paydirt makes time tracking incredibly simple. Paydirt solves this problem by making it virtually impossible to forget to log your hours.
When you set up the app, you tell Paydirt how much your time is worth – essentially, how much you bill each client or project – then Paydirt will automatically track the time and create the invoice. If you forget to start a timer, Paydirt will recognize that you're working on a particular project and send you a reminder to start the timer.
Key features:
Set timers in the past. Paydirt has the useful option to start a timer 5, 10, 20, 3,0, or 60 minutes prior.

Budget tracking. Paydirtshowss how close you are to hitting the allotted hours budget for a task or project.

Smart reminders. Paydirt knows when you're working on a client project, and reminds you to start the timer.
Paydirt is a fully functional time tracking app and shares many of the features of the previous 10 tools we reviewed in this list. Though it has smaller plans for individual freelancers, Paydirt is built for teams of 3 – 20 members, with larger custom plans available.
Paydirt is a web-only app but comes with useful Chrome and Firefox extensions that have both times tracking and invoicing capabilities built in, so you can create invoices from the extension itself. The smallest Starter plan starts at $8/month.
More info: Pricing | Chrome Extension | Video: How To Track Time With Paydirt
11. Klok
Klok is a free, web-based time tracking software app. For Desktop only, the app neatly displays your time and tasks in one dashboard. When you switch tasks, Klock automatically starts a new timer, so you can bounce from task to task without the added friction of remembering to start and stop timers.
As anyone who's used a time tracker knows, simply remembering to start and stop timers is one of the biggest "inconveniences" of tracking time. When you're in the zone, your mind will want to flow seamlessly between activities, and one small obstacle can disrupt your flow.
Klok is designed for groups, and thus makes an excellent solution for outsourcing small business tasks overseas.
Key features hands down, what we love most about Klokise is its amazing list of features. There are too many to cover in this article, but here are a few of my favorites:
Exporting and saving time sheets is a breeze. Klok supports a variety of file formats for different uses.

Klokletss users create invoices from within the app. As soon as a client provides their information, the invoice is a few clicks away.

One of the highlights of this time tracking app is the "group timekeeping" feature. Rather than simply track individual employee time – as most apps do – Klokcano tracks collaborative tasks as well.

Klok integrates nicely with many popular web apps, such as Freshbooks, Harvest, Paymo, Asana, Basecam,p, and others.
The application itself is available for Apple, Windows, and Linux computer systems. Klok hasn't yet landed on Android or iOS, though they do have a mobile-friendly version of the web app. Klok starts at $19.99 for the desktop app, with additional fees for each new user.
More info: Video: How To Use Klok
12. Apploye
When it comes to time tracking with employee monitoring add-ons, Apploye is a trusted name for business owners and managers who want to keep track of where the time is going and monitor the remote employees sitting far from the office premises.
Apploye is a unique time tracker with screenshots that offers you a plethora of valuable and distinct features that only a few time trackers do in the market. For example, the live feed section of Apploye shows you the currently involved employees, whereas the instant screenshot feature is of paramount importance for business managers supervising workers working from home.
The dashboard of Apploye is also illustrative in that it displays the top performing employees based on time logged and activities. The RemoteTrack features are decisively crucial for monitoring remote employees. You can set the frequency of screenshots up to 3 shots per 10 minutes, watch the internet behaviors of the employees, track their URLs, and simply oversee their apps usages to determine if they are on the right track during office hours.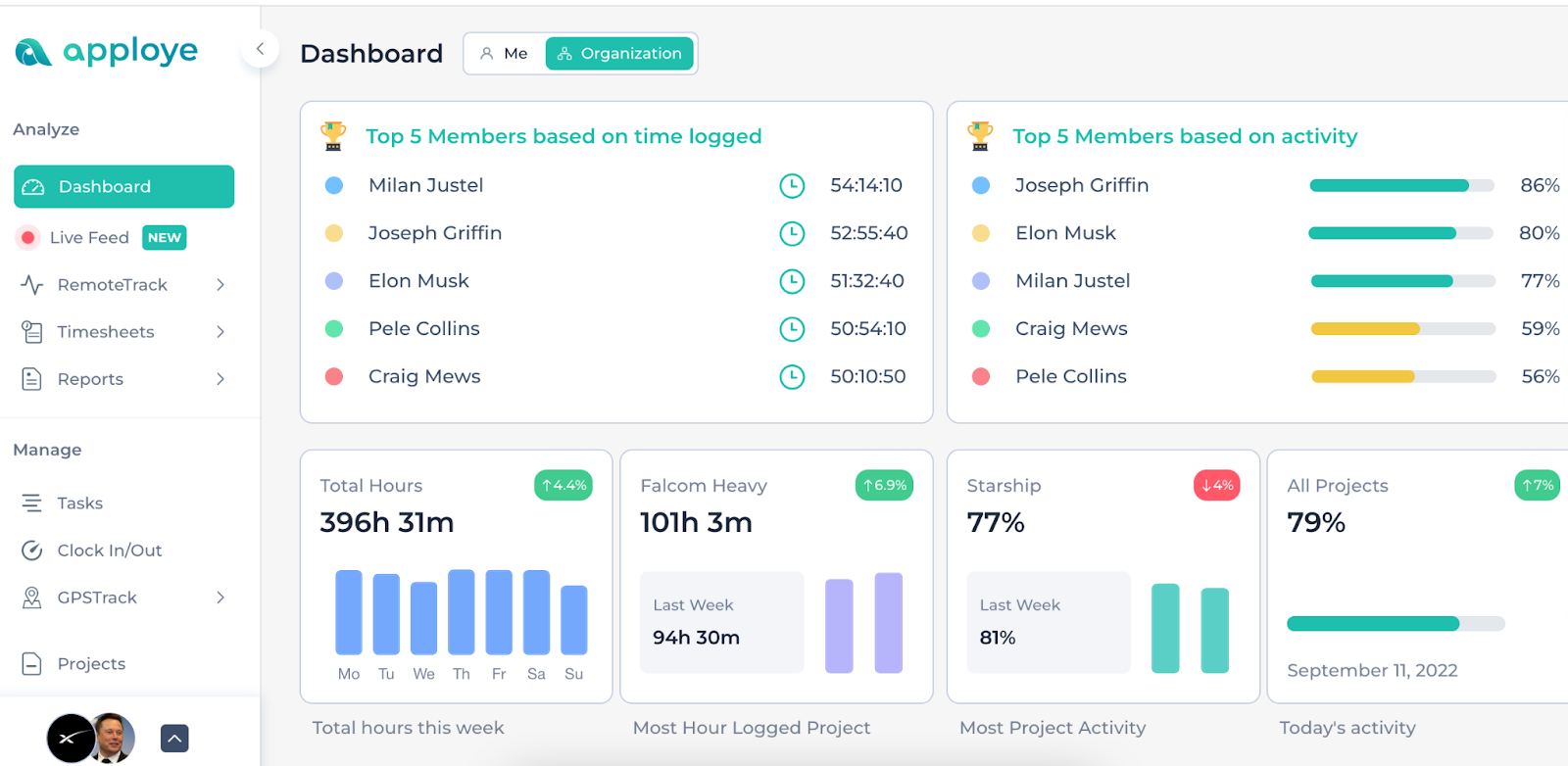 Key features:
Automatic timer, Pomodoro timer, idle time tracking.

Project budget with estimation, Project billings, Budget alerts.

Client management, invoicing.  

Productivity calculation, intuitive dashboard & Reporting.

Apps & URL usage, screenshot monitoring, instant screenshots.

Creating and assigning task, Task-wise time log, Project-wise & Assignee-wise view.
Apploye is a suitable fit for a diverse group of users. From a solo user such as an independent contractor to a large company with hybrid teams. So, if your workforce consists of Deskless, On-Desk, or remote employees, Apploye has you covered.
Apploye works on multiple platforms such as Windows, Linux, Mac, and Android, and it offers Google chrome extensions too. You can try out Apploye free for ten days. Apploye offers four different pricing plans such as Solo ($4/user/month), Standard ($5/user/month), Premium ($6/user/month) and Elite ($7/user/month). 
More Info: Pricing | Chrome Extension | Download App | How to use Apploye
Conclusion: Choosing Your Time Tracking Tool
That just about concludes our list of recommended best time tracking apps. It's important to remember why you're time-tracking in the first place. Being productive – both individually and as a company – is about more than just improving the bottom line.
It's about building a culture of transparency and trust so that employees and employers can both look forward to getting things done together.
When it comes down to it, it's important to choose the app that works best for you and your team. Any of these apps will get the job done, but consider which one will best serve your needs based on the questions we asked at the beginning of this article.
Have you found a better way to track your employees' time? Please let us know in the comments below!
Try AgencyAnalytics risk-free for 14 days. No credit card required.