Remote work is no longer an outlier–it's the norm. Marketing campaigns are run from home offices, client meetings are virtual, and staff aren't just opting for business casual anymore–they're probably wearing sweatpants. 
Like many businesses, marketing agencies have entered a new era of remote work, where remote employees are spread out across the country and board meetings take place over Zoom. 
The AgencyAnalytics 2023 Benchmarks Report found that 97% of marketing agencies work remotely at least some of the time, with 70% of agencies working remotely all the time.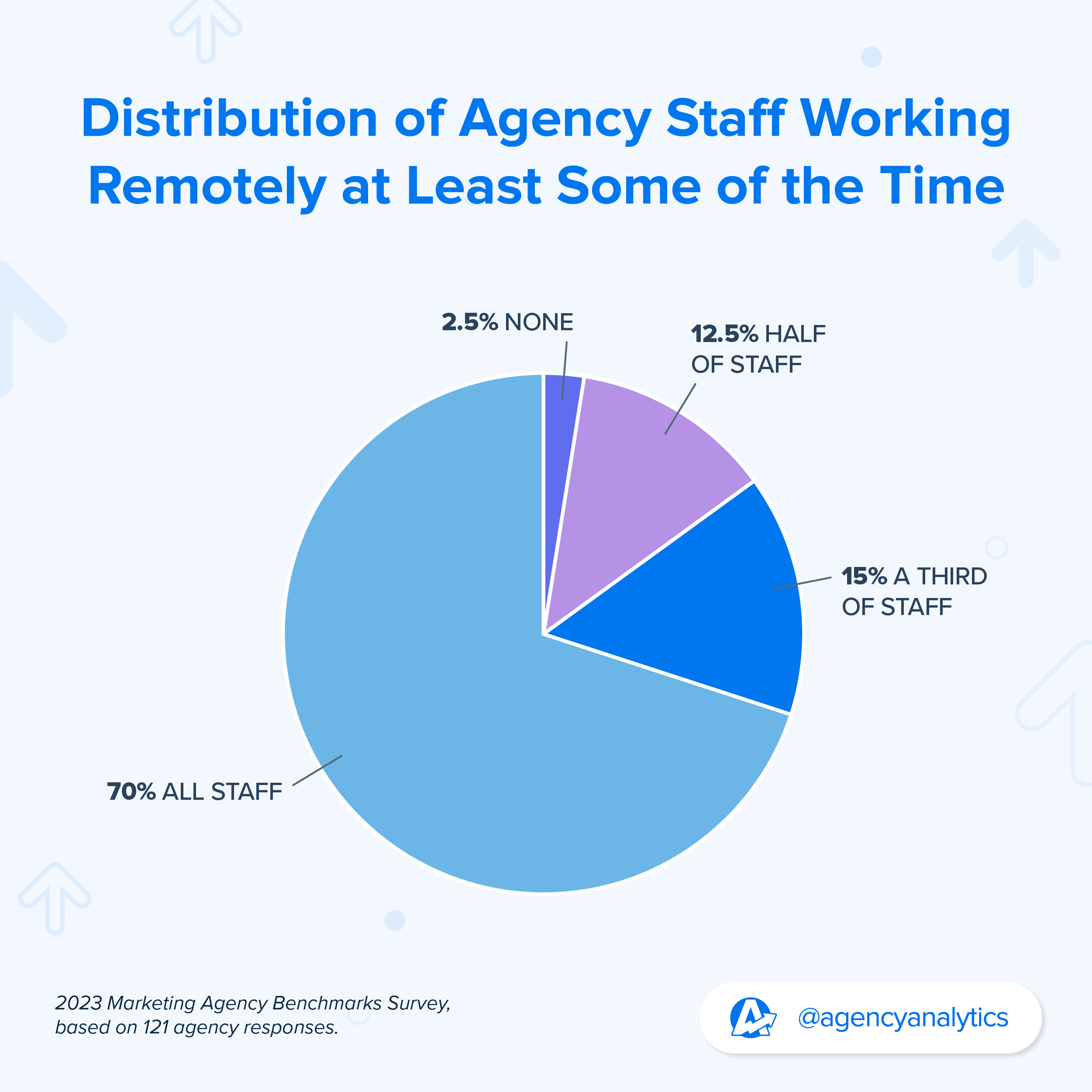 While remote workforce management leads to a plethora of benefits–including a larger pool of talent to choose from, more flexibility, and, for many, an increase in productivity, managing a remote workforce comes with its fair share of challenges. Without physically being in the office, it's harder to communicate effectively with your staff, especially if you're dealing with different time zones and work styles. 
Today, we take a deep dive into how to effectively manage employees working remotely without sacrificing deadlines and work quality. 
Understanding Remote Workforce Management
Remote work management describes how a company oversees and guides their remote workers. Sounds easy enough, right? Not necessarily. The process of managing remote teams is rarely a simple one for agencies and is usually filled with a variety of unique challenges.
Typically, successful remote work management includes efficient communication–with staff and human resources–setting reasonable expectations, and encouraging employee engagement. 
Benefits of a Remote Workforce
Remote work isn't just a popular option in today's workforce, it's becoming a potential deal breaker. According to a 2022 survey conducted by the U.S Chamber of Commerce, around 50% of job hunters admitted they're unwilling to accept a position if they can't work remotely. 
While remote work comes with a variety of perks for employees, it's also beneficial to management. Here's why:
More Freedom and Autonomy Leads To Happier Employees
A remote workforce allows employees freedom over their work days in a way that's simply not possible in a traditional office setting. Without a manager nearby, team members have the flexibility to set their own schedules and work from anywhere, whether that's a home office, café or even a cottage. While this is great for employees, it's also a benefit for managers, as it leads to more engaged workers who are less likely to job hop.  
The biggest contributor to our growth is our people.  We bring on smart, driven, and talented individuals who align with our north star of helping people feel proud, prosperous and connected. We've grown from a small agency of 3 full-time staff to nearly 65 (and growing) while helping more than 600 clients with their marketing each month.

Jessica Weiss, Director of Marketing & Strategic Partnerships, One Firefly
According to a survey conducted by the Harvard Business Review, employees who had the freedom and the ability to make autonomous decisions reported being more satisfied with their jobs and more committed to their company compared to those with less freedom and autonomy.
Access to Wider Global Talent Pool
While traditional workforces were geographically limited when hiring staff, remote work enables managers to recruit top talent from anywhere in the world and easily scale their companies, especially with the increasing number of collaboration tools. As long as they have access to a computer and a reliable Internet connection, employees are able to join your team, whether in a full-time or freelance capacity.
We take a lot of pride in being community members supporting community businesses. Client relationships are localized to our satellite offices, but the execution of services is done through a central fulfillment hub, allowing small agencies in small cities to operate as if they were much larger agencies because of their access to diversely skilled marketing specialists.

Lane Anderson, Founder & CEO, London Road Marketing
Opening up your agency to remote work makes it easier for your team to recruit remote employees with unique skills and perspectives. Agencies working within a small local talent pool will open their agency up to a greater number of top candidates by sourcing remote workers; a particularly helpful fact for teams in need of niche expertise.
Remote Work Increases Productivity
Initial concerns about remote work centered around productivity. Surely if remote employees are left to their own devices there would be more mindless internet scrolling and less actual work, right? 
Not at all.
Research has consistently shown that productivity usually increases in remote workforces. One study, which used employee monitoring software to track productivity during remote work, found productivity levels increased by 5%.
Another University of Chicago study found a productivity increase of 7%, with almost six out of 10 respondents stating they're more productive working remotely. A third study found even more impressive results, citing a 47% increase in productivity. 
For many remote employees, working from home actually leads to less distractions–such as unnecessary meetings–and more productive work schedules. Night owls are able to get up later and work into the evening while early risers can work when they're most efficient.  
Staff engagement is crucial for our organization because it directly impacts the overall performance and success of our endeavors. When employees are engaged and passionate about their work, they are more likely to invest their time and effort into producing high-quality results.

Anthony Costello, SEO Assistant, Clickthrough SEO
Remote Sales Teams Have More Reach
Remote work is a game changer for sales team members. Instead of having to constantly travel to meet with potential clients, agencies can hire staff in a variety of locations, allowing employees to connect with "local" clients throughout the country and even the world. 
By letting staff work from anywhere, agencies gain greater geographic accessibility and time zone efficiency. Multiple sales teams situated in different locations means faster response times and availability, allowing sales to answer questions faster and work more efficiently.
Sales staff that live in the same area as clients can better grasp each region's unique pain points, cultural nuances, and business practices, leading to more engaged clients and a more effective sales team.
Spend Less on Office Space
Remote workforce management includes a number of practical benefits, such as significant cost savings. Remote workers don't need pricey office space, allowing agencies to invest in top industry tools and growing their workforces instead.
Office vacancy rates have been consistently increasing since 2020. In 2023, around 16% of office space was vacant throughout the U.S. as businesses have become careful when renewing leases or growing physical workspace. 
Common Challenges of Remote Work
While remote workforce management definitely has a long list of perks it's not without its own set of unique challenges, especially if your team is spread out across the country or globe.
Some of the most common remote work challenges include:
Effective Communication
The nature of remote work is such that most communication is conducted on email, messaging apps like Slack, or video conferencing. Without in-person one-on-one meetings and daily office check-ins, remote workers spread across different environments need to find new ways to keep track of progress and make sure everyone is on the same page. 
Missing an email or not fully understanding what your teammates mean in their written communications is all too common and can lead to an internal breakdown in communication without regular check-ins.  
Decreased Team Building Opportunities 
This is especially true in a fully remote workforce with remote employees scattered across different areas. Remote work means fewer opportunities for team-building exercises and events where managers would normally build and maintain connections with each individual employee. This can make it difficult to create a fully cohesive, collaborative environment.
The biggest challenge is continuing to find the best remote talent and maintaining the culture of the agency as we grow our team. We tackle this by ensuring we maintain the culture within the agency and work hard on inclusivity and engagement.

Andy Hill, Founder, Distribute Digital
Setting Clear Expectations 
When you're running a team in a physical office, it's easier to ensure everyone understands expectations like working hours, punctuality, and meeting attendance. When managing remote employees, expectations change and working hours become more flexible. 
Setting, communicating and enforcing clear expectations is challenging when dealing with a remote team. Still, it's important to set reasonable expectations for remote workers that reflect the new work environment, such as the amount of hours each employee must work per day or when and how staff respond to messages and attend meetings.
Ensuring Effective Information Sharing 
Finding the files and documents needed to complete tasks can become a time-consuming challenge for new hires and managers trying to manage a remote team. Remote work has changed the onboarding process, and information sharing is often the largest bottleneck, hindering managers from effectively leading their virtual teams. 
High-quality operations at scale is truly one of the most difficult puzzles we face. From attracting and retaining top talent to providing continuous training to help people improve their skills & capabilities so that we can always improve our client impact - and doing it all remotely.

Ryan Redding, CEO, DP Marketing.Services
Everything from finding relevant files to answering simple questions can take double the time in a remote workforce. Without the ability to simply visit a colleague's desk, you're often stuck waiting for a response or trying to find a time to schedule video calls. 
AgencyAnalytics makes it easy to share detailed reporting data with internal team members and clients alike. Try it free for 14 days.
Data Security 
Data privacy is a significant consideration when managing a remote workforce. Working with a team of people spread out across different geographic locations and using different devices increases the risk of breaching data security. Research has shown that 62% of surveyed companies admit to seeing a rise in cyber attacks after going remote. Agencies with a remote workforce need to implement practices that protect sensitive client and agency data, in order to avoid expensive troubles down the road.
International Taxation Compliance 
When dealing with a global remote workforce, understanding each country's unique tax laws easily becomes overwhelming. This is especially confusing if you're working with a team made up of full-time, part-time, and contract employees, as different countries have different tax expectations for each category of employee. 
| Remote Work "Pros" | Remote Work "Cons" |
| --- | --- |
| More Freedom and Autonomy | Decreased Team Building Opportunities |
| Access to Wider Talent Pool | Difficulty Setting Company-Wide Expectations |
| Increased Productivity | Inefficiencies in Information Sharing |
| Sales Teams Have More Reach | Higher Data Security Risk |
| Cost Savings on Office Space | International Tax Compliance Concerns |
How To Avoid Remote Workforce Management Challenges
While managing remote employees comes with a variety of complexities, successful agencies are able to create proper strategies and processes to ensure a smooth experience for remote teams. Here's how:
Set Expectations Early
One of the most common causes of remote workforce management issues is a lack of clear expectations. As a manager working with remote teams, it's vital to decide what you expect from each team member as soon as possible and clearly communicate these expectations with all staff. New employees should learn these expectations on day one.
Remote work expectations will understandably be more flexible than they would be in an office environment, but they're still crucial to an effective management style. Set easy-to-understand guidelines for the following:
Work Hours and Productivity Goals 
If you're comfortable with allowing staff to set their own hours, you may want to set a minimum work hour rule or simply judge productivity on how well your workers meet their deadlines (or productivity goals). Some agencies opt for time-tracking tools to ensure effective remote workforce management. 
Deadlines 
There should be no ambiguity here. Ensure each task has a set timeframe and check in with staff at each stage, as not everyone may understand all expectations.
Plan. Invest in tools that ensure all communications are centralized and deadlines are adhered to. 

Michael Wisby, CEO, Two Trees PPC
Communication 
Do you prefer emails, Slack or video conferencing? Who should remote working employees reach out to if they need help? Answer these questions and clearly communicate them with your staff.
One-On-One Calls 
When trying to manage a remote team, this is essential. Not only should staff know how often they'll be having one-on-ones, they should understand what they'll be speaking about so they're prepared. 
Documentation 
Avoid wasted time and frustration by having transparent, well-documented processes and properly organizing all necessary documents. This will help improve time management and support remote staff during the onboarding process.
Implement Data Security Processes
To ensure your agency is protecting client data while managing remote workers, clearly communicate expectations to all your employees. Do you expect everyone to enable two-factor authentication on all endpoint devices like smartphones, tablets, and company laptops? Let them know during onboarding so it's set up from the get go. 
The most important step in any data security strategy is to make sure all remote workers are educated about data privacy and understand how to spot and avoid scams or phishing schemes. 
Plan Ahead to Stay Compliant
Like data security, international tax law compliance can be complicated and overwhelming when managing remote workers. It's important to create a set plan to ensure your company remains compliant with any relevant tax laws. 
To do so, begin by reviewing your current position. Are you facing any compliance risks you're unaware of, like a lack of filed tax returns for global employees? Ensure you understand the tax compliance expectations for each relevant country, broken down based on the remote worker's status as either contract worker, freelance, or employee. This could affect your worker's taxable presence. 
Check In Frequently
Remote workforce management has two potential pitfalls–micromanagement and under-communication. Ensure you're checking in regularly with your remote teams without virtually breathing down their necks. 
Schedule weekly calls with employees (either individually or in a group environment) to understand their progress and manage any issues they've been having. These calls should be a time to listen to your employees' questions and concerns to ensure their remote working environment is a positive one while also checking on employee productivity. 
Get Social
Remote work can be lonely for employees who don't get enough in-person interaction in the virtual setting. Without a vibrant company culture and casual conversations around the water cooler, it's easy to feel isolated or disconnected from your team.
We have an employee reward and recommendation platform that helps foster recognition between the team. We also have regular events to make sure we are making time for fun outside of the busy day-to-day schedule. We also run regular training briefings to foster a knowledge-sharing culture within the business.

Andy Hill, Founder, Distribute Digital
As a manager, it's important to create opportunities for team building to ensure your remote team members feel connected and to increase employee engagement.
A few ideas include virtual coffee chats and social video calls or in-person gatherings for those who live close enough. This allows remote teams to connect and build a positive work culture outside of virtual meetings and Slack messages.
Establish a Clear Communication Structure
Nothing is more important than proper communication with your remote team. Without a clear understanding of project progress, client needs and work policies, it's difficult to manage remote employees successfully and ensure your staff works efficiently.
Agencies can leverage remote workforce management software and collaboration tools to create a transparent communications strategy, both with your team and your clients. Through the AgencyAnalytics platform, agencies maintain an in-depth view of client goals and objectives, and custom permissions make it easy to choose which team members access what information.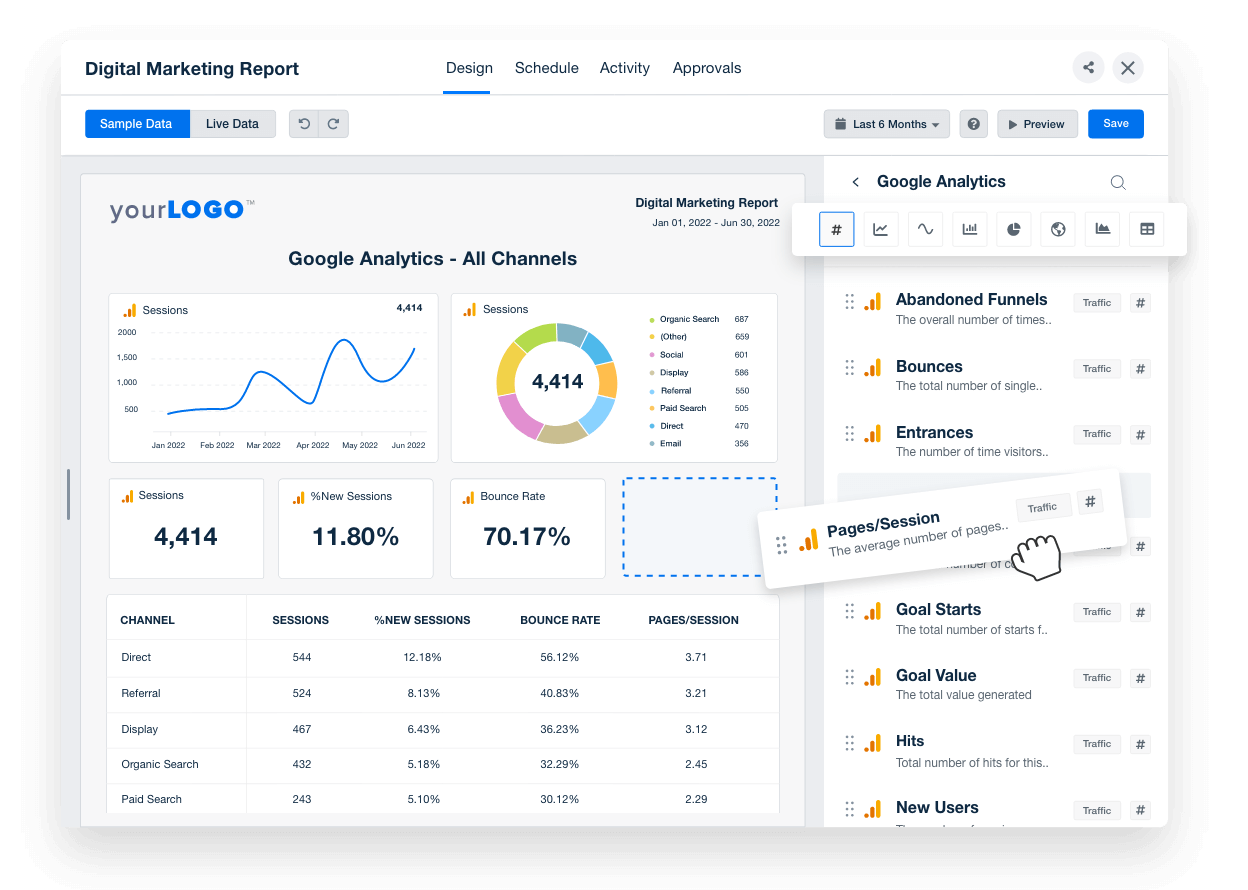 Create comprehensive digital reports and dashboards in minutes, and grant access to your who's who with custom permissions. Try AgencyAnalytics free, for 14 days.
Recognize Employee Accomplishments
Managing a remote team can lead to a disconnected workforce. It's essential to take the time to highlight your staff's individual successes and achievements. Provide feedback and recognition wherever possible, whether through company-wide emails, personal slack messages or during team meetings.
Research has shown that employees work better with positive reinforcement. Around 85% of employees who get positive feedback end up taking more initiative, while 4 out of 10 employees who don't receive positive feedback report being actively disengaged from their company. Remote working requires a little bit of extra effort to give that long distance pat on the back.
The Right Tools for Successful Remote Workforce Management
Productive remote workforce management is naturally a complicated endeavor. With less opportunity for face-to-face communication, agencies need to strike the right balance between autonomy and accountability to create a positive remote work environment where employees thrive.
Creating the best possible place for work and a culture that respects employees drives the ultimate goal - exceptional marketing and happy clients.

Michelle van Blerck, Communications Manager, Digital Freak
By setting expectations early, implementing practices to mitigate cybersecurity and compliance risks, investing in some social coordination, and keeping an eye on communication, agency leaders can make the most of a remote working arrangement–all without having to leave the comfort of their sweatpants.
Interested in improving remote communication with your clients too? Share comprehensive marketing reports and dashboards with your clients that paint the full picture of your agency's expertise. Try AgencyAnalytics free for 14 days.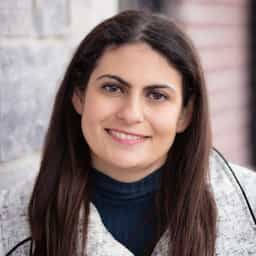 Rita Poliakov is an experienced content writer with a knack for storytelling. As a former journalist, she's a skilled researcher, interviewer, and grammar nerd.
Try AgencyAnalytics risk-free for 14 days. No credit card required.