We've all heard the familiar saying, "good things come to those that wait." And although it can be difficult to remain patient, the results are usually worth it.
Lane Rizzardini, Co-owner of Marion Relationship Marketing would agree with this sentiment. He says his agency has found success by implementing the proven-and-steady process of authority building for his ideal clients. 
Inspired by his family's entrepreneurial tenacity, Rizzardini knew he wanted to help small businesses stand out among their large competitors. He understood their business challenges–specifically the time it takes to invest in the ever-changing digital advertising world. 
Rizzardini took in all the digital marketing knowledge he could from previous marketing agencies he worked at and noticed an opportunity in the Texas market and beyond with small businesses. He knew the key to their digital marketing success was through authority building. 
Their agency works with local service-based businesses, including lawyers, home services, and medical clients, specifically clinics that work with sleep apnea patients. Marion Relationship Marketing offers a unique approach to branding their client's businesses through consistent, strategic content and SEO. Their strategies have set them apart from smaller agencies that simply don't have the capacity. And their digital strategists offer a point-of-contact that Rizzardini feels account managers are lacking at larger agencies. 
"We set the expectations upfront with our clients, and they really appreciate the efforts we go through," Rizzardini says.
Whether Marion Relationship Marketing uses this strategy for their clients or to scale their own agency, the numbers prove it's a successful strategy that's worth the effort. 
Finding Inspiration Through Humble Beginnings
When asked why he started Marion Relationship Marketing, Rizzardini said he was inspired by small business owners like his grandma, Marion. She was an Italian immigrant who started a small preschool daycare, Grand Avenue Preschool, in Chicago when she was 50 years old.
Image: Lane Rizzardini's grandmother, Marion (or Nonnie, as he called her).
"It's crazy to me that she started so late in life," Rizzardini reflects. It's that level of inspiration that influenced his decision to name the agency after his grandmother. 
His parents inherited the business and Rizzardini got his first job at the marketing company that was running their marketing efforts. 
"I thought I was going to be a fantasy sports writer, but people didn't want to pay very much for that and there just weren't a lot of opportunities in Texas at the time," he explains. 
So Rizzardini returned to his roots in Chicago and noticed the lengths his parents would go through to improve their small family business.
"I remember during the recession in 2008, my parents painted all the rooms bright colors as a way to improve business, which is such a small business owner thing to do," he says. "But when you're not a large business, you don't have investor money to throw at things and experiment. You have to get creative." 
Learning these valuable lessons helped Rizzardini realize what small business owners are up against. He knew digital marketing was a way that he could get trackable results for people. 
So, he started working at a large digital marketing agency and soaked up all the knowledge he could about Google Ads optimization, SEO, content marketing, social media, and all of the best practices in the digital marketing world. He was eventually recruited to work at a much smaller agency, where he gained even more hands-on knowledge and experience. 
"I was the fourth employee, which meant I was allowed to do a lot of things that I normally wouldn't have been allowed to do with my resume," Rizzardini laughs. "At my first job, I learned how to do marketing, and at my second job, I learned how to build a marketing agency." 
As he climbed the ladder into management roles at this startup agency, he quickly realized that this was something he could replicate himself–with some improvements, of course.
"They focused on Google Ads, web design, and experimented with some Facebook Ads almost exclusively for pool builders. It was a great model that worked awesome. But I saw that small business owners needed a much more holistic offering. That's what I was really passionate about and wanted to do, so that's why I left and started Marion with that goal in mind," Rizzardini shares.
Becoming a Fractional Marketing Arm of Your Client's Business
As many digital marketers know, platforms are constantly changing and new updates are frequently being released. Rizzardini relates to this common challenge and says the internet is a very "fragmented place." He knows it can be difficult to keep up with all the places a business should appear online, let alone stay up-to-date with the latest changes, especially if you're a small business owner. 
"All of these different places like directories, social media channels, are great places to advertise and we don't want them to miss out on those opportunities," Rizzardini says. "In fact, they're all things that are currently affecting their businesses." 
He references the well-known marketing rule of 7: It takes an average of seven interactions with your client's brand before a buying decision is made.
His agency's goal is to take that pressure off his client's plates so they don't need to worry about the latest changes in Google Business Profile best practices, for example.
"They don't need to worry about what Google has changed last week that will affect the roofing industry or the legal sphere. Or how to post to five different channels at the same time," Rizzardini laughs.
When a legal, home services, or medical client approaches Marion for digital marketing services, Marion completes a marketing health analysis. This includes looking into all the areas where their client's customers could be seeing inconsistencies before making their buying decision:
How fast does their website load?

Are the photos professional, up-to-date, and accurately reflect their business?

Are their spelling mistakes anywhere their business is referenced?

If they have submission forms, are they working properly, and are the business owners actually receiving them?

Are their positive and negative reviews being answered?

Is their business information correct across the internet (name, address, phone number, hours of operation, etc.) 
After the health analysis is complete, they are able to help guide their clients into which of their core four digital marketing plans is best to keep their clients ahead of their local competition:
They did a great job creating unique names for their marketing services that set them apart from other agencies that may also be helping local businesses advertise. Marion's Authority Program is a clear strategy that positions their clients well in terms of being in Google's "good books." Since Google prizes authority, it's more likely to rank content that is full of it. And where do searches go to find local businesses? The SERPs! 
The Dominance Program from Marion combines the well-informed strategies from the Authority Program with ad creation and optimization on Google or Facebook. This plan uses the foundation of authority building and promotes the content to audiences that it will appeal the most to. Total domination of their local competitors! After all, there is no overnight authority success story. So the practice of boosting this strategy with paid advertising is a great method to offer to their local clients. 
These plans allow Marion to be a "fractional marketing arm" for their clients and to ensure they get the most out of their marketing budget.
Rizzardini says they like to be almost like an extension of their client's internal teams. They do this by having a dedicated team member who has a personal, one-on-one relationship with their clients to discuss what their marketing data actually means. 
"When we track something like phone calls, we don't just tell our clients, 'You got 100 phone calls.' We tell them, 'You got 25 good phone calls, their names are MaryAnne, Steve, and John, and they want these services from you,'" Rizzardini says. "We not only track phone calls where information submissions are coming from, but we make sure to review them."
By analyzing their client's data in such a detailed way, they've built trusting relationships, ultimately resulting in higher retention rates.
"We give our clients an accurate picture of what is working, how well it's working, and where everything is coming from so they feel like they're spending their money wisely with us," Rizzardini explains. "They have all the data in front of them so they don't feel like they're getting burned as they have from other agencies." 
When Marion Relationship Marketing onboards any client, their team looks into all of the areas on the internet that their customers could be referencing. Marion's main goal is to maintain a consistent online presence across a variety of platforms for their clients. At the end of the day, these efforts prove that their clients' businesses are legitimate and trustworthy when a potential customer is ready to make an informed buying decision. 
Developing an Authority-led Marketing Differentiator
Like many agency owners, it's easy to forget to advertise for your own business. You get so focussed on delivering results for your clients that you don't put the same practices into place for yourself. 
Rizzardini says they faced this problem early on, but they've recently made it a priority to promote Marion. He and his business partner have backgrounds in service and implementation, but they knew sales was something they needed to improve upon.
Image: Lane Rizzardini and his business partner, Ryan Towe
When Rizzardini was thinking about how to position his own agency in a crowded market, something his dad told him in the past stood out in his mind:
"I get four phone calls a day from marketing agencies, and they're all doing the same thing."
Rizzardini recognized that he needed to get on the phone more but that he also needed a strategy that would set his agency apart from the rest. 
"Everybody sells Google Ads, and they're all selling SEO and websites. And when you have a business that is an extremely low barrier to entry, you basically need a laptop and a Gmail account to start a marketing agency," Rizzardini admits. 
But how do you differentiate yourself in a crowded market from business owners that are likely tired of hearing the same pitch all the time? 
"You can't just tell them 'We have better service' because they'll say, 'How do I know that? Everyone tells me that.'"
Rizzardini began pouring his time and resources into authority building with a "three-pronged" approach. He and his team find this works well, not only for their professional service-based clients but also their own agency.  
Getting Google Reviews 

Getting testimonial videos, so prospective customers know and trust it's a real person 

Answering questions (on Google or FAQ webpages and short-form videos on social media)
They also tested out creating marketing guides as resources on their website such as 3 Key Practices to Building Your Authority to specifically help small businesses with ways to build authority against the larger competition on the SERPs. 
"How do divorce attorneys differentiate themselves from those giant law firms with a fraction of the marketing budget and thrive? By building your authority." - Lane Rizzardini
Although it's a slow and steady process, Rizzardini has seen successful results, proving that the strategy is worth it in the long run. 
"It just takes time to build all of that authority over several months, but you just have to be really disciplined. We do it for our clients so we knew we could do it for ourselves as well," says Rizzardini.
An example of their authority building strategy is seen in the campaign results of one of their favorite clients, Thompson Law, for example. 
This client was well-versed in SEO tactics but was too busy to implement their current findings or develop their own marketing approach. Marion's plan of action included unified branding, an established and fully-functioning website, and a content plan that was specifically tailored to reach their ideal clients during the research stage. These strategies ensured a high-quality customer experience across all user touchpoints–online or offline. 
"You can see how much traffic he gets for prenups after marriage. This is a product of our content strategies that rank him highly for these terms and make him the authority in the Austin, TX area," Rizzardini explains.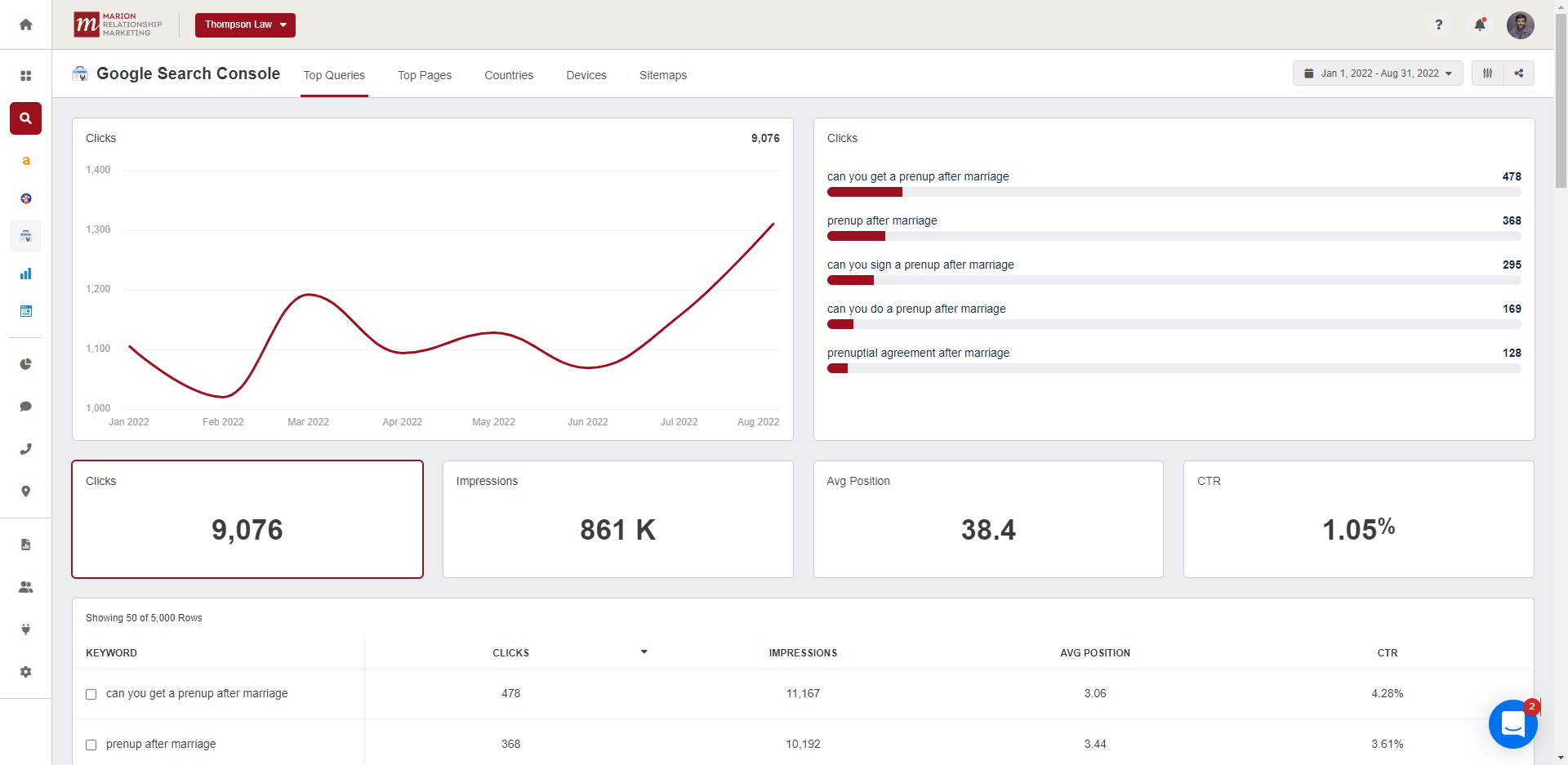 View the full case study here.
Creating Industry-specific Content for Your Ideal Clients
Once Rizzardini determined how to stand out in a crowded market by offering authority-building services to his local business clients, he contemplated the pros and cons of niching down even further. 
"Everyone always says, 'find your niche, find your niche, find your niche.' And I worked for a niche company and I wanted to do things differently," Rizzardini explains. 
He wanted to do "lots of things for lots of people." But within the first three years of agency growth, he came to a realization. 
"It's a lot easier if you pick a niche," he laughs. "It helps because you can create really tailored content solutions." 
After building a guide called "Three Reasons Why Your Marketing Sucks," it was evident that the content was relevant, but it was just too general. So, he decided to create industry-specific content for the ideal clients they wanted to work with. 
"You have to know who you're speaking to. Sending out a guide called 'How to build authority for your law firm' to a law firm audience works really well," says Rizzardini. 
This strategy is an ongoing process that the Marion team continues to work on to this day. Crafting industry-specific content for their clients is just one piece of the authority-building puzzle. 
"Hammering out that content and building a consistent flow over time is key," says Rizzardini. 
Image: A few of the Marion team members attending a recent conference. 
Strengthening Client Relationships With Transparent Reporting
To maintain a strong relationship with his ideal clients, Rizzardini says transparency is key. Their specific transparency tactics have kept their clients happy and even increased referrals.
"Anything we build for you is yours," Rizzardini emphasizes. "We've always maintained this mindset. Our philosophy is that we don't own any of the stuff we've built. These are our clients' assets that we manage on their behalf." 
Their clients get the highest level of admin access to their campaigns, dashboards, and digital marketing assets, which maintains a level of trust and transparency between the agency and the client. 
"If you have a teenage son who's really good at analytics all of a sudden and you want to give it to him, great," Rizzardini says. 
In Rizzardini's experience, larger marketing agencies weren't very forthcoming with access to websites, Google Ads accounts, and other platforms–something he wanted to do differently with his own agency. As long as they were remaining fully transparent, their clients would have trust in Marion for their digital marketing needs. And Rizzardini says AgencyAnalytics has been paramount in having these transparent conversations with their clients. 
"AgencyAnalytics has been key for us to clearly display our marketing efforts to our clients," Rizzardini explains. "It serves as a hub to give our clients transparency of what's working and what's not."
The Marion team builds custom dashboards with client user permissions. They provide their clients with a high-level overview and more in-depth info is available if they want to dive deeper into the data. Some things that Marion has found work well in their marketing dashboards include:
Using the Google Sheets integration to display total marketing spend, cost per lead numbers, revenue that Marion is generating, form submission data, and more

Klaviyo and MailChimp integrations for any email marketing campaigns 

Yelp and Google Business Profile integrations for reputation management purposes 

Implementing the CallRail integration to connect the digital results with real-world results
"AgencyAnalytics has helped us connect the dots from what our clients are spending money on to their phone ringing. Which I've always found really historically hard to do," - Lane Rizzardini
The Marion team takes their reporting one step further with a monthly video review. The digital strategists record themselves going over the numbers and metrics their clients are interested in. 
"It's important for our clients to be able to see our faces and hear our voices to maintain those relationships, so we're not just spitting a bunch of numbers out that they don't understand," says Rizzardini. 
Maintaining this level of transparency is a great example of how Marion Relationship Marketing builds authority with their clients. 
At the end of the day, Rizzardini just wants to give small business owners more time to serve their customers instead of chasing them online. There are many ways to build authority. While it can take a more focused effort, Marion Relationship Marketing knows the time is well-spent.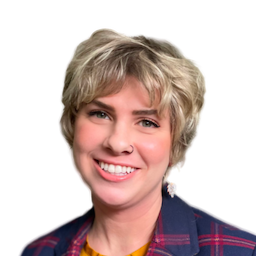 Richelle Peace is a joyful writer with a degree in Journalism. She loves writing web content, blogs, and social media posts. Whatever the topic, she's fascinated by learning and sharing.
Read more posts by Richelle Peace ›
Try AgencyAnalytics risk-free for 14 days. No credit card required.