It's no surprise that advertising looks very different today than it did in 1998. Although The Marketing Machine (also known as TMM) was founded before the turn of the century, this agency continues to thrive nearly 25 years later. How have they found success over the years? By facing each challenge as they come and remaining resilient. 
Founder Paul Spinak and his team found their footing by focusing on their strengths––creativity and client relationships. By getting to know their clients' businesses from the inside out, they're able to use the knowledge they gather and offer other services that build long-lasting client relationships. 
TMM has scaled their Raleigh, North Carolina-based agency by developing, activating, and maintaining hundreds of clients over the years. Today, they are the agency of choice for around 40 different brands, handling local, social media, SEO, and more for their clients. 
Building Resiliency Through Economic Downturns
The recent economic challenges are not new to the folks at TMM. Being in business for more than two decades often means riding out uncertain times. 
It all began while Spinak was working out of his house as an independent marketing consultant in 1998. He started with relationship marketing and eventually branched out into email-based marketing services. 
Fast forward to 2006, David Sardinha (TMM's current Vice President and COO) met Spinak while searching for a marketing consultant for the company he was working with.
The two enjoyed working together and were motivated to turn their projects into a full-scale digital marketing agency. Sardinha describes their partnership as yin and yang–Spinak bringing his creative director side and Sardinha with his accounting and business management expertise. 
"We moved out of his basement and into an office space. Then we started hiring talent and putting together the processes and tools and so on," Sardinha shares. 
Things were naturally progressing for them as they decided to grow the business through acquisitions and mergers. 
"Our thinking at the time was to be as broad as possible in our service offerings. We wanted to do everything in-house," says Sardina. 
They wanted to offer their clients every service possible, so they got involved in printing services, wrapping vehicles, signage, promotional products, and more. 
"We were doing everything across the board," Sardinha laughs. "We grew very fast and hired a lot of people. And looking back, I think we grew too fast." 
Unfortunately, TMM was not immune to the economic downturn in 2008 that everyone was facing. However, it allowed Spinak and Sardinha to refocus and determine the most essential part of their business. 
"We thought about what we really wanted to do and what our core competencies were. And we felt our core strength was creativity and design," says Sardinha. 
They were forced to downsize their agency and decided to move their office to downtown Raleigh to fit the creative agency vibe they were after. 
But 2008 wasn't the only time when they faced an economic downturn. Just before the COVID-19 pandemic began, Spinak and Sardinha had moved to another downtown location down the street and revamped their office space with all new furniture.  
Unfortunately, the team was forced to work from home, and their top seven clients halted all of their services. 
"2020 was a very challenging year for us to get through," admits Sardinha. But it was also a time of unique opportunities. "Many of our clients came back to us and said, 'We need to pivot and change how we do business. How can you guys help us let our customers know that we're still here?'"
TMM worked with a local fine dining restaurant during this time that had been around for almost thirty years, and their feedback was a great example of what kept Sardinha and the team hopeful.
Image: Creative designs that TMM made to reposition their fine dining restaurant client as a take-out restaurant during the COVID-19 pandemic.
"They had to transform into a 'to-go order restaurant' overnight and it wasn't easy. But that client will be the first one to tell you that we got him through that time," Sardinha smiles.
Locking Into a Successful Business Model
Aside from facing economic downtowns, Spinak and Sardinha faced other challenges along the way, including what type of business model they wanted to adopt. Like any business, when it comes to growing the company, there is no 'right way' to do things, and a lot of trial and error happens before locking into a successful business model. 
Here are some of the challenges that TMM has tackled: 
Project-Based vs. Retainer-Based
At first, TMM went with a project-based model for their agency pricing, but as they took on more and more clients, they began seeing the value in a retainer-based model.
"Finding the right pricing model allowed us to start working with more established businesses and really kickstart our growth," - David Sardinha
As a result, they currently work with less startup businesses and focus on clients who are willing to invest and can see the value that a full-scale marketing agency brings. 
Fostering Great Client Communication
Something that Sardinha mentions as TMM's differentiator is their quick response time. 
"We actually return clients' phone calls," says Sardinha. "When they call or email us, we get back to them within the hour."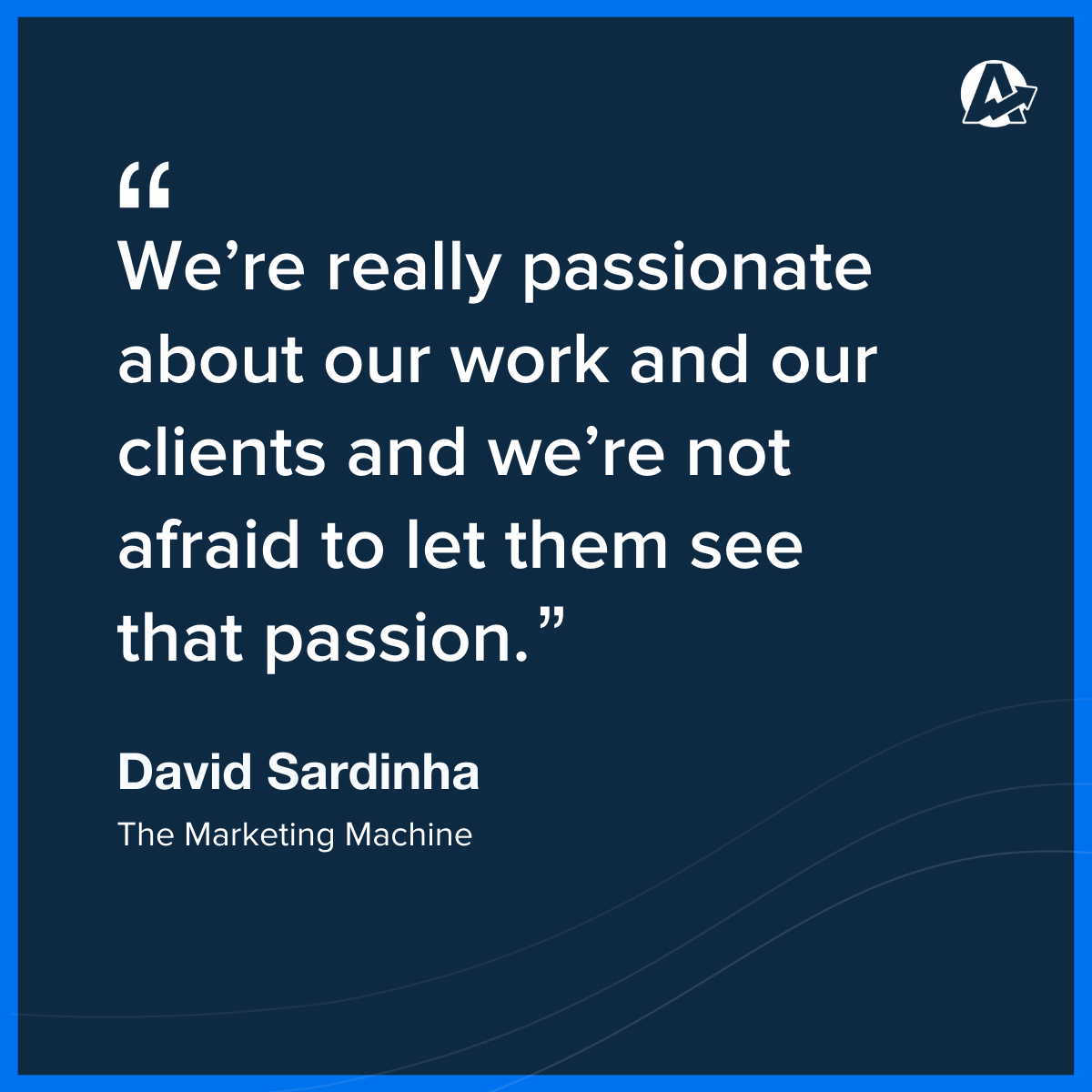 And this seemingly simple act proves that sometimes the smallest efforts can make all the difference. 
"I can't tell you how many times somebody has told us 'You guys are the only ones who got back to us!'" says Sardinha. 
The TMM team actively listens to their clients and it has helped them build better relationships while showcasing their expertise.
"As entrepreneurs or independent consultants, we've gone through the struggle of nobody returning our phone calls," Sardinha shares. "We're really passionate about our work and our clients and we're not afraid to let them see that passion."  
Acquiring and Merging Other Businesses 
TMM also tested out different service offerings for their clients and thought the best way to maintain control was to merge other businesses with their own. 
Many agency owners can relate to the challenge of when to say 'no' to a client. In TMM's case, when a client asked them for services they didn't necessarily offer, they simply began acquiring businesses that did! 
"If they needed building signage or van wraps, we went out and bought a company that did just that," Sardinha smiles. "So then we were manufacturing and painting signs and wrapping vans." 
And they didn't stop there. 
"Another company did their own in-house printing with a huge printer back then that was probably the size of the room," Sardinha laughs. "And they printed promotional items that helped us sell squeeze balls and hockey pucks." 
However, acquiring and merging a few companies came with its own set of challenges. 
Pros and Cons of Hiring Staff vs. Outsourcing
When they acquired a company, they also acquired the staff that came with it.
"Everybody was an employee. So we had this huge staff and huge payroll issue that we were dealing with," explains Sardinha. 
He compares their experience to a pendulum swinging between having a team that was completely in-house or a team made up of contractors. The benefit of acquiring and merging so many companies allowed the two business partners to test out both models to determine which one would work best for them. 
Image: David Sardinha (left) and Paul Spinak (right)
"Neither of those are really the best model," Sardinha laughs. "Having a large payroll isn't ideal, but you also lose a bit of control when you have contractors or freelancers when it comes to internal processes." 
Sardinha found the perfect balance somewhere in the middle of both models.
"We now have a mix of employees that's kind of like a hybrid model," he explains. 
TMM has in-house staff that manages the day-to-day projects, processes, reporting, and communicating with the clients. And then they will hire designers, copywriters, video producers, and PPC or SEO specialists as needed.  
"We can work with freelancers who want to do things on a part-time basis and that has helped us manage resources so we don't have a huge payroll to meet which can be a challenge in difficult times." - David Sardinha 
Their hybrid employee model has also kept their agency flexible and able to face any economic challenges that may come their way. 
"We're very loyal to our contractors, though," says Sardinha. "We tend to work with the same ones over and over again because they learn what's important to us and we also understand how they work." 
Creating a Company Culture That Empowers Team Members  
Because TMM works with a lot of companies that request branding services, Sardinha says it's important to get everyone on the team involved because they all bring different perspectives. 
"Ideas come from people who don't necessarily define themselves as creative people, but they have good ideas that a creative person can run with." - David Sardinha
Having an open environment has been instrumental for their creative meetings and Sardinha says everyone always participates. 
And because their team has been operating on a hybrid model of in-house and freelance employees for many years, TMM was well-equipped to handle the remote work environment that many companies recently had to implement. 
Sardinha says a big part of their motivated environment at TMM has to do with the people they hire. 
"We try to find self-motivated people because they like a degree of autonomy and they like to take ownership of their projects," he explains. 
And it's important to Sardinha that his team, new or not, feel comfortable and have the opportunities to be themselves. 
"We want you to be as authentic as you can be. We're not trying to make you into somebody that you're not," says Sardinha.
This deliberate approach to agency culture has created a mentality where no one wants to let each other down–including their clients. 
Some advice that Sardinha would offer to other agencies is to try not to take things so seriously. 
"We draw pictures for a living when you really think about it," he laughs. "You have to have a sense of humor and I think that's how you make it through the stressful periods." 
How to Stay Relevant in an Ever-Changing Digital World
Over the past 25 years, TMM has always been looking for ways to stay ahead of the curve that in turn help their clients outperform their competitors. Sardinha says they've done this by focusing on a combination of things, including their tried and true strategies. 
"Everyone always has a new idea and we've never been on the bleeding edge of technologies. We help our clients with the tried and true techniques and help them figure out what will work best for their goals." - David Sardinha
In fact, they've intentionally chosen not to specialize in a particular industry. 
"There are a lot of agencies that specialize in certain industries and I see the benefit of understanding and getting comfortable in that domain," he explains. "But at the same time, things can get stale and so we've consciously decided we're not going to go too deep into one industry. 
He says this also applies to the type of services they offer. Instead of specializing in social media marketing or SEO services, for example, they've chosen to focus on being the most knowledgeable consultants and communicate their expertise to their clients. 
"They're paying us to be the consultant. So we have to know more about digital marketing than they do and communicate the best possible solution for our clients," says Sardinha. 
And if they don't have the in-house expertise of the latest digital marketing trends, then they find it through their freelancers.
"When those things become more 'state of the art' instead of 'state of the shelf', then we decide to do that directly ourselves because it looks like a stable enough service offering for us to have," he smiles. 
Building Subject Matter Expertise Through Branding
When TMM works with a client, they often start with their branding services to build trust and long-lasting relationships. 
"It's hard to imagine something more personal than a client's logo or brand," says Sardinha. "That's their identity. It's something they're proud of and how they present themselves to the public." 
Once they deliver exceptional creative work, their other digital marketing services often follow in a natural upsell. 
"How do they get their new brand out into the marketplace and to their prospects?" Sardinha asks. "We already know their company so well because it comes out of the branding process itself." 
The TMM teams complete extensive research on a client and can explain every detail of why they chose to include something in a particular design. 
"The only way we're really able to do that is by getting into the heads of our clients and their customers. So starting with their brand is a really strong base to build a relationship on," Sardinha explains. 
An example of when this strategy worked well for TMM was when they worked with Garner Appliance & Mattress. The client had been in business since the 70s and we're looking to change their logo. They were previously known as Garner TV and no longer sold TVs.
"They had worked with other agencies before and never had a good experience," explains Sardinha. "So all they wanted was a name change and a new logo." 
Although they weren't interested in a long-term relationship at first, TMM's involvement and extensive hands-on process earned the trust of this particular client. 
"We do a lot of questionnaires and interviews," Sardinha laughs. "But we were really trying to understand what they wanted to accomplish and what their business plans and goals were."
They delivered their new logo and supporting branding elements like business cards, letterheads, and other identity materials. 
"They were really happy with the results but then the next question was 'Now that you have this new brand, what are you going to do with it? You have to update your website, right? You've gotta update all your delivery vans that have your logo on it. Your building has the old logo on it too.'" says Sardinha. "So we simply asked them how is anyone going to know they have a new brand and that the products they sell have changed."
TMM started putting together marketing plans, strategies, and possible campaigns to communicate the best way to get their new brand out there. 
Sardinha says they always look at their clients' businesses in terms of layers. They often start with the brand and then go into digital marketing services like search rankings, website optimizations, email marketing, etc. 
"I think that's a great example of how you start with something as simple as a name and a logo and it grows into this eight-year relationship where they're doing almost every marketing tactic you can think of now!" says Sardinha. "And it's paid off for them because their business has doubled in size!"
TMM's Secret to Longevity
The Marketing Machine is the perfect example of how successful businesses typically aren't created overnight. Whether your agency has been around for a number of decades or just a few years, there are always opportunities to improve your processes to create what you have envisioned for success. 
TMM has always managed to pivot and stay ahead of economic struggles by:
Understanding when and how to expand or contract your resources

Narrowing in on what services their agency does best

Choosing not to niche in a specific industry or service offerings

Finding the balance between outsourcing and hiring internal staff

Fostering a company culture that empowers employees to be themselves 
"We always want our clients to feel like they're the only clients we have. And when they let us do what we know best, we're both successful in the end." - David Sardinha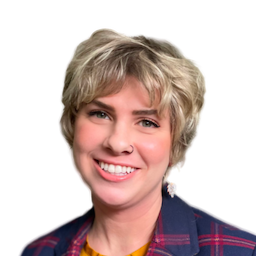 Richelle Peace is a joyful writer with a degree in Journalism. She loves writing web content, blogs, and social media posts. Whatever the topic, she's fascinated by learning and sharing.
Read more posts by Richelle Peace ›
Try AgencyAnalytics risk-free for 14 days. No credit card required.