Your clients use SharpSpring to generate leads, improve conversions to sales, and drive higher returns. However, it can be difficult to report on these results to provide a full view of your clients' marketing activities to tie them to the ROI. 
AgencyAnalytics now integrates with the SharpSpring marketing automation platform: pull in all your clients' SharpSpring marketing data to highlight how your marketing efforts are driving opportunities and moving things along the sales funnel.
AgencyAnalytics' SharpSpring integration gives you a crystal-clear view of:
Lead generation campaign tracking

Active, qualified, and closed leads

Opportunities in the pipeline

Granular account details
Use the powerful AgencyAnalytics platform to combine the results of your clients' SharpSpring marketing automation campaigns with over 75 other marketing integrations using customizable dashboards, data visualizations, and white-labeled client reports.
Give clients at-a-glance information to show off everything your agency delivers and help them make informed decisions.
Let's take a closer look at the detailed marketing automation data now available in your AgencyAnalytics account–and who it's for.
Pull Marketing Automation Data Into Your Client Reports
Over 2000 marketing agencies use SharpSpring to generate leads, improve conversions to sales, and drive a greater ROI on their marketing investment. Agencies use SharpSpring for: 
Marketing automation

Lead gen forms

Behavioral-based user tracking

Landing pages

Content marketing

Social media management
Pull SharpSpring's CRM data into AgencyAnalytics' live dashboards to clearly track KPIs. Create SharpSpring reports in minutes to highlight how your marketing efforts are contributing to your clients' sales pipeline, and demonstrate the true value your agency brings to their business.
Agency Use Cases for the SharpSpring Integration:
Manage Sales Pipelines, Monitor Salesperson Activity, and Send Out Emails
Marketing agencies use Sharpspring as a robust CRM, automation, and email marketing platform. Not only can they use the system for their own agency to send out out monthly newsletters to their clients, but they also use it for their clients to manage sales pipelines and sales activities.
With the SharpSpring integration in AgencyAnalytics, bring metrics like email stats, form stats, landing page stats, and funnel stats into a single platform to analyze the data and quickly build reports and dashboards for clients. 
A wide range of report widgets and filters provides numerous ways to showcase the data coming from SharpSpring and visualize the data as needed. Best of all, SharpSpring metrics are automatically updated into your AgencyAnalytics account for you to analyze so there's no longer any need to laboriously copy and paste data into spreadsheets. 
Create Product-Detailed Reporting in Minutes
Agencies use SharpSpring to increase ROI and engagement through marketing automation and sales. But it's a lot of data to parse through for your clients. Build custom reports with AgencyAnalytics in just a few clicks to show how your marketing campaigns are impacting your client's bottom line.
How Easy Is It, Really?
1 - To build your own dashboard with a client's SharpSpring data, simply log in to your AgencyAnalytics account and open a new campaign. 
2 - On the left-hand side, you'll see SharpSpring listed under the Email Integrations section. 
3 - Connect with your client's (or your own) SharpSpring data and see that your ready-made dashboard is already there to show you: 
Opportunities (Sales)

Opportunities Won

Opportunities by Campaign

Opportunities Won by Campaign

Opportunities Expected

Average Opportunity Won Amount
Now, let's see what metrics in your SharpSpring dashboard. 
In-Depth Funnel Metrics for Your Client Reports
AgencyAnalytics' SharpSpring integration pulls your clients' real-time SharpSpring stats into an intelligent dashboard that constantly updates the data, allowing you to instantly interpret campaign results.
Toggle between dashboard sections and obtain a comprehensive summary report of your clients' marketing automation campaigns, leads, opportunities, sales, and revenue. AgencyAnalytics' SharpSpring integration allows you to:
Monitor lead volume & activity, including where they are in the marketing automation pipeline

Get a clear view of how your marketing automation campaigns tie directly to sales

Monitor email performance of your clients' SharpSpring campaigns

Present complex SharpSpring metrics in attractive client reports and marketing dashboards
Plug in your clients' latest SharpSpring metrics with our SharpSpring dashboard. New to AgencyAnalytics? Try it free for 14 days. 
Track Lead Gen Campaign Attribution Status 
The Campaigns tab in your dashboard shows you detailed campaign metrics including:
Leads created by the campaign

Their qualified or closed status

Revenue associated with each SharpSpring campaign
Agency Tip: Use this section to show the number of leads you're driving to your client's business, and attach a $ value to your leads.
Track Revenue Potential With Detailed Opportunity Metrics  
Go to the Opportunities tab in your SharpSpring dashboard to monitor and visualize the revenue potential of the opportunities including the number of:
Opportunities,

Working opportunities,

Opportunities won,

Opportunities lost,

Along with their $ value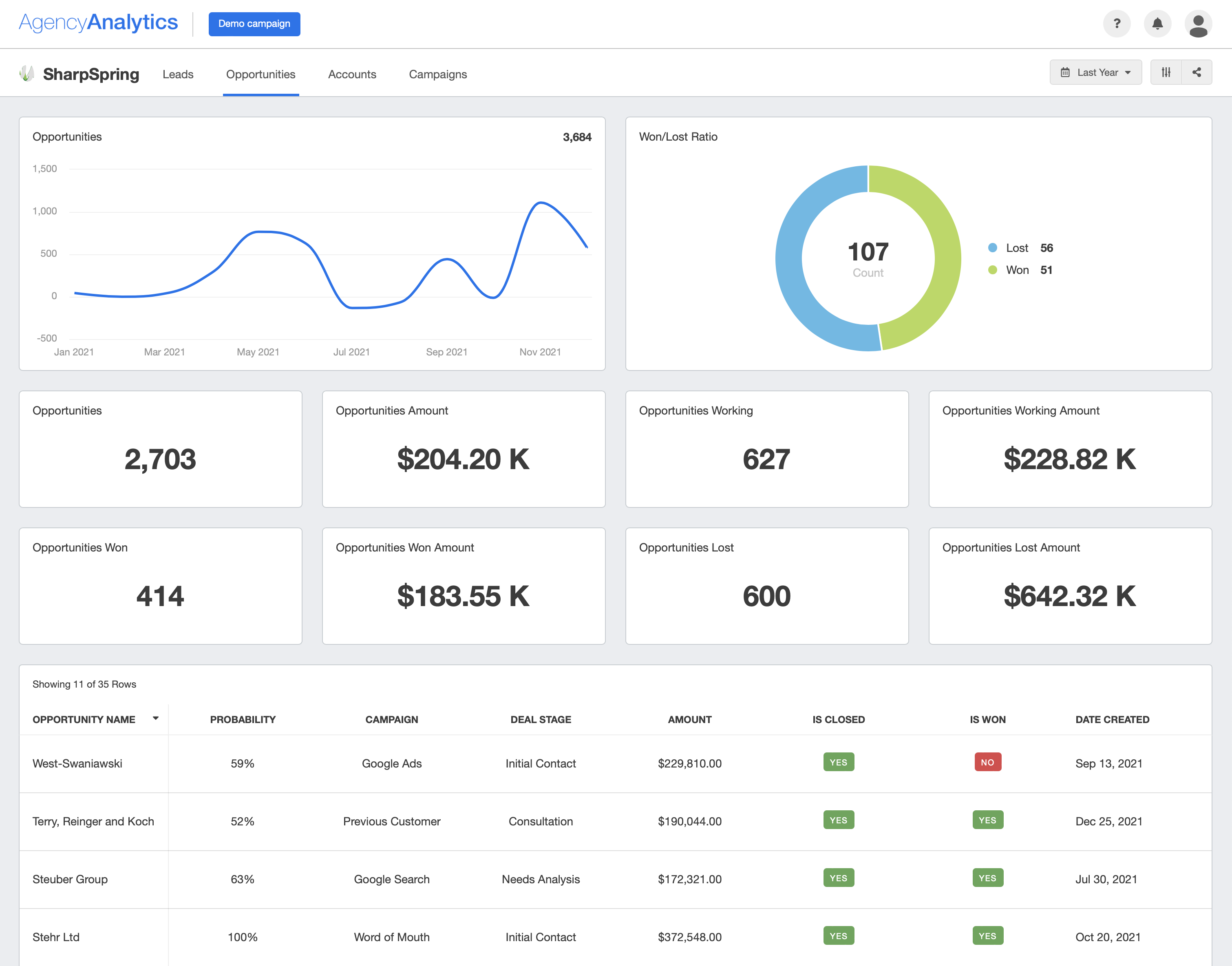 Agency Tip: Use this section to show how your agency's marketing efforts are translating to revenue. Show how your campaigns are progressing towards their goals by visualizing revenue potential for each opportunity brought in. 
Track Lead Activity Through the Pipeline 
Don't let a new lead fall through the cracks. Toggle to the Leads tab in your dashboard to view the progress of a lead through the pipeline, including:
The total number of leads over time

Active Leads

Qualified Leads

Contact status

Won customers
Agency Tip: Use this section to summarize how well the marketing automation campaigns are bringing in leads. Your client's sales team will appreciate this detailed view of their lead status to never miss an opportunity for a follow-up.
Dig Deep Into Account Details 
The Accounts tab in your dashboard gives you a crystal-clear view of your client's audience, with detailed information on their:
Industry

Demographics

Start year

Location
Agency Tip: Use this information to adjust your messaging to target the right audience and improve conversions to sales.  
SharpSpring Reporting for Marketing Agencies
Combine this data in your client reports alongside your clients' other marketing initiatives–like SEO, Social Media, and Google Analytics. With over 75 integrations to choose from, your agency has everything it needs to show a detailed picture of your client's marketing performance.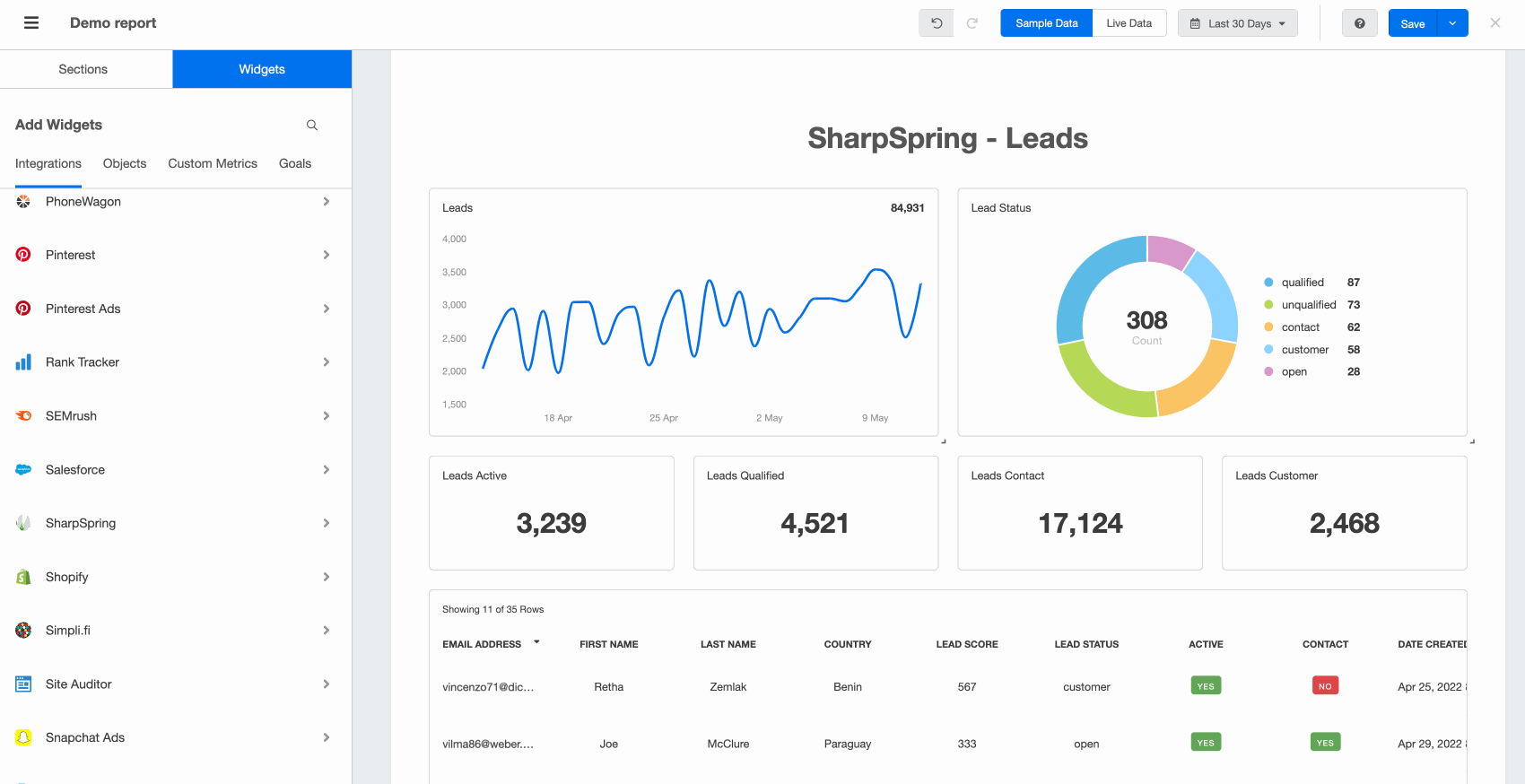 Use the white labeling features to create professional, visually-appealing marketing dashboards in minutes, and flip them into client reports that are easy to understand.
Here are just a few of the 15 dashboard templates available to get you started.
Automating Your SharpSpring Reporting 
Hate deadlines? So do we. Once you set up a client report, schedule it to get sent out regularly with your clients' latest metrics. 
Everything is pre-built and ready for you to review the reports beforehand to add any additional notes in your Executive Summary, annotations that highlight your successes, and any particular insights you'd like to mention–in plain English. Your clients will love you for that added touch. 
Check out all the features of the new SharpSpring Reporting Integration. 
Show the value you're bringing to your clients' bottom line, keep them informed, happy, and not overwhelmed by too much data. 
This integration is available on all AgencyAnalytics plans. New to AgencyAnalytics? Start with your free 14-day trial and get your client reports set up in minutes.
Written by
Melody Sinclair-Brooks
Melody is a marketing manager, writer, and startup consultant with a background in behavioural neuroscience. Through a data-driven approach and a passion for product-led strategies, she helps businesses achieve growth in today's competitive digital landscape.
Read more posts by Melody Sinclair-Brooks ›
Try AgencyAnalytics risk-free for 14 days. No credit card required.