Automated Choozle Reporting
Get real-time insights into how your campaigns are performing, make informed optimization decisions, and create comprehensive Choozle reports in minutes. Customize your Choozle dashboards and easily track your clients' metrics alongside all of their other digital marketing campaigns.
Full-picture Reporting
With over 75 to choose from, automate your agency's Choozle reporting and report on all your clients' marketing campaign results
Track Multiple Campaign Mediums
Diversify your ad investments into multiple emerging platforms like audio, video, and native ads–and track them easily in one place
Granular Campaign Data
Get detailed KPIs at the campaign and ad level to know what to tweak–and when
Showcase Your Agency's Success
Put your agency's ROI front and center using custom metrics to display KPIs like overall ad spend and ROAS
PUT YOUR CHOOZLE REPORTING ON AUTOPILOT
Automated Programmatic Reporting
Customize your Choozle campaigns based on data. Access your Choozle data at the campaign and ad level straight from your AgencyAnalytics account. Get insights into engagement metrics and KPIs that help you make informed decisions on campaign optimization.
Explore All Available Choozle Metrics
See all the metrics you can easily add to your client reports and marketing dashboards
Account Name

Ad Group ID

Ad Group Name

Ad Group Status

Advertiser Cost

Campaign

Campaign ID

Campaign Name

Campaign Status

Clicks

Conversions

CPA

CPC

CPM

CTR

Date

Impressions Bid On

Impressions Won

Profile ID

Win

Win Rate
CUSTOMIZE YOUR PRESENTATION
White Labeled Choozle Reports & Dashboards
Present your programmatic campaign results like your reports were built in-house. White label your Choozle dashboards and reports with your own logo and brand colors, and even host them on a custom domain. Put all your clients' key metrics under one roof–and make it your own.
Tell A Compelling Story With Your Choozle Data
Adding comments alongside your data points out specific changes in your programmatic campaigns. Provide deeper insights for your clients using annotations to explain the reasoning behind spikes in traffic and drops in CPC inside your charts and graphs. Show your clients just how you're tracking your progress using the goals widget that updates automatically. The goals and annotations feature keeps everyone in the loop as intuitively as possible.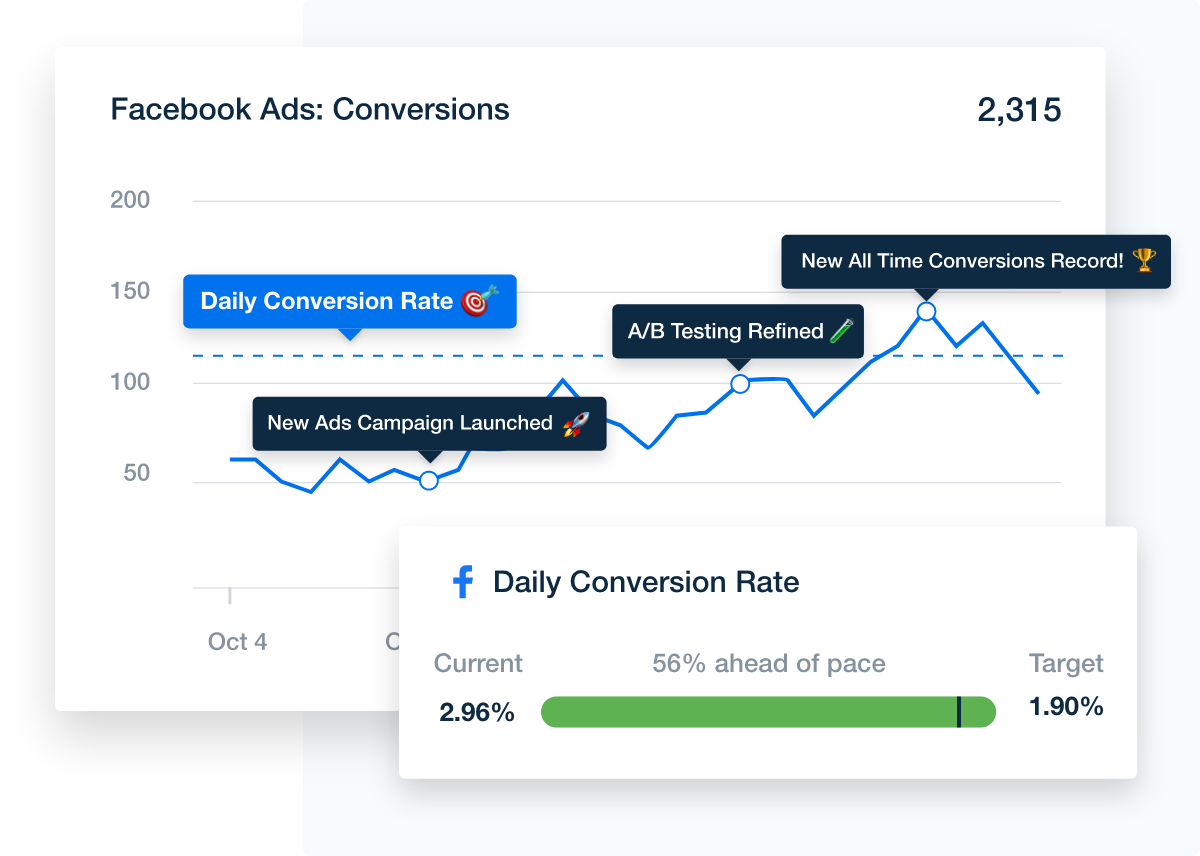 PUT SUCCESS FRONT AND CENTRE
Highlight ROI With Custom Metrics
Tracking programmatic and PPC campaigns across multiple platforms, like Choozle, Facebook Ads, and Google Ads? Need a way to show just how your agency is driving success with all of them? Create custom metrics to track exactly what you want–and how. Show your overall ad spend and ROI across all your platforms with a unique formula you create. Drag and drop it into your reports, and watch as the data populates on its own for ready-to-go reports every time!
AgencyAnalytics has helped us to make our customer's experience as enjoyable as possible! Love the simplicity and ease of use! AgencyAnalytics has help us make our customer's experience simple and yet amazing!
Social & Occupational Solutions
Connect the Choozle integration in seconds to streamline your client reporting.
Everything Your Agency Needs
Try AgencyAnalytics risk-free for 14 days. No credit card required.