Need an automated solution for your clients' Keap sales and marketing reports? The Keap reporting integration gathers real-time Keap data and presents it in an intuitive format that your clients will love.
Showcase Revenue Month Over Month
Display success metrics to present the true value your agency brings to the table
Track Contacts, Opportunities, and Sales
Optimize your campaigns and make data-backed decisions at every step of the funnel
Highlight Customer Growth
Ensure your client's customer base keeps growing by staying on top of churn and new subscription rates
75+ Integrations
Combine your clients' Keap data with all their other KPIs in comprehensive client reports
Easily Track All Your Keap Data
Analyze active and inactive contacts, win rates, top products, sales details, and more! Take the Keap (formerly Infusionsoft) template as a starting point or build custom marketing dashboards for your clients. Your prebuilt Keap dashboard template automatically pulls in your client's Keap metrics in an easy-to-understand Keap dashboard. All your clients' real-time data is ready to be flipped into client-ready reports in minutes.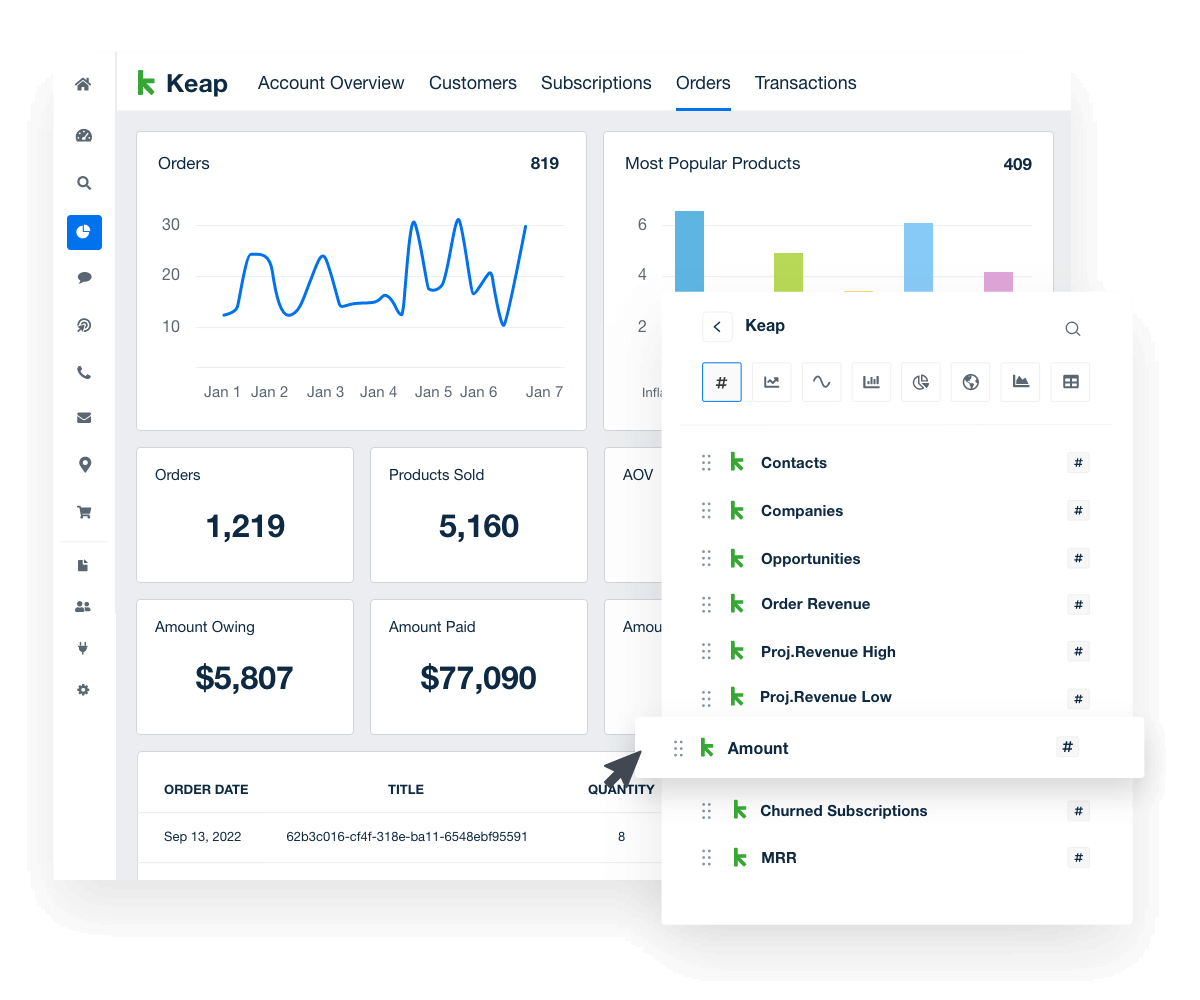 Explore All Available Keap Metrics
See all the metrics you can easily add to your client reports and marketing dashboards
Amount

Amount Discounted

Amount Due

Amount Owing

Amount Paid

Amount Refunded

Average Order Value

Average Quantity

Churned Amount

Churned Mrr

Churned Subscriptions

Companies

Contacts

Date

Mrr

Net Amount

Net Average

Opportunities

Order Amount

Order Revenue

Orders

Payment Amount

Payment Average

Payment Transactions

Products

Proj Revenue High

Proj Revenue Low

Refund Amount

Refund Average

Refund Transactions

Subscriptions

Total Quantity

Transactions
Get Insights Into What is Driving Growth
Get granular details into your clients' sales and marketing data. Drag and drop key metrics–including the total number of payments, subscriber growth, and month-over-month revenue–to the forefront of your dashboards and client reports.
Connect All Your Clients' KPIs Under One Roof
Build better campaigns. No more wasted time bouncing back and forth between platforms. Connect all your clients' marketing channels from over 75 platform integrations to analyze performance metrics all in one place.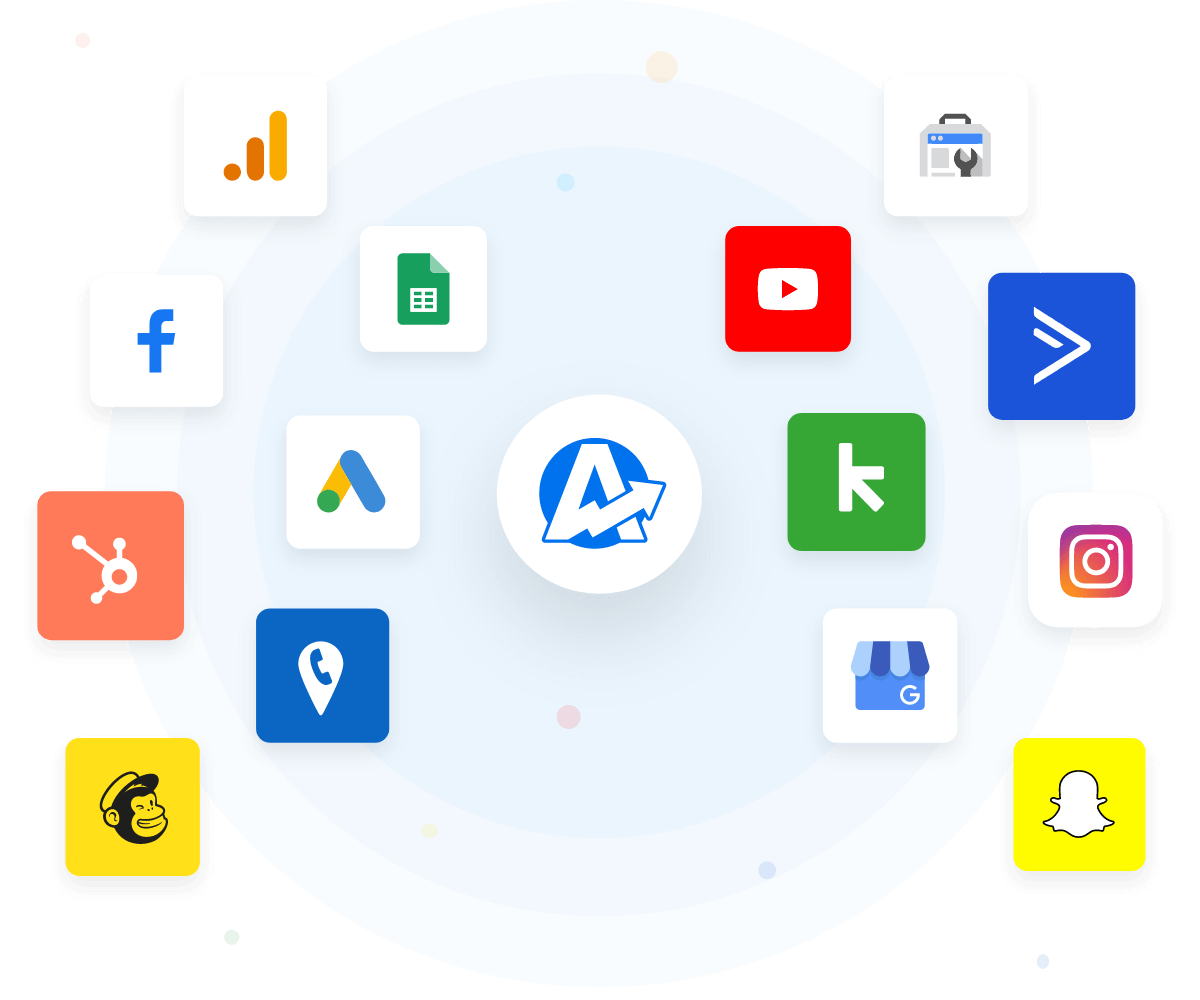 Data Storytelling Made Easy
Add annotations and goals to your line charts and date-based column charts to point out specific changes or highlight goal-beating moments! Keep clients up-to-date with your agency's progress in plain English and use the Goal-tracking bars to keep your whole team on track.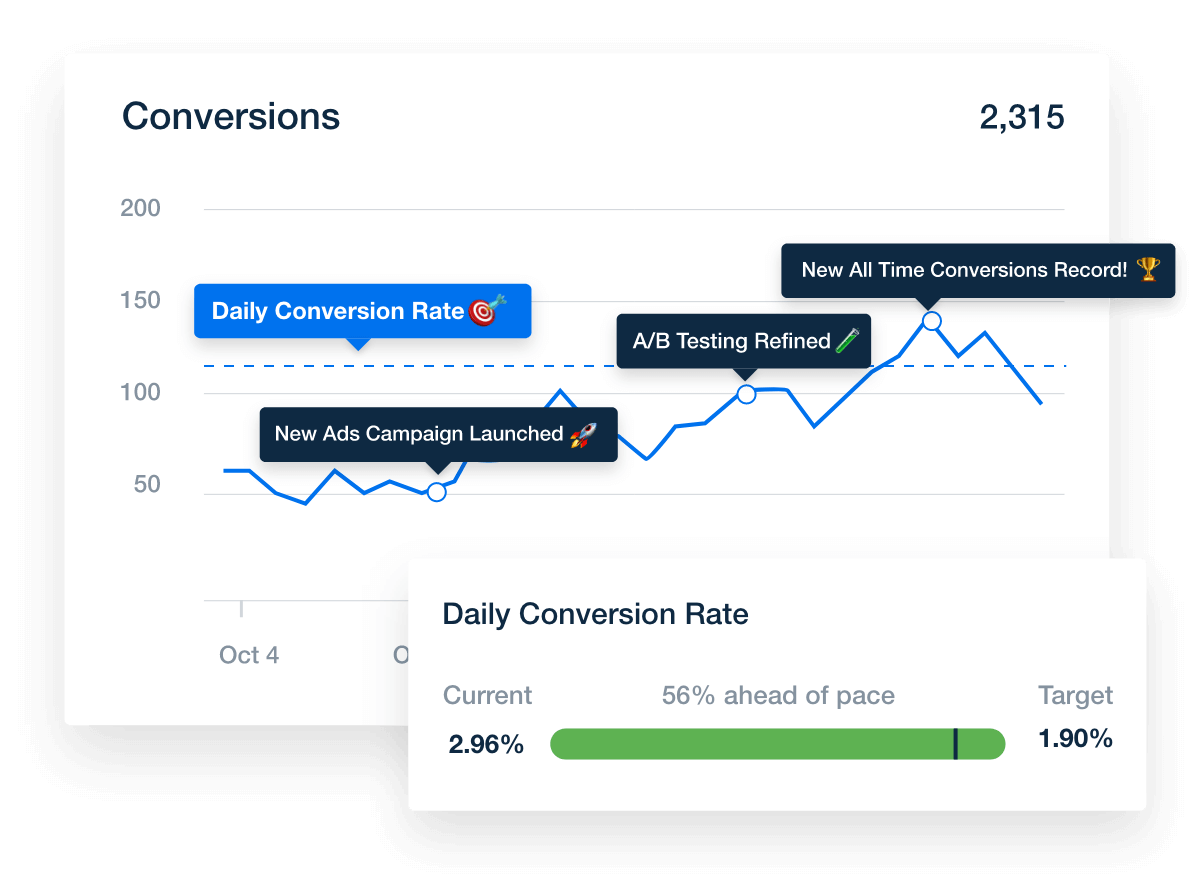 White Labeled Keap Dashboards & Reports
Personalize your Keap (formerly Infusionsoft) dashboards and reports with your own logo, brand colors, and more. Use the white label reporting suite to present your campaign results in professional Keap marketing reports that look like they were built by your agency.
Connect the Keap integration in seconds to streamline your client reporting.
Everything Your Agency Needs
Try AgencyAnalytics risk-free for 14 days. No credit card required.