What better way to start the new year than by having a new way to view your data. This week, we've released a small, but much requested, update - Presentation Mode!
What is Presentation Mode?
Presentation mode represents a new way that you can display your data. Essentially this is a 'full screen' mode, allowing you to show only the important dashboard data and remove any distractions.
A couple of great use cases for this function are:
Displaying metrics, KPIs, and data on an office TV/screen throughout the day. Having transparent and clear data available for all to see gives extra direction and visibility about what's happening within the company.

Using presentation mode in client meetings to display their data clearly to them. When in-person meetings are back on the cards, you can couple this with the use of a tablet or iPad for professional, clean data reporting. Presentation mode is a great way to support your data storytelling during a client meeting.
How to Enter Presentation Mode
To enter presentation mode, you simply click on the 'export' menu on your desired dashboard with all of the data visualizations that you'd like to display. From here, you can choose the 'Present' option which will open your dashboard in fullscreen mode.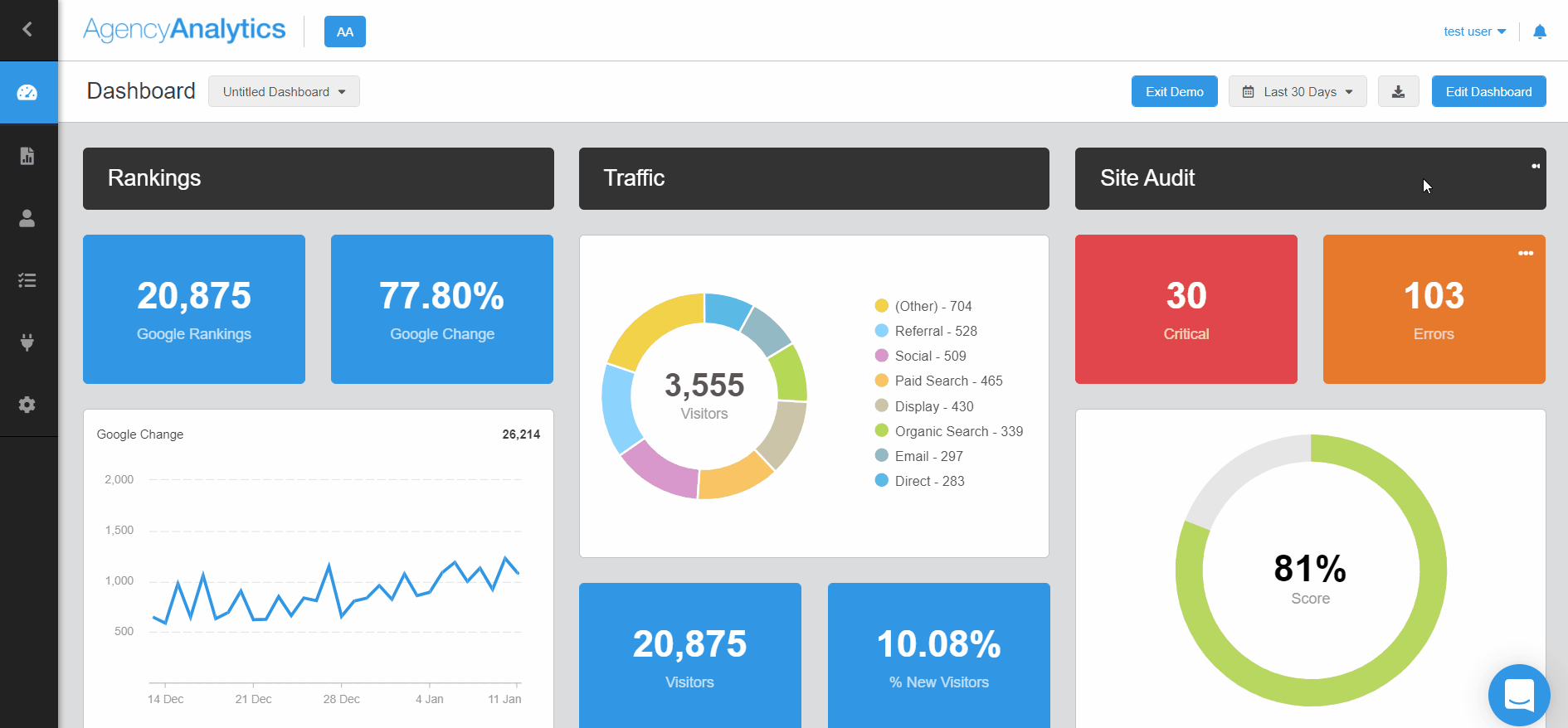 To exit presentation mode, you can simply hit the escape key on your keyboard.
Try our Dashboard Templates!
To take full advantage of our new presentation mode, try it out with some of our pre-built dashboard templates. 
We've built a wide variety of marketing dashboard templates that you can use with your own data, such as eCommerce, digital marketing, and social media analytics as well as individual integration dashboards like Facebook or Google Ads.
Here are just a few of the 15 dashboard templates available to get you started.
Have you seen our new widgets?
To make your dashboards even more interactive, we added some new widgets and functionality at the end of last year. These widgets make presenting both discrete and continuous data points easy, putting the power to create powerful reports at your fingertips.
Incorporate some of these to really enhance how you present your marketing data.
Alex is in product marketing, pushing the great work from the engineering team out into the world. When he's not marketing, he's probably rock climbing or researching the latest eCommerce trends!
Read more posts by Alex Girardi ›
Try AgencyAnalytics risk-free for 14 days. No credit card required.