Automatically stay on top of your clients' professional profiles with a live LinkedIn analytics dashboard. Give clients login access for 24/7 availability.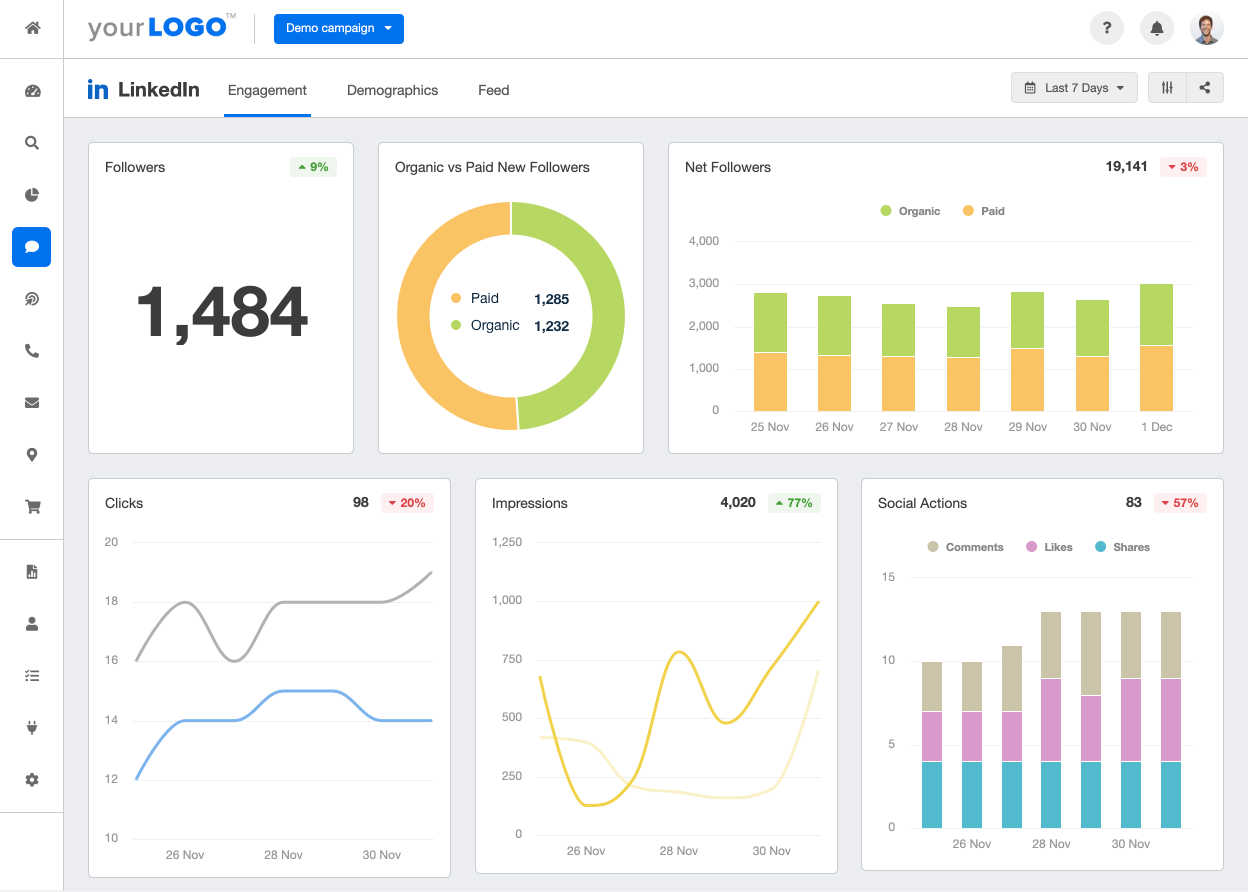 Track Influence
Show clients how their company's industry influence has changed over time
Industry Insights
Break down audience by company size, job title, and industry
Monitor Engagement
Track comments, likes and shares to evaluate post performance
Real-time Updates
Stay current with live updates across every client account in a single dashboard
Analyze month-over-month follower growth metrics
Actionable growth analytics for you and results-focused charts and graphs for your clients. With free and customizable dashboard and report templates, show clients exactly when, where, and how you've improved their company's LinkedIn presence.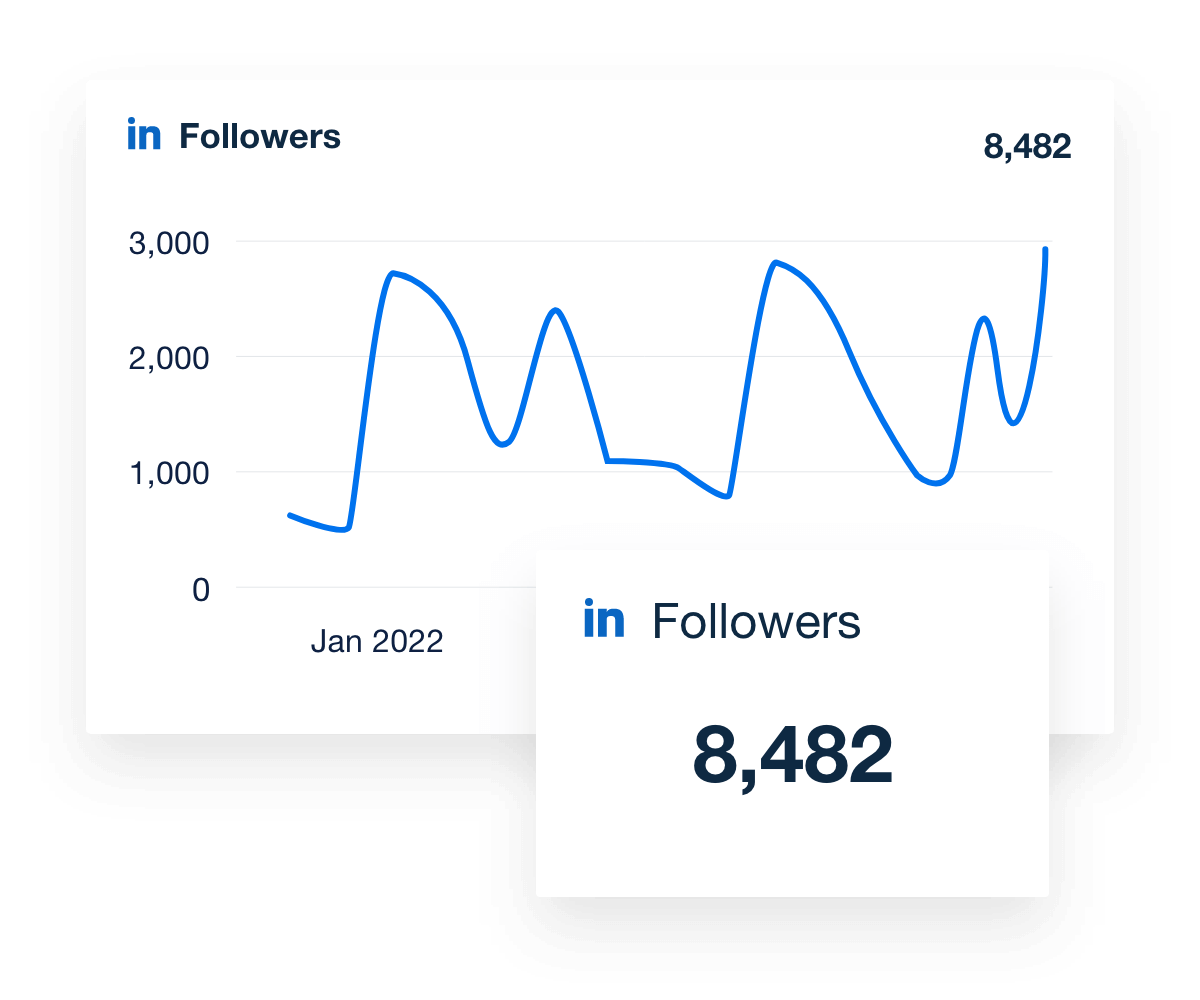 Explore All Available LinkedIn Metrics
See all the metrics you can easily add to your client reports and marketing dashboards
Clicks

Comments

Date

Followers

Followers Net

Impressions

Likes

Organic Followers Gain

Organic Followers Lost

Paid Followers Gain

Posts

Shares

Social Actions
Track Shares, Likes and Comments
Demonstrate exactly your client's LinkedIn followers have engaged over time. Analyze social actions by type, with separate visualizations for shares, likes, and comments. Compare engagement by day to find opportunities for further improvement.
Visually Analyze Social Influence
Total Impressions & Clicks
Understand exactly how far your client's reach and social influence extend across their network. Demonstrate total impressions and clicks over time with engaging, full-color graphs. Compare against previous periods to further exhibit your client's LinkedIn growth.
Leverage Valuable demographic follower data
Gather Valuable Industry Insights
While boosting total followers is a strong performance indicator, it's equally important to attract the right followers. Demonstrate to clients that you're reaching their target market with a visual breakdown showing followers by company size, industry, and job title.
Follower acquisition analysis
Paid vs. Organic Followers
Determine the exact breakdown of paid versus organic followers for each client's acquisition profile to better plan for future workflow. Include beautiful graphs and charts in your client's social media reports to help clients understand their paid to organic acquisition ratio.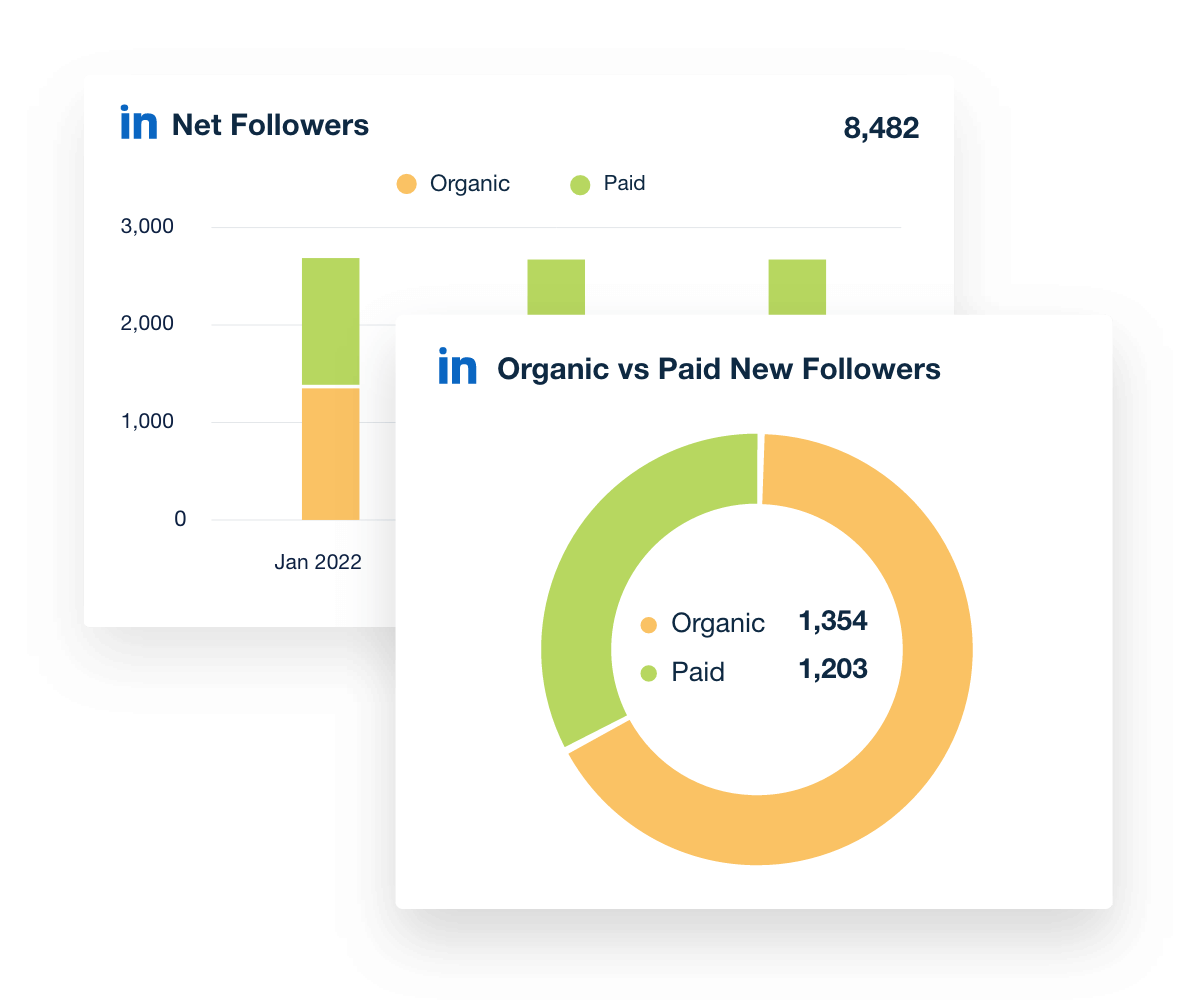 Country and Industry Level Audience Insights
Gain a deeper understanding of the individuals that make up each client's LinkedIn audience by analyzing demographic data. Break down followers by geographic location, seniority level, and industry.
View Live Updates and Recent Posts
We understand that it's a pain to switch between multiple accounts. With just one login, analyze engagement across multiple social media and marketing platforms. Work more efficiently by always being up-to-speed on client accounts, then use the time saved to provide valuable insights on the client's campaign performance.
Send Beautiful, engaging LinkedIn Reports
Set Reporting on Autopilot
Delight clients with beautiful marketing reports that they'll actually look forward to reviewing. Schedule automated marketing reports to send daily, weekly, or monthly to keep clients up to speed on their latest marketing performance statistics.
Share LinkedIn Analytics in a White Labeled Dashboard
Impress Clients with a Branded Dashboard
Build your agency's brand with custom dashboards featuring your logo. On select plans, host the dashboard on your own domain for a full white labeled experience that is certain to impress clients! Every dashboard is 100% customizable.
All Your Client's Social Media Metrics
Social Media Reporting Made Easy
Say goodbye to tedious, time-consuming, and manual reporting processes. Save time every month by automatically including the most critical LinkedIn metrics in a comprehensive social media marketing report. Take it up a notch by creating a live social media dashboard that gives clients access to their data in real time, showcasing your agency's commitment to transparency.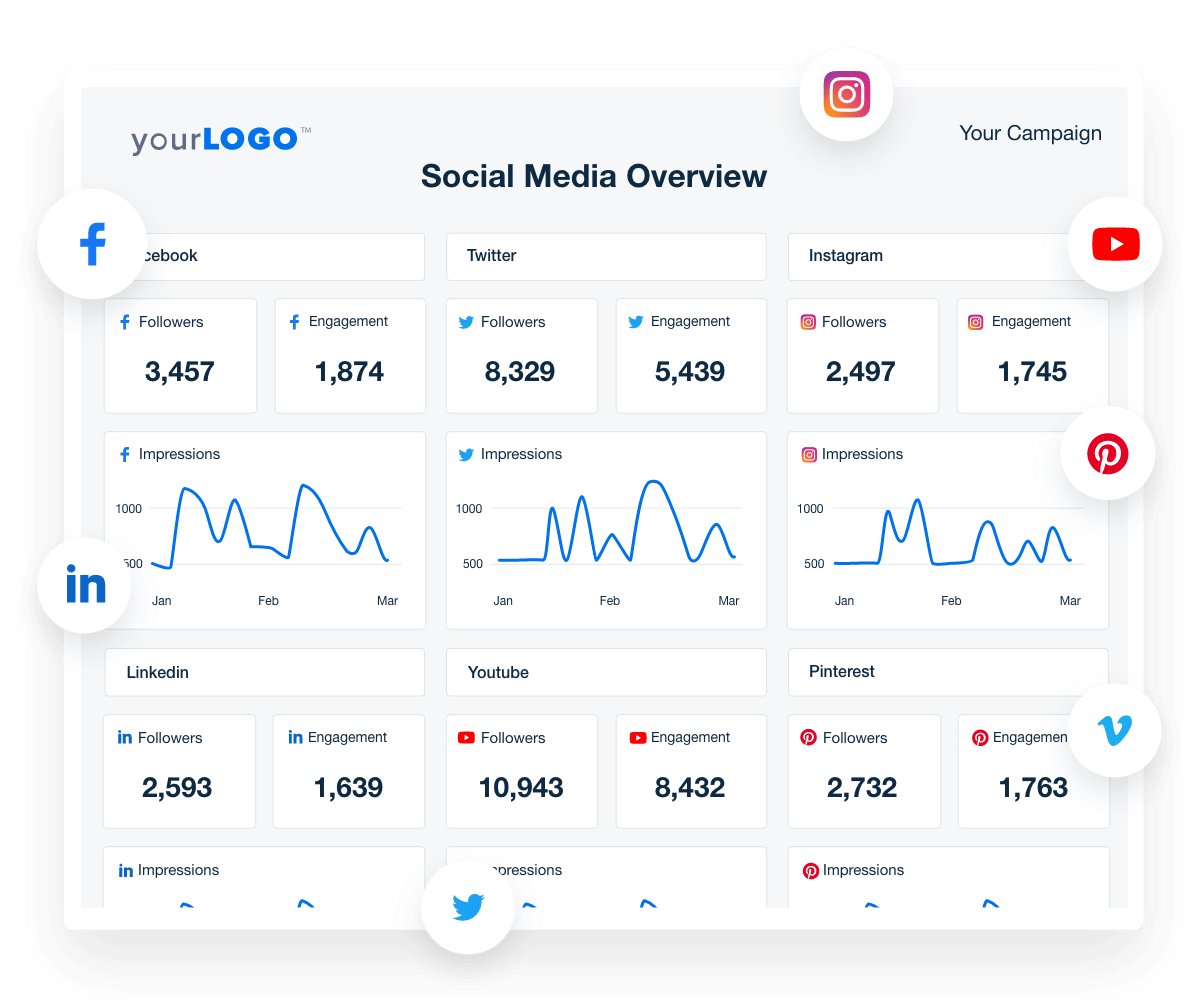 Connect the LinkedIn integration in seconds to streamline your client reporting.
Everything Your Agency Needs
Try AgencyAnalytics risk-free for 14 days. No credit card required.