Adform Reporting Dashboard
Demonstrate how your agency is turning your client's Adform marketing budget into quality conversions. Track the ads you're placing, the results you're achieving, and how your agency is pacing against budgets. Present the metrics that matter most to your clients in professional, white label dashboards and reports.
Track Campaigns
Report which ads are actively running, their start and end dates, and associated budgets to give clients an overview of your agency's efforts.
Report on Campaign Performance
Showcase impressions, clicks, and page views, and how that performance translates to conversions for your client's business.
Manage Costs
Track eCPM, eCPC, and eCPA and manage the bang you're getting for your client's buck.
Stay On Budgets
Monitor costs and set up custom goals to ensure your agency is hitting its performance targets while staying on budget.
DEMONSTRATE THE VALUE YOUR AGENCY BRINGS
Automated Tracking & Reporting for Digital Advertising
Your clients want to see the return they're getting on their digital ad spend. Make it easy for them to see the value your agency is delivering. Send clear, beautifully designed Adform reports that demonstrate how your team is translating their spend into conversions and growth.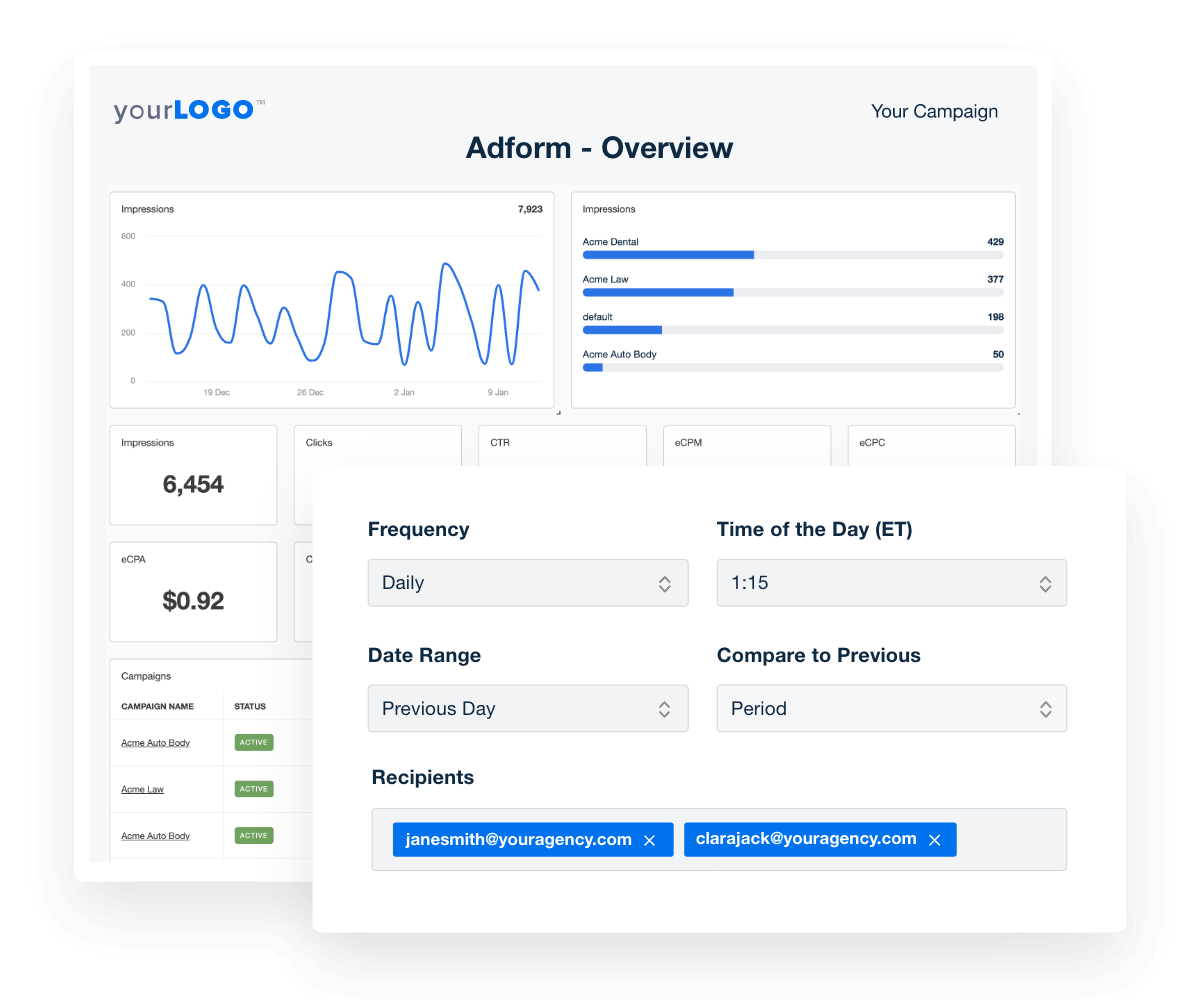 Explore All Available Adform Metrics
Add any of these metrics to your client reports and marketing dashboards with ease
Advertiser ID

Af Campaign ID

Avg Engagement Time

Avg Frequency

Campaign Name

Clicks

Conversions

Cost

CTR

Date

Ecpa

Ecpc

Ecpm

Impressions

Sales

Video Complete Count

Video Completion Rate

Views
PROPEL CAMPAIGN PERFORMANCE WITH ON-DEMAND DATA
Key Digital Advertising Insights
Monitor and manage the performance of your client's ad campaigns with clear data visualizations. Automatically track the impressions, clicks, conversions, and more in real time and over time. Gain the insights you need to buy with precision and maximize results. Display those results in ways your clients will understand and appreciate.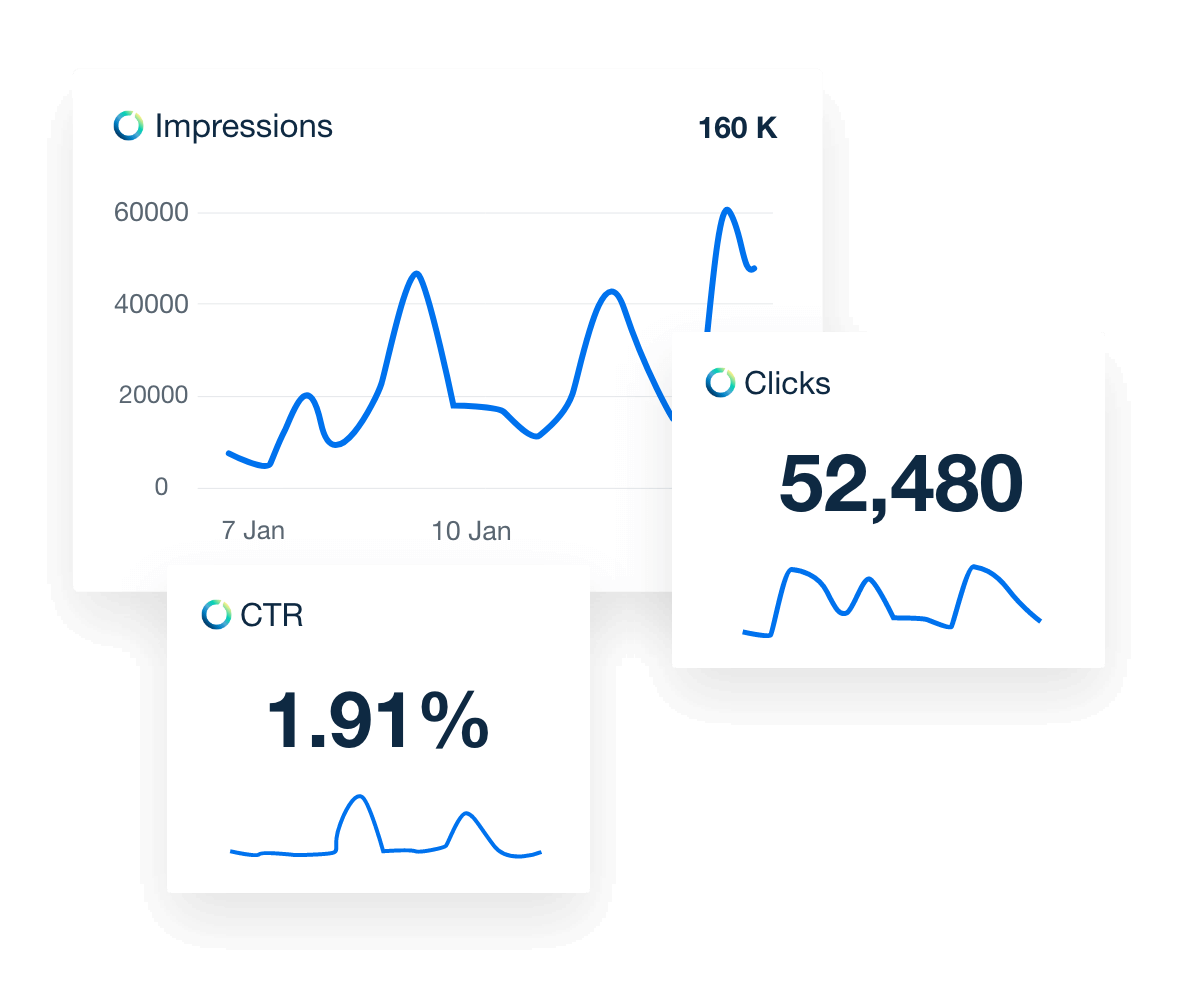 SET GOALS, HIT PERFORMANCE TARGETS
Confirm You're Hitting Client's Marketing Goals
Communicate your agency's impact at a glance. The Goals widget uses a visual progress bar to show how your efforts are trending against your client's digital marketing objectives. Show clients exactly how they're progressing towards their targets by applying goals to any Adform metric. Keep your team on track by breaking down monthly performance and budget pacing targets into day-to-day action items.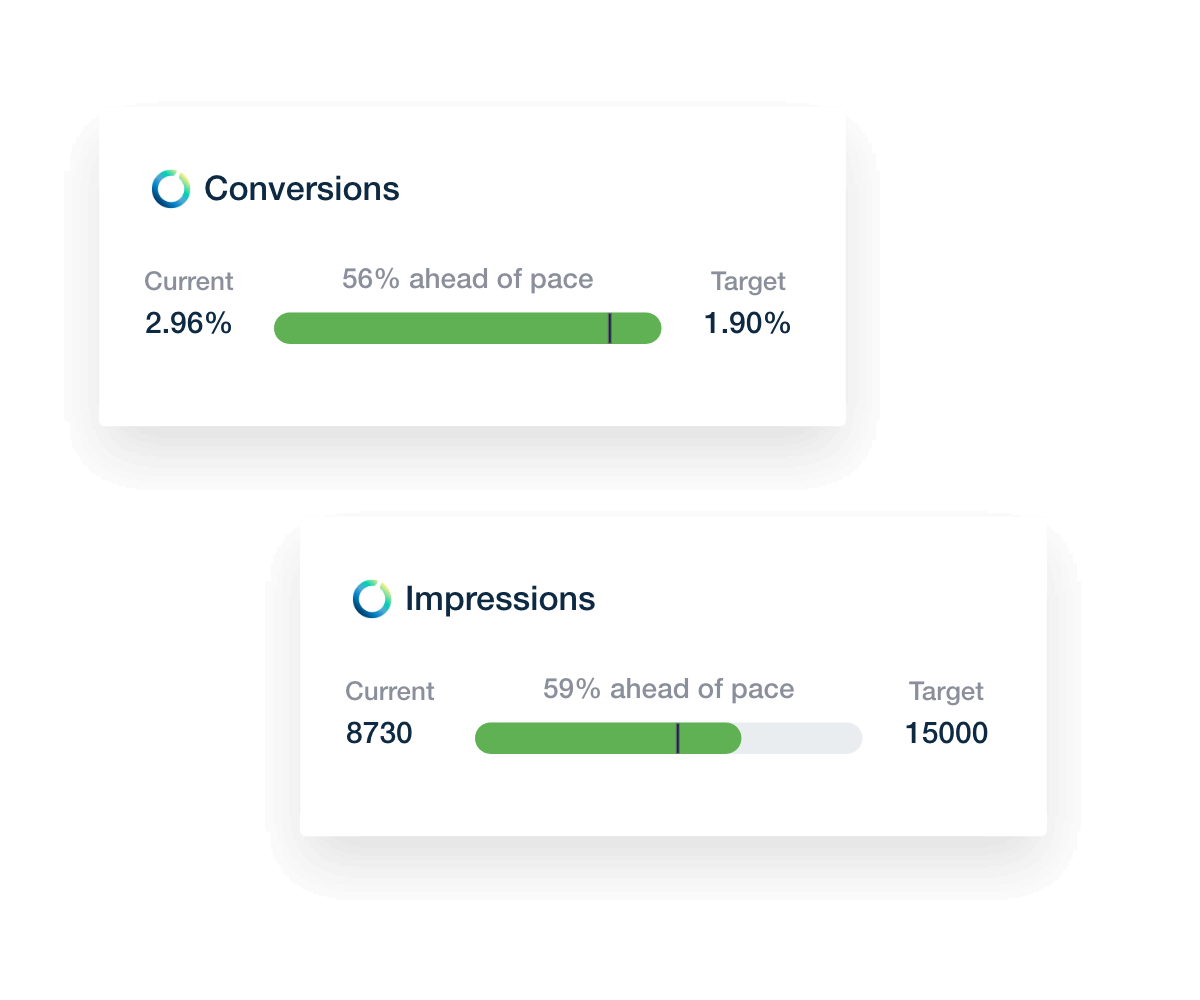 ADD CLARITY & INSIGHTFUL COMMENTARY
Present Personalized Marketing Reports
Take your client reporting to the next level and enhance your data storytelling by adding expert annotations. Start with a well-crafted summary, add insights and highlight data changes, and point out big wins so everyone can share in the success. Automate the Adform data-retrieval and report creation processes so your team can focus on adding personalized insights, professional advice, and actionable context.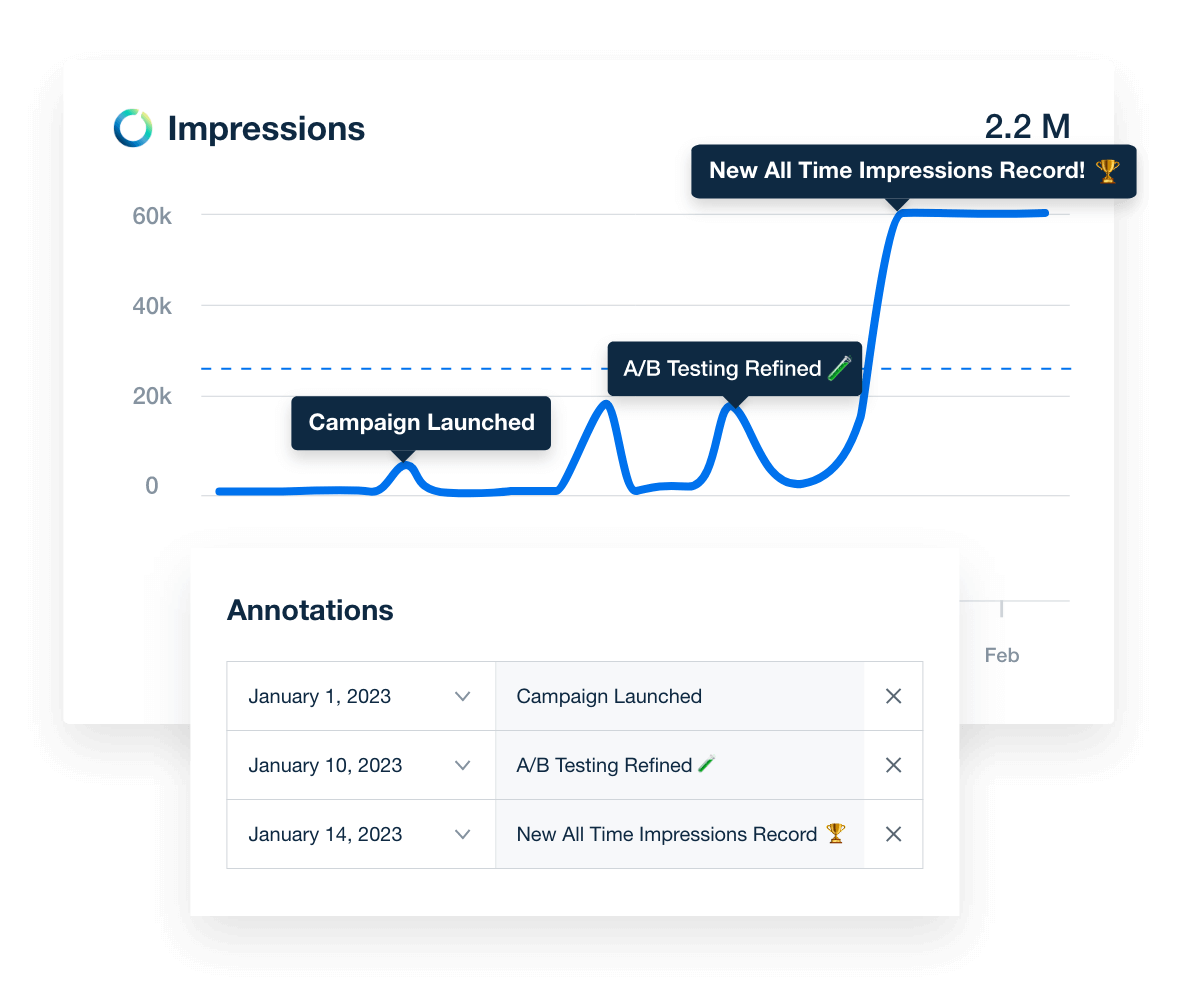 WHITELABLED ADFORM DASHBOARD
Give Clients Their Own Custom Dashboard
Impress your clients with transparent access to the Adform metrics they care about without causing information overload. Live, custom Adform dashboards give your clients access to the digital marketing data they need, when they need it, in an intuitive format. Deliver an even more customized and professional client experience by using your agency's branding, including colors, logo, and more.
CONNECT DATA BETWEEN 75+ INTEGRATIONS
All Your Client's Data In One View
Adform is just one part of your client's marketing tech stack. Bring together data from more than 75 channels into AgencyAnalytics' powerful reporting platform for a holistic view of their overall performance. Use the drag-and-drop editor to create custom dashboard views your client will love. Seize back countless hours each month across all your clients by reducing back-and-forth between platforms.
Connect the Adform integration in seconds to streamline your client reporting.
Everything Your Agency Needs
Try AgencyAnalytics risk-free for 14 days. No credit card required.