Do you feel like onboarding new social media clients is taking too much time? Is your social media strategy scalable? Do you have the right social media reporting tool? These are some of the questions growing agencies need to be thinking about and resolving fast. 
To sustain a growing client base, agencies need to place more effort on higher-level tasks and reduce time spent on the more tedious aspects of daily operations. They must also exude confidence to new clients that are anxious to see their return on investment.
This requires a good system in place to promote growth while maintaining quality. It's your agency's job to ensure your clients see measurable results from your marketing efforts and that they know your value. 
This article will equip you with 3 things your agency should do to scale its social media services to onboard new social media clients quickly and keep them happy with their very own custom built social media dashboard. 
1. Determine Top KPIs for Social Media 
Global spending on social advertising is expected to reach over $56 billion in 2022. While the amount of money spent competing for ad space on social channels is still rapidly growing, the value generated by performance indicators like brand awareness and lead generation is harder to quantify. 
Everyone wants a successful social media strategy, but mutually defining "success" with your agency's clients can be a pervasive challenge. So how do you prioritize which KPIs to focus on when setting up your social media dashboards and client reports? 
Think about what your clients are after. Brands commonly contract with a social media agency to: 
Increase brand awareness

Increase conversions 
For starters, it's important to include the following social media metrics in your clients' reports: 
Subscribers and/or followers

Conversions by social platform 

Traffic by social channel 

Comments

Likes

User demographics and geographics 
Creating benchmarks for engagement rates and traffic generated by your social media marketing efforts helps clients know what they can expect from your agency right off the bat. 
Having preset templates with these key KPIs allows your team to accurately track social media performance with every client your agency onboards. It also allows agencies and brands to stay on the same page and communicate more effectively about the success of each campaign. 
2. Create Intuitive Dashboards to Present All Social Media KPIs At-a-Glance
You can probably relate to the following statistic: 60% of marketers are regularly using 20 or more marketing tools. 
Marketing tools should be there to save time. Instead, marketing leaders are spending up to 30% of their workweeks manually synchronizing data from these various tools, which then need to be interpreted and reported.
One solution to this problem–and a major time saver for agencies and their clients–is moving from an ad-hoc analytics management strategy towards pulling all your clients' metrics into one easy-to-use platform.
Agencies that use the built-in analytics tools in their clients' social platforms get overwhelmed when it comes to tracking, exporting, analyzing, and reporting all their clients' KPIs. 
What if you could get all your clients' GA4 metrics, Facebook Metrics, and other social metrics all in one place, without fiddling with spreadsheets every month?
Your agency would save needless time and expenses instantly, because:
Login info to various platforms needs to be shared with multiple people

Dashboards and reports are not uniform or standardized

Team members and clients need to toggle between multiple platforms and dashboards

Time is wasted on duplicate work and wrangling the data from disparate sources into a cohesive dashboard and reporting structure

The data presentation structure can be complicated and difficult to understand
Having a centralized KPI analytics dashboard not only streamlines your reporting process but also brings in the magic of social media analytics. With the help of social media analytics, your dashboard becomes more than just a display of numbers; it transforms into a tool that offers actionable insights.
This enables you to understand user behavior better and evaluate the performance of your campaigns, which in turn can be leveraged to strategize future marketing initiatives. In essence, incorporating social media analytics elevates your dashboard from a reporting tool to a decision-making asset.
Why waste precious time jumping from platform to platform to gather metrics from Facebook, Instagram, Twitter, LinkedIn, and more. Cohesive goal-tracking for the win! 
This saves time and frustration for internal agency team members, who all have access to the same data. It also presents your clients their metrics in a way that would take you way too long to reproduce in Excel. 
Exhibit A: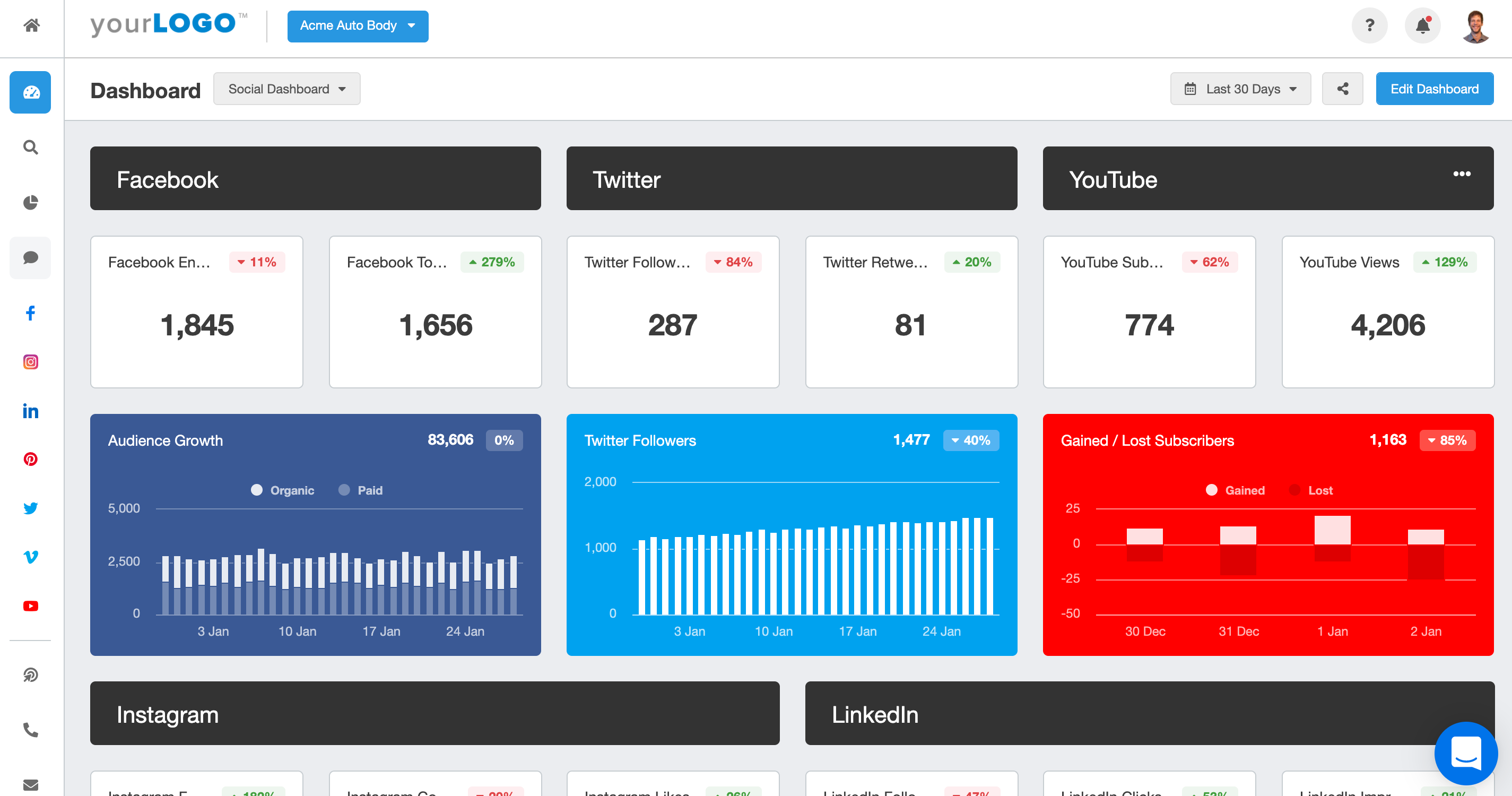 Having an all-in-one social media analytics dashboard also makes onboarding new marketing clients far easier because:
Team members don't need to learn new analytics tools for each new client

Dashboards come pre-loaded with the most important metrics 

Clients can view their own analytics data at any time

It's easier to produce reports for clients from the created dashboards

Eliminates the need to export data into external programs for analysis and reporting 
After all, brands seek out agencies to manage their social media because they are looking for better, more efficient results than they could achieve on their own, and this is a key way to provide that value. 
3. Automate Social Media Client Reporting 
Automating client reporting is one of the fastest your agency can do to scale its operations today. 
As your agency grows, the number of hours required to manually produce reports on each of your client's social media accounts increases. Creating reports manually often takes up 30+ hours each month, and only gets longer as your client base grows. 
Client reporting basically requires a full-time employee to ensure each report is accurate and produced on time. Scalable? Not quite. 
An automated social media reporting tool brings several benefits to: 
Free up the agency's time for higher-level tasks

Maintain regular communication with clients

Offer customizable options using social media report templates

Provide accountability

Educate clients on the value of your work 

Create up-selling opportunities 

Give your agency time to provide thoughtful annotations 

Let agencies scale their operations 
Ultimately, automation enables agencies to scale their social media business while providing a high level of service to each client. 
Marketing Leaders Want to Free Up Time for Higher-Level Tasks 
Marketing leaders are increasingly frustrated by the amount of time they spend on busy work during the average workweek. Over half of CMOs interviewed preferred spending more of their time on strategy and operations.
Prioritizing the most important KPIs across social networks, centralizing your reporting using social media analytics software to get real-time updates, and automating your client reporting frees up countless valuable hours for higher-level tasks–ultimately generating more revenue for your agency. 
With over 60 integrations, automate your client reporting across the board. Try it out for free for 14 days.
Written by
Melody Sinclair-Brooks
Melody Sinclair-Brooks brings nearly a decade of experience in marketing in the tech industry. Specializing in B2B messaging for startups and SaaS, she crafts campaigns that cut through the noise, leveraging customer insights and multichannel strategies for tangible growth.
Read more posts by Melody Sinclair-Brooks ›
Try AgencyAnalytics risk-free for 14 days. No credit card required.