"The likes are great, but how much revenue did it generate?"
If there were a list of "Things marketing agencies hear again and again," this would be one of them. Proving social media ROI is no easy feat, and it's often one of the more challenging parts of the job.
Social media has many intangible benefits, like building a positive brand reputation, creating an online presence, and forming a community. While these all fall under the social media ROI umbrella, it's challenging to communicate the value since it doesn't always directly translate to monetary gain.
That said, you still need a way to quantify the effectiveness of social media efforts and prove ROI. Remember, your clients are allocating significant marketing budgets, and they rightfully expect to see that it's paying off. 
Proving social media ROI is a key tactic to differentiate your agency, showing that you deliver results beyond likes and engagement. While it may involve extra strategizing and calculations, it's worth the effort.
Here's what we'll cover in this Social Media ROI guide:
Why Should Your Agency Measure Social Media ROI?
It's essential to justify the value of your social media services and why it's worthwhile for your clients. 
Measuring social media ROI: 
Gives a quantitative measurement of success, which is often challenging but necessary for social media efforts

Shares valuable insights beyond revenue since social media ROI isn't just a monetary value. For example, engagement metrics (e.g., likes, shares, and comments and other earned media metrics) are instrumental in gauging content effectiveness and refining marketing strategies

Lets you know which social media platforms are most effective. This is also important to identify top-performing content types and replicate a successful social media strategy 

Shows that your agency has a calculated approach to executing social media services. Proving social media ROI goes beyond surface-level insights that clients can already access, such as engagement (e.g., likes, comments) and ad spend

Increases the chances of client retention. When clients see positive ROI from social media campaigns, they're more likely to continue this agency-client partnership
Currently, our highest-performing client is getting 17,000% monthly ROI with us. When you can report those kinds of numbers, it tells a compelling story and keeps clients engaged with your work. 

Alex Faiers, Founding Director of Addictivity
3 Common Challenges in Proving Social Media ROI
While there are obvious key metrics that indicate traction (like engagement or conversions), proving social media ROI isn't always straightforward–let's explore why. 
1. Social Media Efforts Take Time To Build Traction
All good things take time. 
Think of all the steps involved when creating a social media campaign. Consider that: 
Social media campaigns often involve testing different content types, headlines, visuals, and calls to action. While it takes time to execute, this step provides insight into what resonates most with your client's target audience

External factors may influence the visibility or execution of social media campaigns. For example, take the Facebook ODAX rollout. This update meant adapting to platform changes and revisiting the ad creation process, which could have resulted in delays or more adjustments

There may be an initial learning phase before a social media campaign performs optimally (e.g., TikTok Ads campaigns and other platforms)
Social media ROI doesn't happen at the snap of your fingers, and it may not be positive in the initial stages. 
That's why it's crucial to monitor social media performance, make adjustments, and keep clients informed every step of the way.
Access real-time insights and make improvements to your client's overall marketing strategy. Demonstrate the ROI of your social media services through data-backed insights–try AgencyAnalytics today, free for 14 days. 
2. Social Media ROI Doesn't Always Mean Revenue
ROI is often associated with dollars and cents. 
When it comes to social media campaigns, though, revenue isn't the only definition of success. What about brand loyalty and community engagement? Those count (and matter), too.  
For example, a local SEO client that just launched a restaurant may use a Facebook campaign to increase brand awareness and follower count. However, your agency's social media efforts don't immediately result in revenue. That said, creating an online presence and repeated brand exposure increases the chances of monetary ROI in time. 
Still, it isn't the easiest thing to explain to clients who are solely revenue-driven. After all, social media likes don't pay the bills.
3. Attributing Credit to Social Media Campaigns
The customer journey is multifaceted. Prospects often engage with your client's brand through multiple touchpoints before completing a conversion.
For example, a prospect may see your client's Pinterest account and save a couple of Pins. A few weeks later, they head directly to a search engine, find your client's website, and follow through with an online sale. 
In these scenarios, it's challenging to attribute full credit to your client's social media marketing efforts. In fact, it's nearly impossible to keep track of everything. That said, having the proper infrastructure helps fill these gaps (e.g., using Google Analytics to track website activity derived from social media). 
This multi-channel approach creates a roadmap of the customer journey and shows how your agency's marketing efforts are intertwined. In turn, it demonstrates the full impact of social media campaigns and instills more confidence in your agency's capabilities.
Use a Google Analytics dashboard to establish a correlation between your client's social media campaigns and website activity. Get more granular insight into customer behavior–try this dashboard free for 14 days on AgencyAnalytics.
How To Prove Social Media ROI to Your Clients
While there are obvious challenges, don't let them deter you. Calculating social media ROI is possible with the right approach–here's a step-by-step plan.
Step 1 - Understand Your Client's Social Media Goals Upfront
Before going full steam ahead on social media campaigns, have a 1:1 conversation to understand your client's overall business objectives. 
For example, let's say you have an eCommerce client that wants to achieve $120K in revenue for the next quarter. Most leads and online sales have come in through Instagram, where they have a solid social media presence. Based on this, it makes the most sense to focus on social efforts that generate leads.
Deciding on a specific social media goal also assists with the subsequent campaign creation. For example, this may include leveraging product tags in Instagram shopping or incorporating lead generation forms in ad campaigns. 
We prioritize client goals above all else and work tirelessly to deliver measurable results that drive business growth. To do this, we take a data-driven approach by constantly measuring and analyzing the results–this ensures that we're delivering maximum ROI for our clients.

Daniel Dye, President of Native Rank, Inc.
Step 2 - Decide on Actionable Social Media KPIs
After you've decided on broad social media goals, it's time to get granular and decide on specific KPIs or OKRs.
Let's take our previous example. After deciding on a lead generation Instagram campaign, you've analyzed your client's historical lead-to-conversion ratio. Based on this, they'll need a 5% conversion rate to meet their revenue target, which then becomes an actionable KPI. 
Use visual goal-tracking to monitor the progress of social media campaigns. Present data visualizations that align with your client's marketing strategy–explore a range of reporting features on AgencyAnalytics, free for 14 days.
Not only does this create a measurable goal, but it's also a basis for proving social media ROI (which we'll explain next). 
To demonstrate the impact of your client's campaigns, here are a few metrics that tie into social media ROI. 
| Social Media Metric | Description |
| --- | --- |
| | A measure of user interaction with social media content (e.g., likes, shares, comments) |
| Response Time | The average time your client takes to respond to inquiries on social media |
| | This is a step further down the marketing funnel and shows user interest  |
| Conversion Rate | This metric assesses the effectiveness of social platforms in driving specific outcomes (e.g., online sales, app downloads) |
| Website Traffic (from Social) | When users follow a social media link to the client's website, it shows an increased level of interest in your client's brand |
| | This metric assesses profitability and whether social media campaigns contributed to the bottom line |
| | Use this metric to understand how much it costs to reach customers and determine which social media marketing campaigns are most cost-effective |
| | These insights help agencies understand the long-term value of a new customer and create a relevant and profitable social media strategy |
Step 3 - Calculate Social Media ROI for Campaigns 
Now comes the meat of the matter–calculating social media ROI. As a quick reference, here's a social media ROI formula:
Social Media ROI = ((Revenue from Social Media - Cost of Social Media Marketing) / Cost of Social Media Marketing) * 100 
As you calculate social media marketing ROI, remember that:
Revenue from social media refers to any monetary gain that stemmed from your client's social media campaigns (e.g., online sales)

Cost of social media marketing factors in all incurred expenses to run your client's social media campaigns, such as:

Staff salaries (e.g., an hourly billable rate for your Social Media Manager or social media team)

Total paid advertising spend

Associated software (e.g., a social media management platform or a client reporting tool)
Sounds like a handful to think about? Have no fear! Take advantage of the free social media ROI calculator below, which does the heavy lifting for you.
Download Your Social Media ROI Calculator
Use this calculator to assess campaign returns and create data-driven strategies for your clients.
That said, how should you demonstrate success for social media goals that don't have a direct monetary value attached? For example, let's say your client wants to improve their social media engagement rate from 5% to 10%.
Even if you've achieved this target, contextualize it further if you notice a relationship with revenue or conversions. For example, if your client gets one online sale for 20 organic social media engagements on average, it's definitely worth mentioning.
Another useful tip is to consider the cost savings. Let's say your client usually has a social media advertising budget of $1000. Since investing in organic social media strategies and generating fruitful engagements, they don't have to advertise as much. 
Reducing their paid media spend to $500 directly affects the bottom line while also reiterating the value of their social media investments.
Step 4 - Create a Comprehensive Social Media Report
After you've run your client's campaigns, there's one key step left–presenting those social media analytics in a report.
While there are in-platform social media metrics, you'll need a more sustainable reporting method than screenshots or copy-paste Excel reports. After all, you're managing multiple clients and social media accounts–you don't need manual reporting to slow you down and eat up billable time. 
No need to open a million tabs or invest in multiple social media tools. Use a client reporting platform like AgencyAnalytics to fetch that data automatically and create professional reports in a few clicks.
How To Create a Social Media Marketing Report With AgencyAnalytics
Creating a social media ROI report has never been easier–here's how to do it on AgencyAnalytics.
Sync Your Client's Social Media Accounts
To start, sign into your AgencyAnalytics account and head to Integrations > Social from the left-hand menu. 
Select the social media platform you'd like to connect to, fill in your client's credentials, and successfully complete your integration. 
Repeat this process if you're handling multiple social media accounts.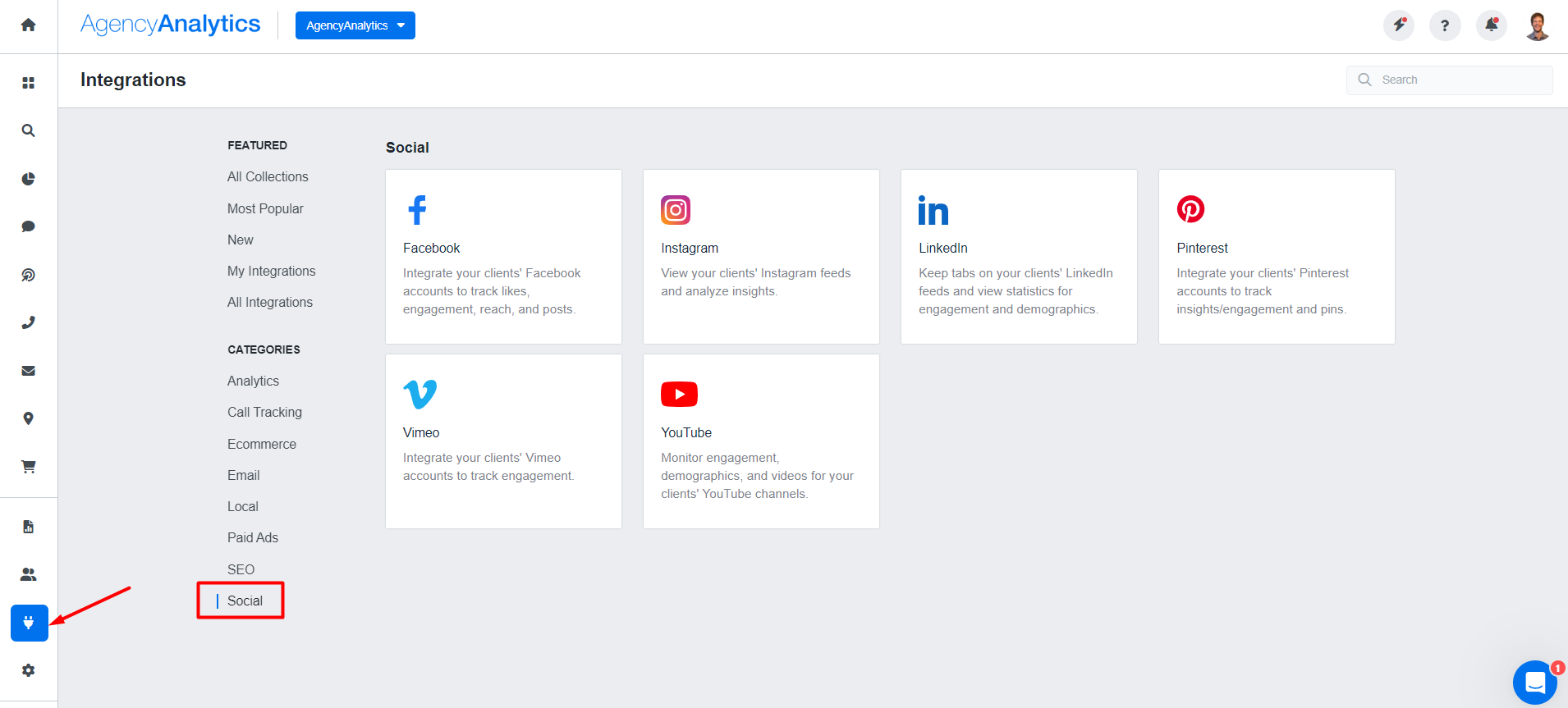 Use a Pre-Built Report Template or Create Your Own
Next, head to "Reports" on the left-hand menu, followed by "Create Report."
You'll then have the option to:
Choose a pre-built reporting template, such as:
Duplicate an existing template, which is helpful if you've got clients with similar reporting needs

Create a custom report from scratch if you need a tailor-made social media report
Customize Your Report as Needed
After you've created a social media report, customize it to suit your client's needs. For example, this may mean: 
Adding an executive summary at the beginning of your client's report. This is useful for marketing leaders or Social Media Managers who need a quick rundown of social media performance

Including additional widgets (e.g., Google Analytics data). This gives you an opportunity to add related insights, which enhances data storytelling and shows the full impact of your agency's strategic efforts

Creating a new report section with additional commentary (e.g., explaining a dip in social media performance) or data from other marketing campaigns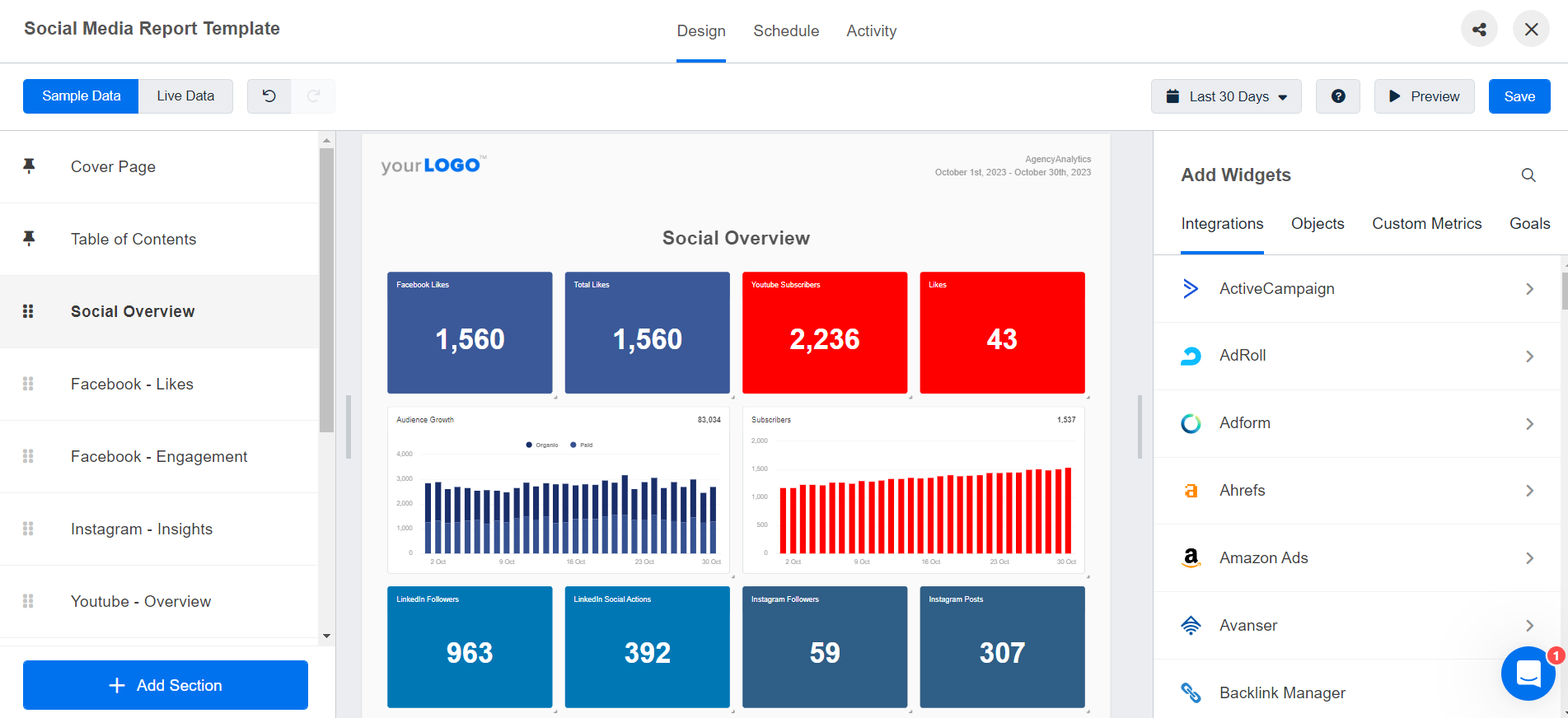 After you've finalized your client's report:
Download it as a PDF document, or

Automate the process and send reports directly via email according to your chosen schedule 
That's it! No fuss, no manual reporting headaches–just a social media reporting tool that gets the job done.
Adopt a Systematic Approach To Reporting on Social Media ROI
As we've explored, social media ROI is much more than revenue. It's a multi-dimensional process of choosing appropriate goals, creating actionable KPIs, and defining what social media success means. 
The only way to prove social media ROI is by tracking results–there are no ifs or buts about it. If you're trying to expand social media services or grow your agency, you'll need a sustainable reporting process. That's where AgencyAnalytics comes in. 
Whether you're using a real-time marketing dashboard or delivering an end-of-month report, AgencyAnalytics will help you to improve efficiency and cut down on manual work. 
We chose Agency Analytics because it offers a user-friendly interface, advanced reporting features, and integrations with major digital marketing platforms. This allows us to create custom reports, track real-time performance, and optimize campaigns for maximum ROI. 

Daniel Dye, President of Native Rank, Inc.
Create comprehensive reports with insights from over 75 marketing integrations like Google Analytics and Facebook. Access pre-built reporting and dashboard templates on AgencyAnalytics–start your free 14-day trial today.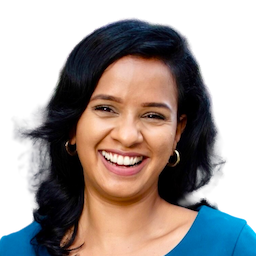 Faryal Khan is an experienced marketer and brand photographer with a passion for content creation. She creates value for brands through storytelling and captivating visuals.
Read more posts by Faryal Khan ›
Try AgencyAnalytics risk-free for 14 days. No credit card required.