You know the importance of content marketing all too well. It's often a topic of discussion during outreach calls, 1:1 client meetings, and agency sales presentations. Even so, many agencies don't have the time or bandwidth to create various content types for their site. While you can get by on word-of-mouth referrals or an outdated website for a while, it isn't an ideal scenario if you're serious about growth.
Incorporating different forms of content on your agency's website has countless benefits. Not only does it help you to rank favorably on search engines, but it differentiates your agency from the competition. 
After all, prospective clients have many marketing providers to choose from (like freelancers, consultants, and other agencies). You need a long-term strategy to drive website traffic, which is where consistent content generation comes in. 
While it's a long-term investment, creating a variety of content types will steadily build your brand's reputation. It may even save time from pounding the pavement for new business–prospective clients will come to you instead. Read on to learn about:
Why Content Remains King For Agency Websites
It's easy to overlook that your agency is also a brand and deserves the same time and attention you give clients.
When trying to fulfill your clients' deliverables, it seems daunting to factor in content creation for your agency's website. However, consider that:
B2Bs typically read 13 content pieces before following through on a buying decision

The cost of content marketing is 62% less than traditional marketing on average

Even with this relatively low cost, as many as 3X more leads are generated through content marketing than traditional marketing
The numbers don't lie. Creating a variety of top-notch website content shows your capabilities without hard-selling, all while contributing to your conversion engine over time. Even if it takes a while to see the fruits of this labor, it's well worth the effort.
We invested time into our content marketing and growth tactics, such as video outreach and blog content. Start-up agencies often do not have the time to work on themselves as it doesn't directly bring ROI immediately. However, long-term marketing is crucial for any agency that wants to continue to scale. It's important that we treat ourselves like our clients.

Guy Hudson, Founder of Bespoke Marketing Plans
11 Content Types To Include on Your Agency's Website
Without further ado, here are the top content types to capture a prospect's attention, drive engagement, and increase the chances of conversion.
1. Blogs
It's no secret that blogging is necessary for any content marketing strategy (your agency's included). Simply put, ongoing written content:
Provides more clarity on topics that prospects (or even current customers) are looking for

Improves organic SERPs and generates backlinks from other reputable websites, which builds domain authority over time

Demonstrates thought leadership and helps accumulate an authoritative bank of articles over time (like the example below).

Allows content to be organized by topic, something that 56% of B2B companies prefer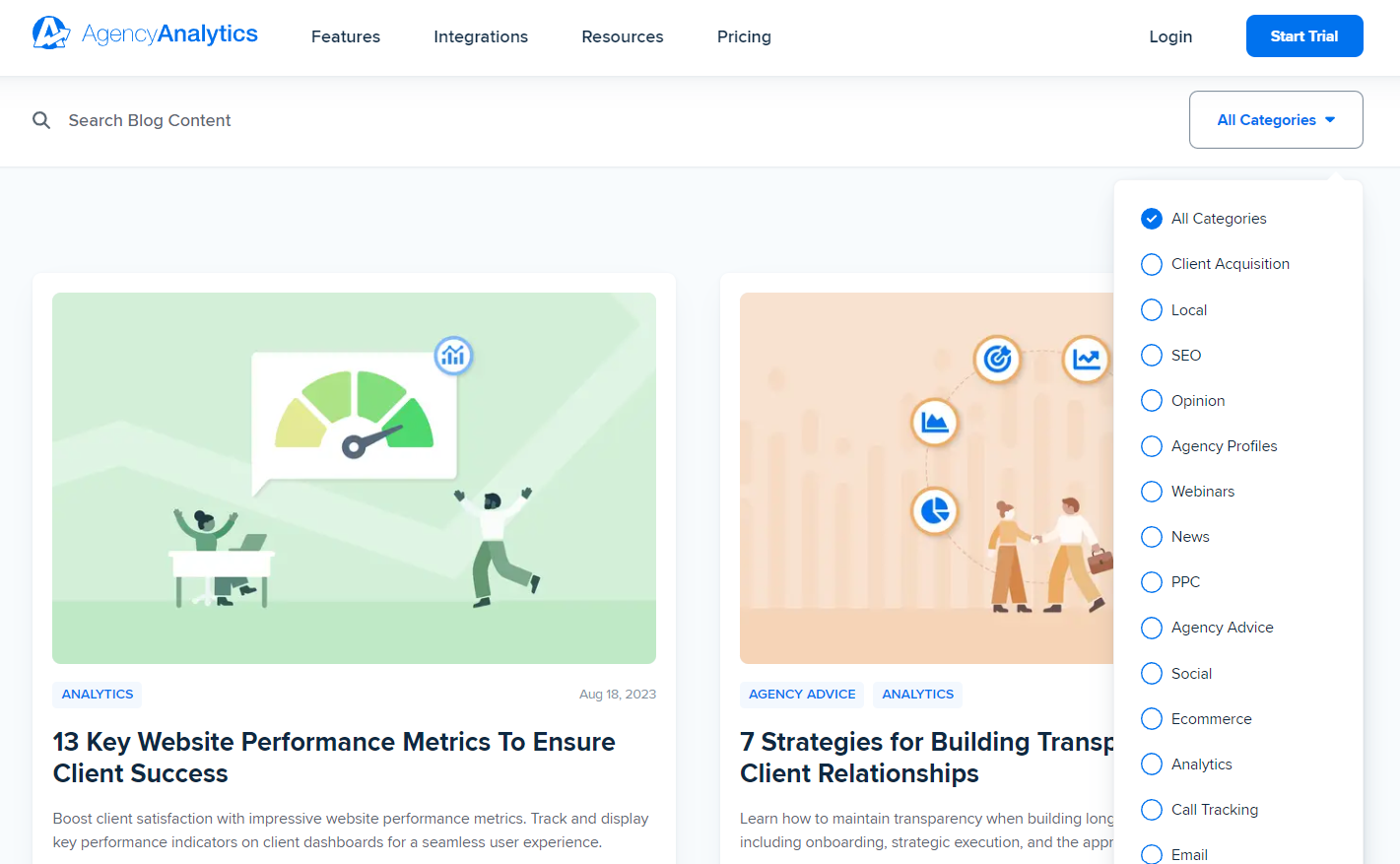 A blog post with a bylined author also lets prospective clients understand your agency's talent roster before onboarding. Asking your senior leadership to contribute blog posts (or having them ghostwritten on their behalf) showcases your team's capabilities and insider knowledge.
This subtle step goes beyond just demonstrating the level of services your agency provides. It sets a foundation to foster future business relationships.
We always include an "About the Author" section at the end of our blog posts so readers can learn more about our team members! We're a small business, so it's possible that if a reader becomes a client, they'll work with the person who wrote that content. It's a great way to connect with readers while building trust and authority with Google.

Jessica Tappana, Founder of Simplified SEO Consulting
Examples of Blog Categories and Topics for Agencies
If you're looking to refine your agency's blog, here are a few examples of general categories and topic ideas:
Advertising
A/B Testing Strategies to Optimize Your PPC Campaigns
Social Media Marketing
How to Use Hashtags to Increase Reach on Social Media Posts

How to Create a Content Calendar Across Multiple Social Media Platforms
SEO
To measure just how your agency's blogs and content marketing efforts are performing, stream your Google Analytics metrics into a visual dashboard on AgencyAnalytics. That way, you won't have to log into your GA account or grapple with mounds of data each time you need to check performance.
Here's a bonus–it's also easy to automate data retrieval of your clients' marketing metrics and keep everything under one roof. 
Track SEO conversions, monitor the performance of landing pages, and keep an eye on your agency's website traffic. Create a content marketing dashboard for internal use on AgencyAnalytics, free for 14 days.
2. Videos
It's a no-brainer that well-curated video content is a sure way to capture attention quickly. 
Video is the most high-impact way to share your message! You can share more information effectively and creatively in one short video, driving significantly more engagement than any text or static visual. We're visual creatures–we absorb every element of a video in seconds to create a complete picture of what the company values and whether it's what we're looking for. 

Narelle Greenland, Head Of Product and Partnerships at Thinkify Digital
To break it down further, use video content to: 
Increase engagement rates on your agency's website, which could lead to shares on social media platforms or even word-of-mouth referrals

Make a lasting impression and encourage prospects to explore your agency's services further

Showcase your agency's video production and editing capabilities

Consistently share helpful information, which could be packaged as a playlist (once you've accumulated enough videos on a specific topic)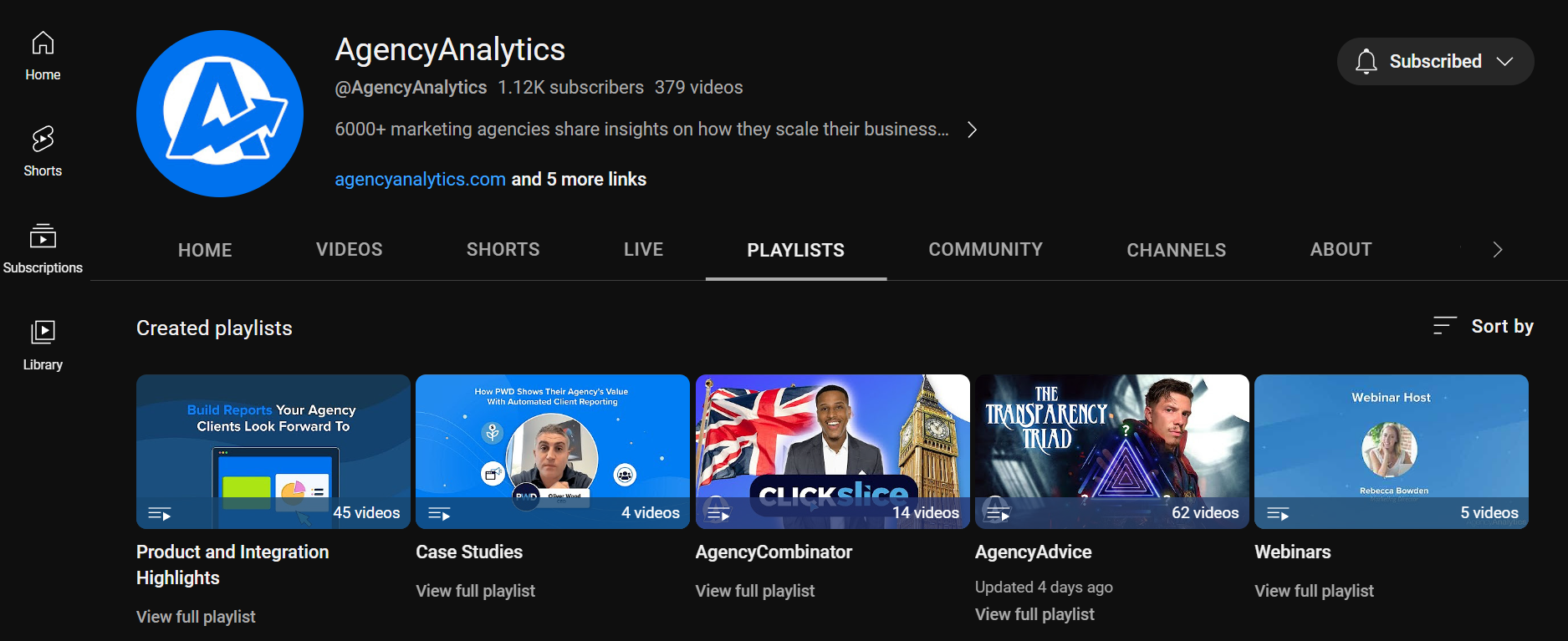 Dynamic Video Content Ideas for Your Agency's Website
Whether you've got video marketers on your team or you're just getting started, here are some ideas to consider for this content type: 
Behind-the-Scenes: Agency Culture
A typical "Day in the Agency" to show your brand's personality and create relatable content

What employees enjoy most about working at your agency
Your Agency's Story
Why you started your agency, and any challenges you've overcome

Why you're passionate about serving a particular niche or industry
Educational, Thought Leadership Videos
Discussions with peers about industry-related happenings, which could also be broadcast in real-time on social media (like Facebook Live, for example)

A 1:1 interview with your agency's founder and their perspective on emerging macro digital marketing trends 
3. Case Studies
A case study's job is quite simple: it just needs to explain your service to a potential client.
Case studies essentially communicate: Here's what we do, and here's how we've used it to help Company X overcome a problem similar to yours.
Instead of simply saying, "Work with us; we're the best!", case studies rely on your customer's experience. That means it's a form of social proof while also helping prospects visualize what it would be like to work with your agency.
We find case studies helpful for reaching new clients to showcase our expertise in a way that differentiates us from the thousands of digital marketing firms out there, many of whom are just a guy with a laptop. Clients are so inundated with calls and emails from our industry it's hard to know who they can trust. We build authority through video testimonials, case studies, content, and podcast guest appearances.

Lane Rizzardini, Co-Owner of Marion Relationship Marketing 
How To Create Impactful Case Studies
To get the most from case studies, here's what to include, along with a few contextual examples:
Use quantitative measures of success where possible. Showing data-driven insights (e.g., monthly savings since hiring your agency) will help prospects clearly understand the full ROI of your agency's services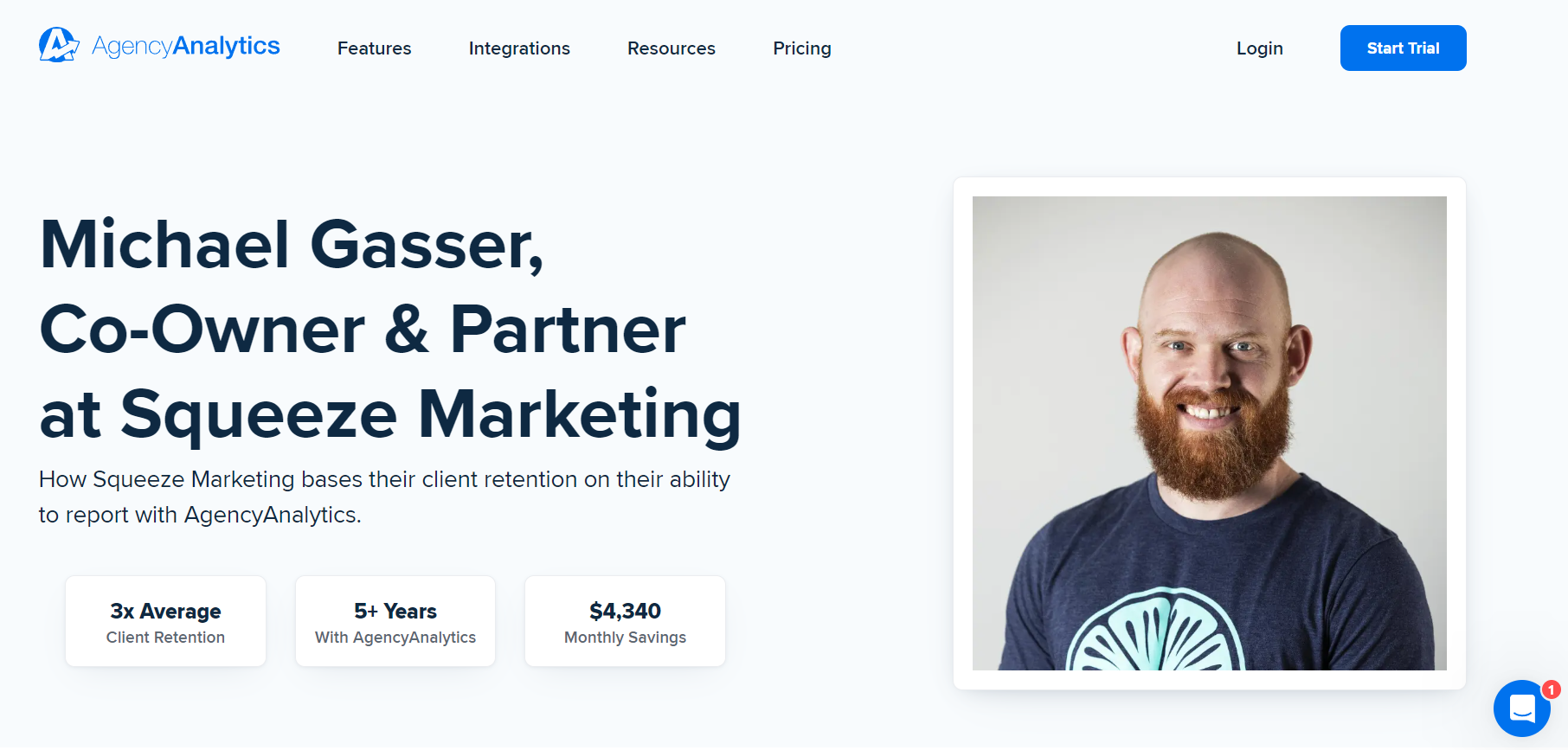 Read more: How Squeeze Marketing bases their client retention on their ability to report with AgencyAnalytics
Structure written case studies in a chronological way to create an easy-to-follow narrative. Compelling case studies should be organized with headings like:

'The Customer': An overview of your customer's business and priorities

'The Challenge': Your customer's roadblocks and how it affected their business goals

'The Solution': How this customer came across your agency and what services they took advantage of

'The Result': Quantifiable results that your client achieved as a result of partnering with your agency

Incorporate different formats where possible (e.g., a video and accompanying blog post), so prospects have control over their preferred method of consumption
Adopting this approach adds content diversity and will provide even more avenues for repurposing beyond your client's site (e.g., take this reel on social media, shown below). One piece of content has many uses! 
4. Reviews and Testimonials
As we've seen from case studies, there's nothing quite like social proof. Take it further by incorporating user-generated content (like reviews and testimonials) on your website, which also validates your agency's capabilities. 
Reviews are what sell new business. They are vital when customers are making a decision. Without reviews, prospects don't know whether they should trust you. Positive reviews make potential customers feel "warm and fuzzy" about choosing your business out of the pack.

Anya Curry, Owner of Ambidextrous Services
If you're in a writing rut or looking to diversify your site, repurposing user-generated content lessens the burden of creating anything from scratch. It's also an opportunity to optimize this content for social media.
Plus, sharing fantastic user-generated content adds human personalization and strengthens your agency's brand reputation in the same breath.
5. FAQ Page
Thanks to FAQs, you can spend time answering questions from prospects while they're researching your agency. It immediately provides valuable information without a prospect having to reach out directly (which also saves your time from answering follow-up questions).
Consider that prospects looking at your FAQ page could be further along the buying cycle. They may want to learn more about your agency to determine the best option for their needs.
Therefore, it's a golden opportunity to anticipate their questions, reiterate your value, and show precisely what you offer. 
Examples of FAQs for a Marketing Agency Website
To help you get started, consider adding FAQs from clients to your site like:
Why are your agency's services beneficial to my business?

What's your agency pricing and all associated costs (e.g., setup fee, retainer packages)?

What happens after the onboarding process?

How will you measure and report on the success of our marketing efforts?
By answering clients' questions in advance, you'll show that your agency is proactive and understands your clients' needs.
Give prospects a preview of what to expect from your agency. Use visual snapshots of marketing dashboards and reports on your website–it's all possible with AgencyAnalytics. Sign up for a free 14-day trial today. 
6. Internal Research Findings
If you're an enterprise-level agency that's been around for some time, you'll likely have long-term clients and solid industry expertise. Why not leverage your experience by publishing in-depth original research, like large-scale surveys of your clientele?
It's an excellent way to establish authority, share helpful information, and even get reputable backlinks from other websites. 
Not only does it confirm that you deeply understand subject matter, but it also demonstrates that you're willing to dedicate time and resources to your craft. These original research findings have many use cases on your website, such as:
Your homepage (e.g., opening with a compelling statistic)

On its own separate web page (if you've got a large number of insights to share)

A comprehensive blog post or a written series 

A downloadable document for easy reference 
Here's a bonus–infuse these findings into the executive summary of your next marketing proposal to a prospective client. Your robust findings will back up whatever you propose while positioning your agency as a go-to source.
An Example of How to Leverage Agency Research Findings
Let's say you're a large-scale agency specializing in SEO and creating social media content. One idea is publishing an annual benchmark survey that highlights key findings such as:
The most frequently requested SEO services and social media content types

Any difference between yearly trends (e.g., clients requested 10% more social media posts this year compared to the last)

Typical advertising budget ranges and resulting ROAS

The common challenges that clients face (both for SEO and social media content) 
7. Whitepapers
Create content like a whitepaper to hone in on a specific challenge, present findings, and outline solutions (which should align with your agency's services in this scenario). 
Whitepapers are often read by high-level decision-makers who need to make data-informed purchase decisions (as cited by 42% of B2B executives in a 2021 study). 
Taking our previous example, let's say your agency published a renowned benchmark study that shared general SEO and social media content trends across 100 clients. There's an opportunity to get even more granular here, especially since you'll have in-depth insights into your services.
Developing a whitepaper is equivalent to compiling a comprehensive research document and should include the following:
A title that captures the gist of your research (we'll give a few examples below)

Your main research question and the challenge you're exploring

Any research methodologies you may have used (e.g., media mix modeling)

Your findings and any viable solutions (ideally related to your services)

A reference list (i.e., any sources you may have used in an appropriate format, such as APA style)
Examples of Marketing Agency Whitepapers
To get started with a whitepaper, brainstorm topic ideas like: 
An Overview of How Content Marketing Affects Search Engine Rankings
A detailed document that outlines how many businesses use content marketing strategies, the importance of keywords, and the overall impact on SERPs
Driving Sales with Shopping Ads and Dynamic Remarketing
A study that illustrates e-commerce success from shopping campaigns, the exponential increase in the number of sales, and the effect of strategic remarketing 
The Relationship Between Local SEO Efforts and In-Person Foot Traffic
An overview of common local SEO challenges faced by in-person businesses, how to evaluate user search intent, and why a Google Business Profile boosts credibility
Get the Free Google Business Profile Checklist
Keep these useful tips, insights, and ideas handy whenever you need them.
8. Ebooks
Like whitepapers, an ebook is another form of content that aims to educate, share industry insights or best practices, and reiterate your agency's value proposition.
While whitepapers adopt a research-based approach, ebooks tend to be more broad and visually appealing. They help share your agency's expertise in an easy-to-follow format and usually target a more general audience (as opposed to decision-makers primarily). 
Ebooks also work well for lead capture (e.g., filling out a signup form before downloading), which also helps build your prospective customer bank. Insightful ebooks will enhance your reputation as an industry expert while continuing to provide long-term value. 
Ebook Topic Ideas for Marketing Agencies 
If you're ready to start creating ebooks for your agency's website, here are a few ideas to get started: 
Video Marketing Mastery: Using Visual Content to Tell Your Brand's Story
An overview of best practices for video content creation, how to optimize videos for mobile devices, and the best ways to measure video marketing success
How to Create Social Media Content Like a Pro: An Overview of Post Creation, Ad Formats, and Measuring ROI
An ebook guide to social media content that includes best practices for post creation, target audience segmentation, and tracking ROI
How to Use Automation and Maximize Your Business Efficiency
Provide insights into automation tools for small businesses, the importance of workflows, and how to implement processes for better results
Lead by example and show prospects how you've invested in efficient agency processes. Automate data retrieval from over 75 marketing platforms on AgencyAnalytics–try it, free for 14 days. 
9. Questionnaires
Streamline your process of generating leads by using a questionnaire on your agency's website. A questionnaire doubles as a screening tool and will help you:
Decide if a prospect is a suitable candidate for a discovery call  (which is useful for delving deeper into their exact needs)

Gain valuable insights based on what prospects share about their pain points and challenges (i.e., using a questionnaire as a qualitative research tool). This helps to refine your content marketing or even uncover an untapped target audience

Identify the most promising prospects (i.e., those closest to conversion or most aligned with your ideal client profile). Use this to create a prioritized list of qualified leads for your sales or outreach team to focus on
Wondering what it looks like in action? Take this example from SEO Design Chicago's website below. 
What To Include in Prospect Questionnaires
To get the most from this content type, use questions like:
Which services are you most interested in?

Do you have a marketing budget in mind?

What are your primary marketing goals?

What's your timeline for achieving results?

Have you worked with any marketing agencies before? If so, what was your experience like?

Are there any specific social media platforms that you're interested in exploring?
10. Infographics
Infographics transform written content into compelling visuals and help prospects retain information (instead of relying solely on text-based content formats). 
Suppose your agency offers more large-scale marketing services (e.g., end-to-end programmatic advertising services). In that case, infographics are a great way to break down those complex marketing concepts into more digestible bits. When creating an infographic, remember to:
Clearly define an objective (e.g., explaining the importance of a marketing service you offer)

Create a storyboard so your infographic flows in a logical, easy-to-follow order

Keep things as visual and concise as possible so your message won't get lost
Here's a tip–if you're stuck, use a pre-built template to save time in the infographic creation process. 
Infographic Ideas for Your Agency's Website
If you're looking for infographic inspiration, here are a few ideas to get started:
A Comparison of Digital Advertising Platforms
An exploration of the strengths, challenges, and use cases of various platforms (e.g., Google Ads vs. Microsoft Ads)
The Importance of Customer Journey Mapping
A visual illustration that shows the steps a customer takes from awareness to purchase, with instructions on how to map the customer journey
The Email Marketing Lifecycle
An overview of the different stages of email marketing, such as building a subscriber list, audience segmentation, and email analytics reporting
11. Podcasts
Consider starting a digital marketing podcast to share dynamic audio content. Hearing a voice adds another dimension of personalization and is a human way to connect with the right audience. 
Saying, "Trust me, we're different," doesn't work–prospects have heard it before. To address this, we share knowledge freely through mediums like podcast appearances and blogs so people can see a glimpse of the real expertise we have.

Lane Anderson, Founder & CEO of London Road Marketing
Audio content types have become increasingly popular in recent years. In fact, as of 2023, there are 464 million podcast listeners worldwide.
To break it down further, a podcast is used to:
Provide on-the-go content for prospects (or even existing customers) who want to assess your agency's expertise or learn more about specific topics

Have organic discussions with industry peers interested in the same things as you (e.g., discussing the effect of Google algorithm changes), which may even open the doors to fruitful agency partnerships

Drive traffic while growing your agency's following on social media or other platforms (like Apple Music and Spotify)
Podcast Ideas for Marketing Agencies
Not sure what to speak about in a podcast? Here's some food for thought:
Weekly Marketing Tips
A weekly rundown of marketing best practices, overviews of any industry developments, and emerging trends
Marketing 101 for Startups
A targeted podcast that helps startups create social media content, deal with growth challenges, and raise capital to scale their businesses
Marketing Mishaps and Miracles
Discussions with successful businesses that overcame marketing challenges and found success
4 Tips for Maximizing Your Agency's Website Content
Now that we've covered the different content types to include on your agency's website, here are some best practices to remember.
1. Use Visual Content That Leaves an Impression
No one wants to stare at a wall of text when they visit your agency's website. Whether it's your portfolio or a sneak peek of what client reporting looks like, data visualization conveys your message impactfully. 
At the same time, remember to strike that delicate balance between using imagery or videos and ensuring optimal website performance. After all, you don't want to end up with a slow-loading website or any other avoidable issue.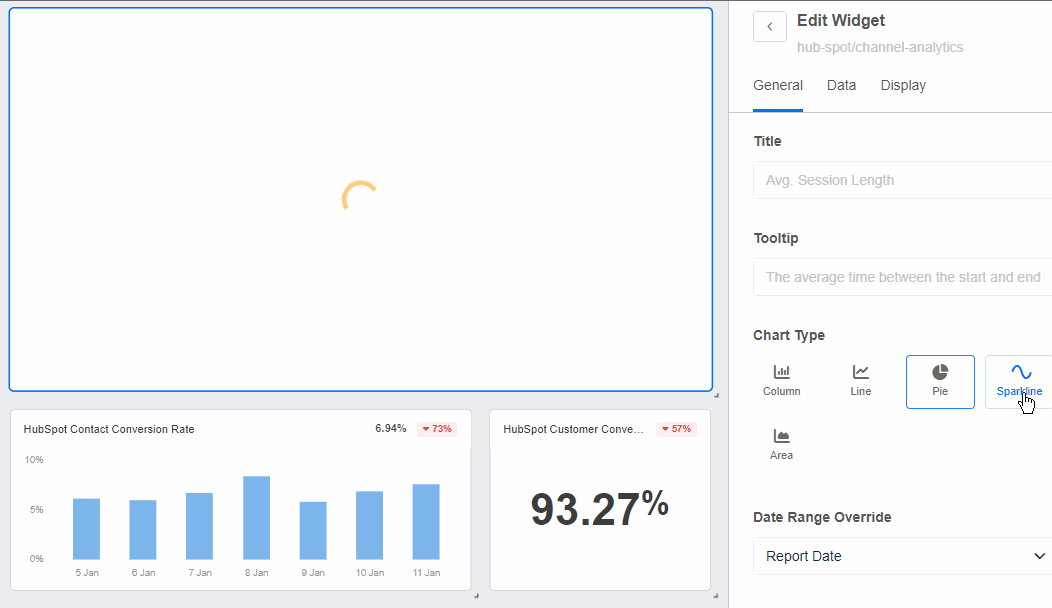 Incorporate compelling visuals into everything you do. Create easy-to-understand data visualizations that bring marketing metrics to life–it's free for 14 days on AgencyAnalytics.
2. Tailor Content for Different Buyer Stages
Remember that all prospects will be at different stages of the buying journey. That's why it's crucial to create a content marketing strategy that meets those varying needs, so you won't miss out on any lead nurturing or conversion opportunities. 
Segmenting your target audience helps you determine what kind of content to create for each step. Potential customers need information to move them to the next buying cycle stage; pushing the right content can do just that. It's all about moving these prospects down your sales funnel–not as quickly as possible, but as efficiently as possible.

Bryan Lozano, Vice President of Operations at Ad-Apt
Here are some considerations for each stage and how to incorporate some of the content types we've previously covered:  
Awareness Phase
At this stage, prospects may not be familiar with your agency's brand. Create content that helps them understand who you are, such as:
Introductory videos that describe your agency's story, with links to your social media pages for further exploration

Infographics that explain your services in more detail and provide straight-to-the-point visuals
Consideration Phase
Here, prospective customers are actively exploring options and doing their research. Publishing content that differentiates your agency is key. It's an opportunity to reiterate why you're the top choice, and quell any doubts they may have. 
To reach prospects at this stage, focus on:
Long-form content (like blogs) that provides an in-depth understanding of prospects' pain points and why your agency's services are a solution

Whitepapers that share research-driven insights about any challenges prospects may have
Decision Stage
This is a ripe opportunity to drive your message home and encourage prospects to take that leap to become actual customers. These leads are closest to conversion, so you want to make it as easy as possible to follow through on actions. 
In addition to infusing CTAs (like 'Buy Now' or 'Download' buttons, for example), focus on creating content like:
Landing pages that speak directly to your target customers and outline the benefits of hiring your agency

Case studies that demonstrate your agency's track record and expertise

Visual reviews and testimonials to reassure prospects you're the best option
3. Break Things Down in Understandable Terms 
You're the expert here, so you'll be intricately familiar with the ins and outs of marketing. That said, remember that many prospects may not always have extensive marketing experience or know all associated nuances. 
Simplify your language as much as possible, sprinkling context and examples where necessary. Also, remember to strike that balance between easy-to-follow explanations and infusing relevant keywords to ensure your website is found on search engines.
The content needs to be useful, meaning it answers a user's question in a thoughtful, well-written, and concise manner. It needs to feel natural, like you're explaining to a friend or family member, but it also needs to have keywords woven throughout it. If you don't signal to Google that you're talking about what people are asking for, no one will ever see it. 

Rachel Jackson, Lead SEO Specialist at Wit Digital
4. Define What Content Marketing Success Looks Like
To understand your top-performing website content, clearly define your agency's content marketing KPIs beforehand.
For example, you may want to drive traffic to 10K page views within the next three months. On the other hand, perhaps you want 100 email subscribers derived from clicking CTA buttons on your blog. 
Whatever the case may be, set your OKRs or KPIs beforehand so you'll have something to work towards. After all, you want the content created to make an impact. Here are a few website KPIs to consider and other related content metrics.
Craft a Content Showcase That Moves the Needle
Nowadays, prospects have many types of marketing service providers to choose from (like skilled consultants on freelance platforms and other agencies). 
An up-to-date website with a diversity of content types drives traffic, helps your website rank higher on search engines, and may even drive conversions. It also shows your agency can walk the walk and talk the talk.
While other agencies were buying links, we hired great writers and created a digital content strategy focused on organic traffic value and strategic internal linking. We walk the talk by demonstrating our ability to rank consistently in the top three spots for web design and SEO pricing-related phrases.

Brian Childers, CEO of Foxxr Digital Marketing
Invest in your agency's website by putting in steady and consistent efforts. That way, you'll generate traction and favorable results over time. That said, you don't want to shoot in the dark or make guesses about what content types to produce.
Easily reference your agency's website performance using AgencyAnalytics' Google Analytics integration and stream that data into a visual dashboard. The best part? You can house your clients' metrics under the same roof, so you won't have to toggle between platforms or invest in multiple reporting tools. 
Manage your entire agency by investing in a single, easy-to-use reporting tool. Monitor marketing metrics, streamline your clients' reporting experience, and create professional dashboards on AgencyAnalytics, free for 14 days.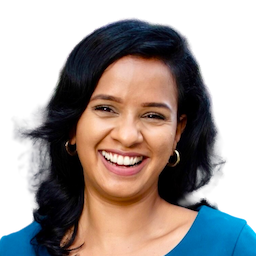 Faryal Khan is an experienced marketer and brand photographer with a passion for content creation. She creates value for brands through storytelling and captivating visuals.
Read more posts by Faryal Khan ›
Try AgencyAnalytics risk-free for 14 days. No credit card required.