It's no secret that video is one of, if not the, most powerful forms of content marketing out there.
There's a simple reason for the effectiveness of video marketing: the majority of people prefer watching videos than reading, and that trend likely isn't going to change anytime soon. As you can see below from a HubSpot Research report, the majority of consumers (54%) prefer video to any other type of content: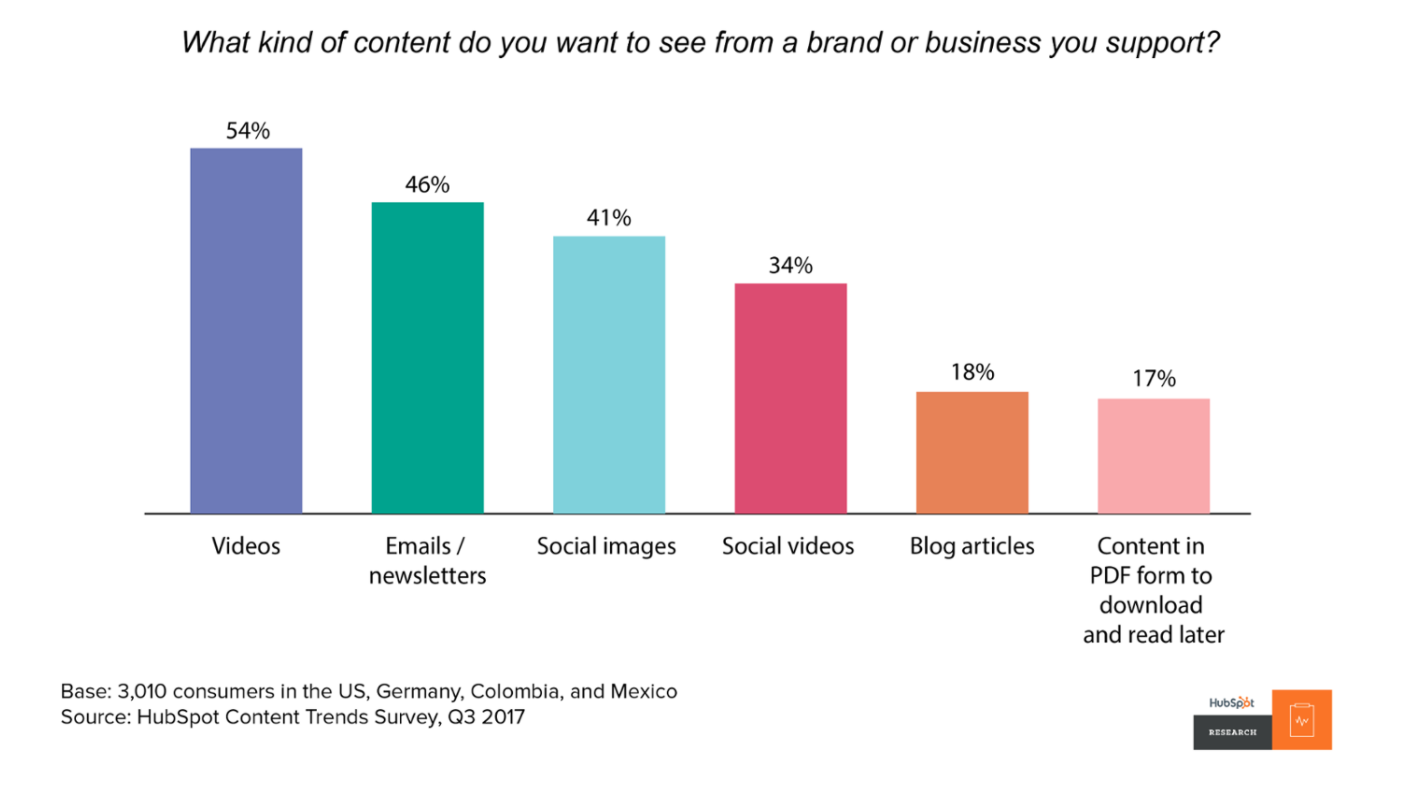 Even though every agency, marketer, and brand is most likely aware of the power of video marketing, it's also well known that it can be significantly more challenging to create high-quality video content on a consistent basis. That said, before you disregard video marketing because of this hurdle, keep in mind that some of the best performing video content today is simple, raw, and often filmed on a smartphone. 
In this guide, we'll discuss everything you need to know to develop your own video strategy, including:
Let's get started.
Key Video Marketing Statistics
Below we discuss how to create a video marketing strategy, let's review a few key statistics that highlight it's importance in the marketing stack. The animated video marketing company Wyzowl recently did a survey on the State of Video Marketing in 2020, a few key findings include:
92% of marketers who use video say that it's an important part of their marketing strategy, which is up from 78% in 2015.
85% of businesses use video as a marketing tool, which is actually down slightly from their survey in 2019 (87%), although still up by 24% since 2016 (61%) 
88% of marketers report a positive ROI from video, which is up significantly from 33% in 2015:
The most common types of videos include explainer videos (72%), presentation videos (49%), customer testimonial videos (48%), sales videos (42%) and, video ads (42%).
Let's now look at these common types of video formats in a bit more detail.
8 Different Types of Video Marketing
There are a number of video marketing formats to choose from, and the majority of agencies and brands will include a mix of content in their strategy. The format that's right for your business will ultimately depend on which builds brand awareness and educates your prospects and existing customers the most.  Also, keep in mind that each of these longer-form video formats can be repurposed and built into your social media strategy.
In HubSpot's guide to video marketing, they identify a number of video formats to choose from, a few of the most important include:
Explainer video: As mentioned, explainer videos are one of the most common formats in video marketing. These videos are designed to explain the problem that your product or service solves in order to help the target audience understand why and how it can address their needs.

Educational videos: Educational videos can include how-to or instructional videos that are focused on customer success, and can include everything from getting started videos to advanced tips and tricks. For example, you can find the AgencyAnalytics Getting Started walkthrough video in our Help Center here. 
Demo videos: Demo videos typically showcase how your product works, for example with a screen share that takes viewers through the software or an unboxing and testing of a physical product.

Brand videos: Brand videos are useful in building awareness of your company's high-level mission, products, and services. They can also be used to build a connection with the audience by introducing the founders and team behind the company.

Testimonial or Case Study videos: Testimonials and case study videos are one of the best ways to build trust with prospects by showing them exactly how the product or service has helped others solve their specific problems. For example, you can find a testimonial video from one of our customers on G2 here.
These are just a few of the most common types of videos you can create, although a few others include:
Live videos

Expert interviews

Animated videos

AR, VR, and 360° videos
Now that you have an idea of the different types of videos you can create, let's look at how to pull them all together in a cohesive video marketing strategy.
How to Create a Video Marketing Strategy
As with any other marketing strategy, before you launch any campaigns the first step is to define your goals and targets.
1. Define Your Goals & Targets
As Biteable describes in their guide to video marketing, one of the best ways to define your goals and targets is to determine its place in your overall marketing funnel. For example, below you'll find a few types of videos you can use in each stage of the buyer's journey:
Top of Funnel: Videos at the top of your marketing funnel should be focused on awareness and can include things like brand videos and explainer videos. Keep in mind the goal isn't necessarily conversions at this stage, it is about introducing your agency or client and identifying the problem they solve. 

Middle of Funnel: After you've built awareness, the next stage in the marketing funnel is focused on deepening your relationship with the prospect, which is referred to as 'consideration'. Videos that are useful in this stage include expert interviews and educational videos that demonstrate your expertise and highlight the value to potential customers.

Bottom of Funnel: At this stage, your videos should be focused on conversions. A few of the most effective videos at this stage include testimonials, case study videos, and demo videos.
We won't cover exactly how to create each type of video in this article since it can range from shooting on an iPhone to multi-million dollar productions. Instead, let's review a few of the best video hosting platforms available once you're ready to publish.
2. Choose a Video Hosting Platform
You've created your video content, edited it, and are ready to publish—next you need to decide where to host it. There are a number of hosting platforms, although a few of the most popular for brands and agencies include
YouTube: YouTube is by far the largest video hosting platform with over one billion hours watched daily. Although YouTube can be a great place to get exposure, with all the other content and recommended videos it can also be a vortex for users. This means that it can be notoriously difficult to get people off of the platform and take you up on your call-to-action (CTA).

Vimeo: Vimeo is the second-largest video hosting platform and is quite a bit less saturated than YouTube. This platform offers premium membership plans for businesses and can be a great option if you need more features and control than what YouTube offers.

Wistia: Wistia's video hosting platform was designed specifically for businesses and marketing professionals to support sales efforts such as lead generation and conversions. The platform is priced higher than Vimeo and YouTube, although it offers a number of sales and marketing features for SMBs that can justify the expense. Also, viewers won't be distracted by any other content if your video is hosted on Wistia.
Now that your video is hosted, let's review how to build your reach with a  social media strategy.
3. Create a Video Social Media Strategy
As Buffer describes in their guide to video marketing, your content and posting strategy are slightly different on each social media platform. Here are a few tips for creating video marketing on the most popular platforms:
YouTube: YouTube is the world's largest video search engine, which means that it can serve an important purpose for agencies: discovery. Just like SEO best practices for organic search, this means each video should be optimized with the right keywords in your captions, descriptions, and tags.

Facebook: As Buffer describes, Video on Facebook should be fun, emotional, and highly shareable. This share-first approach to marketing on Facebook can go a long way in your planning and video advertising strategy.

Instagram: With the Instagram feed, Stories, and their longer-form IGTV, Instagram is a major player in video marketing. When it comes to planning your strategy, Instagram content should generally be focused on captivating, thoughtful, and inspiring videos.

Snapchat: If you're targeting a younger demographic, there's a good chance they're on Snapchat. In terms of video marketing, Snapchat is the place to add more text, drawings, and even ty AR filters to your video,

Twitter: Even though it's often overlooked for other platforms, Twitter is another great channel for video content that is quick, entertaining, and/or educational. In terms of planning content, Twitter recommends that you show a person in the first few seconds as it is 2X more likely to be viewed.
Now that you've got your social media marketing strategy in place, the final step is to track and measure your results.
Measuring Your Video Marketing Results
If you're an agency managing a video marketing campaign for clients, measuring and reporting on your results is a key part of the process. You need to be able to generate reports on key metrics and track the performance of your campaign. For example, our prebuilt YouTube dashboard gives you the ability to automatically track metrics and also gives clients access to the data in real-time. This dashboard includes 8 sections for key metrics, including:
Views

Subscribers

Likes

Dislikes

Comments

Videos Published

Estimated Minutes Watched

Shares
You can preview our live YouTube dashboard here. Additionally, we've recently released integrations for Vimeo and Snapchat, which you can use to build a custom marketing dashboard for all your video marketing campaigns.
Summary: Video Marketing for Agencies
As discussed, video marketing is an incredibly powerful marketing format that every marketer, agency, and brand should include in their content strategy. From explainer videos to testimonial videos, each video should be planned with the buyer's journey in mind—all the way from awareness to conversions. Once you've published and hosted the content, consider how you can repurpose longer-form content to fit within your social media strategy. Finally, just like every other type of marketing, be sure to track, measure, and optimize the performance of each campaign with a video marketing dashboard in order to improve your results over time.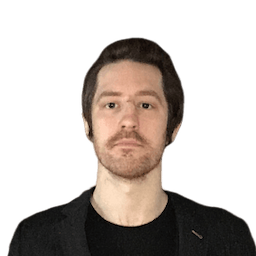 Peter Foy is a content marketer with a focus on SaaS companies. Based in Toronto, when he's not writing he's usually studying data science and machine learning.
Read more posts by Peter Foy ›
Try AgencyAnalytics risk-free for 14 days. No credit card required.