There are more than 800 million videos on YouTube. If you don't optimize your video to be found on YouTube and search engines, you'll most likely have little success with video marketing. As Will Mullins Search Engine Optimisation Services puts it, "There's no point buying an expensive car if you just keep it locked up in the garage."
If your agency or clients are ever on the fence about YouTube, consider that users spent roughly 46 minutes a day watching videos on the platform in 2022. And with 95% of global Internet users watching YouTube videos, the possibilities are endless once leveraged correctly. 
Aside from surface-level metrics, providing data-driven insights (such as untapped demographics and video watch times) will tell a story of what's happening and point out any areas for improvement. Should you optimize those YouTube image sizes after noticing lower clickthrough rates for the month? Or perhaps an ad boost will do the trick.
Whatever the case may be, creating a comprehensive YouTube Analytics report is the only way to monitor trends, identify areas for improvement, and make data-informed recommendations. 
Sounds like a hassle? It doesn't have to be! In this article, we'll show you how to create a stellar YouTube Analytics report in minutes. 
Read on to learn about: 
Let's get into it. 
What Makes a Pro YouTube Analytics Report
No client wants to read a boring, text-heavy report that puts them straight to sleep. And so, it's no surprise that a pro YouTube report goes beyond just the data–or what they can easily find in the backend of their YouTube account. 
It presents that information in a palatable way and lets your clients know how their video marketing efforts tie into business goals.
And generally speaking, YouTube Analytics reporting should benefit both your agency and clients. After all, you want a report that's also easy to reference, provides all important insights and saves you time each month.
In a nutshell, an outstanding YouTube report should: 
Make use of visual representation (i.e., historical trends, graphs) with explanations where necessary

Show how YouTube ties into your client's overall business goals (e.g., building brand awareness, driving website clicks)

Provide insights on key analytics and historical trends for customizable date ranges 

Use built-in goal-tracking to keep tabs on the progress

Include insights from other marketing channels that complement or boost YouTube efforts 

Be easily replicable and automated, which will cut back on tedious manual work
Remember that a well-crafted YouTube Analytics report should demonstrate your agency's capabilities while giving your client the right data to make informed decisions.
6 Strategies To Create an Outstanding YouTube Analytics Report
Wondering how to build a report from YouTube that your client will love? Here are a few actionable steps to follow. 
1. Create Your Reports Around Your Client's Objectives 
The last thing you want is a cookie-cutter, generic YouTube Analytics report that doesn't actually speak to your client's goals. To provide the most value, determine your client's goals beforehand and tailor their report accordingly. 
For example, say your client launches a YouTube ad sequence and sets an aggressive target of 2000 new subscribers by the end of the quarter. To incorporate this objective in their report:
Visually show subscriber growth at regular intervals for the reporting period 

Track goal progress to let your clients know how close they are to achieving that target (e.g., 59% ahead of pace at mid-quarter) 

Provide context for any notable spikes or dips in subscriber growth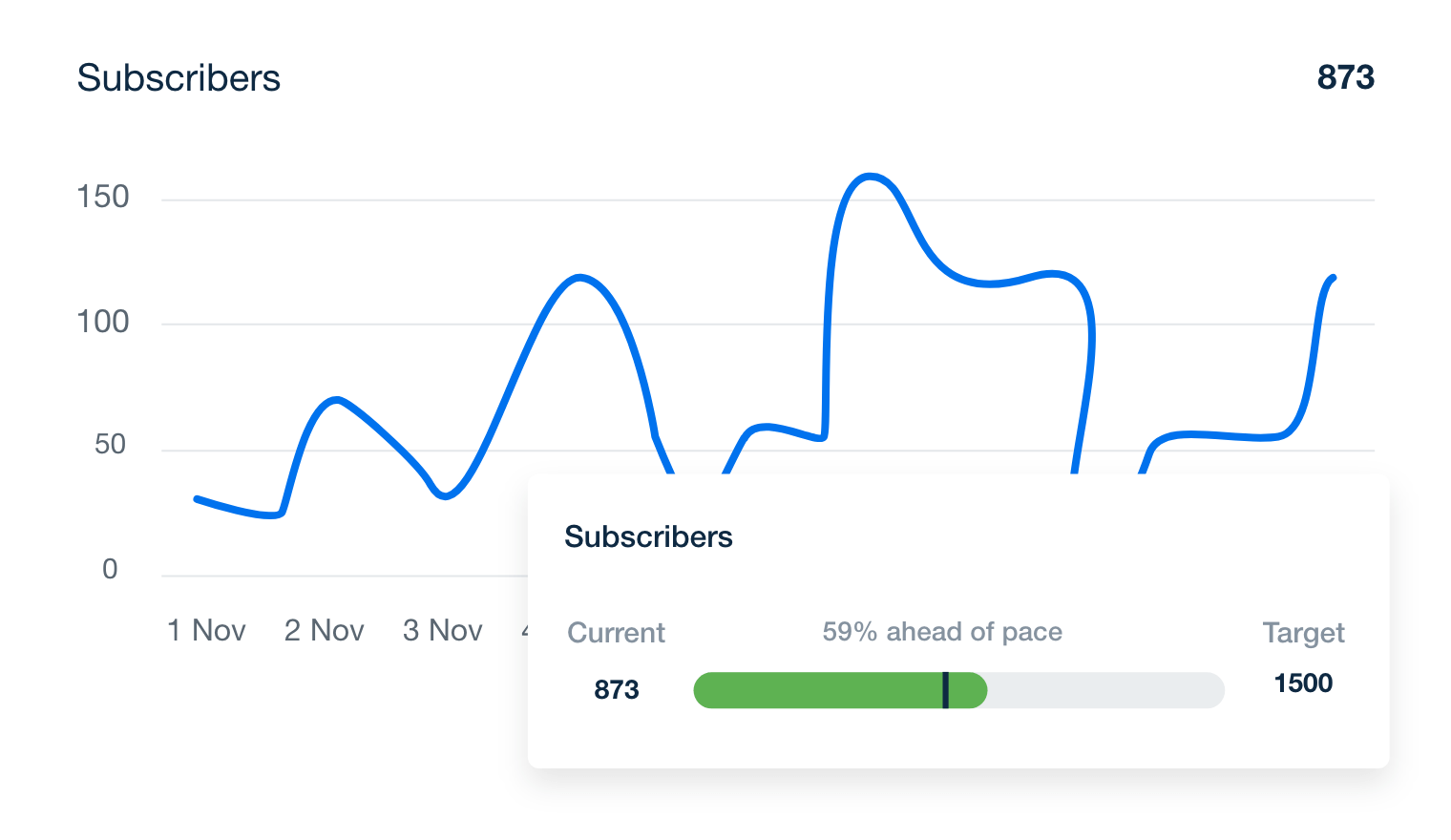 Create custom goals on AgencyAnalytics and report on what matters most to your clients. Try our full suite of reporting features with a free 14-day trial. 
2. Automatically Track Their Data With a Live Dashboard
Saving billable hours and creating replicable agency processes should be top priorities for your agency. And let's face it. Who really enjoys taking multiple screenshots of YouTube Analytics and pasting them into a manual spreadsheet each month? You guessed it–no one.  
While this approach may work in the short term, eventually, it will slow your agency down as you begin to onboard new clients or move further down the digital agency life cycle. That's where an automated YouTube dashboard comes in handy. 
Not only will it automatically populate your client's most important metrics, but it's also easily replicable for other client projects. 
Create a fully customizable marketing dashboard or use this exact YouTube dashboard on the AgencyAnalytics platform–it's free for 14 days.  As a reference, your client's YouTube dashboard should provide insights such as:
Subscriber rate (and any notable increases or decreases for the reporting period)

Total number of video views

Watch times (including the average view duration and the number of seconds or minutes watched) 

Engagement metrics (i.e., likes, dislikes, shares, and comments)

Audience demographics (i.e., age, gender, geographical location, and device type)
3. Create Custom Metrics To Track Progress Against Your Client's Goals
Let's say you're running multiple marketing campaigns for your client. In addition to running a YouTube campaign, they've also posted the same video on Facebook to build brand awareness.
They've also sent out an email to promote the new video. As their marketing agency, you want to go the extra mile and show a holistic picture of what's happening. And in this case, backend analytics alone may not cut it. 
AgencyAnalytics is a timesaver for our team. It facilitates our being able to share rich data around client websites and outreach we would otherwise not be able to pull together for them. We do include email alongside other social outreach platforms (Twitter, Facebook, YouTube, etc.) to help showcase the community for many of our clients. 

- Seth Giammanco, Principal, Strategy and Technology, Minds On Design Lab
To measure overall impact, make use of custom metrics. Create formulas based on your client's unique YouTube goals, consolidate data from cross-campaign efforts, and show that your agency goes above and beyond.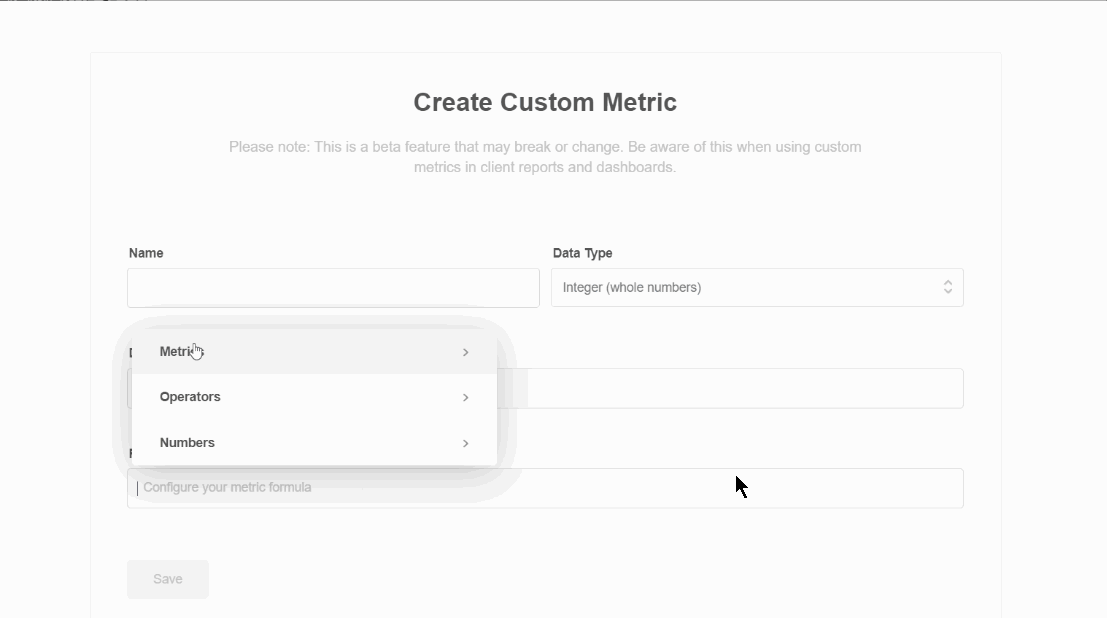 Create custom YouTube metrics to consolidate your clients' most important insights. Try it on the AgencyAnalytics platform–it's free for 14 days.
4. Show the Bigger Picture With Multi-channel Reporting
Let's say your agency is responsible for boosting a client's organic website traffic and increasing their overall brand visibility. You may decide on a multi-faceted approach, such as tweaking your client's YouTube SEO, creating more Facebook content, and coming up with other inbound marketing strategies that push the needle. 
How do you demonstrate earned media value when many platforms are involved? Don't just provide traffic source data from YouTube Channel Analytics; add more value by incorporating insights from multiple channels. In these scenarios, add data points from other relevant platforms (e.g., Google Analytics) and show how they relate to your client's YouTube content. 
For example, a high click-through rate on a particular YouTube video may have increased website traffic and conversions. In this case, it's easy to drag and drop Google Analytics widgets alongside those YouTube insights to show the bigger marketing picture.
Regardless of which multi-channel approach you choose, AgencyAnalytics has over 75 integrations to choose from when creating a report. 
5. Make Use of Data Storytelling 
When it comes to YouTube content, it may seem difficult to quantify. Luckily, that's where data storytelling comes in. Through the use of visual graphs and custom comments, your client will be able to understand what's happening at a moment's glance. 
For example, say your client has an in-person event that results in higher brand visibility and increased follower counts on all their social media platforms. As a result, their monthly YouTube Analytics report shows a notable spike in the number of video impressions. 
At first glance, it's not immediately clear why this sudden increase happened. To add further context, it's useful to add an annotation directly to that data point. That way, you'll tell a story of what's happening while sharing YouTube channel insights in an easily digestible form. 
Use the AgencyAnalytics annotations and goals feature to provide explanations and highlight goal-tracking progress. Sign up for a free 14-day trial today. 
6. Use an Easily Shareable Format 
After you've created an amazing YouTube Analytics report, decide on the best way to send it to your client. Luckily, your agency has a few options! Let's explore them below. 
Grant Client Login Access
To save time on follow-up calls and e-mails, consider granting 24/7 client login access. That way, your clients can check their YouTube channel metrics in real time without asking your agency about it. Here's a bonus! With AgencyAnalytics, you'll also have the option to create internal staff profiles and streamline all agency operations under one roof. 
Email a Downloadable PDF
Some clients prefer to receive a downloadable YouTube Analytics report via e-mail. Perhaps your client wants to share these insights with an external supplier (e.g., an outsourced videographer) or save a copy on their agency's drive for future reference. Regardless of their reasons, there's no need to worry–a downloadable, white-labeled PDF version is just a click away.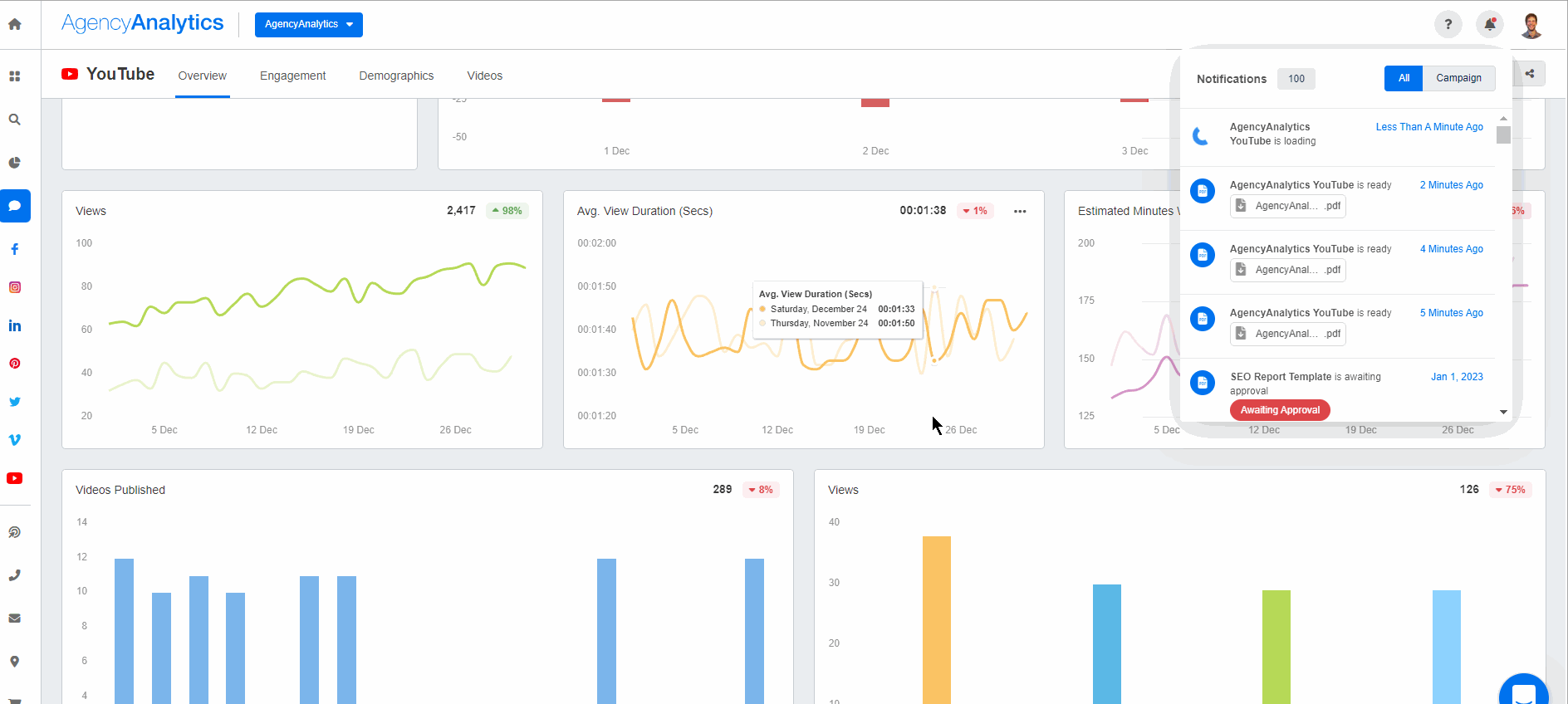 Generate a Shareable Link
Similar to the above, a shareable link comes in handy for clients that want to share a YouTube report with external parties. It's also useful for easy, clickable reference without downloading a separate file. 
Plus, the data automatically updates based on the date range selected, so there's no need to generate a new shareable link each month. 
Automate YouTube Analytics Reporting and Save Time Each Month
Your agency needs a scalable and replicable way to share YouTube data insights. You must be prepared for questions like 'Did I get more subscribers?' or 'How many views did my video get?' After all, your clients expect results and understandably want to see ROI each month. 
Create an outstanding YouTube report to prove your worth, put hours back into your day, and provide tremendous value to your clients.
When building your client's YouTube Analytics report, remember to: 
Report only on what matters to your clients

Give clients access to a 24/7 dashboard 

Add context and explanations for data storytelling

Showcase your agency's value by tracking against goals and being transparent about progress updates
Whether you're using a pre-built YouTube dashboard template or building one from scratch, AgencyAnalytics is the automated tool that'll help you along the way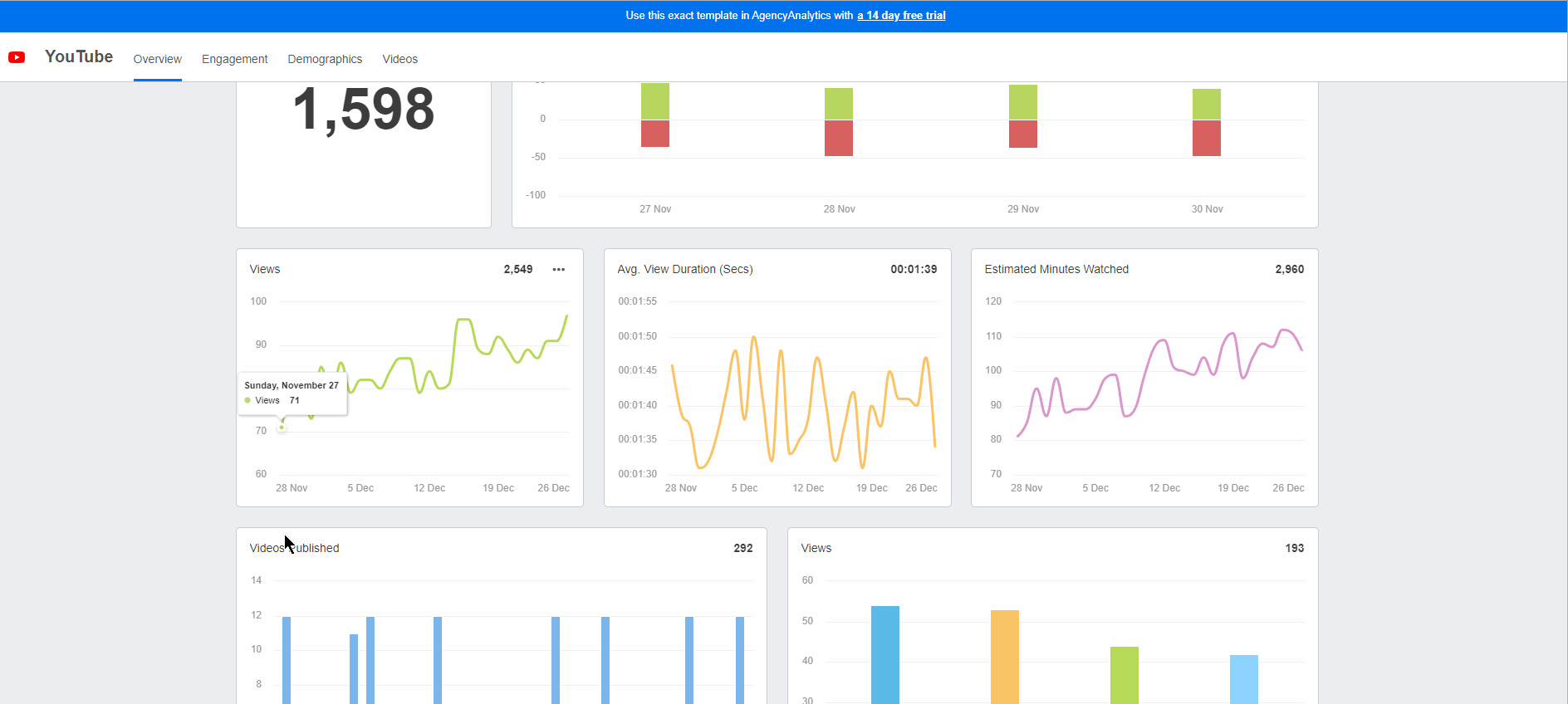 Create a client-ready YouTube report in a matter of minutes–it's that easy with AgencyAnalytics. Sign up for a free 14-day trial today.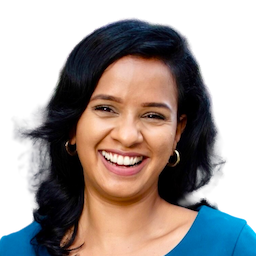 Faryal Khan is an experienced marketer and brand photographer with a passion for content creation. She creates value for brands through storytelling and captivating visuals.
Read more posts by Faryal Khan ›
Try AgencyAnalytics risk-free for 14 days. No credit card required.