With nearly 7 out of 10 consumers now reporting that they prefer learning about a product or service through video over text, the competition is on for optimizing top-of-funnel lead capture for your clients on platforms like YouTube. 
The good news is that you can help differentiate your clients' brands by delivering quality content more intelligently, using YouTube ad sequences – combined with the right metrics and analyses.
This article will explore: 
What Is A YouTube Ad Sequence?
A YouTube ad sequence is a series of two or more videos that together help you capture attention and drive behavior with brand videos tailored to your clients' growth and conversion goals.
This allows agencies to create a more integrated campaign that can tell the client's story over several installments, rather than trying to cram everything into one video.
What's So Special About YouTube Ad Sequences?
Much in the same way that you would map out several omnichannel touches for your client campaigns in aggregate, YouTube ad sequences empower you to smartly engineer multiple touches of the same consumer for brand imprints and calls to action on YouTube.
This can help your clients' videos and overall brand become more memorable, and/or provide an opportunity for deeper engagement and an increased likelihood for conversion.
How Does YouTube Ad Sequencing Work?
YouTube Ad sequences treat each video in an ad sequence as a required step for the delivery of the campaign. This means you can create and distribute a sequence of videos, in a specific order, to build on a campaign or brand story – and cultivate deeper messaging.
For example, a brand could first deliver a short ad highlighting or summarizing how its product/service solves a problem or meets the desires of its targeted consumer audience.
The brand could then follow this first ad in the sequence with two or three longer case study videos or customer testimonials that further validate the value proposition of the product/service.
Ad sequencing also works well if your client's product is more complex than normal, as you can break features and value props into smaller, more easily digestible chunks. 
Another benefit of ad sequencing is that you can target different CTAs based on where that client is in the sequence. Perhaps the first video promotes an eBook, the second a webinar,and the third an in-person consultation.
| YouTube Ad Sequence Templates from Google | These can help you create a winning YouTube ad sequence. Note that you can only select these templates during campaign setup. They won't appear in your Google Ads reports or when editing campaigns, so plan your tracking accordingly. |
| --- | --- |
| Introduce & Reinforce | Use a long video ad to introduce your brand, then reinforce the message with a shorter video. |
| Prompt & Inspire | Leverage a short video ad that prompts users to think about your brand, then inspire them with a longer video. |
| Attract & Direct | Attract viewers' attention with a memorable short video, inspire them with a longer one, then direct attention with an additional short video ad. |
| Engage & Differentiate | Tell the same story from varying angles with three or four short video ads, or divide your narrative into parts to keep attention. |
| Automatic Sequence | Upload all of your videos and Google will automatically optimize based on which order drives the best performance for your overall campaign.  |
| These templates are based on research insights into effective narrative structures, from Ipsos. | |
How Do I Set Up A YouTube Ad Sequence?
First, create and/or decide on the right videos to deliver in sequence for your clients. These should be optimized – both technically and creatively – for YouTube ads (more on this below).
Then, create a new campaign in your Google Ads account. Note that only two objectives work for YouTube ad sequences: Product and Brand Consideration or Brand Awareness and Reach.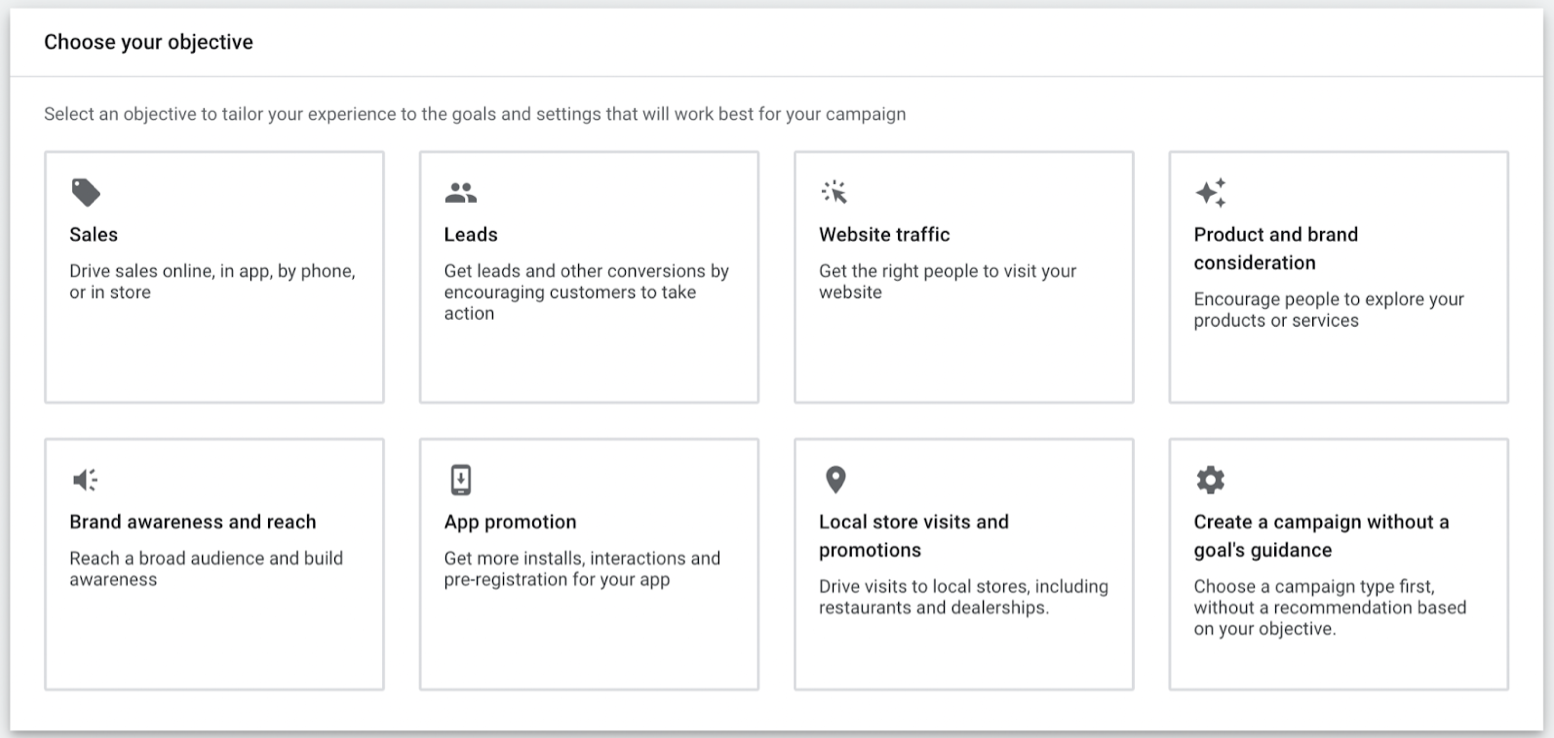 When prompted to select a campaign type, choose Video, with Ad Sequence as your subtype. 
After filling in your basic information for your ad campaign, including your targeting, you can select from one of Google's vetted templates for your sequence.
Regarding bid strategy for your YouTube ad sequence campaign, note that Target CPM will likely provide the best bang for your buck. The reason for this is that Google will optimize your bid for showing the entire ad sequence, as opposed to the group of individual ads. Additionally, bids based on CPV will limit you to skippable ads only, versus the full suite of YouTube ad formats otherwise available (skippable, non-skippable, bumper).
An exception where you might choose CPV could be if your client's particular product or industry might require higher spend in order to compete for eyeballs in the first place.
Best Practices for YouTube Ads
Even the most effective standalone brand video may not be the right fit for YouTube ads, and/or a YouTube ad sequence, so it's worth revisiting what makes a good ad on YouTube in the first place before planning a new ad sequence.
There are many best practices for YouTube ads, originating from a variety of marketing goals across differing industries. For now, let's focus on the essentials, and how they support YouTube ad sequences.
General YouTube Ad Best Practices
| | |
| --- | --- |
| Length | It will vary by type of ad, but generally shorter is better. Don't forget to make an impact in the first five seconds, and to include branding up front and throughout. |
| Format | Always stay current on recommended file formats from Google, but feel free to experiment with story and structure formats as it makes sense for your agency and its clients. |
| Creative | We'll defer to you on this one, but it may be worth a quarterly audit of the highest-performing videos in relevant industries (if you aren't already doing this) for inspiration as well as current benchmarking. |
| Dynamic elements | There are several dynamic and backend elements you can customize for client videos to reinvigorate or supercharge results. |
| Call to Action | Whenever possible, make sure that the CTA is relevant, engaging, and timely. Infusing a sense of urgency typically helps increase conversion rates. |
| Funnel alignment | Even with advancements in technology and the increasing acceptance of a variety of video styles, production for brand videos proportionally takes a lot of time and energy. Triple-check from the start that video ads are locked-in with any remaining steps in your conversion funnel. |
Finally, when it comes to best practices, there's overall efficacy. The best YouTube ad (or ad set) is the one that performs well for your specific client brand and its goals – however that may or may not align with all of the above.
More on benchmarking, measurement, and analysis below.
Trends and Types of YouTube Ads
Growth in video marketing in both B2C and B2B has been well-documented. 
However, since we're looking at carving out success for your clients within this ongoing video content boom by using YouTube ad sequences, it can be beneficial to identify current trends and define each type of video ad that might comprise an ad sequence.
5 Types of YouTube Ads
Bumper ads
Bumper ads are six-second (or shorter), non-skippable pre-roll ads that play before a video. For a YouTube ad sequence, you may want to use these as a first, flashy and/or succinct brand imprint. Alternatively, it could be the last touch in your sequence, to nudge viewers who have already watched a few of your videos into taking action.
Skippable in-stream
These are videos that the user can choose to skip after five seconds. You won't get charged if they do, but be sure to make good use of those five seconds either way. These ads can play before or during a video, and need to be at least 12 seconds in duration but can stretch much longer. Here's an example of one of ours.

Non-skippable in-stream
The only difference here from the skippable version is that the user no longer has the option to skip your ad. Discernment will be your friend with non-skippable videos (including based on data, in testing), when deciding whether they make sense for a given YouTube ad sequence. 
A bold move could be to serve your client's targeted user base with a non-skippable video ad ahead of a big launch, or perhaps at the end of a sequence where you've already whittled down your list of high-intent prospects.
Also, non-skippable ads need to be a maximum of 15 seconds to qualify for this format. 
Discovery ads
While still comprised of video content, YouTube discovery ads are more like standard Google Search ads. They'll pull your video into search results, watch pages, and/or the YouTube home page. This can make them powerful for brand imprints and top-of-funnel video advertising, but by their nature they aren't included in YouTube ad sequences.
Non-video ads
As indicated by their name, these are non-video text and image ads that you pay for on a CPC basis. They can be good for extra touches and reminders to supplement a YouTube ad sequence campaign or standalone ad, including nurturing long-term lead generation among audiences by providing simple, branded reminders and CTAs to your client's site.
Benchmarks: Compare Across Videos In-sequence
Specific to YouTube ad sequencing, benchmarking will likely need to begin by looking at general YouTube ad stats for each client's industry, and then comparing your results 1:1 for each video in a sequence. 
You can also utilize tools like the YouTube dashboard from AgencyAnalytics to measure and manage your KPIs for ad sequences and other videos.
To start, below are some (probably familiar) main benchmarks, although you will want to compare measurements across ads in your sequence(s) as well, to obtain useful data on efficacy.
| Key YouTube Ad Metrics | |
| --- | --- |
| Average CPV: | $0.026 |
| Average view rate: | 31.9% |
| Average view CTR: | 0.514% |
| Source: BigCommerce | |
YouTube Analytics Metrics to Track
In addition to tracking the same metrics as above, while analyzing campaign performance for your clients, it can be helpful to also check in regularly on engagement and growth metrics. 
AgencyAnalytics built these types of metrics into our custom YouTube tracking dashboard, so that you can easily export custom reports for your clients, showing not only "ground level" results like views, CTR and costs; but also comments, subscriber growth, and shares.
Trackable Metrics Available on Your YouTube Dashboard
| | |
| --- | --- |
| Views | The foundational, first impression metric that must be considered with others to measure true efficacy. |
| Subscribers | A heroic metric that clearly indicates high-intent and/or high-engaged, potential "superfan" viewers. |
| Likes | More "likes" lead to higher visibility and greater SEO, so measuring and testing across videos (within an ad sequence or without) can be powerful, and exciting to a client. |
| Dislikes | Best analyzed in a ratio against "likes", it can still be important to watch for jumps in measured "dislikes", for a given video. |
| Comments | Comments can be a harbinger of success, if not directly as measured against your KPIs, at least in terms of generating attention that you'll want to understand in seeking to duplicate results. |
| Videos published | With YOY growth of video marketing continuing unabated, it stands to reason that clients will want to quickly see that you're producing regular, impactful video content for them. This also empowers you and them to do some quick math on aggregate video marketing performance, considered together with other metrics on your YouTube Dashboard. |
| Minutes watched | Track this metric closely to ensure video engagement is going as planned, and also to show progress towards SEO and brand growth. |
| Shares | Growth in this metric indicates clear success, so monitor it closely along with others as you iterate campaigns for your clients. After conversions, success here will likely excite them the most. |
Tracking metrics in our YouTube dashboard will help clearly illustrate the many ways in which your campaigns are delivering value for clients, not only in the short-term (a campaign) but also when considering long-term growth, increased brand awareness, and, ultimately, more frequent video-led conversions.
And don't forget to utilize supplementary elements like UTM parameters for campaign landing pages, so you can also tie your metrics from YouTube ad sequencing and other video marketing efforts to conversion rate and ROAS.
Conclusion: Why Optimized YouTube Ad Sequencing Matters to Clients
Returning to where we began, it's important for agencies to not only keep up with new, advanced marketing solutions like YouTube ad sequences but to guide clients with the right data on efficacy and impact, to ensure competitiveness.
Second perhaps only to the right creative assets, tracking the right YouTube metrics and quickly delivering smart, custom reports to eager clients is one of the clearest ways to illustrate the impact of your agency's hard work.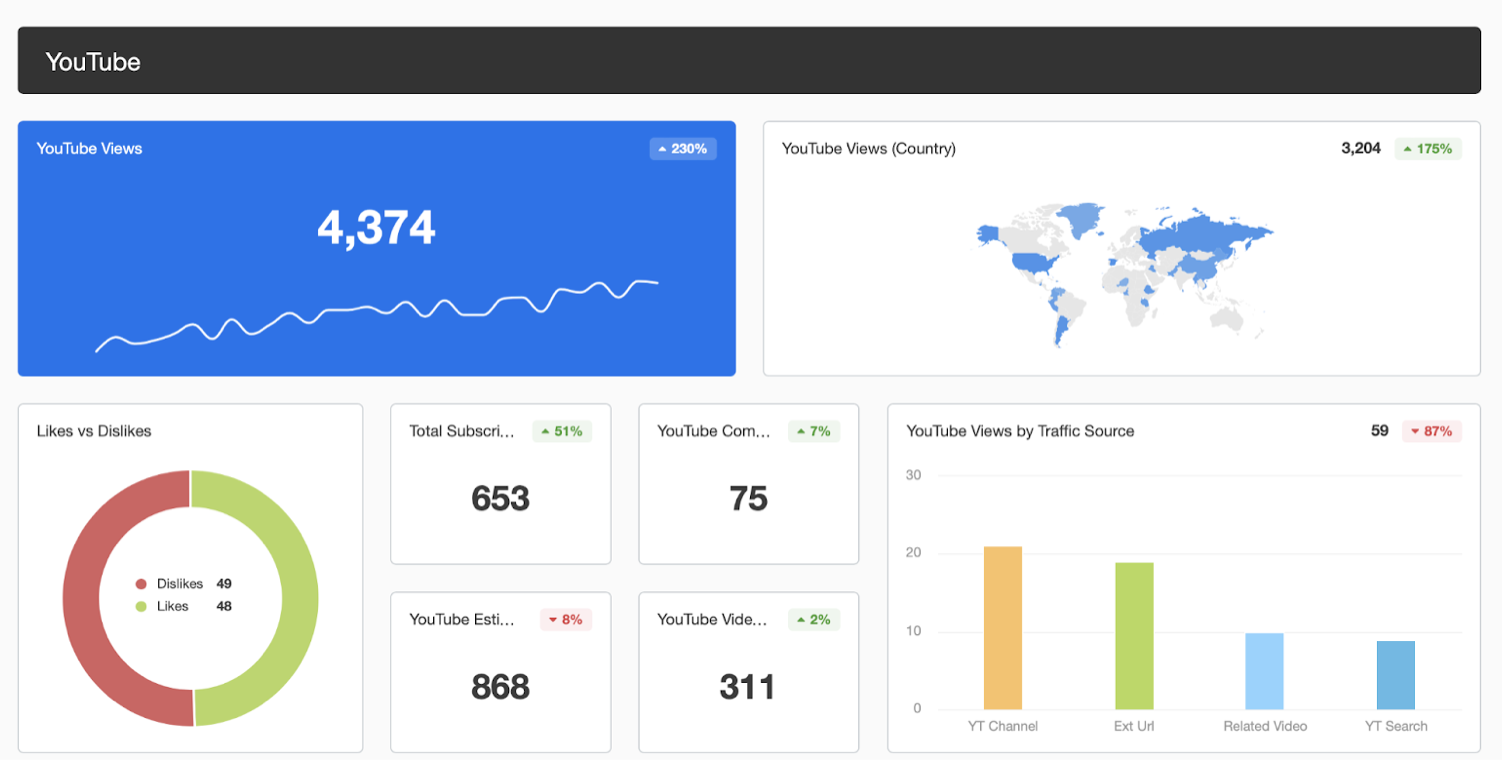 Set up own Youtube Dashboard with our template in minutes. Try it free for 14 days! 
We'll provide more updates on securing YouTube success for your clients right here as we learn more, so follow us on LinkedIn, Twitter–and of course–YouTube.
Written by
Michael DiBiasio
Michael DiBiasio is a Marketing and Storytelling Consultant and Content Strategist working out of New York City and Burlington, Vermont. With experience as a Head of Marketing (SaaS, eComm) and as a Video Marketing Lead (professional services), he helps stakeholders find the sweet spot between audience needs and values and their own sales and service goals.
Read more posts by Michael DiBiasio ›
Try AgencyAnalytics risk-free for 14 days. No credit card required.