Think about when you first started a digital marketing agency; what was your biggest aspiration? Whatever the case, let's face it–ambitious dreams are expensive and often require significant capital. That's where raising money comes in.
It may seem like one of the more intimidating parts of the job. After all, how should your agency go about pitching a dream, getting others on board with your vision, and convincing them to give financial support?
It's not always easy to get investors or financial institutions on board, especially if we're talking about big dollars and cents. After all, they want to know whether it's worth the investment and if your agency can walk the walk. 
Have no fear, though! With a well-planned strategy, you'll be equipped to approach the right investors and take your agency to the next level. Read on to learn more about:
The Benefits of a Cash Infusion
Bootstrapping a marketing agency is a tried and true method that has been executed by thousands upon thousands of marketing agencies around the world. 
But that also means that your agency is on a level playing field without thousands upon thousands of other marketing agencies. 
A cash infusion often provides a competitive advantage to allow your agency to grow faster than the competition, carving out that niche while there's still enough marble available for carving. 
It's no secret that you need money to make money. And investing capital in a strategic way will take your agency to higher heights at an expedited rate. 
When I started :Delmain, it was 100% bootstrapped. I didn't have any money, any clients, or industry contacts. A little bit of seed capital would have allowed me to hire way faster and fast-track investments for our own marketing and sales.

–Dan Delmain, Founder of :Delmain 
Capital aside, raising money often involves strategic partnerships with a bank, lending institution, or business partner (which we'll explore later). This means your agency will have access to more opportunities and perspectives.
To summarize, here are a few reasons why your agency shouldn't shy away from raising money:
Accelerate your agency's growth to meet demands as they're happening. If you don't raise money on time for a promising business opportunity, your prospects will likely move on by the time you have the resources to meet their needs.

Hire more resources at a faster rate. Your agency's growth will need added support from new staff members, suppliers, or freelancers. The quicker you have the money available to do this, the easier it will be to bring on those additional resources.

Invest in much-needed infrastructure and equipment. Your staff needs the right software and equipment to do their jobs efficiently. Getting more capital means giving them the tools they need to make your agency thrive.

Get more capital to fund costly ventures (such as software development). Oftentimes, the most lucrative investments need enough money to get things off the ground. Creating proven, repeatable processes isn't cheap or easy. Don't miss the boat because of a lack of capital!

Leverage strategic partnerships and get more support. Not only does the right partner help to raise money, but it also opens up new opportunities to network, work with experienced mentors, and improve the overall business function. 
Still on the fence about raising money? Consider how a lack of funds may delay (or even halt) your agency's growth. If you're perfectly happy with your slow-but-steady bootstrapped growth trajectory, this might not be the path for you. 
However, if you're already convinced that an infusion of capital is what your agency needs to break through its growth plateau and you're wondering where to begin, here are the top strategies to raise money and get things going. 
7 Strategies To Raise Money for Your Agency's Growth
Depending on your agency's financial needs and unique situation, there are a few options to explore. 
1. Accelerator Programs
In a nutshell, accelerator programs provide guidance, mentorship, and resources for small businesses that have already established a level of success. As the name suggests, it's about accelerating existing growth and taking things to the next level. 
Usually, these programs are run by established entities (e.g., a government-funded organization that's passionate about helping small businesses thrive). It's also an excellent opportunity to network with industry professionals while receiving financial support for your agency's growth. 
While it's an attractive option, it's often quite difficult to get into one of these programs as they are quite competitive. Also, keep in mind that you'll need a way to make your agency stand out from the crowd of other agencies, as accelerator programs often need something unique to accelerate.  
How Accelerator Programs Help Growing Agencies
If you're curious about where a marketing agency fits in, let's explore the digital agency life cycle below. 
At the initial stages (conceptualization and start-up), your agency is focused on getting things off the ground and putting systems in place.
Stage 1: Conceptualization

Stage 2: Start-Up

Stage 1: Conceptualization

Transitioning from a freelancer to an agency

Establishing a brand identity, processes, and staff

Stage 1: Conceptualization

Building a business from the ground up

Focus on advertising and outreach to increase clientele

Stage 1: Conceptualization

Conducting initial market research to identify and fill a gap in the market 

Refining business processes
At the Growth and Establishment stage, priorities are a bit different, and you're likely seeking funding to grow your agency in a more sustainable way. That's where an accelerator program comes in. 
Stage 3: Growth and Establishment

Stage 4: Maturity

Stage 3: Growth and Establishment

Rapid growth and expansion

More established and renowned brand presence

Stage 3: Growth and Establishment

Increased revenue, brand recall, and word-of-mouth referrals

Plateau in sales and growth but a more stable outlook

Stage 3: Growth and Establishment

Opportunity to explore additional funding and resources

Possible market exit due to stagnation, change in priorities, new direction 
For example, let's say you've developed an in-demand, SEO-related product. Soon enough, your agency is doing daily SEO sales presentations and getting more clients along the way. 
Business starts booming even more, but there's just one problem–you're growing at an exponential and unmanageable rate. In no time, it's becoming increasingly challenging to manage multiple clients and keep up with daily tasks. So while the demand for your product is there, there's a lack of resources, guidance (and infrastructure) in place.
That's where an accelerator program will help. In addition to receiving capital for your growth goals, you'll receive support to refine your business plan where needed. Not to mention you'll meet other businesses and learn from their experiences. 
Don't let a lack of repeatable reporting processes stunt your agency's growth. Manage multiple clients and create visual dashboards on AgencyAnalytics–it's free for 14 days.
2. Partnership
There's power in collaboration, and an agency partnership goes a long way to raise money and take your business up a notch. Not only does it give a layer of additional support, but it also pools together expertise, efforts, and resources.
A partnership may involve teaming up with:
An industry peer that serves the same target audience as you. For instance, if you and another agency in another city joined forces, could you grow faster together? 

Influencers or experts that have a significant following, also with the same target audience, such as coaches or trainers. 

Another agency with related but distinct product offerings (so you're not necessarily competing with each other). For example, if you offer Law Firm SEO, you could partner with an agency that specializes in Law Firm social media marketing. 
It's all about alignment, getting the right partner on board, and sharing the same goals. For example, say you're raising funds to develop a networking platform specifically for legal professionals. 
Your industry peer specializing in website and app development for legal firms may be a good partner. In addition to goal alignment, there's also the opportunity to increase brand awareness through shared efforts and raise money faster. 
Agency Tip: If you're considering the partnership route, explore options for recurring revenue. For example, work together to create a competitive product (e.g., an app) or offer a retainer-based package with a combination of distinct services. That way, you'll leverage each other's strengths and build sustainable revenue streams. 
3. Angel Investors
If your agency needs capital and a bit of guidance along the way, consider onboarding an angel investor. 
In a nutshell, an angel investor uses their personal capital to fund your agency's growth goals. In exchange, they'll get equity in your business venture. 
The advantages of this approach to raising money include: 
Having enough capital to pursue your ambitious endeavors 

Getting an additional layer of support and guidance

No repayment of an angel investor's injected capital 
On the flip side, consider that having an angel investor means:
Relinquishing some level of control of your agency's trajectory

Giving up a share of your agency's profits
How an Angel Investor Works
Let's say you need $20K to continue building a niche eCommerce platform (which has seen a promising success rate over the last few months). 
After crunching the numbers, you forecast $100K in revenue, which is a significant ROI. Given this promising growth potential, you may approach an angel investor (or an investor group) with a personal interest in eCommerce and helping small businesses. 
In exchange for $20K, an angel investor may require a 10% equity stake for this specific app. This means that when your agency meets that $100K revenue target, the angel investor gets $10K (i.e., 10%). 
While the dent in profits may be a concern, keep in mind that angel investors could also provide strategic guidance and business direction. And because of their financial stake and interest, it's only natural they want to see your agency thrive.
Agency Tip: Investors want to know that your business plan is sustainable and stands the test of time. Even if you don't have all the answers, factor in future projections and how your agency will hit revenue targets in the long term. 
Give investors the confidence they need in your agency's systems. Save on billable hours and use a sustainable client reporting solution–try AgencyAnalytics today, free for 14 days.
4. Bank Loans
Relatively speaking, a bank loan is a secure option that provides guaranteed funding for your agency's growth goal. And increased capital aside, a bank loan doesn't involve giving up business equity or relinquishing control (if those are concerns for your agency). 
On the other hand, bank loans also come with risks. If your agency's business ventures don't go as planned, it may mean defaulting on a loan and dealing with dire financial consequences. 
Nonetheless, a bank loan is often a go-to option for several reasons, such as: 
Building a line credit and getting access to additional funding in the future

Accessing more favorable interest rates for small businesses

Maintaining full equity of your digital marketing agency while accessing much-needed funding
On the other hand, bank loans come with a few drawbacks, such as:
A more aggressive qualifying criteria (e.g., a high credit score, history of debt repayment, history of proven ROI ) 

Stricter repayment terms and interest penalties 

An overall lengthier process to get funding, which could be a challenge if your agency needs to raise funds quickly
And for digital marketing agencies like you, there are a few types of bank loans to consider:
| Type of Bank Loan | Description |
| --- | --- |
| Small Business Administration (SBA) | This type of loan is funded by the government and offers lower interest rates. Keep in mind that there may be a longer waiting period after applying |
| Equipment Financing | Loans that are issued explicitly for physical equipment (e.g., office furniture, laptops)  |
| Term  | This type of loan is given as an upfront lump sum (which works well if your agency needs immediate funding for a variety of expenses)  |
| Working Capital | Used to fund your agency's day-to-day operations (e.g., rent for larger office space)  |
Regardless of your agency's financial needs, you've got options! To make an informed decision, set up a 1:1 meeting with a banking institution and explore the best possible loan options. 
5. Credit Cards
Although most agency owners think of credit cards as a necessary part of operating a digital business, it doesn't immediately stand out as an additional source of short-term capital. 
Don't overlook it, though (especially if you've already got a business credit card). There are a few distinct advantages to using credit cards for additional capital, such as: 
Building or strengthening credit history with a credible financial institution

Having an ongoing line of credit that increases your lending potential later down the road

Reaping the benefits of having a business credit card (e.g., a rewards program)

Having a structured repayment schedule based on the billing cycle so you'll know how to plan each month
On the other hand–if you're not careful–it's easy to rack up credit card debt and put a dent in your agency's financial health. And, of course, credit card interest rates tend to be much higher than other forms of financing. 
To avoid any mishaps:
Pay your credit card bills on time to avoid penalties or interest fees. At the same time, don't rush to pay off your credit card bill with a later due date if you've got other priorities to attend to
I find it really easy to get caught up in paying for things and investing in other things, and before you know it, you're paying bills that don't necessarily need to be paid right away. –Trevor Shirk, CEO & Founder of Terrayn Dispensary Marketing
Have a 1:1 meeting with a banking professional to choose the best type of credit card for your marketing agency needs

Set a spending limit beforehand–don't spend more than your agency is able to repay

Check your credit card statements for any abnormal or overlooked transactions
We audit our credit card statements all the time. It's helped us catch things like if someone charges an Uber or a Lyft after returning from a business trip because they forget to switch the credit card back to their personal one. Or things that may be a little out of what allowance they have.

–Trevor Shirk, CEO & Founder of Terrayn Dispensary Marketing
Make note of upcoming billing cycle dates and other important obligations. Create your own task list on AgencyAnalytics; it's free for 14 days.
6. Loans From Friends and Family
When you hear the term 'loan,' the first thing that may come to mind is a bank or a formal lending institution. However, another solution is right at your agency's fingertips and within close reach. 
Your friends and family are strong support systems that know about your agency's potential and long-term dreams. They want to see your agency succeed and may even be financially able to help you do so. And depending on the circumstances, a more flexible repayment plan is possible. 
Of course, it's a delicate matter and should be handled with care. After all, mixing business and personal relationships could backfire. It doesn't have to, though, once you have the right business plan.
If you're considering this route, here are a few things to consider: 
Similar to other outreach exercises, determine the best person(s) to approach and who's likely to invest in your agency's growth (based on your rapport, their personal interests, and even personality traits)

Come up with a transparent plan for repayment (i.e., frequency of repayment, whether there are any accumulated interest costs for late payments)

To keep your agency accountable, and avoid potential conflicts in the future, consider drafting a clearly outlined agency contract with terms and conditions

Treat your financial repayment obligations with the same formalities as a bank or lending institution. That way, you won't compromise your business and personal relationships
Establish boundaries early on. Be upfront about what you're raising funds for, have predefined terms about equity, and clearly state whether you'll maintain full reigns on business operations

Show your agency's existing track record by sharing KPIs and any other performance metrics. That way, you'll increase the chances of investment and greater buy-in for your growth goals
7. Bootstrapping
Getting financing isn't always easy, especially if you don't have an extensive loan history or you're trying to avoid borrowing money altogether. 
Technically, bootstrapping is the antithesis of raising funds, but–as discussed earlier–it's an approach favored by thousands of agencies. 
More often than not, agency owners start in-house before looking outwards––and might even prefer keeping full ownership. This means raising funds by generating revenue and reinvesting that into the growth of the business. 
Analyze your finances and consider whether you have enough resources to finance your growth venture. That way, you won't have to worry about repaying loans, unfavorable lending conditions, or giving up control of your agency. 
I came into this first entrepreneurial journey very bootstrapped. I was very conscious of making sure that there was always cash in the bank before I made decisions. So we haven't had an issue in terms of cash flow because we've really focused on making sure that money is there. –Dan Delmain, Founder of :Delmain 
To get started, think about what your agency already has, such as: 
A physical space (e.g., an at-home office), which will eliminate rental costs for your agency

A highly-skilled staff–even if it's just the agency owner to start, and then using client revenue to fill the gaps and take on additional responsibilities

A growing brand presence to invest in and increase lead generation over time
To get the most from bootstrapping, cut out any unnecessary expenditures and also explore avenues for sustainable income. For example, instead of offering one-off services, opt for retainer-based agency pricing that lets you plan ahead financially. 
Look at what you can do that provides recurring revenue without a lot of labor. We call it "mailbox money."  We're so focused on getting that next $5k or $10k/mo client and not getting 100 people who can pay us $100/mo instead.

–Ryan Kelly, CEO of Pear Analytics
The Drawbacks of Bootstrapping
Like anything else, there are cons to explore before making your decision. Taking the bootstrapping route means you'll have limited capital to work with, which is incredibly challenging if your agency has ambitious short-term goals. 
And because you're funding things on your own, it also means accepting complete financial responsibility if things don't go according to plan. Not only could this scenario affect your client retention, but it will also impact your staff's job security, once you are able to hire staff. 
Don't let that scare you, though–plan ahead and keep some savings in reserve, just in case. That way, your marketing agency won't suffer or lose business in the process. 
Keep a close eye on your finances and be prepared when things go wrong. Have a buffer in reserve so that when things go south, you have enough capital on hand to make it through the storm while being able to help your staff and the clients.

–Joseph Anthony, Digital Marketing Manager at Imageworks Creative
Things You'll Need Before You Start Raising Funds
Before you mash the gas on raising funds, there are a few things to put in place before approaching investors or banks. After all, they're not going to just cut you a check without knowing what they're getting into. 
To increase your chances of getting funding, have the following in place:
1. A Solid Business Plan
Investors want to know exactly how you'll spend their injected capital, and rightfully so. When crafting a business plan, include the following:
Your agency's company description and mission statement

An executive summary of your agency's investment proposition, target audience, and expected ROI

Detailed insights on how additional capital will be allocated, including any project milestones

Relevant financial statements (e.g., cash flow and income statements)

A drafted contract that outlines obligations for both the investor and your agency
2. A Sales Pitch Deck
To get your point across, ask investors for an opportunity to present a sales pitch deck. Not only does this allow two-way conversation, but it's also a chance to make an impact (and hopefully secure capital along the way). 
Create a compelling sales pitch deck that includes:
A brief overview of your business (mission, values, years of experience)

A summary of your investor's business and why your agency is a good fit for a strategic partnership

A compelling story of your agency's history and the reasons for your current endevors

Any initial research that shows how your proposed business venture will benefit the current market (e.g., focus group findings)

An outline of clear benefits to the investor (e.g., equity or a share of profits)

How much funding your agency requires and exactly how you'll use it

Future projections in numerical terms (e.g., number of projected sales and revenue once additional funding is received)

A timeline to achieve results

A closing summary with your agency's contact information
No one wants to view a bunch of text on PowerPoint slides, so remember to keep your sales pitch deck highly visual, data-driven, and easy to read. 
Agency Tip: Preparation is key, especially when it comes to delivering an impactful sales pitch. Have a few dry runs in advance of your meeting and think of any questions an investor may ask. Remember–you've got one shot to grab an investor's attention, so make the most of it!
3. Proof of Concept
To give investors the confidence they need, provide proof of concept (i.e., a more solid basis that your business venture will succeed). 
For example, say your agency needs additional funding to fund the development of an eCommerce subscription product that'll service your niche market. 
The platform is already in the beta testing of development, and you've successfully onboarded a few clients who left rave reviews. In fact, it seems so promising that there's already a waiting list of clients that want to subscribe when the product is fully released.
To strengthen your investment proposition, include these findings to show project feasibility and possible ROI. That way, investors will take your business venture seriously and see its potential in a more tangible way. 
Put a System in Place To Ensure Sustainable Growth
With growth comes great responsibility. Raising capital is one thing, but you must have the right systems to ensure your agency develops at a manageable rate. 
The last thing you want is to inject capital into your business ventures only to realize your client relationships are falling behind and you can't deliver on promises. You need the proper infrastructure to make your job easier and help your agency scale effectively. 
That's where an automated tool like AgencyAnalytics comes in! Increase your agency's efficiency, save billable hours, and juggle multiple client projects simultaneously–all under one roof. Start your free 14-day trial today.
Time is money. The more efficiently we can work, the more time goes back into our day, which we can spend on getting great results for our clients or finding other ways to be a better, faster, stronger agency. We can easily build trust with our clients by demonstrating our progress in a real tangible way. Using AgencyAnalytics has slashed our reporting time so that we can get reports out to our clients more quickly and be more responsive when they have questions.

–Rachel Jackson, Lead SEO at Wit Digital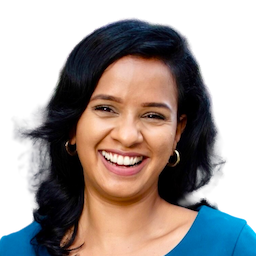 Faryal Khan is an experienced marketer and brand photographer with a passion for content creation. She creates value for brands through storytelling and captivating visuals.
Read more posts by Faryal Khan ›
Try AgencyAnalytics risk-free for 14 days. No credit card required.