With social media spending skyrocketing and expected to double over the next three years, it's crucial for agencies to price their services accurately. The rise of new platforms and the increasing importance of social media in driving business growth have made social media management more valuable than ever before. 
As a social media agency owner, how do you keep up with how much to charge for social media management when the social media landscape is changing so rapidly? 
This article provides a comprehensive guide for agencies to navigate this complex terrain, helping you establish a fair and profitable pricing framework for your social media marketing services.
The Rising Importance and Complexity of Social Media Marketing for Agencies
Social media is set to be the fastest-growing channel now thru 2024. According to forecast reports, social media advertising spending will overtake television advertising at US $177bn. 
Competition drives ad spending. Even mega giants Facebook and Instagram are losing part of their monopoly to Gen-Z-dominated channels like Tiktok. Users dictate the social media channel. The social media channel itself guides the direction of content creation, and the brands insert themselves as naturally as possible. It's an evolving cycle of content production and consumption.
Somewhere in between, though, there needs to be careful analysis and planning: social media strategy. In a sea of metrics and noise, brands risk drowning without professional help. That's when they call you. As a social media marketing agency, you need to have a plan and quickly deliver on it.
With social commerce on the rise, social media marketing metrics are more than how many likes and shares a post gets. Clients want to know how their social channels contribute to their bottom line, making social media management infinitely more valuable than five years ago. 
Navigating Social Media Management Pricing
Dust off your clients' social media accounts and get on those trends. Your clients' brands need to be in front of their audiences more than ever before. Social media marketing plays a large role in your clients' business, and agencies should treat social media as a channel for significant business growth: 55% of consumers learn about new brands on social and 74% of consumers rely on social media to guide their purchasing decisions. 
Based on what we have seen from the social media specialist agencies that use our reporting platform, fees range from $1,500 to $25,000 per month. So how do agencies decide what to charge for social media management? How can social media analytics software help agencies retain key accounts, upsell clients, and land new clients?
For starters, expect a bigger budget in the social media pot compared to previous years. To best position your clients' brands front and center and not risk losing out to the competition, your clients should treat their social media strategy as a channel for significant business growth.
What about the small businesses that spend less than $10,000 a year on digital marketing, you ask? 
Get bigger clients. 
Just kidding! Regardless of the size of your clients' business, social media management is a conversation you should be revisiting with all your clients. A recent study revealed that small businesses are also hopping on the social bandwagon:  
96% of small businesses say they use social media in their marketing strategy

41% of local businesses depend on social media to drive revenue

72% of executives surveyed say that social data is already the top data source used to inform business decisions, even more so than market research 
Now that's a lot to unpack.
Agencies have more and more channels to manage, adding on more billable work hours. To avoid awkward conversations with clients, how can agencies ensure their pricing plans clearly reflect the work expected while allowing room for flexibility in relation to the scope of their project? 
💡Agency Tip: As an agency, getting clients on newer platforms as early adopters gives clients a competitive edge and more chances to succeed organically before algorithms shift towards paid views. Kind of like the good old days of Instagram. 
Deciding how to set your pricing is often a key differentiator between running a scalable marketing agency and one that is wasting time with back-and-forth phone calls and unsatisfied client experiences.
Defining Your Agency's Scope of Social Media Management Services
The cost of social media management is largely influenced by the range of services provided. 
Most social media managers, whether they are part of an agency handling multiple clients or a social media freelancer, offer a comprehensive suite of social media management services that go beyond simply managing a social media account. 
These services are often bundled into social media management packages, each tailored to meet different client needs and marketing budgets.
Key social media management services included in these packages often encompass:
Social Media Advertising: With the increasing competition on social platforms, paid advertising has become a crucial component of a robust social strategy. A skilled social media marketer charges for their expertise in creating, managing, and optimizing ad campaigns to ensure that every dollar of the marketing budget is well-spent.
Social Media Content Creation: Content creation involves crafting engaging posts, graphics, and videos that resonate with the target audience and enhance the brand's social media presence. The quality and frequency of content, as well as the design of social media assets, can significantly impact social media pricing.
Community Management: This involves monitoring and responding to comments, engaging in influencer marketing, messages, and reviews, fostering a positive community around the brand. The time and effort required for effective community management can influence how much social media managers charge.
Use of Social Media Tools: Social media managers utilize various tools for scheduling posts, tracking performance, content creation, and analyzing audience behavior. These tools streamline the management process and provide valuable insights that can inform your social media strategies.
In essence, the cost of social media management is not just about maintaining a social media presence. It's about leveraging a combination of strategies, tools, and expertise to drive brand awareness, engagement, and conversion, ultimately contributing to the client's own business growth. Therefore, when considering how much to charge for social media management, agencies should take into account the comprehensive nature of the services they provide.
After finding AgencyAnalytics, not only did we save a significant amount in billable hours each month, but it also helped us maintain strong relationships and retain clients over the long run.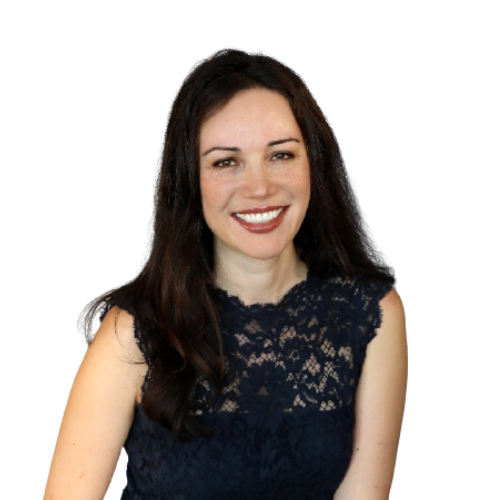 Traditional Social Media Management Pricing Models
A social media manager might take the traditional route when deciding social media management costs. Let's break down the most popular pricing models.
If pricing models were a personality, which one would you be?
1. The Hourly Model: You like to live in the moment.  
Charging clients by the hour is the simplest and most straightforward pricing model for agencies. It works if you have just a handful of clients, but it's hard to scale since your time is directly tied to earning potential.
Brian Robben, CEO of Robben Media, said it best: 
Hourly is the easiest contract to sign, takes the least marketing skill, and the work stops immediately when you're off the clock. It's far less stressful. And you're held less responsible for results. However, you're often competing against freelancers, some who are overseas, and some are desperate for any work. The pricing can be a race to the bottom to win a contract.
2. The Fixed Fee / Retainer Model: You like repeatable income.
This one already offers more scalability in that you know your agency's MRR (Monthly Recurring Revenue). It's paid upfront for a predetermined amount of time or deliverables. 
Having a retainer fee is often harder with clients you've never worked with before. This is why some agencies opt for an hourly or project-based model to prove their worth before moving onto a retainer model where they can keep improving upon their social media benchmarks.
3. The Performance-Based Fee: You're religious about the algorithm and believe it will deliver unto you.
This model is heavily based on measurable social media performance metrics, and can work for clients looking to get a direct revenue impact from their social media. Your agency will need to set clear expectations on:
Conversion metrics

The $ value of each conversion

How they will be tracked and shared (our social media analytics dashboard makes it easy)

The performance payout timeline (in social media, it takes around 3 months to see results) 
This type of pricing model often implies some upfront payment to cover your agency's main costs, plus a performance fee once your agency delivers successful results. 
4. The Project-Based Arrangement: The one-and-done of client relationships. 
This is a very common pricing model for agencies because it's not time-based and scalable. Agencies usually calculate their fee by considering: 
Estimated total labor hours

Associated costs

Adding a profit margin
Opt for this model if there are no unexpected variables that can end up taking up more agency time. 
5. The Value-Based Model: You get what you deserve. 
This is arguably the most scalable pricing model. Similar to the Performance-Based Fee noted above, it has no upfront fee and runs a higher risk if you don't deliver on your promise. If you can demonstrate to your clients that your social media services brought X amount of $ in sales straight from their Instagram, for instance, then this is a very lucrative pricing model and a fair one, too, as your clients are getting their money's worth.
6. The Equity Pricing Model: You want a piece of the upside. 
This is if a potential client reaches out to you without the necessary funds upfront to cover your fee, but the project has the potential to generate cash flow. You believe in that potential. Call it optimism. Let's say your agency set up a Shopify store for an amazing product, and managed an Instagram page to drive visitors to the site. A portion of the sales would then go to your agency for its services. 
7. The Personalized Social Media Marketing Package: You understand the intricacies of life and let it translate into your work. 
Social media management is tricky and involves multiple channels, content types, and algorithms to impress. When coming up with pricing plans, perhaps the trick is not just customization, but personalization.
Customizations are decisions that agencies make for clients. You could combine a low retainer with equity-based pricing, based on the client and your agency's track record. But it also implies a lot of ad hoc decision-making. Personalization, on the other hand, means your clients can select their preferences for themselves. Kind of like Netflix. 
A DIY Framework For Pricing Your Social Media Marketing Services
Creating a clear pricing framework allows your agency clients to pick from a set of existing plans and add-ons to select the best fit for their marketing budget and needs. Hello, scalability! 
Here are some examples of agencies being completely transparent and clearly displaying their tiered pricing right up there for potential clients to see:  
Example 1: WebFX 
WebFx is a digital marketing agency that has a predefined pricing framework for each of their digital marketing services. For social media management services, they've divided it into three tiers by:
Number of social media networks

Number of social posts per month (minimum 1 a day, to twice daily)

Number of boosted posts

Frequency of comment monitoring (from 3x per week, to daily) 
Being transparent about your pricing can help potential clients pick you, as fear of hidden fees is often what holds them back. 
Example 2: SociNova 
Another great example is SociNova, a social media marketing agency with 4 pricing packages. They specifically list what their clients can expect, and ensure them that there are no unpleasant surprises come billing time. 
Having a clearly defined pricing framework helps your social media management agency build a good client relationship from the get-go. And just like any relationship, it is built upon clear communication, trust, and performance-based metrics. PBMs are key to charging your clients what your agency services are worth.
6 Strategies To Manage Your Social Media Analytics and Save Time
1. Connect All Your Social Media Channels in One Place
Cross-channel social media reporting software allows your agency to keep track of each client's social media campaigns from one place without logging in and out of multiple social platforms. 
2. Use Internal Dashboards To Keep Your Team up to Date
Keep track of your campaigns, view individual posts and see their metrics–in real-time. This allows you to optimize your social media campaigns as you go and ensure you don't miss out on a good opportunity.
Use this social media dashboard template to manage all your clients' social media platforms in a single, comprehensive. Try it free for 14 days! 
3. Use Client-Facing Dashboards To Keep Your Team up to Date
Some clients are more hands-on and like to stay in the loop in between reports. This is the most efficient way to maintain transparency and build trust. Just give them a login to their own dashboard and include the right amount of data to keep them informed.
4. Create Custom Metrics To Track ROAS and Other Data
Custom metrics in AgencyAnalytics allow you to combine data points from various sources to show the bigger picture. Your clients want to see that their money is well-spent, and putting this in one metric makes it easy to understand.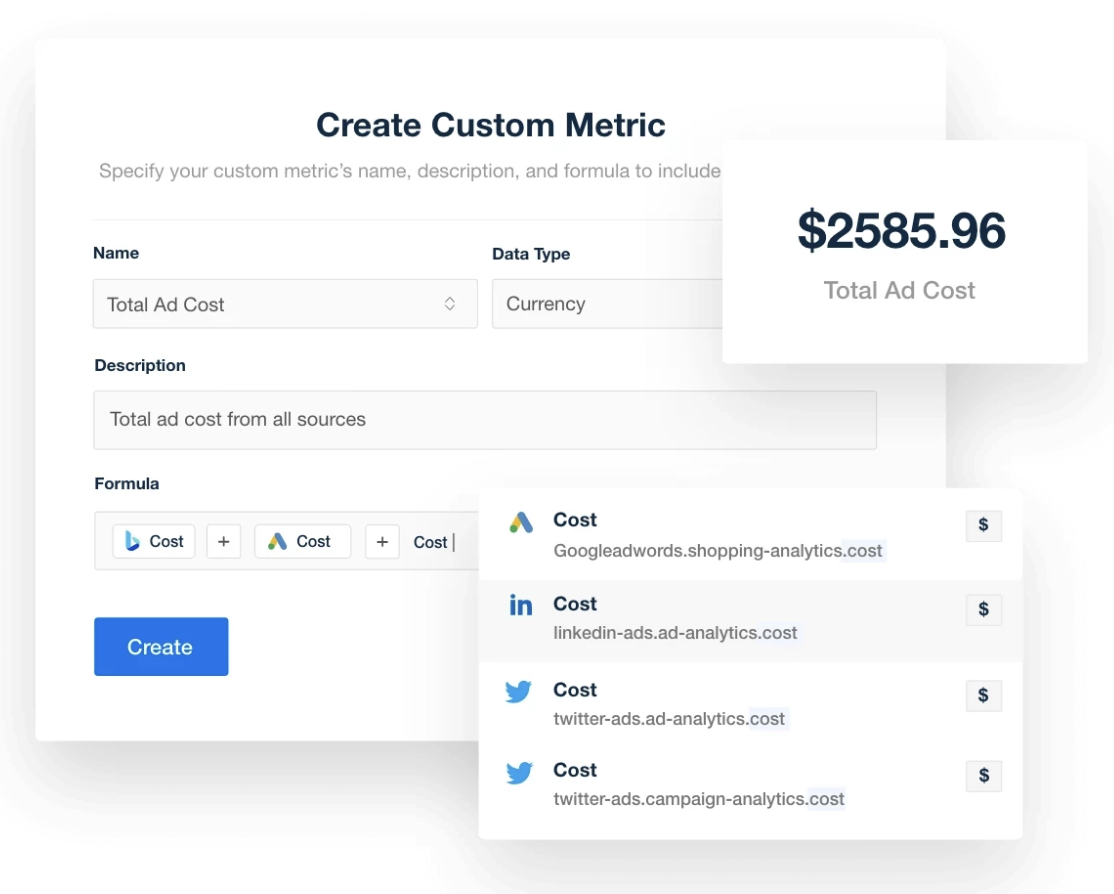 5. Use Goals To Track Your Progress
The goals and annotations feature clearly shows your progress and makes data storytelling easy. Include these in your client reports to show clients how you're progressing toward their business goals!
6. Automate Your Social Media Reporting To Free Up Your Time
While you're busy keeping up with the latest social media trends and focusing on delivering the best campaigns for each of your clients, let the data populate on its own! Automated reporting in AgencyAnalytics lets you build client reports in minutes and schedule them to send out on a regular basis. 
Highlight Your Value With Automated Social Media Reporting
No social media platform's analytics can give you the big picture. That's where building white labeled social media dashboards come in. It's essential your agency gathers all its clients' key social media metrics to show that they're delivering on their promises. And on time.
Use automated reporting software to easily drag and drop items from your social media dashboard, then schedule your social media reports to go out daily, weekly, or monthly and sit back as it does the work for you. Add annotations and text where you want to highlight key results on your clients' and personalize their reports, and let AgencyAnalytics take care of the rest.
Use this Social Media Report Template and save countless hours each month! Try AgencyAnalytics free for 14 days!
Not worrying about creating your client reports each time allows your social media manager to do other higher-level tasks that will bring success to your clients. With automated reporting, you have the exact data to keep a proven track record to onboard new clients with confidence. Upsell your existing clients with new value propositions by gaining their trust and positioning their ROI at the forefront. 
Create custom reports to include clients' Instagram metrics, Shopify data, and Google Analytics all in one place. Choose between various types of graphs and bar charts to represent your data visually so you can quickly spot trends. The combinations are limitless to get the right message across to your clients. 
Summary: How Much to Charge for Social Media Management?
Marketing agencies should be dedicating at least part of their clients' marketing strategies towards social media management – or expanding their efforts. If you're trying to upsell clients on more social media services or onboarding new clients altogether, you'll need to consider the industry standards and how much your agency should charge for social media.
There is no one size fits all answer to the question: "How much should an agency charge for social media management?" As a marketing agency, how much your social media managers charge must consider many factors. Your clients should feel like they're getting their money's worth, and your agency shouldn't undersell its skills. 
Social media is a beast with many heads, and each needs to be tackled differently. Not to mention, every client has different needs, goals, and budgets. Creating an adaptable framework for social media management pricing helps you onboard new clients and scale your agency. Backing up your work by clearly communicating your clients' performance-based metrics helps you retain them.
Scalable social media marketing tools like automated marketing reports and having a customizable and transparent pricing plan allows your agency to onboard, upsell, and scale in no time. 
Articles you might like:
Receive Agency Growth Tips, Delivered to Your Inbox
Written by
Melody Sinclair-Brooks
Melody Sinclair-Brooks brings nearly a decade of experience in marketing in the tech industry. Specializing in B2B messaging for startups and SaaS, she crafts campaigns that cut through the noise, leveraging customer insights and multichannel strategies for tangible growth.
Read more posts by Melody Sinclair-Brooks ›
Try AgencyAnalytics risk-free for 14 days. No credit card required.