Google Analytics Dashboard
Easily create clean, customized marketing dashboards with your clients' real-time GA and GA4 data. Flip them into send-ready reports in seconds, or combine data from other key platforms for even more comprehensive reporting.
Visualize Data
Cut through the noise and spot trends with crystal clear graphical formats that are easy to analyze and report on
Segment Channels
Dissect data by channel to determine which of your client's pages are getting the most traffic to boost search engine optimization
Understand Your Audience
Segment visitors by location, age, gender, and device with demographic insights
Highlight Conversions
Captivate clients with report layouts that accentuate goals, conversions, and revenue
DATA THAT'S ALWAYS READY TO GO
Automated Google Analytics Reporting
Logging in and out of all your clients' Google Analytics accounts to gather actionable data is tedious and time-consuming. Automate your entire data-collection process with live Google Analytics dashboards that put goals and KPIs into intuitive graphs with customizable formatting. Turn them into white labeled client reports in seconds.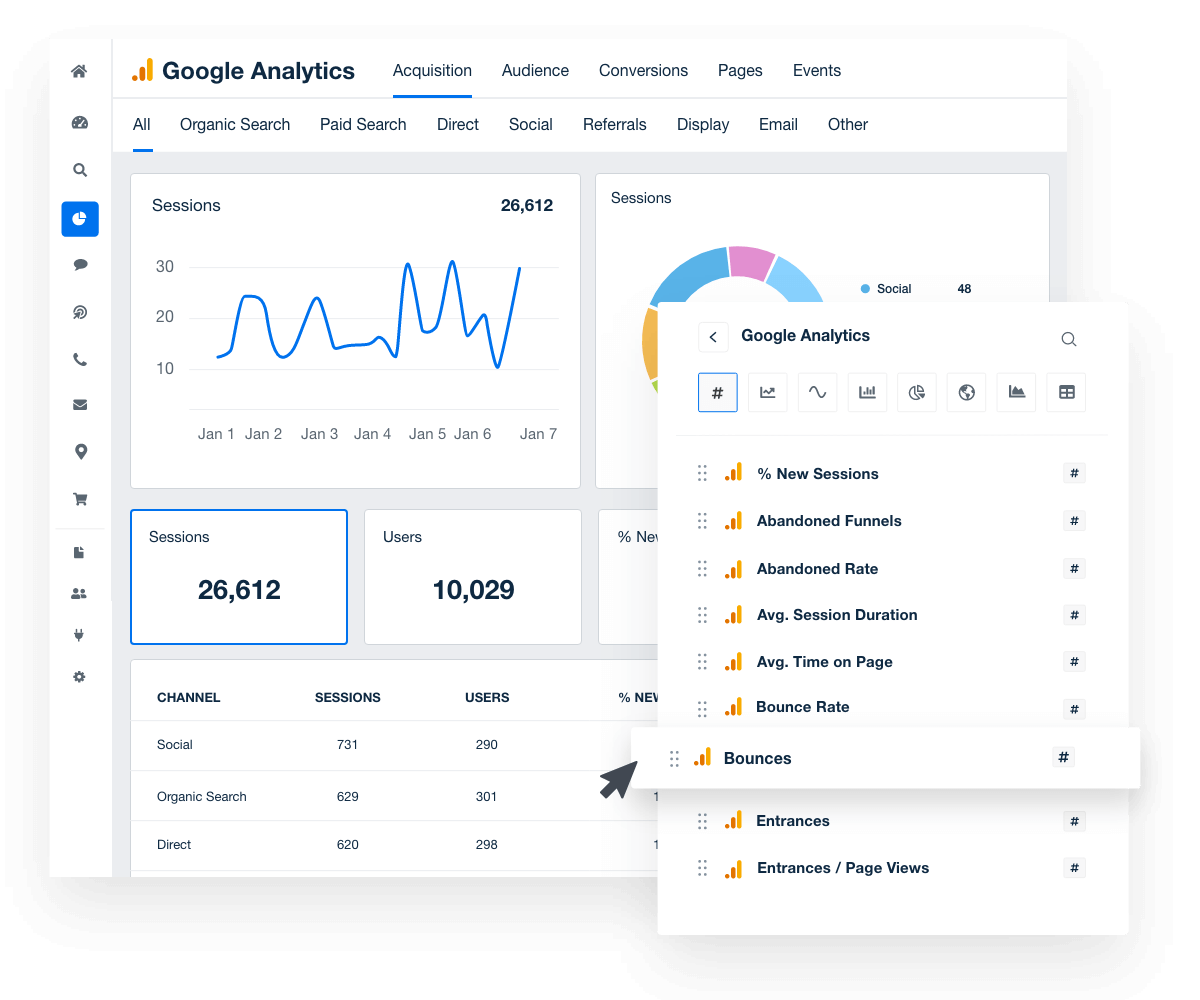 Explore All Available GA Metrics
See all the GA metrics you can easily add to your client reports and marketing dashboards
Assisted Conversions

Assisted Value

Avg Dom Content Loaded Time

Avg Dom Interactive Time

Avg Domain Lookup Time

Avg Event Value

Avg Page Download Time

Avg Page Load Time

Avg Redirection Time

Avg Search Depth

Avg Search Duration

Avg Search Result Views

Avg Server Connection Time

Avg Server Response Time

Avg Session Duration

Avg Time On Page

Bounce Rate

Bounces

Buy To Detail Rate

Cart To Detail Rate

Date

Dom Content Loaded Time

Dom Interactive Time

Dom Latency Metrics Sample

Domain Lookup Time

Entrance Rate

Entrances

Event Value

Events Per Session With Event

Exit Rate

Exits

First Impression Conversions

First Impression Value

First Interaction Conversions

First Interaction Value

Goal Abandon Rate

Goal Abandons

Goal Completions

Goal Conversion Rate

Goal Starts

Goal Value

Goal Value All Per Search

Goal Value Per Session

Hits

Impression Assisted Conversions

Impression Assisted Value

Internal Promotion Clicks

Internal Promotion CTR

Internal Promotion Views

Item Quantity

Item Revenue

Items Per Purchase

Last Interaction Conversions

Last Interaction Value

Local Item Revenue

Local Product Refund Amount

Local Refund Amount

Local Transaction Revenue

Local Transaction Shipping

Local Transaction Tax

New Users

Organic Searches

Page Download Time

Page Load Sample

Page Load Time

Page Value

Pageviews

Pageviews Per Session

Percent New Sessions

Percent Search Refinements

Percent Sessions With Search

Product Adds To Cart

Product Checkouts

Product Detail Views

Product List Clicks

Product List CTR

Product List Views

Product Refund Amount

Product Refunds

Product Removes From Cart

Product Revenue Per Purchase

Quantity Added To Cart

Quantity Checked Out

Quantity Refunded

Quantity Removed From Cart

Redirection Time

Refund Amount

Revenue

Revenue Per Item

Revenue Per Transaction

Revenue Per User

Search Depth

Search Duration

Search Exit Rate

Search Exits

Search Goal Conversion Rate

Search Refinements

Search Result Views

Search Sessions

Search Uniques

Server Connection Time

Server Response Time

Session Duration

Session Per User

Session With Event

Sessions

Speed Metrics Sample

Time On Page

Total Conversion Value

Total Conversions

Total Events

Total Refunds

Total Value

Transaction Revenue Per Session

Transaction Shipping

Transaction Tax

Transactions

Transactions Per Session

Transactions Per User

Unique Dimension Combinations

Unique Events

Unique Pageviews

Unique Purchases

Users
Showcase Revenue Data Front and Center
Track Goals and Conversions
If there's one metric every client wants to see, it's total revenue. The drag and drop report editor makes it easy to craft layouts that prominently feature goals, conversions, and revenue. Round-out client reports with campaign-based eCommerce, PPC, SEO, and other metrics to present the true value and ROI of your agency.
Organic, PPC, Social, Email, Display, & More
Advanced Analytics for Each Traffic Channel
Not all traffic is created equal! Certain channels might account for less traffic, but drive the lion's share of conversions. Add widgets to your client's Google dashboard with the drag-and-drop editor to provide big-picture reports that demonstrate the value you're generating from social channels, PPC, SEO, email campaigns, and more.
Identify & Optimize Pages Based on Performance
Page-Level Behavior Metrics
Sort pages based on performance metrics like bounce rate, exit rate, and time on page. Highlight top-performing pages while earmarking low-performing pages as candidates for re-writes and overhauls.
Location, Age, Gender, Devices
Leverage Demographic Data
Visitor demographics can lead to surprisingly specific takeaways. Traffic from iPhone users showing a high bounce rate? The site may be formatted improperly for that device's display. Audience gender skewing unexpectedly one way or the other? Boost conversions by tweaking the site messaging accordingly.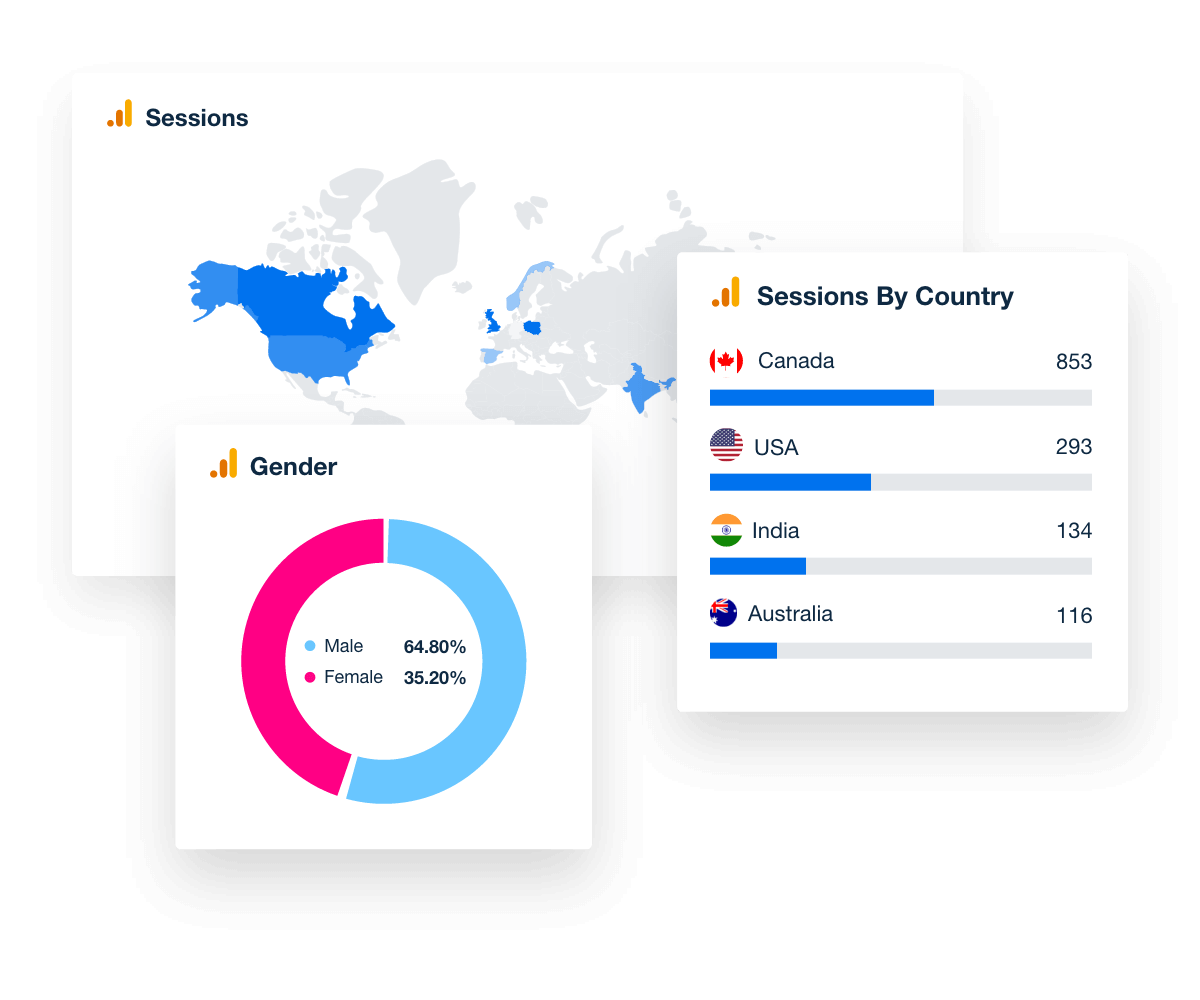 After finding AgencyAnalytics, not only did we save a significant amount in billable hours each month, but it also helped us maintain strong relationships and retain clients over the long run.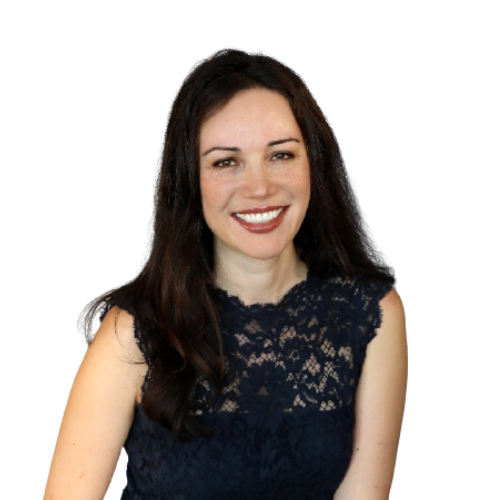 Your Clients' Key Google Analytics Metrics—and All the Other Metrics That Matter, Too. One Platform to Advance Your Reporting.
Google Analytics 4 Compatible
Works Hand-in-Hand With GA4
Run the Google Analytics 4 integration alongside your universal Google Analytics integration to report on both sets of data from one dashboard. Easily report on your client's GA4 event-based metrics to get them used to this new method of measuring web analytics.
CONNECT THE DOTS BETWEEN 75+ INTEGRATIONS
All Your Data In A Single View
Your clients use more than just Google Analytics to grow their businesses. Bring all their important metrics into AgencyAnalytics' powerful reporting platform to show the full picture of your client's' performance. Adding dashboards is easy! Create custom dashboards and reports using the drag-and-drop editor. Present your Google Analytics dashboards with data from 75+ other channels of your choice.
Your Logo, Your Brand Colors, Your Google Dashboard
Stunning Google Analytics Reports Featuring Your Preferred Branding
Stand out from the competition by delivering Google Analytics reports that prominently feature your agency's (or your client's) logo and brand colors. You can even host your Google Analytics dashboard on a custom domain with multiple white label features for a complete white-labeled experience.
We have improved workload efficiency, lowered business costs, and improved client retention rate - everything our business looks to achieve.
Connect the Google Analytics integration in seconds to streamline your client reporting.
Everything Your Agency Needs
Try AgencyAnalytics risk-free for 14 days. No credit card required.