The Hispanic community has undergone remarkable growth in recent years, now representing nearly one-fifth of the entire US population. As a result, there is an increasing demand for Hispanic marketing agencies that understand the complex and nuanced nature of multicultural marketing. 
It's not just a matter of translating advertisements or using surface-level insights though; businesses need to employ the right strategies to effectively reach the Hispanic market.
Enter Hispanic marketing agencies, whose expertise and cultural awareness provide clients with the tools they need to succeed in this dynamic and diverse market. 
But how have these agencies adapted and thrived amidst competition? And have they leveraged their cultural knowledge to attract prospective clients and stand out from the crowd?
This article delves into the success of Hispanic marketing agencies, exploring how they have navigated the marketing landscape and amplified their value propositions in a crowded industry.
Read on to learn about: 
The Growth of the Hispanic Market in the US
The face of America has been changing since the 1970s, and with it, so has the way companies market their products and services. As the Hispanic population continues to rise, it has become increasingly clear that the traditional methods of advertising are no longer effective. 
Gone are the days of the Mad Men ad agencies, where the focus was solely on the white, middle-class demographic. Today, in order to reach a wider audience, companies must embrace multicultural marketing and break down the barriers that once existed. 
This is where Hispanic marketing agencies have risen to the forefront, playing a crucial role in the success of Hispanic-owned businesses across America.
But exactly how large is this market? 
And here's an interesting perspective to consider:
This means that in a parallel universe, the US Hispanic population would have the 3rd fastest growing GDP globally. Now that's some food for thought!
The numbers don't lie–the US Hispanic market is thriving and will continue to see an upward trajectory. 
It's an opportunity (especially for Hispanic marketing agencies) to create a long-lasting impact and meet growing consumer demand. 
Meeting the Needs of a Growing Market
As they say, when opportunity calls, you must answer. And Hispanic marketing agencies have certainly done that. Here's precisely why they thrive and continue to master the art of multicultural marketing. 
Speaking in a Way Hispanic Audiences Understand
With 40.54M Spanish speakers in the US, there's tremendous potential to create impactful multicultural marketing. And it makes sense–who better to reach the Hispanic population than a Hispanic marketing agency? 
That's because engaging the Hispanic market goes well beyond just chucking a few words into Google Translate or throwing in some phrases you learned on Duolingo. There are other elements to consider, such as inflections, body language, and dialects. 
If we're being specific, there are even linguistic differences between Spanish-speaking countries. Take this real-world example–Spain natives typically use the word "dinero" when referring to money. On the other hand, Mexican-Americans may prefer to use the word "plata." 
Adopting a clinical approach to multicultural marketing isn't going to cut it (it's just one reason Hispanic marketing agencies have an extra edge). But language aside, Hispanic marketing agencies are often privy to immediate happenings like community-related news, social media trends, and cultural observances. 
Whether tracking keywords (such as culture-specific slang) or jumping on a community-related social media trend, Hispanic marketing agencies understand their consumer base more intricately. 
Agency Tip: Want to package those keyword findings into a report that's already in Spanish? It doesn't have to involve manual translation. Simply use a pre-built marketing report template, change the campaign language or account language to Spanish, and easily replicate it whenever a new client comes along.
Hispanic clients don't want their client reports in English. Choose the language setting your clients are most comfortable with–try AgencyAnalytics free for 14 days and discover a host of time-saving client reporting features.
Supporting Community While Living the American Dream
Generally speaking, the Hispanic population greatly emphasizes family values, religious observances, and personal connections. 
So it's no surprise that supporting the community is part of their approach to personal and professional endeavors. 
As It's Often Said, Your Network Is Your Net Worth
A recent study showed that 65% of US Hispanics prefer to invest in marketing or advertising through media owned by members of their community. By extension, supporting Hispanic-owned businesses (such as marketing agencies) may be a priority or preference for this vast but close-knit population. 
Speaking of leveraging connections, Hispanic marketing agencies will have insider access to the right social media influencers, community leaders (such as activists or religious entities), and professional networks (e.g., groups such as ALPFA–the Association of Latino Professionals For America). 
The result? An extra value-added proposition for Hispanic agency pitch decks and well-versed, authentic marketing efforts.
5 Tips to Establish Meaningful Connections with US Hispanic Clients
If you're wondering how to reach Hispanic clients effectively, here are a few tips to consider. 
1. Clearly Define Your Ideal Customer Profiles (ICPs)
As you know, creating an ideal client profile (ICP) is the first foundational step before creating marketing collateral. And when your agency is doing outreach to target Hispanic-owned businesses, this research is a top priority.
But aside from general characteristics (like demographic and occupation), what should you include in your Hispanic-related ICP? Get the most from this exercise by having insights on:
Language preferences (e.g., a recent study showed that 74% of US Hispanics prefer blended Spanish and English advertising, which would be a significant influencing factor in attracting Hispanic clients)

Intergenerational differences (e.g., Millennials and Gen-Zers account for 50% of the overall Hispanic population and may be easier reached through social media than other generations. Consider this when you're researching decision-makers)

Various living situations (e.g., Approximately 25% of US Hispanic households were multigenerational in 2021. Be on the lookout for opportunities to infuse familial-related imagery, especially if you're reaching out to family-owned Hispanic businesses)
Go the extra mile by considering all angles and including as many culture-specific characteristics as possible.
Download our free client profile template
Use this template to build your ideal client profile
2. Showcase Your Understanding of Cultural Nuances
It's often said that the best marketing is emotional, which certainly applies to the expressive Hispanic population. But before creating any tone-deaf marketing collateral, be aware of cultural sensitivities (especially related to values or linguistic terms).
The last thing you want is for your agency's message or value proposition to get lost in translation (literally and figuratively) or cause unintentional offense. 
Remember to focus on authenticity, incorporate relevant social references, and use relatable imagery without resorting to overused stereotypes.
Agency Tip: If you need more context or clarification, don't be afraid to check in with your current Hispanic clients. That way, you'll keep the line of communication open, build solid relationships, and meet client expectations.
3. Pick a Niche That Serves a Subset of the Hispanic Population
Don't get lost in the crowd. To reach Hispanic clients in a more targeted way, choose an agency niche and focus on becoming a spectacular marketing agency in that realm.
To break this down further, consider the following niche types and potential applications. 
Geographic Niche
We've covered the enormous size of the US Hispanic population, but what are the most densely populated areas? 
For added context, consider that California is the US state with the largest Hispanic population (15.75M), followed by Texas (11.85M), and then Florida (5.8M).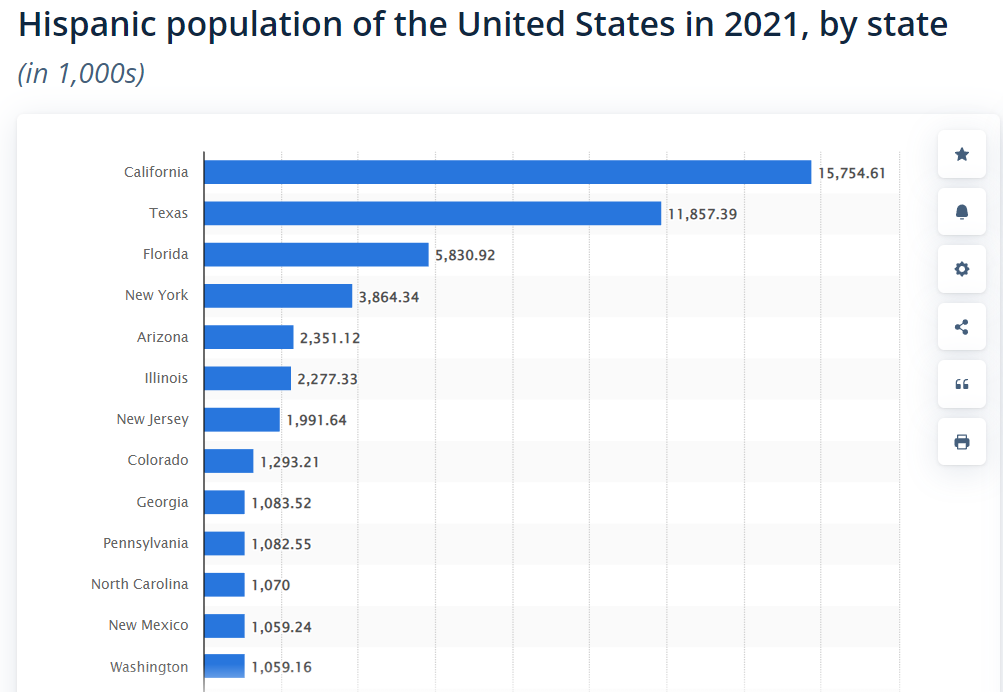 Depending on your state of operation, there may be opportunities to engage with the Hispanic market in a local-sensitive but culturally aware way. 
Vertical Niche
According to the most recent 2020 United States Census, US Hispanics are taking the lead for minority-owned businesses in the following sectors:
Construction

Transportation and warehousing

Waste management and remediation
But what does that mean for marketing agencies? Focusing on an in-demand industry within the Hispanic community means becoming a go-to expert. This will strengthen your agency's reputation and potentially lead to industry-related referrals.
Specialization Niche
In this niche type, it's all about streamlining your agency's approach and specializing in one service (or a few).
For example, say you've done initial market research for an area with a high concentration of Hispanic-owned businesses, such as Little Havana in Miami.  
You may find a demand for local SEO services (especially for restaurants that depend on walk-in customers). The next step? Become stellar at understanding this ICP's needs and perfecting those services. 
That way, your clients' local SEO reports will be chock-full of top-performing metrics when the end-of-month reporting period rolls around.
4. Create Engaging and Easily Understood Content
It's a given–marketing to the Hispanic population means creating content that resonates on a deeper level.
That means going the extra mile to create content in Spanish or with Spanish references (such as blogs, product pages, or social media posts). Perhaps consider offering a preferred language option on your agency websites, which shows that you're dedicated to providing an optimal client experience. 
Language aside, remember that storytelling is integral to many Hispanic cultures (especially folklore, poetry, and other engaging mediums). So in some scenarios, highly audio-visual content will have a more significant impact than written content. 
Agency Tip: Creating a narrative doesn't only apply to content creation. When creating your client reports, make use of data storytelling. This will keep your clients engaged and ensure they get the gist of their metrics at first glance.
Communicate insights in a way your clients will understand. Boost your multicultural marketing appeal and automatically create dashboards in 7 languages–it's free for 14 days on AgencyAnalytics.
5. Use Social Proof To Build Trust and Credibility 
Hispanic consumers often rely heavily on recommendations from friends and family when making purchasing decisions, and social proof is especially key to building that sense of trust and community online.
One way to use social proof in Hispanic marketing is by highlighting positive reviews or testimonials from other Hispanic clients–whether through social media or on your clients' websites. 
Remember that social proof should be authentic and relevant to the Hispanic community. This means focusing on highlighting positive reviews or endorsements from actual Hispanic clients or influencers (rather than using generic testimonials that may not resonate). 
How Hispanic Marketing Agencies Use New Technologies to Overcome Barriers 
Hispanic marketing agencies face a unique set of challenges and obstacles when it comes to mastering new technologies and platforms in the digital age, such as:
Language barriers and the need for accurate translations

Cultural differences that require sensitivity and understanding

Staying up-to-date on evolving cultural trends and values

Competition from other marketing agencies

Balancing the demands of clients with their resources and capabilities
But even as the marketing industry evolves and new technologies emerge, Hispanic marketing agencies are innovating to stay ahead of the curve. One such example is Hispanic marketing agencies leveraging the power of social media and influencer marketing.
Social media platforms like Facebook, Twitter, and Instagram are hugely popular among the Hispanic population in the US. As a result, Hispanic marketing agencies are developing creative, culturally relevant content that drives engagement on social media. 
For example, brand partnerships with Hispanic social media influencers (e.g., Desi Perkins, Jeanette Rey) is an effective way to reach a large following in Hispanic communities. In turn, these collaborations help brands reach a wider audience while building trust and credibility with Hispanic consumers.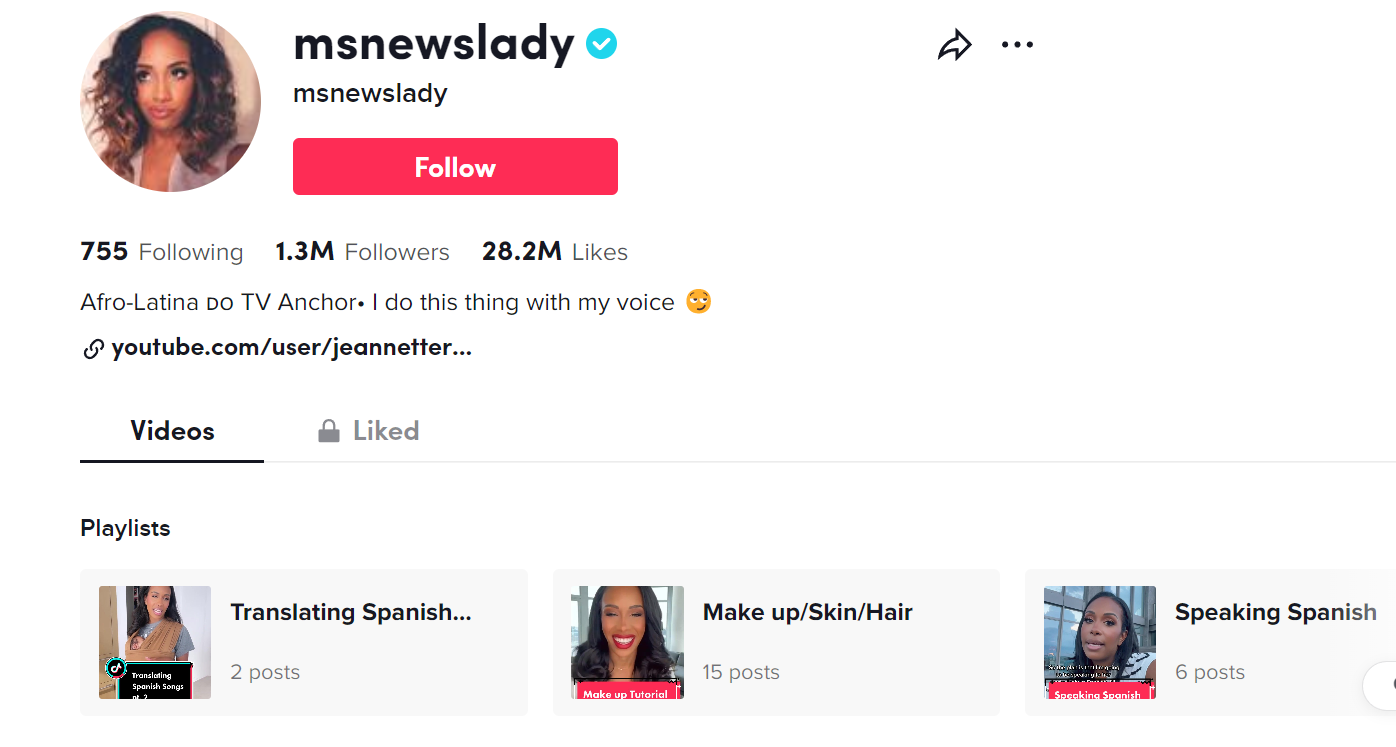 US Hispanic TV Anchor Jeanette Rey has a highly followed TikTok profile with playlists like "Translating Spanish Songs" and "Speaking Spanish."
4 Times Brands Successfully Engaged Hispanic Consumers
Looking for real-life inspiration for your agency's next Hispanic client campaign? Let's take a look at a few ad campaigns that engaged the Hispanic community effectively, 
1. TikTok's "De Nada America #LatinxCreated" Campaign
In commemoration of Hispanic Heritage Month, TikTok launched a "De Nada America" (You're Welcome America) campaign to highlight #LatinxCreated content. 
Not only did this campaign showcase the diversity within the Hispanic community, but it also amplified the voices of "Latinx TikTok Trailblazers." 
As a result, this dynamic campaign drove engagement and awareness of Hispanic entertainers and creatives. Way to go!
2. Barbie's #DíaDeMuertos Doll Collection
In commemoration of Día De Muertos (Day of the Dead), Barbie launched a signature collection in its honor. It's especially appealing to doll collectors that want to infuse Mexican culture into their displays. 
This product highlighted an important Mexican tradition while also demonstrating brand diversity and cultural inclusion. 
3. Target's "Más Que A Month" (More Than a Month) Campaign
Popular retailer Target celebrated Hispanic Heritage Month with its campaign "Más Que A Month." It also doubles as a year-round collection that highlights Hispanic-owned brands. 
Notice the neat Spanglish blend in the title "Más Que A Month" (More Than A Month) and the slogan "Let's build forward juntos" (Let's build forward together). 
Extending this campaign beyond Hispanic Heritage Month also showed Target's commitment to supporting the Hispanic community. 
4. Ocean Spray's "Sabor Único. Bueno Para Todos" Campaign
Explicitly geared towards the US Hispanic market, Ocean Spray's "Sabor Único. Bueno Para Todos" translates to "Unique Flavor. Good For Everyone." 
Ocean Spray's marketing campaign infused relatable imagery of Hispanic families enjoying their time together (a key value in this family-oriented community). 
In 2020, there was even an organic viral video of a TikToker drinking the Cran-Rasberry juice while skateboarding (which has since racked up over 90M views). Every marketing agency's dream!
Hispanic Agencies: A Model of Effective Multicultural Marketing
From rich cultural traditions to a spirit of adaptability, the growing US Hispanic population continues to make strides. 
The emergence of Hispanic marketing agencies only fuels that fire, resulting in unique niche positioning. From understanding cultural nuances to innovating as technology evolves, Hispanic marketing agencies will continue to have an established value proposition for years to come. 
But even if you aren't a Hispanic marketing agency, it's essential to remain culturally aware and knowledgeable about the ever-growing Hispanic market. That way, you won't be blindsided when a client wants to create Hispanic-oriented messaging or tap into the limitless Hispanic marketing potential. 
When all is said and done, how will you track the results of your clients' multicultural marketing efforts? It's simple–use a client reporting tool like AgencyAnalytics to access pre-built marketing dashboards and reports in Spanish.
From setting an overall campaign language to adding Spanish-infused annotations to reports, AgencyAnalytics helps your agency get more multicultural clients at scale. 
Create marketing reports and dashboards that speak to your clients. Explore the full range of reporting options on AgencyAnalytics– start your free 14-day trial today.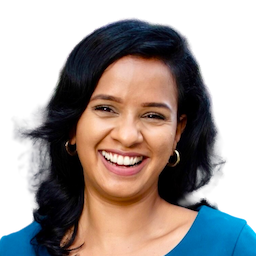 Faryal Khan is an experienced marketer and brand photographer with a passion for content creation. She creates value for brands through storytelling and captivating visuals.
Read more posts by Faryal Khan ›
Try AgencyAnalytics risk-free for 14 days. No credit card required.