Is your agency looking to attract more attorneys as clients, but gatekeepers keep getting in the way? 
It's notoriously difficult to grab a law firm's attention. Especially when their time is literal money.
This article will uncover the best law firm marketing strategies to make your agency stand out among marketing generalists. With tailored marketing services and products that speak to an attorney's pain points, you'll win their attention–and land yourself more clients, too. 
Define Your Target Market
Wanting to gain more attorney clients is one thing, but understanding what type of attorney you're trying to attract makes all the difference in your marketing campaigns. After all, a criminal law practice will have very different needs than a law firm that provides divorce services, for example.
You already know it's best practice to make your marketing strategies as specific as possible, and that means understanding your target market.
Plus, the law firm terminology changes from country to country, and sometimes state to state.
Finally, not all law firms will have the same budget to put towards marketing or even see its value. 
Defining your target audience helps your agency focus all your efforts (and dollars) on attorneys more likely to pay for your services–and the ones your agency is better positioned to help. 
Take a look at these specifically targeted search ads for DUI (driving under the influence) attorneys in New York: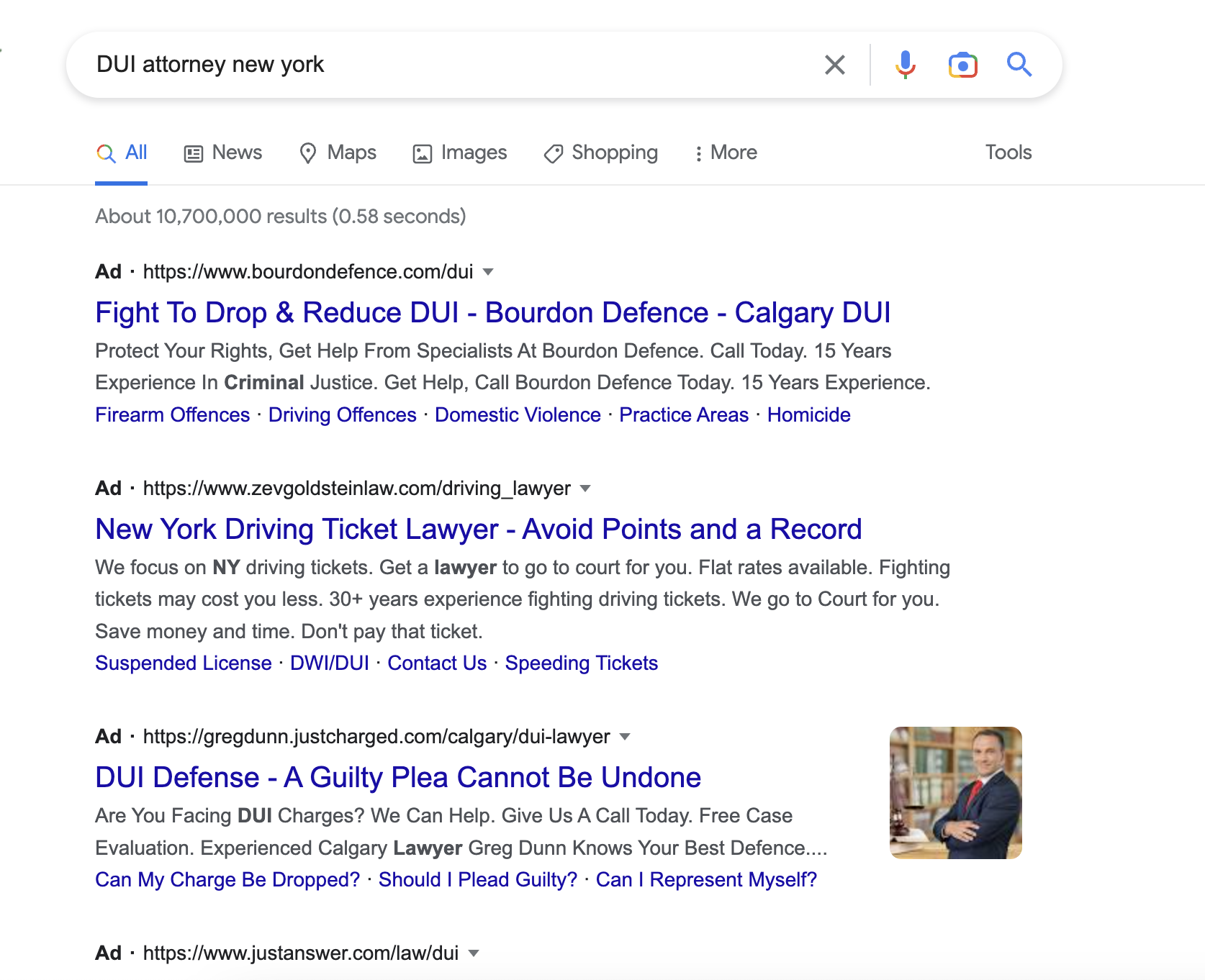 Each search ad mentions specific areas of expertise, such as 'experience in criminal justice' or 'DUI lawyers.' 
"Our team gets valuable insights from clients that we can then use to enhance further or tweak their campaigns. For example, the client really wants to focus on car accidents versus truck accidents. Communicating with them helps us be proactive and deliver the results they're looking for." - Melissa Diaz, Vice President, Premier Legal Marketing 
Remember that some products and services may apply to more than one type of attorney. For example, a criminal defense attorney could offer additional services beyond DUIs, such as assaults and threats, domestic offenses, youth charges, and more.
So if your agency is trying to attract more attorneys as clients, be sure to infuse the proper language for your target audience. Potentially the worst mistake you could make during a pitch would be to use the wrong language, as it could indicate that your agency simply doesn't understand their market.
Be Clear On What You Are Selling 
As with any client, you will always have a range of interests or understanding of digital marketing. This is true for marketing to attorneys as well. 
Not everyone is a digital marketing expert. Your agency is.
Steer clear of generic marketing terms such as 'SEO Tips For Attorneys' (or 'SEO Tips for Solicitors' if your agency is in Australia), and try something more benefit-focused like 'Make Your Law Firm's Website Discoverable: A Timely SEO Guide.' 
The point is to determine what you're selling and put it in a format that the attorneys you're trying to reach will understand. Think about what will get them the results they're looking for.
They don't necessarily know enough about technical SEO to care about something like local business schema markup. Still, if you communicate how it can help boost their organic rankings by getting their business listed on maps and highlighted on search engines like Google, and how that will get their law firm in front of more potential clients, that's selling the benefit rather than the service. 
Prove You Understand the Legal Market
Understanding any potential client's industry goes a long way in winning their business–especially the legal niche. 
After all, if you demonstrate that your agency understands their unique challenges and presents a solution, it would be difficult for them to say no. 
You'll want to be sure you understand the unique intricacies of marketing within the legal niche and how your agency's services fit the needs of your particular attorney-client. 
For example, there are some things lawyers can and cannot say. And it varies from state to state in the US. Words matter, as do physical addresses.
Later in this article, we'll unpack more of these legalities, like what legal documents or certificates to highlight when marketing for law firms. 
At the end of the day, you want to ensure your law client understands that your agency is aware of these challenges in your communications. Whether you run an ad, secure a client meeting, or even win the client, they should feel confident that you're an expert in their line of work.
Define Your Strategy (With Examples)
As mentioned earlier, figuring out the best strategic approach to market to attorneys means you need to understand your target audience and their specific pain points. Here are some examples to help you get started: 
1. Generating Leads Through Guides 
Creating a guide that addresses specific challenges your target audience faces is a great way to generate a lead and gain a level of trust, something that will be associated with your agency down the road. 
For example, many attorneys are protective of their secrets and don't want to give any tips away to the competition. Knowing this, your agency could create a guide for existing and potential new clients. 
Custom Legal Marketing offers free ebooks such as 'Social Media Ethics,' 'Make Content Go Viral,' and a weekly newsletter subscription:
If your lead magnet is working properly, you should have the contact information of qualified leads to determine the best approach. Continue nurturing the lead by offering even more helpful information through emails or promoting a special offer to get your foot in the door. 
2. Networking 
Lawyers and attorneys like to network. In fact, you'll often hear them talk about relationships and referrals as their way of gaining new clients. It's a strategy that's been used for years and years (certainly long before digital advertising was an option), and it's something that many firms see value in. 
Understanding this helps you craft the perfect networking strategy to stand out from competing agencies that are most likely relying on cold calls, emails, and other tactics that are easily ignored. 
A salesperson or account manager at your agency should make an effort to attend face-to-face conferences, events, and corporate meetings. This is not only to gain insights into the challenges and pain points within the legal industry but also to show that you respect their way of doing business.
3. Direct Mail  
Digital Marketers often think of physical flyers and handouts as a problematic way to convert prospects. However, for legal clients, it's a strategy worth considering to complement your digital advertising efforts. 
Instead of creating discount coupons or postcards with your agency's name all over them, write a high-personalized letter to your prospective attorney-client. Use branded letterhead, of course, and address the letter to the Partner of the law firm. Keep the letter concise while mentioning pain points that your agency is there to solve for them. 
Although this is a non-digital approach, it could be the first step in creating a relationship that leads to more of your services in the future. Think about your ideal client and if this more traditional approach will garner better results than running a Facebook ad at this stage. 
4. Testimonials & Case Studies
You know how important case studies and reviews are for your clients, but how often are you focusing on your own to boost your credibility with specific clients? 
If you've previously worked with lawyers, attorneys, or law firms, showcase your credibility on your website, Google Business Profile (GBP) listing, and social media channels. Attorneys will be doing their research and want to see how you've helped others in their industry. 
Be sure to write case studies with a professional, factual tone and avoid marketing jargon they will most likely not identify with. 
For example, this legal marketing agency, ICONA has a portfolio section on its website that highlights testimonials, snapshots of its website design, and specific conversion rates: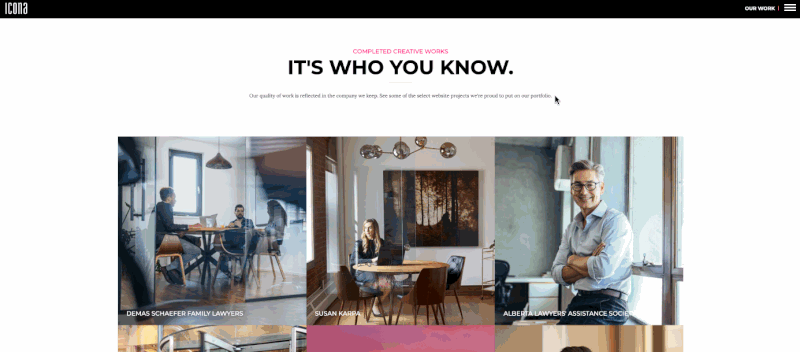 Choose the Best Marketing Vehicles to Use for Law Firms
If you're planning on getting more attorney clients, it's important to understand the differences between the different types of marketing services that will benefit them. In other words, determining what marketing vehicle will best serve their goals. 
Websites & SEO 
It's obvious that search engines are the number one way of reaching attorneys nowadays. 
"Consumers usually don't know how to find a lawyer because it's something they don't think about until they need one. So, any time we get our client's name out there and get them exposure, that's a win for us." - Melissa Diaz, Premier Legal Marketing 
For example, showcase how your agency is nimble and reacts quickly to a specific accident or event in your local community. 
When your team demonstrates that they're capable of reacting quickly to peak searches for 'law firms that handle personal injuries' or 'car accident attorney,' the prospective attorney will likely pay attention to your motivated PPC approach. 
You'll want your agency's website optimized, your GBP listing to be complete, and other SEO strategies for lawyers in place for your business to be ranked high on the search. engines at the precise moment they're looking for marketing help. 
Read More: How to Create a Winning SEO Proposal
Social Media
Social media networks such as LinkedIn or Twitter can be great places to generate online awareness and interact with your ideal client profile (ICP). Business professionals, including attorneys, often use these networks. 
They offer opportunities to connect with multiple levels of prospects and potential insights into specific audiences that make your marketing efforts more targeted.
Prove your agency's ability to support a law firm in these social spaces by sharing informative blog posts, for example. This is the perfect place to drive more traffic to your website, where more of your accreditations and expertise are found. Also, sharing webinars or other networking opportunities that legal firms would see value in is a great strategy. 
Read More: How to Write Winning Social Media Proposals
Pay Per Click (PPC)
Yes, even lawyers use Google.
Because attorneys' audiences are searching for keywords like 'lawyer' or 'attorney,' it's important to clearly differentiate the keywords that work for your agency versus the ones you would use in a client campaign. Your agency's keyword strategy should focus on the pain points of the law firm and not on its clients.
Conduct (or update) research to find out how their legal firm is currently gaining traffic and conversions, which keywords they are currently ranking for, and which ones where they could do better.  Are there PPC tips that you could implement to increase their phone calls? Maybe they have a landing page that needs updating.
And understanding the keyword match types that you'll need to implement to sift through the thousands of attorney-related keywords to target the ones that are right for your agency's services.  
For example, you might assume that "Attorney Marketing" is a prime keyword to target in your area, and you're probably right. However, flip those two words into "Marketing Attorney," and you trip over an Advertising and Marketing Law specialization that could cost your agency a lot in wasted PPC spend.
Knowing these answers–or at least having a hypothesis–helps your agency create a tailored PPC strategy that gives you a direction, whether search and display ads or perhaps a remarketing strategy. 
Read More: How To Write a PPC Proposal That Converts
Branding
Defining the brand of an attorney or law firm sometimes involves intense competitive research but opens the door to more traditional advertising like billboards and business cards.
Positioning your agency's ability to offer branding services eventually leads to other upselling opportunities in the future. Brand identity is very personal and requires communication with the client about the places their identity will need to be updated.
Showing that your agency is trustworthy with something as personal as their firm's branding proves your capability of handling larger services and budgets. 
If you're trying to use branding as a "gateway" strategy into more services, the way your agency handles the entire project could determine how likely the attorney is to accept future proposals.   
Potential Obstacles Working With Attorney Clients
Working with any type of client comes with a unique set of challenges. Some potential obstacles your agency may encounter with attorney clients include: 
Sizes of Legal Firms Differ
Small law firms or sole attorneys have different needs than larger firms–and this should not be overlooked.
Aside from differing marketing budgets, boutique firms may require a different strategy, such as focusing on how to get more local business reviews to appear in Google's Local Pack. 
On the other hand, a large legal firm may be part of a multi-disciplinary organization with service offerings across several categories.
Understanding Decision-Makers At Law Firms
This can be one of the largest obstacles when it comes to marketing for attorneys–the decision-makers can vary considerably from firm to firm. 
The most common business structure for law firms is the partnership model, which can be broken down as follows:
Partners: This level of the firm has usually invested in the business and often receives benefits based on the firm's performance. Some have a financial stake in the business, but not all the time, depending on the size of the firm. Regardless, this level of decision-makers is hugely important to keep in mind with your marketing efforts.  

Associates: This level of the firm is the lawyers or attorneys, not partners. They report to the partners and have little to no decision-making power when it comes to marketing investments. 

Paralegals: These employees at the firm are qualified to perform technical tasks for Associates and Partners but are not fully licensed lawyers or attorneys. 

Support Staff: These are the remaining employees at the firm: Human Resources, Administrative support, IT departments, and even small marketing departments. Larger firms will obviously have all of these roles, whereas smaller firms will not. 
Simply put, your agency needs to win the buying power of the Partners. It's important to be respectful of their internal processes and structure and not simply bypass everyone who might not have buying power.
Agency Tip: Speaking with anyone below the Partnership level eventually leads to opportunities to reach the decision-makers directly. If you play the waiting game correctly, it pays off in the long run.
Difficult Barrier to Entry 
Lawyers can be against marketing efforts in general (digital or not) because of their relationship-based business roots. If the legal firm you're trying to attract says, "We get all of our clients from relationships and referrals, so we don't need your marketing services," what will your response be? 
This is where data plays a unique role. If your agency is armed with a response backed by a combination of visual marketing data and case studies, your solution becomes that much more enticing. 
As part of the sales process, try creating a professional-looking dashboard as a demo to centralize your marketing efforts. Include areas from each service you're trying to promote or build a marketing report that zeros in on a specific area.
This strategy highlights the results you're capable of delivering and tells a story with the data–selling the benefit and not the service. 
Showcase your agency's reporting acumen to land new clients. Try this template during your 14-day free trial.
Agency Tip: Because of the competitive nature of the legal market, a strategy to set your agency apart is to work with one client per market. Offering a promise not to work with your client's direct competitors builds trust and shows your dedication and commitment to each specific law firm.
Legalities of Marketing for Law Firms 
If your agency is trying to attract attorneys as clients, it should go without saying you need to be well-versed in their industry's rules, regulations, and laws regarding digital and other advertising. 
State bar associations publish many ethical rules, so your agency should diligently follow them before implementing any digital marketing strategy in a specific jurisdiction. 
"You need to keep your client safe and out of trouble with the bar–which is something a non-specialized agency might not consider." - Melissa Diaz, Premier Legal Marketing
The American Bar Association (ABA) Rule 7.2 on Communications Concerning a Lawyer's Services says that a lawyer can communicate on any platform about their services as long as they follow specific ABA rules.
Here are a few areas to consider highlighting in your proposal to show that you fully understand what needs to be done–the right way–in the legal marketing space:
Choose Your Words Wisely
The language used in legal ads is very important because law professionals should never come across as misleading. For example, you cannot use the words "expert" or "specialist" unless your client has actually been accredited by an ABA organization in their area. 
So if your client specializes in a particular area of law, such as divorce law, your agency shouldn't write ads that say your client is a divorce law specialist unless they've been officially certified. 
Agency Tip: Showcase your team is fully aware of legal restrictions within the US, like creating a dedicated resources section about the words attorneys can and cannot use in various states.  
However, if they have that official certification, show off how you will use that to their maximum benefit.
Don't Be Deceptive 
Obviously, lying is unethical, and your attorney's advertising should never be misleading or include indirect statements about the services they provide. As we mentioned before, words are a big deal. 
Stay away from scammy words like "the lowest, "the most," or "the best." Instead, focus on language surrounding "flexible payment options." 
Agency Tip: Write an ad geared towards attorneys that showcases your agency knows how to be direct. Practice what you preach and avoid 'fluffy' words for your own agency, such as, 'The Best Marketing Agency For Attorneys.' Instead, try something along the lines of, 'Marketing Agency That Understands Attorneys' Marketing Needs.' 
Note Their Physical Address 
According to Rule 4-7.12(a)(2), lawyers must have a real office location in the same city, town, or county that their ad is running in. Although this sounds intimidating, it simply requires putting the law firm's address on its website or its location in the ad copy. 
Agency Tip: Start with your immediate location. If your agency is located in New York City, try putting your address in your ad copy and on your website if it isn't already. Knowing you're in the same city gains their trust because you understand local terms and events and have the possibility of meeting in person.
Pay or Compensate for Testimonials
Like any industry, it's best practice not to offer pay or compensation in exchange for testimonials. Any reviews your attorney-client gets should not make others think they will get the same results by hiring your client.
Increasing the number of reviews is a great strategy to get more clients but should be taken seriously, so they don't appear misleading or like an advertisement. And it's important that your agency understands these restrictions when discussing your plan, proposal, or review strategy with a prospective attorney.
Agency Tip: Showcase any reviews, case studies, or testimonials your agency has received from previous law clients if possible. Publish them in a Google Post, social media post, or better yet, an entire blog post dedicated to how law firms can get more trustworthy reviews. 
Know What Information Is Off-Limits in Ads
Each US state has different rules for what can and cannot be included in ads. For example, Florida requires ads to mention the name of at least one lawyer or law firm in an ad. On the other hand, New York requires an ad to be specifically identified and labeled as such: "Attorney Advertising."
Although some of the rules are considered common sense, like not including fake documents, made-up law firm names, or pending case details, it's best to go through the specific rules in your market, so your potential attorney clients know your agency is trustworthy. 
Agency Tip: Write a satirical ad or blog post about 'What Not To Do' when it comes to attorney marketing. This is a creative (and humorous) way to showcase your agency's expertise and understanding of the rules around using fake information in their marketing efforts. 
The Takeaway 
Aside from understanding your target audience, it's important to know how to deliver great services. Whether you're a niche agency that specializes in law firms or you're trying to attract more attorneys as clients, your work should speak for itself. 
Showcase your agency's professionalism with white-labeled marketing reports that highlight the metrics the legal industry cares about the most. Start your 14-day free trial today.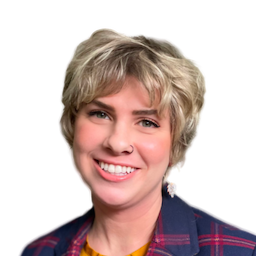 Richelle Peace is a joyful writer with a degree in Journalism. She loves writing web content, blogs, and social media posts. Whatever the topic, she's fascinated by learning and sharing.
Read more posts by Richelle Peace ›
Try AgencyAnalytics risk-free for 14 days. No credit card required.