Even if your digital agency has never dipped its toes into the deep waters of SEO, there will likely come a time when you'll be asked by a current or potential client about performing an SEO audit on their website.
After all, SEO audits are a crucial step in establishing a robust presence on the Search Engine Results Pages (SERPs), boosting the client's online visibility, and attracting more customers to their website.
But how much should you charge your clients for an SEO audit? In this blog post, we'll explore all the factors that influence the cost of an SEO audit and help you determine how much you should charge your clients.
Let's dive in: 
6 Factors That Influence SEO Audit Pricing
Deciding how much to charge for SEO audit services is not a simple, one-size-fits-all question. Instead, the cost is influenced by a myriad of factors that vary from one client to another. These variables make it challenging to pin down a definitive fee, as the scope and complexity of each SEO audit widely differs. 
From the low-cost SEO audits available on freelancer websites like Fiverr for less than $100 to a full-scale, enterprise-level technical and content SEO audit that has a price tag of over $25,000–the range is vast and depends on many factors. 
These factors include: 
1. Scope of Work
The scope of the SEO audit is the most significant factor that determines the cost of the audit. You need to calculate the time and effort required to complete the audit. An SEO audit can be as simple as a basic audit and site health check, or a complex website audit that evaluates the performance, SEO, UX, and engagement of a large website. 
A more comprehensive audit typically includes on-page optimization as well as internal and external links, Google Analytics data, Google Search Console insights, mobile optimization recommendations, identifying technical SEO issues (including website speed), optimized title tags and meta descriptions, a content audit, and more SEO strategies to drive search engine visibility.
As a general rule of thumb, the more detailed the audit, the more expensive it will be. An in-depth audit by an experienced SEO professional takes anywhere from 20 to 200 hours to complete and costs anywhere between $1,000 to $25,000 (or more).
This is most often calculated by estimating the number of hours required to generate the audit, address any issues (if that is falling on your agency to complete), and report the results, multiplied by the agency's hourly rate. Plus a little bit of wiggle room to address the unexpected. 
The average marketing agency charges $75 to $150 per hour for SEO campaign deliverables, so the base rate dramatically impacts the project cost.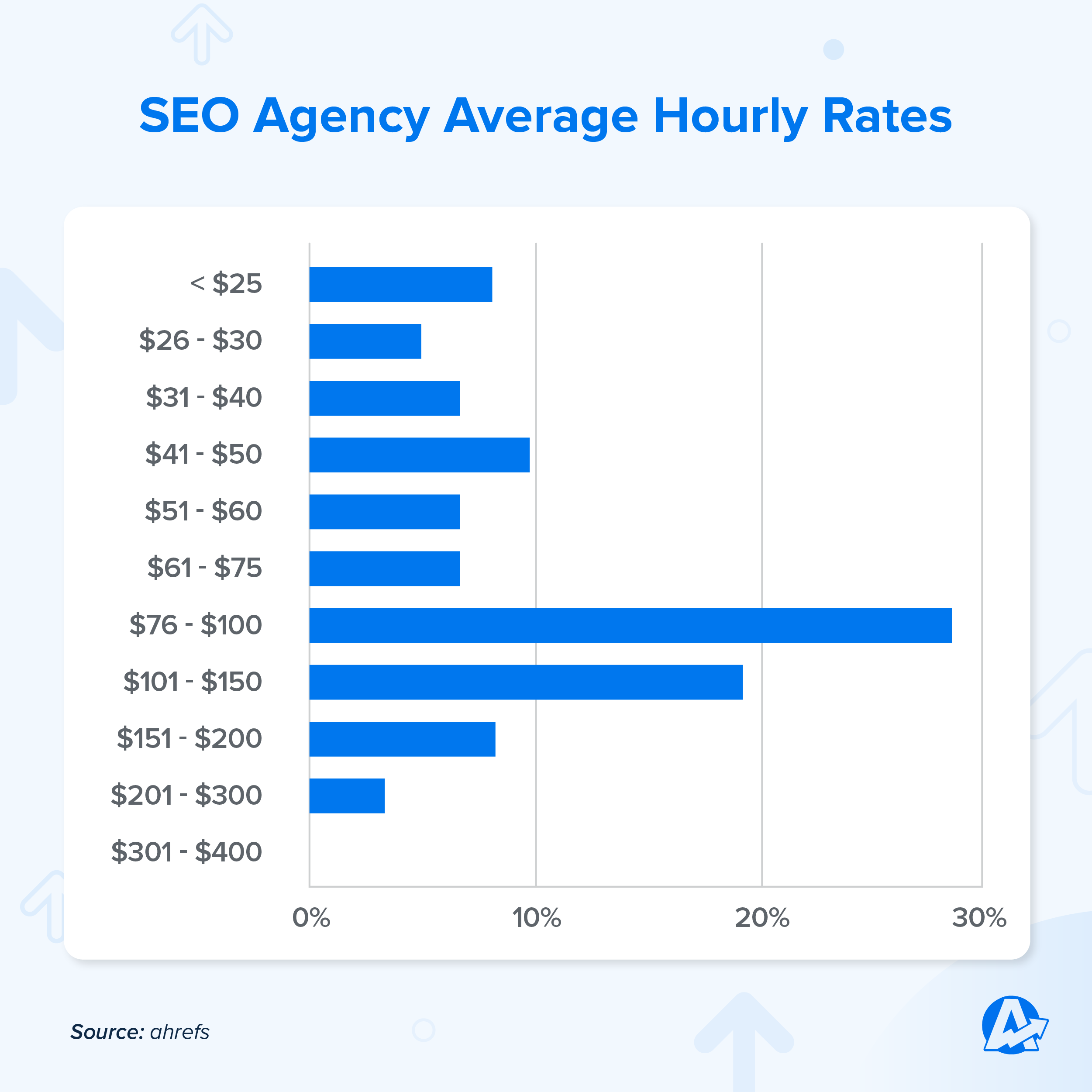 Speed is also a factor to consider, as expedited SEO audits cost more, purely because of the rush services factor.
And don't undercut the value of your work. If the client doesn't have enough budget to cover your agency's cost, it may be better to simply not bring them on. 
"The last thing we want is to have a conversation with a client six months down the road asking why they do not see results," adds Anatoly Zadorozhnyy, CEO of Marketing 1on1. 
There's always a good chance they'll come back to you down the road when they've tried cheaper alternatives and realized they don't work (but more on that later).
2. Website Size
The size of the website is also an essential factor in determining the cost of an SEO audit. The larger the website, the more tedious the process of auditing it. Small businesses typically have smaller websites and smaller budgets. 
"We primarily work with smaller businesses, so we know how important it is to make sure their budget drives results," shares Michelle van Blerck.
We've developed several packages for different price ranges that are scalable–so if the client loves the results they're seeing from a basic local SEO package, they can build on that and add new services.

Michelle van Blerck, Communications Manager at Digital Freak.
Typically, the size of the SEO audit is determined by the number of published pages, but that is not always the case.
For example, a client may have a website with hundreds–if not thousands–of pages but indicate that they don't want the SEO audit to include the entire website, but only the Top 50 pages should be audited. However, the more pages that exist, the more issues with internal linking or duplicate content could arise. So, doing a partial audit of 50 pages out of a 5,000-page website is not the equivalent of auditing a 50-page website. 
On average, a relatively straightforward SEO audit for a small website with fewer than 20 pages could cost as low as $1,500, while an in-depth SEO audit for a large website with over 1,000 pages may cost upwards of $15,000.
3. Experience and Expertise
The cost of an SEO audit also depends on the level of experience and expertise of the agency conducting the audit. Generally, experienced and knowledgeable digital marketing agencies charge more for SEO audits. The expertise of the agency is often gauged by their previous experience–and successes–conducting SEO audits for other clients, along with their expert team's credentials. 
An established agency with an experienced team of proven SEO experts typically charges up to $250 an hour for SEO audits, whereas somebody new to the game would likely charge a substantially lower fee. And that's often for a reason.
"It seems like everyone nowadays is an SEO expert," shares Anatoly Zadorozhnyy. "About 30% of our inbound leads start with, 'I've been with x company for the past x months and don't see any results.' After analyzing their existing SEO campaign, we see that minimum SEO work has been performed."
"Our next question to the client is usually what is their current SEO budget that they are spending," Zadorozhnyy continues. "In most cases, it's just a few hundred dollars per month, and–in most cases–it is simply not enough to deliver meaningful results or compete in their niche."
Watch for trigger words during your client discovery call to make sure that a client is willing to invest in the level and quality of SEO services your experienced agency offers. 
Part of this is because someone with experience usually completes an SEO audit faster than someone who is still figuring out the various SEO tools. The other part is that a seasoned SEO auditor has a better handle on the issues and errors that will have a significant impact on the client's website, how to address them quickly, and which can be ignored or delayed until later.
4. Competition
Competition is a double-edged sword when it comes to SEO audit pricing. First, if the client is in a very competitive industry and going after highly competitive keywords, a more expensive SEO audit will be required. A competitive audit focuses on SEO strategies and tactics that will outperform rivals for the top rankings for high-value keywords in search engines.
The pricing of SEO audits is also impacted by market rates and how many agencies are part of the competitive set. In some areas, it may be more expensive to hire an agency than in others due to local market rates and the demand for services in certain regions.
For example, search for SEO agencies in San Franciso, and you'll see that there are plenty of SEO companies to choose from.
Repeat that same search in Superior, Wisconsin, and you're left with far fewer choices.
But it's not just about the amount of competition, quality matters when it comes to SEO. "It doesn't matter if another company charges half of what we do if they don't deliver the same results," shares Jyles Sosa from Fu Dog Media. "It's all about ROI. We've built a solid reputation in our 12+ years of business, and that can be seen through 100s of 5-star reviews across the web."
This is especially the case when pricing local SEO optimization programs, where an understanding of the local market is critical to the long-term success of the campaign.
5. Additional Services
Based on the findings of the SEO audit, some website and SEO issues may require further attention or remediation, which may incur additional costs. This could include content creation, technical audit, keyword research, link building, toxic backlink removal, or other services.
"We start with a local SEO audit–if you don't know where you are, you can't get to where you want to go," adds Michelle van Blerck. "After that, we do local keyword research to make sure we're targeting those with the highest ROI. We then get their Google business listing optimized, target local citations, tune up the website content to include the right keywords, and start a content and ads campaign to connect with local audiences."
Some agencies simply offer the SEO audit process as a flat fee, while others create an SEO Audit and Optimization package that combines identifying the issues and fixing them over a longer engagement.
Whichever way you decide to price your agency services, make sure you clearly communicate to your client that an SEO audit is just the first step in the journey and what the charges will be if additional needs to be done to optimize their website.
6. Reporting the Audit Results
The final factor in determining the cost of an SEO audit is the reporting and deliverables provided by the agency. Typically, a comprehensive SEO audit report should include a detailed analysis of the client's website, highlighting areas that need improvement. 
The report should be comprehensive yet precise. That may feel like an oxymoron, but you need to find the balance between providing actionable information without overwhelming the client with every data point available. Stick to the key metrics and include actionable insights that the client will use to improve their website's SEO. 
The SEO Audit Report is often–at least in the client's eyes–the most important part of the process. It's where the rubber hits the road, and you are able to show exactly how your agency has helped–and will continue to help–the client meet their SEO goals.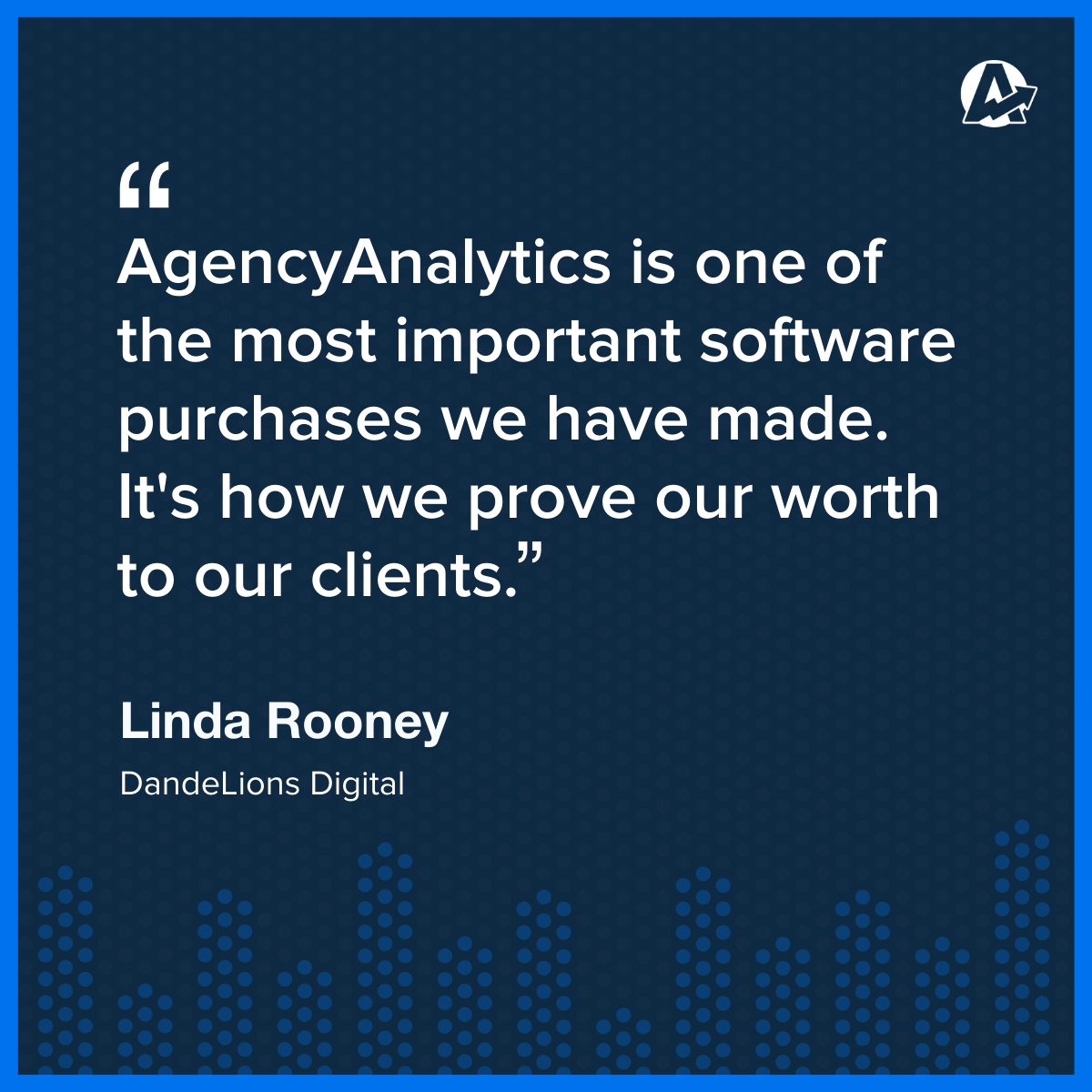 "Without streamlining your reporting you will often be fighting nervous clients wanting to know where things are at," says Oliver Wood, CEO of PWD. "You will also be jeopardizing that client to other agencies who do have their reporting sorted and can demonstrate their worth."
Even though putting all of those elements together is relatively easy with the right SEO audit tools, typically, the more detailed the report, the more your agency can charge for it.
The SEO Audit Report clearly shows prospects which areas of their website are lacking, and I can articulate how I would go about correcting any issues. This helps to create an environment of transparency, honesty, and trust.

Adam Allen, CEO, LeaseMyMarketing
Need more details? Don't worry; we'll cover more details on exactly what to include in your SEO audit report later in the article. 
To recap, here's a quick summary of the key factors that an SEO agency considers when determining SEO audit pricing for current and potential clients.
SEO Audit Factor

Impact on SEO Audit Cost in 2023

Scope of Work

Impact on SEO Audit Cost in 2023

A comprehensive SEO audit report that delves into all aspects, from a technical SEO audit to a content strategy assessment, will increase the cost. This is due to the extensive coverage it provides.

Size of Client's Website

Impact on SEO Audit Cost in 2023

The scale of the client's website directly influences SEO audit pricing. Larger sites have more pages and elements to evaluate, leading to a more substantial workload and higher cost.

Agency Experience and Expertise

Impact on SEO Audit Cost in 2023

An SEO agency with a strong track record typically charges more for an SEO audit. Their expertise leads to more efficient audits, translating to more value for the client.

Level of Competition

Impact on SEO Audit Cost in 2023

Operating in a highly competitive industry may necessitate a more expensive SEO audit. It ensures strategies are identified to outperform rivals in the fierce world of search engine optimization.

Additional Services Offered

Impact on SEO Audit Cost in 2023

Offering additional SEO services, such as content creation, improvement implementation services, link building, or ongoing optimization, alongside an SEO audit contributes to the final SEO audit price tag.

Depth of Reporting

Impact on SEO Audit Cost in 2023

More detailed reporting, which provides valuable insights and comprehensive data analysis, requires more effort to prepare and will be reflected in the SEO audit pricing.
The price of SEO audits isn't an out-of-the-box meal—it's like cooking up a zesty chili. You tailor the recipe based on the ingredients on hand. A startup, bare-bones site won't need the same SEO audit as an ecommerce giant with a complex web of pages.
Remember, it's not about overloading the proposal to try to squeeze more money from the client but choosing the right elements that will have a positive impact on their business.
Beyond SEO audit costs, it's essential to consider the value brought by a professional SEO audit. It equips a client with the insights and information required to boost website performance, strengthen their online presence, and drive more revenue.
Even if your SEO agency charges a premium for SEO audits, the return on investment could be a treasure chest of opportunities.
Popular Pricing Models for Professional SEO Audits
When it comes to establishing the financial framework for SEO audits, several top pricing models stand out in the industry. These models reflect the varying nature of the SEO tasks at hand, as well as the unique circumstances of each client. 
Whether it's a flat fee structure, an hourly rate, or a value-based approach, each SEO audit cost model has its advantages and specific use cases, and it's up to the marketing agency to determine which one aligns best with its services and client needs. 
There are various SEO audit pricing models to consider: 
Flat Fee or Project-Based Pricing
Flat fee pricing is an attractive option for SEO audits, as it allows clients to budget their costs upfront and avoid any surprise expenses. It also makes the process of negotiating fees with the agency simpler, as both parties are aware of the total cost beforehand. 
An SEO pricing survey by Ahrefs found that the most popular price range for an SEO project is between $2,500 and $5,000, with the average project coming in at just over $9,500. 
The bottom of that range will typically include a comprehensive report that outlines the action items a client needs to take to fix the issues identified by the audit. The top end of the range usually includes some activities by the agency to fix the problems on behalf of the client, and then showcases the improved search rankings over time based on those efforts. 
Our jumpstart, remediation, and audit services are all offered with a clearly defined scope so we are able to offer a fixed fee. This allows our clients to know exactly what they will be getting and how much it will cost, and provides our team with the clarity to deliver on time and on budget.

Adam Binder, Founder/CEO, Creative Click Media
Although flat fee pricing makes it easier to scope out an SEO audit and manage expectations, it leaves little room for surprises. For this reason, an agency should do a preliminary SEO checkout of a website so that they are well aware of how tall of a mountain they need to climb. 
If the core comes back in the 70-80 range, you know that there will be far less heavy lifting involved to whip the website into shape versus a score that comes in below 60.  
Hourly Rate
A second approach to pricing SEO audits is the hourly rate model. This works well for agencies that don't have a clear idea of how long it will take to complete an SEO audit and need flexibility in their pricing structure. With it, agencies charge more depending on the complexity of the task at hand, as clients are billed per hour of work.
"We bill clients in hours of work each month," says Kevin Watts, President of Raincross. "Your clients want to know that you care and are actively engaged with them. Our goal is to not only study the customer data, but to understand the customer journey. We then execute digital marketing campaigns for our clients based on a combination of data and customer personas." 
Because of the various tactics Raincross employs, using an hourly rate for SEO audits and other services makes it "easier to scale up or scale down on services when necessary."
Value-Based Pricing Model
The value-based pricing model is a common, but less popular approach to SEO audits, as it's based on the potential return that the client will get from their investment in an SEO audit. 
In a value-based pricing model, marketing agencies determine the price of their SEO audit services based on the perceived or estimated value those services provide to the client, rather than on the actual cost of performing the audit. This model is highly customer-centric, emphasizing the potential return on investment (ROI) the client can expect from implementing the recommendations of the SEO audit.
For example, if your agency is dealing with a client that is currently generating $100,000 a month in sales through organic search, and your agency believes you will grow that revenue by 20% with proper auditing and optimization, you could set your pricing based on the $20,000 in incremental revenue you would be driving when you're done. 
This model works especially well for agencies providing comprehensive services, and with a deep understanding of the client's business, industry, and specific goals, as they are able to comfortably estimate the amount of time and resources required to deliver the desired results.
This pricing model also takes into consideration the client's willingness to pay for significant improvements. If the client is a large enterprise with high stakes in their digital presence, they might be willing to invest more in an SEO audit that could drive considerable business growth.
Retainer Model
The retainer model is an SEO pricing structure that allows for ongoing collaboration between an agency and a client. This model is beneficial in that it creates a long-term relationship between the parties, allowing for a more comprehensive execution of an audit's findings and repeat SEO audits on a regular basis.
According to a recent report, the most common monthly retainer rate falls between $501 to $1,000 per month, with the second-most common being in the $2.5 - $5k range, and the average SEO retainer fee coming in at just over $3,000. 
One of the biggest benefits of the retainer model is that it allows agencies to offer more services at a lower cost, as clients pay a fixed fee for ongoing SEO audit support and–often–receive discounts on other services. It also eliminates client uncertainty when it comes to budgeting, as they factor the retainer fee into their monthly expenses.
"Knowing that we have hours to work with allows us to plan future strategies, experiments, and tasks in advance," adds Adam Binder, whose agency offers a mix of flat-fee for standalone SEO audits and a retainer model for ongoing SEO efforts. 
Hybrid Pricing Model
A hybrid pricing model is an approach that combines elements of different pricing models to offer a more flexible solution. It typically blends fixed-rate components (like flat fees or hourly rates) with value-based pricing elements. 
For instance, an agency may charge a flat fee for the first SEO audit but then shift into a retainer model to slowly work through the issues identified during the audit and implement solutions. Or, they could bill a smaller flat fee to begin the SEO work, with larger bonuses paid out when the organic traffic and/or revenue hit certain agreed-upon milestones.
The pros of this model lie in the guarantee of a base income while also charging more for complex and high-value services, or fulfilling the promise of performance-based incentives. This flexibility is particularly beneficial when dealing with diverse clients, where needs–and budgets–vary.
"The hybrid model that we created allows businesses to identify the clear best-fit package and customize that package for their specific needs," shares Tyler Krause, Owner of Conversion First Marketing. "We provide several key options for local businesses, including on-page SEO, backlinks and citations, and a content component."
Assuming clear performance tracking, a monthly package rate is typically the best way for local businesses to access a steady & affordable improvement to their website's rankings," Krause concludes. "It includes everything your average consumer knows to ask about but also many elements they wouldn't."
However, the hybrid model isn't without its drawbacks. It can be more complex to implement and manage due to its multifaceted nature. Agencies need to carefully consider how to balance fixed and value-based components in a way that's fair and understandable to the client. There's also a risk of clients feeling 'nickel-and-dimed' if every additional service comes with an extra cost.
Comparing SEO Audit Pricing Models
As we wrap up our deep dive into the various pricing models used in the realm of SEO audits, it's important to understand that not all models are equally suitable for every agency-client relationship. Factors such as the size and complexity of the website, the projected scope of work, and the long-term SEO strategy significantly influence which pricing model is the most effective.
| SEO Audit Pricing Model | Works Best For | Not Ideal For |
| --- | --- | --- |
| Flat Fee Pricing | Small to medium-sized websites with fairly standard SEO requirements, with a clear and predictable scope of work. This model offers simplicity and transparency, making it easy for both parties to understand the costs upfront. | Large, complex websites with multifaceted SEO needs or ongoing SEO work. A flat fee may be restrictive and not account for additional work that may arise during the audit. |
| Hourly Rate | Projects, such as complex or larger websites where the scope of the SEO audit is unclear or likely to change. This model allows for flexibility in adjusting to additional tasks and complications that may arise. | Smaller, straightforward SEO audits where the scope of work is predictable. Hourly rates add up quickly, and without a clear cap on hours, clients may be wary of potential cost overruns. |
| Value-Based Pricing Model | Larger businesses with significant online revenue, where even small improvements in SEO have a substantial impact on their bottom line. The agency charges based on the perceived value or potential ROI of the SEO improvements. | Smaller businesses or start-ups where the direct financial impact of SEO improvements may not be as substantial or quantifiable. This model may also be less transparent for the client compared to a flat fee or hourly pricing. |
| Retainer Model | Ongoing, long-term SEO clients where regular analysis and improvements are needed over time. This model allows for a sustained SEO strategy and provides the agency with a steady income. | One-time or short-term SEO audit projects. This model may not be cost-effective for smaller businesses or those that don't require regular website changes or SEO audits. |
| Hybrid Model | Agencies wanting to guarantee a base income but also charge more for complex or high-value services. Provides flexibility to cater to diverse client needs. | When simplicity and predictability of pricing are top priorities for clients. The model's complexity might cause misunderstandings if not properly communicated. |
But, no matter how you decide to structure your agency's SEO pricing, it's important that the client values, respects, and needs what you bring to the table. 
"The most important thing, I think, is to acknowledge that not all sales should happen," shares Jens Rhoades, CEO of Floodlight SEO. If the client starts objecting with comments like "your agency charges too much" or "I have a limited budget," they may not be the right fit for the agency. 
"Our mission, as agency owners, is to first determine if what we're offering really lines up with the prospect's goals," adds Rhoades.  "If we're actually the right next step for them, great.  And if not, we should be the ones killing the sale...not them.
The Importance of Transparency in Pricing and Deliverables
A lack of clarity or transparency often results in unexpected costs that the client may not be willing to pay or be able to afford, as well as unmet expectations due to a misunderstanding of what the SEO audit includes. 
"Trust and the sincere willingness to help is a huge selling point," shares Greg Schueler, Owner of Say So Marketing. "The more you know about your business, your services, the industry, the competition...etc, the easier and better your sales calls will be."
And part of building that trust and transparency is being crystal clear about what is–and what is not–included in your SEO audit process. Provide detailed documentation outlining the pricing models, deliverables, and timeline for completion. This gives clients a clear understanding of what to expect from an audit and allows them to make an informed decision on which agency they want to work with.
And that transparency should be carried through to the SEO audit report provided at the end of the project. 
The large number of integrations allows us to report on all activities in one, cohesive, comprehensive, beautiful report instead of a bunch of disjointed pieces of information. It really elevates our professionalism and is part of what allows us to charge the prices we know we're worth.

Lane Anderson, Founder & CEO, London Road Marketing
This brings us to our next point…
10 Things To Include In Your Agency's SEO Audit Package
AgencyAnalytics' SEO audit tool provides the auditing tools your agency needs to deliver in-depth, efficient, and effective SEO audits. Below, we explore the key elements of a typical SEO audit that will impress clients and help them rank higher in the top search engines. 
Let's dive deeper into the specific components of an SEO audit, each playing a crucial role in analyzing and optimizing your client's website for better search engine rankings.
1. Website Health Check: AgencyAnalytics performs an overall website health check, identifying any critical issues that could be affecting a website's performance. This involves checking for problems like slow loading times, security issues, and broken links.
2. Technical Analysis: This involves examining the technical issues and coding aspects of a website that influence its SEO, such as XML sitemaps, 502 errors, canonical chains, robots.txt files, page speed, and more. The AgencyAnalytics tool provides a comprehensive review of over 40 common site errors to ensure optimal SEO performance.
3. On-Page SEO Analysis: AgencyAnalytics' tool checks all essential on-page SEO elements, including meta tags, headers, keyword usage, and image alt text. This ensures that each page on a website is fully optimized for search engines.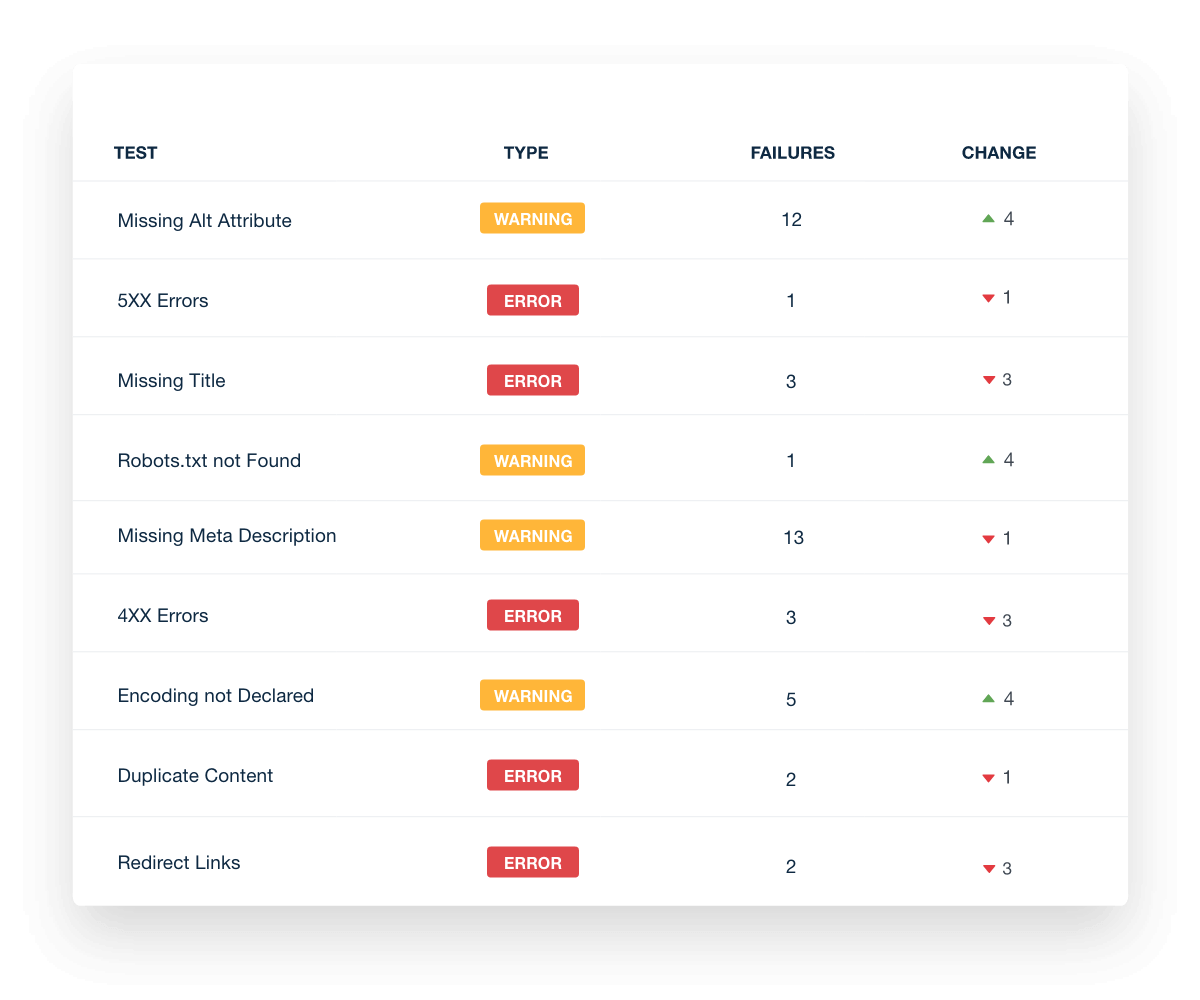 4. Off-Page SEO Analysis: The tool also analyzes off-page SEO factors, including the quality and quantity of backlinks. It provides a complete backlink profile and evaluates the potential impact of these links on a site's ranking.
5. Current Keyword Rankings: Understanding a website's current keyword rankings is critical in any SEO audit. Identifying high-performing keywords, and those that need improvement, serves as a basis for a data-driven keyword strategy.
6. Organic Traffic Analysis: This is a crucial metric that directly reflects the effectiveness of your client's current SEO efforts. AgencyAnalytics' SEO audit tool integrates with Google Analytics, allowing for in-depth analysis of organic traffic. It tracks how many users visit the website through organic search, which pages they visit, and how long they stay. This data provides valuable insights into the success of the current SEO strategy and helps identify areas for improvement.
7. Google Search Console: With the automated integration of Google Search Console into the SEO audit process, your agency gets a more comprehensive understanding of a website's presence in Google search results. Agencies examine data from Google Search Console directly, like indexation issues, structured data errors, and keyword performance, to complement the SEO audit process, providing critical data about how Google perceives the website. 
8. User Experience Analysis: This involves evaluating how users interact with the website. Things like site navigation, site design, and calls to action; all of which play a role in user experience. 
9. Competitor Analysis: Analyze key aspects of competitors' websites, including the size of their website, authority scores (such as trust flow and citation flow), backlinks, and the number of keywords ranked in the Top 10. These insights identify areas where your client may be lagging behind or opportunities to gain a competitive edge.
10. Next Steps and Action Items: After the comprehensive SEO audit, translate the findings into actionable steps for improvement. Organize these insights into a clear roadmap for SEO optimization, which involves highlighting immediate areas of concern, suggesting improvements, outlining a strategy for ongoing SEO management, and creating tasks to obtain quick wins.
The clear identification of the next steps and action items ensures that the SEO audit leads to practical, measurable outcomes.
Keep in mind that the more thorough and all-encompassing the SEO audit, the more an agency typically charges for its service.
A meticulous SEO audit that integrates elements like website health checks, technical analysis, on-page and off-page SEO analysis, competitor insights, keyword rankings, organic traffic analysis, Google Search Console integration, and a clearly defined roadmap for the next steps qualifies for a higher fee. 
These SEO audits provide extensive value to clients, offering insights that significantly improve their online visibility and overall digital performance.
Create a High-Value Proposal To Get Top Dollar For Your SEO Services
An SEO proposal is a critical document that directly influences your agency's ability to secure high-paying clients for your SEO services. To ensure your proposals convey the value you offer and justify your pricing, here are 6 key steps to creating a high-value SEO proposal that attracts top dollar for your services.
Understand Your Client's Needs
Start by gaining a deep understanding of your client's business, their target audience, and their unique challenges. A proposal that addresses their specific needs will demonstrate your agency's ability to provide personalized, effective solutions.
Be genuine. Listen to the prospect's needs, wants, and goals. Identify their problem. Listen listen listen, and THEN show them your solution.

Jyles Sosa, Ambassador of Web Domination, Fu Dog Media
Perform a Preliminary SEO Analysis
Carry out a basic SEO analysis of the client's website before writing your proposal. Highlight a few key areas where you see potential for improvement. This not only exhibits your expertise but also provides the client with tangible evidence of your value.
"One of the greatest impacts AgencyAnalytics has had on our agency is the ability to quickly perform a prospect SEO audit," shares Adam Allen. "We perform an SEO audit on every one of our prospects and incorporate the results into each one of our pitch decks. We weren't looking for this feature in a reporting tool, but it made a huge impact on our ability to win business."
Clearly Define Your Services
Explicitly outline the SEO services you offer, ensuring they align with the client's needs. Include elements like website health checks, keyword rankings, organic traffic analysis, competitor analysis, etc. The more comprehensive your services, the higher the price you typically command.
Showcase Your Previous Successes
Include case studies and testimonials from previous clients to bolster your credibility. Tangible results and positive feedback from past clients go a long way in convincing a potential client of your agency's capabilities.
Agency Tip: Customize the SEO Proposal Template to highlight your best testimonials so they are automatically included with each new proposal you create. Have a testimonial video? Great! Embed that into your report template! 
Provide a Clear Pricing Breakdown
Be upfront and transparent about your pricing. Whether you choose a flat fee, hourly rate, value-based, or retainer model, make sure the client understands exactly what they're paying for. Highlight the value they'll get from each service included in the price.
Propose a Project Timeline
Provide a realistic timeline for when the client should expect to see results. SEO is a long-term strategy, so it's important to manage client expectations from the outset.
By following these steps and investing time in creating a high-value SEO proposal, you are better positioned to secure clients willing to pay top dollar for your SEO services. Remember, the quality of your proposal is often seen as a reflection of the quality of work you're capable of delivering.
Never underestimate the power of a well-crafted, value-oriented SEO proposal. Create them in minutes using the AgencyAnalytics proposal template. Get started and run a free SEO audit to try it for yourself! 
Summary and Key Takeaways
SEO audits are a critical first step in the process of improving a client's website's SEO performance. After all, it's hard to figure out how to get to where you're going if you don't know where you're starting from. 
It's equally important for a marketing agency to understand that the cost of an SEO audit is influenced by several factors, including the scope of work, website size, experience and expertise, reporting, and additional services. 
Type of SEO Audit

Factors Impacting SEO Audit Cost

Cost Justification

Average SEO Audit Pricing

Free SEO Audit

Factors Impacting SEO Audit Cost

Basic assessment of the website's current SEO standing, typically automated and performed by agencies as part of an SEO proposal or DIY using online SEO tools

A free audit provides a surface-level insight into SEO status. It's an introductory offer, typically automated, and provides limited actionable insights

Average SEO Audit Pricing

Free

Basic SEO Audit

Factors Impacting SEO Audit Cost

Limited to basic website structure and on-page SEO, conducted by an agency with at least foundational experience

Basic audits require less time and resources, hence, they are less expensive. Ideal for small businesses or startups

Average SEO Audit Pricing

$500 - $750

Intermediate SEO Audit

Factors Impacting SEO Audit Cost

Covers technical SEO and backlink analysis, performed by an agency with a higher level of in-house expertise

The addition of technical analysis and backlink review requires more depth of knowledge and time, commanding higher fees. Suitable for small to medium-sized businesses

Average SEO Audit Pricing

$750 - $5,000

Advanced SEO Audit

Factors Impacting SEO Audit Cost

Involves comprehensive analysis of a large number of pages, including technical SEO, content, and UX, completed by an agency with advanced experience

This audit provides a holistic view of the website's SEO health. The complexity of tasks involved justifies the higher price tag. Ideal for established businesses seeking to improve their online presence

Average SEO Audit Pricing

$5,000 - $10,000

Enterprise-Level SEO Audit

Factors Impacting SEO Audit Cost

A deep, time-consuming, and holistic analysis of a large or complex website, involving all aspects of SEO and tailored strategy. This level requires a highly experienced agency

Due to the sheer size and complexity of enterprise websites, this in-depth audit involves significant resources and expertise to create a customized assessment, hence the higher cost. Ideal for large corporations with extensive websites

Average SEO Audit Pricing

$10,000 - $20,000

Custom SEO Audit

Factors Impacting SEO Audit Cost

The most extensive level of SEO audit, suitable for multinational corporations, requires an agency with superior expertise and a broad range of competencies

Given the enormous scope and effort required, the price range is at the upper end. Suitable for multinational corporations seeking to dominate global search rankings

Average SEO Audit Pricing

$20,000+
Understanding the value of comprehensive SEO audits, you are better equipped to understand exactly how much to charge for SEO audit services and customize your pricing models to fit the unique needs of each client–and tie your services to their bottom line.
"The most important success metric is, of course, sales," adds David Rooks, Owner of Rooks Advertising. "This begins with keywords that have proven to convert into leads, not just traffic.  Once established the focus of our SEO efforts is to rank in the top three positions for as many of these keywords/phrases as possible."
In the grand scheme of things, the focus should not solely be on how much your agency charges for SEO audit services. The real value lies in the potential sales and revenue these services drive for the potential client. 
A comprehensive, effective SEO audit significantly boosts a website's visibility, attract higher-quality traffic, and ultimately, increase conversions and sales. Therefore, while pricing is an important consideration, the primary emphasis should be on the audit's capacity to improve the client's bottom line.
The client doesn't care if they're spending $1,000 as long as they're making $2,000. If we develop the right strategies with the right marketing tactics and show them a return on investment, they're going to be happy. 

Mark Jamieson, Managing Partner, WSI eStrategies
Be sure to highlight the value of your offering and the long-term benefits of SEO, while setting realistic expectations of what an SEO audit will entail and accurately detailing the SEO costs associated with it. 
This, combined with a high-value proposal that showcases your services and successes, is a winning formula for securing top dollar for your SEO services.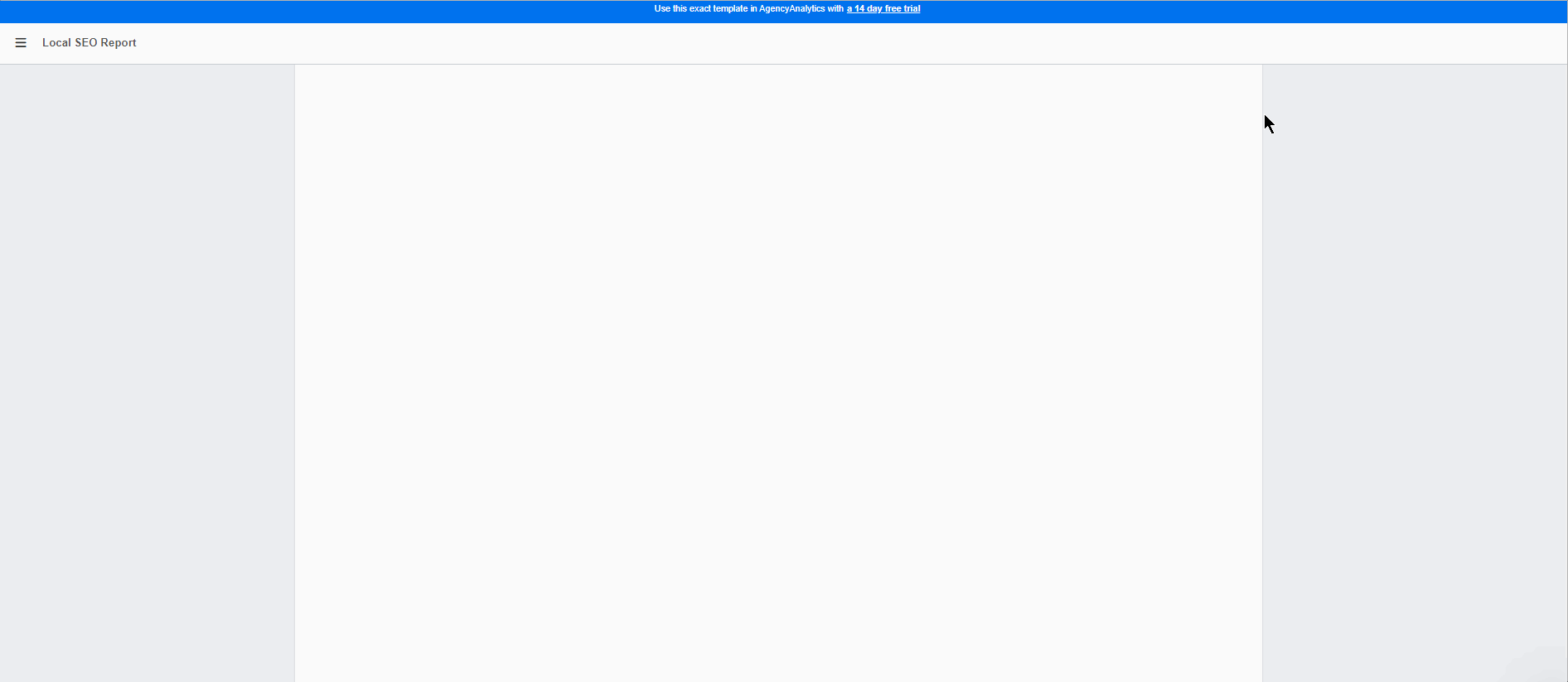 Report smarter, not harder with AgencyAnalytics. Start your free 14-day trial today to make generating SEO audits faster and easier.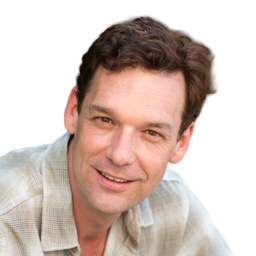 Paul Stainton is a digital marketing leader with extensive experience creating brand value through digital transformation, eCommerce strategies, brand strategy, and go-to-market execution.
Read more posts by Paul Stainton ›
Try AgencyAnalytics risk-free for 14 days. No credit card required.