Believe it or not, Pinterest marketing isn't too challenging to master if you're already a social media pro, and this unique platform could have a lot of benefits for your clients.
Some people think of Pinterest as a digital idea board, but marketing agencies know that it is a visual search engine that lets users search for images that inspire and entertain.
According to a study by Pew Research, Pinterest ranked fourth among popular social networks in the US, falling below YouTube, Facebook, and Instagram.
In fact, over 444 Million people use Pinterest. Although that is a slight dip from its peak at nearly 500 million, it's still a sizable audience that your clients may not be able to afford to ignore. 31% of U.S. adults report having used Pinterest, which puts it above LinkedIn, Snapchat, Twitter, & TikTok.
One other interesting stat is that Pinterest users are predominantly female, which is important to note if that aligns with your client's target audience.
In the end, practically any business can benefit from Pinterest if they use the platform well. But since Pinterest is so visual, the best candidates are businesses that have a strong visual or aesthetic angle to their product or service. In particular, businesses in the following categories often get great results from using Pinterest.
Home and garden

Fashion

Food and drink

Beauty

Photography

Travel

Wedding
In other words, if you have a client whose business would benefit from showcasing their product or doing more visual branding online, Pinterest could be exactly what they need to reach a wider audience. Below explains how you can start offering Pinterest management as a regular service:
How to Offer Pinterest Marketing: The Basics
If you've used Pinterest before, you probably have a good idea of how the platform works. If not, there's a bit of a learning curve, but it's not too steep – you'll have it figured out in an afternoon. Using Pinterest as a business isn't too different from using it as an individual. Here's how you can get a client up and running on the platform.
Create an Account
First, you'll need to create a Pinterest account for your client. Make sure to select the business account option instead of the personal account option. Setting up a business account will give you access to Pinterest's analytics, which you'll need later.
Fill out your client's Pinterest profile as completely as you can. The more information you can provide, the better. Include a description for their business, links to their other social media accounts, and, of course, a link to their website.
This is important because it's how people will find your client's Pinterest account – and if you don't put in the effort here, it will make it harder for anyone to ever see their pins. Start by adding a nice profile photo and writing a short, catchy bio. Then, fill out their "About" section with more information about their business, and add their website URL.
Creating Pinterest Boards and Pins
Once your client's account is set up, it's time to move on to your main task: creating Pinterest boards and pinning content. Each board is a themed collection of pins. To get started, create a handful of boards that are relevant to your client's business and its target customers. For instance, if your client is a women's fashion retailer, you could create one board for fall fashion, another for dresses, and another for outfits featuring scarves. Title each board with relevant keywords – this will make it easier for other people to find them.
Don't be afraid to go beyond the obvious. If you have a solid understanding of your client's ideal customer persona, and you know other interests that their target market has - create boards that explore those interests. Not every pin has to be - or even should be - directly related to your client's product or service.
If your women's fashion retailer has a popular maternity line, include pins about pregnancy and new motherhood. If your women's fashion retailer has a strong focus on beachwear, include some inspiring images of tropical locations. You get the picture!
Next, start pinning content. There are two ways you can do this. The first is to upload original pins created by your agency or directly from your client's website, and the second is to repin content from other people. A combination of the two is the best approach.
Original pins are important because they are unique and get your client's product in front of more people.

Repins are helpful because they help you connect with Pinterest users who might like your client's products. They also help prevent your account from seeming too self-promotional.
A few things to keep in mind: the ultimate goal of using Pinterest is to drive traffic back to your client, so each original pin you post should be linked to the client's website. Presentation matters a lot on Pinterest, so put some thought into everything you post. Beautiful, eye-catching images are a must. Take a few minutes to write a brief but informative description for each pin, using keywords wherever you can.
Also, on Pinterest - size matters. Pinterest pins tend to be taller than images you would see on other social media platforms, and the recommended size, based on our Ultimate Guide to Social Media Image Sizes, is 1000 pixels wide x 1500 pixels high. No matter what size you end up with, the recommended aspect ratio ranges from 1:3.5 to 2:3.
Pins have a set width of 236 pixels, but their height is not limited (it's scaled depending on where the image is displayed). This means that pin sizes can vary, which accommodates different image types. Although you may find that if you go very, very tall - your client's pins could end up getting cropped when they display in search results.
One great way to incorporate products into your client's Pinterest feed is through Pinterest Catalogs and Shopping ads. Marketing agencies can plug their client's products into new shopping spaces and have them seen by millions of people without having to publish individual pins for each and every product on the client's website.
Last, but not least, provide some variety. The best Pinterest brands tend to provide a mix of promotional and informational content within their Pinterest strategy. This means mixing up some product pins with pins that feature informative blog posts as well as some pins that highlight the company culture. Showing the people behind the pins can be especially effective if your clients are small businesses.
Getting Found on Pinterest
How can you get your pins and boards in front of more people? While it takes some time to build a presence on Pinterest, a few good Pinterest marketing strategies will help you grow your client's following as quickly as possible:
First, pin content regularly. The more content you create and repin, the more likely it will be to go viral. It's also a good idea to create lots of different boards and add fresh content to them regularly. People usually won't follow your account on Pinterest unless they really like everything you post, but they can elect to follow your individual boards, so having a wide variety of them will help you get more exposure for your client.

Second, interact with other Pinterest users frequently. Repinning other people's content (especially influencers' content) is an easy way to boost your visibility. Comments are another good way to build relationships. Comment on other people's pins in a non-promotional way, and reply to everyone who comments on one of your pins.

Third, labeling your pins clearly can also help your content get found in search. Know what your client's most important keywords are, and use them in your pins' descriptions and hashtags as much as you can.

Finally, make sure your client adds a Save button to their website – the sooner, the better. When visitors hover over an image on your client's site, the Save button appears and gives them the option to share the content to Pinterest. Pinterest provides simple instructions for adding a Save button in their Help Center.
Pinterest's Save button (formerly the Pin It button) lets people pin your client's website content to their own boards. Source
Unfortunately, group board strategies - which were very popular several years ago, have since been relegated to "do it if you must in order to get the ball rolling". Although these can still provide some value, today's opinion among Pinterest experts is that unique pins on your client's boards will provide far more value than pins on random group boards.
Useful Tools for Pinterest Management
Managing a Pinterest account by hand can be tedious, and if you've got multiple accounts to manage, it can be hard to keep track of everything. These tools can help you do your job more easily and more effectively.
Buffer – Most social media marketers are already familiar with Buffer. This app is just as useful for scheduling Pinterest posts as it is for managing Facebook, Twitter, and other social media platforms. And Buffer doesn't just save you time – it also keeps you in Pinterest's good graces. If you post too many pins at once, Pinterest might think you're spamming. Using a tool like Buffer lets you space your pins out over the course of a day and avoid setting off any spam alarm bells.
Buffer lets you manage your clients' Pinterest accounts alongside their Facebook, Twitter, LinkedIn, and Google+ accounts.
Tailwind – Tailwind is another Pinterest scheduling tool. It also works for Instagram, so if you're already managing a client's Instagram account, Tailwind gives you one convenient dashboard to take care of both.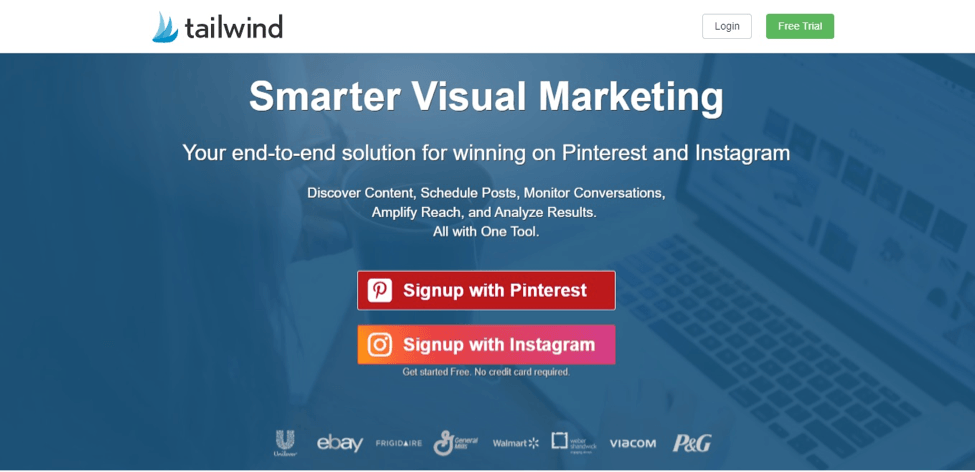 Tailwind is an all-in-one tool for Pinterest and Instagram management.
Canva – Need help creating beautiful images and infographics for Pinterest? Canva has you covered. Canva is an easy-to-use design app that helps you produce professional-looking images in minutes. They offer plenty of templates, stock photos, and fonts to choose from. Canva is free to use, but you can unlock extra options with a paid account.
A few of Canva's templates for Pinterest.
Which KPIs Should You Measure?
A set-it-and-forget-it approach doesn't work with social media marketing. You've got to track and measure your efforts to see what's working and what's not. By popular demand, AgencyAnalytics now offers a Pinterest reporting dashboard to help agencies manage Pinterest better and compare metrics across all social accounts for all clients. Below is an example of the dashboard:
Below are the most important KPIs you should keep an eye on.
Pins from Your Client's Website
How many people are pinning content directly from your client's website? If this number is steadily climbing, it means the content and images on your client's site are doing their job. If not, it's a sign that your client needs higher-quality images or more pinnable content on their site. You can use Pinterest Analytics to see these metrics:
Pinterest shows you how many people have pinned and repinned content from your site.
Repins
Pins reflect how much your client's existing audience is engaging with their brand. Repins, on the other hand, tell you how well your client's content is performing with people who don't necessarily know about their brand. If repins are low, your client may want to work on tweaking their brand or aesthetic to appeal to a wider audience.
Reach
Reach tells you how many unique Pinterest users saw your client's content, regardless of whether they repinned it or not. Obviously, you want this number to be as high as possible – a bigger audience ultimately means more traffic and sales for your client. If you keep seeing low numbers for Reach, it might mean you need to pin content more often, use different keywords, or interact with more people to grow your following.
Clicks
The Clicks metric tells you how many people actually clicked on a pin to visit your client's site, while the Visitors metric tells you how many unique visitors you pulled in from Pinterest. Clicks are a good way to measure how well your Pinterest efforts are translating into actual traffic for your client.
Pinterest tells you how many times people clicked on your pins to visit your website.
Most Repinned and Most Clicked
Pinterest tells you which of your pins have generated the most repins and clicks. Keep a close eye on this data, and see if you notice any patterns in your highest-performing content. If a certain type of content is working well, keep leveraging it in the future.
Pinterest Ads Performance
If you are also providing promoted pins or paid placement support for your client on Pinterest Ads, it's important for your agency to present that data in a clean and easy-to-understand report or dashboard. Luckily, our Pinterest Ads Integration has got you covered!
How to Bill for Pinterest Services
If you've been doing social media management for a while, you probably have a rough idea of how to price your Pinterest services. But pricing is a very individual issue, and if you're new to this, settling on a number can be difficult. These guidelines can help give you an idea of what to charge.
As a general rule, agencies tend to bill between $300 and $2000 for a month of Pinterest management. They also usually offer several different packages for clients to choose from. At the low end of the price range, clients can usually get a very basic management package. This might be ideal for clients who are on a limited budget or who only want a little bit of help with their Pinterest account. More expensive packages might offer clients more daily pins, a certain number of new boards every month, and in-depth data analysis.
In addition to monthly Pinterest management, you may also want to offer a few one-time services. For instance, you could help a client set up their business account, or you could optimize a client's existing Pinterest content for a one-time fee.
The Takeaway
Pinterest has a lot of potential for businesses and marketers alike. If you already offer social media management, it makes sense to add Pinterest to your list. While it takes a little time and effort to get the hang of marketing on Pinterest - and repurpose images into a size that works best for Pinterest - the platform is simple to learn to use, and you can automate much of the process with tools like Buffer. Offering more services is a win-win for both you and your clients, so why not start working on your Pinterest management skills today?
Joe started his career as a developer and since has created many internet businesses. He has now moved on to the position of CEO and has enjoyed all the challenges it has brought.
Read more posts by Joe Kindness ›
Try AgencyAnalytics risk-free for 14 days. No credit card required.