Unlike other social media platforms such as Facebook, Pinterest functions more like an image search engine and discovery platform. Posting Pins is one thing, but having the ability to optimize Pinterest Ads will give your agency that extra edge. And as you know, advertising isn't just about throwing around ad spend or applying a one-size-fits-all strategy to all of your clients. 
To get the most from Pinterest Ads, your agency must know how to choose the correct parameters, decide on the most optimal ad format, and which metrics to track to ensure success. 
If you're not sure where to begin with Pinterest Ads, we've got you covered! Read on to learn about:
Let's get started.
Key Pinterest Statistics Your Agency Should Know
Before we get into setting up a Pinterest Ads campaign, let's look at a few data-driven insights to show you the real potential of the platform.
Consider these key statistics from the Hootsuite Digital 2022 October Global Statshot Report:
Pinterest Ads has a potential reach of 270.9M users

76.5% of Pinterest Ads reach was attributed to female users (which is important to note if this aligns with your client's ideal customer profile)

The geographical location with the highest Pinterest usage was the USA, with approximately 91.25M users

There was a 16.2% year-on-year change in Pinterest ad reach
Interestingly enough, 85% of Pinners reported using the platform for future project planning. This means that Pinterest Ads effectively reach users in the consideration phase of your client's customer journey. 
How Are Pinterest Ads Displayed?
Wondering how Pinterest Ads show up compared to regular Pins? Look out for the small "Promoted by" tag. Because Pinterest Ads fit in seamlessly with regular Pins, they're not as disruptive as ads on other social media platforms (which is another plus). 
Generally speaking, Pinterest decides which ads to display in a user's Home feed based on their historical activity. In other words, a user's displayed Pinterest Ads will most align with the topics they've regularly searched for. 
Like other ad platforms, Pinterest Ads can be targeted based on demographics (including age, location, categories, and interests). See who your clients' ads are reaching and keep tabs on untapped demographics. Try this exact Pinterest Ads dashboard on AgencyAnalytics.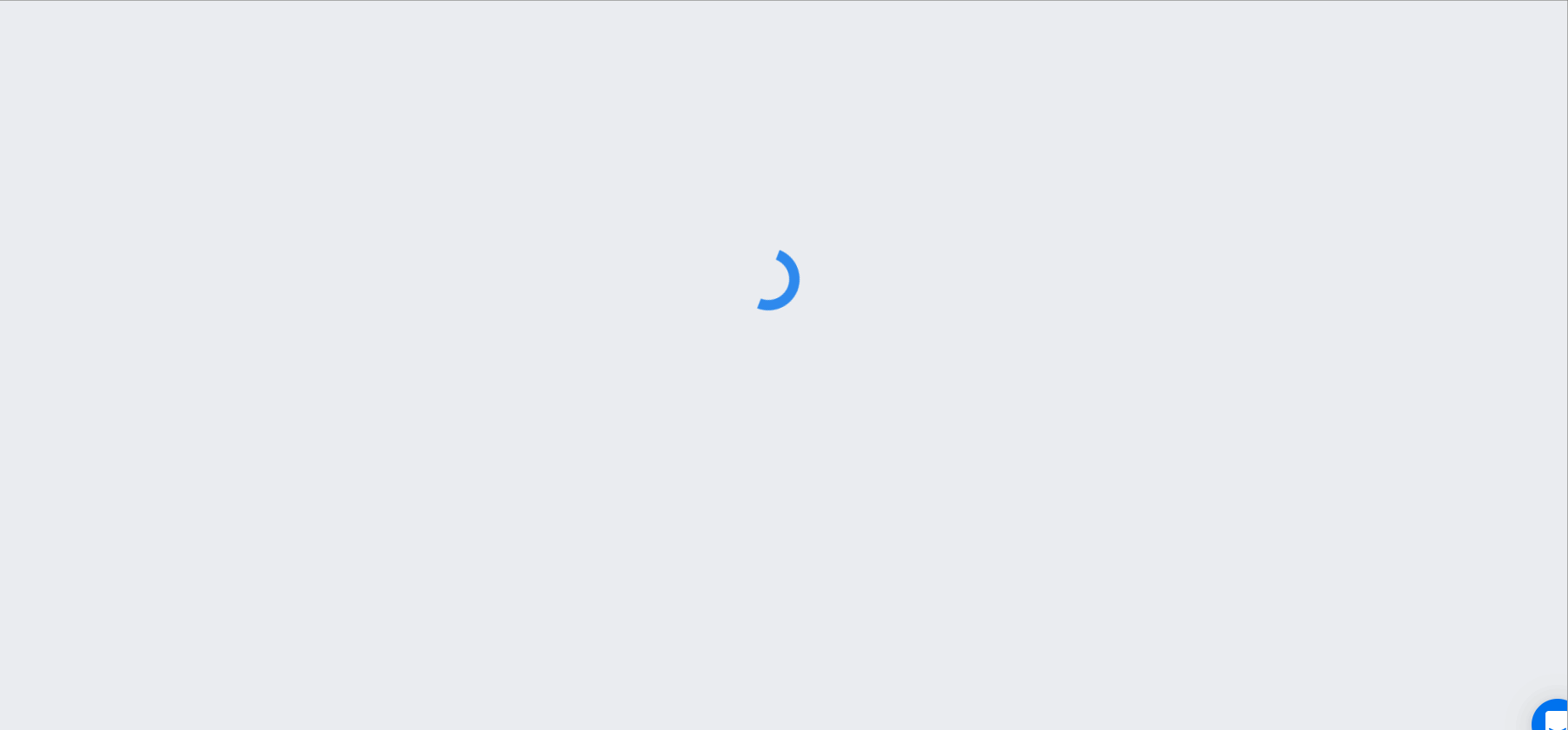 A Summary of Pinterest Ad Objectives
Your client's campaign objective determines ad auction bidding and the different available ad formats. Pinterest breaks down ad campaigns according to the following five campaign objectives:
Pinterest Ad Objective

Description

Brand Awareness

Helps users discover your client's brand. Based on a maximum cost per one thousand (CPM) bid, or the maximum your client is willing to pay per 1000 impressions.

Video Views

Optimizes views based on users that are most likely to watch your client's videos. Based on a maximum cost per view (CPV) bid, or the amount your client is willing to pay for a 2+ second view of their video.

Consideration

Helps to increase the number of clicks on your client's ad. Choose an automatic bidding strategy or set a customized maximum cost-per-click (CPC).

Conversions

Works best to drive specific user actions (e.g., add to cart, checkout). Based on automated bidding or a customized average cost per action (CPA), i.e., how much your client is willing to pay when a user follows through on a website click.

Catalog Sales 

Shopping-oriented ads that include details such as price tags and availability. Helps users discover your client's product offering or services when browsing Pinterest for inspiration.

Similar to the 'Conversions' campaign objective, these ads are based on a set CPA or automated bid. 
To choose the right campaign objective, evaluate your clients' goals beforehand and decide which one works best for their needs. 
How To Set Up a Pinterest Ads Campaign
And now on to the fun stuff! Here's a step-by-step walkthrough of how to set up a Pinterest Ads campaign. 
1. Create a Business Account
First things first–create your client's business account (if you haven't already). It's distinct from a personal account, and you'll need it to run Pinterest Ads. 
Get started by signing into your client's personal account from a desktop computer. Then, click on their user profile in the top right-hand corner, followed by 'Convert to business'. 
2. Describe Your Client's Brand
Next up, choose the description that best summarizes the focus of your client's brand.
You'll also have the option to choose up to three brand goals.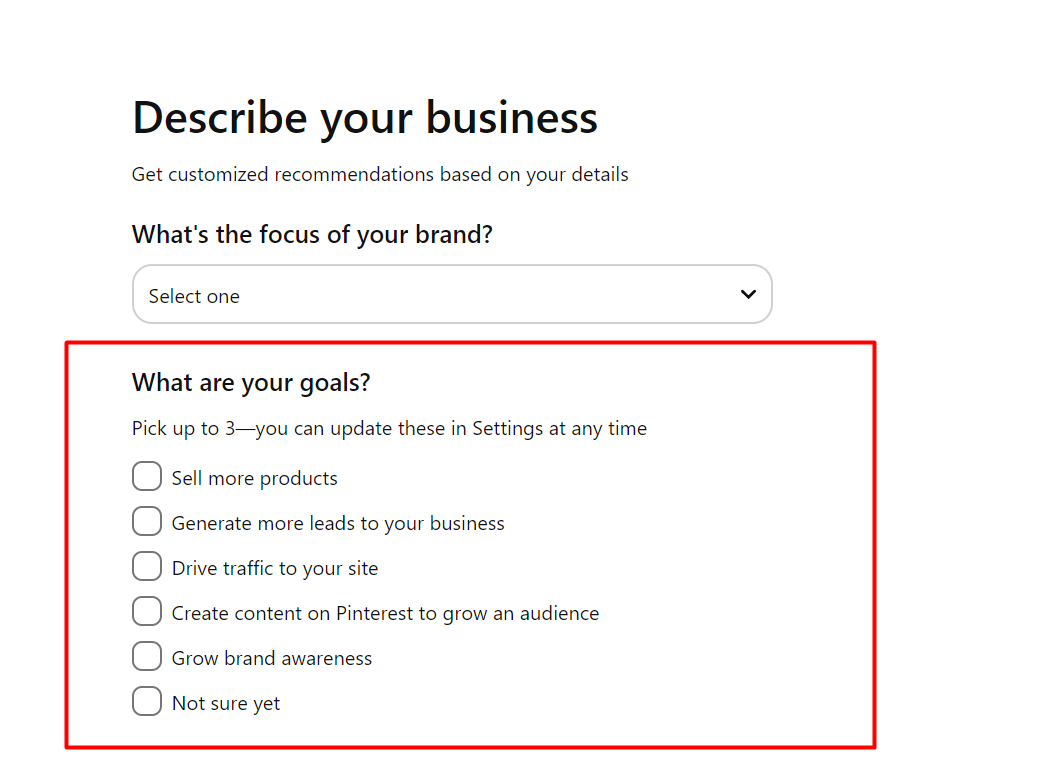 Finally, get personalized recommendations by filling in an additional business description.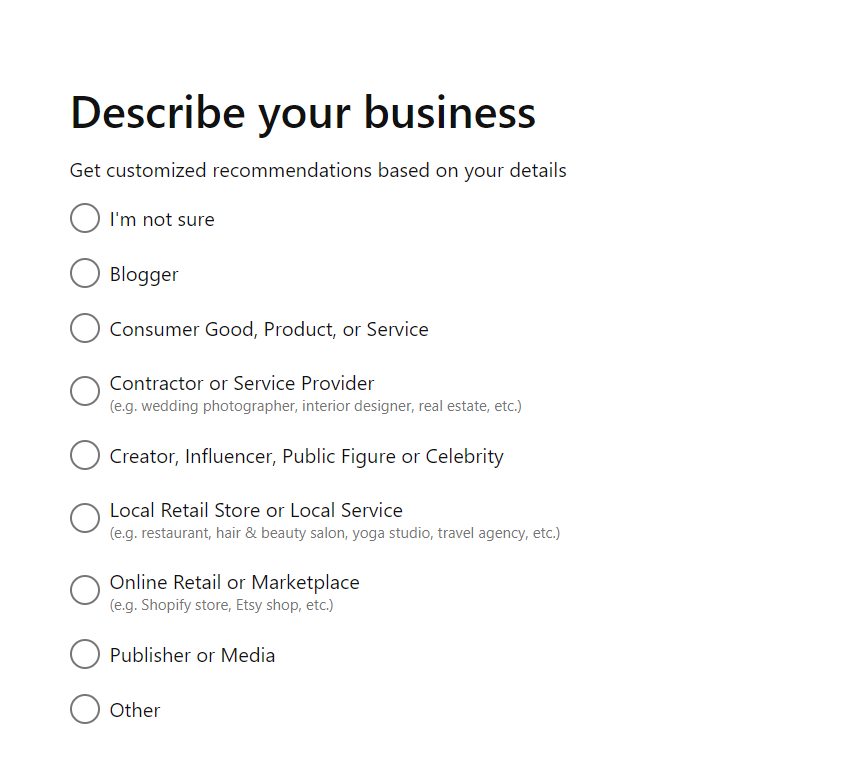 3. Create a Pinterest Ads Campaign
After you've set up your client's business profile, it's easy to create their first Pinterest Ads campaign. 
Click on 'Business Hub' in the top right corner and go to 'Create a Campaign'.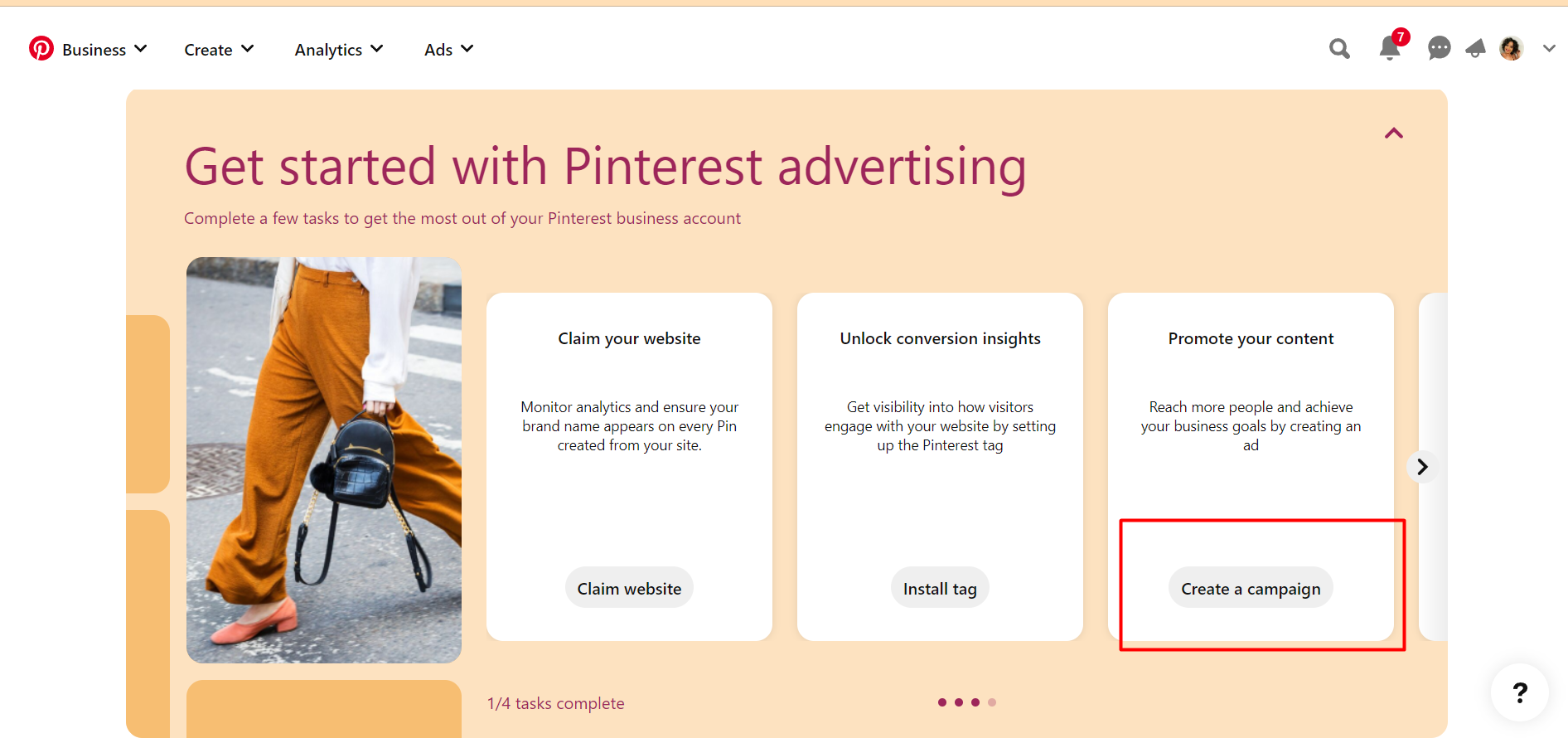 4. Choose Your Client's Business Goal
Next up, choose the Pinterest Ads objective that most aligns with your client's goals. As we've discussed earlier, these are: 
Brand Awareness

Video Views

Consideration

Conversions

Catalog Sales
An Example of a Pinterest Ad Campaign
To give you more context, we'll show you an example of a simple brand awareness campaign.
1. Fill in Campaign Details
To get started, choose your client's campaign objective.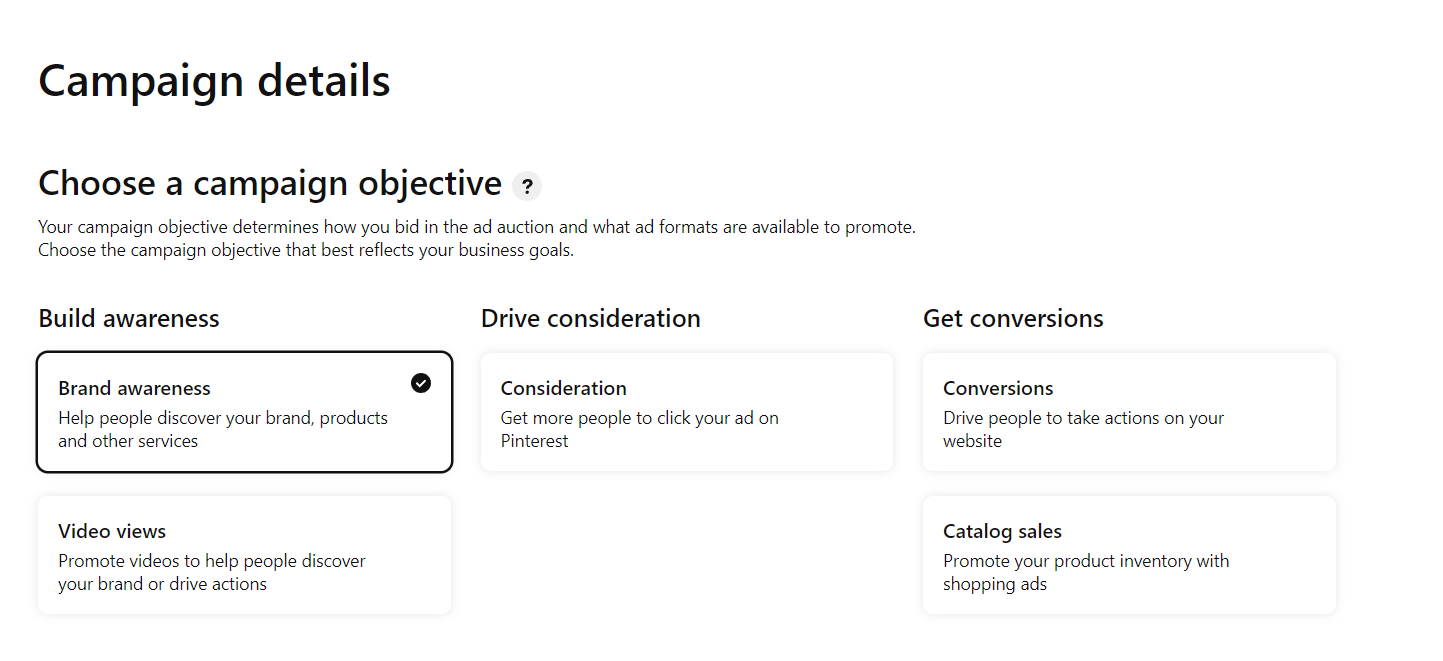 After you've selected an option, choose an appropriate campaign name, budget, and schedule.
2. Choose a Targeting Strategy
Create an audience of new customers, users that have already interacted with your client's brand on Pinterest, or customized lists (e.g., your client's website visitors). 
3. Select Interests and Keywords
After selecting a targeting strategy, choose the demographics that most align with your client's ICP. Here's a summary of the 'Interest and Keywords' section:
Interests: This allows you to pick topics related to your client's brand. That way, you'll reach users based on other Pins they engage with.

Keywords: Choose relevant keywords to increase ad impressions in search results and Related Pins. For the best results, Pinterest recommends using a minimum of 25 keywords.
4. Choose Demographics
Next up, choose your client's audience demographic, which includes:
Gender

Age

Location

Languages

Devices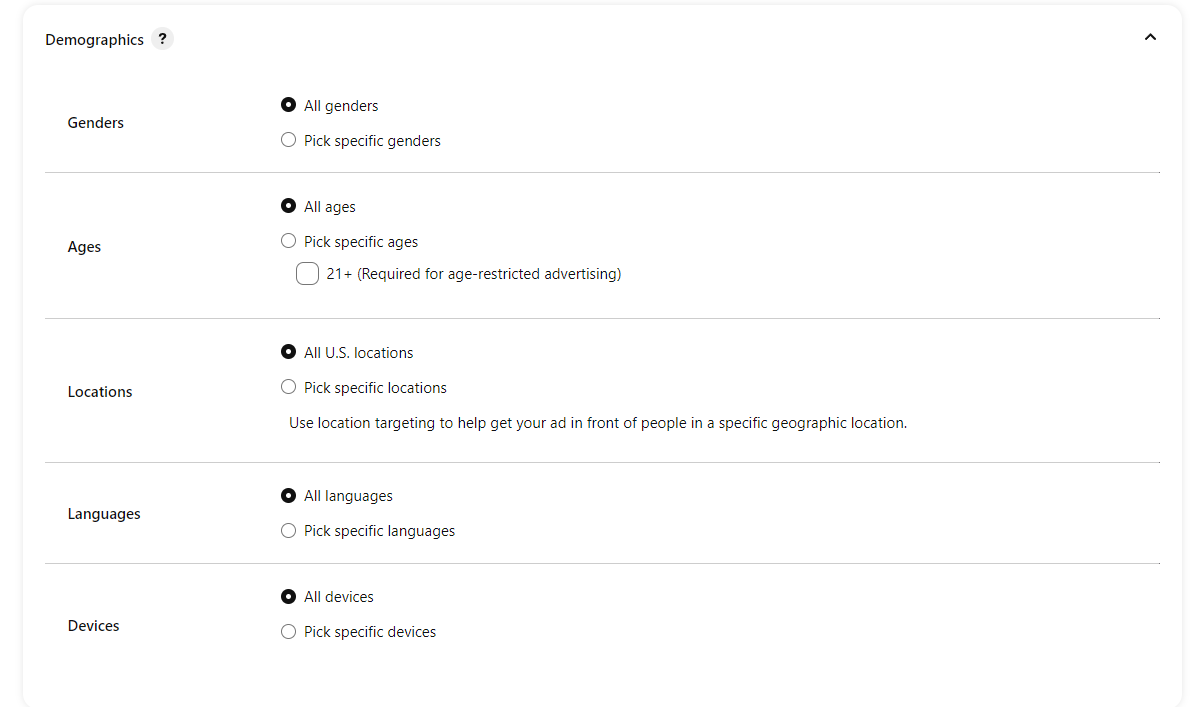 You'll also have the option to choose from two advanced targeting options:
Browse: Your client's ads will appear as people browse their home feeds and related Pins

Search: This means that your client's ads will appear in search results and related Pins
5. Decide on a Budget & Schedule
Budgeting for Pinterest Ads is similar to other ad platforms. Choose from a daily budget or lifetime budget for each ad group. If needed, you'll also have the option to choose a start and (optional) end date. 
5. Select Optimization & Delivery
Next, choose the frequency of your client's ads (monthly or weekly). For an added level of control, choose a monthly frequency cap which comes in handy if you don't want to bombard users with too many ads.  When setting your client's optimization bidding, choose from:
Automatic bidding: Pinterest aims to get the most clicks for your client's budget

Custom: Control how much is bidded at auction 
6. Choose Pins To Advertise
Finally, choose the Pins you'd like to promote. And that's it!
Agency Tip: Looking to save time on Pin creation? Use a platform like Canva that offers a range of Pin-ready graphics and video templates.
Use an Automated Dashboard to Track Pinterest Ads Metrics
After you've created your clients' Pinterest Ads, you'll need a way to track all those metrics. Luckily, an automated reporting tool like AgencyAnalytics does the work for you! Here's an overview of our Pinterest Ads dashboard and what your agency should track.
1. Campaigns
This includes campaign-level metrics such as the number of clicks, engagement rate, total ad spend, and impressions. 
2. Ad Groups 
As your agency knows, 'ad group' refers to the mid-level between campaigns and ads. This dashboard section includes the same metrics as the campaign level above.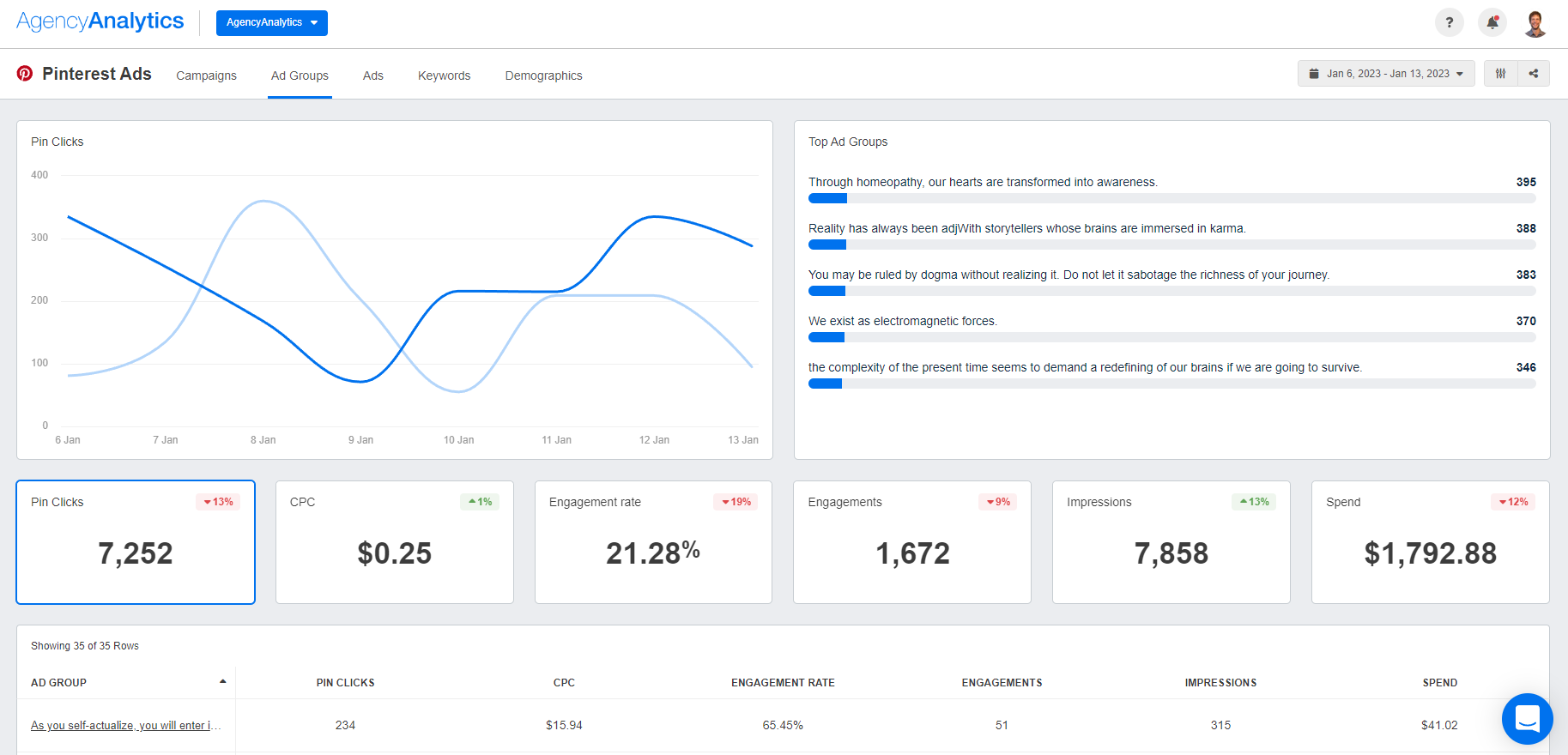 3. Ads
The ad level provides more granular metrics, such as the top ads in your client's campaign and how many clicks each has received.
No more sifting through all that Pinterest data to see the bigger picture. Let AgencyAnalytics do the work for you–it's free for 14 days.
4. Keywords
Wondering which keywords are driving the most clicks and conversions? We've got a tab for that, too. 
5. Demographics
Finally, keep track of demographic metrics such as the age groups, top cities, and genders of your client's audience. 
Keep Track of Pinterest Ads Performance With Ease
Pinterest is a wonderful platform to showcase your client's brand aesthetically and dynamically reach their audience. After you've put all that effort into creating Pinterest Ads, tracking metrics is the only way to demonstrate ROI.
Sure–you'll have access to that in-platform Pinterest data. But do you really want to spend time pulling metrics manually when you've got a million other things to do? Have no fear. Our Pinterest Ads dashboard is here to do the heavy lifting for you! 
From data visualization to creating white-labeled reports, AgencyAnalytics will automate your client reporting and save billable hours each month. 
Streamline Pinterest Ads reporting and create a visually appealing marketing dashboard that your clients will love. Sign up for a free 14-day trial of AgencyAnalytics today.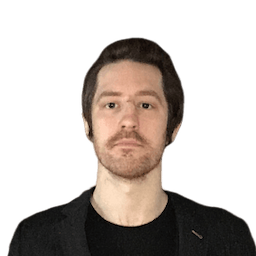 Peter Foy is a content marketer with a focus on SaaS companies. Based in Toronto, when he's not writing he's usually studying data science and machine learning.
Read more posts by Peter Foy ›
Try AgencyAnalytics risk-free for 14 days. No credit card required.